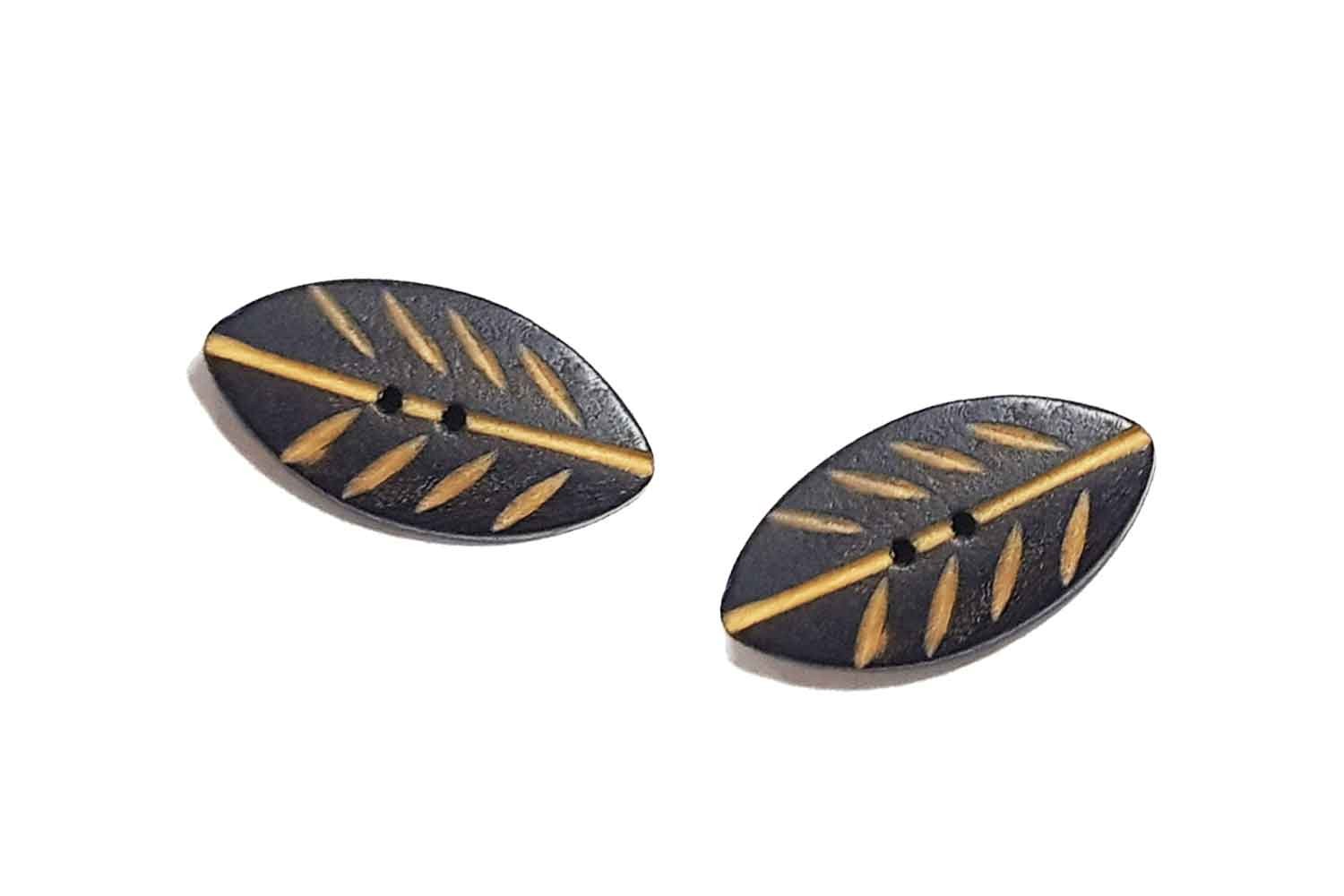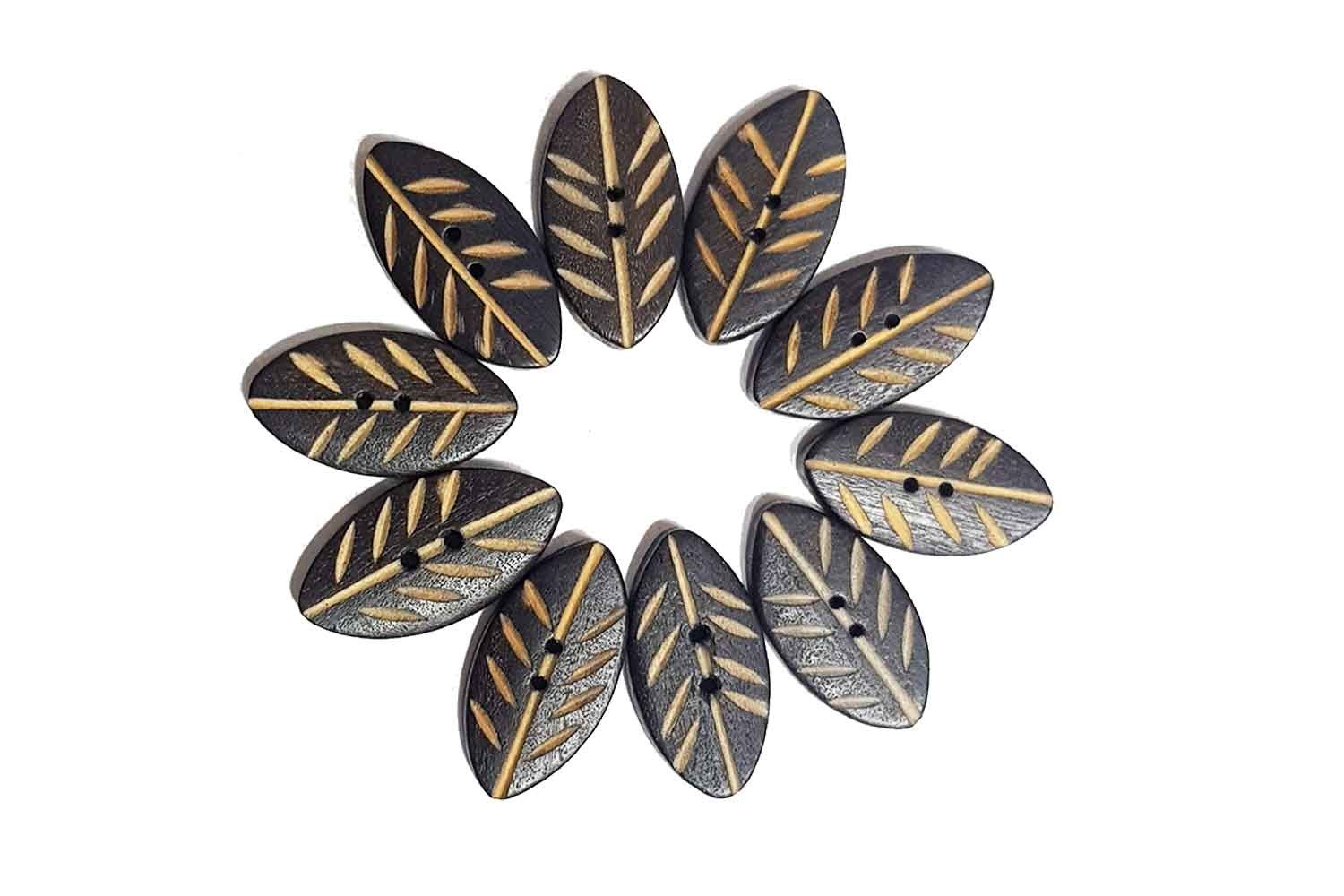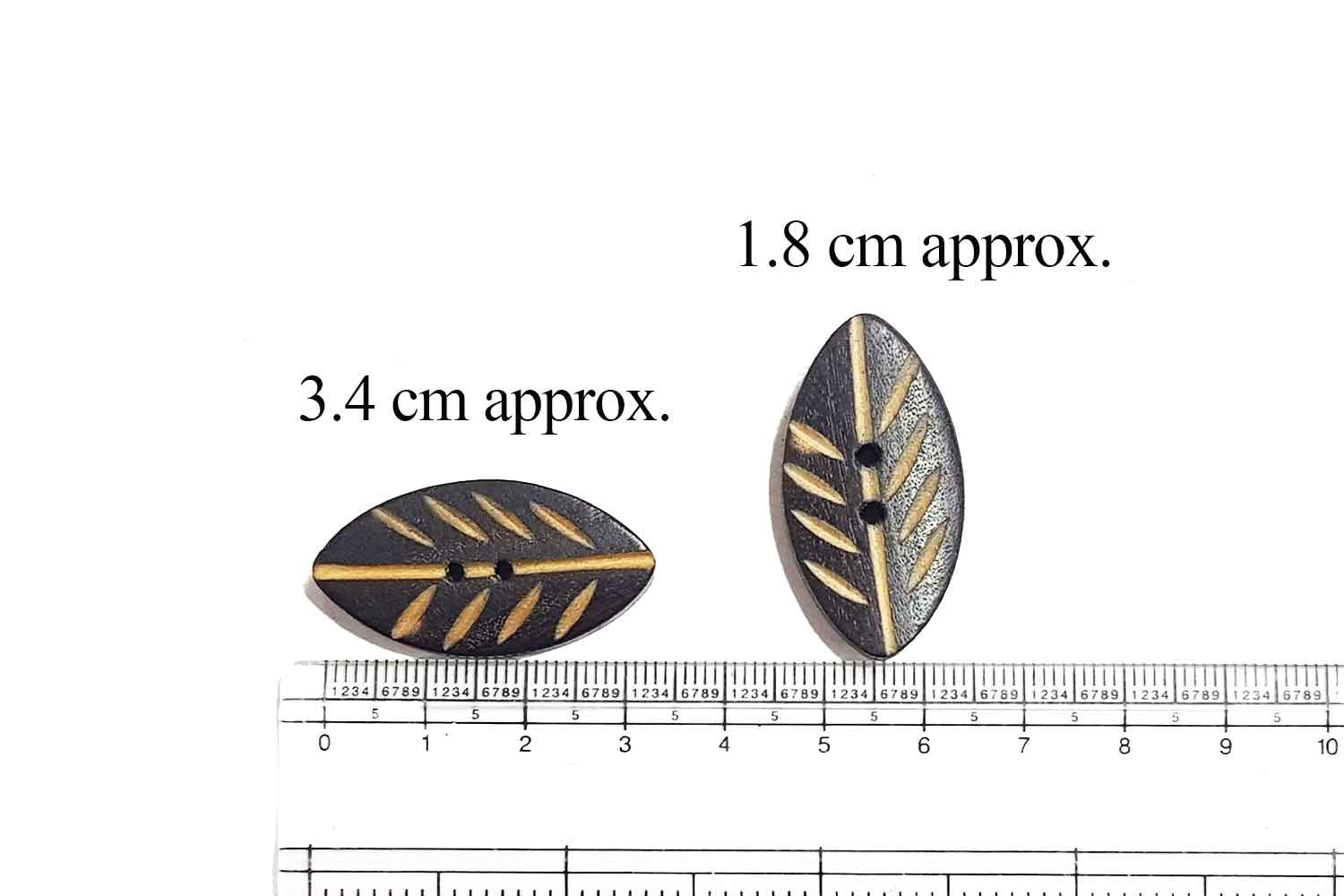 Coffee Color Eye Shape Wooden Buttons
Rs. 120.00
PRODUCT DESCRIPTION
Size: 3.4 x 1.8 cm approx.
Product Description:
These Woodes Buttons are have a rough finish.

These can be used on various Clothing Material.

Can also be used for craft and decoration material.

Can be used on cardigans, sweaters, shirts, socks, etc.
Note: Color May Slightly Vary due to lighting and resolution of your screen.
[{"id":1,"name":"Round Green Glass Beads","price":170,"image":"GLSBD001A(1)-1604402481.jpg"},{"id":18,"name":"Dark Blue Concealed YKK Zips CHC-26 (ZPYK919)","price":60,"image":"ZPYK919(2)-1624346497.jpg"},{"id":19,"name":"Purple Concealed YKK Zips CHC-26 (ZPYK915)","price":60,"image":"ZPYK915(2)-1624346470.jpg"},{"id":20,"name":"Machine Embroidery Patch Red Flower (PATME0005)","price":170,"image":"PATME0005(1)-1605175792.jpg"},{"id":48,"name":"Golden-Red Dulha-Dulhan Bridal Hand Embroidery Patch","price":550,"image":"PATHE00048(2)-1605269413.jpg"},{"id":49,"name":"Hand Embroidery Patch Golden (PATHE00049)","price":370,"image":"PATHE00049(1)-1605269894.jpg"},{"id":78,"name":"Hand Embroidery Patch Cream Color (PATHE00079)","price":480,"image":"PATHE00079(2)-1605609679.jpg"},{"id":106,"name":"Coat Button Round Shape Black Color White Flower-sold with box","price":980,"image":"mcbtn4-1644997820.jpg"},{"id":107,"name":"Coat Button Round Golden Color (MCBTN0010)","price":650,"image":"MCBTN0010(3)-1605772832.jpg"},{"id":110,"name":"Flowers Black-White-Red Saturn Ribbon 10 Pieces (FLR0001)","price":170,"image":"FLR0001(1)-1606541903.jpg"},{"id":111,"name":"Flowers Yellow Color Net 2.6 cm set of 10 Pieces (FLR0002)","price":170,"image":"FLR0002(1)-1606541934.jpg"},{"id":112,"name":"Flowers Brown Fur 5.8 cm set of 5 Pieces (FLR0003)","price":210,"image":"FLR0003(1)-1606541982.jpg"},{"id":115,"name":"Flowers Light Green Color 3.7 cm*4.0 cm set of 10 Pieces (FLR0006)","price":250,"image":"FLR0006(1)-1606541724.jpg"},{"id":116,"name":"Flowers Tiger Print 3.7 cm set of 5 Pieces (FLR0007)","price":370,"image":"FLR0007(1)-1605779772.jpg"},{"id":118,"name":"Mixed Light Pastel Color Flowers set of 3 Pieces","price":380,"image":"FLR0009(3)-1606541830.jpg"},{"id":119,"name":"Ladies Buttons Flower Shape Baby Pink Color WBTN0001","price":500,"image":"WBTN001(4)-1605781312.jpg"},{"id":120,"name":"Ladies Button Stone Work Casting Metal Red Color (WBTN002)","price":290,"image":"WBTN002(1)-1605782536.jpg"},{"id":127,"name":"Ladies Brown Color Buttons Round Shape (WBTN008)","price":420,"image":"WBTN008(4)-1605786159.jpg"},{"id":129,"name":"Peacock Green Concealed YKK Zips CHC-26 (ZPYK908)","price":60,"image":"ZPYK908(1)-1624088484.jpg"},{"id":130,"name":"Pink Concealed YKK Zips CHC-26 (ZPYK853)","price":60,"image":"ZPYK853(2)-1624088528.jpg"},{"id":131,"name":"Light Pink Concealed YKK Zips CHC-26 (ZPYK852)","price":60,"image":"ZPYK852(2)-1624088680.jpg"},{"id":132,"name":"Strong Blue Concealed YKK Zips CHC-26 (ZPYK835)","price":60,"image":"ZPYK835(2)-1624088753.jpg"},{"id":133,"name":"Hot Pink Concealed YKK Zips CHC-26 (ZPYK817)","price":60,"image":"ZPYK817(2)-1624088833.jpg"},{"id":134,"name":"Light Violet Concealed YKK Zips CHC-26 (ZPYK553)","price":60,"image":"ZPYK553(1)-1605856889.jpg"},{"id":135,"name":"Dark Ferozi Concealed YKK Zips CHC-26 (ZPYK550)","price":60,"image":"ZPYK550(2)-1624088900.jpg"},{"id":137,"name":"Deep Maroon Concealed YKK Zips CHC-26 (ZPYK527)","price":60,"image":"ZPYK527(2)-1624089019.jpg"},{"id":138,"name":"Purple Concealed YKK Zips CHC-26 (ZPYK526)","price":60,"image":"ZPYK526(2)-1624089093.jpg"},{"id":139,"name":"Maroon Concealed YKK Zips CHC-26 (ZPYK520)","price":60,"image":"ZPYK520(2)-1624089192.jpg"},{"id":140,"name":"Red Concealed YKK Zips CHC-26 (ZPYK519)","price":60,"image":"ZPYK519(2)-1624089232.jpg"},{"id":142,"name":"Bright Pink Concealed YKK Zips CHC-26 (ZPYK516)","price":60,"image":"ZPYK516(2)-1620622676.jpg"},{"id":143,"name":"Soft Pink Concealed YKK Zips CHC-26 (ZPYK335)","price":60,"image":"ZPYK335(2)-1624089286.jpg"},{"id":144,"name":"Bright Purple Concealed YKK Zips CHC-26 (ZPYK303)","price":60,"image":"ZPYK303(2)-1624089338.jpg"},{"id":145,"name":"Dark Pink Concealed YKK Zips CHC-26 (ZPYK299)","price":60,"image":"ZPYK299(2)-1624089385.jpg"},{"id":147,"name":"Light Pink Concealed YKK Zips CHC-26 (ZPYK289)","price":60,"image":"ZPYK289(2)-1624089423.jpg"},{"id":148,"name":"Violet Concealed YKK Zips CHC-26 (ZPYK281)","price":60,"image":"ZPYK281(2)-1624089458.jpg"},{"id":149,"name":"Desaturated Dark violet Concealed YKK Zips CHC-26 (ZPYK265)","price":60,"image":"ZPYK265(2)-1624089528.jpg"},{"id":150,"name":"Magenta Pink Concealed YKK Zips CHC-26 (ZPYK258)","price":60,"image":"ZPYK258(2)-1624089573.jpg"},{"id":151,"name":"Old Rose Concealed YKK Zips CHC-26 (ZPYK212)","price":60,"image":"ZPYK212(2)-1624089624.jpg"},{"id":152,"name":"Dark Blue Concealed YKK Zips CHC-26 (ZPYK220)","price":60,"image":"ZPYK220(2)-1624089794.jpg"},{"id":153,"name":"Wine Concealed YKK Zips CHC-26 (ZPYK230)","price":60,"image":"ZPYK230(2)-1624090041.jpg"},{"id":155,"name":"Moderate Light Blue Concealed YKK Zips CHC-26 (ZPYK162)","price":60,"image":"ZPYK162(2)-1624090356.jpg"},{"id":156,"name":"Red Concealed YKK Zips CHC-26 (ZPYK140)","price":60,"image":"ZPYK140(2)-1624090497.jpg"},{"id":157,"name":"Deep Royal Blue Concealed YKK Zips CHC-26 (ZPYK076)","price":60,"image":"ZPYK076(1)-1605868136.jpg"},{"id":158,"name":"Strong Blue Concealed YKK Zips CHC-26 (ZPYK115)","price":60,"image":"ZPYK115(1)-1605868320.jpg"},{"id":159,"name":"Dark Voilet Concealed YKK Zips CHC-26 (ZPYK048)","price":60,"image":"ZPYK048(1)-1605868851.jpg"},{"id":160,"name":"Dark Cyan Blue Concealed YKK Zips CHC-26 (ZPYK046)","price":60,"image":"ZPYK46(2)-1614160343.jpg"},{"id":162,"name":"Sea Green Concealed YKK Zips CHC-26 (ZPYK018)","price":60,"image":"ZPYK18(2)-1614159487.jpg"},{"id":163,"name":"Light Blue Concealed YKK Zips CHC-26 (ZPYK026)","price":60,"image":"ZPYK26(2)-1614160018.jpg"},{"id":165,"name":"Fancy Lace in Cream Color-9 meters","price":2880,"image":"FNLC0002(2)-1608552035.jpg"},{"id":166,"name":"Fancy Lace in Rose Gold Color Stone and Zari Work - 9 meters","price":790,"image":"FNLC0003(1)-1605946909.jpg"},{"id":171,"name":"Golden Color Fringes Sequins Work -9 meters","price":1500,"image":"FRNG0001C(1)-1616587003.jpg"},{"id":173,"name":"Crinoline Petticot\/Underskirt Dress for gowns, dresses, etc. (6 hoop)","price":1830,"image":"crpt-1639736531.jpg"},{"id":178,"name":"GPO Lace Polyester in White Color","price":670,"image":"GPOLC0006(1)-1606385490.jpg"},{"id":183,"name":"Mirror Lace Golden Color - 9 meter(roll)","price":1630,"image":"MRLC0001(1)-1606387546.jpg"},{"id":186,"name":"Mirror Lace Golden Color - 9 meter(roll)","price":1580,"image":"MRLC0004(1)-1606388161.jpg"},{"id":190,"name":"Thread Work Lace in Multi Color Flowers with Zari Work- 9 meters (1 Roll)","price":880,"image":"THDLC0003(1)-1606390939.jpg"},{"id":192,"name":"Zari Work Lace in Dark Green Color -9 meters (1 Roll)","price":580,"image":"ZRWLC0003(1)-1606392423.jpg"},{"id":205,"name":"Glass Beads Metallic Brown-721 Pipe Shape (MGBGB0001)","price":920,"image":"MGBGB0001(2)-1606471448.jpg"},{"id":206,"name":"Glass Beads Olive Green Color Pipe Shape (MGBGB0002)","price":1170,"image":"MGBGB0002(2)-1606465621.jpg"},{"id":207,"name":"Glass Beads Blue Color Pipe Shape (MGBGB0003)","price":1170,"image":"MGBGB0003(2)-1606466700.jpg"},{"id":208,"name":"Glass Beads Golden Color Pipe Shape (MGBGB0004)","price":790,"image":"MGBGB0004(3)-1606469397.jpg"},{"id":209,"name":"Glass Beads Silver Color Pipe Shape (MGBGB0005)","price":790,"image":"MGBGB0005(2)-1606469662.jpg"},{"id":210,"name":"Glass Beads Light Mauve Pipe Shape (MGBGB0006)","price":1170,"image":"MGBGB0006(2)-1606471926.jpg"},{"id":211,"name":"Glass Beads Brown Rainbow-648 (MGBGB0007)","price":790,"image":"MGBGB0007(2)-1606474137.jpg"},{"id":212,"name":"Glass Beads Brown Rainbow-648 Round Square Hole (MGBGB0008)","price":790,"image":"MGBGB0008(3)-1606474622.jpg"},{"id":213,"name":"Glass Beads Golden Rainbow-634 Round Square Hole (MGBGB0009)","price":790,"image":"MGBGB0009(3)-1606475231.jpg"},{"id":214,"name":"Glass Beads Silver Rainbow Square Hole (MGBGB0010 )","price":500,"image":"MGBGB0010(1)-1645597777.jpg"},{"id":218,"name":"PATF0004 (Black Color Fancy Patch)","price":580,"image":"PATF0004(1)-1607074832.jpg"},{"id":224,"name":"PATF0010 (Black Color Fancy Patch)","price":1000,"image":"PATF0010(1)-1607079201.jpg"},{"id":228,"name":"PATF0014 (White Color Fancy Patch)","price":400,"image":"PATF0014(1)-1607081118.jpg"},{"id":230,"name":"PATF0017 (Black Fancy Patch)","price":750,"image":"PATF0017(1)-1607083811.jpg"},{"id":231,"name":"PATF0018 (Black Fancy Patch)","price":1250,"image":"PATF0018(1)-1607150737.jpg"},{"id":235,"name":"PATF0022 (Black Flower Shape Fancy Patch)","price":80,"image":"PATF0022(1)-1607153579.jpg"},{"id":242,"name":"PATF0029 (Brown Color Fur Type Ball Patch)","price":170,"image":"PATF0029(1)-1607160614.jpg"},{"id":245,"name":"PATF0032 (Golden Flower Patch)","price":80,"image":"PATF0032(2)-1607161353.jpg"},{"id":247,"name":"PATF0034 (Peach Fabric Flower)","price":60,"image":"PATF0034(2)-1607161753.jpg"},{"id":248,"name":"PATF0035 (Golden Flower Shape Fancy Patch)","price":40,"image":"PATF0035(2)-1607161932.jpg"},{"id":251,"name":"Flowers Light Pink Color Net Fabric set of 10 Pieces (FLR0002B)","price":170,"image":"FLR0002B(1)-1610439183.jpg"},{"id":252,"name":"Flowers Light Peach Color Net Fabric set of 10 Pieces (FLR0002C)","price":170,"image":"FLR0002C(1)-1610439463.jpg"},{"id":253,"name":"Flowers Red Color Net Fabric set of 10 Pieces (FLR0002D)","price":170,"image":"FLR0002D(1)-1610439868.jpg"},{"id":254,"name":"Flowers Sky Blue Color Net Fabric set of 10 Pieces (FLR0002E)","price":170,"image":"FLR0002E(1)-1610440047.jpg"},{"id":255,"name":"Flowers Light Cyan Color Net Fabric set of 10 Pieces (FLR0002F)","price":170,"image":"FLR0002F(1)-1610600997.jpg"},{"id":256,"name":"Flowers Ferozi Blue Color Net Fabric set of 10 Pieces (FLR0002G)","price":170,"image":"FLR0002G(1)-1610601386.jpg"},{"id":258,"name":"Flowers Dark Pink Color Net Fabric set of 10 Pieces (FLR0002I)","price":170,"image":"FLR0002I(1)-1610602539.jpg"},{"id":261,"name":"Flowers Mauvelous Pink Color Net Fabric set of 10 Pieces (FLR0002L)","price":170,"image":"FLR0002L(1)-1610604695.jpg"},{"id":262,"name":"Flowers Black Color Net Fabric set of 10 Pieces (FLR0002M)","price":170,"image":"FLR0002M(1)-1610605062.jpg"},{"id":264,"name":"Ladies Button (Cord Button\/ Chinese Frog Button) Off White Color (WBTN0011)","price":170,"image":"WBTN0011(2)-1610615887.jpg"},{"id":265,"name":"Black Color Cord Button\/ Chinese Frog Button\/ Knot Buttons for Dresses , Bags etc.","price":210,"image":"WBTN0012(1)-1610616556.jpg"},{"id":266,"name":"Ladies Button (Cord Button\/ Chinese Frog Button) Off-White Color (WBTN0013)","price":170,"image":"WBTN0013(2)-1610617389.jpg"},{"id":267,"name":"Ladies Button (Cord Button\/ Chinese Frog Button) Off White Color (WBTN0014)","price":170,"image":"WBTN0014(1)-1610617831.jpg"},{"id":268,"name":"Black Color Cord Button\/ Chinese Frog Button\/ Knot Buttons for Dresses , Bags etc.","price":210,"image":"WBTN0014A(2)-1610618987.jpg"},{"id":269,"name":"Ladies Button (Cord Button\/ Chinese Frog Button) Off-White Color (WBTN0015)","price":250,"image":"WBTN0016(1)-1634385202.jpg"},{"id":280,"name":"Round Shape Silver Color Buckle","price":330,"image":"BUCL0091(1)-1672401299.jpg"},{"id":284,"name":"BUCL0005 Black Color Leather Buckle","price":290,"image":"BCL0005(1)-1613210534.jpg"},{"id":285,"name":"BUCL0006 Black Color Leather Buckle","price":220,"image":"BCL0006(1)-1613210883.jpg"},{"id":286,"name":"BUCL0007 Black Color Rectangle Shape Leather Buckle","price":230,"image":"BCL0007(1)-1613211760.jpg"},{"id":287,"name":"BUCL0008 Black Color Rectangle Shape Leather Buckle","price":250,"image":"BCL0008(1)-1613213265.jpg"},{"id":288,"name":"BUCL0009 Black Color Leather Buckle","price":230,"image":"BCL0009(1)-1613213689.jpg"},{"id":290,"name":"BUCL0011 Black Color Leather Buckle","price":180,"image":"BCL0011(1)-1613214254.jpg"},{"id":291,"name":"GLST0001 Silver Glass Stones","price":250,"image":"GLSTN0001(1)-1613215583.jpg"},{"id":295,"name":"GLST0004 Oval Shape Golden Color Glass Stone","price":920,"image":"GLSTN0004(2)-1613218155.jpg"},{"id":296,"name":"GLST0005 Eye Shape Silver Color Glass Stone","price":210,"image":"GLSTN0005(1)-1613366241.jpg"},{"id":297,"name":"GLST0006 Eye Shape Golden Color Glass Stone","price":500,"image":"GLSTN0006(1)-1613366749.jpg"},{"id":298,"name":"GLST0007 Round Shape Golden Color Glass Stone","price":250,"image":"GLSTN0007(1)-1613368060.jpg"},{"id":299,"name":"GLST0008 Silver Color Leaf Shape Glass Stone","price":210,"image":"GLSTN0008(1)-1613368434.jpg"},{"id":300,"name":"GPT0001 Golden Color Gota Patti","price":420,"image":"GPT0001 (1)-1613371338.jpg"},{"id":301,"name":"GPT0002 Yellowish Silver Color Gota Patti","price":420,"image":"GPT0002(1)-1613372606.jpg"},{"id":302,"name":"GPT0003 Rose Gold Color Gota Patti","price":830,"image":"GPT0003(1)-1613372891.jpg"},{"id":303,"name":"GPT0004 Neon Yellowish Silver Color Gota Patti","price":420,"image":"GPT0004(1)-1613373480.jpg"},{"id":304,"name":"GPT0005 Golden Color Gota Patti","price":830,"image":"GPT0005(1)-1613373830.jpg"},{"id":305,"name":"GPT0006 Golden Color Gota Patti with Orange Kinari","price":830,"image":"GPT0006(1)-1613374200.jpg"},{"id":306,"name":"GPT0007 Light Golden Color Gota Patti with Yellow Kinari","price":830,"image":"GPT0007(1)-1613374884.jpg"},{"id":308,"name":"GPT0009 Light Golden Color Flower Gota Patti with Yellow Kinari","price":1080,"image":"GPT0009(1)-1613376203.jpg"},{"id":309,"name":"GPT0010 Golden Color Gota Patti","price":420,"image":"GPT0010(1)-1613376828.jpg"},{"id":310,"name":"GPT0011 Silver-Rose Gold Color Gota Patti","price":830,"image":"GPT0011(1)-1613377138.jpg"},{"id":311,"name":"GPT0012 Golden Color Gota Patti With Orange Kinari","price":830,"image":"GPT0012(1)-1613377314.jpg"},{"id":312,"name":"GPT0013 Silver Color Gota Patti with Orange Kinari","price":420,"image":"GPT0013(1)-1613377773.jpg"},{"id":313,"name":"GPT0014 Antique Color Gota Patti","price":580,"image":"GPT0014(1)-1613380551.jpg"},{"id":314,"name":"GPT0015 Light Golden Color Gota Patti with Yellow Kinari","price":420,"image":"GPT0015(1)-1613381228.jpg"},{"id":315,"name":"GPT0016 Silver Color Gota Patti","price":420,"image":"GPT0016(1)-1613381514.jpg"},{"id":316,"name":"GPT0017 Light Golden Color Gota Patti","price":420,"image":"GPT0017(1)-1613381760.jpg"},{"id":318,"name":"GPT0019 Silver Color Gota Patti","price":420,"image":"GPT0019(1)-1613382275.jpg"},{"id":320,"name":"MTSEQ0001 Silver Color Ring Shape Metal Sequins","price":330,"image":"MTSEQ0001(1)-1613385844.jpg"},{"id":321,"name":"MTSEQ0003 Dull Golden Color Round Shape Metal Sequins","price":330,"image":"MTSEQ0003(1)-1613386493.jpg"},{"id":323,"name":"MTSEQ0005 Dull Golden Color Round Shape Metal Sequins","price":330,"image":"MTSEQ0005(1)-1613389216.jpg"},{"id":326,"name":"MTSEQ0008 Golden Color Square Shape Metal Sequins","price":330,"image":"MTSEQ0008(1)-1613390740.jpg"},{"id":327,"name":"MTSEQ0009 Silver Color Flower Shape Metal Sequins","price":330,"image":"MTSEQ0009(1)-1613391210.jpg"},{"id":330,"name":"MTSEQ0012 Dull Golden Color Katori Shape Metal Sequins","price":220,"image":"MTSEQ0012(1)-1613464570.jpg"},{"id":337,"name":"HFX0007 Golden Color Square Shape Gluefix","price":200,"image":"HFX0007(1)-1613540834.jpg"},{"id":338,"name":"HFX0008 Silver Color Leaf Shape Hotfix with Golden Frame","price":250,"image":"HFX0008(1)-1613541503.jpg"},{"id":339,"name":"HFX0009 Golden Color Square Shape Gluefix","price":130,"image":"HFX0009(1)-1613541910.jpg"},{"id":340,"name":"HFX0010 Peach Color Circle Shape With Golden Frame Hotfix","price":200,"image":"HFX0010(1)-1613542484.jpg"},{"id":341,"name":"HFX0011 Peach Color Leaf Shape Hotfix with Golden Frame","price":250,"image":"HFX0011(1)-1613542864.jpg"},{"id":342,"name":"HFX0012 Peach Color S-Shape Hotfix","price":330,"image":"HFX0012(1)-1613722721.jpg"},{"id":344,"name":"HFX0014 Peach Color Eye Shape Hotfix","price":120,"image":"HFX0014(1)-1613722867.jpg"},{"id":345,"name":"HFX0015 Peach Color Round Shape Hotfix","price":120,"image":"HFX0015(1)-1645092289.jpg"},{"id":348,"name":"HFX0018 Copper Color Square Shape Hotfix","price":250,"image":"HFX00018(1)-1613723063.jpg"},{"id":352,"name":"WBD0004 Red Color Wooden Beads","price":330,"image":"WBD0004(1)-1613723404.jpg"},{"id":355,"name":"WBD0007 Brown Color Cube Shape Wooden Beads","price":330,"image":"WBD0007(1)-1613723532.jpg"},{"id":356,"name":"WBD0008 Dark Brown Color Round Shape Wooden Beads","price":200,"image":"WBD0008(1)-1613723580.jpg"},{"id":357,"name":"WBD0009 Dark Brown Color Wooden Beads","price":280,"image":"WBD0009(1)-1613723622.jpg"},{"id":359,"name":"WBD0011 Light Brown Color Round Shape Wooden Beads","price":130,"image":"WBD00011(1)-1613723709.jpg"},{"id":364,"name":"MRBD0004 Red Color Marble Beads","price":130,"image":"MRBD0004(1)-1613724063.jpg"},{"id":365,"name":"MRBD0005 Light Green Color Marble Beads","price":130,"image":"MRBD0005(1)-1613724121.jpg"},{"id":372,"name":"Silver Color Sew On Rhinestone \/ Softi \/ Chatons in Flat Back Metal Setting (6mm-30ss)","price":460,"image":"SOFTI0001(1)-1624270848.jpg"},{"id":373,"name":"Silver Color Sew On Rhinestone \/ Softi \/ Chatons in Flat Back Metal Setting (4mm-16ss)","price":500,"image":"SOFTI0001A(1)-1624270828.jpg"},{"id":374,"name":"BDLA0001 Rainbow Color Baadla (Metallic look Soft Dori)","price":150,"image":"BDLA0001(1)-1624085091.jpg"},{"id":375,"name":"BDLA0002 Golden Color Baadla (Metallic look Soft Dori)","price":100,"image":"BDLA0002(1)-1624085123.jpg"},{"id":376,"name":"BDLA0003 Rose Gold Color Baadla (Metallic look Soft Dori)","price":100,"image":"BDLA0003(1)-1624085146.jpg"},{"id":377,"name":"BDLA0004 Silver Color Baadla (Metallic look Soft Dori)","price":100,"image":"BDLA0004(1)-1624085170.jpg"},{"id":378,"name":"Black Color Leaf Shape Pearl Stones with Chain","price":300,"image":"PLST0001(1)-1624263144.jpg"},{"id":379,"name":"PLST0001A Black Color Leaf Shape Pearl Stones with Chain","price":420,"image":"PLST0001A(1)-1624263180.jpg"},{"id":380,"name":"PLST0002 Black Color Oval Shape Pearl Stones with Chain","price":380,"image":"PLST0002(1)-1624263202.jpg"},{"id":381,"name":"PLST0003 Cream Color Leaf Shape Pearl Stones with Chain","price":300,"image":"PLST0003(1)-1624263257.jpg"},{"id":382,"name":"PLST0003A Cream Color Leaf Shape Pearl Stones with Chain","price":420,"image":"PLST0003A(1)-1624263298.jpg"},{"id":383,"name":"PLST0004 Cream Color Round Shape Pearl Stones with Chain","price":330,"image":"PLST0004(1)-1624263322.jpg"},{"id":384,"name":"PLST0005 Cream Color Oval Shape Pearl Stones with Chain","price":380,"image":"PLST0005(1)-1624263360.jpg"},{"id":385,"name":"PLST0006 Cream Color Round Shape with Single Stone Pearl Stones","price":330,"image":"PLST0006(1)-1624263398.jpg"},{"id":386,"name":"PRLBD0001 Off White Color Round Shape Pearl Beads","price":120,"image":"PRLBD0001(1)-1624263554.jpg"},{"id":387,"name":"PRLBD0002 Cream Color Round Shape Pearl Beads","price":120,"image":"PRLBD0002(1)-1624263576.jpg"},{"id":388,"name":"NLK0001 Mauve Color Twisted Shape Nalki Glass Beads","price":250,"image":"NLK0001(1)-1624084545.jpg"},{"id":389,"name":"NLK0001A Orange Color Twisted Shape Nalki Glass Beads","price":250,"image":"NLK0001A(1)-1624084463.jpg"},{"id":390,"name":"NLK0001B Rainbow Color Twisted Shape Nalki Glass Beads","price":250,"image":"NLK0001B(1)-1624084435.jpg"},{"id":391,"name":"NLK0001C Antique Color Twisted Shape Nalki Glass Beads","price":200,"image":"NLK0001C(1)-1624084408.jpg"},{"id":392,"name":"NLK0001D Grey Color Twisted Shape Nalki Glass Beads","price":200,"image":"NLK0001D(1)-1624084605.jpg"},{"id":393,"name":"MRR0001 Golden Color Square Shape Mirror","price":210,"image":"MRR0001(1)-1624084698.jpg"},{"id":394,"name":"MRR0002 Brown Color Circle Shape Mirror","price":380,"image":"MRR0002(1)-1624084727.jpg"},{"id":395,"name":"MRR0003 Silver Color Rhombus Shape Mirror","price":110,"image":"MRR0003(1)-1624084749.jpg"},{"id":399,"name":"MRR0007 Golden Color Diamond Shape Mirror","price":170,"image":"MRR0007(1)-1624084960.jpg"},{"id":400,"name":"MRR0008 Silver Color Eye Shape Mirror","price":170,"image":"MRR0008(1)-1624084982.jpg"},{"id":413,"name":"BRCH0002 Red Color Flower Shape Brooch","price":330,"image":"BRCH0002(1)-1624271412.jpg"},{"id":414,"name":"BRCH0003 Grey Color Flower Brooch","price":290,"image":"BRCH0003(1)-1624271435.jpg"},{"id":415,"name":"BRCH0004 Green Color Flower Pot Shape Brooch","price":290,"image":"BRCH0004(1)-1624271459.jpg"},{"id":416,"name":"BRCH0005 Blue Color Rose Shape Brooch","price":420,"image":"BRCH0005(1)-1624271541.jpg"},{"id":418,"name":"BRCH0006 Desaturated Light Pink Color Flower Brooch","price":290,"image":"BRCH0006(1)-1624271630.jpg"},{"id":419,"name":"BRCH0007 Butterfly Design Brooch","price":380,"image":"BRCH0007(1)-1624271654.jpg"},{"id":420,"name":"BRCH0008 Silver Eye Shape stitchable Brooch With Stones (without pin)","price":580,"image":"BRCH0008(1)-1624271699.jpg"},{"id":421,"name":"BRCH0009 Grey Stone With Golden Frame stitchable Brooch(without pin)","price":170,"image":"BRCH0009(1)-1624271730.jpg"},{"id":422,"name":"BRCH0010 Silver Stone with Golden Frame stitchable Brooch(without pin)","price":460,"image":"BRCH0010(1)-1624271746.jpg"},{"id":423,"name":"SHL0001 Square Shape Cream Color Shells","price":210,"image":"SHL0001(1)-1624270928.jpg"},{"id":424,"name":"SHL0002 Fish Shape Cream Color Shells","price":290,"image":"SHL0002(1)-1624270947.jpg"},{"id":425,"name":"SHL0003 Cream Color Shells","price":290,"image":"SHL0003(1)-1624270966.jpg"},{"id":427,"name":"SHL0005 Round Shape Shells","price":250,"image":"SHL0005(1)-1624271003.jpg"},{"id":428,"name":"SHL0006 Square Shape Tiger Print Shells","price":210,"image":"SHL0006(1)-1624271022.jpg"},{"id":494,"name":"SQBD0007 Hot Pink Color Sequins Work Border","price":1020,"image":"SQBD0007(1)-1624338136.jpg"},{"id":497,"name":"THBD0002 Ornage Color Flowers Thread Work Border","price":880,"image":"THBD0002(1)-1624340077.jpg"},{"id":514,"name":"MTLCH0001 Golden Metal Stone Chain with White Glass Stones","price":580,"image":"MTLCH0001(1)-1624343618.jpg"},{"id":515,"name":"MTLCH0001A Golden Color Metal Chain With White Stone","price":420,"image":"MTLCH0001A(1)-1624343639.jpg"},{"id":516,"name":"MTLCH0002 Golden Metal Stone Chain with Golden Glass Stones","price":750,"image":"MTLCH0002(1)-1624343662.jpg"},{"id":517,"name":"MTLCH0002A Golden Color Metal Chains with Golden Stone","price":500,"image":"MTLCH0002A(1)-1624343682.jpg"},{"id":518,"name":"MTLCH0003 Golden Metal Stone Chain with White Pearl Stone","price":330,"image":"MTLCH0003(1)-1624343697.jpg"},{"id":519,"name":"MTLCH0004 Golden Metal Chain","price":130,"image":"MTLCH0004(1)-1624343715.jpg"},{"id":520,"name":"MTLCH0004A Golden Metal Chain","price":210,"image":"MTLCH0004A(1)-1624343733.jpg"},{"id":522,"name":"ELS0001White Color Elastic - 1 inch","price":320,"image":"ELS0001(1)-1624343785.jpg"},{"id":523,"name":"ELS0002 White Color Elastic -1.25 inces","price":360,"image":"ELS0002(1)-1624343798.jpg"},{"id":524,"name":"ELS0003 White Color Elastic - 0.75 inches","price":240,"image":"ELS0003(1)-1624343818.jpg"},{"id":525,"name":"ELS0004 White Color Elastics 1.5 inches","price":400,"image":"ELS0004(1)-1624343839.jpg"},{"id":526,"name":"ELS0005 White color Elastic 2 inches","price":570,"image":"ELS0005(1)-1624343860.jpg"},{"id":528,"name":"ELS0007 White Color Elastic - 8 mm","price":170,"image":"ELS0007(1)-1624343890.jpg"},{"id":529,"name":"ELS0008 White Color Elastic - 1\/2 inch","price":320,"image":"ELS0008(1)-1624343907.jpg"},{"id":530,"name":"ELS0009 White Color Elastic with Golden Zari - 1 inch","price":330,"image":"ELS0009(1)-1624343936.jpg"},{"id":532,"name":"Yellow Color Concealed YKK Zips CHC-26 (ZPYK001)","price":60,"image":"ZPYK1(2)-1624344583.jpg"},{"id":533,"name":"Orange Color Concealed YKK Zips CHC-26 (ZPYK006)","price":60,"image":"ZPYK6(2)-1624344614.jpg"},{"id":534,"name":"Antique Golden Color Concealed YKK Zips CHC-26 (ZPYK007)","price":60,"image":"ZPYK007(2)-1620622978.jpg"},{"id":535,"name":"Dark Green Color Concealed YKK Zips CHC-26 (ZPYK017)","price":60,"image":"ZPYK17(2)-1624344727.jpg"},{"id":536,"name":"Dark Cyan Color Concealed YKK Zips CHC-26 (ZPYK023)","price":60,"image":"ZPYK23(2)-1624344756.jpg"},{"id":537,"name":"Purple Color Concealed YKK Zips CHC-26 (ZPYK029)","price":60,"image":"ZPYK29(2)-1624344782.jpg"},{"id":538,"name":"Cream Color Concealed YKK Zips CHC-26 (ZPYK031)","price":60,"image":"ZPYK31(2)-1624344809.jpg"},{"id":539,"name":"Light Cyan Color Concealed YKK Zips CHC-26 (ZPYK049)","price":60,"image":"ZPYK49(2)-1624344828.jpg"},{"id":540,"name":"Sunglow Yellow Color Concealed YKK Zips CHC-26 (ZPYK056)","price":60,"image":"ZPYK56(2)-1624344849.jpg"},{"id":541,"name":"Dark Blue Color Concealed YKK Zips CHC-26 (ZPYK067)","price":60,"image":"ZPYK67(2)-1624344873.jpg"},{"id":542,"name":"Coral Red Color Concealed YKK Zips CHC-26 (ZPYK082)","price":60,"image":"ZPYK82(2)-1624344892.jpg"},{"id":543,"name":"Light Mustard Color Concealed YKK Zips CHC-26 (ZPYK087)","price":60,"image":"ZPYK87(2)-1624344911.jpg"},{"id":544,"name":"Dark Peach Color Concealed YKK Zips CHC-26 (ZPYK090)","price":60,"image":"ZPYK90(2)-1624344933.jpg"},{"id":545,"name":"Sky Blue Color Concealed YKK Zips CHC-26 (ZPYK066)","price":60,"image":"ZPYK99(2)-1624344963.jpg"},{"id":546,"name":"Light Golden Color Concealed YKK Zips CHC-26 (ZPYK108)","price":60,"image":"ZPYK108(1)-1624344994.jpg"},{"id":547,"name":"Light Peach Color Concealed YKK Zips CHC-26 (ZPYK114)","price":60,"image":"ZPYK114(2)-1624345026.jpg"},{"id":548,"name":"Off White Color Concealed YKK Zips CHC-26 (ZPYK121)","price":60,"image":"ZPYK121(2)-1624345062.jpg"},{"id":549,"name":"Bright Green Color Concealed YKK Zips CHC-26 (ZPYK148)","price":60,"image":"ZPYK148(2)-1624345086.jpg"},{"id":550,"name":"Dark Grey Color Concealed YKK Zips CHC-26 (ZPYK155)","price":60,"image":"ZPYK155(2)-1624345108.jpg"},{"id":551,"name":"Dusty Grey Color Concealed YKK Zips CHC-26 (ZPYK181)","price":60,"image":"ZPYK181(2)-1624345127.jpg"},{"id":552,"name":"Light Grey Color Concealed YKK Zips CHC-26 (ZPYK195)","price":60,"image":"ZPYK195(2)-1624345150.jpg"},{"id":553,"name":"Blueish White Color Concealed YKK Zips CHC-26 (ZPYK208)","price":60,"image":"ZPYK208(2)-1624345173.jpg"},{"id":554,"name":"Dull Peach Color Concealed YKK Zips CHC-26 (ZPYK213)","price":60,"image":"ZPYK213(2)-1620621767.jpg"},{"id":555,"name":"Mehandi Green Color Concealed YKK Zips CHC-26 (ZPYK223)","price":60,"image":"ZPYK223(2)-1620623541.jpg"},{"id":556,"name":"Very Light Dull Peach Color Concealed YKK Zips CHC-26 (ZPYK274)","price":60,"image":"ZPYK274(2)-1624345201.jpg"},{"id":557,"name":"Blue Color Concealed YKK Zips CHC-26 (ZPYK294)","price":60,"image":"ZPYK294(2)-1620620033.jpg"},{"id":558,"name":"Brown Color Concealed YKK Zips CHC-26 (ZPYK296)","price":60,"image":"ZPYK296(2)-1624345230.jpg"},{"id":559,"name":"Bright Peach Color Concealed YKK Zips CHC-26 (ZPYK348)","price":60,"image":"ZPYK348(2)-1624345285.jpg"},{"id":560,"name":"Desaturated Pink Color Concealed YKK Zips CHC-26 (ZPYK377)","price":60,"image":"ZPYK377(2)-1624345321.jpg"},{"id":561,"name":"White Color Concealed YKK Zips CHC-26 (ZPYK501)","price":60,"image":"ZPYK501(2)-1624345350.jpg"},{"id":562,"name":"Bright Yellow Color Concealed YKK Zips CHC-26 (ZPYK503)","price":60,"image":"ZPYK503(2)-1624345375.jpg"},{"id":563,"name":"Yellow Color Concealed YKK Zips CHC-26 (ZPYK504)","price":60,"image":"ZPYK504(2)-1624345415.jpg"},{"id":564,"name":"Mustard Color Concealed YKK Zips CHC-26 (ZPYK510)","price":60,"image":"ZPYK510(2)-1624345450.jpg"},{"id":565,"name":"Baby Pink Color Concealed YKK Zips CHC-26 (ZPYK513)","price":60,"image":"ZPYK513(2)-1624345481.jpg"},{"id":566,"name":"Cherry Red Color Concealed YKK Zips CHC-26 (ZPYK517)","price":60,"image":"ZPYK517(2)-1620622788.jpg"},{"id":567,"name":"Very Light Peach Color Concealed YKK Zips CHC-26 (ZPYK521)","price":60,"image":"ZPYK521(2)-1624345537.jpg"},{"id":568,"name":"Orange Color Concealed YKK Zips CHC-26 (ZPYK523)","price":60,"image":"ZPYK523(2)-1624345593.jpg"},{"id":569,"name":"Bright Light Green Color Concealed YKK Zips CHC-26 (ZPYK536)","price":60,"image":"ZPYK536(2)-1624345636.jpg"},{"id":570,"name":"Ferozi Blue Color Concealed YKK Zips CHC-26 (ZPYK547)","price":60,"image":"ZPYK547(2)-1624345672.jpg"},{"id":571,"name":"French Vanilla Color Concealed YKK Zips CHC-26 (ZPYK551)","price":60,"image":"ZPYK551(2)-1624345699.jpg"},{"id":572,"name":"Olive Green Color Concealed YKK Zips CHC-26 (ZPYK562)","price":60,"image":"ZPYK562(2)-1624346205.jpg"},{"id":573,"name":"Dark Brown Color Concealed YKK Zips CHC-26 (ZPYK570)","price":60,"image":"ZPYK570(2)-1624346275.jpg"},{"id":574,"name":"Black Color Concealed YKK Zips CHC-26 (ZPYK580)","price":60,"image":"ZPYK580(2)-1624346311.jpg"},{"id":575,"name":"Light Peach Color Concealed YKK Zips CHC-26 (ZPYK812)","price":60,"image":"ZPYK812(2)-1624346350.jpg"},{"id":576,"name":"Dark Orange Color Concealed YKK Zips CHC-26 (ZPYK816)","price":60,"image":"ZPYK816(3)-1614765690.jpg"},{"id":577,"name":"Bright Red Color Concealed YKK Zips CHC-26 (ZPYK820)","price":60,"image":"ZPYK820(2)-1614766180.jpg"},{"id":578,"name":"Mustard Color Concealed YKK Zips CHC-26 (ZPYK847)","price":60,"image":"ZPYK847(2)-1614766967.jpg"},{"id":579,"name":"Light Peach Color Concealed YKK Zips CHC-26 (ZPYK851)","price":60,"image":"ZPYK851(2)-1614771555.jpg"},{"id":580,"name":"Brown Color Concealed YKK Zips CHC-26 (ZPYK859)","price":60,"image":"ZPYK859(2)-1614772016.jpg"},{"id":581,"name":"Dark Green Color Concealed YKK Zips CHC-26 (ZPYK869)","price":60,"image":"ZPYK869(2)-1614772302.jpg"},{"id":582,"name":"Light Pastel Green Color Concealed YKK Zips CHC-26 (ZPYK871)","price":60,"image":"ZPYK871(2)-1614772710.jpg"},{"id":583,"name":"Dark Grass Green Color Concealed YKK Zips CHC-26 (ZPYK876)","price":60,"image":"ZPYK876(2)-1614773130.jpg"},{"id":584,"name":"Light Tea Green Color Concealed YKK Zips CHC-26 (ZPYK881)","price":60,"image":"ZPYK881(2)-1614773480.jpg"},{"id":585,"name":"Mehandi Green Color Concealed YKK Zips CHC-26 (ZPYK888)","price":60,"image":"ZPYK888(2)-1614773813.jpg"},{"id":586,"name":"Light Golden Color Concealed YKK Zips CHC-26 (ZPYK891)","price":60,"image":"ZPYK891(2)-1614774124.jpg"},{"id":587,"name":"Light Golden Color Concealed YKK Zips CHC-26 (ZPYK892)","price":60,"image":"ZPYK892(2)-1614835355.jpg"},{"id":588,"name":"Very Dark Brown Color Concealed YKK Zips CHC-26 (ZPYK917)","price":60,"image":"ZPYK917(2)-1614835574.jpg"},{"id":589,"name":"PLSBD0002 Golden Color Round Plastic Beads- 1 cm approx.","price":100,"image":"PLSBD0002(1)-1614836737.jpg"},{"id":590,"name":"PLSBD0003 Golden Color Round Shape Plastic Beads -14 mm","price":100,"image":"PLSBD0003(2)-1614836969.jpg"},{"id":591,"name":"PLSBD0004 Golden Color Plastic Beads -5mm approx.","price":100,"image":"PLSBD0004(2)-1614837145.jpg"},{"id":592,"name":"BULLWR0001 Light Golden Color Bullion Wire\/ Fancy Kora \/ Twisted Kora (Color Code F-7)","price":230,"image":"BULLWR0001(1)-1614840274.jpg"},{"id":593,"name":"BULLWR0002 Copper color Bullion Wire\/ Fancy Kora \/ Twisted Kora (Color Code- 102-VPJ)","price":230,"image":"BULLWR0002(1)-1614841610.jpg"},{"id":594,"name":"DABK0001 Golden Color Dabka(Color Code 102-BPJ)","price":230,"image":"DABK0001(1)-1614842213.jpg"},{"id":595,"name":"DABK0002 Light Golden Color Dabka (Color Code F-7)","price":230,"image":"DABK0002(1)-1614842723.jpg"},{"id":596,"name":"DABK0003 Antique (13 no.) Color Dabka","price":220,"image":"DABK0003(1)-1614843294.jpg"},{"id":597,"name":"DABK0004 Antique Copper (104 no.) Color Dabka","price":230,"image":"DABK0004(1)-1614843799.jpg"},{"id":598,"name":"DABK0005 Silver Color Dabka","price":270,"image":"DABK0005(1)-1614845392.jpg"},{"id":599,"name":"DABK0006 Antique Copper (36 no.) Color Dabka","price":220,"image":"DABK0006 (1)-1614846059.jpg"},{"id":600,"name":"NAKSHI001 Antique Color Nakshi","price":230,"image":"NAKSHI001(1)-1614850510.jpg"},{"id":601,"name":"NAKSHI002 Antique Golden Color Nakshi (Color Code 104-BPJ)","price":230,"image":"NAKSHI002(1)-1614850856.jpg"},{"id":602,"name":"NAKSHI003 Rose Gold Color Nakshi","price":230,"image":"NAKSHI003(1)-1614851070.jpg"},{"id":603,"name":"NAKSHI004 Light Golden Color Nakshi (Color Code F-7-30 NO)","price":230,"image":"NAKSHI004(1)-1614851714.jpg"},{"id":604,"name":"NAKSHI005 Silver Color Nakshi","price":270,"image":"NAKSHI005(1)-1614852002.jpg"},{"id":605,"name":"KORA0001 Silver Color Kora\/ Bullion Wire","price":270,"image":"KORA0001(1)-1614852638.jpg"},{"id":606,"name":"KORA0002 Antique Color Kora\/ Bullion Wire (Color Code -13)","price":220,"image":"KORA0002(1)-1614853504.jpg"},{"id":607,"name":"ORGRB0001 White Color Organza Ribbon - 2.5 cm","price":130,"image":"ORGRB0001(1)-1614855709.jpg"},{"id":609,"name":"ORGRB0003 White Color Organza Ribbon -1.2 cm","price":70,"image":"ORGRB0003(1)-1614858718.jpg"},{"id":611,"name":"METZP0002 Peach Color Ykk Metal Zip 20\" inches","price":160,"image":"ZPYK0002(2)-1615195365.jpg"},{"id":612,"name":"Beige Color YKk 30\" Inches Metal Zips","price":190,"image":"ZPYK0011(2)-1615196674.jpg"},{"id":613,"name":"Black Color 20,25 and 30 inches Ykk Zip with Golden Chain","price":170,"image":"ZPYK0003(2)-1615197275.jpg"},{"id":614,"name":"METZP0005 Red Color Ykk Metal Zip 20\" inches","price":160,"image":"ZPYK0004(2)-1615198402.jpg"},{"id":615,"name":"METZP0006 Baby Pink Color Ykk Zip 20\" inches","price":160,"image":"ZPYK0005(2)-1615199551.jpg"},{"id":616,"name":"METZP0007 Bright Red Color Ykk Metal Zip 20\" inches","price":160,"image":"ZPYK0006(2)-1615200279.jpg"},{"id":617,"name":"Maroon Color Ykk Metal Zip 25\" inches","price":180,"image":"maroon-1686209696.jpg"},{"id":618,"name":"METZP0009 Black Color Ykk Zip with Silver Chain 20\" inches","price":130,"image":"ZPYK0008(2)-1615203173.jpg"},{"id":620,"name":"White Color Ykk Zip with Golden chain 20\" , 25\" inches","price":170,"image":"ZPYK0010(2)-1615203773.jpg"},{"id":629,"name":"Triangle Shape Wooden Frame for Embroidery FRAM0001","price":330,"image":"FRM0001(1)-1615357404.jpg"},{"id":630,"name":"Square Shape Wooden Frame For Embroidery FRAM0005","price":330,"image":"FRM0002(2)-1615358096.jpg"},{"id":631,"name":"Oval Shape Wooden Embroidery Frame FRAM0003","price":330,"image":"FRM0003-1615358427.jpg"},{"id":638,"name":"White Coreset Wire \/ Rigilene\/ Boning wire-8 mm","price":460,"image":"CORST0001(5)-1636523697.jpg"},{"id":639,"name":"GHUN0001 Golden Color Ghungroo","price":80,"image":"GHUN0001(1)-1615370521.jpg"},{"id":640,"name":"Silver Color Ghungroo GHUN0002","price":100,"image":"GHUN0002(1)-1615370673.jpg"},{"id":641,"name":"PAD0001 White Color Blouse Pads\/Blouse Cups","price":170,"image":"PAD0001(1)-1615528137.jpg"},{"id":642,"name":"PAD0002 Skin Color Blouse Pads\/Blouse Cups","price":170,"image":"PAD0002(1)-1615528536.jpg"},{"id":643,"name":"PAD0003 Black Color Blouse Pads\/ Blouse Cups","price":170,"image":"PAD0003(1)-1615528888.jpg"},{"id":644,"name":"MUKS0001 Rose Gold Color Mukaish\/ Metal Strips","price":450,"image":"MUKS0001(3)-1615529850.jpg"},{"id":645,"name":"MUKS0002 Silver Color Mukaish\/ Metal Strip","price":420,"image":"MUKS0002(2)-1615530506.jpg"},{"id":646,"name":"GPT0020 Drop Shape Rose Gold Color Leather Patti","price":170,"image":"GPT0020(1)-1615531958.jpg"},{"id":647,"name":"GPT0020A Drop Shape rose Gold Color Leather Patti","price":170,"image":"GPT0020A(1)-1615532670.jpg"},{"id":648,"name":"GPT0021 Rose Gold Color Square Shape Gota Patti","price":250,"image":"GPT0021(1)-1615533149.jpg"},{"id":649,"name":"GPT0022 Rhombus Shape Rose gold Color Leather Patti","price":170,"image":"GPT0022(1)-1615533624.jpg"},{"id":652,"name":"GPT0025 Leaf Shape Golden Color Gota Patti","price":250,"image":"GPT0025(1)-1615540436.jpg"},{"id":653,"name":"GPT0026 Rhombus Shape Golden Color Gota Patti","price":280,"image":"GPT0026(1)-1615540914.jpg"},{"id":655,"name":"GPT0028 Rose Gold Color Gota Patti","price":330,"image":"GPT0028(1)-1615541841.jpg"},{"id":656,"name":"GPT0029 Drop Shape Rose Gold Color Gota Patti","price":250,"image":"GPT0029(1)-1615542331.jpg"},{"id":657,"name":"GPT0030 Round Shape Golden Color Leather Patti","price":250,"image":"GPT0030(1)-1615542673.jpg"},{"id":658,"name":"GPT0031 Golden Color Eye Shape Gota Patti","price":250,"image":"GPT0031(1)-1615543113.jpg"},{"id":659,"name":"GPT0032 Light Golden Color Eye Shape Leather Patti","price":170,"image":"GPT0032(1)-1615543486.jpg"},{"id":669,"name":"FNLC0008 Red Green Color Fancy Lace","price":670,"image":"FNLC0008(1)-1616414097.jpg"},{"id":670,"name":"FNLC0008A Blue Red Color Fancy Lace","price":670,"image":"FNLC0008A(1)-1616414416.jpg"},{"id":671,"name":"FNLC0008B Orange Color Fancy Lace","price":670,"image":"FNLC0008B(1)-1616414915.jpg"},{"id":676,"name":"CDTAP0001 Rose Gold Color Acrylic Tape Sewable (CD Tape)","price":330,"image":"CDTAP0001(2)-1616486153.jpg"},{"id":681,"name":"CDTAP0008 Black Color Acrylic Tape Sewable (Cd Tape)","price":330,"image":"CDTAP0008(2)-1616492954.jpg"},{"id":683,"name":"CDTAP0011 Silver Color Acrylic Tape Sewable (CD Tape)","price":330,"image":"CDTAP0011(2)-1616493467.jpg"},{"id":688,"name":"CDTAP0017 Silver Color Sparkle Acrylic Tape Sewable (CD Tape)","price":420,"image":"CDTAP0017(1)-1679999430.jpg"},{"id":689,"name":"CDTAP0019 Rainbow Color Acrylic Tape Sewable (CD Tape)","price":420,"image":"CDTAP0019(1)-1616495469.jpg"},{"id":692,"name":"CDTAP0023 Dark Pink Color Acrylic Tape Sewable (CD Tape)","price":330,"image":"CDTAP0023(2)-1616499410.jpg"},{"id":693,"name":"Emerald Green Color Acrylic Tape Sewable (CD Tape)","price":330,"image":"CDTAP0024(2)-1616563513.jpg"},{"id":694,"name":"Navy Blue Color Acrylic Tape Sewable (CD Tape)","price":330,"image":"CDTAP0042(1)-1679999393.jpg"},{"id":695,"name":"CDTAP0026 Golden Color Sparkle Acrylic Tape Sewable (CD Tape)","price":330,"image":"CDTAP0026(1)-1616564188.jpg"},{"id":696,"name":"CDTAP0027 Light Golden Color Acrylic Tape Sewable (CD Tape)","price":330,"image":"CDTAP0027(2)-1616564451.jpg"},{"id":697,"name":"Black Color Leather Tape Sewable (CD Tape)","price":420,"image":"CDTAP00028(2)-1616564670.jpg"},{"id":698,"name":"CDTAP0029 Black Color Sparkle Acrylic Tape Sewable (CD Tape)","price":420,"image":"CDTAP00029(2)-1616564911.jpg"},{"id":699,"name":"CDTAP0030 Golden Color Acrylic Tape Sewable (CD Tape)","price":330,"image":"cdtap-1679919122.jpg"},{"id":700,"name":"FRNG0001A Silver Color Fringes Sequins Work","price":1500,"image":"FRNG0001A(1)-1616584616.jpg"},{"id":701,"name":"FRNG0001B Pink Color Fringes Sequins Work","price":1500,"image":"FRNG0001B(1)-1616584918.jpg"},{"id":702,"name":"FRNG0001C Magenta Color Fringes Sequins Work","price":1500,"image":"FRNG0001D(1)-1616585968.jpg"},{"id":705,"name":"Blue-Black Color Hand Embroidery Gents\/Men Shirt Patch","price":560,"image":"PATHE0086(1)-1616649756.jpg"},{"id":707,"name":"Red-Blue Color Hand Embroidery Gents\/men Shirt Patch","price":630,"image":"PATHE0088(1)-1616650948.jpg"},{"id":708,"name":"Red-Black Color Hand Embroidery Gents\/men Shirt Patch","price":630,"image":"PATHE0089(1)-1616651742.jpg"},{"id":715,"name":"BUCL0012A Golden Square Shape Color Buckle","price":290,"image":"BUCL0012A-2(1)-1642155763.jpg"},{"id":717,"name":"BUCL0013B Round Shape Golden Color Buckle","price":230,"image":"BUCL0013B(1)-1616659128.jpg"},{"id":719,"name":"BUCL0013A Round Shape Silver Color Buckle","price":230,"image":"BUCL0013A(1)-1616659126.jpg"},{"id":720,"name":"BUCL0014 Round Shape Silver Color Buckle","price":210,"image":"BUCL0014(1)-1616659900.jpg"},{"id":722,"name":"BUCL0014B Round Shape Golden Color Buckle","price":210,"image":"BUCL0014B(1)-1616659907.jpg"},{"id":738,"name":"PATF0040B Golden Color Butterfly Fancy Patch","price":290,"image":"PATF0040B(1)-1616824806.jpg"},{"id":739,"name":"PATF0040C Black Color Butterfly Fancy Patch","price":290,"image":"PATF0040C(1)-1616833219.jpg"},{"id":741,"name":"PATF0040E Brown Color Butterfly Fancy Patch","price":290,"image":"PATF0040E(1)-1616833775.jpg"},{"id":742,"name":"PATF0040F Grey Color Butterfly Fancy Patch","price":290,"image":"PATF0040G(3)-1616833898.jpg"},{"id":744,"name":"BDLC0001 Golden Color Beaded Lace","price":600,"image":"BDLC0001(1)-1617091382.jpg"},{"id":746,"name":"BDLC0003 White Color Pearl Work Beaded Lace","price":600,"image":"BDLC0003(1)-1617091878.jpg"},{"id":761,"name":"COTN0011 White Color Cotton Lace (Dyeable)","price":9000,"image":"COTN0011(1)-1617099788.jpg"},{"id":763,"name":"COTN0013 Black Color Cotton Lace","price":4500,"image":"COTN0013(1)-1617100415.jpg"},{"id":764,"name":"COTN0014 Black Color Cotton Lace","price":2170,"image":"COTN0014(1)-1617100576.jpg"},{"id":765,"name":"COTN0017 Cream Color Cotton Lace (Dyeable)","price":750,"image":"COTN0017(1)-1617100812.jpg"},{"id":778,"name":"PMPLC0004 White Color Pompom Lace","price":220,"image":"PMPLC0004(1)-1617106612.jpg"},{"id":779,"name":"PMPLC0005 White Color Pompom Lace (Crosia Lace)","price":1420,"image":"PMPLC0005(1)-1617106937.jpg"},{"id":781,"name":"Ladies Button Grey Color (WBTN0023B)","price":200,"image":"WBTN23B(1)-1617173114.jpg"},{"id":792,"name":"Ladies Button Yellow Color (WBTN0023G)","price":200,"image":"WBTN0023G(1)-1617191903.jpg"},{"id":793,"name":"Ladies Button Dark Pink Color (WBTN0023H)","price":200,"image":"WBTN0023H(1)-1617192403.jpg"},{"id":803,"name":"KURBT0002 Orange Color Kundan Work Fancy Kurta Patti Buttons with Chain","price":300,"image":"KURBT0002(1)-1617273552.jpg"},{"id":807,"name":"KURBT0005 Blue Color Kundan Work Fancy Kurta Patti Buttons with Chain","price":430,"image":"KURBT0005(1)-1617274632.jpg"},{"id":813,"name":"KURBT0012 Golden Color Kundan Work Fancy Kurta Patti Buttons with Chain","price":320,"image":"KURBT0012(1)-1617277024.jpg"},{"id":814,"name":"KURBT0013 Metallic Grey Color Mirror Work Fancy Kurta Patti Buttons with Chain","price":200,"image":"KURBT0013(1)-1617277151.jpg"},{"id":835,"name":"Red Color Sew On Rhinestone \/ Softi \/ Chatons in Flat Back Metal Setting (8mm-40ss)","price":330,"image":"SOFTI0002A(1)-1617347166.jpg"},{"id":836,"name":"Black Color Sew On Rhinestone \/ Softi \/ Chatons in Flat Back Metal Setting (8mm-40ss)","price":290,"image":"SOFTI0002B(1)-1617347399.jpg"},{"id":837,"name":"Peach Color Sew On Rhinestone \/ Softi \/ Chatons in Flat Back Metal Setting (8mm-40ss)","price":580,"image":"SOFTI0002C(1)-1617347660.jpg"},{"id":839,"name":"Wine Color Sew On Rhinestone \/ Softi \/ Chatons in Flat Back Metal Setting (6mm-30ss)","price":210,"image":"SOFTI0003A(1)-1617348644.jpg"},{"id":841,"name":"Red Stone Color Sew On Rhinestone \/ Softi \/ Chatons in Flat Back Metal Setting (6mm-30ss)","price":170,"image":"SOFTI0003C(1)-1617349371.jpg"},{"id":842,"name":"Dark Ferozi Color Sew On Rhinestone \/ Softi \/ Chatons in Flat Back Metal Setting (6mm-30ss)","price":170,"image":"SOFTI0003D(1)-1617350416.jpg"},{"id":843,"name":"Dark Green(Emerald) Color Sew On Rhinestone \/ Softi \/ Chatons in Flat Back Metal Setting (6mm-30ss)","price":250,"image":"SOFTI0003E(1)-1617350453.jpg"},{"id":844,"name":"Navy Blue (Montana) Color Sew On Rhinestone \/ Softi \/ Chatons in Flat Back Metal Setting (8mm-40ss)","price":290,"image":"SOFTI0002(1)-1617350485.jpg"},{"id":845,"name":"CHAND0001 Red Color Eye Shape Chandla\/Rhinestones\/Non-Hotfix","price":200,"image":"CHAND0001(1)-1617363714.jpg"},{"id":846,"name":"CHAND0001A Silver Color Eye Shape Chandla\/Rhinestones\/Non-Hotfix","price":200,"image":"CHAND0001A(1)-1617364023.jpg"},{"id":847,"name":"CHAND0001B Golden Color Eye Shape Chandla\/Rhinestones\/Non-Hotfix","price":250,"image":"CHAND0001B(1)-1617364460.jpg"},{"id":848,"name":"CHAND0002 Golden Color Leaf\/Paan Shape Chandla\/Rhinestones\/Non-Hotfix","price":200,"image":"CHAND0002(1)-1617364795.jpg"},{"id":849,"name":"CHAND0002A Silver Color Leaf\/Paan Shape Chandla\/Rhinestones\/Non-Hotfix","price":200,"image":"CHNAD0002A(1)-1617365106.jpg"},{"id":850,"name":"CHAND0003 Silver Color Round Shape Chandla\/Rhinestones\/Non-Hotfix","price":170,"image":"CHNAD0003(1)-1617365380.jpg"},{"id":855,"name":"BUCL0019 Golden Color Stone Work Buckle","price":130,"image":"BUCL0019(1)-1617431856.jpg"},{"id":857,"name":"MTSEQ0022 Golden Color Round Shape Metal Sequins","price":330,"image":"MTSEQ0022(2)-1617434276.jpg"},{"id":872,"name":"METSEQ0013 Golden Color Round Shape Metal Sequins","price":330,"image":"MTSEQ0013(1)-1617446893.jpg"},{"id":873,"name":"MTSEQ0014 Silver Color Shape Metal Sequins","price":330,"image":"MTSEQ0014(1)-1617447658.jpg"},{"id":874,"name":"MTSEQ0016 Silver Color Oval Shape Metal Sequins","price":330,"image":"MTSEQ0016(1)-1617447659.jpg"},{"id":877,"name":"MTSEQ0019 Silver Color Metal Sequins","price":330,"image":"MTSEQ0019(1)-1617450160.jpg"},{"id":893,"name":"HOOK001 Silver Color Pony Eye Hook","price":270,"image":"HOOK001(1)-1617621773.jpg"},{"id":894,"name":"HOOK001A Silver Color Pony Eye Hook","price":500,"image":"HOOK001A(1)-1617621952.jpg"},{"id":896,"name":"TICH001A Pony Tich Buttons\/ Snap Fasteners\/ Press Buttons","price":300,"image":"TICH002(1)-1617622831.jpg"},{"id":897,"name":"GPT0033 Rose Gold Color Gota Patti","price":210,"image":"GPT0033(1)-1617625130.jpg"},{"id":898,"name":"GPT0033A Light Golden Color Gota Patti","price":210,"image":"GPT0033A(1)-1617687815.jpg"},{"id":899,"name":"GPT0034 Medium Golden Color Gota Patti Star Shape","price":210,"image":"GPT0034(1)-1617688691.jpg"},{"id":900,"name":"GPT0035 Ferozi-Gold Color Gota Patti Flower","price":140,"image":"GPT0035(1)-1617689094.jpg"},{"id":901,"name":"GPT0035A Green-Gold Color Gota Patti Flower","price":140,"image":"GPT0035A(3)-1617689360.jpg"},{"id":902,"name":"GPT0035B Magenta-Golden Color Gota Patti FLower","price":140,"image":"GPT0035B(1)-1617689505.jpg"},{"id":903,"name":"GPT0035C Dark Blue-Gold Color Gota Patti Flower","price":140,"image":"GPT0035C(1)-1617689640.jpg"},{"id":904,"name":"GPT0036 Golden Color Star Shape Gota Patti","price":210,"image":"GPT0036(1)-1617690669.jpg"},{"id":905,"name":"GPT0037 Brown Color Gota Patti Flower","price":210,"image":"GPT0037(1)-1617691025.jpg"},{"id":906,"name":"GPT0037A Golden Color Gota Patti Flower","price":210,"image":"GPT0037A(1)-1617691247.jpg"},{"id":907,"name":"GPT0038 Silver Color Gota Patti Flower","price":210,"image":"GPT0038(1)-1617691550.jpg"},{"id":908,"name":"GPT0038A Brown Color Gota Patti Flower","price":210,"image":"GPT0038A(1)-1617691699.jpg"},{"id":909,"name":"GPT0040 Silver Color Gota Patti Flower","price":210,"image":"GPT0040(1)-1617691892.jpg"},{"id":910,"name":"GPT0042 Medium Golden Color Gota Patti Flower","price":250,"image":"GPT0042(1)-1617692606.jpg"},{"id":911,"name":"GPT0043 Golden Silver Color Gota Patti Star Shape","price":210,"image":"GPT0043(1)-1617692907.jpg"},{"id":912,"name":"GPTPA0001 Sunflower Color Gota Patti Patches","price":170,"image":"GPTPA0001(1)-1617694838.jpg"},{"id":913,"name":"GPTPA0002 Gold Color Gota Flower Patch","price":200,"image":"GPTPA0002(2)-1617695599.jpg"},{"id":914,"name":"GPTPA0003 Copper Color Gota Flower Patch","price":170,"image":"GPTPA0003(1)-1617695851.jpg"},{"id":915,"name":"GPTPA0004 Golden Color Gota Flower Patch","price":170,"image":"GPTPA0004(1)-1617696462.jpg"},{"id":916,"name":"GPTPA0005 Gold Color with Orange Kinari Gota Flower Patch","price":170,"image":"GPTPA0005(1)-1617696729.jpg"},{"id":917,"name":"GPTPA0006 Light Golden Color Gota Flower Patch","price":130,"image":"GPTPA0006(1)-1617696970.jpg"},{"id":918,"name":"GPTPA0007 Rose Gold Color Gota Flower Patch","price":170,"image":"GPTPA0007(2)-1617697151.jpg"},{"id":936,"name":"PATR0001 Golden Color Round Shape Sitara\/Patra without Hole","price":220,"image":"PATR0001(1)-1617788592.jpg"},{"id":937,"name":"PATR0002 Silver Color Rhombus Shape Sitara\/Patra without Hole","price":330,"image":"PATR0002(1)-1617789131.jpg"},{"id":938,"name":"PATR0004 Golden Color Rhombus Shape Sitara\/Patra without Hole","price":330,"image":"PATR0004(1)-1617789642.jpg"},{"id":939,"name":"PATR0005 Silver Color Triangle Shape Sitara\/Patra without Hole","price":330,"image":"PATR0005(1)-1617789916.jpg"},{"id":940,"name":"PATR0006 Silver Color Round Shape Sitara\/Patra without Hole","price":220,"image":"PATR0006(1)-1617790894.jpg"},{"id":941,"name":"PATR0007 Golden Color Rhombus Shape Sitara\/Patra without Hole","price":330,"image":"PATR0007(1)-1617791229.jpg"},{"id":942,"name":"PATR0008 Golden Square Shape Sitara\/Patra without Hole","price":220,"image":"PATR0008(1)-1617791521.jpg"},{"id":943,"name":"PATR0009 Golden Color Round Shape Sitara\/Patra without Hole","price":220,"image":"PATR0009(1)-1617791985.jpg"},{"id":944,"name":"PATR0010 Silver Color Square Shape Sitara\/Patra without Hole","price":220,"image":"PATR0010(1)-1617792537.jpg"},{"id":945,"name":"PATR0011 Silver Color Round Shape Sitara\/Patra without Hole","price":220,"image":"PATR00011(1)-1617793387.jpg"},{"id":946,"name":"PATR0012 Silver Color Square Shape Sitara\/Patra without Hole","price":220,"image":"PATR0012(1)-1617793652.jpg"},{"id":947,"name":"PATR0013 Silver Color Drop Shape Sitara\/Patra without Hole","price":330,"image":"PATR0013(1)-1617793893.jpg"},{"id":948,"name":"PATR0014 Silver Color Rhombus Shape Sitara\/Patra without Hole","price":330,"image":"PATR0014(1)-1617794144.jpg"},{"id":953,"name":"(MRBD0007) 2 MM Blue Color Round Shape Marble\/Seed Beads (Jayco Moti)","price":200,"image":"MRBD0007(2)-1617866229.jpg"},{"id":954,"name":"(MRBD0007B) 2 MM Orange Color Round Shape Marble\/Seed Beads (Jayco Moti)","price":200,"image":"MRBD0007B(2)-1617867863.jpg"},{"id":955,"name":"(MRBD0007A) 2 MM Pink Color Round Shape Marble\/Seed Beads (Jayco Moti)","price":200,"image":"MRBD0007A(2)-1617867872.jpg"},{"id":956,"name":"(MRBD0007C) 2 MM Light Golden Color Round Shape Marble\/Seed Beads (Jayco Moti)","price":200,"image":"MRBD0007C(2)-1617868701.jpg"},{"id":957,"name":"(MRBD0007D) 2 MM Brown Color Round Shape Marble\/Seed Beads (Jayco Moti)","price":200,"image":"MRBD0007D(2)-1617868728.jpg"},{"id":958,"name":"(MRBD0007E) 2 MM Cherry Red Color Round Shape Marble\/Seed Beads (Jayco Moti)","price":200,"image":"MRBD0007E(2)-1617869425.jpg"},{"id":959,"name":"(MRBD0007F) 2 MM Ferozi Color Round Shape Marble\/Seed Beads (Jayco Moti)","price":200,"image":"MRBD0007F(2)-1617869448.jpg"},{"id":960,"name":"(MRBD0007G) 2 MM Sky Blue Color Round Shape Marble\/Seed Beads (Jayco Moti)","price":200,"image":"MRBD0007G(2)-1617869455.jpg"},{"id":961,"name":"(MRBD0007H) 2 MM Yellow Color Round Shape Marble\/Seed Beads (Jayco Moti)","price":200,"image":"MRBD0007H(2)-1617869930.jpg"},{"id":962,"name":"(MRBD0007I) 2 MM Orange Color Round Shape Marble\/Seed Beads (Jayco Moti)","price":200,"image":"MRBD0007I(2)-1617869997.jpg"},{"id":963,"name":"(MRBD0007J) 2 MM Purple Color Round Shape Marble\/Seed Beads (Jayco Moti)","price":200,"image":"MRBD0007J(2)-1617870067.jpg"},{"id":964,"name":"(MRBD0007K) 2 MM Red Color Round Shape Marble\/Seed Beads (Jayco Moti)","price":200,"image":"MRBD0007K(2)-1617870117.jpg"},{"id":965,"name":"(MRBD0007L) 2 MM Hot Pink Color Round Shape Marble\/Seed Beads (Jayco Moti)","price":200,"image":"MRBD0007L(2)-1617870873.jpg"},{"id":966,"name":"(MRBD0007M) 2 MM Light Green Color Round Shape Marble\/Seed Beads (Jayco Moti)","price":200,"image":"MRBD0007M(2)-1617870906.jpg"},{"id":967,"name":"(MRBD0007N) 2 MM Dark Green Color Round Shape Marble\/Seed Beads (Jayco Moti)","price":200,"image":"MRBD0007N(2)-1617870932.jpg"},{"id":995,"name":"Pink Color Drop Shape Fancy Patch","price":330,"image":"PATF0046(1)-1618387914.jpg"},{"id":996,"name":"PATF0046A Orange Color Drop Shape Fancy Patch","price":330,"image":"PATF0046A(1)-1618388595.jpg"},{"id":997,"name":"PATF0046B Green Color Drop Shape Fancy Patch","price":330,"image":"PATF0046B(1)-1618388643.jpg"},{"id":1001,"name":"PATF0047B Maroon Color Drop Shape Fancy Patch","price":300,"image":"PATF0047B(1)-1618392061.jpg"},{"id":1002,"name":"PATF0047C Golden Color Drop Shape Fancy Patch","price":300,"image":"PATF0047C(1)-1618392096.jpg"},{"id":1008,"name":"GLST0009 Silver Color Drop Shape Center Glass Stone with Golden Frame","price":250,"image":"GLST0009(1)-1618395424.jpg"},{"id":1009,"name":"GLST0010 Silver Color Oval Shape Center Glass Stone with Golden Frame","price":200,"image":"GLST0010(1)-1618395890.jpg"},{"id":1010,"name":"GLST0011 Silver Color Eye Shape Center Glass Stone with Golden Frame","price":180,"image":"GLST0011(1)-1618395918.jpg"},{"id":1011,"name":"PLAST0001 Cream Color Round Shape Plastic Stones","price":200,"image":"PLAST0001(1)-1618398110.jpg"},{"id":1012,"name":"PLAST0002 Black Color Drop Shape Plastic Stones","price":230,"image":"PLAST0002(1)-1618398506.jpg"},{"id":1013,"name":"PLAST0003 Cream Color Square Shape Plastic Stones","price":170,"image":"PLAST0003(1)-1618398698.jpg"},{"id":1014,"name":"PLAST0004 Cream Color Round Shape Plastic Stones","price":170,"image":"PLAST0004(1)-1618399278.jpg"},{"id":1015,"name":"PLAST0005 Black Color Square Shape Plastic Stones","price":230,"image":"PLAST0005(1)-1618402269.jpg"},{"id":1016,"name":"PLAST0006 Cream Color Plastic Stones","price":270,"image":"PLAST0006(1)-1618402789.jpg"},{"id":1017,"name":"PLAS0007 Cream Color Drop Shape Plastic Stones","price":200,"image":"PLAST0007(1)-1618402843.jpg"},{"id":1018,"name":"PLAST0008 Cream Color Eye Shape Plastic Stones","price":170,"image":"PLAST0008(1)-1618402882.jpg"},{"id":1019,"name":"PLAST0009 Cream Color Oval Shape Plastic Stones","price":200,"image":"PLAST0009(1)-1618403159.jpg"},{"id":1020,"name":"Maroon Color 6ss Hot Fix SWAR0001","price":330,"image":"SWAR0001(2)-1-1645100081.jpg"},{"id":1021,"name":"SWAR0001A Olive Color 6ss Hot Fix","price":290,"image":"SWAR0001A(2)-1-1645100039.jpg"},{"id":1022,"name":"SWAR0001C Grey Color 6ss Hot Fix","price":290,"image":"SWAR0001C(3)-1-1645100014.jpg"},{"id":1023,"name":"SWAR0001B Peach Color 6ss Hot Fix","price":420,"image":"SWAR0001B(2)-1-1645099819.jpg"},{"id":1024,"name":"SWAR0001D Red Color 6ss Hot Fix","price":250,"image":"SWAR0001D(2)-1-1645099842.jpg"},{"id":1025,"name":"SWAR0001E Brown Color 6ss Hot Fix","price":250,"image":"SWAR0001E(2)-1-1645099661.jpg"},{"id":1027,"name":"SWAR0001G Light Pink Color 6ss Hot Fix","price":830,"image":"SWAR0001G(2)-2-1645099639.jpg"},{"id":1028,"name":"SWAR0001H Blue Color 6ss Hot Fix","price":290,"image":"SWAR0001H(2)-1-1645099416.jpg"},{"id":1029,"name":"SWAR0001I Medium Golden Color 6ss Hot Fix","price":210,"image":"SWAR0001I(2)-1-1645099445.jpg"},{"id":1030,"name":"SWAR0001J Orange Color 6ss Hot Fix","price":290,"image":"SWAR0001J(2).jpg-1-1645098515.jpg"},{"id":1032,"name":"SWAR0001L Navy Blue Color 6ss Hot Fix","price":250,"image":"SWAR0001L(2).jpg-1-1645098324.jpg"},{"id":1033,"name":"SWAR0003 Medium Pink Color 16ss Hot Fix","price":750,"image":"SWAR0003(2).jpg-1-1645097143.jpg"},{"id":1034,"name":"SWAR0003A Red Color 16ss Hot Fix","price":290,"image":"SWAR0003A(2).jpg-1-1645097119.jpg"},{"id":1035,"name":"SWAR0003B Golden Color 16ss Hot Fix","price":210,"image":"SWAR0003B(2).jpg-1-1645097174.jpg"},{"id":1036,"name":"SWAR0003C Black Color 16ss Hot Fix","price":250,"image":"SWAR0003C(2).jpg-1-1645097199.jpg"},{"id":1037,"name":"SWAR0003D Orange Color 16ss Hot Fix","price":290,"image":"SWAR0003D(2)-2-1645096821.jpg"},{"id":1038,"name":"SWAR0003E Metallic Grey Color 16ss Hot Fix","price":210,"image":"SWAR0003E(2)-2-1645096799.jpg"},{"id":1040,"name":"SWAR0003G Royal Blue Color 16ss Hot Fix","price":170,"image":"SWAR0003G(2)-1-1645096320.jpg"},{"id":1042,"name":"SWAR0003I Navy Blue Color 16ss Hot Fix","price":290,"image":"SWAR0003I(2)-2-1645096196.jpg"},{"id":1043,"name":"SWAR0003J Silver Color 16ss Hot Fix","price":250,"image":"SWAR0003J(2)-1-1645096101.jpg"},{"id":1044,"name":"SWAR0003K Light Green Color 16ss Hot Fix","price":170,"image":"SWAR0003K(2)-1-1645095970.jpg"},{"id":1045,"name":"SWAR0003L Olive Color 16ss Hot Fix","price":170,"image":"SWAR0003L(2)-1-1645095906.jpg"},{"id":1046,"name":"Grey Color Hot Fix SWAR0002 (10ss, 6ss)","price":210,"image":"SWAR0001F(2)-2221-1645095783.jpg"},{"id":1048,"name":"SWAR0002B Olive Green Color 10ss Hot Fix SWAR0002B","price":210,"image":"SWAR0001F(7)-1-1645095341.jpg"},{"id":1050,"name":"Light Pink Color 10ss Hot Fix SWAR0002D","price":750,"image":"SWAR0002A(2)-1645094817.jpg"},{"id":1051,"name":"Dark Green Color 10ss Hot Fix SWAR0002E","price":170,"image":"SWAR0002B(1)-1-1645094737.jpg"},{"id":1052,"name":"Light Blue Color 10ss Hot Fix SWAR0002F","price":290,"image":"SWAR0002F(2).jpg"},{"id":1053,"name":"Metallic Grey Color 10ss Hot Fix SWAR0002G","price":210,"image":"SWAR0002G(2).jpg"},{"id":1054,"name":"Light Green Color 10ss Hot Fix SWAR0002H","price":170,"image":"SWAR0002H(2).jpg"},{"id":1058,"name":"Cream Color Dyeable Cotton Lace with Zari DYTC0004","price":470,"image":"DYCT0004(1).jpg"},{"id":1060,"name":"Cream Color Dyeable Cotton Lace DYTC0006","price":850,"image":"DYCT0006(1).jpg"},{"id":1061,"name":"Cream Color Dyeable Cotton Lace with Zari DYTC0007","price":920,"image":"DYCT0007(1).jpg"},{"id":1062,"name":"Cream Color Dyeable Cotton Lace with Zari and Sequins DYTC0008","price":880,"image":"DYCT0008(1).jpg"},{"id":1065,"name":"Cream color Mirror Lace MRLC0005","price":420,"image":"MRLC0005(1).jpg"},{"id":1078,"name":"Golden color Western Lace WEST0002","price":1250,"image":"WEST0002(2).jpg"},{"id":1083,"name":"Silver color Cap Shape Charms","price":330,"image":"CHARM0017(4)-1695469457.jpg"},{"id":1084,"name":"Golden color Connector Charms","price":330,"image":"CHARM0018(4)-1695469579.jpg"},{"id":1091,"name":"Golden color Leaf Shape Charms CHARM0025","price":330,"image":"CHARM0025(1).jpg"},{"id":1092,"name":"Golden color Charms CHARM0026","price":330,"image":"CHARM0026(4)-1695470739.jpg"},{"id":1093,"name":"Golden color Leaf Shape Charms","price":330,"image":"CHARM0027(2)-1695470769.jpg"},{"id":1094,"name":"Golden color Charms CHARM0028","price":200,"image":"CHARM0028(1).jpg"},{"id":1116,"name":"Golden color Round Shape with Glass Stone Ladies Buttons\/zircon balls\/shamballa beads","price":200,"image":"WBTN0030(1).jpg"},{"id":1118,"name":"Black color Round Shape with Glass Stone Ladies Buttons\/zircon balls\/shamballa beads","price":200,"image":"WBTN0030B(1).jpg"},{"id":1119,"name":"Light Blue color Round Shape Ladies Buttons Loop Hole\/Zircon Balls\/shamballa beads","price":200,"image":"WBTN0030C(1).jpg"},{"id":1120,"name":"Ornagecolor Round Shape Ladies Buttons Loop Hole\/Zircon Balls\/shamballa beads","price":200,"image":"WBTN0030D(1).jpg"},{"id":1122,"name":"Dark Pink color Round Shape Ladies Buttons Loop Hole\/Zircon Balls\/shamballa beads","price":270,"image":"WBTN0030F(1).jpg"},{"id":1124,"name":"Navy Blue color Round Shape Ladies Buttons Loop Hole\/Zircon Balls\/shamballa beads","price":200,"image":"WBTN0030H(1).jpg"},{"id":1127,"name":"Dark Green color Round Shape Ladies Buttons Loop Hole\/Zircon Balls\/shamballa beads","price":200,"image":"WBTN0030K(1).jpg"},{"id":1128,"name":"Dark Blue color Round Shape Ladies Buttons Loop Hole\/Zircon Balls\/shamballa beads","price":200,"image":"WBTN0030L(1).jpg"},{"id":1129,"name":"Yellow color Round Shape Ladies Buttons Loop Hole\/Zircon Balls\/shamballa beads","price":200,"image":"WBTN0030M(1).jpg"},{"id":1130,"name":"Dark Purple color Round Shape Ladies Buttons Loop Hole\/Zircon Balls\/shamballa beads","price":200,"image":"WBTN0030N(1).jpg"},{"id":1131,"name":"Peach color Eye shape Plastic StonesPLST0010","price":250,"image":"PLSAT0010(1).jpg"},{"id":1132,"name":"Light Blue color Eye shape Plastic Stones PLST0010A","price":250,"image":"PLST0010A(1).jpg"},{"id":1133,"name":"Yellow color Oval shape Plastic Stones PLST0011","price":170,"image":"PLST0011(1).jpg"},{"id":1134,"name":"Silver color Oval shape Plastic Stones PLST0011A","price":170,"image":"PLST0011A(1).jpg"},{"id":1135,"name":"Light Green color Oval shape Plastic Stones PLST0012","price":250,"image":"PLST0012(1).jpg"},{"id":1137,"name":"Purple color Oval shape Plastic Stones PLST0012B","price":250,"image":"PLST0012B(1).jpg"},{"id":1138,"name":"Ferozi Blue color Leaf shape Plastic StonesPLST0013","price":170,"image":"PLST0013(1).jpg"},{"id":1139,"name":"Maroon color Leaf shape Plastic Stones PLST0013A","price":170,"image":"PLST0013A(1).jpg"},{"id":1140,"name":"Peach color Leaf shape Plastic Stones PLST0013B","price":170,"image":"PLST0013B(1).jpg"},{"id":1141,"name":"Purple color Leaf shape Plastic Stones PLST0013C","price":170,"image":"PLST0013C(1).jpg"},{"id":1142,"name":"Orange color Leaf shape Plastic Stones PLST0013D","price":170,"image":"PLST0013D(1).jpg"},{"id":1143,"name":"Yellow color Leaf shape Plastic Stones PLST0014","price":250,"image":"PLST0014(1).jpg"},{"id":1144,"name":"Light Green color Eye shape Plastic Stones PLST0015","price":170,"image":"PLST0015(1).jpg"},{"id":1151,"name":"Multi color Round shape Plastic Beads PLSBD0005","price":330,"image":"PLSBD0005(1).jpg"},{"id":1152,"name":"Multi color Cylinderical shape Plastic Beads PLSBD0006","price":200,"image":"PLSBD0006(2).jpg"},{"id":1153,"name":"Multi color Eye shape Plastic Beads PLSBD0007","price":200,"image":"PLSBD0007(1).jpg"},{"id":1154,"name":"Multi color Round shape Plastic Beads PLSBD0008","price":200,"image":"PLSBD0008(1).jpg"},{"id":1155,"name":"Multi color Plastic Beads PLSBD0009","price":200,"image":"PLSBD0009(1).jpg"},{"id":1156,"name":"Antique color Flower shape Plastic Beads PLSBD0010","price":200,"image":"PLSBD0010(1).jpg"},{"id":1157,"name":"Multi color Round shape Plastic Beads PLSBD0011","price":200,"image":"PLSBD0011(1).jpg"},{"id":1158,"name":"Multi color Rondelle shape Plastic Beads PLSBD0012","price":200,"image":"PLSBD0012(1).jpg"},{"id":1159,"name":"Multi color Leaf shape Plastic Beads PLSBD0013","price":200,"image":"PLSBD0013(1).jpg"},{"id":1160,"name":"Multi color Cylendrical shape Plastic Beads PLSBD0014","price":200,"image":"PLSBD0014(1).jpg"},{"id":1162,"name":"Golden color Plastic Beads PLSBD0016","price":250,"image":"PLSBD0016(1).jpg"},{"id":1163,"name":"Multi color Round shape Plastic Beads PLSBD0017","price":200,"image":"PLSBD0017(1).jpg"},{"id":1164,"name":"Silver Rainbow color Cuboidal shape Plastic Beads PLSBD0018","price":250,"image":"PLSBD0018(1).jpg"},{"id":1165,"name":"Mulit color Plastic Beads PLSBD0019","price":200,"image":"PLSBD0019(1).jpg"},{"id":1166,"name":"Silver Rainbow color Plastic Beads PLSBD0020","price":250,"image":"PLSBD0020(1).jpg"},{"id":1167,"name":"Silver Rainbow color Eye shape Plastic Beads PLSBD0021","price":250,"image":"PLSBD0021(1).jpg"},{"id":1168,"name":"Silver Rainbow color Flower shape Plastic Beads PLSBD0022","price":250,"image":"PLSBD0022(1).jpg"},{"id":1169,"name":"Silver Rainbow color Drop shape Plastic Beads PLSBD0023","price":250,"image":"PLSBD0023(1).jpg"},{"id":1170,"name":"Multi color Round shape Plastic Beads PLSBD0024","price":330,"image":"PLSBD0024(1).jpg"},{"id":1173,"name":"Metallic Grey Color Design Metal SequinsMTSEQ0023","price":500,"image":"MTSEQ0023(1).jpg"},{"id":1175,"name":"Silver Color Eye shape Design Metal Sequins MTSEQ0025","price":330,"image":"MTSEQ0025(1).jpg"},{"id":1176,"name":"Antique Color Design Metal SequinsMTSEQ0026","price":330,"image":"MTSEQ0026(1).jpg"},{"id":1178,"name":"Dull Golden Color Square shape Design Metal Sequins MTSEQ0028","price":330,"image":"MTSEQ0028(1).jpg"},{"id":1179,"name":"Antique Color Flower shape Design Metal Sequins MTSEQ0029","price":130,"image":"MTSEQ0029(1).jpg"},{"id":1180,"name":"Skin color Fancy Frill Lace FNLC0009","price":800,"image":"FNLC0009(1).jpg"},{"id":1181,"name":"Red color Fancy Frill Lace FNLC0009A","price":800,"image":"FNLC0009A(1).jpg"},{"id":1190,"name":"Orange color Fancy Frill Lace FNLC0010B","price":400,"image":"FNLC0010B(1).jpg"},{"id":1205,"name":"Silver color Drop \/ Briolette Shape Crystal Glass Beads CGBDS0001E","price":250,"image":"CGBDS0001E(1).jpg"},{"id":1206,"name":"Black color Drop \/ Briolette Shape Crystal Glass Beads CGBDS0001F","price":250,"image":"CGBDS0001F(1).jpg"},{"id":1207,"name":"Maroon Rainow color Drop \/ Briolette Shape Crystal Glass Beads CGBDS0002","price":170,"image":"CGBDS0002(1).jpg"},{"id":1210,"name":"Red Rainbow color Conical Shape Crystal Glass Beads CGBDS0004A","price":180,"image":"CGBDS0004A(1).jpg"},{"id":1212,"name":"Red color Conical Shape Crystal Glass Beads CGBDS0004C","price":250,"image":"CGBDS0004C(1).jpg"},{"id":1214,"name":"Light Blue color Conical Shape Crystal Glass Beads CGBDS0005","price":250,"image":"CGBDS0005(1).jpg"},{"id":1216,"name":"Golden color Conical Shape Crystal Glass Beads CGBDS0006","price":210,"image":"CGBDS0006(1).jpg"},{"id":1217,"name":"Peach Rainbow color Conical Shape Crystal Glass Beads CGBDS0006A","price":210,"image":"CGBDS0006A(1).jpg"},{"id":1218,"name":"Golden color Round \/ Rondelle \/ Tyre Faceted Shape Crystal Glass Beads CGBDS0007","price":210,"image":"CGBDS0007(1)-1619762772.jpg"},{"id":1222,"name":"White Color GPO Lace GPO0013","price":1500,"image":"GPO0013(1).jpg"},{"id":1229,"name":"White Color Flower GPO Lace GPO0020","price":1000,"image":"GPO0020(1).jpg"},{"id":1230,"name":"White Color GPO Lace GPO0021","price":300,"image":"GPO0021(1).jpg"},{"id":1240,"name":"Dull Golden Color Mirror Work Lace MRLC0011","price":1380,"image":"MRLC0011(1).jpg"},{"id":1252,"name":"Light Golden Color Pearl Work\/Bead Work Lace BDPL0006","price":960,"image":"BDPL0006(1).jpg"},{"id":1308,"name":"Grey Color Beads Work Western Lace WEST0004B","price":1250,"image":"WEST0004B(1).jpg"},{"id":1310,"name":"Black Color Western Lace with Hotfix Work WEST0005","price":1950,"image":"WEST0005(1).jpg"},{"id":1313,"name":"Red Color Western Lace with Hotfix work WEST0008","price":150,"image":"WEST0008(1).jpg"},{"id":1321,"name":"Light Green Color Ring shape Plastic Sequins\/ Sitara\/Sippi SEQ0031","price":330,"image":"SEQ0031(1).jpg"},{"id":1323,"name":"Light Pink Color Round shape Plastic Sequins\/ Sitara\/Sippi SEQ0033","price":170,"image":"SEQ0033(1).jpg"},{"id":1325,"name":"Orange Color Eye shape Plastic Sequins\/ Sitara\/Sippi SEQ0035","price":330,"image":"SEQ0035(1).jpg"},{"id":1326,"name":"Silver Rainbow Color Round shape Plastic Sequins\/ Sitara\/Sippi SEQ0036","price":330,"image":"SEQ0036(1).jpg"},{"id":1339,"name":"Purple Color Square Shape Plastic Sequins\/ Sitara\/Sippi SEQ0049","price":330,"image":"SEQ0049(1).jpg"},{"id":1408,"name":"Light Golden Color Triangle Shape Charms CHARM0031","price":380,"image":"CHARM0031(1).jpg"},{"id":1409,"name":"Metallic Grey Color Spiral Shape Charms CHARM0032","price":170,"image":"CHARM0032(1).jpg"},{"id":1410,"name":"Mehandi Polish Antique Color Assorted Shape Charms CHARM0033","price":210,"image":"CHARM0033(1).jpg"},{"id":1414,"name":"Mehandi Polish Antique Color Round Shape Charms CHARM0037","price":170,"image":"CHARM0037(1).jpg"},{"id":1415,"name":"Mehandi Polish Antique Color Round Shape Charms CHARM0038","price":250,"image":"CHARM0038(1).jpg"},{"id":1416,"name":"Mehandi Polish Antique Color Assorted Shape Charms CHARM0039","price":250,"image":"CHARM0039(1).jpg"},{"id":1417,"name":"Silver Color Drop Shape Charms CHARM0040","price":290,"image":"CHARM0040(1).jpg"},{"id":1418,"name":"Golden Color Round Shape Charms CHARM0041","price":210,"image":"CHARM0041(1).jpg"},{"id":1419,"name":"Antique Golden Color Assorted Shape Charms CHARM0042","price":170,"image":"CHARM0042(1).jpg"},{"id":1420,"name":"Silver Color Round Shape Charms CHARM0043","price":380,"image":"CHARM0043(2).jpg"},{"id":1421,"name":"Mehandi Polish Antique Golden Color Assorted Shape Charms CHARM0044","price":460,"image":"CHARM0044(1).jpg"},{"id":1422,"name":"Metallic Grey Color Necklace Shape Charms CHARM0045","price":250,"image":"CHARM0045(1).jpg"},{"id":1423,"name":"Mehandi Polish Antique Golden Color Semi-Circle Shape Charms CHARM0046","price":130,"image":"CHARM0046(1).jpg"},{"id":1424,"name":"Golden Color Assorted Shape Charms CHARM0047","price":250,"image":"CHARM0047(1).jpg"},{"id":1425,"name":"Mehandi Polish Antique Golden Color Leaf Shape Charms CHARM0048","price":250,"image":"CHARM0048(1).jpg"},{"id":1426,"name":"Silver Color Assorted Shape Charms CHARM0049","price":250,"image":"CHARM0049(1).jpg"},{"id":1427,"name":"Antique Golden Color Leaf Shape Charms CHARM0050","price":330,"image":"CHARM0050(1).jpg"},{"id":1428,"name":"Antique Golden Color Triangle Shape Charms CHARM0051","price":250,"image":"CHARM0051(1).jpg"},{"id":1429,"name":"Silver Color Round Shape Charms CHARM0052","price":250,"image":"CHARM0052(1).jpg"},{"id":1430,"name":"Dark Green Color Baadla(Metal look Soft Dori) BDLA0005","price":100,"image":"BDLA0005(2).jpg"},{"id":1431,"name":"Dark Blue Color Baadla(Metal look Soft Dori) BDLA0006","price":100,"image":"BDLA0006(2).jpg"},{"id":1432,"name":"Copper Color Baadla(Metal look Soft Dori) BDLA0007","price":100,"image":"BDLA0007(2).jpg"},{"id":1433,"name":"Black Color Baadla(Metal look Soft Dori) BDLA0008","price":100,"image":"BDLA0008(2).jpg"},{"id":1434,"name":"Dark Golden Color Baadla(Metal look Soft Dori) BDLA0009","price":100,"image":"BDLA0009(3).jpg"},{"id":1435,"name":"Yellow Blue color Round Shape Marble Beads MRBD0008","price":200,"image":"MRBD0008(2).jpg"},{"id":1436,"name":"Ferozi Rainbow color Round Shape Marble Beads MRBD0009","price":170,"image":"MRBD0009(2).jpg"},{"id":1437,"name":"Multi color Round Shape Marble Beads MRBD0010","price":250,"image":"MRBD0010(2).jpg"},{"id":1438,"name":"Metallic Grey color Round Shape Marble Beads MRBD0011","price":120,"image":"MRBD0011(2).jpg"},{"id":1439,"name":"Magenta color Round Shape Marble Beads MRBD0012","price":120,"image":"MRBD0012(2).jpg"},{"id":1440,"name":"Grey Rainbow color Round Shape Marble Beads MRBD0013","price":120,"image":"MRBD0013(2).jpg"},{"id":1441,"name":"Orange-Yellow color Round Shape Marble Beads MRBD0014","price":250,"image":"MRBD0014(2).jpg"},{"id":1442,"name":"Maroon color Drop Shape Plastic Stones (Ghad Fitting) with Flat Back PLST0016","price":250,"image":"PLST0016(1).jpg"},{"id":1443,"name":"Ferozi Blue color Square Shape Plastic Stones (Ghad Fitting) with Flat Back PLST0017","price":250,"image":"PLST0017(1).jpg"},{"id":1444,"name":"Maroon color Square Shape Plastic Stones (Ghad Fitting) with Flat Back PLST0017A","price":250,"image":"PLST0017A(1).jpg"},{"id":1445,"name":"Black-Golden color Flower Shape Brooch With Stones BRCH0011","price":250,"image":"BRCH0011(1).jpg"},{"id":1446,"name":"Red-Golden color Flower Shape Brooch With Stones BRCH0011A","price":250,"image":"BRCH0011A(1).jpg"},{"id":1447,"name":"Orange-Golden color Flower Shape Brooch With Stones BRCH0011B","price":250,"image":"BRCH0011B(1).jpg"},{"id":1448,"name":"Blue-Golden color Flower Shape Brooch With Stones BRCH0011C","price":250,"image":"BRCH0011C(1).jpg"},{"id":1449,"name":"Pink-Golden color Flower Shape Brooch With Stones BRCH0011D","price":250,"image":"BRCH0011D(1).jpg"},{"id":1450,"name":"Light Green-Golden color Flower Shape Brooch With Stones BRCH0011E","price":250,"image":"BRCH0011E(1).jpg"},{"id":1455,"name":"Maroon Color Metal Chains MTLCH0014A","price":670,"image":"MTLCH0014A(1).jpg"},{"id":1456,"name":"Red-White Color Metal Chains MTLCH0014B","price":670,"image":"MTLCH0014B(1).jpg"},{"id":1457,"name":"Black-White Color Metal Chains MTLCH0014C","price":670,"image":"MTLCH0014C(1).jpg"},{"id":1458,"name":"Blue-White Color Metal Chains","price":670,"image":"MTLCH0014D(1).jpg"},{"id":1461,"name":"Dull Golden color Square Shape Plastic Stones","price":200,"image":"PLST0018(1).jpg"},{"id":1463,"name":"Dull Golden color Flower Shape Plastic Stones","price":200,"image":"PLST0020(1).jpg"},{"id":1464,"name":"Dull Golden color Round Shape Plastic Stones","price":250,"image":"PLST0021(1).jpg"},{"id":1465,"name":"Dull Golden color Round Shape Plastic Stones","price":280,"image":"PLST0022(1).jpg"},{"id":1466,"name":"Dull Golden color Leaf Shape Plastic Stones \\","price":170,"image":"PLST0023(1).jpg"},{"id":1467,"name":"Dull Golden color Leaf Shape Plastic Stones","price":250,"image":"PLST0024(1).jpg"},{"id":1468,"name":"Dull Golden color Eye Shape Plastic Stones","price":280,"image":"PLST0025(1).jpg"},{"id":1469,"name":"Dull Golden color Square Shape Plastic Stones PLST0026","price":280,"image":"PLST0026(1).jpg"},{"id":1470,"name":"Dull Golden color Oval Shape Plastic Stones PLST0027","price":330,"image":"PLST0027(1).jpg"},{"id":1472,"name":"Purple Sparkle Color Square Shape Plastic Sequins SEQ0053","price":330,"image":"SEQ0053(1).jpg"},{"id":1473,"name":"Metallic Pink Color Round Shape Plastic Sequins SEQ0054","price":670,"image":"SEQ0054(1).jpg"},{"id":1474,"name":"Ferozi Color Ring Shape Plastic Sequins SEQ0055","price":330,"image":"SEQ0055(1).jpg"},{"id":1475,"name":"Ferozi Color Oval Shape Plastic Sequins SEQ0056","price":330,"image":"SEQ0056(1).jpg"},{"id":1477,"name":"Magenta Color Rhombus Shape Plastic Sequins SEQ0058","price":330,"image":"SEQ0058(1).jpg"},{"id":1478,"name":"Mehandi-Mustard Color Round Shape Plastic Sequins SEQ0059","price":330,"image":"SEQ0059(1).jpg"},{"id":1479,"name":"Metallic Peach Color Round Shape Plastic Sequins SEQ0060","price":330,"image":"SEQ0060(1).jpg"},{"id":1482,"name":"Yellow Color Round Shape Plastic Sequins SEQ0063","price":170,"image":"SEQ0063(1).jpg"},{"id":1483,"name":"Yellow Color Rectangle Shape Plastic Sequins SEQ0064","price":170,"image":"SEQ0064(1).jpg"},{"id":1485,"name":"Golden Color Flower Designs Kurta Patti Button KURBT0019","price":100,"image":"KURBT0019(1).jpg"},{"id":1503,"name":"Georgette Viscose Thread Work Fabric GVFB0001","price":1920,"image":"fabric-1622102119.jpg"},{"id":1509,"name":"Golden color flower shape plastic sequins SEQ0067","price":670,"image":"SEQ0067(1).jpg"},{"id":1512,"name":"Light Peach color Round Shape Plastic Sequins\/Sitara\/Sippi SEQ0027A","price":330,"image":"SEQ0027A(1).jpg"},{"id":1522,"name":"Silver color Round Shape Plastic Sequins\/Sitara\/Sippi SEQ0075","price":130,"image":"SEQ0075(1).jpg"},{"id":1527,"name":"Peach color Leaf Shape Plastic Sequins\/Sitara\/Sippi SEQ0080","price":170,"image":"SEQ0080(1).jpg"},{"id":1533,"name":"Light Golden-Multi color Round Shape Plastic Sequins\/Sitara\/Sippi SEQ0086","price":330,"image":"SEQ0086(1).jpg"},{"id":1534,"name":"Multi color Paan Shape Plastic Sequins\/Sitara\/Sippi SEQ0087","price":170,"image":"SEQ0087(1).jpg"},{"id":1536,"name":"Silver color Assorted Shape Plastic Sequins\/Sitara\/Sippi SEQ0089","price":170,"image":"SEQ0089(1).jpg"},{"id":1538,"name":"Ferozi Color Rectangle Shape Plastic Sequins\/Sitara\/Sippi SEQ0064A","price":170,"image":"SEQ0064A(1).jpg"},{"id":1542,"name":"Peach Color Square Shape Plastic Sequins\/Sitara\/Sippi SEQ0094","price":170,"image":"SEQ0094(1).jpg"},{"id":1544,"name":"Light Pink Color Square Shape Plastic Sequins\/Sitara\/Sippi SEQ0095A","price":330,"image":"SEQ0095A(1).jpg"},{"id":1552,"name":"Antique Golden Color Round Shape Mehandi Polish Metal Charms CHARM0053","price":250,"image":"CHARM0053(1).jpg"},{"id":1553,"name":"Antique Golden Color Assorted Shape Mehandi Polish Metal Charms CHARM0054","price":420,"image":"CHARM0054(1).jpg"},{"id":1558,"name":"Antique Golden Color Flower Shape Mehandi Polish Metal Charms CHARM0059","price":330,"image":"CHARM0059(1).jpg"},{"id":1560,"name":"Golden Color Triangular Shape Metal Wire Charms CHARM0061","price":250,"image":"_MAX2606-1630387449.jpg"},{"id":1561,"name":"Antique Golden Color Square Shape Mehandi Polish Metal Charms CHARM0062","price":370,"image":"CHARM0062(1).jpg"},{"id":1562,"name":"Antique Golden Color Rectangular Shape Mehandi Polish Metal Charms CHARM0063","price":420,"image":"CHARM0063(1).jpg"},{"id":1563,"name":"Golden Color Round Shape Metal Charms CHARM0064","price":420,"image":"CHARM0064(1).jpg"},{"id":1564,"name":"Golden Color Ring Shape Metal Wire Charms CHARM0065","price":250,"image":"CHARM0065(1).jpg"},{"id":1566,"name":"Golden Color Eye Shape Metal Charms CHARM0067","price":500,"image":"CHARM0067(1).jpg"},{"id":1567,"name":"Metallic Grey Color Assorted Shape Metal Charms CHARM0068","price":380,"image":"CHARM0068(1).jpg"},{"id":1568,"name":"White Color Glass Beads(Nalki) Tube Shape GLSBD0002","price":250,"image":"GLSBD0002(1).jpg"},{"id":1570,"name":"Metallic Grey Color Glass Beads(Nalki) GLSBD0004","price":250,"image":"GLSBD0004(1).jpg"},{"id":1571,"name":"Grey Rainbow Color Glass Beads GLSBD0005","price":250,"image":"GLSBD0005(1).jpg"},{"id":1572,"name":"Silver Color Designer Metal Chains MTLCH0015","price":380,"image":"MTLCH0015(1).jpg"},{"id":1573,"name":"Silver Color Designer Metal Chains MTLCH0016","price":380,"image":"MTLCH0016(1).jpg"},{"id":1576,"name":"Silver color Flower shape Plastic Beads PLSBD0025","price":330,"image":"PLSBD0025(1).jpg"},{"id":1577,"name":"Silver color Oval shape Plastic Beads PLSBD0026","price":330,"image":"PLSBD0026(1).jpg"},{"id":1578,"name":"Silver color Oval shape Plastic Beads PLSBD0027","price":330,"image":"PLSBD0027(1).jpg"},{"id":1579,"name":"Silver color Square shape Plastic Beads PLSBD0028","price":330,"image":"PLSBD0028(1).jpg"},{"id":1580,"name":"Silver color Round shape Plastic Beads PLSBD0029","price":330,"image":"PLSBD0029(1).jpg"},{"id":1581,"name":"Silver color Square shape Plastic Beads PLSBD0030","price":330,"image":"PLSBD0030(1).jpg"},{"id":1583,"name":"Silver color Cap shape Plastic Beads PLSBD0032","price":330,"image":"PLSBD0032(1).jpg"},{"id":1584,"name":"Silver color Cap shape Plastic Beads PLSBD0033","price":330,"image":"PLSBD0033(1).jpg"},{"id":1585,"name":"Silver color Flower shape Plastic Beads PLSBD0034","price":330,"image":"PLSBD0034(1).jpg"},{"id":1586,"name":"Silver color Assorted shape Plastic Beads PLSBD0035","price":330,"image":"PLSBD0035(1).jpg"},{"id":1587,"name":"Grey color Rectangle shape Plastic Beads PLSBD0036","price":330,"image":"PLSBD0036(1).jpg"},{"id":1588,"name":"Silver color Assorted shape Plastic Beads PLSBD0037","price":580,"image":"PLSBD0037(1)-1624078206.jpg"},{"id":1589,"name":"Rose Gold Color Drop Shape Leather Patti GPT0020B","price":170,"image":"GPT0020B(1).jpg"},{"id":1590,"name":"Golden Color Square Shape Gota Patti GPT0021B","price":250,"image":"GPT0021A(3).jpg"},{"id":1591,"name":"Rose Gold Color Rhombus Shape Leather Patti GPT0022A","price":250,"image":"GPT0022A(1).jpg"},{"id":1592,"name":"Golden Color Rhombus Shape Gota Patti GPT0022B","price":250,"image":"GPT0022B(1).jpg"},{"id":1593,"name":"Light Golden Color Eye Shape Gota Patti GPT0044","price":250,"image":"GPT0044(1).jpg"},{"id":1594,"name":"Rose Gold Color Eye Shape Gota Patti GPT0044A","price":250,"image":"GPT0044A(1).jpg"},{"id":1595,"name":"Rose Golden Color Eye Shape Gota Patti GPT0044B","price":250,"image":"GPT0044B(1).jpg"},{"id":1596,"name":"Silver Color Drop Shape Gota Patti GPT0045","price":250,"image":"GPT0045(1).jpg"},{"id":1597,"name":"Rose Gold Color Round Shape Gota Patti GPT0046","price":250,"image":"GPT0046(1).jpg"},{"id":1599,"name":"Golden Color Drop Shape Leather Patti GPT0048","price":280,"image":"GPT0048(1).jpg"},{"id":1600,"name":"Light Golden Color Eye Shape Leather Patti GPT0049","price":170,"image":"GPT0049(1).jpg"},{"id":1601,"name":"Light Golden Color Drop Shape Gota Patti GPT0050","price":250,"image":"GPT0050(1).jpg"},{"id":1602,"name":"Rose Gold Color Drop Shape Leather Patti GPT0051","price":170,"image":"GPT0051(1).jpg"},{"id":1603,"name":"Light Golden Color Round Shape Gota PattiGPT0052","price":170,"image":"GPT0052(1).jpg"},{"id":1605,"name":"Golden Color Eye Shape Leather Patti GPT0054","price":280,"image":"GPT0054(1).jpg"},{"id":1608,"name":"Silver Color Drop Shape Gota Patti GPT0056","price":250,"image":"GPT0056(1).jpg"},{"id":1609,"name":"Golden Color Round Shape Gota Patti GPT0057","price":280,"image":"GPT0057(1).jpg"},{"id":1611,"name":"Rose Gold Color Round Shape Gota Patti GPT0058A","price":250,"image":"GPT0058A(1).jpg"},{"id":1612,"name":"Light Golden Color Round Shape Gota Patti GPT0059","price":250,"image":"GPT0059(1).jpg"},{"id":1613,"name":"Light Golden Color Eye Shape Gota Patti GPT0060","price":250,"image":"GPT0060(1).jpg"},{"id":1614,"name":"Light Golden Color Round Shape Leather Patti GPT0061","price":170,"image":"GPT0061(1).jpg"},{"id":1615,"name":"Light Golden Color Rhombus Shape Gota Patti GPT0062","price":250,"image":"GPT0062(1).jpg"},{"id":1616,"name":"Rose Gold Color Triangular Shape Gota Patti GPT0063","price":250,"image":"GPT0063(1).jpg"},{"id":1617,"name":"Silver Color Drop Shape Gota Patti GPT0064","price":250,"image":"GPT0064(1).jpg"},{"id":1618,"name":"Golden Color Drop Shape Gota Patti GPT0065","price":250,"image":"GPT0065(1).jpg"},{"id":1620,"name":"Multi Color Round Shape Glass Beads GLSBD0006","price":130,"image":"GLSBD0006(1).jpg"},{"id":1621,"name":"Yellow Color Glass Beads GLSBD0007","price":130,"image":"GLSBD0007(1).jpg"},{"id":1622,"name":"Green Color Glass Beads GLSBD0007A","price":130,"image":"GLSBD0007A(1).jpg"},{"id":1623,"name":"Yellow Color Round Shape Glass Beads GLSBD0008","price":130,"image":"GLSBD0008(1).jpg"},{"id":1626,"name":"Diamond Shape Silver Color Mirror MRR0009","price":80,"image":"MRR0009(1).jpg"},{"id":1627,"name":"Diamond Shape Silver Color Mirror MRR0009A","price":130,"image":"MRR0009A(1).jpg"},{"id":1628,"name":"Drop Shape Silver Color Mirror MRR0010","price":130,"image":"MRR0010(1).jpg"},{"id":1629,"name":"Round Shape Silver Color Mirror MRR0011","price":110,"image":"MRR0011(1).jpg"},{"id":1630,"name":"Round Shape Silver Color Mirror MRR0011A","price":110,"image":"MRR0011A(1).jpg"},{"id":1631,"name":"Round Shape Silver Color Mirror MRR0011B","price":110,"image":"MRR0011B(1).jpg"},{"id":1632,"name":"Round Shape Silver Color Mirror MRR0011C","price":110,"image":"MRR0011C(1).jpg"},{"id":1635,"name":"Moon Shape Silver Color Mirror MRR0013","price":80,"image":"MRR0013(1).jpg"},{"id":1636,"name":"Eye Shape Silver Color Mirror MRR0014","price":120,"image":"MRR0014(1).jpg"},{"id":1637,"name":"Golden Color Rectangle Shape GlueFix Stones HFX0006A","price":200,"image":"HFX0006A(2).jpg"},{"id":1638,"name":"Silver Color Square Shape GlueFix Stones HFX0007A","price":200,"image":"HFX0007A(2).jpg"},{"id":1640,"name":"Copper Color S-Shape Shape Hotfix Stones HFX0012A","price":250,"image":"HFX0012A(2).jpg"},{"id":1641,"name":"Copper Color Rectangle Shape GlueFix Stones HFX0013A","price":280,"image":"HFX0013A(2).jpg"},{"id":1642,"name":"Peach Color Round Shape GlueFix Stones HFX0015A","price":120,"image":"HFX0015A(1).jpg"},{"id":1643,"name":"Peach Color Leaf Shape GlueFix Stones HFX0018","price":120,"image":"HFX0018(1).jpg"},{"id":1644,"name":"Peach Color Leaf Shape GlueFix Stones HFX0019","price":120,"image":"HFX0019(2).jpg"},{"id":1645,"name":"White Color Round Shape Hotfix Stones HFX0020","price":250,"image":"HFX0020(2).jpg"},{"id":1647,"name":"Golden Color Triangular Shape Hotfix Stones HFX0021A","price":250,"image":"HFX0021A(2).jpg"},{"id":1648,"name":"Silver Color Triangular Shape Hotfix Stones HFX0021B","price":250,"image":"HFX0021B(2).jpg"},{"id":1649,"name":"Copper Color Assorted Shape Hotfix Stones HFX0022","price":250,"image":"HFX0022(2).jpg"},{"id":1650,"name":"Copper Color Round Shape Hotfix Stones HFX0020A","price":250,"image":"HFX0020A(2)-1645598330.jpg"},{"id":1652,"name":"Matte Golden Color Round Shape Hotfix Stones HFX0025","price":500,"image":"HFX0025(2).jpg"},{"id":1653,"name":"Metallic Grey Color Round Shape Hotfix Stones HFX0025A","price":500,"image":"HFX0025A(2).jpg"},{"id":1654,"name":"Light Golden Color Katori Shape Plastic Sequins SEQ0103","price":330,"image":"SEQ0103(1).jpg"},{"id":1658,"name":"Medium Golden Color Katori Shape Plastic Sequins SEQ0104","price":330,"image":"SEQ0104(1).jpg"},{"id":1661,"name":"Silver Color Katori Shape Plastic Sequins SEQ0105","price":330,"image":"SEQ0105(1).jpg"},{"id":1662,"name":"Silver MR Color Katori Shape Plastic Sequins SEQ0106","price":330,"image":"SEQ0106(1).jpg"},{"id":1665,"name":"Dull Golden Color Katori Shape mm Plastic Sequins SEQ0107","price":330,"image":"SEQ0107(1).jpg"},{"id":1667,"name":"Paani AR Color Katori Shape Plastic Sequins SEQ0108","price":330,"image":"SEQ0108(1).jpg"},{"id":1670,"name":"White Pearl V 17 Color Katori Shape Plastic Sequins SEQ0109","price":330,"image":"SEQ0109(1).jpg"},{"id":1673,"name":"Rose Gold Zari Color Katori Shape Plastic Sequins SEQ0110","price":300,"image":"SEQ0110(1).jpg"},{"id":1674,"name":"Paani Clear Color Katori Shape Plastic Sequins SEQ0111","price":330,"image":"SEQ0111(1).jpg"},{"id":1676,"name":"Dark Golden MR Color Katori Shape Plastic Sequins SEQ0113","price":330,"image":"SEQ0113(1).jpg"},{"id":1678,"name":"White Paani Clear Color Katori Shape Plastic Sequins SEQ0114","price":330,"image":"SEQ0114(1).jpg"},{"id":1679,"name":"Silver color Drop Shape Plastic Stones (Ghad Fitting) with Flat Back PLST0016A","price":250,"image":"PLST0016A(1).jpg"},{"id":1681,"name":"Off-White color Oval Shape Plastic Stones (Ghad Fitting) with Flat Back PLST0030","price":250,"image":"PLST0030(1).jpg"},{"id":1682,"name":"Silver Metallic Color Oval Shape Plastic Stones PLST0031","price":250,"image":"PLST0031(1).jpg"},{"id":1684,"name":"Silver color Round Shape Kundan\/Glass Stones (Ghad Fitting) with Golden Frame GLST0012","price":270,"image":"GLST0012(1).jpg"},{"id":1685,"name":"Silver color Octagonal Shape Kundan\/Glass Stones (Ghad Fitting) with Golden Frame GLST0013","price":300,"image":"GLST0013(1).jpg"},{"id":1686,"name":"Silver color Drop Shape Kundan\/Glass Stones (Ghad Fitting) with Golden Frame GLST0014","price":250,"image":"GLST0014(1).jpg"},{"id":1687,"name":"Silver color Round Shape Kundan\/Glass Stones (Ghad Fitting) with Golden Frame GLST0015","price":270,"image":"GLST0015(1).jpg"},{"id":1688,"name":"Golden color Drop Shape Kundan\/Glass Stones (Ghad Fitting) with Golden Frame GLST0016","price":380,"image":"GLST0016(1).jpg"},{"id":1690,"name":"Golden Color Shell Shape Plastic Beads PLSBD0061","price":120,"image":"PLSBD0061(2).jpg"},{"id":1691,"name":"Golden Color Assorted Shape Plastic Beads PLSBD0038","price":130,"image":"PLSBD0038(1).jpg"},{"id":1692,"name":"Golden Color Rhombus Shape Plastic Beads PLSBD0039","price":130,"image":"PLSBD0039(1).jpg"},{"id":1693,"name":"Light Golden Color Drop Shape Plastic Beads with Sparkle PLSBD0040","price":130,"image":"PLSBD0040(1).jpg"},{"id":1694,"name":"Skin-Brown Color Cashew Shape plastic Beads PLSBD0041","price":130,"image":"PLSBD0041(1).jpg"},{"id":1695,"name":"Skin-Brown Color Rondelle Shape Plastic Beads PLSBD0042","price":130,"image":"PLSBD0042(1).jpg"},{"id":1696,"name":"Golden Color Plastic Beads PLSBD0043","price":130,"image":"PLSBD0043(1).jpg"},{"id":1697,"name":"Ornage Color Heart Shape Plastic Beads PLSBD0044","price":130,"image":"PLSBD0044(1).jpg"},{"id":1698,"name":"Brown Color Flower Shape Plastic Beads PLSBD0045","price":130,"image":"PLSBD0045(1).jpg"},{"id":1699,"name":"Skin-Brown Color Round Shape Plastic Beads PLSBD0046","price":130,"image":"PLSBD0046(1).jpg"},{"id":1700,"name":"Skin-Brown Color Plastic Beads PLSBD0047","price":130,"image":"PLSBD0047(1).jpg"},{"id":1701,"name":"Light golden color Cuboidal Shape Plastic Beads PLSBD0048","price":130,"image":"PLSBD0048(1).jpg"},{"id":1702,"name":"Golden Color Plastic Beads with Glitter PLSBD0049","price":130,"image":"PLSBD0049(1).jpg"},{"id":1703,"name":"Skin-Brown Color Oval Shape Plastic Beads PLSBD0050","price":130,"image":"PLSBD0050(1).jpg"},{"id":1704,"name":"Golden Color Plastic Beads PLSBD0051","price":130,"image":"PLSBD0051(1).jpg"},{"id":1706,"name":"Light Golden Round Shape Plastic Beads PLSBS0053","price":130,"image":"PLSBD0053(1).jpg"},{"id":1707,"name":"Orange Color Twisted Plastic Beads PLSBD0054","price":130,"image":"PLSBD0054(1).jpg"},{"id":1708,"name":"Light Golden Round Shape Plastic Beads with Glitter PLSBS0055","price":120,"image":"PLSBD0055(1).jpg"},{"id":1709,"name":"Golden Color Flower Shape Plastic Beads PLSBD0056","price":200,"image":"PLSBD0056(1).jpg"},{"id":1710,"name":"Metallic Grey Color Leaf Shape Plastic Beads PLSBD0057","price":280,"image":"PLSBD0057(1).jpg"},{"id":1711,"name":"Orange Color Flower Shape Plastic Beads PLSBD0058","price":200,"image":"PLSBD0058(1).jpg"},{"id":1712,"name":"Ornage Color Plastic Beads PLSBD0059","price":200,"image":"PLSBD0059(1).jpg"},{"id":1713,"name":"Brown Color Plastic Beads PLSBD0059A","price":200,"image":"PLSBD0059A(1).jpg"},{"id":1714,"name":"Dull Golden Color Plastic Beads PLSBD0060","price":130,"image":"PLSBD0060(1).jpg"},{"id":1734,"name":"Pista-Green Color Round Shape Gota Patti Patches GPTPA0008","price":200,"image":"GPTPA0008(3).jpg"},{"id":1735,"name":"Black-Golden Color Round Shape Gota Patti Patches GPTPA0008A","price":200,"image":"GPTPA0008A(1).jpg"},{"id":1736,"name":"Orange Color Round Shape Gota Patti Patches GPTPA0008B","price":200,"image":"GPTPA0008B(1).jpg"},{"id":1739,"name":"Cherry Red Color D-shape Gota Patti Patches GPTPA0009B","price":250,"image":"GPTPA0009B(1).jpg"},{"id":1744,"name":"Skin Color Square Shape Gota Patti Patches GPTPA0011A","price":250,"image":"GPTPA0011A(1).jpg"},{"id":1745,"name":"Blue Color Square Shape Gota Patti Patches GPTPA0011B","price":250,"image":"GPTPA0011B(2).jpg"},{"id":1748,"name":"Dark Green Color Square Shape Gota Patti Patches GPTPA0011E","price":250,"image":"GPTPA0011E(1).jpg"},{"id":1749,"name":"Pista-Green Color D-shape Gota Patti Patches GPTPA0012","price":250,"image":"GPTPA0012(1).jpg"},{"id":1750,"name":"Orange Color D-Shape Gota Patti Patches GPTPA0012A","price":250,"image":"GPTPA0012A(1).jpg"},{"id":1751,"name":"Light Pink Color D-shape Gota Patti Patches GPTPA0012B","price":250,"image":"GPTPA0012B(1).jpg"},{"id":1752,"name":"Maroon Color D-shape Gota Patti Patches GPTPA0012C","price":250,"image":"GPTPA0012C(1).jpg"},{"id":1753,"name":"Blue Color D-shape Gota Patti Patches GPTPA0012D","price":250,"image":"GPTPA0012D(1).jpg"},{"id":1754,"name":"Golden Color D-shape Gota Patti Patches GPTPA0012E","price":250,"image":"GPTPA0012E(1).jpg"},{"id":1755,"name":"Navy Blue Color Round Shape Gota Patti Patches GPTPA0013","price":250,"image":"GPTPA0013(1).jpg"},{"id":1756,"name":"Royal Blue Color Round Shape Gota Patti Patches GPTPA0013A","price":250,"image":"GPTPA0013A(1).jpg"},{"id":1758,"name":"Baze Color Round Shape Gota Patti Patches GPTPA0013C","price":250,"image":"GPTPA0013C(1).jpg"},{"id":1759,"name":"Orange Color Round Shape Gota Patti Patches GPTPA0013D","price":250,"image":"GPTPA0013D(1).jpg"},{"id":1772,"name":"Green Color Drop Shape Gota Patti Patches GPTPA0017A","price":250,"image":"GPTPA0017A(1).jpg"},{"id":1775,"name":"Green Color Triangular Shape Gota Patti Patches GPTPA0019A","price":290,"image":"GPTPA0019A(1).jpg"},{"id":1777,"name":"Peach Color Triangular Shape Gota Patti Patches GPTPA0019C","price":290,"image":"GPTPA0019C(2).jpg"},{"id":1778,"name":"Pink Color Triangular Shape Gota Patti Patches GPTPA0019D","price":290,"image":"GPTPA0019D(1).jpg"},{"id":1779,"name":"Royal Blue Color Triangular Shape Gota Patti Patches GPTPA0019E","price":290,"image":"GPTPA0019E(1).jpg"},{"id":1782,"name":"Green Color Round Shape Gota Patti Patches GPTPA0020A","price":170,"image":"GPTPA0020A(1).jpg"},{"id":1783,"name":"Orange Color Round Shape Gota Patti Patches GPTPA0020B","price":170,"image":"GPTPA0020B(1).jpg"},{"id":1785,"name":"Light Blue Color Round Shape Gota Patti Patches GPTPA0020D","price":170,"image":"GPTPA0020D(1).jpg"},{"id":1786,"name":"Skin Color Ambi Shape Gota Patti Patches GPTPA0021","price":150,"image":"GPTPA0021(2).jpg"},{"id":1791,"name":"Red Color Square Shape Ladies Buttons WBTN0038B","price":220,"image":"WBTN0038B(1).jpg"},{"id":1798,"name":"Maroon Color Square Shape Ladies Buttons WBTN0038I","price":220,"image":"WBTN0038I(1).jpg"},{"id":1799,"name":"Black Color Flower Shape Ladies Buttons WBTN0039","price":250,"image":"WBTN0039(1).jpg"},{"id":1800,"name":"Light Blue Color Flower Shape Ladies Buttons WBTN0039A","price":250,"image":"WBTN0039A(1).jpg"},{"id":1801,"name":"Peach Color Flower Shape Ladies Buttons WBTN0039B","price":250,"image":"WBTN0039B(1).jpg"},{"id":1803,"name":"Light Green Color Flower Shape Ladies Buttons WBTN0039D","price":250,"image":"WBTN0039D(1).jpg"},{"id":1804,"name":"Light Pink Color Flower Shape Ladies Buttons WBTN0040","price":250,"image":"WBTN0040(1).jpg"},{"id":1805,"name":"Black Color Flower Shape Ladies Buttons WBTN0040A","price":250,"image":"WBTN0040A(1).jpg"},{"id":1806,"name":"Maroon Color Flower Shape Ladies Buttons WBTN0040B","price":250,"image":"WBTN0040B(1).jpg"},{"id":1807,"name":"Peach Color Flower Shape Ladies Buttons WBTN0040C","price":250,"image":"WBTN0040C(1).jpg"},{"id":1808,"name":"Light Green Color Flower Shape Ladies Buttons WBTN0040D","price":250,"image":"WBTN0040D(1).jpg"},{"id":1810,"name":"Black Color Flower Shape Ladies Buttons with Stone WBTN0041","price":290,"image":"WBTN0041(1).jpg"},{"id":1811,"name":"Ferozi Color Flower Shape Ladies Buttons with Stone WBTN0041A","price":290,"image":"WBTN0041A(1).jpg"},{"id":1813,"name":"Pink Color Flower Shape Ladies Buttons with Stone WBTN0041C","price":290,"image":"WBTN0041C(1).jpg"},{"id":1814,"name":"Yellow Color Flower Shape Ladies Buttons with Stone WBTN0041D","price":290,"image":"WBTN0041D(1).jpg"},{"id":1815,"name":"White Color Flower Shape Ladies Buttons with Stone WBTN0041E","price":290,"image":"WBTN0041E(1).jpg"},{"id":1816,"name":"Medium Pink Color Flower Shape Ladies Buttons with Stone WBTN0041F","price":290,"image":"WBTN0041F(1).jpg"},{"id":1817,"name":"Black Color Ladies Button with Glass Bead and StonesWBTN0042","price":330,"image":"WBTN0042(1).jpg"},{"id":1818,"name":"Lemon Color Ladies Button with Glass Bead and StonesWBTN0042A","price":330,"image":"WBTN0042A(1).jpg"},{"id":1820,"name":"Orange Color Ladies Button with Glass Bead and StonesWBTN0042C","price":330,"image":"WBTN0042C(1).jpg"},{"id":1822,"name":"Magenta Pink-Dull Golden Color Round Ladies Button with Plastic Beads WBTN0043A","price":210,"image":"WBTN0043A(1).jpg"},{"id":1823,"name":"Dull Golden Color Round Ladies Button with Plastic Beads WBTN0043B","price":210,"image":"WBTN0043B(1).jpg"},{"id":1825,"name":"Black-Dull Golden Color Round Ladies Button with Plastic Beads WBTN0043D","price":210,"image":"WBTN0043D(1).jpg"},{"id":1826,"name":"Orange-Dull Golden Color Round Ladies Button with Plastic Beads WBTN0043E","price":210,"image":"WBTN0043E(1).jpg"},{"id":1827,"name":"Multi-Dull Golden Color Round Ladies Button with Plastic Beads WBTN0043F","price":210,"image":"WBTN0043F(1).jpg"},{"id":1829,"name":"Bottle Green Color Round Shape Thread and Beads Work Ladies Button WBTN0045","price":300,"image":"WBTN0045(1).jpg"},{"id":1831,"name":"Red Color Round Shape Thread and Beads Work Ladies Button WBTN0045B","price":300,"image":"WBTN0045B(1).jpg"},{"id":1832,"name":"Navy Blue Color Round Shape Thread and Beads Work Ladies Button WBTN0045C","price":300,"image":"WBTN0045C(1).jpg"},{"id":1834,"name":"Light Pink Color Round Shape Thread and Beads Work Ladies Button WBTN0045E","price":300,"image":"WBTN0045E(1).jpg"},{"id":1835,"name":"Golden Color Round Shape Thread and Beads Work Ladies Button WBTN0045F","price":300,"image":"WBTN0045F(1).jpg"},{"id":1836,"name":"Peach Color Round Shape Thread and Beads Work Ladies Button WBTN0045G","price":300,"image":"WBTN0045G(1).jpg"},{"id":1837,"name":"Yellow Color Round Shape Thread and Beads Work Ladies Button WBTN0045H","price":300,"image":"WBTN0045H(1).jpg"},{"id":1838,"name":"White Color Round Shape Thread and Beads Work Ladies Button WBTN0045I","price":300,"image":"WBTN0045I(1).jpg"},{"id":1840,"name":"Ferozi Color Round Shape Thread and Beads Work Ladies Button WBTN0045K","price":300,"image":"WBTN0045K(1).jpg"},{"id":1842,"name":"Magenta Color Fancy Dori DORI0001","price":210,"image":"DORI0001(1).jpg"},{"id":1843,"name":"Mint Green Color Fancy Dori DORI0001A","price":210,"image":"DORI0001A(1).jpg"},{"id":1853,"name":"Orange Color Fancy Dori DORI0001K","price":210,"image":"DORI0001K(1).jpg"},{"id":1859,"name":"Medium Golden French\/Franc-Cut Sewon Sequins\/Pailletes\/Spangles SEQFC0001","price":300,"image":"SEQFC0001(1).jpg"},{"id":1860,"name":"Light Golden French\/Franc-Cut Sewon Sequins\/Pailletes\/Spangles SEQFC0002","price":300,"image":"SEQFC0002(1).jpg"},{"id":1861,"name":"Dull Golden French\/Franc-Cut Sewon Sequins\/Pailletes\/Spangles SEQFC0003","price":300,"image":"SEQFC0003(1).jpg"},{"id":1862,"name":"Dark Golden MR French\/Franc-Cut Sewon Sequins\/Pailletes\/Spangles SEQFC0004","price":300,"image":"SEQFC0004(1).jpg"},{"id":1863,"name":"Light Golden MR French\/Franc-Cut Sewon Sequins\/Pailletes\/Spangles SEQFC0005","price":300,"image":"SEQFC0005(1).jpg"},{"id":1864,"name":"Silver French\/Franc-Cut Sewon Sequins\/Pailletes\/Spangles SEQFC0006","price":300,"image":"SEQFC0006(1).jpg"},{"id":1888,"name":"Golden Color Crown Print Round Shape Metal Coat Buttons (Sold With Box)","price":880,"image":"MCBTN0021(3).jpg"},{"id":1889,"name":"Brown Golden Color Round Shape Metal Coat Buttons (Sold With Box)","price":880,"image":"mcbtn2-1644997658.jpg"},{"id":1913,"name":"Yellow Color Round Shape Fancy Plastic Beads","price":250,"image":"PLSBD0061E(1)-1627905664.jpg"},{"id":1915,"name":"Green Color Round Shape Fancy Plastic Beads","price":250,"image":"PLSBD0061(1)-1627972431.jpg"},{"id":1916,"name":"Blue Color Round Shape Fancy Plastic Beads","price":250,"image":"PLSBD0061B(1)-1627979265.jpg"},{"id":1917,"name":"Pink Color Round Shape Fancy Plastic Beads","price":250,"image":"PLSBD0061C(1)-1627980063.jpg"},{"id":1918,"name":"Red Color Round Shape Fancy Plastic Beads","price":250,"image":"PLSBD0061D(1)-1627980401.jpg"},{"id":1919,"name":"Off-White Color Cotton Staple Thread For Embroidery Machine","price":600,"image":"CTST0001(1)-1627985835.jpg"},{"id":1920,"name":"White Color Polyester Thread\/Adda Cone\/ Polyested Tana","price":550,"image":"POLTH0001(1)-1627987940.jpg"},{"id":1921,"name":"Overlock Spun Polyester Cone Sewing Thread","price":870,"image":"OVLC0001(1)-1628054705.jpg"},{"id":1922,"name":"Overlock Polyester Cone Sewing Thread (Kachi Cone) Serger,Over Lock, Merrow, Single Needle","price":600,"image":"OVLC0002(1)-1628055028.jpg"},{"id":1923,"name":"Off-White Color Adda Cone Cotton Thread\/Cord","price":700,"image":"ADCON0001(1)-1628158843.jpg"},{"id":1924,"name":"Bleach White Color Twisted Piping Macrame Cotton Dori\/Cord Thread","price":200,"image":"PPDORI0001(1)-1628161549.jpg"},{"id":1925,"name":"Bleach White Color Twisted Piping Macrame Cotton Dori\/Cord Thread","price":180,"image":"PPDORI0002(1)-1628162328.jpg"},{"id":1926,"name":"50 yard Stiff White Polyester Horsehair Trim Braid Hem\/Plastic Net for Sewing Wedding Dress Gowns-1 inch","price":270,"image":"PLNET0001(1)-1628230583.jpg"},{"id":1927,"name":"50 yard Stiff White Polyester Horsehair Trim Braid Hem\/Plastic Net for Sewing Wedding Dress Gowns-3 inches","price":750,"image":"PLNET0002(1)-1628231796.jpg"},{"id":1928,"name":"Stiff White Polyester Horse Hair Trim Braid Hem\/Plastic Net for Sewing Wedding Dress Gowns -1.5 inches","price":470,"image":"PLNET0003(1)-1628232271.jpg"},{"id":1929,"name":"50 yard Stiff White Polyester Horsehair Trim Braid Hem\/Plastic Net for Sewing Wedding Dress Gowns-2 inches","price":670,"image":"PLNET0004(1)-1628233252.jpg"},{"id":1930,"name":"50 yard Stiff White Polyester Horsehair Trim Braid Hem\/Plastic Net for Sewing Wedding Dress Gowns-12 mm","price":210,"image":"PLNET0005(1)-1628234166.jpg"},{"id":1931,"name":"50 yard Stiff White Polyester Horsehair Trim Braid Hem\/Plastic Net for Sewing Wedding Dress Gowns-6 inches","price":2080,"image":"PLNET0006(1)-1628234484.jpg"},{"id":1932,"name":"Yellow Color Kundan Work Kurta Patti Button in Round Shape","price":230,"image":"KURBT0021(1)-1628315417.jpg"},{"id":1934,"name":"Orange Color Kundan Work Kurta Patti Button in Round Shape","price":230,"image":"KURBT0021B(1).jpg"},{"id":1938,"name":"Grey Color Kundan Work Kurta Patti Button in Round Shape","price":230,"image":"KURBT0021F(1).jpg"},{"id":1939,"name":"Black Color Kundan Work Kurta Patti Button in Round Shape","price":230,"image":"KURBT0021G(1).jpg"},{"id":1940,"name":"Maroon Color Kundan Work Kurta Patti Button in Round Shape","price":230,"image":"KURBT0021H(1).jpg"},{"id":1945,"name":"Dark Green Color Kundan Work Kurta Patti Button in Oval Shape","price":330,"image":"KURBT0022D(1).jpg"},{"id":1948,"name":"Orange Color Kundan Work Kurta Patti Button in Oval Shape","price":330,"image":"KURBT0022G(1).jpg"},{"id":1949,"name":"Yellow Color Kundan Work Kurta Patti Button in Oval Shape","price":330,"image":"KURBT0022H(1).jpg"},{"id":1960,"name":"Red Color Artificial Fabric Flowers","price":170,"image":"FLR0010(1)-1637915184.jpg"},{"id":1961,"name":"Hot Pink Color Artificial Fabric Flowers","price":170,"image":"FLR0010A(1).jpg"},{"id":1962,"name":"Dark Blue Color Artificial Fabric Flowers","price":170,"image":"FLR0010B(1).jpg"},{"id":1963,"name":"Grey Color Artificial Fabric Flowers","price":170,"image":"FLR0010C(1).jpg"},{"id":1965,"name":"Mustard Color Artificial Fabric Flowers","price":170,"image":"FLR0010E(1).jpg"},{"id":1966,"name":"Yellow Color Artificial Fabric Flower With Pearl Stone","price":170,"image":"FLR0011(1).jpg"},{"id":1972,"name":"Black Color Artificial Fabric Flower With Pearl Stone","price":170,"image":"FLR0011F(1).jpg"},{"id":1977,"name":"Pista Green Color Artificial Fabric Flower With Pearl Stone","price":170,"image":"FLR0011K(1).jpg"},{"id":1978,"name":"Blue Color Artificial Organza Fabric Flower with Pearl Stones","price":290,"image":"FLR0012(1).jpg"},{"id":1979,"name":"Black Color Artificial Organza Fabric Flower with Pearl Stones","price":290,"image":"FLR0012A(1).jpg"},{"id":1981,"name":"Navy Blue Color Artificial Fabric Flower","price":280,"image":"FLR0013(1).jpg"},{"id":1982,"name":"Black Color Artificial Fabric Flower","price":280,"image":"FLR0013A(1).jpg"},{"id":1984,"name":"Lemon Color Artificial Fabric Flower","price":280,"image":"FLR0013C(1).jpg"},{"id":1985,"name":"Grey Color Artificial Fabric Flower","price":280,"image":"FLR0013D(1).jpg"},{"id":1987,"name":"Black Color Artificial Fabric Flower With Pearl Bead","price":250,"image":"FLR0014(1).jpg"},{"id":1988,"name":"Maroon Color Artifical Fabric Flower With Pearl Bead","price":250,"image":"FLR0014A(1).jpg"},{"id":1989,"name":"Sky Blue Color Artificial Fabric Flower With Pearl Bead","price":250,"image":"FLR0014B(1).jpg"},{"id":1991,"name":"Dark Peach Color Artificial Fabric Flower With Pearl Bead","price":250,"image":"FLR0014D(1).jpg"},{"id":1992,"name":"Grey Color Artificial Fabric Flower With Pearl Bead","price":250,"image":"FLR0014E(1).jpg"},{"id":1995,"name":"Green Color Artificial Fabric Flower With Pearl Bead","price":250,"image":"FLR0014H(1).jpg"},{"id":1996,"name":"Blue Color Artificial Fabric Flower With Pearl Bead","price":250,"image":"FLR0014I(1).jpg"},{"id":1998,"name":"Grey Color Artificial Fabric Flower With Beads","price":210,"image":"FLR0015A(1).jpg"},{"id":2002,"name":"Brown Color Artificial Fabric Flower With Beads","price":210,"image":"FLR0015F(1).jpg"},{"id":2004,"name":"Black-Yellow Color Artificial Fabric Flower With Beads","price":250,"image":"FLR0016(1).jpg"},{"id":2005,"name":"Grey-Yellow Color Artificial Fabric Flower With Beads","price":250,"image":"FLR0016A(1).jpg"},{"id":2006,"name":"Black Color Felt Fabric Artificial Flower","price":250,"image":"FLR0017(1).jpg"},{"id":2009,"name":"Lemon Color Felt Fabric Artificial Flower With Pearl Stone","price":250,"image":"FLR0019A(1).jpg"},{"id":2011,"name":"Grey Color Felt Fabric Artificial Flower","price":250,"image":"FLR0020A(1).jpg"},{"id":2022,"name":"Mustard Color Hanging Style Fancy Designer Buttons With Metal Base","price":130,"image":"WBTN0048(1).jpg"},{"id":2023,"name":"Black Color Hanging Style Fancy Designer Buttons With Metal Base","price":130,"image":"WBTN0048C(1).jpg"},{"id":2024,"name":"Dark Blue Color Hanging Style Fancy Designer Buttons With Metal Base","price":130,"image":"WBTN0048B(1).jpg"},{"id":2025,"name":"Maroon Color Hanging Style Fancy Designer Buttons With Metal Base","price":130,"image":"WBTN0048A(1).jpg"},{"id":2026,"name":"Red Color Hanging Style Fancy Designer Buttons With Metal Base","price":130,"image":"WBTN0048D(1).jpg"},{"id":2027,"name":"Peach Color Hanging Style Fancy Designer Buttons With Metal Base","price":130,"image":"WBTN0048E(1).jpg"},{"id":2028,"name":"Yellow Color Hanging Style Fancy Designer Buttons With Metal Base","price":130,"image":"WBTN0048F(1).jpg"},{"id":2037,"name":"Silver Color Pearl Beads and Glass Stone Work Fancy Buttons","price":420,"image":"WBTN0056(1).jpg"},{"id":2038,"name":"Pearl Beads and Glass Stone Work Fancy Buttons with Rose Gold Base","price":420,"image":"WBTN0056A(1).jpg"},{"id":2039,"name":"Golden Color Pearl Beads and Glass Stone Work Fancy Buttons","price":210,"image":"WBTN0059(1).jpg"},{"id":2040,"name":"Silver Color Pearl Beads and Glass Stone Work Fancy Buttons","price":330,"image":"WBTN0059A(1).jpg"},{"id":2071,"name":"Dark Peach Color Fancy Fur Patch With Butterfly Designing","price":330,"image":"PATF0048(1).jpg"},{"id":2078,"name":"Brown Color Fancy Fur Patch With Butterfly Designing","price":330,"image":"PATF0048G(1).jpg"},{"id":2080,"name":"Dark Peach Color Fur Patch","price":210,"image":"PATF0049A(1).jpg"},{"id":2081,"name":"Light Peach Color Fur Patch","price":210,"image":"PATF0049B(1).jpg"},{"id":2082,"name":"Baby Pink Color Fur Patch","price":210,"image":"PATF0049C(1).jpg"},{"id":2083,"name":"White Color Fur Patch","price":210,"image":"PATF0049D(1).jpg"},{"id":2084,"name":"Red Color Fur Patch","price":210,"image":"PATF0049E(1).jpg"},{"id":2085,"name":"Black Color Fur Patch","price":210,"image":"PATF0049G(1).jpg"},{"id":2086,"name":"Brown Color Fur Patch","price":210,"image":"PATF0049H(1).jpg"},{"id":2087,"name":"White Color Bead Work Fancy Patch in Flower Shape","price":200,"image":"PATF0050(1).jpg"},{"id":2088,"name":"Light Peach Color Bead Work Fancy Patch in Flower Shape","price":200,"image":"PATF0050A(1).jpg"},{"id":2089,"name":"Baby Pink Color Bead Work Fancy Patch in Flower Shape","price":200,"image":"PATF0050B(1).jpg"},{"id":2090,"name":"Gray Color Bead Work Fancy Patch in Flower Shape","price":200,"image":"PATF0050C(1).jpg"},{"id":2091,"name":"Light Golden Color Bead Work Fancy Patch in Flower Shape","price":200,"image":"PATF0050D(1).jpg"},{"id":2094,"name":"Golden Color Beads and Sequins Work Fancy Patch","price":630,"image":"PATF0051(1).jpg"},{"id":2095,"name":"Pink-Golden Color Beads and Sequins Work Fancy Patch","price":630,"image":"PATF0051A(1).jpg"},{"id":2096,"name":"Silver-Golden Color Beads and Sequins Work Fancy Patch","price":630,"image":"PATF0051B(1).jpg"},{"id":2097,"name":"Yellow-Golden Color Beads and Sequins Work Fancy Patch","price":630,"image":"PATF0051C(1).jpg"},{"id":2098,"name":"Red-Golden Color Beads and Sequins Work Fancy Patch","price":630,"image":"PATF0051D(1).jpg"},{"id":2099,"name":"Peach Color Satin Fabric Bow For Craft Material, Dresses, Hair Bands, Clips","price":210,"image":"BOW0001(1).jpg"},{"id":2100,"name":"Baby Pink Color Satin Fabric Bow For Craft Material, Dresses, Hair Bands, Clips","price":210,"image":"BOW0001A(1).jpg"},{"id":2101,"name":"Cream Color Satin Fabric Bow For Craft Material, Dresses, Hair Bands, Clips","price":210,"image":"BOW0001B(1).jpg"},{"id":2102,"name":"White Color Satin Fabric Bow For Craft Material, Dresses, Hair Bands, Clips","price":210,"image":"BOW0001C(1).jpg"},{"id":2103,"name":"Gray Color Satin Fabric Bow For Craft Material, Dresses, Hair Bands, Clips","price":210,"image":"BOW0001D(1).jpg"},{"id":2104,"name":"Baze Color Satin Fabric Bow For Craft Material, Dresses, Hair Bands, Clips","price":210,"image":"BOW0001E(1).jpg"},{"id":2105,"name":"Black Color Satin Fabric Bow For Craft Material, Dresses, Hair Bands, Clips","price":210,"image":"BOW0001F(1).jpg"},{"id":2106,"name":"Baby Pink Color Satin Fabric Bow For Craft Material, Dresses, Hair Bands, Clips","price":210,"image":"BOW0002(1).jpg"},{"id":2107,"name":"Gray Color Satin Fabric Bow For Craft Material, Dresses, Hair Bands, Clips","price":210,"image":"BOW0002A(1).jpg"},{"id":2111,"name":"Peach Color Satin Fabric Bow For Craft Material, Dresses, Hair Bands, Clips","price":210,"image":"BOW0002E(1).jpg"},{"id":2112,"name":"Black-Red Color Satin Fabric Bow For Craft Material, Dresses, Hair Bands, Clips","price":210,"image":"BOW0002F(1).jpg"},{"id":2142,"name":"Orange Color Hand Embroidery Patch in Boat Shape","price":380,"image":"PATHE0097B(1)-1630657641.jpg"},{"id":2147,"name":"Neon Yellow Hand Embroidery Patch in Boat Shape","price":430,"image":"PATHE0097F(1)-1631266043.jpg"},{"id":2150,"name":"Dark Peach Hand Embroidery Patch in Boat Shape","price":430,"image":"PATHE0097I(1)-1631268136.jpg"},{"id":2151,"name":"Light Pink Hand Embroidery Patch in Boat Shape","price":430,"image":"PATHE0097J(1)-1631268535.jpg"},{"id":2152,"name":"Gray Hand Embroidery Patch in Gramophone Shape","price":300,"image":"PATHE0098(1)-1631275333.jpg"},{"id":2153,"name":"Light Red Hand Embroidery Patch in Gramophone Shape","price":300,"image":"PATHE0098B(1)-1631276481.jpg"},{"id":2154,"name":"Sea Green Hand Embroidery Patch in Gramophone Shape","price":300,"image":"PATHE0098A(1)-1631347297.jpg"},{"id":2157,"name":"Black Hand Embroidery Patch in Gramophone Shape","price":300,"image":"PATHE0098H(1)-1631352763.jpg"},{"id":2158,"name":"Light Pink Hand Embroidery Patch in Gramophone Shape","price":300,"image":"PATHE0098F(1)-1631353206.jpg"},{"id":2161,"name":"Sea Green Hand Embroidery Patch in Key Shape","price":380,"image":"PATHE0099C(1)-1631354407.jpg"},{"id":2164,"name":"Ferozi Blue Hand Embroidery Patch in Hut Shape","price":300,"image":"PATHE0100(1)-1631360297.jpg"},{"id":2165,"name":"Yellow Hand Embroidery Patch in Hut Shape","price":300,"image":"PATHE0100A(1)-1631360560.jpg"},{"id":2166,"name":"Light Pink Hand Embroidery Patch in Hut Shape","price":300,"image":"PATHE0100B(1)-1631361043.jpg"},{"id":2167,"name":"Orange Hand Embroidery Patch in Hut Shape","price":300,"image":"PATHE0100C(1)-1631690767.jpg"},{"id":2168,"name":"Golden Hand Embroidery Patch in Hut Shape","price":300,"image":"PATHE0100D(1)-1631692101.jpg"},{"id":2169,"name":"Black Hand Embroidery Patch in Hut Shape","price":300,"image":"PATHE0100E(1)-1631692705.jpg"},{"id":2170,"name":"Gray Hand Embroidery Patch in Hut Shape","price":300,"image":"PATHE0100G(1)-1631693329.jpg"},{"id":2172,"name":"Blue Color Hand Embroidery Patch in Round Shape","price":210,"image":"PATHE0101(1)-1631698342.jpg"},{"id":2173,"name":"Dark Green Color Hand Embroidery Patch in Round Shape","price":210,"image":"PATHE0101A(1)-1631698880.jpg"},{"id":2176,"name":"Golden Green Hand Embroidery Patch in Cup Shape","price":570,"image":"PATHE0104(1)-1631703302.jpg"},{"id":2177,"name":"Golden Yellow Hand Embroidery Patch in Cup Shape","price":570,"image":"PATHE0104A(1)-1631704055.jpg"},{"id":2178,"name":"Golden Orange Hand Embroidery Patch in Cup Shape","price":570,"image":"PATHE0104B(1)-1631705169.jpg"},{"id":2179,"name":"Golden Hand Embroidery Patch in Cup Shape","price":570,"image":"PATHE0104C(1)-1631706582.jpg"},{"id":2180,"name":"Golden Light Pink Hand Embroidery Patch in Cup Shape","price":570,"image":"PATHE0104D(1)-1631707215.jpg"},{"id":2181,"name":"Golden Magenta Pink Hand Embroidery Patch in Cup Shape","price":570,"image":"PATHE0104F(1)-1631793126.jpg"},{"id":2182,"name":"Golden Maroon Hand Embroidery Patch in Cup Shape","price":570,"image":"PATHE0104H(1)-1631794496.jpg"},{"id":2183,"name":"Golden Red Hand Embroidery Patch in Cup Shape","price":570,"image":"PATHE0104I(1)-1631876743.jpg"},{"id":2184,"name":"Golden Black Hand Embroidery Patch in Cup Shape","price":570,"image":"PATHE0104J(1)-1631877099.jpg"},{"id":2187,"name":"Blue Cow Hand Embroidery Patch","price":230,"image":"PATHE0107E(1)-1651813169.jpg"},{"id":2194,"name":"White Color Flower Shape Metal Pearl Buttons with Rose Gold Polish","price":330,"image":"WBTN0054(1)-1632304113.jpg"},{"id":2198,"name":"Light Blue Color Butterfly Shape Metal Charms","price":210,"image":"CHARM0070A(1)-1633429381.jpg"},{"id":2199,"name":"Dark Red Color Butterfly Shape Metal Charms","price":210,"image":"CHARM0070B(1)-1633429872.jpg"},{"id":2202,"name":"Neon Pink Color Evil Eye Shape Metal Charms","price":170,"image":"CHARM0071B(1)-1633522276.jpg"},{"id":2204,"name":"Bright Red Color Flower Shape With Evil Eye Metal Charms","price":210,"image":"CHARM0072(1)-1633588979.jpg"},{"id":2205,"name":"Black Color Flower Shape With Evil Eye Metal Charms","price":210,"image":"CHARM0072A(1)-1633589187.jpg"},{"id":2207,"name":"Black Color Hand Shape With Evil Eye Metal Charms","price":210,"image":"CHARM0074(1)-1633590535.jpg"},{"id":2208,"name":"White Color Evil Eye Assorted Shape Metal Charms","price":250,"image":"CHARM0075(1)-1633592137.jpg"},{"id":2209,"name":"Red Color Evil Eye Assorted Shape Metal Charms","price":250,"image":"CHARM0075A(1)-1633594050.jpg"},{"id":2210,"name":"Light Blue Color Evil Eye Assorted Shape Metal Charms","price":250,"image":"CHARM0075B(1)-1633595348.jpg"},{"id":2211,"name":"Dark Blue Color Evil Eye Assorted Shape Metal Charms","price":250,"image":"CHARM0075C(1)-1633595584.jpg"},{"id":2212,"name":"Dark Red Evil Eye Elephant Shape Metal Charms","price":210,"image":"CHARM0076(1)-1633599066.jpg"},{"id":2218,"name":"Rainbow Color Crystal Stone Buttons with Metal Base","price":210,"image":"WBTN0062D(1)-1633677909.jpg"},{"id":2231,"name":"Light Golden Color Insect Shape Glass Beads Work Hand Embroidery Patch","price":300,"image":"PATHE0109(1)-1633760388.jpg"},{"id":2232,"name":"Antique Golden Color Insect Shape Glass Beads Work Hand Embroidery Patch","price":300,"image":"PATHE0109A(1)-1633760567.jpg"},{"id":2233,"name":"Dull Golden Color Insect Shape Glass Beads Work Hand Embroidery Patch","price":300,"image":"PATHE0109B(1)-1633761016.jpg"},{"id":2234,"name":"Navy Blue Color Insect Shape Glass Beads Work Hand Embroidery Patch","price":300,"image":"PATHE0109C(1)-1633761593.jpg"},{"id":2235,"name":"White Color Insect Shape Glass Beads Work Hand Embroidery Patch","price":300,"image":"PATHE0109D(1)-1633761877.jpg"},{"id":2237,"name":"Round Shape Wooden Embroidery Frame","price":330,"image":"FRAM0004 (9)-1633776050.jpg"},{"id":2238,"name":"Round Shape Wooden Embroidery Frame 6,8,10,12,14 inches","price":80,"image":"FRAM0004 (7)-1633776997.jpg"},{"id":2240,"name":"Dull Golden Color Square Shape Metal Base Buttons","price":210,"image":"WBTN0063B(1)-1633778111.jpg"},{"id":2241,"name":"Silver Color Square Shape Metal Base Buttons","price":210,"image":"WBTN0063C(1)-1633778345.jpg"},{"id":2251,"name":"Golden Color Round Shape Stone Work Buttons","price":203,"image":"WBTN0064(1)-1633952015.jpg"},{"id":2252,"name":"Light Golden Color Round Shape Stone Work Buttons","price":203,"image":"WBTN0064A(1)-1633952324.jpg"},{"id":2259,"name":"Black Color Round Shape Metal Base Buttons","price":170,"image":"WBTN0065B(1)-1634024348.jpg"},{"id":2260,"name":"Light Pink Color Round Shape Metal Base Buttons","price":170,"image":"WBTN0065C(1)-1634024561.jpg"},{"id":2263,"name":"Off-White Color Flower Shape Pearl Stone Work Fancy Button","price":250,"image":"WBTN0067(1)-1634025723.jpg"},{"id":2264,"name":"Black Color Flower Shape Fancy Buttons","price":170,"image":"WBTN0068(1)-1634112139.jpg"},{"id":2265,"name":"Peach Color Flower Shape Fancy Buttons","price":170,"image":"WBTN0068A(2)-1634112440.jpg"},{"id":2266,"name":"Light Golden Color Flower Shape Fancy Buttons","price":170,"image":"WBTN0068B(1)-1634120861.jpg"},{"id":2267,"name":"Pink Color Flower Shape Fancy Buttons","price":170,"image":"WBTN0068C(2)-1634121938.jpg"},{"id":2268,"name":"Light Pink Stone Work Fancy Metal Buttons","price":170,"image":"WBTN0069(1)-1634123453.jpg"},{"id":2270,"name":"Peach Stone Work Fancy Metal Buttons","price":170,"image":"WBTN0069B(1)-1634123964.jpg"},{"id":2271,"name":"Golden Color Beads And Cutdana Work Hand Embroidery Patch","price":370,"image":"PATHE0110(1)-1639030721.jpg"},{"id":2274,"name":"Metallic Gray Color Cutdana work Hand Embroidery Patch","price":380,"image":"PATHE0113(1)-1634210585.jpg"},{"id":2285,"name":"Metallic Grey Color Beads Work Hand Embroidery Patch","price":180,"image":"PATHE0119(1)-1634364525.jpg"},{"id":2286,"name":"Golden Color Beads Work Hand Embroidery Patch","price":180,"image":"PATHE0119A(1)-1634364730.jpg"},{"id":2287,"name":"Black-Blue Color Hand Embroidery Gents\/Men Shirt Patch","price":420,"image":"PATHE0120(1)-1634549381.jpg"},{"id":2290,"name":"Black Color Dabka Work Designer Hand Embroidery Gents\/Men Shirt Patch","price":580,"image":"PATHE0123(1)-1634550028.jpg"},{"id":2291,"name":"Red-Golden Color Hand Embroidery Gents\/Men Shirt Patch","price":500,"image":"PATHE0124(1)-1634550212.jpg"},{"id":2292,"name":"Black Color Dabka and Thread Work Hand Embroidery Gents\/Men Shirt Patch","price":580,"image":"PATHE0125(1)-1634550439.jpg"},{"id":2293,"name":"Black-Blue Designer Hand Embroidery Patch","price":580,"image":"PATHE0126(1)-1634550598.jpg"},{"id":2295,"name":"Blue-Black Eye Shape Hand Embroidery Patch","price":180,"image":"PATHE0128(1)-1634635576.jpg"},{"id":2296,"name":"Royal Blue-Black Eye Shape Hand Embroidery Patch","price":180,"image":"PATHE0128A(1)-1634635823.jpg"},{"id":2300,"name":"Red Evil Eye Shape Hand Embroidery Patch","price":230,"image":"PATHE0129B(1)-1634636441.jpg"},{"id":2304,"name":"Red-White Color Oval Shape Beads work Hand Embroidery Patch","price":180,"image":"PATHE0132(1)-1634713832.jpg"},{"id":2305,"name":"Red-Black Face Beads Work Hand Embroidery Patch","price":160,"image":"PATHE0133(1)-1634714022.jpg"},{"id":2306,"name":"White Color Beads Work Hand Embroidery Patch","price":160,"image":"PATHE0134(1)-1634714649.jpg"},{"id":2307,"name":"Red Ghost Shape Beads Work hand Embroidery Patch","price":160,"image":"PATHE0135(1)-1634714871.jpg"},{"id":2308,"name":"Red-White-Hand Shape Beads Work Hand Embroidery Patch","price":180,"image":"PATHE0136(1)-1634715131.jpg"},{"id":2309,"name":"Red-White Santa Claus Shape Beads Work Hand Embroidery Patch","price":180,"image":"PATHE0137(1)-1634715779.jpg"},{"id":2310,"name":"Red-white-Black Beads Work Hand Embroidery Patch","price":160,"image":"PATHE0138(1)-1634715966.jpg"},{"id":2312,"name":"Coffee Brown Color Wooden Buttons","price":200,"image":"WOBTN0007(1)-1634811177.jpg"},{"id":2315,"name":"Light Brown Square Shape Wooden Buttons","price":170,"image":"WOBTN0010(1)-1634812429.jpg"},{"id":2316,"name":"Coffee Brown Rectangular Shape Wooden Buttons","price":200,"image":"WOBTN0011(1)-1634812685.jpg"},{"id":2317,"name":"Square Shape Brown Color Wooden Buttons","price":120,"image":"WOBTN0012(1)-1634812925.jpg"},{"id":2318,"name":"Dark Brown Color Round Wooden Buttons","price":170,"image":"WOBTN0013(1)-1634813160.jpg"},{"id":2319,"name":"Skin Color Round Wooden Buttons","price":170,"image":"WOBTN0014(1)-1634815589.jpg"},{"id":2320,"name":"Coffee Color Square Shape wooden Buttons","price":170,"image":"WOBTN0015(1)-1634816548.jpg"},{"id":2322,"name":"Coffee Color Eye Shape Wooden Buttons","price":120,"image":"WOBTN0017(3)-1634817116.jpg"},{"id":2323,"name":"Skin Color Square Shape Wooden Buttons","price":170,"image":"WOBTN0018(1)-1634817308.jpg"},{"id":2324,"name":"Light Brown Color Square Shape Wooden Buttons","price":170,"image":"WOBTN0019(1)-1634817448.jpg"},{"id":2327,"name":"Multi Color Butterfly Shape Wooden Buttons","price":130,"image":"WOBTN0020B(1)-1634903481.jpg"},{"id":2329,"name":"Green Color Butterfly Shape Wooden Buttons","price":170,"image":"WOBTN0021(1)-1634904714.jpg"},{"id":2330,"name":"Yellow Color Butterfly Shape Wooden Buttons","price":170,"image":"WOBTN0021A(1)-1634904897.jpg"},{"id":2331,"name":"Sea Green Color Butterfly Shape Wooden Buttons","price":170,"image":"WOBTN0021B(1)-1634905019.jpg"},{"id":2334,"name":"White Color Flower Printed Butterfly Shape Wooden Buttons","price":170,"image":"WOBTN0022(1)-1634967345.jpg"},{"id":2336,"name":"Green Color Mina\/Kundan Work Plastic Base and Brass Coins Buttons","price":200,"image":"WBTN0070(1)-1634978224.jpg"},{"id":2343,"name":"Purple Color Mina\/Kundan Work Plastic Base and Brass Coins Buttons","price":250,"image":"WBTN0070G(1)-1634987828.jpg"},{"id":2373,"name":"Brown Color Round Shape Multi Color Thread Work Wooden Buttons","price":130,"image":"WOBTN0024(1)-1635407018.jpg"},{"id":2374,"name":"Coffee Brown Color Round Shape Multi Color Thread Work Wooden Buttons","price":120,"image":"WOBTN0024A(1)-1635407258.jpg"},{"id":2376,"name":"Light Brown Color Round American Flag Print Wooden Buttons","price":100,"image":"WOBTN0026(1)-1635407963.jpg"},{"id":2377,"name":"Light Brown Color Round Pink Stars Print Wooden Buttons","price":100,"image":"WOBTN0027(1)-1635408279.jpg"},{"id":2378,"name":"Light Brown Color Round Printed Wooden Buttons","price":100,"image":"WOBTN0028(1)-1635408531.jpg"},{"id":2380,"name":"Light Brown Color Round Printed Wooden Buttons","price":130,"image":"WOBTN0030(1)-1635411195.jpg"},{"id":2388,"name":"White-Rose Gold Color Heart-Bird Shape Beads Work Hand Embroidery Patch","price":500,"image":"PATHE0142(1)-1635584365.jpg"},{"id":2391,"name":"Black-Rose Gold Color Heart-Bird Shape Beads Work Hand Embroidery Patch","price":500,"image":"PATHE0142C(1)-1635591078.jpg"},{"id":2392,"name":"Silver-Rose Gold Color Heart-Bird Shape Beads Work Hand Embroidery Patch","price":500,"image":"PATHE0142D(1)-1635591259.jpg"},{"id":2399,"name":"Peach Color Checked Magji Gota Work Lace","price":170,"image":"GTLC0020(2)-1635837740.jpg"},{"id":2401,"name":"Light Pink Color Checked Magji Gota Work Lace","price":170,"image":"GTLC0020B(1)-1635842424.jpg"},{"id":2402,"name":"Maroon Color Checked Magji Gota Work Lace","price":170,"image":"GTLC0020C(1)-1635842577.jpg"},{"id":2403,"name":"Purple Color Checked Magji Gota Work Lace","price":170,"image":"GTLC0020D(1)-1635843112.jpg"},{"id":2404,"name":"Magenta Color Checked Magji Gota Work Lace","price":170,"image":"GTLC0020E(1)-1635843382.jpg"},{"id":2405,"name":"Orange Color Checked Magji Gota Work Lace","price":170,"image":"GTLC0020F(1)-1635843686.jpg"},{"id":2406,"name":"Bright\/Cherry Red Color Checked Magji Gota Work Lace","price":170,"image":"GTLC0020G(1)-1635843799.jpg"},{"id":2407,"name":"Black Color Checked Magji Gota Work Lace","price":170,"image":"GTLC0020H(1)-1635844065.jpg"},{"id":2409,"name":"Blue Color Checked Magji Gota Work Lace","price":170,"image":"GTLC0020J(1)-1637559834.jpg"},{"id":2412,"name":"Navy Blue-Golden Hotfix Work Fancy Elastic","price":250,"image":"FNELS0009(1)-1635920633.jpg"},{"id":2418,"name":"Round Shape Golden-Silver Color Stone Work Metal Buttons","price":250,"image":"WBTN0076(1)-1636456854.jpg"},{"id":2420,"name":"Golden Color Round Metal Buttons","price":175,"image":"WBTN0078(1)-1636459647.jpg"},{"id":2421,"name":"White Coreset Wire \/ Rigilene\/ Boning wire - 6 mm","price":415,"image":"CORST0002(1)-1636527101.jpg"},{"id":2422,"name":"White Coreset Wire \/ Rigilene\/ Boning wire - 12 mm","price":540,"image":"CORST0003(1)-1636527865.jpg"},{"id":2423,"name":"Round Shape Golden-Silver Color Stone Work Metal Buttons","price":330,"image":"WBTN0079(1)-1636531047.jpg"},{"id":2424,"name":"Golden Color Square Shape Metal Buttons","price":250,"image":"WBTN0080(1)-1636531539.jpg"},{"id":2426,"name":"Golden-Green Color Square Shape Metal Buttons","price":250,"image":"WBTN0080B(1)-1636531866.jpg"},{"id":2427,"name":"Golden-White Color Square Shape Metal Buttons","price":250,"image":"WBTN0080C(1)-1636532015.jpg"},{"id":2428,"name":"Golden-Orange Color Square Shape Metal Buttons","price":250,"image":"WBTN0080D(1)-1636532199.jpg"},{"id":2431,"name":"Golden Color Bird Shape Hand Embroidery Patch","price":230,"image":"PATHE00149A(1)-1636613067.jpg"},{"id":2432,"name":"Black Moon-Star Shape Hand Embroidery Patch","price":150,"image":"PATHE00150(1)-1636613453.jpg"},{"id":2434,"name":"Golden Moon-Star Shape Hand Embroidery Patch","price":150,"image":"PATHE00150B(1)-1636614043.jpg"},{"id":2435,"name":"White Moon-Star Shape Hand Embroidery Patch","price":150,"image":"PATHE00150C(1)-1636614103.jpg"},{"id":2436,"name":"Silver Moon-Star Shape Hand Embroidery Patch","price":150,"image":"PATHE00150D(1)-1636614363.jpg"},{"id":2439,"name":"Golden color Leaf Shape Mehandi Polish Metal Charms","price":280,"image":"CHARM0077(1)-1636632663.jpg"},{"id":2442,"name":"Golden Designer Mehandi Polish Metal Charms","price":280,"image":"CHARM0079(1)-1636633335.jpg"},{"id":2443,"name":"Golden Designer Mehandi Polish Charms","price":330,"image":"CHARM0080(1)-1636696911.jpg"},{"id":2447,"name":"Round Shape One Hole Casting Metal Charms","price":250,"image":"CHARM0084(1)-1636699395.jpg"},{"id":2448,"name":"Golden Mehandi Polish Square Shape Metal Charms","price":280,"image":"CHARM0086(1)-1636699794.jpg"},{"id":2449,"name":"Black Color Rectangle Shape Evil Eye \/ Hamsa Patches","price":400,"image":"PATHE0151(1)-1636791250.jpg"},{"id":2467,"name":"Pink Color Zari Work Lace\/Border","price":710,"image":"ZRBD0019(1)-1637058759.jpg"},{"id":2469,"name":"Orange Color Zari Work Lace\/ Border","price":540,"image":"ZRBD0021(1)-1637059419.jpg"},{"id":2471,"name":"Black-Golden color Leather Buckle","price":140,"image":"BUCL0031(1)-1637409852.jpg"},{"id":2472,"name":"Black-Metallic Grey color Leather Buckle","price":140,"image":"BUCL0031A(1)-1637410022.jpg"},{"id":2473,"name":"Black-Golden color Leather Buckle BUCL0032","price":140,"image":"BUCL0032(1)-1637410149.jpg"},{"id":2474,"name":"Black-Metallic Grey color Leather Buckle BUCL0033","price":140,"image":"BUCL0033(1)-1637410261.jpg"},{"id":2475,"name":"Baby Pink - Pista Green Color Round Kundan Button","price":180,"image":"WBTN0082(1)-1637582400.jpg"},{"id":2479,"name":"Pista Green-Baby Pink Color Round Kundan Button","price":180,"image":"WBTN0082D(1)-1637583451.jpg"},{"id":2481,"name":"Silver Color Round Kundan Button","price":180,"image":"WBTN0082F(1)-1637644733.jpg"},{"id":2492,"name":"Golden color Round Shape Metal Coat Buttons (sold with box)","price":680,"image":"MCBTN0032(2)-1637751794.jpg"},{"id":2494,"name":"Antique-Golden color Round Shape Metal Coat Buttons (sold with box)","price":680,"image":"MCBTN0034(2)-1637753357.jpg"},{"id":2495,"name":"Golden-Black color Round Shape Metal Coat Buttons (sold with box)","price":780,"image":"MCBTN0035(1)-1637754104.jpg"},{"id":2504,"name":"Baby Pink Drop Shape Kundan Buttons With Metal Base","price":300,"image":"WBTN0084E(1)-1637841590.jpg"},{"id":2506,"name":"Baby Pink Color Artificial Fabric Flowers","price":170,"image":"FLR0010F(1)-1637915423.jpg"},{"id":2507,"name":"Yellow Color Artificial Fabric Flowers","price":170,"image":"FLR0010G(1)-1637924236.jpg"},{"id":2508,"name":"Royal Blue Color Artificial Fabric Flowers","price":170,"image":"FLR0010H(1)-1637924450.jpg"},{"id":2511,"name":"Dull-Golden Bride-Bridegroom Hand Embroidery Patch","price":550,"image":"PATHE0157(1)-Right--1638009562.jpg"},{"id":2513,"name":"Dull Golden Designer Hand Embroidery Patch","price":400,"image":"PATHE0159(1)-1638010752.jpg"},{"id":2517,"name":"Golden Bridal Hand Embroidery Patch","price":1150,"image":"PATHE0163(1)-1638012881.jpg"},{"id":2520,"name":"Black Stone Work Fancy Metal Buttons","price":170,"image":"WBTN0069D(1)-1638184186.jpg"},{"id":2521,"name":"Navy Blue Stone Work Fancy Metal Buttons","price":170,"image":"WBTN0069E(1)-1638184341.jpg"},{"id":2522,"name":"Golden Color Stone Work Round Shape Buttons","price":290,"image":"WBTN0085(1)-1638355711.jpg"},{"id":2524,"name":"Black-Golden Hanging Style Fancy Buttons","price":250,"image":"WBTN0087(1)-1638359517.jpg"},{"id":2525,"name":"White-Golden Hanging Style Fancy Buttons","price":250,"image":"WBTN0087A(1)-1638360096.jpg"},{"id":2526,"name":"Golden Round Shape Stone work Metal Buttons","price":170,"image":"WBTN0088(1)-1638428742.jpg"},{"id":2527,"name":"Golden Square Shape Stone Work metal Buttons","price":210,"image":"WBTN0089(1)-1638428970.jpg"},{"id":2528,"name":"Golden Leaf Shape Metal Button","price":170,"image":"WBTN0090(1)-1638429142.jpg"},{"id":2529,"name":"Dull Golden Flower Shape Metal Buttons","price":330,"image":"WBTN0092(1)-1638429395.jpg"},{"id":2530,"name":"Golden Round Stone Work Metal Buttons","price":250,"image":"WBTN0093(1)-1638430569.jpg"},{"id":2531,"name":"Silver Round Shape Stone work Metal Buttons","price":250,"image":"WBTN0093A(1)-1638430710.jpg"},{"id":2532,"name":"Dark Green Color Flower Shape Metal Buttons","price":200,"image":"WBTN0094(1)-1638431247.jpg"},{"id":2533,"name":"Black Color Flower Shape Metal Buttons","price":200,"image":"WBTN0094A(1)-1638431693.jpg"},{"id":2534,"name":"Light Pink Color Flower Shape Metal Buttons","price":200,"image":"WBTN0094B(4)-1638431959.jpg"},{"id":2535,"name":"Aqua Blue(Ferozi) Color Flower Shape Metal Buttons","price":200,"image":"WBTN0094C(1)-1638432300.jpg"},{"id":2536,"name":"Red Color Flower Shape Metal Buttons","price":200,"image":"WBTN0094D(1)-1638433140.jpg"},{"id":2537,"name":"White Color Flower Shape Metal Buttons","price":200,"image":"WBTN0094E(1)-1638433380.jpg"},{"id":2543,"name":"Gold Color Round Shape Metal Coat\/Jacket Buttons","price":780,"image":"MCBTN0038(1)-1638615232.jpg"},{"id":2544,"name":"Golden Color Round Shape Metal Coat\/Jacket Buttons","price":850,"image":"MCBTN0039(1)-1638615406.jpg"},{"id":2549,"name":"Black-Golden Color Lion Print Round Shape Metal Coat\/Jacket Buttons","price":780,"image":"MCBTN0044(1)-1638617110.jpg"},{"id":2551,"name":"Metallic Black Color Round Shape Metal Coat\/Jacket Buttons","price":720,"image":"MCBTN0046(1)-1638620240.jpg"},{"id":2552,"name":"Metallic Grey Color Round Shape Metal Coat\/Jacket Buttons","price":680,"image":"MCBTN0047(1)-1638620444.jpg"},{"id":2570,"name":"Pink Color Thread And Sequins Work Designer Butterfly Patch","price":250,"image":"PATHE0169(1)-1639041560.jpg"},{"id":2571,"name":"Peach Color Thread And Sequins Work Designer Butterfly Patch","price":250,"image":"PATHE0169A(1)-1639041953.jpg"},{"id":2572,"name":"Navy Blue Color Thread And Sequins Work Designer Butterfly Patch","price":250,"image":"PATHE0169B(1)-1639041999.jpg"},{"id":2573,"name":"Red Color Thread And Sequins Work Designer Butterfly Patch","price":250,"image":"PATHE0169C(1)-1639042016.jpg"},{"id":2574,"name":"Orange Color Thread And Sequins Work Designer Butterfly Patch","price":250,"image":"PATHE0169D(1)-1639042406.jpg"},{"id":2575,"name":"Ferozi Color Thread And Sequins Work Designer Butterfly Patch","price":250,"image":"PATHE0169E(1)-1639042435.jpg"},{"id":2576,"name":"Baby Pink Color Thread And Sequins Work Designer Butterfly Patch","price":250,"image":"PATHE0169F(1)-1639042479.jpg"},{"id":2577,"name":"Yellow Color Thread And Sequins Work Designer Butterfly Patch","price":250,"image":"PATHE0169G(1)-1639044528.jpg"},{"id":2578,"name":"Mint Green color Thread And Sequins Work Designer Butterfly Patch","price":250,"image":"PATHE0169H(1)-1639044592.jpg"},{"id":2579,"name":"Golden Color Thread And Sequins Work Designer Butterfly Patch","price":250,"image":"PATHE0169I(1)-1639044631.jpg"},{"id":2580,"name":"Antique Golden Color Thread And Sequins Work Designer Butterfly Patch","price":250,"image":"PATHE0169J(1)-1639044687.jpg"},{"id":2585,"name":"Golden Zari Work Fancy Border","price":1380,"image":"ZRBD0022B(1)-1639121121.jpg"},{"id":2591,"name":"Round Shape Peach Color Buckle BUCL0014C","price":210,"image":"BUCL0014C(1)-1639218165.jpg"},{"id":2599,"name":"Golden Color Rectangular Shape Metal Buckles - 6 pieces","price":250,"image":"BUCL0035(1)-1639392993.jpg"},{"id":2600,"name":"Golden Color E-Shape Metal Buckle","price":170,"image":"BUCL0036(1)-1639393222.jpg"},{"id":2605,"name":"Silver Color Stone Work Fancy Applique Patches\/Decorative Patch for Suits, Dresses, Belts etc.","price":630,"image":"PATF0052A(1)-1639469752.jpg"},{"id":2606,"name":"Black Color Stone Work Fancy Applique Patches\/Decorative Patch for Suits, Dresses, Belts etc.","price":630,"image":"PATF0052B(1)-1639469845.jpg"},{"id":2610,"name":"Multi Color Stone Work Designer Fancy Applique Patches\/Decorative Hotfix Patches","price":210,"image":"PATF0053C-1(1)-1667539907.jpg"},{"id":2614,"name":"Golden Color Stone & Fur Work Designer Fancy Applique Patches\/Decorative Patches","price":100,"image":"PATF0055(1)-1639565517.jpg"},{"id":2615,"name":"Peach Color Stone & Fur Work Designer Fancy Applique Patches\/Decorative Patches","price":100,"image":"PATF0055A(1)-1639565851.jpg"},{"id":2617,"name":"Peach Color Stone Work Designer Fancy Applique Patches\/Decorative Patches","price":100,"image":"PATF0057A(1)-1639568910.jpg"},{"id":2620,"name":"Peach Color Stone Work Applique Patch\/Decorative Patch","price":230,"image":"PATF0058A(1)-1639570442.jpg"},{"id":2621,"name":"Grey Color Stone Work Applique Patch\/Decorative Patch","price":230,"image":"PATF0058B(1)-1639570641.jpg"},{"id":2622,"name":"Golden color Light Weight Aluminium\/Metal Chain","price":270,"image":"MTLCH0017(1)-1639720543.jpg"},{"id":2626,"name":"Golden color Light Weight Aluminium\/Metal Chain","price":130,"image":"MTLCH0021(1)-1639722589.jpg"},{"id":2627,"name":"Dark Golden color Light Weight Aluminium\/Metal Chain","price":540,"image":"MTLCH0022(1)-1639723181.jpg"},{"id":2630,"name":"Black Color Glass Beads Work Fancy Applique Patch\/Decorative Patches","price":230,"image":"PATF0059(1)-1639728859.jpg"},{"id":2631,"name":"White Color Glass Beads Work Fancy Applique Patch\/Decorative Patches","price":230,"image":"PATF0059A(1)-1639729397.jpg"},{"id":2632,"name":"Metallic Navy Blue Color Glass Beads Work Fancy Applique Patch\/Decorative Patches","price":230,"image":"PATF0059B(1)-1639729675.jpg"},{"id":2633,"name":"Metallic Grey Color Glass Beads Work Fancy Applique Patch\/Decorative Patches","price":230,"image":"PATF0059C(1)-1639729702.jpg"},{"id":2634,"name":"Golden Color Glass Beads Work Fancy Applique Patch\/Decorative Patches","price":230,"image":"PATF0059D(1)-1639729894.jpg"},{"id":2635,"name":"Black-Golden Color Flower Shape Fancy Metal Buttons","price":230,"image":"WBTN0095(1)-1639740232.jpg"},{"id":2638,"name":"Peach-Black Color Bead Work Evil Eye\/Hamsa Hand Shape Patch","price":790,"image":"PATHE0172B(1)-1639809649.jpg"},{"id":2639,"name":"Baby Pink Color Fancy Patch\/Applique","price":170,"image":"PATF0060(1)-1639987129.jpg"},{"id":2646,"name":"Grey Color Bow Shape Stone Work Fancy Patch\/Applique","price":250,"image":"PATF0061(1)-1639999707.jpg"},{"id":2647,"name":"Lemon Color Bow Shape Stone Work Fancy Patch\/Applique","price":250,"image":"PATF0061A(1)-1639999882.jpg"},{"id":2649,"name":"Black Color Bow Shape Stone Work Fancy Patch\/Applique","price":250,"image":"PATF0061C(1)-1640000172.jpg"},{"id":2650,"name":"Golden Color Bow Shape Stone Work Fancy Patch\/Applique","price":250,"image":"PATF0061D(1)-1640000323.jpg"},{"id":2651,"name":"Red Color Bow Shape Stone Work Fancy Patch\/Applique","price":250,"image":"PATF0061E(1)-1640000457.jpg"},{"id":2669,"name":"Metallic Grey Color Metal Coat Buttons -sold with box","price":780,"image":"MCBTN0055(1)-1640340905.jpg"},{"id":2670,"name":"Metallic Grey-Copper Color Metal Coat Buttons -sold with box","price":780,"image":"MCBTN0056(1)-1640341093.jpg"},{"id":2671,"name":"Metallic Black Color Metal Coat Buttons -sold with box","price":780,"image":"MCBTN0057(1)-1640342311.jpg"},{"id":2676,"name":"Black Golden Color Metal Coat Buttons -sold with box","price":780,"image":"MCBTN0061(1)-1640347002.jpg"},{"id":2742,"name":"Golden Color Hand Embroidery Fancy Belts for dresses, lehngas, sarees, etc.(adjustable)","price":1460,"image":"BELT0004(1)-1641294269.jpg"},{"id":2751,"name":"Fancy Designer Rhinestone Belts for dresses, lehngas, sarees, etc.(adjustable)","price":920,"image":"BELT0013(1)-1679547764.jpg"},{"id":2752,"name":"Reddish Color Drop Shape Kundan Buttons","price":200,"image":"WBTN0023J(1)-1641366440.jpg"},{"id":2753,"name":"Pista Green Color Drop Shape Kundan Buttons","price":200,"image":"WBTN0023K(1)-1641366626.jpg"},{"id":2754,"name":"Peach Color Drop Shape Kundan Buttons","price":200,"image":"WBTN0023L(1)-1641366766.jpg"},{"id":2764,"name":"Silver color Metal D Shape Loop Buckle\/ bag rings","price":170,"image":"BUCL0094(2)-1676274157.jpg"},{"id":2771,"name":"Owl Shape Designer Machine Embroidery Patch\/Applique","price":210,"image":"PATME0009(1)-1641880414.jpg"},{"id":2772,"name":"Red color flower shape thread work designer machine embroidery patch\/applique","price":170,"image":"PATME0010(1)-1641976767.jpg"},{"id":2773,"name":"Army Man Thread Work Machine Embroidery Patch\/Applique","price":270,"image":"patme-1676878708.jpg"},{"id":2775,"name":"Red Rose Shape Thread Work Machine Embroidery Patch","price":300,"image":"PATME0013(1)-1641982113.jpg"},{"id":2776,"name":"Black Bee Shape Thread Work Machine Embroidery Patch","price":230,"image":"PATME0014(1)-1641982407.jpg"},{"id":2778,"name":"Mustard Color Eagle Shape Thread Work Machine Embroidery Patch","price":170,"image":"PATME0016(1)-1642054817.jpg"},{"id":2780,"name":"Metallic Grey Color Rectangle Shape Metal Buckle With Stone Work","price":170,"image":"BUCL0042(1)-1642061887.jpg"},{"id":2781,"name":"Black color Round Shape Metal Coat Buttons for coats, blazers, jackets etc.(sold with box)","price":680,"image":"MCBTN0036A(1)-1642143688.jpg"},{"id":2787,"name":"Square Shape Grey Color Buckle","price":290,"image":"BUCL0012B-2(1)-1642152526.jpg"},{"id":2788,"name":"Pony Mini Tailor Shears Embroidery Scissors Small Scissors Thread Scissors Plastic Plus Handle Elbow Pointed Scissors - 2 pieces","price":180,"image":"scissor1-1692870791.jpg"},{"id":2789,"name":"MUNIX Small Plastic Tailor Shears Embroidery Scissors Small Scissors Thread Scissors Plastic Plus Long Handle Elbow Pointed Scissors","price":330,"image":"SCR0002(4)-1642159851.jpg"},{"id":2790,"name":"Off-White color Pearl Beads 3,4,5,6,8,10,12,10,16,18,20 mm Sizes","price":200,"image":"PLBD0001(1)-1642223744.jpg"},{"id":2791,"name":"Rose Gold Color Designer Dabka Work Zarodosi Work Patch","price":680,"image":"PATHE0174(1)-1642586200.jpg"},{"id":2792,"name":"Rose Golden Color Zarodozi Patch","price":710,"image":"PATHE0175(1)-1642586524.jpg"},{"id":2793,"name":"Rose Gold Color Dabka Work Zarodozi Patch-PATHE0176","price":710,"image":"PATHE0176(1)-1642586852.jpg"},{"id":2794,"name":"Rose Gold Color Designer Dabka Work Zarodozi Patch-PATHE0177","price":710,"image":"PATHE0177(1)-1642587550.jpg"},{"id":2795,"name":"White Color Ostrich Feather Lace (Different colors Available on Enquiry)","price":3000,"image":"FTRLC0001(1)-1642675278.jpg"},{"id":2796,"name":"Black Color Ostrich Feather Lace (Different colors Available on Enquiry)","price":3000,"image":"FTRLC0001A(1)-1642675454.jpg"},{"id":2797,"name":"Off-White Color Feather Lace (Different colors Available on Enquiry)","price":550,"image":"FTRLC0002(1)-1642676264.jpg"},{"id":2820,"name":"Red Green Color Stone Work Fancy Brooch for saree, sherwani, coats, blazers etc.","price":670,"image":"BRCH0027(1)-1643358871.jpg"},{"id":2822,"name":"Green Color Butterfly Shape Fancy Brooch for saree, sherwani, coats, blazers etc.","price":1000,"image":"BRCH0028(1)-1643363013.jpg"},{"id":2858,"name":"Dull Golden Dabka, Nakshi Work Bridal Doli Embroidery Patch","price":920,"image":"PATHE0184(1)-1643779567.jpg"},{"id":2859,"name":"Golden Color Bridal Doli Dabka, Nakshi Work Embroidery Patch","price":650,"image":"PATHE0183(1)-1643779976.jpg"},{"id":2860,"name":"Black Stone With Golden Frame Stitchable Brooch(without pin)","price":170,"image":"BRCH0009A(1)-1643886388.jpg"},{"id":2861,"name":"Silver Stone With Golden Frame Stitchable Brooch(without pin)","price":170,"image":"BRCH0009B(1)-1643886700.jpg"},{"id":2862,"name":"Red Stone With Golden Frame Stitchable Brooch(without pin)","price":170,"image":"BRCH0009D(1)-1643887245.jpg"},{"id":2863,"name":"Blue Stone With Golden Frame Stitchable Brooch(without pin)","price":170,"image":"BRCH0009C(1)-1643886910.jpg"},{"id":2864,"name":"Baby Pink Stone With Golden Frame Stitchable Brooch(without pin)","price":170,"image":"BRCH0009E(1)-1643887536.jpg"},{"id":2865,"name":"Peach Stone With Golden Frame Stitchable Brooch(without pin)","price":170,"image":"BRCH0009F(1)-1643887778.jpg"},{"id":2866,"name":"Golden Stone With Golden Frame Stitchable Brooch(without pin)","price":170,"image":"BRCH0009G(1)-1643887849.jpg"},{"id":2867,"name":"Black Golden Crown Printing Round Metal Buttons for coats, jackets, blazers etc.- Sold with Box","price":680,"image":"MCBTN0071(1)-1643954044.jpg"},{"id":2868,"name":"Copper color artificial metal flowers","price":200,"image":"MTFLR0001(1)-1643955798.jpg"},{"id":2871,"name":"Light Golden color artificial metal flowers","price":200,"image":"MTFLR0001C(1)-1643956315.jpg"},{"id":2872,"name":"Light Golden Metal Flower Five Petals","price":210,"image":"MTFLR0002(1)-1643956831.jpg"},{"id":2874,"name":"Golden Metal Flower Five Petals","price":210,"image":"MTFLR0002B(1)-1643957548.jpg"},{"id":2875,"name":"Fevicryl Fabric Glue for Sticking beads, sequins, stones etc. to the fabric.","price":120,"image":"Fbglue0001-1643960166.jpg"},{"id":2876,"name":"Orange color soft feather for craft material, hair pins etc.","price":130,"image":"FTHR0001(1)-1644224521.jpg"},{"id":2877,"name":"Red color soft feather for craft material, hair pins etc.","price":130,"image":"FTHR0001A(1)-1644227630.jpg"},{"id":2878,"name":"Light Pink color soft feather for craft material, hair pins etc.","price":130,"image":"FTHR0001B(1)-1644227886.jpg"},{"id":2879,"name":"Dark Pink color soft feather for craft material, hair pins etc.","price":130,"image":"FTHR0001C(1)-1644228464.jpg"},{"id":2880,"name":"Light Blue color soft feather for craft material, hair pins etc.","price":130,"image":"FTHR0001D(1)-1644228664.jpg"},{"id":2881,"name":"Navy Blue color soft feather for craft material, hair pins etc.","price":130,"image":"FTHR0001E(1)-1644228905.jpg"},{"id":2882,"name":"White color soft feather for craft material, hair pins etc.","price":130,"image":"FTHR0001F(1)-1644229146.jpg"},{"id":2883,"name":"Black color soft feather for craft material, hair pins etc.","price":130,"image":"FTHR0001G(1)-1644229334.jpg"},{"id":2884,"name":"Golden Color Metal Buckle","price":230,"image":"BUCL0044(1)-1644309444.jpg"},{"id":2885,"name":"Golden Color Square Shape Metal Buckle","price":270,"image":"BUCL0045(1)-1644313119.jpg"},{"id":2886,"name":"Golden Color Rectangle Shape Metal Buckle","price":230,"image":"BUCL0046(1)-1644313345.jpg"},{"id":2887,"name":"Golden Color Metal Buckle","price":200,"image":"BUCL0047(1)-1644313564.jpg"},{"id":2888,"name":"Golden Metal Buckle with Stones For Cardigans, Bellies, Dresses, Belts etc.","price":130,"image":"BUCL0056(1)-1644403298.jpg"},{"id":2889,"name":"Black Golden Leather Buckle for shoes, dresses, belts etc.","price":140,"image":"BUCL0048(1)-1644407857.jpg"},{"id":2890,"name":"Black Golden Leather Buckle for shoes, dresses, belts etc.","price":140,"image":"BUCL0049(1)-1644408214.jpg"},{"id":2892,"name":"Black Leather Buckle for shoes, dresses, belts etc.","price":140,"image":"BUCL0051(1)-1644408929.jpg"},{"id":2897,"name":"Green Color Beads Work Fancy Patch","price":580,"image":"PATHE0188(1)-1645006123.jpg"},{"id":2898,"name":"Mauve Color Beads Work Fancy Patch","price":580,"image":"PATHE0188A(1)-1645006526.jpg"},{"id":2899,"name":"Grey Color Beads Work Fancy Patch","price":580,"image":"PATHE0188B(1)-1645006737.jpg"},{"id":2900,"name":"Light Peach Color Beads Work Fancy Patch","price":580,"image":"PATHE0188C(1)-1645007017.jpg"},{"id":2901,"name":"Dark Peach Color Beads Work Fancy Patch","price":580,"image":"PATHE0188D(1)-1645007207.jpg"},{"id":2903,"name":"Black Color Flower Shape Beads Work Fancy Patch","price":180,"image":"PATHE0189(1)-1645011833.jpg"},{"id":2904,"name":"Grey Color Flower Shape Beads Work Fancy Patch","price":180,"image":"PATHE0189B(1)-1645012160.jpg"},{"id":2905,"name":"Green Color Flower Shape Beads Work Fancy Patch","price":180,"image":"PATHE0189A(1)-1645012168.jpg"},{"id":2906,"name":"Begie Color Flower Shape Beads Work Fancy Patch","price":180,"image":"PATHE0189C(1)-1645074352.jpg"},{"id":2907,"name":"White color Flower Shape Beads Work Fancy Patch","price":180,"image":"51QKRAmZXyL._SL1500_-1682927751.jpg"},{"id":2908,"name":"Black Golden Color Leather Fancy Show Stitchable Buckles (Non Openable)","price":220,"image":"BUCL0057(1)-1645085218.jpg"},{"id":2909,"name":"Black-Golden Designer Leather Buckles","price":330,"image":"BUCL0058(1)-1645085441.jpg"},{"id":2910,"name":"Black-Golden Designer Leather Buckles","price":230,"image":"BUCL0059(1)-1645085974.jpg"},{"id":2911,"name":"Black Golden Color Leather Fancy Show Stitchable Buckles with Chain (Non Openable)","price":230,"image":"BUCL0060(1)-1645086190.jpg"},{"id":2912,"name":"Black-Golden Center Rings Leather Stitchable Buckles (Non Openable)","price":380,"image":"BUCL0061(1)-1645087525.jpg"},{"id":2913,"name":"Black Golden Center Cow Shape Leather Fancy Show Stitchable Buckle (Non Openable)","price":290,"image":"BUCL0062(1)-1645090141.jpg"},{"id":2915,"name":"Golden Color Lion Embossed Metal Coat Buttons-sold with box","price":680,"image":"MCBTN0073(1)-1645247491.jpg"},{"id":2918,"name":"Golden Pearl Lace For Dupattas and Suits","price":420,"image":"PRLC0001(1) 465-240--1645509195.jpg"},{"id":2919,"name":"Golden Pearl Lace with Gota Work For Dupattas and Suits","price":330,"image":"PRLC0002(1) 365-200--1645509520.jpg"},{"id":2920,"name":"Light Golden (PEARL MATTE) color light weight fringes lace for dupattas","price":330,"image":"FRNG0008(1)-1645510405.jpg"},{"id":2921,"name":"Golden color light weight fringes kiran lace for dupattas","price":300,"image":"FRNG0009(1)-1645511970.jpg"},{"id":2922,"name":"Light Golden (pearl matte) color crushed fringes kiran lace for dupattas","price":300,"image":"FRNG0010(1)-1645512350.jpg"},{"id":2924,"name":"Light Pink Color Checked Magji Gota Work Lace","price":250,"image":"GTLC0021A(1)-1645514374.jpg"},{"id":2925,"name":"Purple Color Checked Magji Gota Work Lace","price":250,"image":"GTLC0021C(1)-1645514796.jpg"},{"id":2927,"name":"Dark Green Color Checked Magji Gota Work Lace","price":250,"image":"GTLC0021D(1)-1645514872.jpg"},{"id":2928,"name":"Orange Color Checked Magji Gota Work Lace","price":250,"image":"GTLC0021E(1)-1645515604.jpg"},{"id":2931,"name":"Navy Blue Color Checked Magji Gota Work Lace","price":250,"image":"GTLC0021H(1)-1645517110.jpg"},{"id":2932,"name":"Mehandi Green Color Checked Magji Gota Work Lace","price":250,"image":"GTLC0021I(1)-1645517120.jpg"},{"id":2935,"name":"Lemon Color Checked Magji Gota Work Lace","price":250,"image":"GTLC0021L(1)-1645518201.jpg"},{"id":2936,"name":"Grey Color Checked Magji Gota Work Lace","price":250,"image":"GTLC0021M(1)-1645518233.jpg"},{"id":2937,"name":"Red Color Checked Magji Gota Work Lace","price":250,"image":"GTLC0021N(1)-1645518626.jpg"},{"id":2939,"name":"Silver Multi Color Fancy Designer Buttons","price":170,"image":"WBTN0102(1)-1645519498.jpg"},{"id":2941,"name":"Cream Color Fancy Elastic","price":200,"image":"FNELS0013(A1)-1645687989.jpg"},{"id":2944,"name":"Maroon Color Fancy Elastic","price":200,"image":"FNELS0013D(1)-1645688821.jpg"},{"id":2948,"name":"Red Color Floral Print Fancy Elastic","price":250,"image":"FNELS0014A(1)-1645689476.jpg"},{"id":2949,"name":"Peach White Designer Fancy Elastic","price":210,"image":"FNELS0015(1)-1645689769.jpg"},{"id":2950,"name":"Black White Designer Fancy Elastic","price":210,"image":"FNELS0015A(1)-1645690103.jpg"},{"id":2954,"name":"Black Color Designer Stone Work Fancy Brooch-sold with box","price":830,"image":"BRCH0038(1)-1645696012.jpg"},{"id":2958,"name":"Silver-Blue Color Stone Work Fancy Brooch for Dresses, Coats, Blazers etc. - sold with box","price":880,"image":"BUCL0042(2)-1645698836.jpg"},{"id":2968,"name":"Purple Golden Color Stone Work Fancy Brooch-sold with box","price":1420,"image":"BUCL0048(1)-1645778819.jpg"},{"id":2971,"name":"Rust Color Shiny Crystal Work Fancy Designer Brooch-sold with box","price":670,"image":"BUCL0051(1)-1645782750.jpg"},{"id":2974,"name":"Black Color Stone Work Fancy Brooch for Blazers, Coats, Sarees, Dresses, etc.- sold with box","price":790,"image":"BUCL0053(1)-1645785547.jpg"},{"id":2975,"name":"Royal Blue Color Stone Work Designer Brooch-sold with box","price":790,"image":"BUCL0054(1)-1645786486.jpg"},{"id":2977,"name":"Golden Color Shell Charms","price":250,"image":"CHARM0097(1)-1645859847.jpg"},{"id":2978,"name":"Silver Color Shell Charms","price":250,"image":"CHARM0097A-1645862293.jpg"},{"id":2984,"name":"Pink Color 9 MM Fimo Rubber Beads for Art Craft Home Decoration Jewelry Clothing Neckless Bracelet","price":290,"image":"FMBD0001(2)-1646297665.jpg"},{"id":2985,"name":"Yellow-Pink Color 9 MM Fimo Rubber Beads for Art Craft Home Decoration Jewelry Clothing Neckless Bracelet","price":290,"image":"FMBD0001A(1)-1646300269.jpg"},{"id":2986,"name":"Skin Color 6 MM Fimo Rubber Beads for Art Craft Home Decoration Jewelry Clothing Neckless Bracelet","price":130,"image":"FMBD0002(1)-1646301129.jpg"},{"id":2987,"name":"Dark Green Color 6 MM Fimo Rubber Beads for Art Craft Home Decoration Jewelry Clothing Neckless Bracelet","price":130,"image":"FMBD0002A(1)-1646301516.jpg"},{"id":2988,"name":"Peach Color 6 MM Fimo Rubber Beads for Art Craft Home Decoration Jewelry Clothing Neckless Bracelet","price":170,"image":"FMBD0002B(1)-1646301679.jpg"},{"id":2989,"name":"Purple Color Mirror Work Fancy Metal Buttons for Ladies Suits, Kurtis , Jewellery Making etc.","price":150,"image":"WBTN01069(1)-1646306792.jpg"},{"id":2990,"name":"Golden Color Mirror Work Fancy Metal Buttons for Ladies Suits, Kurtis , Jewellery Making etc.","price":150,"image":"WBTN01069A(1)-1646307066.jpg"},{"id":2993,"name":"Maroon Color Mirror Work Fancy Metal Buttons for Ladies Suits, Kurtis , Jewellery Making etc.","price":150,"image":"WBTN01069D(1)-1646307640.jpg"},{"id":2995,"name":"Carnation Pink Color Mirror Work Fancy Metal Buttons for Ladies Suits, Kurtis , Jewellery Making etc.","price":150,"image":"WBTN01069F(1)-1646309103.jpg"},{"id":2996,"name":"Dark Green Color Mirror Work Fancy Metal Buttons for Ladies Suits, Kurtis , Jewellery Making etc.","price":150,"image":"WBTN01069G(1)-1646309107.jpg"},{"id":2998,"name":"Ferozi Color Mirror Work Fancy Metal Buttons for Ladies Suits, Kurtis , Jewellery Making etc.","price":150,"image":"WBTN01069I(1)-1646309748.jpg"},{"id":2999,"name":"Red Color Mirror Work Fancy Metal Buttons for Ladies Suits, Kurtis , Jewellery Making etc.","price":150,"image":"WBTN01069J(1)-1646309756.jpg"},{"id":3000,"name":"Black Color Mirror Work Fancy Metal Buttons for Ladies Suits, Kurtis , Jewellery Making etc.","price":150,"image":"WBTN01069M(1)-1646310000.jpg"},{"id":3002,"name":"Peach Color Mirror Work Fancy Metal Buttons for Ladies Suits, Kurtis , Jewellery Making etc.","price":150,"image":"WBTN01069L(1)-1646373806.jpg"},{"id":3003,"name":"Silver Color Hanging Style Fancy Metal Buttons for Ladies Suits, Kurtis, Jewellery Making etc.","price":180,"image":"WBTN0107(1)-1646374828.jpg"},{"id":3005,"name":"Baby Pink Color Mirror And Beads Work Fancy Metal Buttons","price":200,"image":"WBTN0108(1)-1646378618.jpg"},{"id":3006,"name":"Purple Color Mirror And Beads Work Fancy Metal Buttons","price":200,"image":"WBTN0108A(1)-1646379965.jpg"},{"id":3007,"name":"Green Color Mirror And Beads Work Fancy Metal Buttons","price":200,"image":"WBTN0108B(1)-1646379985.jpg"},{"id":3008,"name":"Yellow Color Mirror And Beads Work Fancy Metal Buttons","price":200,"image":"WBTN0108C(1)-1646379997.jpg"},{"id":3010,"name":"Dark Blue Color Mirror And Beads Work Fancy Metal Buttons","price":200,"image":"WBTN0108E(1)-1646381314.jpg"},{"id":3011,"name":"Grey Color Mirror And Beads Work Fancy Metal Buttons","price":200,"image":"WBTN0108F(1)-1646381355.jpg"},{"id":3012,"name":"Dark Green Color Mirror And Beads Work Fancy Metal Buttons","price":200,"image":"WBTN0108G(1)-1646381705.jpg"},{"id":3013,"name":"Peach Color Mirror And Beads Work Fancy Metal Buttons","price":200,"image":"WBTN0108H(3)-1646381819.jpg"},{"id":3014,"name":"Off-White Color Mirror And Beads Work Fancy Metal Buttons","price":200,"image":"WBTN0108I(3)-1646381911.jpg"},{"id":3015,"name":"Black Color Mirror And Beads Work Fancy Metal Buttons","price":200,"image":"WBTN0108J(1)-1646383092.jpg"},{"id":3016,"name":"Mint Green Color Mirror And Beads Work Fancy Metal Buttons","price":200,"image":"WBTN0108K(1)-1646383722.jpg"},{"id":3017,"name":"Reddish Color Mirror And Beads Work Fancy Metal Buttons","price":200,"image":"WBTN0108L(1)-1646384015.jpg"},{"id":3018,"name":"Red Color Mirror And Beads Work Fancy Metal Buttons","price":200,"image":"WBTN0108M(1)-1646384133.jpg"},{"id":3020,"name":"Metallic Blue Color Beads Work Fancy Buttons","price":150,"image":"WBTN0109A(1)-1646387860.jpg"},{"id":3035,"name":"Silver Stone Work Fancy Metal Buttons with Golden Base","price":460,"image":"wbtn00 (1)-1647846802.jpg"},{"id":3036,"name":"Metallic Grey Color Round Shape Metal Buckle for belts, footwears etc.","price":270,"image":"BUCL0063(1)-1647855154.jpg"},{"id":3040,"name":"Silver Color Rectangle Shape Metal Buckle for belts, footwears etc.","price":270,"image":"BUCL0064A(1)-1647855888.jpg"},{"id":3042,"name":"Matte Finish Golden Color Round Metal Shirt Buttons","price":250,"image":"SHBTN0006(1)-1647858339.jpg"},{"id":3044,"name":"Glossy Finish Golden Color Round Metal Shirt Buttons","price":250,"image":"SHBTN0007(1)-1647861141.jpg"},{"id":3045,"name":"Matte Finish Golden Color Rounded Triangular Shape Metal Shirt Buttons","price":250,"image":"SHBTN0009(1)-1647861515.jpg"},{"id":3046,"name":"Glossy Golden Color Rounded Triangular Shape Metal Shirt Buttons","price":250,"image":"SHBTN0007A(1)-1647929955.jpg"},{"id":3047,"name":"Golden Color Round Shape Metal Shirt Button","price":250,"image":"SHBTN0008(2)-1647930547.jpg"},{"id":3048,"name":"Golden Color Square Shape Metal Shirt Button","price":250,"image":"SHBTN0009(1)-1647932340.jpg"},{"id":3049,"name":"Silver Color Square Shape Metal Shirt Button","price":250,"image":"SHBTN0009A(1)-1647932568.jpg"},{"id":3050,"name":"Matte Finish Golden Color Square Shape Metal Shirt Button","price":250,"image":"SHBTN0009B(1)-1647932833.jpg"},{"id":3051,"name":"Metallic Grey Round Shape 4 Hole Metal Button","price":250,"image":"SHBTN0010(1)-1647933189.jpg"},{"id":3052,"name":"Matte Golden Round Shape 4 Hole Metal Button","price":250,"image":"SHBTN0010A(1)-1647933490.jpg"},{"id":3053,"name":"Golden Round Shape 4 Hole Metal Button","price":250,"image":"SHBTN0010B(1)-1647933972.jpg"},{"id":3054,"name":"Golden Color B Alphabet Embroidery Patch","price":120,"image":"PATHE000190-B(1)-1649141757.jpg"},{"id":3055,"name":"Golden Color C Alphabet Embroidery Patch","price":120,"image":"PATHE000190-C(1)-1649141738.jpg"},{"id":3056,"name":"Golden Color D Alphabet Embroidery Patch","price":120,"image":"PATHE000190-D(1)-1649141716.jpg"},{"id":3057,"name":"Golden Color E Alphabet Embroidery Patch","price":120,"image":"PATHE000190-E(1)-1649141686.jpg"},{"id":3058,"name":"Golden Color F Alphabet Embroidery Patch","price":120,"image":"PATHE000190-F(1)-1649141661.jpg"},{"id":3059,"name":"Golden Color G Alphabet Embroidery Patch","price":120,"image":"PATHE000190-G(1)-1649141641.jpg"},{"id":3060,"name":"Golden Color H Alphabet Embroidery Patch","price":120,"image":"PATHE000190-H(1)-1649141620.jpg"},{"id":3062,"name":"Golden Color J Alphabet Embroidery Patch","price":120,"image":"PATHE000190-J(1)-1649141574.jpg"},{"id":3064,"name":"Golden Color L Alphabet Embroidery Patch","price":120,"image":"PATHE000190-L(1)-1649141366.jpg"},{"id":3067,"name":"Golden Color O Alphabet Embroidery Patch","price":120,"image":"PATHE000190-O(1)-1649141275.jpg"},{"id":3069,"name":"Golden Color Q Alphabet Embroidery Patch","price":120,"image":"PATHE000190-Q(1)-1649141226.jpg"},{"id":3070,"name":"Golden Color R Alphabet Embroidery Patch","price":120,"image":"PATHE000190-R(1)-1649141203.jpg"},{"id":3072,"name":"Golden Color T Alphabet Embroidery Patch","price":120,"image":"PATHE000190-T(1)-1649141153.jpg"},{"id":3073,"name":"Golden Color U Alphabet Embroidery Patch","price":120,"image":"PATHE000190-U(1)-1649141109.jpg"},{"id":3075,"name":"Golden Color W Alphabet Embroidery Patch","price":120,"image":"PATHE000190-W(1)-1649141060.jpg"},{"id":3078,"name":"Golden Color X Alphabet Embroidery Patch","price":120,"image":"PATHE000190-X(1)-1649140839.jpg"},{"id":3079,"name":"Golden Color Y Alphabet Embroidery Patch","price":120,"image":"PATHE000190-Y(1)-1649140816.jpg"},{"id":3080,"name":"Golden Color Z Alphabet Embroidery Patch","price":120,"image":"PATHE000190-Z(1)-1649140794.jpg"},{"id":3081,"name":"Yellow Color Thread and Beads Work Evil Eye Patch","price":300,"image":"PATHE0191B(1)-1648289072.jpg"},{"id":3082,"name":"Red Color Thread and Beads Work Evil Eye Patch","price":300,"image":"PATHE0191C(1)-1648289932.jpg"},{"id":3087,"name":"Golden Color Dabka Nakshi Work Hand Embroidery Patch\/Applique","price":280,"image":"PATHE0192(1)-1649226459.jpg"},{"id":3089,"name":"Golden Color Dabka Nakshi Work Hand Embroidery Patch\/Applique","price":280,"image":"PATHE0194(1)-1649229002.jpg"},{"id":3107,"name":"Black Golden Lion Embossed Metal Coat Buttons for Blazers, Jackets etc. (sold with box)","price":1230,"image":"MCBTN0075(1)-1649419370.jpg"},{"id":3110,"name":"Antique Golden Wings Embossed Metal Coat Buttons for Blazers, Jackets etc. (sold with box)","price":880,"image":"MCBTN0077(1)-1649481578.jpg"},{"id":3112,"name":"Black Golden Metal Coat Buttons for Blazers, Jackets etc. (sold with box)","price":1230,"image":"MCBTN0078A(1)-1649488572.jpg"},{"id":3114,"name":"Black Golden Lion Face Embossed Metal Coat Buttons for Blazers, Jackets etc. (sold with box)","price":880,"image":"MCBTN0079(1)-1649489245.jpg"},{"id":3115,"name":"Matte Black-Copper Round Shape Metal Coat Buttons for Blazers, Jackets etc. (sold with box)","price":880,"image":"MCBTN0080(1)-1649489627.jpg"},{"id":3116,"name":"Antique Color Round Shape Metal Coat Buttons for Blazers, Jackets etc. (sold with box)","price":1080,"image":"MCBTN0081(1)-1649489872.jpg"},{"id":3117,"name":"Black Golden Round Shape Metal Coat Buttons for Blazers, Jackets etc. (sold with box)","price":880,"image":"MCBTN0082(1)-1649490049.jpg"},{"id":3118,"name":"Black Golden Square Shape Metal Coat Buttons for Blazers, Jackets etc. (sold with box)","price":1230,"image":"MCBTN0083(1)-1649490684.jpg"},{"id":3133,"name":"Rose Gold Sequins Work Cut Work Lace","price":790,"image":"SQBD0014B(1)-1649834304.jpg"},{"id":3134,"name":"Light Green Sequins Work Cut Work Lace","price":790,"image":"SQBD0014C(1).jpg"},{"id":3136,"name":"Black Sequins Work Cut Work Lace","price":500,"image":"SQBD0014E(1).jpg"},{"id":3138,"name":"Skin Sequins Work Cut Work Lace","price":790,"image":"SQBD0014G(1).jpg"},{"id":3145,"name":"Off-White Color Thread Work Lakhnavi Border","price":580,"image":"THBD0020(1)-1649843128.jpg"},{"id":3146,"name":"Off-White Color Checked Pattern Thread Work Lakhnavi Border","price":750,"image":"THBD0021(1)-1649843450.jpg"},{"id":3149,"name":"White Color Organza Lace With Zari Work","price":700,"image":"NETLC0015(1)-1649918780.jpg"},{"id":3150,"name":"White Color Organza Lace Flower Print With Zari Work","price":700,"image":"NETLC0016(1)-1650007372.jpg"},{"id":3155,"name":"White Light Shade Dyeable GPO Lace","price":1000,"image":"GPO0026(1)-1650015931.jpg"},{"id":3158,"name":"White Color U-Shape GPO Lace","price":400,"image":"GPO0029(1)-1650018410.jpg"},{"id":3160,"name":"White Color Connecting Cotton Lace","price":680,"image":"COTN0018(1)-1650019379.jpg"},{"id":3162,"name":"Black Color 'B' Alphabet Beads Work Patch\/Applique","price":150,"image":"PATF0064-B(1)-1650267837.jpg"},{"id":3163,"name":"Light Peach Color 'B' Alphabet Beads Work Patch\/Applique","price":150,"image":"PATF0064-B(3)-1650267935.jpg"},{"id":3164,"name":"Light Pink Color 'B' Alphabet Beads Work Patch\/Applique","price":150,"image":"PATF0064-B(4)-1650267914.jpg"},{"id":3165,"name":"Black Color 'C' Alphabet Beads Work Patch\/Applique","price":150,"image":"PATF0064-C(1).jpg"},{"id":3166,"name":"Light Peach Color 'C' Alphabet Beads Work Patch\/Applique","price":150,"image":"PATF0064-C(3).jpg"},{"id":3167,"name":"Light Pink Color 'C' Alphabet Beads Work Patch\/Applique","price":150,"image":"PATF0064-C(4).jpg"},{"id":3168,"name":"Black Color 'D' Alphabet Beads Work Patch\/Applique","price":150,"image":"PATF0064-D(1).jpg"},{"id":3169,"name":"Light Peach Color 'D' Alphabet Beads Work Patch\/Applique","price":150,"image":"PATF0064-D(3).jpg"},{"id":3170,"name":"Light Pink Color 'D' Alphabet Beads Work Patch\/Applique","price":150,"image":"PATF0064-D(4).jpg"},{"id":3174,"name":"Black Color 'F' Alphabet Beads Work Patch\/Applique","price":150,"image":"PATF0064-F(1).jpg"},{"id":3175,"name":"Light Peach Color 'F' Alphabet Beads Work Patch\/Applique","price":150,"image":"PATF0064-F(3).jpg"},{"id":3176,"name":"Light Pink Color 'F' Alphabet Beads Work Patch\/Applique","price":150,"image":"PATF0064-F(4).jpg"},{"id":3177,"name":"Black Color 'G' Alphabet Beads Work Patch\/Applique","price":150,"image":"PATF0064-G(1).jpg"},{"id":3179,"name":"Light Pink Color 'G' Alphabet Beads Work Patch\/Applique","price":150,"image":"PATF0064-G(4).jpg"},{"id":3182,"name":"Light Pink Color 'H' Alphabet Beads Work Patch\/Applique","price":150,"image":"PATF0064-H(4).jpg"},{"id":3183,"name":"Black Color 'I' Alphabet Beads Work Patch\/Applique","price":150,"image":"PATF0064-I(1).jpg"},{"id":3186,"name":"Black Color 'J' Alphabet Beads Work Patch\/Applique","price":150,"image":"PATF0064-J(1).jpg"},{"id":3187,"name":"Light Peach Color 'J' Alphabet Beads Work Patch\/Applique","price":150,"image":"PATF0064-J(3).jpg"},{"id":3188,"name":"Light Pink Color 'J' Alphabet Beads Work Patch\/Applique","price":150,"image":"PATF0064-J(4).jpg"},{"id":3193,"name":"Light Peach Color 'L' Alphabet Beads Work Patch\/Applique","price":150,"image":"PATF0064-L(3).jpg"},{"id":3194,"name":"Light Pink Color 'L' Alphabet Beads Work Patch\/Applique","price":150,"image":"PATF0064-L(4).jpg"},{"id":3195,"name":"Black Color 'M' Alphabet Beads Work Patch\/Applique","price":150,"image":"PATF0064-M(1).jpg"},{"id":3202,"name":"Light Peach Color 'O' Alphabet Beads Work Patch\/Applique","price":150,"image":"PATF0064-O(3).jpg"},{"id":3203,"name":"Light Pink Color 'O' Alphabet Beads Work Patch\/Applique","price":150,"image":"PATF0064-O(4).jpg"},{"id":3207,"name":"Black Color 'Q' Alphabet Beads Work Patch\/Applique","price":150,"image":"PATF0064-Q(1).jpg"},{"id":3208,"name":"Light Peach Color 'Q' Alphabet Beads Work Patch\/Applique","price":150,"image":"PATF0064-Q(3).jpg"},{"id":3209,"name":"Light Pink Color 'Q' Alphabet Beads Work Patch\/Applique","price":150,"image":"PATF0064-Q(4).jpg"},{"id":3214,"name":"Black Color 'T' Alphabet Beads Work Patch\/Applique","price":150,"image":"PATF0064-T(1).jpg"},{"id":3216,"name":"Light Pink Color 'T' Alphabet Beads Work Patch\/Applique","price":150,"image":"PATF0064-T(4).jpg"},{"id":3217,"name":"Black Color 'U' Alphabet Beads Work Patch\/Applique","price":150,"image":"PATF0064-U(1).jpg"},{"id":3218,"name":"Light Peach Color 'U' Alphabet Beads Work Patch\/Applique","price":150,"image":"PATF0064-U(3).jpg"},{"id":3219,"name":"Light Pink Color 'U' Alphabet Beads Work Patch\/Applique","price":150,"image":"PATF0064-U(4).jpg"},{"id":3221,"name":"Light Pink Color 'V' Alphabet Beads Work Patch\/Applique","price":150,"image":"PATF0064-V(4).jpg"},{"id":3222,"name":"Black Color 'W' Alphabet Beads Work Patch\/Applique","price":150,"image":"PATF0064-W(1).jpg"},{"id":3224,"name":"Black Color 'X' Alphabet Beads Work Patch\/Applique","price":150,"image":"PATF0064-X(1).jpg"},{"id":3225,"name":"Light Peach Color 'X' Alphabet Beads Work Patch\/Applique","price":150,"image":"PATF0064-X(3).jpg"},{"id":3226,"name":"Light Pink Color 'X' Alphabet Beads Work Patch\/Applique","price":150,"image":"PATF0064-X(4).jpg"},{"id":3227,"name":"Black Color 'Y' Alphabet Beads Work Patch\/Applique","price":150,"image":"PATF0064-Y(1).jpg"},{"id":3228,"name":"Light Peach Color 'Y' Alphabet Beads Work Patch\/Applique","price":150,"image":"PATF0064-Y(3).jpg"},{"id":3229,"name":"Light Pink Color 'Y' Alphabet Beads Work Patch\/Applique","price":150,"image":"PATF0064-Y(4).jpg"},{"id":3230,"name":"Black Color 'Z' Alphabet Beads Work Patch\/Applique","price":150,"image":"PATF0064-Z(1).jpg"},{"id":3231,"name":"Light Peach Color 'Z' Alphabet Beads Work Patch\/Applique","price":150,"image":"PATF0064-Z(3).jpg"},{"id":3232,"name":"Light Pink Color 'Z' Alphabet Beads Work Patch\/Applique","price":150,"image":"PATF0064-Z(4).jpg"},{"id":3235,"name":"Orange Color Cotton Dori\/Cord With Golden Mix","price":130,"image":"DORI0002(1)-1650441490.jpg"},{"id":3236,"name":"Green Color Silk and Polyester Yarn Dori\/Cord","price":130,"image":"DORI0003(1)-1650442917.jpg"},{"id":3237,"name":"Blue Color Twisted Cotton Dori\/Cord","price":130,"image":"DORI0004(1)-1650447829.jpg"},{"id":3238,"name":"Pink Color Twisted Cotton Dori\/Cord","price":130,"image":"DORI0004A(1)-1650447987.jpg"},{"id":3239,"name":"Multi Pastel Colors Polyester Dori\/Cord","price":170,"image":"DORI0005(1)-1650448804.jpg"},{"id":3240,"name":"Coffee Color Baadla Dori\/Cord","price":170,"image":"DORI0006(1)-1650449323.jpg"},{"id":3242,"name":"Off-white Color Silk Thread Dori\/Cord","price":100,"image":"DORI0008(1)-1650451088.jpg"},{"id":3243,"name":"Brown Color Polyester-Baadla Dori\/Cord","price":80,"image":"DORI0009(1)-1650451390.jpg"},{"id":3244,"name":"Golden Color Cotton-Baadla Dori-Cord","price":170,"image":"DORI0010(1)-1650451674.jpg"},{"id":3245,"name":"Yellow Color Polyester Dori\/Cord","price":130,"image":"DORI0011(1)-1650520975.jpg"},{"id":3246,"name":"Black Grey Polyester Material Dori\/Cord","price":100,"image":"DORI0012(1)-1650521251.jpg"},{"id":3247,"name":"Off-White Color Silk Yarn Dori\/Cord","price":100,"image":"DORI0013(1)-1650521611.jpg"},{"id":3260,"name":"Metallic Grey Color Designer Peacock Head Hand Embroidery Patch","price":540,"image":"PATHE0211(1)-1650608451.jpg"},{"id":3263,"name":"Black Color Leaf Shape Fancy Kundan Button","price":250,"image":"WBTN0112(1)-1650709505.jpg"},{"id":3264,"name":"Dark Blue Color Leaf Shape Fancy Kundan Button","price":250,"image":"WBTN0112A(1).jpg"},{"id":3267,"name":"Yellow Color Leaf Shape Fancy Kundan Button","price":250,"image":"WBTN0112D(1).jpg"},{"id":3268,"name":"Ferozi Color Leaf Shape Fancy Kundan Button","price":250,"image":"WBTN0112E(1).jpg"},{"id":3269,"name":"Dark Green Color Leaf Shape Fancy Kundan Button","price":250,"image":"WBTN0112F(1).jpg"},{"id":3270,"name":"Orange Color Round Shape Kundan Buttons","price":220,"image":"WBTN0113(1).jpg"},{"id":3271,"name":"Ferozi Color Round Shape Fancy Kundan Button","price":220,"image":"WBTN0113A(1).jpg"},{"id":3272,"name":"Dark Blue Color Round Shape Fancy Kundan Button","price":220,"image":"WBTN0113B(1).jpg"},{"id":3273,"name":"Black Color Oval Shape Kundan Stone Work Buttons","price":250,"image":"WBTN0111(1).jpg"},{"id":3274,"name":"Dark Blue Color Oval Shape Kundan Stone Work Buttons","price":250,"image":"WBTN0111A(1).jpg"},{"id":3276,"name":"Orange Color Oval Shape Kundan Stone Work Buttons","price":250,"image":"WBTN0111C(1).jpg"},{"id":3277,"name":"Yellow Color Oval Shape Kundan Stone Work Buttons","price":250,"image":"WBTN0111D(1).jpg"},{"id":3278,"name":"Parrot Green Color Oval Shape Kundan Stone Work Buttons","price":250,"image":"WBTN0111E(1).jpg"},{"id":3279,"name":"Ferozi Color Oval Shape Kundan Stone Work Buttons","price":250,"image":"WBTN0111F(1).jpg"},{"id":3295,"name":"Red Color Oval Shape Stone Work Fancy Buckle","price":160,"image":"BUCL0065A(1).jpg"},{"id":3296,"name":"Black Color Oval Shape Stone Work Fancy Buckle","price":160,"image":"BUCL0065B(1).jpg"},{"id":3297,"name":"Dark Golden Color Oval Shape Stone Work Fancy Buckle","price":160,"image":"BUCL0065C(1).jpg"},{"id":3298,"name":"Silver Rainbow Color Oval Shape Stone Work Fancy Buckle","price":160,"image":"BUCL0065F(1)-1665472605.jpg"},{"id":3299,"name":"Silver Color Oval Shape Stone Work Fancy Buckle","price":160,"image":"BUCL0065E(1).jpg"},{"id":3300,"name":"Silver Rainbow Color Round Shape Stone Work Fancy Buckle","price":160,"image":"BUCL0066(1).jpg"},{"id":3304,"name":"Red Color Round Shape Stone Work Fancy Buckle","price":160,"image":"BUCL0066D(1).jpg"},{"id":3305,"name":"Black Color Round Shape Stone Work Fancy Buckle","price":160,"image":"BUCL0066E(1).jpg"},{"id":3306,"name":"Golden Color Square Shape Stone Work Fancy Buckle","price":210,"image":"BUCL0067(1).jpg"},{"id":3307,"name":"Silver Rainbow Color Square Shape Stone Work Fancy Buckle","price":210,"image":"BUCL0067A(1).jpg"},{"id":3308,"name":"Dark Golden Color Square Shape Stone Work Fancy Buckle","price":210,"image":"BUCL0067B(1).jpg"},{"id":3309,"name":"Red Color Square Shape Stone Work Fancy Buckle","price":210,"image":"BUCL0067C(1).jpg"},{"id":3310,"name":"Silver Color Square Shape Stone Work Fancy Buckle","price":210,"image":"BUCL0067D(1).jpg"},{"id":3311,"name":"Black Color Square Shape Stone Work Fancy Buckle","price":210,"image":"BUCL0067E(1).jpg"},{"id":3312,"name":"Peach Color Square Shape Stone Work Fancy Buckle","price":210,"image":"BUCL0067F(1).jpg"},{"id":3313,"name":"Golden Color Round Stone Work Fancy Buckle","price":210,"image":"BUCL0068(1).jpg"},{"id":3314,"name":"Red Color Round Stone Work Fancy Buckle","price":210,"image":"BUCL0068A(1).jpg"},{"id":3315,"name":"Peach Color Round Stone Work Fancy Buckle","price":210,"image":"BUCL0068B(1).jpg"},{"id":3316,"name":"Silver Rainbow Color Round Stone Work Fancy Buckle","price":210,"image":"BUCL0068C(1).jpg"},{"id":3317,"name":"Dark Golden Color Round Stone Work Fancy Buckle","price":210,"image":"BUCL0068D(1).jpg"},{"id":3318,"name":"Black Color Round Stone Work Fancy Buckle","price":210,"image":"BUCL0068E(1).jpg"},{"id":3319,"name":"Silver Color Round Stone Work Fancy Buckle","price":210,"image":"BUCL0068F(1).jpg"},{"id":3320,"name":"Golden Color Designer Square Stone Work Fancy Buckle","price":210,"image":"BUCL0069(1).jpg"},{"id":3323,"name":"Black Color Designer Square Stone Work Fancy Buckle","price":210,"image":"BUCL0069C(1).jpg"},{"id":3324,"name":"Dark Golden Color Designer Square Stone Work Fancy Buckle","price":210,"image":"BUCL0069(2).jpg"},{"id":3325,"name":"Silver Rainbow Color Designer Square Stone Work Fancy Buckle","price":210,"image":"BUCL0069E(1).jpg"},{"id":3326,"name":"Peach Color Designer Square Stone Work Fancy Buckle","price":210,"image":"BUCL0069F(1).jpg"},{"id":3327,"name":"Orange Color Sequins Work Lace","price":1420,"image":"SQBD0016(1)-1651652639.jpg"},{"id":3328,"name":"Green Color Sequins Work Lace","price":1420,"image":"SQBD0016A(1)-1651652591.jpg"},{"id":3329,"name":"Off-White Color Thread Work Border","price":700,"image":"THBD0024(1)-1651653614.jpg"},{"id":3330,"name":"Pista Green Color Thread Work Border","price":700,"image":"THBD0024A(1)-1651654043.jpg"},{"id":3331,"name":"Dark Pink Color Thread Work Border","price":700,"image":"THBD0024B(1)-1651654056.jpg"},{"id":3332,"name":"Light Green Color Zari Work Border","price":1000,"image":"ZRBD0028(1)-1651660278.jpg"},{"id":3333,"name":"Maroon Color Zari Work Fancy Border","price":1130,"image":"ZRBD0029(1)-1651660831.jpg"},{"id":3334,"name":"Light Blue Color Zari Work Fancy Border","price":1130,"image":"ZRBD0029B(1)-1651665167.jpg"},{"id":3335,"name":"Dark Green Color Zari Work Fancy Border","price":1130,"image":"ZRBD0029B(1)-1651666287.jpg"},{"id":3336,"name":"White Color Zari Work Fancy Border","price":1130,"image":"ZRBD0029C(1)-1651666484.jpg"},{"id":3337,"name":"Green Color Fancy Zari Work Lace","price":1000,"image":"ZRBD0030(1)-1651734486.jpg"},{"id":3338,"name":"Black Color Fancy Zari Work Lace","price":1000,"image":"ZRBD0030A(1)-1651734900.jpg"},{"id":3343,"name":"Peach Color Zari Work Lace For Suits, Dresses, Sarees etc.","price":1080,"image":"ZRBD0033(1)-1651736869.jpg"},{"id":3344,"name":"Dark Blue Color Zari Work Lace For Suits, Dresses, Sarees etc.","price":1080,"image":"ZRBD0033A(1)-1651737277.jpg"},{"id":3345,"name":"Sea Green Color Zari Work Lace For Suits, Dresses, Sarees etc.","price":1080,"image":"ZRBD0033B(1)-1651737636.jpg"},{"id":3346,"name":"Orange Color Zari Work Lace For Suits, Dresses, Sarees etc.","price":1080,"image":"ZRBD0033C(1)-1651737846.jpg"},{"id":3347,"name":"Magenta Color Zari Work Lace For Suits, Dresses, Sarees etc.","price":1080,"image":"ZRBD0033E(1)-1651738210.jpg"},{"id":3348,"name":"Ferozi Color Zari Work Lace For Suits, Dresses, Sarees etc.","price":1080,"image":"ZRBD0033D(1)-1651738193.jpg"},{"id":3349,"name":"Purple Color Zari Work Fancy Border for Suits, Dresses, Sarees etc.","price":970,"image":"ZRBD0034(1)-1651816825.jpg"},{"id":3350,"name":"Black Color Zari Work Fancy Border for Suits, Dresses, Sarees etc.","price":970,"image":"ZRBD0034A(1)-1651820303.jpg"},{"id":3351,"name":"Light Blue Color Zari Work Fancy Border for Suits, Dresses, Sarees etc.","price":970,"image":"ZRBD0034B(1)-1651820469.jpg"},{"id":3352,"name":"Purple Zari Work Fancy Border for Suits, Dresses, Sarees etc.","price":540,"image":"ZRBD0035(1)-1651821884.jpg"},{"id":3353,"name":"Ferozi Color Zari Work Lace For Suits, Dresses, Sarees etc.","price":540,"image":"ZRBD0035B(1)-1651822116.jpg"},{"id":3354,"name":"Reddish Color Zari Work Fancy Border for Suits, Dresses, Sarees etc.","price":540,"image":"ZRBD0035A(1)-1651822726.jpg"},{"id":3355,"name":"Silver Color Metal Chain - 9 mm","price":290,"image":"MTLCH0025(1)-1651827095.jpg"},{"id":3356,"name":"Metallic Grey Color Metal Chain - 9mm","price":290,"image":"MTLCH0025A(1).jpg"},{"id":3357,"name":"Silver Color Aluminium Light Weight Metal Chain - 7mm","price":130,"image":"MTLCH0026(1).jpg"},{"id":3359,"name":"Silver Color Metal Chain - 8mm","price":290,"image":"MTLCH0027(1).jpg"},{"id":3360,"name":"Golden Color Metal Chain - 8mm","price":290,"image":"MTLCH0027A(1).jpg"},{"id":3362,"name":"Golden Color Aluminium Light Weight Metal Chain - 6mm","price":110,"image":"MTLCH0028A(1).jpg"},{"id":3365,"name":"Metallic Grey Color Metal Chain - 8mm","price":120,"image":"MTLCH0030(1).jpg"},{"id":3366,"name":"Metallic Grey Color Aluminium Light Weight Metal Chain - 4mm","price":130,"image":"MTLCH0031(1).jpg"},{"id":3367,"name":"Silver Color Metal Aluminium Light Weight Chain - 4mm","price":130,"image":"MTLCH0031A(1).jpg"},{"id":3368,"name":"Golden Color Aluminium Light Weight Metal Chain - 4mm","price":130,"image":"MTLCH0031B(1).jpg"},{"id":3369,"name":"Red Eye Shape Stitchable Brooch Golden Frame -Without Pin","price":170,"image":"BUCL0058(1)-1652254516.jpg"},{"id":3370,"name":"Red Eye Shape Stitchable Brooch Silver Frame -Without Pin","price":170,"image":"BUCL0058A(1)-1652254655.jpg"},{"id":3371,"name":"Green Leaf Shape Stitchable Brooch Golden Frame -Without Pin","price":170,"image":"BRCH0059(1)-1652254771.jpg"},{"id":3372,"name":"Silver Stone Work Hanging Style Brooch Stitchable-without pin","price":210,"image":"BRCH0060(1)-1652256265.jpg"},{"id":3373,"name":"Golden Color Stone Work Fancy Stitchable Brooch - without pin","price":330,"image":"BRCH0061(1)-1652256373.jpg"},{"id":3374,"name":"Red Silver Stone Work Fancy Flower Stitchable Brooch-without pin","price":250,"image":"BRCH0062(1)-1652422368.jpg"},{"id":3375,"name":"Green Silver Stone Work Fancy Stitchable Brooch-without pin","price":250,"image":"BRCH0062A(1)-1652422440.jpg"},{"id":3376,"name":"Blue Silver Stone Work Fancy Flower Stitchable Brooch-without pin","price":250,"image":"BRCH0062B(1)-1652422509.jpg"},{"id":3381,"name":"Peacock Shape Fancy Designer Stitchable Brooch - Without Pin","price":200,"image":"BRCH0067(1)-1652423391.jpg"},{"id":3385,"name":"Grey Color Fancy Button","price":250,"image":"BRCH0071(1)-1652423805.jpg"},{"id":3390,"name":"Black Round Sequins Work Fancy Buttons","price":200,"image":"WBTN0115(1)-1652522782.jpg"},{"id":3391,"name":"White Rainbow Round Sequins Work Fancy Buttons","price":200,"image":"WBTN0115A(1)-1652522838.jpg"},{"id":3392,"name":"White Round Sequins Work Fancy Buttons","price":200,"image":"WBTN0115(3)-1652522875.jpg"},{"id":3393,"name":"Golden Round Sequins Work Fancy Buttons","price":200,"image":"WBTN0115C(1)-1652522949.jpg"},{"id":3396,"name":"Golden Color Spiral Print Buttons for Coat, Sherwani etc.","price":1750,"image":"MCBTN0085(1)-1652524501.jpg"},{"id":3401,"name":"Red Round Shape Fancy Buttons for Coats, Sherwani, etc.","price":1750,"image":"MCBTN0090(1)-1652524849.jpg"},{"id":3402,"name":"Blue White Round Shape Fancy Buttons for Coats, Sherwani, etc.","price":1750,"image":"MCBTN0091(1)-1652524891.jpg"},{"id":3403,"name":"Golden Stone Work Fancy Buckle for Cardigans, Belts, Bellies etc.","price":200,"image":"BUCL0071(1)-1652527594.jpg"},{"id":3406,"name":"Golden Round Shape Fancy Buckle","price":270,"image":"BUCL00100(1)-1679048351.jpg"},{"id":3407,"name":"Golden C Shape Stone Work Fancy Buckle","price":130,"image":"BUCL0075(1)-1652701165.jpg"},{"id":3408,"name":"Orange Color Printed Marble Beads","price":200,"image":"MRBD0027(1)-1652701742.jpg"},{"id":3409,"name":"Parrot Green Color Printed Marble Beads","price":200,"image":"MRBD0027A(1).jpg"},{"id":3410,"name":"Pink Color Printed Marble Beads","price":200,"image":"MRBD0027B(1).jpg"},{"id":3411,"name":"Voilet Color Printed Marble Beads","price":200,"image":"MRBD0027C(1).jpg"},{"id":3412,"name":"Dark Green Color Printed Marble Beads","price":200,"image":"MRBD0027D(1).jpg"},{"id":3413,"name":"Purple Color Printed Marble Beads","price":200,"image":"MRBD0027E(1).jpg"},{"id":3414,"name":"Red Color Printed Marble Beads","price":200,"image":"MRBD0027F(1).jpg"},{"id":3415,"name":"Yellow Color Printed Marble Beads","price":200,"image":"MRBD0027G(1).jpg"},{"id":3416,"name":"Blueish Green Color Printed Marble Beads","price":200,"image":"MRBD0027H(1)-1693632107.jpg"},{"id":3417,"name":"Blue Color Printed Marble Beads","price":200,"image":"MRBD0027I(1).jpg"},{"id":3418,"name":"Light Pink Color Printed Marble Beads","price":200,"image":"MRBD0027J(1)-1693632083.jpg"},{"id":3419,"name":"Maroon Color Printed Marble Beads","price":200,"image":"MRBD0027K(1).jpg"},{"id":3420,"name":"Brown Color Round Shape Coconut Buttons","price":130,"image":"WOBTN0032(1)-1652782833.jpg"},{"id":3422,"name":"Camel Color Round Shape Star Print Wooden Buttons","price":100,"image":"WOBTN0033(1).jpg"},{"id":3423,"name":"Light Brown Color Round Shape Printed Coconut Buttons","price":100,"image":"WOBTN0034(1).jpg"},{"id":3424,"name":"Light Brown Color Printed Round Shape Coconut Buttons","price":130,"image":"WOBTN0035(1).jpg"},{"id":3425,"name":"Camel Color Square Shape Printed Wooden Buttons","price":130,"image":"WOBTN0036(1).jpg"},{"id":3426,"name":"Light Brown Color Round Shape Star Printed Coconut Buttons","price":130,"image":"WOBTN0037(1).jpg"},{"id":3427,"name":"Camel Color Round Printed Wooden Buttons","price":100,"image":"WOBTN0038(1).jpg"},{"id":3428,"name":"Camel Color Round Printed Wooden Buttons","price":100,"image":"WOBTN0039(1).jpg"},{"id":3429,"name":"Camel Color Printed Round Shape Wooden Buttons","price":100,"image":"WOBTN0040(1).jpg"},{"id":3430,"name":"Camel Color Flower Printed Round Shape Wooden Buttons","price":100,"image":"WOBTN0041(1).jpg"},{"id":3431,"name":"Pink Color Printed Round Shape Wooden Buttons","price":100,"image":"WOBTN0042(1).jpg"},{"id":3432,"name":"Green Color Printed Round Shape Wooden Buttons","price":100,"image":"WOBTN0043(1).jpg"},{"id":3434,"name":" Rose Gold Round Metal Caps","price":380,"image":"HNCP0001(1).jpg"},{"id":3435,"name":" Rose Gold Square Shape Hanging Caps","price":380,"image":"HNCP0002(1).jpg"},{"id":3436,"name":" Rose Gold Color Bell Shape Hanging Caps","price":420,"image":"HNCP0003(1).jpg"},{"id":3437,"name":" Rose Gold Color Rectangle Shape Hanging Cap","price":500,"image":"HNCP0004(1).jpg"},{"id":3438,"name":" Rose Gold Bell Shape Hanging Cap","price":500,"image":"HNCP0005(1).jpg"},{"id":3439,"name":" Golden Color Rectangle Shape Hanging Caps","price":380,"image":"HNCP0006(1).jpg"},{"id":3441,"name":" Rose Gold Color Hanging Caps","price":420,"image":"HNCP0008(1).jpg"},{"id":3442,"name":"Light Camel Color Cylindrical shape Wooden Beads","price":330,"image":"WBD0012(1)-1653133572.jpg"},{"id":3444,"name":"Brown Color Wooden Beads","price":170,"image":"WBD0014(1)-1653134711.jpg"},{"id":3446,"name":"Camel Color Round Shape Wooden Beads","price":200,"image":"WBD0016(1)-1653299208.jpg"},{"id":3447,"name":"Black Color Oval Shape Wooden Beads","price":200,"image":"WBD0017(1)-1653299773.jpg"},{"id":3448,"name":"Camel Color Cubical Shape Wooden Beads","price":330,"image":"WBD0018(1)-1653301512.jpg"},{"id":3450,"name":"Mauve Color Flower Print Oval Wooden Beads","price":200,"image":"WBD0020(1)-1653380084.jpg"},{"id":3451,"name":"Red Color Oval Shape Wooden Beads","price":330,"image":"WBD0021(1)-1653380445.jpg"},{"id":3452,"name":"Coffee Brown Wooden Beads","price":330,"image":"WBD0022(1)-1653381227.jpg"},{"id":3453,"name":"Onion Color Round Shape Wooden Beads","price":170,"image":"WBD0023(1)-1653388187.jpg"},{"id":3454,"name":"Black Round Shape Wooden Beads","price":170,"image":"WBD0024(1)-1653388388.jpg"},{"id":3456,"name":"Brown Color Square Shape Wooden Beads","price":270,"image":"WBD0026(1)-1653389035.jpg"},{"id":3457,"name":"Light Camel Color Oval Shape Wooden Beads","price":170,"image":"WBD0027(1)-1653389264.jpg"},{"id":3458,"name":"Silver Color Fringes Lace","price":300,"image":"FRNG0012(1)-1653719900.jpg"},{"id":3460,"name":"Silver Color Fringes Lace - 1 inch","price":270,"image":"FRNG0014(1)-1653720140.jpg"},{"id":3461,"name":"Blue Golden Color Thread Work Lace","price":500,"image":"THBD0027(1)-1653720369.jpg"},{"id":3462,"name":"Brown Golden Color Thread Work Lace","price":500,"image":"THBD0027A(1)-1653720436.jpg"},{"id":3463,"name":"Pink Golden Color Thread Work Lace","price":500,"image":"THBD0027B(1)-1653720537.jpg"},{"id":3464,"name":"Grey Golden Color Thread Work Lace","price":500,"image":"THBD0027C(1)-1653720628.jpg"},{"id":3466,"name":"Dark Blue Golden Color Thread Work Lace","price":500,"image":"THBD0027E(1)-1653721276.jpg"},{"id":3507,"name":"Silver Color Triangular Shape Hanging Style Metal Buttons","price":180,"image":"WBTN0120(1)-1654172129.jpg"},{"id":3530,"name":"Dark Green Color Stone Work Drop Shape Fancy Buttons","price":180,"image":"WBTN0126(1)-1654513993.jpg"},{"id":3532,"name":"Light Blue Color Stone Work Drop Shape Fancy Buttons","price":180,"image":"WBTN0126B(1)-1654517704.jpg"},{"id":3533,"name":"Dark Blue Color Stone Work Drop Shape Fancy Buttons","price":180,"image":"WBTN0126C(1)-1654517735.jpg"},{"id":3534,"name":"Dark Peach Color Stone Work Drop Shape Fancy Buttons","price":180,"image":"WBTN0126D(1)-1654517757.jpg"},{"id":3535,"name":"Pastel Green Color Stone Work Drop Shape Fancy Buttons","price":180,"image":"WBTN0126E(1)-1654517776.jpg"},{"id":3536,"name":"Light Peach Color Stone Work Drop Shape Fancy Buttons","price":180,"image":"WBTN0126F(1)-1654579946.jpg"},{"id":3537,"name":"Baby Pink Color Stone Work Drop Shape Fancy Buttons","price":180,"image":"WBTN0126G(1)-1654580016.jpg"},{"id":3543,"name":"Silver Color with Orange Kinari Flower Chandi Gota Patti Patches For Embroidery, Decoration, Crafting etc.","price":250,"image":"GPT0067(1)-1654682949.jpg"},{"id":3544,"name":"Silver Color Flower Chandi Gota Patti Patches For Embroidery, Decoration, Crafting etc.","price":250,"image":"GPT0067A(1)-1654683363.jpg"},{"id":3545,"name":"Silver Color With Orange Kinari Flower Chandi Gota Patti Patch For Embroidery, Decoration, Crafting etc.","price":270,"image":"GPT0068(1)-1654683754.jpg"},{"id":3547,"name":"Dark Golden Silver Mix Flower Shape Chandi Gota Patti Patches For Embroidery, Decoration, Crafting etc.","price":270,"image":"GPT0069A(1)-1654686139.jpg"},{"id":3548,"name":"Silver Rose Gold Mix Flower Shape Chandi Gota Patti Patches For Embroidery, Decoration, Crafting etc.","price":270,"image":"GPT0069B(1)-1654686463.jpg"},{"id":3549,"name":"Silver Color Flower Shape Chandi Gota Patti Patches For Embroidery, Decoration, Crafting etc.","price":270,"image":"GPT0069C(1)-1654687633.jpg"},{"id":3550,"name":"Silver Yellow Mix Flower Shape Chandi Gota Patti Patches For Embroidery, Decoration, Crafting etc.","price":270,"image":"GPT0069D(1)-1654689019.jpg"},{"id":3551,"name":"Golden Star Shape Chandi Gota Patti Patches For Embroidery, Decoration, Crafting etc.","price":270,"image":"GPT0070(1)-1654760225.jpg"},{"id":3552,"name":"Silver Yellow Star Shape Gota Patti Patches For Embroidery, Decoration, Crafting etc.","price":270,"image":"GPT0070A(1)-1654760638.jpg"},{"id":3553,"name":"Silver Color Flower Shape Plastic Beads","price":210,"image":"PLSBD0062(1)-1655207618.jpg"},{"id":3554,"name":"Silver Color Round Shape Plastic Beads","price":210,"image":"PLSBD0063(1).jpg"},{"id":3555,"name":"Silver Color Assorted Shape Plastic Beads","price":210,"image":"PLSBD0064(1).jpg"},{"id":3556,"name":"Grey Metallic Color Drop Shape Plastic Stones","price":210,"image":"PLSBD0065(1).jpg"},{"id":3557,"name":"Silver Color Oval Shape Plastic Beads","price":170,"image":"PLSBD0066(1).jpg"},{"id":3559,"name":"Silver Color Round Ring Shape Plastic Beads","price":170,"image":"PLSBD0068(1).jpg"},{"id":3560,"name":"Silver Color Oval Shape Plastic Stones","price":170,"image":"PLSBD0069(1).jpg"},{"id":3561,"name":"Silver Color Round Ring Shape Printed Plastic Beads","price":210,"image":"PLSBD0070(1).jpg"},{"id":3562,"name":"Silver Color Square Shape Plastic Beads","price":210,"image":"PLSBD0071(1).jpg"},{"id":3563,"name":"Silver Color Assorted Shape Plastic Beads","price":170,"image":"PLSBD0072(1).jpg"},{"id":3564,"name":"Silver Color Square Shape Plastic Stones","price":170,"image":"PLSBD0073(1).jpg"},{"id":3565,"name":"Silver Color Cone Shape Plastic Beads","price":210,"image":"PLSBD0074(1).jpg"},{"id":3566,"name":"Silver Color Round Shape Plastic Stones","price":170,"image":"PLSBD0075(1).jpg"},{"id":3567,"name":"Silver Color Oval Shape Printed Plastic Beads","price":210,"image":"PLSBD0076(1).jpg"},{"id":3568,"name":"Silver Color Round Ring Shape Plastic Beads","price":170,"image":"PLSBD0077(1).jpg"},{"id":3569,"name":"Grey Metallic Color Oval Shape Plastic Stones","price":170,"image":"PLSBD0078(1).jpg"},{"id":3570,"name":"Silver Color Drop Shape Plastic Stones","price":170,"image":"PLSBD0079(1).jpg"},{"id":3571,"name":"Silver Color Square Shape Plastic Stones","price":170,"image":"PLSBD0080(1).jpg"},{"id":3572,"name":"Silver Color Round Shape Plastic Beads","price":170,"image":"PLSBD0081(1).jpg"},{"id":3573,"name":"Silver Color Square Shape Plastic Stones","price":330,"image":"PLSBD0082(1).jpg"},{"id":3574,"name":"Grey Metallic Color Rectangle Shape Plastic Stones","price":170,"image":"PLSBD0083(1).jpg"},{"id":3575,"name":"Silver Color Assorted Shape Plastic Beads","price":170,"image":"PLSBD0084(1).jpg"},{"id":3576,"name":"Silver Color Square Shape Plastic Beads","price":210,"image":"PLSBD0085(1).jpg"},{"id":3577,"name":"Silver Color Ghost Shape Plastic Beads","price":170,"image":"PLSBD0086(1).jpg"},{"id":3578,"name":"Silver Color Oval Shape Printed Plastic Beads","price":210,"image":"PLSBD0087(1).jpg"},{"id":3579,"name":"Silver Color Circular Shape Plastic Beads","price":210,"image":"PLSBD0088(1).jpg"},{"id":3580,"name":"Golden Stone Work Fancy Kurta Patti Button KURBT0027","price":100,"image":"KURBT0027(1)-1655711676.jpg"},{"id":3581,"name":"Golden Stone Work Fancy Kurta Patti Button KURBT0028","price":100,"image":"KURBT0028(1)-1655712906.jpg"},{"id":3583,"name":"Golden Stone and Pearl Work Fancy Kurta Patti Button KURBT0030","price":250,"image":"KURBT0030(1)-1655712967.jpg"},{"id":3584,"name":"Golden Stone Work Fancy Kurta Patti Button KURBT0031","price":100,"image":"KURBT0031(1)-1655713006.jpg"},{"id":3585,"name":"Golden Stone Work Fancy Kurta Patti Button KURBT0032","price":100,"image":"KURBT0032(1)-1655713035.jpg"},{"id":3586,"name":"Golden Stone Work Fancy Kurta Patti Button KURBT0033","price":100,"image":"KURBT0033(1)-1655713080.jpg"},{"id":3587,"name":"Golden Stone Work Fancy Kurta Patti Button KURBT0034","price":100,"image":"KURBT0034(1)-1655713107.jpg"},{"id":3588,"name":"Golden Stone Work Fancy Kurta Patti Button KURBT0035","price":100,"image":"KURBT0035(1)-1655713155.jpg"},{"id":3589,"name":"Golden Red Flower Stone Work Fancy Kurta Patti Button KURBT0036","price":170,"image":"KURBT0036(1)-1655713199.jpg"},{"id":3590,"name":"Golden Stone Work Fancy Kurta Patti Button KURBT0037","price":230,"image":"KURBT0037(1)-1655713230.jpg"},{"id":3591,"name":"Golden Stone Work Fancy Kurta Patti Button KURBT0038","price":250,"image":"KURBT0038(1)-1655713252.jpg"},{"id":3597,"name":"Green Color Stone and Pearl Beads Work Fancy Buttons ","price":170,"image":"WBTN0128E(1).jpg"},{"id":3599,"name":"Light Golden Color Round Shape Metal Buttons","price":280,"image":"WBTN0129(1).jpg"},{"id":3600,"name":"Black Color Round Shape Metal Buttons","price":280,"image":"WBTN0129A(1).jpg"},{"id":3601,"name":"Golden Brown Color Stone And Marble Work Metal Buttons","price":250,"image":"WBTN0130(1).jpg"},{"id":3602,"name":"Metallic Grey Color Stone And Marble Work Metal Buttons","price":250,"image":"WBTN0130A(1).jpg"},{"id":3603,"name":"Golden Color Stone And Marble Work Metal Buttons","price":280,"image":"WBTN0131(1).jpg"},{"id":3604,"name":"Black Golden Color Stone And Marble Work Metal Buttons","price":280,"image":"WBTN0131A(1).jpg"},{"id":3605,"name":"Multi Color Stone Work Hanging Style Fancy Buttons","price":170,"image":"WBTN0132(1).jpg"},{"id":3609,"name":"Baby Pink Crystal Stone Designer Fancy Button","price":300,"image":"WBTN0135(1).jpg"},{"id":3611,"name":"Golden Crystal Beads Work Flower Shape Fancy Ladies Buttons","price":300,"image":"WBTN0136(1).jpg"},{"id":3613,"name":"Peach Color Crystal Stone Work Fancy Ladies Buttons","price":300,"image":"WBTN0138(1).jpg"},{"id":3615,"name":"Golden Color Stone Work Flower Shape Fancy Button","price":420,"image":"WBTN0139A(1).jpg"},{"id":3619,"name":"Golden Oval Shape Stone And Pearl Work Fancy Buttons","price":250,"image":"WBTN0142(1).jpg"},{"id":3625,"name":"Silver Flower Shape Mirror Buttons","price":210,"image":"WBTN0147(1).jpg"},{"id":3626,"name":"Silver Round Shape Mirror Button For Ladies Suits and Dresses","price":250,"image":"WBTN0148(1).jpg"},{"id":3629,"name":"Grey Color Square Shape Korean Print Metal Buttons","price":210,"image":"WBTN0149B(1).jpg"},{"id":3630,"name":"Carrot Color Square Shape Korean Print Metal Buttons","price":210,"image":"WBTN0149C(1).jpg"},{"id":3631,"name":"Black Color Square Shape Korean Print Metal Buttons","price":210,"image":"WBTN0149D(1).jpg"},{"id":3644,"name":"Dark Golden Color Flower Shape Stone Work Buttons","price":290,"image":"WBTN0151(1).jpg"},{"id":3645,"name":"Light Golden Color Flower Shape Stone Work Buttons","price":290,"image":"WBTN0151A(1).jpg"},{"id":3647,"name":"Dark Golden Color Stone Work Buttons","price":210,"image":"WBTN0152(1).jpg"},{"id":3648,"name":"Silver Color Stone Work Buttons","price":250,"image":"WBTN0152A(1).jpg"},{"id":3650,"name":"Silver Color Leaf Shape Stone Work Fancy Patch","price":170,"image":"PATF0065A(1).jpg"},{"id":3653,"name":"Peach Color Leaf Shape Stone Work Fancy Patch","price":170,"image":"PATF0065D(1).jpg"},{"id":3654,"name":"Grey Color Stone Work Fancy Patch","price":250,"image":"PATF0066(1).jpg"},{"id":3655,"name":"Peach Color Stone Work Fancy Patch","price":300,"image":"PATF0066A(1).jpg"},{"id":3656,"name":"Dark Golden Color Stone Work Fancy Patch","price":250,"image":"PATF0066B(1).jpg"},{"id":3657,"name":"Silver Color Stone Work Fancy Patch","price":250,"image":"PATF0066C(1).jpg"},{"id":3658,"name":"Peach Color Designer Oavl Shape Stone Work Fancy Buckle","price":160,"image":"BUCL0065D(1)-1668584330.jpg"},{"id":3659,"name":"Grey Color Designer Square Stone Work Fancy Buckle","price":210,"image":"BUCL0069H(1)-1656670292.jpg"},{"id":3666,"name":"Yellow Color Marble Beads","price":200,"image":"MRBD0028F(1).jpg"},{"id":3668,"name":"Red Color Marble Beads","price":200,"image":"MRBD0028H(1).jpg"},{"id":3671,"name":"Golden Color Round Shape loop Hole Shirt Buttons","price":250,"image":"SHBTN0011(1)-1658223197.jpg"},{"id":3672,"name":"Silver Color Round Shape Loop Hole Shirt Buttons","price":250,"image":"SHBTN0011A(1)-1658227849.jpg"},{"id":3673,"name":"Golden Color Round Shape Loop Hole Embossed Shirt Buttons","price":200,"image":"SHBTN0012(1)-1658227917.jpg"},{"id":3674,"name":"Silver Color Round Shape Loop Hole Embossed Shirt Buttons","price":200,"image":"SHBTN0012A(1)-1658229211.jpg"},{"id":3675,"name":"Golden Color Round Shape Loop Hole Shirt Buttons","price":250,"image":"SHBTN0013(1)-1658229277.jpg"},{"id":3676,"name":"Metallic Grey Color Round Shape Loop Hole Shirt Buttons","price":250,"image":"SHBTN0013A(1)-1658229326.jpg"},{"id":3677,"name":"Golden Mehandi Polish Round Shape Loop Hole Shirt Buttons","price":250,"image":"SHBTN0014(1)-1658229363.jpg"},{"id":3678,"name":"Golden Black Color Round Shape Loop Hole Shirt Buttons","price":250,"image":"SHBTN0015(1)-1658229393.jpg"},{"id":3679,"name":"Black Golden Color Round Shape Loop Hole Flower Printed Shirt Buttons","price":250,"image":"SHBTN0016(1)-1658229432.jpg"},{"id":3680,"name":"Black Silver Color Round Shape Loop Hole Flower Printed Shirt Buttons","price":250,"image":"SHBTN0016B(1)-1658229454.jpg"},{"id":3681,"name":"Silver Color Round Shape Loop Hole Stone Work Shirt Buttons","price":280,"image":"SHBTN0017(1)-1658229475.jpg"},{"id":3682,"name":"Golden Color Round Shape Loop Hole Stone Work Shirt Buttons","price":280,"image":"SHBTN0017A(1)-1658229491.jpg"},{"id":3683,"name":"Silver Color Round Shape Loop Hole Shirt Buttons With Stone","price":280,"image":"SHBTN0018(1)-1658229510.jpg"},{"id":3684,"name":"Matte Golden Color Round Shape Loop Hole Shirt Buttons With Stone","price":280,"image":"SHBTN0018A(1)-1658229528.jpg"},{"id":3686,"name":"White Golden Doll Shape Pendant \/ Charm","price":250,"image":"CHARM0098(1)-1658306139.jpg"},{"id":3688,"name":"Golden Color Flower shape Metal Charms","price":370,"image":"CHARM00100(1)-1-1658313567.jpg"},{"id":3689,"name":"Silver Hanging Bird Designer Metal charms","price":250,"image":"CHARM0114(1)-1680163929.jpg"},{"id":3691,"name":"Golden Mehandi Polish Round Metal Charms","price":370,"image":"CHARM00103(1)-1658319040.jpg"},{"id":3692,"name":"Golden Leaf Shape metal Charms For Jewllery Making","price":370,"image":"CHARM00105(1)-1658399870.jpg"},{"id":3695,"name":"Golden Round Shape Mehandi Polish Metal Charms","price":370,"image":"CHARM00108(1)-1-1658400947.jpg"},{"id":3696,"name":"Golden Mehandi Polish Assorted Metal Charms","price":370,"image":"CHARM00109(1)-1-1658401257.jpg"},{"id":3697,"name":"Golden Mehandi Polish Maple Leaf Shape Metal Charms","price":370,"image":"CHARM00110(1)-1-1658401413.jpg"},{"id":3700,"name":"Golden Color Coin Charms","price":370,"image":"CHARM0113(1)-1658404010.jpg"},{"id":3701,"name":"White Color Pastel Shade Dyeable GPO Lace","price":1500,"image":"GPO0031(1)-1658404457.jpg"},{"id":3702,"name":"White Color Pastel Shade Dyeable GPO Connector Lace","price":540,"image":"GPO0032(1)-1658404696.jpg"},{"id":3703,"name":"White Color Pastel Shade Dyeable Fringes GPO Lace","price":1650,"image":"GPO0033(1)-1658470625.jpg"},{"id":3704,"name":"Flower Design White Color Pastel Shade Dyeable GPO Lace","price":950,"image":"GPO0034(1)-1658471484.jpg"},{"id":3705,"name":"White Color Pastel Shade Dyeable Flower GPO Lace","price":1630,"image":"GPO0035(1)-1658478925.jpg"},{"id":3706,"name":"White Color Cut Work Design Light Shades Dyeable GPO Lace","price":2290,"image":"GPO0036(1)-1658483116.jpg"},{"id":3707,"name":"White Color Light Shade Dyeable Cutwork GPO Lace","price":1500,"image":"GPO0037(1)-1658483452.jpg"},{"id":3710,"name":"White color Light Shade Dyeable Fringes GPO Laces","price":950,"image":"GPO0040(1)-1658490021.jpg"},{"id":3711,"name":"White Flower Light Shade Dyeable GPO Lace","price":1630,"image":"GPO0041(1)-1658489942.jpg"},{"id":3712,"name":"Silver Color Stone Work Fancy Frog Button","price":180,"image":"WBTN0153(1)-1658557983.jpg"},{"id":3717,"name":"Red Color Stone Work Belt Metal Patch","price":210,"image":"PATF0067D(1)-1658728878.jpg"},{"id":3719,"name":"Wine Color Stone Work Belt Metal Patch","price":210,"image":"PATF0067F(1)-1658728924.jpg"},{"id":3721,"name":"Peach Color Stone Work Belt Metal Patch","price":210,"image":"PATF0067H(1)-1658728962.jpg"},{"id":3722,"name":"Grey Color Stone Work Belt Metal Patch","price":210,"image":"PATF0067I(1)-1658728983.jpg"},{"id":3725,"name":"Golden Round Shape Metal Buckle","price":270,"image":"BUCL0078(1)-1658830360.jpg"},{"id":3726,"name":"Dark Golden Metal G-Shape Buckle","price":130,"image":"BUCL0079(1)-1658830739.jpg"},{"id":3727,"name":"Golden Color Stone Work Fancy Buckle","price":290,"image":"BUCL0080(1)-1658830981.jpg"},{"id":3729,"name":"Golden Round Shape Stone Work Buckle","price":270,"image":"BUCL0099(1)-1679048151.jpg"},{"id":3730,"name":"Golden Stone Shape Fancy Buckle","price":270,"image":"BUCL0083(1)-1658832538.jpg"},{"id":3731,"name":"Golden Color Metal Buckle","price":210,"image":"BUCL0084(1)-1658832693.jpg"},{"id":3732,"name":"Golden Color GUCOI Metal Embellishment","price":230,"image":"BUCL0085(1)-1658833670.jpg"},{"id":3734,"name":"Golden Color Chain Style Two Ring Metal Buckle","price":210,"image":"BUCL0087(1)-1658834061.jpg"},{"id":3735,"name":"Golden Color Rectangular Rings Metal Buckle","price":170,"image":"BUCL00101(1)-1681889559.jpg"},{"id":3737,"name":"Golden Color Flower Shape Stone Work Fancy Buttons","price":460,"image":"WBTN0154A(1)-1658909096.jpg"},{"id":3747,"name":"Golden Color Crystal Round Shape Love Fancy Buttons","price":460,"image":"WBTN0158(1)-1658924088.jpg"},{"id":3748,"name":"Golden Color Oval Shape Stone Buckle","price":330,"image":"BUCL0089(1)-1659008554.jpg"},{"id":3749,"name":"Silver Color Oval Shape Stone Buckle","price":330,"image":"BUCL0089A(1)-1659008743.jpg"},{"id":3750,"name":"Metallic Grey Color Oval Shape Stone Buckle","price":330,"image":"BUCL0089B(1)-1659008871.jpg"},{"id":3751,"name":"Metallic Grey Color Round Shape Stone Buckle","price":330,"image":"BUCL0090(1)-1659009059.jpg"},{"id":3752,"name":"Golden Color Round Shape Stone Buckle","price":330,"image":"BUCL0090A(2)-1659009194.jpg"},{"id":3753,"name":"Silver Color Round Shape Stone Buckle","price":330,"image":"BUCL0090B(2)-1659009300.jpg"},{"id":3754,"name":"Peach Color Flower Shape Stone Work Fancy Patch\/Appliques","price":230,"image":"PATF0068(1)-1659338343.jpg"},{"id":3757,"name":"Grey Color Rhinestone Work Fancy Patch\/Appliques","price":210,"image":"PATF0069(1)-1659348336.jpg"},{"id":3758,"name":"Peach Color Rhinestone Work Fancy Patch\/Appliques","price":210,"image":"PATF0069A(1)-1659348355.jpg"},{"id":3759,"name":"Dark Golden Color Rhinestone Work Fancy Patch\/Appliques","price":210,"image":"PATF0069B(1)-1659348390.jpg"},{"id":3760,"name":"Grey Color Rhinestone Work Fancy Patch\/Appliques - Design 1","price":200,"image":"PATF0070(1)-1659348428.jpg"},{"id":3761,"name":"Dark Golden Color Rhinestone Work Fancy Patch\/Appliques - Design 1","price":200,"image":"PATF0070A(1)-1659348449.jpg"},{"id":3762,"name":"Silver Color Rhinestone Work Fancy Patch\/Appliques - Design 1","price":200,"image":"PATF0070B(1)-1659348475.jpg"},{"id":3763,"name":"Peach Color Rhinestone Work Fancy Patch\/Appliques - Design 1","price":200,"image":"PATF0070C(1)-1659348494.jpg"},{"id":3764,"name":"Grey Color Four Petal Flower Shape Rhinestone Work Fancy Patch\/Appliques","price":320,"image":"PATF0071(1)-1659348566.jpg"},{"id":3766,"name":"Peach Color Four Petal Flower Shape Rhinestone Work Fancy Patch\/Appliques","price":320,"image":"PATF0071B(1)-1659348629.jpg"},{"id":3767,"name":"Dark Golden Color Four Petal Flower Shape Rhinestone Work Fancy Patch\/Appliques","price":320,"image":"PATF0071C(1)-1659348661.jpg"},{"id":3768,"name":"Grey Color Rhinestone Work Fancy Patch\/Appliques - Design 2","price":200,"image":"PATF0072(1)-1659348690.jpg"},{"id":3769,"name":"Dark Golden Color Rhinestone Work Fancy Patch\/Appliques - Design 2","price":200,"image":"PATF0072A(1)-1659348710.jpg"},{"id":3770,"name":"Silver Color Rhinestone Work Fancy Patch\/Appliques - Design 2","price":200,"image":"PATF0072B(1)-1659348728.jpg"},{"id":3771,"name":"Peach Color Rhinestone Work Fancy Patch\/Appliques - Design 2","price":200,"image":"PATF0072C(1)-1659348752.jpg"},{"id":3772,"name":"Grey Color Rhinestone Work Tilted Petals Flower Shape Fancy Patch\/Appliques","price":210,"image":"PATF0073(1)-1659349194.jpg"},{"id":3773,"name":"Peach Color Rhinestone Work Tilted Petals Flower Shape Fancy Patch\/Appliques","price":210,"image":"PATF0073A(1)-1659349214.jpg"},{"id":3774,"name":"Dark Golden Color Rhinestone Work Tilted Petals Flower Shape Fancy Patch\/Appliques","price":210,"image":"PATF0073B(1)-1659349235.jpg"},{"id":3775,"name":"Grey Color Rhinestone Work Fancy Patch\/Appliques - Design 3","price":230,"image":"PATF0074(1)-1659349368.jpg"},{"id":3776,"name":"Dark Golden Color Rhinestone Work Fancy Patch\/Appliques - Design 3","price":230,"image":"PATF0074A(1)-1659349390.jpg"},{"id":3777,"name":"Peach Color Rhinestone Work Fancy Patch\/Appliques - Design 3","price":230,"image":"PATF0074B(1)-1659349411.jpg"},{"id":3778,"name":"Grey Color Rhinestone Work Fancy Patch\/Appliques - Design 4","price":170,"image":"PATF0075(1)-1659349431.jpg"},{"id":3781,"name":"Grey Color Rhinestone Work Fancy Patch\/Appliques - Design 5","price":210,"image":"PATF0076(1)-1659349503.jpg"},{"id":3782,"name":"Silver Color Rhinestone Work Fancy Patch\/Appliques - Design 5","price":210,"image":"PATF0076B(1)-1659349525.jpg"},{"id":3783,"name":"Dark Golden Color Rhinestone Work Fancy Patch\/Appliques - Design 5","price":210,"image":"PATF0076C(1)-1659349557.jpg"},{"id":3785,"name":"Grey Color Rhinestone Work Fancy Patch\/Appliques - Design 6","price":230,"image":"PATF0077(1)-1659349620.jpg"},{"id":3786,"name":"Peach Color Rhinestone Work Fancy Patch\/Appliques - Design 6","price":230,"image":"PATF0077A(1)-1659349643.jpg"},{"id":3788,"name":"Peach Color Rhinestone Work Single Line Belt Patches\/Applique","price":210,"image":"PATF0078A(1)-1659349733.jpg"},{"id":3791,"name":"Dark Golden Color Rhinestone Work Fancy Patch\/Appliques - Design 7","price":220,"image":"PATF0079(1)-1659349798.jpg"},{"id":3792,"name":"Grey Color Rhinestone Work Fancy Patch\/Appliques - Design 7","price":220,"image":"PATF0079A(1)-1659349826.jpg"},{"id":3793,"name":"Peach Color Rhinestone Work Fancy Patch\/Appliques - Design 7","price":220,"image":"PATF0079B(1)-1659349844.jpg"},{"id":3794,"name":"Light Pink Color Stone Belt Metal Fancy Patch","price":330,"image":"PATF0067A(1)-1659521918.jpg"},{"id":3795,"name":"Maroon Color Stone Belt Metal Patch","price":330,"image":"PATF0067C(1)-1659522133.jpg"},{"id":3796,"name":"Red Color Stone Belt Metal Patch","price":330,"image":"PATF0067D(1)-1659522580.jpg"},{"id":3798,"name":"Peach Color Stone Belt Metal Patch","price":330,"image":"PATF0067H(1)-1659522799.jpg"},{"id":3799,"name":"Grey Color Stone Belt Metal Patch","price":330,"image":"PATF0067I(1)-1659523615.jpg"},{"id":3800,"name":"Blue Color Stone Belt Metal Patch","price":330,"image":"PATF0068(1)-1659523714.jpg"},{"id":3801,"name":"Silver Rainbow Color Stone Belt Metal Patch","price":330,"image":"PATF0068A(1)-1659523833.jpg"},{"id":3819,"name":"Golden Color Fancy Hotfix Mirror Stripes","price":270,"image":"MRR0015B(2).jpg"},{"id":3820,"name":"Peach Color Fancy Hotfix Mirror Stripes","price":270,"image":"MRR0015C(2).jpg"},{"id":3821,"name":"Copper Color Fancy Hotfix Mirror Stripes","price":270,"image":"MRR0015D(2).jpg"},{"id":3822,"name":"Black Color Hotfix Mirror Stripes ","price":290,"image":"MRR0016(1).jpg"},{"id":3823,"name":"Pink Color Hotfix Mirror Stripes","price":290,"image":"MRR0016A(1).jpg"},{"id":3824,"name":"Copper Color Hotfix Mirror Stripes ","price":290,"image":"MRR0016B(1).jpg"},{"id":3825,"name":"Golden Color Hotfix Mirror Stripes ","price":290,"image":"MRR0016C(1).jpg"},{"id":3826,"name":"Peach Color Hotfix Mirror Stripes ","price":290,"image":"MRR0016D(1).jpg"},{"id":3827,"name":"Silver Color Hotfix Mirror Stripes","price":290,"image":"MRR0016E(1).jpg"},{"id":3828,"name":"Black Color Stone Work Fancy Buttons for Suits, Dresses etc.","price":290,"image":"WBTN0161(1)-1660041778.jpg"},{"id":3829,"name":"Aqua Green Color Stone Work Fancy Buttons for Suits, Dresses etc.","price":290,"image":"WBTN0161A(1).jpg"},{"id":3830,"name":"Mauve Color Stone Work Fancy Buttons for Suits, Dresses etc.","price":290,"image":"WBTN0161B(1).jpg"},{"id":3831,"name":"Maroon Color Stone Work Fancy Buttons for Suits, Dresses etc.","price":290,"image":"WBTN0161C(1).jpg"},{"id":3832,"name":"Light Green Color Stone Work Fancy Buttons for Suits, Dresses etc.","price":290,"image":"WBTN0161D(1).jpg"},{"id":3833,"name":"Orange Color Stone Work Fancy Buttons for Suits, Dresses etc.","price":290,"image":"WBTN0161E(1).jpg"},{"id":3834,"name":"Grey Color Stone Work Fancy Buttons for Suits, Dresses etc.","price":290,"image":"WBTN0161F(1).jpg"},{"id":3835,"name":"Golden Color Round Stone Work Pearl Buttons","price":330,"image":"WBTN0162(1).jpg"},{"id":3840,"name":"Golden Color Round Shape Metal Coat Buttons For Blazers, Coats etc.","price":680,"image":"MCBTN0092(1)-1660120285.jpg"},{"id":3842,"name":"Antique Color Round Shape Metal Coat Buttons For Blazers, Coats etc.","price":680,"image":"MCBTN0094(1).jpg"},{"id":3843,"name":"White Color Flower Design Round Shape Metal Coat Buttons For Blazers, Coats etc.","price":680,"image":"MCBTN0095(1).jpg"},{"id":3844,"name":"Black Color Flower Design Round Shape Metal Coat Buttons For Blazers, Coats etc.","price":680,"image":"MCBTN0095A(1).jpg"},{"id":3845,"name":"White Color Round Shape Metal Coat Buttons For Blazers, Coats etc.","price":680,"image":"MCBTN0096(1).jpg"},{"id":3846,"name":"Black Color Matte Finish Round Shape Metal Coat Buttons For Blazers, Coats etc.","price":680,"image":"MCBTN0097(1).jpg"},{"id":3847,"name":"Golden Color Round Shape Metal Coat Buttons For Blazers, Coats etc.","price":680,"image":"MCBTN0098(1).jpg"},{"id":3848,"name":"Golden Color Round Shape Metal Coat Buttons For Blazers, Coats etc.","price":680,"image":"MCBTN0099(1).jpg"},{"id":3849,"name":"Golden Color Wings Embossed With Crown Round Shape Metal Coat Buttons For Blazers, Coats etc.","price":680,"image":"MCBTN0100(1).jpg"},{"id":3850,"name":"Golden Color Round Metal Coat Buttons For Blazers, Coats etc.","price":680,"image":"MCBTN0101(1).jpg"},{"id":3851,"name":"White Golden Round Shape Metal Coat Buttons For Blazers, Coats etc.","price":680,"image":"MCBTN0102(1).jpg"},{"id":3852,"name":"Golden Color Round Shape Stone Work Metal Coat Buttons For Blazers, Coats etc.","price":980,"image":"MCBTN00103(1).jpg"},{"id":3855,"name":"Blue Golden Color Round Shape Metal Coat Buttons For Blazers, Coats etc.","price":680,"image":"MCBTN00104(1).jpg"},{"id":3857,"name":"Copper Color Round Shape Metal Coat Buttons For Blazers, Coats etc.","price":680,"image":"MCBTN00106(1).jpg"},{"id":3858,"name":"Grey Color Round Shape Metal Coat Buttons For Blazers, Coats etc.","price":680,"image":"MCBTN00106A(1).jpg"},{"id":3859,"name":"Green Color Round Shape Metal Coat Buttons For Blazers, Coats etc.","price":680,"image":"MCBTN00106B(1).jpg"},{"id":3861,"name":"Blue Color Round Shape Metal Coat Buttons For Blazers, Coats etc.","price":680,"image":"MCBTN00106D(1).jpg"},{"id":3864,"name":"Light Golden Color Stone Work Fancy Patch","price":250,"image":"PATF0066D(1)-1661247314.jpg"},{"id":3867,"name":"Golden Mehandi Polish Octagonal Kundan Buttons","price":250,"image":"WBTN0167(1)-1661771193.jpg"},{"id":3869,"name":"Golden Mehandi Polish Octagonal Kundan Buttons","price":330,"image":"WBTN0165(1)-1661773123.jpg"},{"id":3870,"name":"Golden Oval Kundan Buttons","price":250,"image":"WBTN0164(1)-1661773605.jpg"},{"id":3871,"name":"Golden Oval Kundan Buttons","price":290,"image":"WBTN0163(1)-1661774194.jpg"},{"id":3872,"name":"Golden Black Stone Embellished Oval Button","price":300,"image":"WBTN0168(1).jpg"},{"id":3873,"name":"Silver Stone Embellished Oval Button","price":300,"image":"WBTN0168A(1).jpg"},{"id":3876,"name":"Red Stone Embellished Oval Button","price":300,"image":"WBTN0168D(1).jpg"},{"id":3878,"name":"Dark Golden Stone Embellished Oval Button","price":300,"image":"WBTN0168F(1).jpg"},{"id":3879,"name":"Emerald Green Stone Embellished Oval Button","price":300,"image":"WBTN0168G(1).jpg"},{"id":3881,"name":"Royal Blue Stone Embellished Oval Button","price":300,"image":"WBTN0168I(1).jpg"},{"id":3882,"name":"Off-White Color Textured Dome Pearl Buttons","price":330,"image":"PRLBTN0001(1)-1661853715.jpg"},{"id":3883,"name":"Off-White Color Dome Shape Pearl Buttons - 10mm and 12mm","price":200,"image":"PRLBTN0002(1)-1661854742.jpg"},{"id":3884,"name":"White Color Semi Circle Shape Pearl Button - 10mm and 12 mm","price":500,"image":"PRLBTN0003(1)-1661855349.jpg"},{"id":3886,"name":"Off-White Color Golden Flower Pearl Buttons","price":330,"image":"PRLBTN0004(1)-1661928527.jpg"},{"id":3887,"name":"Off-White Color Golden Flower Pearl Buttons-12 mm","price":280,"image":"PRLBTN0005(1)-1661928844.jpg"},{"id":3888,"name":"Off-White Color With Center Stone Pearl Button","price":330,"image":"PRLBTN0006(1)-1661929090.jpg"},{"id":3889,"name":"White Color Drop Shape Pearl Buttons","price":265,"image":"PRLBTN00067(1)-1661929653.jpg"},{"id":3891,"name":"Off-White Color With Outer Silver Metal Coating Pearl Button","price":200,"image":"PRLBTN00069(1)-1661930042.jpg"},{"id":3894,"name":"Red Flower Shape Kundan Buttons","price":180,"image":"WBTN0169B(1).jpg"},{"id":3896,"name":"Yellowish Orange Flower Shape Kundan Buttons","price":180,"image":"WBTN0169D(1).jpg"},{"id":3898,"name":"Light Green Flower Shape Kundan Buttons","price":180,"image":"WBTN0169F(1).jpg"},{"id":3899,"name":"White Flower Shape Kundan Buttons","price":180,"image":"WBTN0169G(1).jpg"},{"id":3901,"name":"Aqua Green Flower Shape Kundan Buttons","price":180,"image":"WBTN0169I(1).jpg"},{"id":3902,"name":"Dark Pink Flower Shape Kundan Buttons","price":180,"image":"WBTN0169J(1).jpg"},{"id":3904,"name":"Lavender Flower Shape Kundan Buttons","price":180,"image":"WBTN0169L(1).jpg"},{"id":3905,"name":"Ferozi Blue Flower Shape Kundan Buttons","price":180,"image":"WBTN0169M(1).jpg"},{"id":3907,"name":"Pastel Multi Color Flower Shape Kundan Buttons","price":180,"image":"WBTN0169O(1).jpg"},{"id":3908,"name":"Multi Color Flower Shape Kundan Buttons","price":180,"image":"WBTN0169P(1).jpg"},{"id":3909,"name":"Light Peach Flower Shape Kundan Buttons","price":180,"image":"WBTN0169Q(1).jpg"},{"id":3910,"name":"Magenta Flower Shape Kundan Buttons","price":180,"image":"WBTN0169R(1).jpg"},{"id":3911,"name":"Black Color Triangular Shape Kundan Buttons","price":370,"image":"WBTN0170(1).jpg"},{"id":3912,"name":"Yellow Color Triangular Shape Kundan Buttons","price":370,"image":"WBTN0170A(1).jpg"},{"id":3914,"name":"Multi Color Triangular Shape Kundan Buttons","price":370,"image":"WBTN0170C(1).jpg"},{"id":3915,"name":"Red Color Triangular Shape Kundan Buttons","price":999999.98999999999068677425384521484375,"image":"WBTN0170D(1).jpg"},{"id":3917,"name":"Pastel Multi Color Triangular Shape Kundan Buttons","price":370,"image":"WBTN0170F(1)-1-1663659487.jpg"},{"id":3918,"name":"Dark Green Color Triangular Shape Kundan Buttons","price":370,"image":"WBTN0170G(1).jpg"},{"id":3919,"name":"Beige Color Triangular Shape Kundan Buttons","price":370,"image":"WBTN0170H(1).jpg"},{"id":3920,"name":"Blue Color Triangular Shape Kundan Buttons","price":180,"image":"WBTN0170I(1).jpg"},{"id":3921,"name":"White Color Triangular Shape Kundan Buttons","price":180,"image":"WBTN0170J(1).jpg"},{"id":3922,"name":"Grey Color Triangular Shape Kundan Buttons","price":180,"image":"WBTN0170K(1).jpg"},{"id":3925,"name":"Pastel Green Color Triangular Shape Kundan Buttons","price":370,"image":"WBTN0170N(1).jpg"},{"id":3928,"name":"Golden Silver color crush fringes kiran lace for dupattas","price":470,"image":"FRNG0009B(1)-1662550460.jpg"},{"id":3929,"name":"Yellowish Golden color crush fringes kiran lace for dupattas","price":470,"image":"FRNG0009D(1)-1662551375.jpg"},{"id":3930,"name":"Rose Gold color crush fringes kiran lace for dupattas","price":300,"image":"FRNG0009C(1)-1662622946.jpg"},{"id":3931,"name":"Rose Gold Color Zari Jhalar Fringe Lace Border for Bridal Dresses, Sarees, Lehengas, Decoration, Bag and Designing Embellishment Crafts","price":380,"image":"FRNG0015B(1)-1662625984.jpg"},{"id":3932,"name":"Silver Color Zari Jhalar Fringe Lace Border for Bridal Dresses, Sarees, Lehengas, Decoration, Bag and Designing Embellishment Crafts","price":270,"image":"FRNG0015A(1)-1662626828.jpg"},{"id":3934,"name":"Antique Golden Color Zari Jhalar Fringe Lace Border for Bridal Dresses, Sarees, Lehengas, Decoration, Bag and Designing Embellishment Crafts","price":210,"image":"FRNG0016(1)-1662631068.jpg"},{"id":3937,"name":"Metallic Light Golden Badla Fringe Lace Trim, Golden Fringe, Tassel Trims","price":300,"image":"FRNG0017A(1)-1662634466.jpg"},{"id":3944,"name":"Pastel Multi Color Rounded Triangle Design Zari Lace","price":350,"image":"ZRBD0037(1)-1662797907.jpg"},{"id":3945,"name":"Dull Golden Color Rounded Triangle Design Zari Lace","price":350,"image":"ZRBD0037A(1).jpg"},{"id":3946,"name":"Multi Color Rounded Triangle Design Zari Lace","price":350,"image":"ZRBD0037B(1).jpg"},{"id":3947,"name":"Light Golden Color Rounded Triangle Design Zari Lace","price":350,"image":"ZRBD0037C(1).jpg"},{"id":3948,"name":"Antique Golden Color Rounded Triangle Design Zari Lace","price":350,"image":"ZRBD0037D(1).jpg"},{"id":3949,"name":"Silver Color Rounded Triangle Design Zari Lace","price":350,"image":"ZRBD0037E(1).jpg"},{"id":3950,"name":"Multi Color Samosa Pattern Triangle Design Printed Gota Lace GTLC0022","price":420,"image":"GTLC0022(1).jpg"},{"id":3951,"name":"Golden Color Frill Design Gota Lace for Dupatta, Sarre, Suits, Decoration etc GTLC0023","price":230,"image":"GTLC0023(1).jpg"},{"id":3952,"name":"Light Golden Color Frill Design Gota Lace for Dupatta, Sarre, Suits, Decoration etc GTLC0023A","price":230,"image":"GTLC0023A(1).jpg"},{"id":3953,"name":"Silver Color Frill Design Gota Lace for Dupatta, Sarre, Suits, Decoration etc GTLC0023B","price":230,"image":"GTLC0023B(1).jpg"},{"id":3954,"name":"Medium Golden Color Frill Design Gota Lace for Dupatta, Sarre, Suits, Decoration etc GTLC0023C","price":230,"image":"GTLC0023C(1).jpg"},{"id":3955,"name":"Pearl Matte Golden Color Frill Design Gota Lace for Dupatta, Sarre, Suits, Decoration etc GTLC0023D","price":230,"image":"GTLC0023D(1).jpg"},{"id":3957,"name":"Dull Golden Color Pankh Lace with Sequins and Zari Work ZRBD0038A","price":320,"image":"ZRBD0038A(1).jpg"},{"id":3959,"name":"Rose Gold Color Sequence Mirror Hanging Lace Border, Jhalar, Fringe for Dress, Saree, Lehenga, Dupatta, Bag, Craft and Decorations FRNG0024A","price":270,"image":"FRNG0024A(1).jpg"},{"id":3964,"name":"Light Golden Color Pearl Bead Work Narrow Lace for dupatta, suits, decoration, etc BDLC0005","price":370,"image":"BDLC0005A(1).jpg"},{"id":3966,"name":"Light Brown Round Wooden Buttons for Cardigans, Sweaters, DIY, Craft","price":170,"image":"WOBTN0045(1)-1663316829.jpg"},{"id":3968,"name":"Skin Round Wooden Buttons for Cardigans, Sweaters, DIY, Craft","price":170,"image":"WOBTN0046(1)-1663317537.jpg"},{"id":3969,"name":"Dark Brown Round Wooden Buttons for Cardigans, Sweaters, DIY, Craft","price":170,"image":"WOBTN0046A(1)-1663321151.jpg"},{"id":3970,"name":"Brown Round Wooden Buttons or Cardigans, Sweaters, DIY, Craft","price":170,"image":"WOBTN0047(1)-1663322233.jpg"},{"id":3971,"name":"Natural Brown Round Wooden Buttons For Cardigans, Sweaters, DIY, Craft","price":170,"image":"WOBTN0048(1)-1663322546.jpg"},{"id":3976,"name":"Magenta Pink Octagonal Shape Stone Work Button","price":210,"image":"WBTN0171(1)-1664191214.jpg"},{"id":3977,"name":"Peach Octagonal Shape Stone Work Button","price":210,"image":"WBTN0171(1)A.jpg"},{"id":3978,"name":"Black Octagonal Shape Stone Work Button","price":210,"image":"WBTN0171(1)B.jpg"},{"id":3980,"name":"Bottle Green Octagonal Shape Stone Work Button","price":210,"image":"WBTN0171(1)D.jpg"},{"id":3981,"name":"Red Octagonal Shape Stone Work Button","price":210,"image":"WBTN0171(1)E.jpg"},{"id":3982,"name":"Off-White Octagonal Shape Stone Work Button","price":210,"image":"WBTN0171(1)F.jpg"},{"id":3983,"name":"Golden Octagonal Shape Stone Work Button","price":210,"image":"WBTN0171(1)G.jpg"},{"id":3987,"name":"Light Blue Square Shape Stone Work Kundan Button","price":330,"image":"WBTN0172C(1).jpg"},{"id":3988,"name":"Off-White Square Shape Stone Work Kundan Button","price":330,"image":"WBTN0172D(1).jpg"},{"id":3989,"name":"Yellow Square Shape Stone Work Kundan Button","price":330,"image":"WBTN0172E(1).jpg"},{"id":3990,"name":"Maroon Square Shape Stone Work Kundan Button","price":330,"image":"WBTN0172F(1).jpg"},{"id":3996,"name":"Rose Gold color fringes kiran lace for dupattas","price":500,"image":"FRNG0009E(1)-1664194688.jpg"},{"id":3997,"name":"Pastel Light Pink Flower Shape Stone Work Kundan Button","price":150,"image":"WBTN0173(1)-1664262245.jpg"},{"id":3998,"name":"Dark Pink Flower Shape Stone Work Kundan Button","price":250,"image":"WBTN0173A(1).jpg"},{"id":4001,"name":"Magenta Pink Flower Shape Stone Work Kundan Button","price":250,"image":"WBTN0173D(1).jpg"},{"id":4002,"name":"Golden Flower Shape Stone Work Kundan Button","price":100,"image":"WBTN0173E(1).jpg"},{"id":4004,"name":"Light Pink Flower Shape Stone Work Kundan Button","price":250,"image":"WBTN0173G(1).jpg"},{"id":4005,"name":"Red Flower Shape Stone Work Kundan Button","price":250,"image":"WBTN0173H(1).jpg"},{"id":4006,"name":"Grey Flower Shape Stone Work Kundan Button","price":250,"image":"WBTN0173I(1).jpg"},{"id":4007,"name":"Silver Flower Shape Stone Work Kundan Button","price":250,"image":"WBTN0173J(1).jpg"},{"id":4008,"name":"Light Yellow Flower Shape Stone Work Kundan Button","price":150,"image":"WBTN0173K(1).jpg"},{"id":4009,"name":"Black Flower Shape Stone Work Kundan Button","price":150,"image":"WBTN0173L(1).jpg"},{"id":4010,"name":"Rainbow White Glitter Heart Shape Light Weight Patch\/Appliques for Crafting, Kids hair Accessories etc.","price":330,"image":"PATF0082(1)-1664521658.jpg"},{"id":4011,"name":"Light Pink Glitter Heart Shape Light Weight Patch\/Appliques for Crafting, Kids hair Accessories etc.","price":330,"image":"PATF0082A(1)-1664524367.jpg"},{"id":4012,"name":"Dark Pink Glitter Heart Shape Light Weight Patch\/Appliques for Crafting, Kids hair Accessories etc.","price":330,"image":"PATF0082B(1)-1664524517.jpg"},{"id":4013,"name":"Light Golden (Pearl Matte) Color Fringes\/Kiran\/Firll Lace","price":500,"image":"FRNG0025(1)-1664611957.jpg"},{"id":4016,"name":"Wine Color Stone Belt Metal Patch","price":330,"image":"PATF0080J(1)-1665042746.jpg"},{"id":4018,"name":"Navy Blue Color Stone Belt Metal Patch","price":210,"image":"PATF0067J(1)-1665043375.jpg"},{"id":4031,"name":"Black Color Drop Shape Printed Metal Buttons For Suits, Dresses, Tops etc.","price":250,"image":"WBTN0177(1).jpg"},{"id":4032,"name":"Grey Color Drop Shape Printed Metal Buttons For Suits, Dresses, Tops etc.","price":250,"image":"WBTN0177A(1).jpg"},{"id":4033,"name":"Maroon Color Drop Shape Printed Metal Buttons For Suits, Dresses, Tops etc.","price":250,"image":"WBTN0177B(1).jpg"},{"id":4034,"name":"Dark Blue Color Drop Shape Printed Metal Buttons For Suits, Dresses, Tops etc.","price":250,"image":"WBTN0177C(1).jpg"},{"id":4035,"name":"Greenish Grey Color Drop Shape Printed Metal Buttons For Suits, Dresses, Tops etc.","price":250,"image":"WBTN0177D(1).jpg"},{"id":4036,"name":"Off-White Color Drop Shape Printed Metal Buttons For Suits, Dresses, Tops etc.","price":250,"image":"WBTN0177E(1).jpg"},{"id":4037,"name":"Magenta Color Drop Shape Printed Metal Buttons For Suits, Dresses, Tops etc.","price":250,"image":"WBTN0177F(1).jpg"},{"id":4038,"name":"Light Pink Color Drop Shape Printed Metal Buttons For Suits, Dresses, Tops etc.","price":250,"image":"WBTN0177(2).jpg"},{"id":4039,"name":"Red Color Drop Shape Printed Metal Buttons For Suits, Dresses, Tops etc.","price":250,"image":"WBTN0177H(1).jpg"},{"id":4040,"name":"Dark Green Color Drop Shape Printed Metal Buttons For Suits, Dresses, Tops etc.","price":250,"image":"WBTN0177I(1).jpg"},{"id":4041,"name":"Light Begie Color Drop Shape Printed Metal Buttons For Suits, Dresses, Tops etc.","price":250,"image":"WBTN0177J(1).jpg"},{"id":4042,"name":"Pista Green Color Drop Shape Printed Metal Buttons For Suits, Dresses, Tops etc.","price":250,"image":"WBTN0177K(1).jpg"},{"id":4043,"name":"Light Blue Color Drop Shape Printed Metal Buttons For Suits, Dresses, Tops etc.","price":250,"image":"WBTN0177L(1).jpg"},{"id":4044,"name":"Yellow Color Drop Shape Printed Metal Buttons For Suits, Dresses, Tops etc.","price":250,"image":"WBTN0177M(1).jpg"},{"id":4045,"name":"Light Green Color Drop Shape Printed Metal Buttons For Suits, Dresses, Tops etc.","price":250,"image":"WBTN0177N(1).jpg"},{"id":4047,"name":"Silver Color Rose Shape Embroidery Patch\/Applique","price":330,"image":"PATHE0215(1)-1665823258.jpg"},{"id":4059,"name":"Silver Color Round Stone Work Pearl Buttons","price":330,"image":"WBTN0162A(1)-1667544204.jpg"},{"id":4060,"name":"Round Shape Uncut Marble Buttons With Silver Metal Base","price":420,"image":"WBTN0179(1)-1667637401.jpg"},{"id":4063,"name":"Multi Color Round Shape Uncut Marble Buttons With Golden Metal Base","price":420,"image":"WBTN0180(1)-1668078160.jpg"},{"id":4064,"name":"Round Shape Uncut Marble Buttons With Golden Metal Base","price":420,"image":"WBTN0181(1)-1668078288.jpg"},{"id":4065,"name":"Light Red Round Shape Uncut Marble Buttons With Golden Metal Base","price":420,"image":"WBTN0182(1)-1668078611.jpg"},{"id":4066,"name":"Rose Gold Color Stone Work Square Shape Buttons","price":170,"image":"WBTN0183(1)-1668079823.jpg"},{"id":4067,"name":"Golden Color Stone Work Square Shape Buttons","price":170,"image":"WBTN0183A(1)-1668143329.jpg"},{"id":4068,"name":"White Color Stone Work Square Shape Buttons","price":170,"image":"WBTN0183B(1)-1668143548.jpg"},{"id":4069,"name":"White Color Stone Work Round Shape Buttons","price":170,"image":"WBTN0184(1)-1668153940.jpg"},{"id":4070,"name":"Rose Gold Color Stone Work Round Shape Buttons","price":170,"image":"WBTN0184A(1)-1668154265.jpg"},{"id":4071,"name":"Golden Color Stone Work Round Shape Buttons","price":170,"image":"WBTN0184B(1)-1668154418.jpg"},{"id":4077,"name":"Off-white color Pearl And rhinestone Work Fancy Buttons","price":280,"image":"WBTN0190(1)-1668166158.jpg"},{"id":4078,"name":"Golden Mehandi Polish color Pearl And rhinestone Work Fancy Buttons","price":280,"image":"WBTN0190A(1)-1668166643.jpg"},{"id":4079,"name":"Grey color round shape rhinestone work fancy button","price":150,"image":"WBTN0191(1)-1668684189.jpg"},{"id":4080,"name":"Pista Green color round shape rhinestone work fancy button","price":150,"image":"WBTN0191A(1)-1668757423.jpg"},{"id":4081,"name":"Baby Pink color round shape rhinestone work fancy button","price":150,"image":"WBTN0191B(1)-1668757702.jpg"},{"id":4082,"name":"Red color round shape rhinestone work fancy button","price":150,"image":"WBTN0191C(1)-1668759505.jpg"},{"id":4083,"name":"Royal Blue color round shape rhinestone work fancy button","price":150,"image":"WBTN0191D(1)-1668767675.jpg"},{"id":4084,"name":"Magenta Pink color round shape rhinestone work fancy button","price":150,"image":"WBTN0191E(1)-1668767721.jpg"},{"id":4085,"name":"Peach color round shape rhinestone work fancy button","price":150,"image":"WBTN0191F(1)-1668767782.jpg"},{"id":4086,"name":"Dark Green color round shape rhinestone work fancy button","price":150,"image":"WBTN0191G(1)-1668768153.jpg"},{"id":4087,"name":"Black color round shape rhinestone work fancy button","price":150,"image":"WBTN0191h(1)-1668768321.jpg"},{"id":4088,"name":"Sea Green color round shape rhinestone work fancy button","price":150,"image":"WBTN0191I(1)-1668768408.jpg"},{"id":4089,"name":"White color Leaf Shape Bead Work Patch","price":130,"image":"PATHE0213(1)-1668772065.jpg"},{"id":4090,"name":"Maroon color Leaf Shape Bead Work Patch","price":130,"image":"PATHE0213A(1)-1668773355.jpg"},{"id":4091,"name":"Lavender color Leaf Shape Bead Work Patch","price":130,"image":"PATHE0213(2)-1668773472.jpg"},{"id":4094,"name":"Black color Leaf Shape Bead Work Patch","price":130,"image":"PATHE0213E(1)-1668773703.jpg"},{"id":4095,"name":"Peach color Leaf Shape Bead Work Patch","price":130,"image":"PATHE0213(2)-1668773792.jpg"},{"id":4096,"name":"Red color Leaf Shape Bead Work Patch","price":130,"image":"PATHE0213P(1)-1676616210.jpg"},{"id":4098,"name":"Ferozi color Leaf Shape Bead Work Patch","price":130,"image":"PATHE0213(2)-1668774140.jpg"},{"id":4121,"name":"Light Green color round shape rhinestone work fancy button\/charms","price":210,"image":"WBTN0192(1).jpg"},{"id":4122,"name":"Magenta color round shape rhinestone work fancy button\/charms","price":210,"image":"WBTN0192A(1).jpg"},{"id":4123,"name":"Dark Green color round shape rhinestone work fancy button\/charms","price":210,"image":"WBTN0192B(1).jpg"},{"id":4124,"name":"Royal Blue color round shape rhinestone work fancy button\/charms","price":210,"image":"WBTN0192C(1).jpg"},{"id":4125,"name":"Light Pink color round shape rhinestone work fancy button\/charms","price":210,"image":"WBTN0192D(1).jpg"},{"id":4126,"name":"Black color round shape rhinestone work fancy button\/charms","price":210,"image":"WBTN0192E(1).jpg"},{"id":4127,"name":"Red color round shape rhinestone work fancy button\/charms","price":210,"image":"WBTN0192F(1).jpg"},{"id":4128,"name":"Peach color round shape rhinestone work fancy button\/charms","price":210,"image":"WBTN0192G(1).jpg"},{"id":4129,"name":"Grey color round shape rhinestone work fancy button\/charms","price":210,"image":"WBTN0192H(1).jpg"},{"id":4130,"name":"Sea Green color round shape rhinestone work fancy button\/charms","price":210,"image":"WBTN0192I(1).jpg"},{"id":4131,"name":"Grey color Pearl and Rhinestone Work Fancy Belt Metal Patch","price":320,"image":"PATF0082(1)-1669113330.jpg"},{"id":4132,"name":"Peach color Pearl and Rhinestone Work Fancy Belt Metal Patch","price":320,"image":"PATF0084A(1).jpg"},{"id":4133,"name":"Red color Pearl and Rhinestone Work Fancy Belt Metal Patch","price":320,"image":"PATF0084B(1).jpg"},{"id":4134,"name":"Rainbow color Pearl and Rhinestone Work Fancy Belt Metal Patch","price":320,"image":"PATF0084C(1).jpg"},{"id":4135,"name":"Silver color Pearl and Rhinestone Work Fancy Belt Metal Patch","price":320,"image":"PATF0084(2).jpg"},{"id":4136,"name":"Magenta color Pearl and Rhinestone Work Fancy Belt Metal Patch","price":320,"image":"PATF0084E(1).jpg"},{"id":4137,"name":"Emerald Green color Pearl and Rhinestone Work Fancy Belt Metal Patch","price":320,"image":"PATF0084I'(1)-1675061472.jpg"},{"id":4139,"name":"Maroon color Pearl and Rhinestone Work Fancy Belt Metal Patch","price":320,"image":"PATF0084H(1).jpg"},{"id":4140,"name":"Pink Round Shape Mina Buttons For Ladies Suits, Kurtis Etc.","price":210,"image":"WBTN0193(1)-1669182117.jpg"},{"id":4141,"name":"Light Pink Round Shape Mina Buttons For Ladies Suits, Kurtis Etc.","price":210,"image":"WBTN0193A(1).jpg"},{"id":4142,"name":"Peach Round Shape Mina Buttons For Ladies Suits, Kurtis Etc.","price":210,"image":"WBTN0193B(1).jpg"},{"id":4143,"name":"Dark Blue Round Shape Mina Buttons For Ladies Suits, Kurtis Etc.","price":210,"image":"WBTN0193C(1).jpg"},{"id":4144,"name":"Sea Green Round Shape Mina Buttons For Ladies Suits, Kurtis Etc.","price":210,"image":"WBTN0193D(1).jpg"},{"id":4145,"name":"Grey Round Shape Mina Buttons For Ladies Suits, Kurtis Etc.","price":210,"image":"WBTN0193E(1).jpg"},{"id":4146,"name":"Black Round Shape Mina Buttons For Ladies Suits, Kurtis Etc.","price":210,"image":"WBTN0193F(1).jpg"},{"id":4147,"name":"Pista Round Shape Mina Buttons For Ladies Suits, Kurtis Etc.","price":210,"image":"WBTN0193G(1).jpg"},{"id":4148,"name":"Dark Green Round Shape Mina Buttons For Ladies Suits, Kurtis Etc.","price":210,"image":"WBTN0193H(1).jpg"},{"id":4158,"name":"Red Color Maple Leaf Print Round Metal Buttons for ladies suits, kurtis, etc.","price":210,"image":"WBTN0194(1)-1669966126.jpg"},{"id":4159,"name":"Dark Pink Color Maple Leaf Print Round Metal Buttons for ladies suits, kurtis, etc.","price":210,"image":"WBTN0194A(1).jpg"},{"id":4160,"name":"Grey Color Maple Leaf Print Round Metal Buttons for ladies suits, kurtis, etc.","price":210,"image":"WBTN0194B(1).jpg"},{"id":4161,"name":"Pista Green Color Maple Leaf Print Round Metal Buttons for ladies suits, kurtis, etc.","price":210,"image":"WBTN0194C(1).jpg"},{"id":4162,"name":"Dark Green Color Maple Leaf Print Round Metal Buttons for ladies suits, kurtis, etc.","price":210,"image":"WBTN0194D(1).jpg"},{"id":4164,"name":"Sea Green Color Maple Leaf Print Round Metal Buttons for ladies suits, kurtis, etc.","price":210,"image":"WBTN0194F(1).jpg"},{"id":4165,"name":"Dark blue Color Maple Leaf Print Round Metal Buttons for ladies suits, kurtis, etc.","price":210,"image":"WBTN0194G(1).jpg"},{"id":4166,"name":"Light Pink Color Maple Leaf Print Round Metal Buttons for ladies suits, kurtis, etc.","price":210,"image":"WBTN0194H(1).jpg"},{"id":4167,"name":"Peach Color Maple Leaf Print Round Metal Buttons for ladies suits, kurtis, etc.","price":210,"image":"WBTN0194I(1).jpg"},{"id":4170,"name":"Maroon color Swing Tree Shape Machine Embroidery Patch for Suits, Dresses, Gowns etc.,","price":670,"image":"PATME0018B-1670569955.jpg"},{"id":4172,"name":"Red color Swing Tree Shape Machine Embroidery Patch for Suits, Dresses, Gowns etc.,","price":670,"image":"PATME0018D-1670571352.jpg"},{"id":4174,"name":"Grey color Swing Tree Shape Machine Embroidery Patch for Suits, Dresses, Gowns etc.,","price":670,"image":"PATME0018F-1670659275.jpg"},{"id":4175,"name":"Dark Blue Color Acrylic Tape Sewable (CD Tape)","price":330,"image":"CDTAP0031(2)-1670843989.jpg"},{"id":4176,"name":"Dark Sea Green Color Acrylic Tape Sewable (CD Tape)","price":330,"image":"CDTAP0032(2)-1670844065.jpg"},{"id":4177,"name":"Dark Red Color Acrylic Tape Sewable (CD Tape)","price":330,"image":"CDTAP0033(2)-1670844103.jpg"},{"id":4178,"name":"Light Green Color Acrylic Tape Sewable (CD Tape)","price":330,"image":"CDTAP0034(2)-1670844264.jpg"},{"id":4179,"name":"Light Pink Color Acrylic Tape Sewable (CD Tape)","price":330,"image":"CDTAP0035(2)-1670844297.jpg"},{"id":4184,"name":"Silver Color Rhinestone Rectangular Shape Fancy Buttons","price":330,"image":"WBTN00195(1)-1671092747.jpg"},{"id":4185,"name":"Black Color Rhinestone Rectangular Shape Fancy Buttons","price":330,"image":"WBTN00195L(1)-1678704012.jpg"},{"id":4186,"name":"Magenta Pink Color Rhinestone Rectangular Shape Fancy Buttons","price":330,"image":"WBTN00195B(1).jpg"},{"id":4187,"name":"Light Pink Color Rhinestone Rectangular Shape Fancy Buttons","price":330,"image":"WBTN00195C(1).jpg"},{"id":4188,"name":"Emerald Green Color Rhinestone Rectangular Shape Fancy Buttons","price":330,"image":"WBTN00195D(1).jpg"},{"id":4189,"name":"Grey Color Rhinestone Rectangular Shape Fancy Buttons","price":330,"image":"WBTN00195E(1).jpg"},{"id":4190,"name":"Navy Blue Color Rhinestone Rectangular Shape Fancy Buttons","price":170,"image":"WBTN00195F(1).jpg"},{"id":4191,"name":"Maroon Color Rhinestone Rectangular Shape Fancy Buttons","price":330,"image":"WBTN00195G(1).jpg"},{"id":4192,"name":"Red Color Rhinestone Rectangular Shape Fancy Buttons","price":330,"image":"WBTN00195H(1).jpg"},{"id":4193,"name":"Wine Color Rhinestone Rectangular Shape Fancy Buttons","price":330,"image":"WBTN00195I(1).jpg"},{"id":4194,"name":"Peach Color Rhinestone Rectangular Shape Fancy Buttons","price":330,"image":"WBTN00195J(1).jpg"},{"id":4195,"name":"Golden Color Rhinestone Rectangular Shape Fancy Buttons","price":330,"image":"WBTN00195K(1).jpg"},{"id":4199,"name":"Golden Double Infinity Fancy Belt Metal Patches","price":250,"image":"PATF0085B(1)-1671530311.jpg"},{"id":4201,"name":"Golden Color hanging style oxidized metal button","price":200,"image":"WBTN00196A(1)-1671694041.jpg"},{"id":4203,"name":"Golden Color hanging style net design oxidized metal button","price":300,"image":"WBTN00198(1)-1671695766.jpg"},{"id":4207,"name":"Peach Color Square Shape Rhinestone and Pearl Work Fancy Buttons","price":210,"image":"WBTN00200B(1)-1671697477.jpg"},{"id":4208,"name":"Pista Green Hexagon Shape Kundan\/Mina Buttons","price":210,"image":"WBTN00201(1)-1671785634.jpg"},{"id":4238,"name":"Red Hexagon Shape Kundan\/Mina Buttons","price":210,"image":"WBTN00201A(1).jpg"},{"id":4239,"name":"Baby Pink Hexagon Shape Kundan\/Mina Buttons","price":210,"image":"WBTN00201B(1).jpg"},{"id":4240,"name":"Dark Green Hexagon Shape Kundan\/Mina Buttons","price":210,"image":"WBTN00201C(1).jpg"},{"id":4241,"name":"Grey Hexagon Shape Kundan\/Mina Buttons","price":210,"image":"WBTN00201D(1).jpg"},{"id":4242,"name":"Black Hexagon Shape Kundan\/Mina Buttons","price":210,"image":"WBTN00201E(1).jpg"},{"id":4243,"name":"Magenta Hexagon Shape Kundan\/Mina Buttons","price":210,"image":"WBTN00201F(1).jpg"},{"id":4244,"name":"Blue Hexagon Shape Kundan\/Mina Buttons","price":210,"image":"WBTN00201G(1).jpg"},{"id":4245,"name":"Sea Green Hexagon Shape Kundan\/Mina Buttons","price":210,"image":"WBTN00201H(1).jpg"},{"id":4246,"name":"Dark Peach Hexagon Shape Kundan\/Mina Buttons","price":210,"image":"WBTN00201I(1).jpg"},{"id":4247,"name":"Black Triangular Shape Kundan\/Mina Buttons","price":250,"image":"WBTN00202(1).jpg"},{"id":4248,"name":"Blue Triangular Shape Kundan\/Mina Buttons","price":250,"image":"WBTN00202A(1).jpg"},{"id":4249,"name":"Baby Pink Triangular Shape Kundan\/Mina Buttons","price":250,"image":"WBTN00202B(1).jpg"},{"id":4250,"name":"Dark Peach Triangular Shape Kundan\/Mina Buttons","price":250,"image":"WBTN00202C(1).jpg"},{"id":4251,"name":"Sea Green Triangular Shape Kundan\/Mina Buttons","price":250,"image":"WBTN00202D(1).jpg"},{"id":4252,"name":"Pista Green Triangular Shape Kundan\/Mina Buttons","price":250,"image":"WBTN00202E(1).jpg"},{"id":4253,"name":"Dark Green Triangular Shape Kundan\/Mina Buttons","price":250,"image":"WBTN00202F(1).jpg"},{"id":4254,"name":"Grey Triangular Shape Kundan\/Mina Buttons","price":250,"image":"WBTN00202G(1).jpg"},{"id":4255,"name":"Magenta Triangular Shape Kundan\/Mina Buttons","price":250,"image":"WBTN00202H(1).jpg"},{"id":4256,"name":"Red Triangular Shape Kundan\/Mina Buttons","price":250,"image":"WBTN00202I(1).jpg"},{"id":4257,"name":"Pista Green Oval Shape Kundan\/Mina Buttons","price":250,"image":"WBTN00203(1).jpg"},{"id":4258,"name":"Grey Oval Shape Kundan\/Mina Buttons","price":250,"image":"WBTN00203A(1).jpg"},{"id":4259,"name":"Sea Green Oval Shape Kundan\/Mina Buttons","price":250,"image":"WBTN00203B(1).jpg"},{"id":4260,"name":"Black Oval Shape Kundan\/Mina Buttons","price":250,"image":"WBTN00203C(1).jpg"},{"id":4261,"name":"Magenta Oval Shape Kundan\/Mina Buttons","price":250,"image":"WBTN00203D(1).jpg"},{"id":4262,"name":"Red Oval Shape Kundan\/Mina Buttons","price":250,"image":"WBTN00203E(1).jpg"},{"id":4263,"name":"Dark peach Oval Shape Kundan\/Mina Buttons","price":250,"image":"WBTN00203F(1).jpg"},{"id":4264,"name":"Dark Green Oval Shape Kundan\/Mina Buttons","price":250,"image":"WBTN00203G(1).jpg"},{"id":4265,"name":"Baby Pink Oval Shape Kundan\/Mina Buttons","price":250,"image":"WBTN00203H(1).jpg"},{"id":4266,"name":"Blue Oval Shape Kundan\/Mina Buttons","price":250,"image":"WBTN00203I(1).jpg"},{"id":4267,"name":"Pista Green Rectangle Shape Kundan\/Mina Buttons","price":250,"image":"WBTN00204(1).jpg"},{"id":4268,"name":"Red Rectangle Shape Kundan\/Mina Buttons","price":250,"image":"WBTN00204A(1).jpg"},{"id":4269,"name":"Sea Green Rectangle Shape Kundan\/Mina Buttons","price":250,"image":"WBTN00204B(1).jpg"},{"id":4271,"name":"Blue Rectangle Shape Kundan\/Mina Buttons","price":250,"image":"WBTN00204D(1).jpg"},{"id":4272,"name":"Magenta Rectangle Shape Kundan\/Mina Buttons","price":250,"image":"WBTN00204E(1).jpg"},{"id":4273,"name":"Dark Green Rectangle Shape Kundan\/Mina Buttons","price":250,"image":"WBTN00204F(1).jpg"},{"id":4274,"name":"Dark Peach Rectangle Shape Kundan\/Mina Buttons","price":250,"image":"WBTN00204G(1).jpg"},{"id":4275,"name":"Grey Rectangle Shape Kundan\/Mina Buttons","price":250,"image":"WBTN00204H(1).jpg"},{"id":4276,"name":"Black Rectangle Shape Kundan\/Mina Buttons","price":250,"image":"WBTN00204I(1).jpg"},{"id":4277,"name":"Magenta Drop Shape Kundan\/Mina Buttons","price":210,"image":"WBTN00205(1).jpg"},{"id":4278,"name":"Baby Pink Drop Shape Kundan\/Mina Buttons","price":210,"image":"WBTN00205A(1).jpg"},{"id":4279,"name":"Dark Green Drop Shape Kundan\/Mina Buttons","price":210,"image":"WBTN00205B(1).jpg"},{"id":4280,"name":"Sea Green Drop Shape Kundan\/Mina Buttons","price":210,"image":"WBTN00205C(1).jpg"},{"id":4281,"name":"Blue Drop Shape Kundan\/Mina Buttons","price":210,"image":"WBTN00205D(1).jpg"},{"id":4282,"name":"Red Drop Shape Kundan\/Mina Buttons","price":210,"image":"WBTN00205E(1).jpg"},{"id":4283,"name":"Pista Green Drop Shape Kundan\/Mina Buttons","price":210,"image":"WBTN00205F(1).jpg"},{"id":4284,"name":"Black Drop Shape Kundan\/Mina Buttons","price":210,"image":"WBTN00205G(1).jpg"},{"id":4285,"name":"Grey Drop Shape Kundan\/Mina Buttons","price":210,"image":"WBTN00205H(1).jpg"},{"id":4286,"name":"Peach Drop Shape Kundan\/Mina Buttons","price":210,"image":"WBTN00205I(1).jpg"},{"id":4287,"name":"Multi Color Ring Shape Plastic Beads","price":250,"image":"PLSBD0089(2)-1672314667.jpg"},{"id":4288,"name":"Golden CHANEL Design Plastic Beads","price":330,"image":"PLSBD0090(1)-1672314938.jpg"},{"id":4289,"name":"Light Brown Color Teddy Outline Plastic Beads","price":330,"image":"PLSBD0091(1)-1672386556.jpg"},{"id":4291,"name":"Golden Color Round Ring Shape Plastic Beads","price":250,"image":"PLSBD0092(1)-1672396513.jpg"},{"id":4292,"name":"Golden Color Hexagon Shape Plastic Beads","price":330,"image":"PLSBD0093(1)-1672397468.jpg"},{"id":4293,"name":"Silver Color Flower Shape Plastic Beads","price":330,"image":"PLSBD0094(1)-1672398405.jpg"},{"id":4294,"name":"Multi Color Teddy Outline Plastic Beads","price":330,"image":"PLSBD0095(1)-1672398960.jpg"},{"id":4295,"name":"Round Shape Silver Color Buckle for cardigans, dupattas, gowns, belts, bellies etc.","price":330,"image":"BUCL0091(1)-1672401299-1672402789.jpg"},{"id":4296,"name":"Multi Color Drop Shape Plastic Beads for jewllery making, suits, dresses, craft etc.","price":250,"image":"PLSBD0096(1)-1672467843.jpg"},{"id":4297,"name":"Multi Color Heart Shape Plastic Beads for jewllery making, suits, dresses, craft etc.","price":250,"image":"PLSBD0097(1)-1672468129.jpg"},{"id":4298,"name":"Brown Color Round Shape Plastic Beads for jewllery making, suits, dresses, craft etc.","price":330,"image":"PLSBD0098(1)-1672468328.jpg"},{"id":4299,"name":"Multi Color Star Shape Plastic Beads for jewllery making, suits, dresses, craft etc.","price":250,"image":"PLSBD0099(2)-1672468682.jpg"},{"id":4300,"name":"Light Multi Color Star Shape Plastic Beads for jewllery making, suits, dresses, craft etc.","price":250,"image":"PLSBD0100(2)-1672468864.jpg"},{"id":4301,"name":"Dark Brown Color Ring Shape Plastic Beads for jewllery making, suits, dresses, craft etc.","price":250,"image":"PLSBD0101(1)-1672470690.jpg"},{"id":4302,"name":"Multi Color Small Heart Shape Plastic Beads for jewllery making, suits, dresses, craft etc.","price":250,"image":"PLSBD0102(2)-1672480002.jpg"},{"id":4303,"name":"Multi Color Small Butterfly Shape Plastic Beads for jewllery making, suits, dresses, craft etc.","price":250,"image":"PLSBD0103(2)-1672480177.jpg"},{"id":4304,"name":"Off-White Color Rounded Cuboidal Shape Plastic Beads for jewllery making, crafting, dresses, etc.","price":250,"image":"PLSBD0104(2)-1672480601.jpg"},{"id":4305,"name":"Multi Color Cubical Shape Plastic Beads for jewllery making, suits, dresses, craft etc.","price":250,"image":"PLSBD0105(2)-1672480867.jpg"},{"id":4306,"name":"Natural Single Drilled Hole Natural Cowrie Kauri Shell Beads for Adornment Beads\/Jewellery Making","price":250,"image":"SHL0010B(3)-1672482641.jpg"},{"id":4307,"name":"White Color Natural Single Drilled Hole Natural Cowrie Kauri Shell Beads for Adornment Beads\/Jewellery Making","price":250,"image":"SHL0010(1)-1672482935.jpg"},{"id":4308,"name":"White Sea Shell, Seashells for Decoration, Aquarium, Table, Vase, Dresses, Jewllery Making","price":250,"image":"SHL0011(1)-1672483334.jpg"},{"id":4309,"name":"Light Golden Color Fringes\/Kiran\/Frill Lace","price":500,"image":"FRNG0025A(1)-1672656259.jpg"},{"id":4310,"name":"Dark Golden Color Fringes\/Kiran\/Frill Lace","price":500,"image":"FRNG0025B(1)-1672656465.jpg"},{"id":4311,"name":"Silver Color Fringes\/Kiran\/Frill Lace","price":500,"image":"FRNG0009X(4)-1672656669.jpg"},{"id":4312,"name":"Water Golden Color Fringes\/Kiran\/Frill Lace","price":300,"image":"FRNG0009D(2)-1672657045.jpg"},{"id":4313,"name":"Big Sea Shells Beads, Natural Spiral Sea Shelss, Ocean Theme Summer Jewelry Supplies, Conch Shell Beads,","price":250,"image":"SHL0008(3)-1672657997.jpg"},{"id":4314,"name":"Big Sea Shells Beads, Natural Spiral Sea Shelss, Ocean Theme Summer Jewelry Supplies, Conch Shell Beads, Spiral Shell Beads","price":250,"image":"SHL0009(2)-1672658145.jpg"},{"id":4315,"name":"Mustard Color Felt Fabric Flowers For Dresses, Crafting, Decoration etc.","price":170,"image":"FLR0021(1)-1672901960.jpg"},{"id":4316,"name":"Yellow Color Felt Fabric Flowers For Dresses, Crafting, Decoration etc.","price":20,"image":"FLR0021A(1)-1672902090.jpg"},{"id":4317,"name":"Grey Color Felt Fabric Flowers For Dresses, Crafting, Decoration etc.","price":170,"image":"FLR0021B(1)-1672902208.jpg"},{"id":4318,"name":"Skin Color Felt Fabric Flowers For Dresses, Crafting, Decoration etc.","price":170,"image":"FLR0021C(1)-1672902328.jpg"},{"id":4319,"name":"Ferozi Color Felt Fabric Flowers For Dresses, Crafting, Decoration etc.","price":170,"image":"FLR0021D(1)-1672902612.jpg"},{"id":4320,"name":"Light Brown Color Felt Fabric Flowers For Dresses, Crafting, Decoration etc.","price":170,"image":"FLR0021E(1)-1672906488.jpg"},{"id":4321,"name":"Green Color Felt Fabric Flowers For Dresses, Crafting, Decoration etc.","price":170,"image":"FLR0021F(1)-1672916695.jpg"},{"id":4322,"name":"Light Peach Color Felt Fabric Flowers For Dresses, Crafting, Decoration etc.","price":170,"image":"FLR0021G(1)-1672917025.jpg"},{"id":4323,"name":"Metallic Grey Color Rectangle Shape 2 piece Metal Buckle","price":300,"image":"BUCL0092(1)-1672981830.jpg"},{"id":4324,"name":"Metallic Grey Color Rectangle Shape Heart Design 2 piece Metal Buckle","price":300,"image":"BUCL0093(1)-1672982336.jpg"},{"id":4325,"name":"Green Color Non Woven Wedding Lehenga Gown Long Dress Garment Cover Bags 63\" with 12\" Gusset with Back Zip","price":270,"image":"CVR0001(1)-1673514814.jpg"},{"id":4326,"name":"Red Color Non Woven Wedding Lehenga Gown Long Dress Garment Cover Bags 63\" with 12\" Gusset with Back Zip","price":290,"image":"CVR0002(2)-1673515205.jpg"},{"id":4327,"name":"Golden Color Small Size Mirror Work Zardozi Patch","price":230,"image":"PATZRD0001(1)-1673593342.jpg"},{"id":4328,"name":"Silver Color Small Size Mirror Work Zardozi Patch","price":230,"image":"PATZRD0001A(1)-1673596712.jpg"},{"id":4330,"name":"Golden Round Shape Mirror Zardozi Pathes\/Appliques","price":330,"image":"PATZRD0003(1)-1673599710.jpg"},{"id":4331,"name":"Cream Color Dabka Work Round Shape Zardozi Patch\/Applique","price":270,"image":"PATZRD0004(1)-1673600150.jpg"},{"id":4332,"name":"White Color Pearl and Dabka Work Zardozi Patch\/Applique","price":200,"image":"PATZRD0005(1)-1673600526.jpg"},{"id":4333,"name":"Light Golden Color Pearl and Dabka Work Zardozi Patch\/Applique","price":200,"image":"PATZRD0005A(1)-1673601350.jpg"},{"id":4334,"name":"Rose Golden Color Pearl and Dabka Work Zardozi Patch\/Applique","price":200,"image":"PATZRD0005B(1)-1673601797.jpg"},{"id":4335,"name":"Dark Golden Color Pearl and Dabka Work Zardozi Patch\/Applique","price":200,"image":"PATZRD0005C(1)-1673602081.jpg"},{"id":4336,"name":"Silver Color Small Size Fringes\/Kiran\/Frill Lace","price":250,"image":"FRNG0027(1)-1673676972.jpg"},{"id":4337,"name":"Golden Color Small Size Fringes\/Kiran\/Frill Lace","price":250,"image":"FRNG0027A(1)-1673677713.jpg"},{"id":4338,"name":"Silver-Golden Color Small Size Fringes\/Kiran\/Frill Lace","price":250,"image":"FRNG0027B(2)-1673678067.jpg"},{"id":4339,"name":"Pearl Matte(Light Gold) Color Small Size Fringes\/Kiran\/Frill Lace","price":250,"image":"FRNG0027C(1)-1673678290.jpg"},{"id":4340,"name":"Rose Golden Color Small Size Fringes\/Kiran\/Frill Lace","price":250,"image":"FRNG0027D(1)-1673678599.jpg"},{"id":4341,"name":"Golden Zari zardosi Fully Hand Embroidery Work Applique Patches for Clothes Dress Designing Jewellery Making Neck sew Decorative Art Craft","price":230,"image":"PATZRD0006(1)-1673679288.jpg"},{"id":4342,"name":"Off-White Zari zardosi Fully Hand Embroidery Work Applique Patches for Clothes Dress Designing Jewellery Making Neck sew Decorative Art Craft","price":230,"image":"PATZRD0006(2)-1673679545.jpg"},{"id":4343,"name":"Golden Dabka-Nakshi Work Buti Zardozi Patch","price":230,"image":"PATZRD0007(1)-1673689866.jpg"},{"id":4344,"name":"Silver Dabka-Nakshi Work Buti Zardozi Patch","price":230,"image":"PATZRD0007A(1)-1673689898.jpg"},{"id":4345,"name":"Antique Dabka-Nakshi Work Buti Zardozi Patch","price":230,"image":"PATZRD0007B(1)-1673689927.jpg"},{"id":4346,"name":"Dark Golden Dabka-Nakshi Work Buti Zardozi Patch","price":230,"image":"PATZRD0007C(1)-1673689962.jpg"},{"id":4347,"name":"Golden Round Shape Nakshi and Stone Work Zardozi Patch","price":170,"image":"PATZRD0008(1)-1673690171.jpg"},{"id":4348,"name":"Golden Buti\/Flower Shape Kundan Work Zardozi Patch","price":230,"image":"PATZRD0009(1)-1673690452.jpg"},{"id":4349,"name":"Rose Gold Buti\/Flower Shape Gota Work Zardozi Patch","price":210,"image":"PATZRD00010(1)-1673694987.jpg"},{"id":4350,"name":"Golden Buti\/Flower Shape Gota Work Zardozi Patch","price":210,"image":"PATZRD00010A(1)-1673695279.jpg"},{"id":4351,"name":"Silver Golden Buti\/Flower Shape Gota Work Zardozi Patch","price":210,"image":"PATZRD00010B(1)-1673695357.jpg"},{"id":4352,"name":"Golden Color Dabka Work Handmade Zardozi Patch","price":280,"image":"PATZRD00015(1)-1673695968.jpg"},{"id":4353,"name":"Dull Golden Color Pot Shape Dabka Work Handmade Zardozi Patch","price":350,"image":"PATZRD00016(1)-1673696163.jpg"},{"id":4354,"name":"Dull Golden Color Dabka Work Radio Shape Handmade Zardozi Patch","price":300,"image":"PATZRD00017(1)-1673696532.jpg"},{"id":4355,"name":"Dull Golden Color Dabka Work Bird Shape Handmade Zardozi Patch","price":230,"image":"PATZRD00018(1)-1673696819.jpg"},{"id":4356,"name":"Silver color Dabka nakshi Work hand embroidery Zardozi Patch","price":250,"image":"PATZRD00011(1)-1673698636.jpg"},{"id":4357,"name":"Silver color Dabka nakshi Work hand embroidery Zardozi Patch","price":250,"image":"PATZRD00012(1)-1673698614.jpg"},{"id":4358,"name":"Silver color Cutdana Nakshi Work hand embroidery Zardozi Patch","price":290,"image":"PATZRD00013(1)-1673698588.jpg"},{"id":4359,"name":"Silver color Dabka and Beads Work hand embroidery Zardozi Patch","price":290,"image":"PATZRD00014(1)-1673698553.jpg"},{"id":4360,"name":"Metallic Grey color Dabka and Beads Work hand embroidery Zardozi Patch","price":290,"image":"PATZRD00014A(1)-1673698532.jpg"},{"id":4364,"name":"Silver Sequins Work Fringes\/Kiran\/Frill Laces for dupattas, suits etc.","price":500,"image":"FRNG0028C(2)-1674213130.jpg"},{"id":4365,"name":"Water Golden Sequins Work Fringes\/Kiran\/Frill Laces for dupattas, suits etc.","price":500,"image":"FRNG0028D(2)-1674213442.jpg"},{"id":4367,"name":"Golden color Sequins Work Fringes\/Kiran\/Frill Laces for dupattas, suits etc.","price":500,"image":"FRNG0028F(2)-1674290344.jpg"},{"id":4368,"name":"White Color Beaded Pearl Lace, Moti Lace for Dupatta, Suits etc. 6mm Beads Size","price":750,"image":"PRLC0003(1)-1674293433.jpg"},{"id":4369,"name":"Bright Golden Color Bead Lace, Moti Lace for Dupatta, Suits etc. 6mm Beads Size","price":750,"image":"PRLC0003A(2)-1674295423.jpg"},{"id":4370,"name":"Off-White Color With Rainbow Piping Beaded Pearl Lace, Moti Lace for Dupatta, Suits etc. 4mm and 6mm Bead Size","price":750,"image":"PRLC0003B(2)-1674295753.jpg"},{"id":4371,"name":"Off-White Color With Rose Gold Piping Beaded Pearl Lace, Moti Lace for Dupatta, Suits etc. 4mm Bead Size","price":750,"image":"PRLC0004(1)-1674297332.jpg"},{"id":4372,"name":"Off-White Color Beaded Pearl Lace, Moti Lace for Dupatta, Suits etc. 4mm Bead Size","price":750,"image":"PRLC0004A(4)-1674297549.jpg"},{"id":4373,"name":"Off-White and Golden Beads With Rose Gold Piping Beaded Pearl Lace, Moti Lace for Dupatta, Suits etc. 4mm and 6mm Bead Size","price":750,"image":"PRLC0004B(2)-1674300353.jpg"},{"id":4374,"name":"Off-White Color With Golden Piping Beaded Pearl Lace, Moti Lace for Dupatta, Suits etc. 4mm Bead Size","price":750,"image":"PRLC0004C(2)-1674300827.jpg"},{"id":4375,"name":"Off-White Beads With Rose Gold Piping Beaded Pearl Lace, Moti Lace for Dupatta, Suits etc. 3mm Bead Size","price":750,"image":"PRLC0005(1)-1674301617.jpg"},{"id":4376,"name":"Silver Color Boat (kishti)\/Eye Shape Sew-on Crystal Glass Stones With Clip Frame","price":420,"image":"GLST0018(1)-1674469299.jpg"},{"id":4377,"name":"Light Golden Color Boat (kishti)\/Eye Shape Sew-on Crystal Glass Stones With Clip Frame","price":580,"image":"GLST0018A(1)-1674473091.jpg"},{"id":4378,"name":"Grey Color Boat (kishti)\/Eye Shape Sew-on Crystal Glass Stones With Clip Frame","price":540,"image":"GLST0018B(1)-1674473108.jpg"},{"id":4380,"name":"Dark Golden(LCT) Color Drop\/Paan Shape Sew-on Crystal Glass Stones With Clip Frame - 13 x 8 mm","price":420,"image":"GLST0019A(1)-1674473143.jpg"},{"id":4381,"name":"Grey Color Drop\/Paan Shape Sew-on Crystal Glass Stones With Clip Frame - 13 x 8 mm","price":500,"image":"GLST0019B(1)-1674473159.jpg"},{"id":4382,"name":"Silver Color Eye Shape Sew-on Crystal Glass Stones With Clip Frame - 10 x 5 mm","price":330,"image":"GLST0020(1)-1674473197.jpg"},{"id":4383,"name":"Grey Color Eye Shape Sew-on Crystal Glass Stones With Clip Frame - 10 x 5 mm","price":380,"image":"GLST0020B(1)-1674473280.jpg"},{"id":4384,"name":"Dark Golden(LCT) Color Eye Shape Sew-on Crystal Glass Stones With Clip Frame - 10 x 5 mm","price":330,"image":"GLST0020B(2)-1674473371.jpg"},{"id":4385,"name":"Silver Color Eye Shape Sew-on Crystal Glass Stones With Clip Frame - 15 x 7 mm","price":420,"image":"GLST0021(1)-1674473398.jpg"},{"id":4386,"name":"Grey Color Eye Shape Sew-on Crystal Glass Stones With Clip Frame - 15 x 7 mm","price":500,"image":"GLST0021A(1)-1674473414.jpg"},{"id":4387,"name":"Dark Golden(LCT) Color Eye Shape Sew-on Crystal Glass Stones With Clip Frame - 8 x 4 mm","price":330,"image":"GLST0022(1)-1674473439.jpg"},{"id":4389,"name":"Grey Color Drop\/Paan Shape Sew-on Crystal Glass Stones With Clip Frame - 10 x 6 mm","price":500,"image":"GLST0023A(1)-1674473513.jpg"},{"id":4390,"name":"Dark Golden(LCT) Color Drop\/Paan Shape Sew-on Crystal Glass Stones With Clip Frame - 10 x 6 mm","price":330,"image":"GLST0023B(1)-1674473552.jpg"},{"id":4391,"name":"Dark Golden(LCT) Color Rectangle Shape Sew-on Crystal Glass Stones With Clip Frame - 10 x 5 mm","price":500,"image":"GLST0024(1)-1674473570.jpg"},{"id":4392,"name":"Light Golden Color Rectangle Shape Sew-on Crystal Glass Stones With Clip Frame - 10 x 5 mm","price":580,"image":"GLST0024a(1)-1674473587.jpg"},{"id":4393,"name":"Grey Color Rectangle Shape Sew-on Crystal Glass Stones With Clip Frame - 10 x 5 mm","price":580,"image":"GLST0024B(1)-1674473611.jpg"},{"id":4394,"name":"Dull Golden color Mirror , Dabka and Beads Work hand embroidery Zardozi Patch","price":250,"image":"PATZRD00019(1).jpg"},{"id":4395,"name":"Peach color Dabka and Beads Work hand embroidery Zardozi Patch","price":230,"image":"PATZRD00020(1).jpg"},{"id":4396,"name":"White color Dabka and Beads Work hand embroidery Zardozi Patch","price":230,"image":"PATZRD00020A(1).jpg"},{"id":4398,"name":"Silver color Dabka Work hand embroidery Zardozi Patch","price":230,"image":"PATZRD00021A(1).jpg"},{"id":4399,"name":"Rose Gold color Zari and Pearl Beads Work hand embroidery Zardozi Patch","price":250,"image":"PATZRD00022(1).jpg"},{"id":4400,"name":"Golden color Zari and Pearl Beads Work hand embroidery Zardozi Patch","price":250,"image":"PATZRD00022A(1).jpg"},{"id":4402,"name":"White color Dabka and Pearl Beads Work hand embroidery Zardozi Patch","price":170,"image":"PATZRD00023A(1).jpg"},{"id":4403,"name":"Black-Golden color Dabka, Nakshi and Beads Work Scorpio shape hand embroidery Zardozi Patch","price":400,"image":"PATZRD00024(1)-1674645267.jpg"},{"id":4421,"name":"Wine Color Eye Shape Sew-on Crystal Glass Stones With Clip Frame - 15 x 7 mm","price":580,"image":"GLST0021B(1).jpg"},{"id":4422,"name":"Sky Blue Color Eye Shape Sew-on Crystal Glass Stones With Clip Frame - 15 x 7 mm","price":580,"image":"GLST0021C(1).jpg"},{"id":4423,"name":"Royal Blue Color Eye Shape Sew-on Crystal Glass Stones With Clip Frame - 15 x 7 mm","price":580,"image":"GLST0021D(1).jpg"},{"id":4424,"name":"Rust Color Eye Shape Sew-on Crystal Glass Stones With Clip Frame - 15 x 7 mm","price":580,"image":"GLST0021E(1).jpg"},{"id":4425,"name":"Emerald Green Color Eye Shape Sew-on Crystal Glass Stones With Clip Frame - 15 x 7 mm","price":580,"image":"GLST0021f(1)-1674820736.jpg"},{"id":4426,"name":"Red Color Eye Shape Sew-on Crystal Glass Stones With Clip Frame - 15 x 7 mm","price":580,"image":"GLST0021G(1).jpg"},{"id":4427,"name":"Balck Color Eye Shape Sew-on Crystal Glass Stones With Clip Frame - 15 x 7 mm","price":580,"image":"GLST0021H(1).jpg"},{"id":4428,"name":"Light Pink Color Eye Shape Sew-on Crystal Glass Stones With Clip Frame - 15 x 7 mm","price":580,"image":"GLST0021I(1).jpg"},{"id":4429,"name":"Orange Color Eye Shape Sew-on Crystal Glass Stones With Clip Frame - 15 x 7 mm","price":580,"image":"GLST0021J(1)-1675072832.jpg"},{"id":4430,"name":"Navy Blue Color Eye Shape Sew-on Crystal Glass Stones With Clip Frame - 15 x 7 mm","price":580,"image":"GLST0021K(1).jpg"},{"id":4431,"name":"Magenta Color Eye Shape Sew-on Crystal Glass Stones With Clip Frame - 15 x 7 mm","price":580,"image":"GLST0021L(1).jpg"},{"id":4432,"name":"Light Green(Peridot) Color Eye Shape Sew-on Crystal Glass Stones With Clip Frame - 15 x 7 mm","price":580,"image":"GLST0021M(1).jpg"},{"id":4433,"name":"Peach Color Eye Shape Sew-on Crystal Glass Stones With Clip Frame - 15 x 7 mm","price":580,"image":"GLST0021N(1).jpg"},{"id":4434,"name":"Rainbow Color Eye Shape Sew-on Crystal Glass Stones With Clip Frame - 15 x 7 mm","price":580,"image":"GLST0021O(1).jpg"},{"id":4435,"name":"Dark Ferozi Color Eye Shape Sew-on Crystal Glass Stones With Clip Frame - 15 x 7 mm","price":580,"image":"GLST0021P(1).jpg"},{"id":4436,"name":"Grass Green\/Fern Green Color Eye Shape Sew-on Crystal Glass Stones With Clip Frame - 15 x 7 mm","price":580,"image":"GLST0021Q(1).jpg"},{"id":4437,"name":"Light Ferozi Color Eye Shape Sew-on Crystal Glass Stones With Clip Frame - 15 x 7 mm","price":580,"image":"GLST0021R(1).jpg"},{"id":4438,"name":"Golden Round Shape Blazer\/Coat Buttons","price":680,"image":"MCBTN00109(2)-1675238487.jpg"},{"id":4439,"name":"White Round Shape Blazer\/Coat Buttons","price":680,"image":"MCBTN00110(1)-1675239582.jpg"},{"id":4440,"name":"Golden Round Shape Blazer\/Coat Buttons with wings embossed","price":680,"image":"MCBTN00111(1)-1675239615.jpg"},{"id":4441,"name":"Golden Round Shape Blazer\/Coat Buttons with Star Design","price":680,"image":"MCBTN00112(1)-1675239657.jpg"},{"id":4442,"name":"Metallic Grey Round Shape Blazer\/Coat Buttons","price":680,"image":"MCBTN00113(1)-1675239684.jpg"},{"id":4443,"name":"Blue-Golden Round Shape Blazer\/Coat Buttons","price":680,"image":"MCBTN00114(1)-1675239701.jpg"},{"id":4444,"name":"Grey round shape rhinestone work fancy button","price":200,"image":"WBTN00209(1)-1675497510.jpg"},{"id":4445,"name":"Light Pink round shape rhinestone work fancy button","price":200,"image":"WBTN00209A(1)-1675510141.jpg"},{"id":4446,"name":"Red round shape rhinestone work fancy button","price":200,"image":"WBTN00209B(1)-1675510168.jpg"},{"id":4447,"name":"Black round shape rhinestone work fancy button","price":200,"image":"WBTN00209C(1)-1675510213.jpg"},{"id":4448,"name":"Navy Blue round shape rhinestone work fancy button","price":200,"image":"WBTN00209D(1)-1675510258.jpg"},{"id":4449,"name":"Blue round shape rhinestone work fancy button","price":200,"image":"WBTN00209E(1)-1675510281.jpg"},{"id":4450,"name":"Magenta round shape rhinestone work fancy button","price":200,"image":"WBTN00209F(1)-1675510320.jpg"},{"id":4451,"name":"Royal blue round shape rhinestone work fancy button","price":200,"image":"WBTN00209G(1)-1675510333.jpg"},{"id":4452,"name":"Maroon round shape rhinestone work fancy button","price":200,"image":"WBTN00209H(1)-1675510405.jpg"},{"id":4453,"name":"Green color Round Shape Metal Zircon Balls","price":290,"image":"WBTN00206(1)-1675672393.jpg"},{"id":4454,"name":"Light Blue color Round Shape Metal Zircon Balls","price":290,"image":"WBTN00206A(1)-1675748524.jpg"},{"id":4455,"name":"Light Mauve color Round Shape Metal Zircon Balls","price":290,"image":"WBTN00206B(1)-1675748669.jpg"},{"id":4456,"name":"Red-Silver color Round Shape Metal Zircon Balls","price":350,"image":"WBTN00207(1)-1675748880.jpg"},{"id":4457,"name":"Metallic Grey color Round Shape Metal Balls","price":175,"image":"WBTN00208(1)-1675749154.jpg"},{"id":4458,"name":"Ferozi color Round Shape Metal Zircon Balls","price":290,"image":"WBTN00206C(1)-1675751726.jpg"},{"id":4459,"name":"Navy Blue color Round Shape Metal Zircon Balls","price":290,"image":"WBTN00206D(1)-1675751758.jpg"},{"id":4460,"name":"Wine color Round Shape Metal Zircon Balls","price":290,"image":"WBTN00206E(1)-1675751789.jpg"},{"id":4461,"name":"Red color Round Shape Metal Zircon Balls","price":290,"image":"WBTN00206f(1)-1675752159.jpg"},{"id":4462,"name":"Royal Blue color Round Shape Metal Zircon Balls","price":290,"image":"WBTN00206H(1)-1675752299.jpg"},{"id":4463,"name":"Black color Round Shape Metal Zircon Balls","price":290,"image":"WBTN00206I(1)-1675752586.jpg"},{"id":4464,"name":"Brown color Round Shape Metal Zircon Balls","price":290,"image":"WBTN00206J(1)-1675752630.jpg"},{"id":4465,"name":"Golden color dabka nakshi work patch Hand Embroidery Patch\/Applique","price":280,"image":"PATZRD00026(1)-1675768605.jpg"},{"id":4466,"name":"Dark Ferozi Color Sew On Rhinestone \/ Softi \/ Chatons in Flat Back Metal Setting (8mm-40ss)","price":290,"image":"SOFTI0002D(1)-1675835068.jpg"},{"id":4467,"name":"Silver Color Sew On Rhinestone \/ Softi \/ Chatons in Flat Back Metal Setting (8mm-40ss)","price":170,"image":"SOFTI0002E(1)-1675835091.jpg"},{"id":4468,"name":"Grey Color Sew On Rhinestone \/ Softi \/ Chatons in Flat Back Metal Setting (8mm-40ss)","price":290,"image":"SOFTI0002F(1)-1675835108.jpg"},{"id":4469,"name":"Maroon Color Sew On Rhinestone \/ Softi \/ Chatons in Flat Back Metal Setting (6mm-30ss)","price":210,"image":"SOFTI0003F(1)-1675835134.jpg"},{"id":4470,"name":"Royal Blue Color Sew On Rhinestone \/ Softi \/ Chatons in Flat Back Metal Setting (6mm-30ss)","price":170,"image":"SOFTI0003G(1)-1675835160.jpg"},{"id":4471,"name":"Dark Pink Color Sew On Rhinestone \/ Softi \/ Chatons in Flat Back Metal Setting (6mm-30ss)","price":330,"image":"SOFTI0003H(1)-1675835187.jpg"},{"id":4472,"name":"Orange Color Sew On Rhinestone \/ Softi \/ Chatons in Flat Back Metal Setting (6mm-30ss)","price":250,"image":"SOFTI0003I(1)-1675835218.jpg"},{"id":4473,"name":"Silver Color Sew On Rhinestone \/ Softi \/ Chatons in Flat Back Metal Setting (6mm-30ss)","price":120,"image":"SOFTI0003J(1)-1675835240.jpg"},{"id":4474,"name":"Emerald Green Color Sew On Rhinestone \/ Softi \/ Chatons in Flat Back Metal Setting (4mm-16ss)","price":120,"image":"SOFTI0008-1675835274.jpg"},{"id":4475,"name":"Pearl Matte (Light Golden) color with Off white Beads Pearl Lace for dupatta, Suits, Dresses etc.","price":380,"image":"PRLC0006(1)-1675835869.jpg"},{"id":4476,"name":"Light Golden color with Off white Beads Pearl Lace for dupatta, Suits, Dresses etc.","price":400,"image":"PRLC0007(1)-1675836523.jpg"},{"id":4477,"name":"Light Golden color with Off white Beads Pearl Lace for dupatta, Suits, Dresses etc.","price":380,"image":"PRLC0008(1)-1675836693.jpg"},{"id":4478,"name":"Golden color with Multi Beaded Lace for dupatta, Suits, Dresses etc.","price":400,"image":"PRLC0009(1)-1675837021.jpg"},{"id":4479,"name":"Antique golden color dabka nakshi work patch Hand Embroidery Patch\/Applique","price":290,"image":"PATZRD00027(1)-1675837180.jpg"},{"id":4480,"name":"Multi Color Beaded Lace For Dupattas and Suits","price":400,"image":"PRLC0001A(1)-1675837195.jpg"},{"id":4481,"name":"Antique golden color dabka nakshi work patch Hand Embroidery Patch\/Applique","price":290,"image":"PATZRD00027A(1)-1675840356.jpg"},{"id":4482,"name":"Light golden color dabka nakshi work patch Hand Embroidery Patch\/Applique","price":290,"image":"PATZRD00028(1)-1675841064.jpg"},{"id":4483,"name":"Dark golden color dabka nakshi work patch Hand Embroidery Patch\/Applique","price":290,"image":"PATZRD00028A(1)-1675841578.jpg"},{"id":4485,"name":"Yellowish Golden Color Fringes\/Kiran\/Frill Lace","price":500,"image":"FRNG0009G(3)-1675841831.jpg"},{"id":4486,"name":"Golden color dabka nakshi work patch Hand Embroidery Patch\/Applique","price":290,"image":"PATZRD00028B(1)-1675842061.jpg"},{"id":4487,"name":"Golden color dabka nakshi work patch Hand Embroidery Patch\/Applique","price":280,"image":"PATZRD00029(1)-1675842687.jpg"},{"id":4488,"name":"Pearl Matte (Light Golden) Jalebi Design Gota Lace","price":270,"image":"GTLC0024(2)-1675849247.jpg"},{"id":4489,"name":"Rose Gold Jalebi Design Gota Lace for Dresses, Dupatta, Suits","price":270,"image":"GTLC0024A(1)-1675856213.jpg"},{"id":4490,"name":"Water Golden Jalebi Design Gota Lace for Dresses, Dupatta, Suits","price":270,"image":"GTLC0024B(1)-1675856359.jpg"},{"id":4491,"name":"Golden Color Leather Tape Sewable (CD Tape)","price":420,"image":"CDTAP0038(2)-1675935503.jpg"},{"id":4492,"name":"White Color Leather Tape Sewable (CD Tape)","price":420,"image":"CDTAP0039(2)-1675935716.jpg"},{"id":4493,"name":"Silver Color Leather Tape Sewable (CD Tape)","price":420,"image":"CDTAP0040(1)-1675935800.jpg"},{"id":4494,"name":"Yellowish Golden Color Sequins Lace","price":270,"image":"SQBD0017(1)-1675940301.jpg"},{"id":4495,"name":"Golden Color Sequins Lace","price":270,"image":"SQBD0017A(1)-1675942802.jpg"},{"id":4496,"name":"Water Golden Color Sequins Lace","price":270,"image":"SQBD0017B(1)-1675942836.jpg"},{"id":4497,"name":"Black Color Sequins Lace","price":270,"image":"SQBD0017C(1)-1675942869.jpg"},{"id":4498,"name":"Pearl Matte (Light Golden) Color Sequins Lace","price":270,"image":"SQBD0017D(1)-1675942895.jpg"},{"id":4499,"name":"Silver Color Sequins Lace","price":270,"image":"SQBD0017E(1)-1675942977.jpg"},{"id":4500,"name":"Golden Bridal Doli Dabka, Nakshi Work Embroidery Patch","price":650,"image":"PATHE0262(1)-1690539911.jpg"},{"id":4501,"name":"Golden Maroon Color Bridal Barat Dabka, Nakshi Work Embroidery Patch","price":820,"image":"PATHE0219(1)-1675944822.jpg"},{"id":4503,"name":"Light Golden Color Bridal Doli Dabka, Nakshi Work Embroidery Patch","price":1040,"image":"PATHE0221(1)-1676022814.jpg"},{"id":4504,"name":"White Black color Flower Shape Metal Fancy Button","price":250,"image":"WBTN00210(1)-1676101828.jpg"},{"id":4505,"name":"White Golden Rhombus Shape Metal Ladies Buttons","price":250,"image":"WBTN00211(1)-1676102201.jpg"},{"id":4506,"name":"Black Silver Spinner Design Rhinestone Pearl Ladies Fancy Buttons","price":380,"image":"WBTN00212(4)-1676102509.jpg"},{"id":4507,"name":"Silver Flower shape Metal Fancy Buttons with Center Pearl","price":250,"image":"WBTN00213(1)-1676108419.jpg"},{"id":4508,"name":"Golden Flower shape Metal Fancy Buttons with Center Pearl","price":250,"image":"WBTN00213A(1)-1676108573.jpg"},{"id":4509,"name":"Black Flower Shape Fancy Designer Buttons","price":290,"image":"WBTN00214(1)-1676109045.jpg"},{"id":4510,"name":"Transparent Crystal Stone Designer Button","price":300,"image":"WBTN00215(1)-1676109570.jpg"},{"id":4511,"name":"Metallic Grey Color Rectangle Buckle","price":200,"image":"BUCL0095(1)-1676274581.jpg"},{"id":4512,"name":"Blue Color Metal Buckle for dresses, bellies, bags, etc.","price":230,"image":"BUCL0096(1)-1676274796.jpg"},{"id":4513,"name":"Peach Color Metal Buckle for dresses, bellies, bags, etc.","price":230,"image":"BUCL0096A(1)-1676274937.jpg"},{"id":4514,"name":"Green Color Metal Buckle for dresses, bellies, bags, etc.","price":230,"image":"BUCL0096B(1)-1676275057.jpg"},{"id":4515,"name":"Pink Color Round Metal Buckle for dresses, bellies, bags, etc.","price":230,"image":"BUCL0097(1)-1676275220.jpg"},{"id":4516,"name":"Green Color Round Metal Buckle for dresses, bellies, bags, etc.","price":230,"image":"BUCL0097A(1)-1676275347.jpg"},{"id":4518,"name":"Golden Crystal Stone Designer Fancy Button","price":250,"image":"WBTN00216A(1)-1676282949.jpg"},{"id":4519,"name":"Silver Flower Shape Rhinestone Work Designer Buttons","price":330,"image":"WBTN0092A(1)-1676283235.jpg"},{"id":4520,"name":"Peach Flower Shape Rhinestone Work Designer Buttons","price":330,"image":"WBTN0092B(1)-1676283569.jpg"},{"id":4521,"name":"Red Flower Shape Rhinestone Work Designer Buttons","price":330,"image":"WBTN0092C(1)-1676283604.jpg"},{"id":4522,"name":"Black Flower Shape Rhinestone Work Designer Buttons","price":330,"image":"WBTN0092D(1)-1676283641.jpg"},{"id":4523,"name":"Silver Color Designer Fancy Rhinestone Waist Belt for dresses, sarees, gowns etc.(Adjustable)","price":920,"image":"BELT0001(1)-1676356635.jpg"},{"id":4524,"name":"Light Golden Color Designer Fancy Rhinestone Waist Belt for dresses, sarees, gowns etc.(Adjustable)","price":920,"image":"BELT0001A(1)-1676357031.jpg"},{"id":4525,"name":"Rainbow Color Designer Fancy Rhinestone Waist Belt for dresses, sarees, gowns etc.(Adjustable)","price":920,"image":"BELT0001B(1)-1676357042.jpg"},{"id":4526,"name":"Dark Golden (LCT) Color Designer Fancy Rhinestone Waist Belt for dresses, sarees, gowns etc.(Adjustable)","price":920,"image":"BELT0001C(1)-1676357255.jpg"},{"id":4527,"name":"Golden (LCT) color rhinestone belt metal patch","price":290,"image":"PATF0086(1)-1676630059.jpg"},{"id":4528,"name":"Wine color rhinestone belt metal patch","price":290,"image":"PATF0086A(1).jpg"},{"id":4529,"name":"Peach color rhinestone belt metal patch","price":290,"image":"PATF0086B(1).jpg"},{"id":4530,"name":"Light Pink color rhinestone belt metal patch","price":290,"image":"PATF0086C(1).jpg"},{"id":4531,"name":"Navy Blue color rhinestone belt metal patch","price":290,"image":"PATF0086D(1).jpg"},{"id":4532,"name":"Multi color rhinestone belt metal patch","price":290,"image":"PATF0086E(1).jpg"},{"id":4533,"name":"Silver color rhinestone belt metal patch","price":290,"image":"PATF0086F(1).jpg"},{"id":4534,"name":"Grey color rhinestone belt metal patch","price":290,"image":"PATF0086G(1).jpg"},{"id":4535,"name":"Red color rhinestone belt metal patch","price":290,"image":"PATF0086H(1).jpg"},{"id":4536,"name":"Dark Green color rhinestone belt metal patch","price":290,"image":"PATF0086I(1).jpg"},{"id":4537,"name":"Golden color rhinestone belt metal patch","price":290,"image":"PATF0086J(1).jpg"},{"id":4539,"name":"Dark Peach Color Beads Work Western\/Fancy cutwork Lace","price":1250,"image":"WEST0004D(1)-1676979571.jpg"},{"id":4542,"name":"Royal Blue Color Beads Work Western\/Fancy cutwork Lace","price":1250,"image":"WEST0004G(1).jpg"},{"id":4543,"name":"Light Peach Color Beads Work Western\/Fancy cutwork Lace","price":1250,"image":"WEST0004H(1).jpg"},{"id":4544,"name":"Ferozi Blue Color Beads Work Western\/Fancy cutwork Lace","price":1250,"image":"WEST0004I(1).jpg"},{"id":4545,"name":"Cream Color Beads Work Western\/Fancy cutwork Lace","price":1250,"image":"WEST0004J(1).jpg"},{"id":4546,"name":"Red Color Beads Work Western\/Fancy cutwork Lace","price":1250,"image":"WEST0004K(1).jpg"},{"id":4547,"name":"Magenta Color Beads Work Western\/Fancy cutwork Lace","price":1250,"image":"WEST0004L(1).jpg"},{"id":4548,"name":"Beige Color Beads Work Western\/Fancy cutwork Lace","price":1250,"image":"WEST0004M(1).jpg"},{"id":4549,"name":"Light Pink Color Beads Work Western\/Fancy cutwork Lace","price":1250,"image":"WEST0004N(1).jpg"},{"id":4550,"name":"Silver Rhinestone small size slider buckles, ribbon sliders, small size buckles for garment decor, art and craft etc.","price":170,"image":"BUCL0098(1)-1677135085.jpg"},{"id":4551,"name":"Silver Rhinestone small size slider buckles, ribbon sliders, small size buckles for garment decor, art and craft etc.","price":270,"image":"BUCL0098A(1)-1677135533.jpg"},{"id":4552,"name":"Silver Rhinestone small size slider buckles, ribbon sliders, small size buckles for garment decor, art and craft etc.","price":170,"image":"BUCL0098B(1)-1677135913.jpg"},{"id":4553,"name":"Silver Rhinestone small size slider buckles, ribbon sliders, small size buckles for garment decor, art and craft etc.","price":270,"image":"BUCL0098C(1)-1677136212.jpg"},{"id":4554,"name":"Golden Color Parrot Designer Hand Embroidery Bird Patch","price":980,"image":"PATHE0222(1)-1677139498.jpg"},{"id":4555,"name":"Silver Designer Hand Embroidery Bird Patch","price":1080,"image":"PATHE0223-1(1)-1677140295.jpg"},{"id":4557,"name":"Silver Pigeon Shape Designer Hand Embroidery Bird Patch","price":970,"image":"PATHE0224-1(1)-1677141190.jpg"},{"id":4558,"name":"Golden Pigeon Shape Designer Hand Embroidery Bird Patch","price":970,"image":"PATHE0224A(1)-1677141369.jpg"},{"id":4559,"name":"Golden Parrot Shape Designer Hand Embroidery Bird Patch","price":980,"image":"PATHE0225(1)-1677141584.jpg"},{"id":4565,"name":"White Color Center Rings Design Broad GPO\/Cotton\/ Crochet Lace","price":1000,"image":"GPO0046(1).jpg"},{"id":4566,"name":"White Color Center Waves Design Broad GPO\/Cotton\/ Crochet Lace","price":830,"image":"GPO0047(1).jpg"},{"id":4567,"name":"White Color Leaves Design GPO\/Cotton\/ Crochet Lace","price":270,"image":"GPO0048(1).jpg"},{"id":4569,"name":"White Color Criss-Cross Design GPO\/Cotton\/ Crochet Lace","price":470,"image":"GPO0050(1).jpg"},{"id":4577,"name":"Golden Metal Spring Waist Belt for Women Dresses Stretchy Slim Waistband, Belly Chain for Ladies Saree - Free Size","price":380,"image":"BELT0006(1)-1677480949.jpg"},{"id":4578,"name":"Golden Metal Spring Waist Belt for Women Dresses CK Design Buckle Stretchy Slim Waistband, Belly Chain for Ladies Saree - Free Size","price":380,"image":"BELT0007(4).jpg"},{"id":4579,"name":"Golden Metal Spring Waist Belt for Women Dresses 2-SideTriangle Design Buckle Stretchy Slim Waistband, Belly Chain for Ladies Saree - Free Size","price":380,"image":"BELT0008(1).jpg"},{"id":4580,"name":"Golden Metal Spring Waist Belt for Women Dresses Bow Design Buckle Stretchy Slim Waistband, Belly Chain for Ladies Saree - Free Size","price":380,"image":"BELT0009(1).jpg"},{"id":4581,"name":"Golden Metal Spring Waist Belt for Women Dresses Rectangle Design Buckle Stretchy Slim Waistband, Belly Chain for Ladies Saree - Free Size","price":380,"image":"BELT0010(1).jpg"},{"id":4582,"name":"Golden Metal Spring Waist Belt for Women Dresses Infinity Design Buckle Stretchy Slim Waistband, Belly Chain for Ladies Saree - Free Size","price":380,"image":"BELT0011(1).jpg"},{"id":4583,"name":"Golden Metal Spring Waist Belt for Women Dresses 3-Flower Design Buckle Stretchy Slim Waistband, Belly Chain for Ladies Saree - Free Size","price":380,"image":"BELT0012(1).jpg"},{"id":4584,"name":"White GPO Net Lace Crochet Lace for Dupatta, suits, cusions etc. (light Shade dyeable)","price":960,"image":"GPO0058(1)-1677838011.jpg"},{"id":4589,"name":"Off-white Color Cutwork Design Pearl Lace","price":880,"image":"PRLC0010(1)-1677840018.jpg"},{"id":4590,"name":"Off-white Color Waves Design Pearl Lace","price":650,"image":"PRLC0011(1)-1677842426.jpg"},{"id":4595,"name":"Rainbow Rhinestone Belt Metal Fancy Patch","price":420,"image":"PATF0087D(1).jpg"},{"id":4597,"name":"Peach Rhinestone Belt Metal Fancy Patch","price":420,"image":"PATF0087F(1).jpg"},{"id":4598,"name":"Silver Golden Pentagon Shape Rhinestone Kundan\/Mina Buttons","price":250,"image":"WBTN00217(1)-1677910911.jpg"},{"id":4599,"name":"Silver Golden Oval Shape Rhinestone Kundan\/Mina Buttons","price":250,"image":"WBTN00218(2).jpg"},{"id":4600,"name":"Silver Golden Assorted Shape Rhinestone Kundan\/Mina Buttons","price":250,"image":"WBTN00219(1).jpg"},{"id":4601,"name":"Silver Golden Triangle Shape Rhinestone Kundan\/Mina Buttons","price":250,"image":"WBTN00220(1).jpg"},{"id":4602,"name":"Silver Golden D-Shape Rhinestone Kundan\/Mina Buttons","price":250,"image":"WBTN00221(1).jpg"},{"id":4603,"name":"Rose Gold Lobster Clasp Swivel Hooks with D Rings webbing bag strap hardware connector, Carabiner hook for bags, keychains etc.","price":200,"image":"BGHK0001(2)-1677922029.jpg"},{"id":4604,"name":"Golden Lobster Clasp Swivel Hooks with D Rings webbing bag strap hardware connector, Carabiner hook for bags, keychains etc.","price":200,"image":"BGHK0001(3).jpg"},{"id":4605,"name":"Dull Gold Lobster Clasp Swivel Hooks with D Rings webbing bag strap hardware connector, Carabiner hook for bags, keychains etc.","price":200,"image":"BGHK0001B(1).jpg"},{"id":4606,"name":"Dull Gold Lobster Clasp Swivel Hooks webbing bag strap hardware connector, Carabiner hook for bags, keychains etc.","price":200,"image":"BGHK0002(1).jpg"},{"id":4607,"name":"Golden Lobster Clasp Swivel Hooks webbing bag strap hardware connector, Carabiner hook for bags, keychains etc.","price":200,"image":"BGHK0002A(1).jpg"},{"id":4608,"name":"Golden Lobster Clasp Swivel Hooks webbing bag strap hardware connector, Carabiner hook for bags, keychains etc.-SMALL SIZE","price":200,"image":"BGHK0003(1).jpg"},{"id":4609,"name":"Golden Lobster Clasp Swivel Hooks With Round Ring webbing bag strap hardware connector, Carabiner hook for bags, keychains etc.","price":270,"image":"BGHK0004(1).jpg"},{"id":4610,"name":"Golden Beads With Golden Piping Beaded Pearl Lace, Moti Lace for Dupatta, Suits etc. 3mm and 4mm Bead Size","price":750,"image":"PRLC0012(1)-1678357092.jpg"},{"id":4611,"name":"Golden and Off-White Beads With Rose Gold Piping Beaded Pearl Lace, Moti Lace for Dupatta, Suits etc. 6mm Bead Size","price":750,"image":"PRLC0013(1)-1678357415.jpg"},{"id":4612,"name":"Lemon Beaded Pearl Lace, Moti Lace for Dupatta, Suits etc. 6mm Bead Size","price":750,"image":"PRLC0014(1)-1678357729.jpg"},{"id":4613,"name":"Pearl Pendant Beads Charm Earrings Ornaments Jewelry Making, Craft Item, Ladies Suits, Dresses, Package of 20 Pieces","price":130,"image":"PRLBTN00070(1)-1678440571.jpg"},{"id":4614,"name":"White Color Flower Shape Fancy Designer Buttons","price":420,"image":"WBTN0061(2)-1678449059.jpg"},{"id":4615,"name":"White Flower Design with Rose Gold Base Fancy Designer Buttons","price":330,"image":"WBTN0058(2)-1678449407.jpg"},{"id":4616,"name":"Black Color Flower Shape Metal Buttons with Rose Gold Polish","price":330,"image":"wbtn11-1678511938.jpg"},{"id":4617,"name":"Light Golden Rhinestone Work Round Metal Buttons","price":330,"image":"WBTN00222(1)-1678523923.jpg"},{"id":4618,"name":"Dark Golden Rhinestone Work Round Metal Buttons","price":330,"image":"WBTN00222A(1)-1678524119.jpg"},{"id":4619,"name":"Black Designer Beads Work Embroidery Collar for Shirts etc.","price":670,"image":"COLR0001(2)-1678531365.jpg"},{"id":4620,"name":"White Designer Beads Work Embroidery Collar for Shirts etc.","price":670,"image":"COLR0001A(2).jpg"},{"id":4621,"name":"Black Designer Beads Work Zig-Zag Design Embroidery Collar for Shirts etc.","price":670,"image":"COLR0002(2).jpg"},{"id":4622,"name":"Black Funky Look Designer Fancy Collar for Shirts etc.","price":480,"image":"COLR0003(1).jpg"},{"id":4623,"name":"Beige Designer Beads and Stone Work Embroidery Collar for Shirts etc.","price":670,"image":"COLR0004(2).jpg"},{"id":4626,"name":"Black Sequins Work Designer Embroidery Collar for Shirts etc.","price":470,"image":"COLR0007(2).jpg"},{"id":4627,"name":"Multi Color Sequins Work Designer Embroidery Collar for Shirts etc.","price":470,"image":"COLR0007A(2).jpg"},{"id":4628,"name":"White Color Red Blue Flower Designer Embroidery Collar for Shirts etc.","price":710,"image":"COLR00008(2)-1678535111.jpg"},{"id":4629,"name":"White Color Brown Black Flower Designer Embroidery Collar for Shirts etc.","price":710,"image":"COLR0008A(2).jpg"},{"id":4637,"name":"Pearl Brooch Lapel Pin Women Collar Safety Pin for Sarees, Coats, Blazers, Tops etc. Package of 4 Pieces","price":170,"image":"colrpin0001(2)-1678947116.jpg"},{"id":4638,"name":"Peach Color Buttons for Dresses, Tops, Suits etc.","price":250,"image":"WBTN00223(1)-1678961195.jpg"},{"id":4639,"name":"Red color Round Shape Flower Rhinestone Buttons","price":290,"image":"WBTN00224(1)-1678961406.jpg"},{"id":4640,"name":"Black color Round Shape Flower Rhinestone Buttons","price":290,"image":"WBTN00224A(1)-1678961532.jpg"},{"id":4641,"name":"Red Flower Design Fancy Buttons for suits, dresses, crafting etc.","price":250,"image":"WBTN00225(1)-1678961719.jpg"},{"id":4642,"name":"Light Golden Flower Shape Small Size Rhinestone Buttons","price":230,"image":"WBTN00226(1)-1678961933.jpg"},{"id":4643,"name":"Dark Golden( LCT color) Flower Shape Small Size Rhinestone Buttons","price":230,"image":"WBTN00226A(1)-1678962091.jpg"},{"id":4644,"name":"Dull Golden Flower Design Button","price":140,"image":"WBTN00227(1)-1678963316.jpg"},{"id":4645,"name":"Golden Small Size Rhinestone Buttons","price":200,"image":"WBTN00228(1)-1678963493.jpg"},{"id":4646,"name":"Golden Silver Stone Chain, cup chain, rhinestone chain for jewllery making etc. - size- 6,12,16 no. - 5 meters","price":210,"image":"STNCH0001(1)-1678964950.jpg"},{"id":4647,"name":"Silver Stone Chain, cup chain, rhinestone chain for jewllery making etc. - size- 6,12,16 no. - 5 meters","price":210,"image":"STNCH0001A(1)-1678966978.jpg"},{"id":4648,"name":"Golden Stone Chain, cup chain, rhinestone chain for jewllery making etc. - size- 6,12,16 no. - 5 meters","price":210,"image":"STNCH0001B(1)-1678967442.jpg"},{"id":4650,"name":"Silver Color Designer Rhinestone Chain\/Belt for Dresses","price":920,"image":"STNCH0002A(1)-1679039764.jpg"},{"id":4651,"name":"Golden Color Designer Rhinestone Chain\/Belt for Dresses","price":920,"image":"STNCH0002B(1)-1679040151.jpg"},{"id":4653,"name":"Golden Color Gota Patti Neck Patch\/ Neckline for suits, kurtis etc.","price":540,"image":"PATNC0002(1)-1679483236.jpg"},{"id":4654,"name":"Golden Color Gota Patti Neck Patch\/ Neckline for suits, kurtis etc.","price":630,"image":"PATNC0003(1)-1679483625.jpg"},{"id":4669,"name":"Golden Bird Design Embroidery Patch for suits, dresses, tops, blazers etc.","price":800,"image":"PATHE0226(1)-1679552959.jpg"},{"id":4670,"name":"Grey White Bird Design Embroidery Patch for suits, dresses, tops, blazers etc.","price":800,"image":"PATHE0226A(1).jpg"},{"id":4671,"name":"Rose Gold White Bird Design Embroidery Patch for suits, dresses, tops, blazers etc.","price":800,"image":"PATHE0226B(1).jpg"},{"id":4672,"name":"Dull Golden Bird Design Embroidery Patch for suits, dresses, tops, blazers etc.","price":800,"image":"PATHE0226C(1).jpg"},{"id":4673,"name":"Black Bird Design Embroidery Patch for suits, dresses, tops, blazers etc.","price":800,"image":"PATHE0226D(1).jpg"},{"id":4674,"name":"Black Floral Design Embroidery Patch for suits, dresses, tops, blazers etc.","price":1040,"image":"PATHE0227(1).jpg"},{"id":4675,"name":"Multi Color Floral Design Embroidery Patch for suits, dresses, tops, blazers etc.","price":1040,"image":"PATHE0227A(1).jpg"},{"id":4676,"name":"Pastel Multi Color Floral Design Embroidery Patch for suits, dresses, tops, blazers etc.","price":1040,"image":"PATHE0227B(1).jpg"},{"id":4677,"name":"Black Humsa (Hand Design) Evil Eye Embroidery Patch for suits, dresses, tops, blazers etc.","price":580,"image":"PATHE0228(1).jpg"},{"id":4678,"name":"Golden Sparrow Design Bird Patch For Suits, Dresses, Blazers, Jackets etc.","price":460,"image":"PATHE0229(1).jpg"},{"id":4679,"name":"Golden Eagle Design Bird Patch For Suits, Dresses, Blazers, Jackets etc.","price":820,"image":"PATHE0230(1).jpg"},{"id":4684,"name":"Dull Golden Flower Design Embroidery Patch For Blouse, Suits, Kurtis, Blazers etc. ","price":850,"image":"PATHE0233B(1).jpg"},{"id":4685,"name":"Black Flower Design Embroidery Patch For Blouse, Suits, Kurtis, Blazers etc. ","price":850,"image":"PATHE0233C(1).jpg"},{"id":4687,"name":"Golden Flower Design Embroidery Patch For Blouse, Suits, Kurtis, Blazers etc.","price":850,"image":"PATHE0233E(1).jpg"},{"id":4690,"name":"Golden Embroidery Butterfly Patch For Blouse, Suits, Kurtis, Blazers etc.","price":980,"image":"PATHE0234(1).jpg"},{"id":4692,"name":"Metallic Grey Embroidery Floral Design Patch For Blouse, Suits, Kurtis, Blazers etc.","price":1210,"image":"PATHE0236(1).jpg"},{"id":4693,"name":"Dull Golden Embroidery Floral Design Patch For Blouse, Suits, Kurtis, Blazers etc.","price":1210,"image":"PATHE0236A(1).jpg"},{"id":4694,"name":"Black Designer Flower Floral Design Fancy Patch For Dresses, Blazers, Kurtis etc.","price":1540,"image":"PATHE0237(1).jpg"},{"id":4695,"name":"Golden Silver Designer Flower Floral Design Fancy Patch For Dresses, Blazers, Kurtis etc.","price":1540,"image":"PATHE0237A(1).jpg"},{"id":4697,"name":"Golden Designer Flower Floral Design Fancy Patch For Dresses, Blazers, Kurtis etc.","price":1540,"image":"PATHE0237C(1).jpg"},{"id":4701,"name":"Golden Cutdana and Sequins Work Designer Leaf Embroidery Patch ","price":980,"image":"PATHE0239(1).jpg"},{"id":4702,"name":"Dark Golden Cutdana and Sequins Work Designer Leaf Embroidery Patch ","price":710,"image":"PATHE0240(1).jpg"},{"id":4703,"name":"Silver Cutdana and Sequins Work Designer Floral Flower Embroidery Patch","price":980,"image":"PATHE0241(1).jpg"},{"id":4704,"name":"Rose Golden Color HI Design Sequins Work Embroidery Patch for shirts, tops, etc.","price":470,"image":"PATHE0242(1).jpg"},{"id":4705,"name":"Off White Color OK Design Sequins Work Embroidery Patch for shirts, tops, etc.","price":570,"image":"PATHE0243(1).jpg"},{"id":4706,"name":"Black Color Flower Design Embroidery Patch For Dresses, Kurtis, Suits, blouse, Blazers etc.","price":1540,"image":"PATHE0244(1).jpg"},{"id":4707,"name":"Golden Color Flower Design Embroidery Patch For Dresses, Kurtis, Suits, blouse, Blazers etc.","price":1540,"image":"PATHE0244A(1).jpg"},{"id":4710,"name":"Black Pearl Buttons Round Shape Light Weight Buttons","price":170,"image":"PRLBTN0010B(1)-1679903572.jpg"},{"id":4713,"name":"White Pearl Buttons Round Shape Light Weight Buttons-2.2 cm, Pack of 5 pieces","price":290,"image":"PRLBTN0011A(1)-1679904814.jpg"},{"id":4714,"name":"Milky White Pearl Buttons Round Shape Light Weight Buttons-2.2 cm, Pack of 5 pieces","price":290,"image":"PRLBTN0011B(1)-1679904971.jpg"},{"id":4715,"name":"Off-White Pearl Buttons Round Shape Light Weight Buttons-2.2 cm, Pack of 10 pieces","price":330,"image":"PRLBTN0012(1)-1679906133.jpg"},{"id":4716,"name":"Milky White Pearl Buttons Round Shape Light Weight Buttons-2.2 cm, Pack of 10 pieces","price":330,"image":"PRLBTN0012A(1)-1679906297.jpg"},{"id":4717,"name":"Silver Drop shape Rhinestone Buttons For Dresses, Suits, Tops, etc.","price":210,"image":"WBTN00229(1)-1680077265.jpg"},{"id":4718,"name":"Light Golden Drop shape Rhinestone Buttons For Dresses, Suits, Tops, etc.","price":210,"image":"WBTN00229A(1)-1680078660.jpg"},{"id":4720,"name":"Golden Round Rhinestone Button Small Size Button for tops, suits, etc.","price":250,"image":"WBTN00230(1)-1680088402.jpg"},{"id":4721,"name":"Light Pink Round Rhinestone Button Small Size Button for tops, suits, etc.","price":250,"image":"WBTN00230A(1).jpg"},{"id":4722,"name":"Peach Round Rhinestone Button Small Size Button for tops, suits, etc.","price":250,"image":"WBTN00230B(1).jpg"},{"id":4724,"name":"Red Round Rhinestone Button Small Size Button for tops, suits, etc.","price":250,"image":"WBTN00230D(1).jpg"},{"id":4725,"name":"Light Pink Square Rhinestone Button Small Size Button for tops, suits, etc.","price":250,"image":"WBTN00231(1).jpg"},{"id":4727,"name":"Golden Square Rhinestone Button Small Size Button for tops, suits, etc.","price":250,"image":"WBTN00231B(1).jpg"},{"id":4729,"name":"Red Square Rhinestone Button Small Size Button for tops, suits, etc.","price":250,"image":"WBTN00231D(1).jpg"},{"id":4730,"name":"Dark Rainbow Rhinestone Belt Metal Patch For Dresses, Tops, Craft Items etc.","price":330,"image":"PATF0089(1)-1680157589.jpg"},{"id":4732,"name":"Grey Rhinestone Belt Metal Patch For Dresses, Tops, Craft Items etc.","price":330,"image":"PATF0089(2)-1680158611.jpg"},{"id":4733,"name":"Peach Rhinestone Belt Metal Patch For Dresses, Tops, Craft Items etc.","price":330,"image":"PATF0089C(1)-1680158674.jpg"},{"id":4734,"name":"Rainbow Rhinestone Belt Metal Patch For Dresses, Tops, Craft Items etc.","price":330,"image":"PATF0089D(1)-1680158704.jpg"},{"id":4737,"name":"Golden Flower Design Rhinestone Buttons for dresses, suits, kurtis, tops etc.","price":330,"image":"WBTN00232(1)-1680169132.jpg"},{"id":4756,"name":"Red Pink Multi Flower Lace Fancy Lace Floral Lace","price":1630,"image":"FNLC0021-1680778197.jpg"},{"id":4757,"name":"Pink Cream Pastel Multi Flower Lace Fancy Lace Floral Lace","price":1630,"image":"FNLC0021A-1680941003.jpg"},{"id":4758,"name":"Yellow Pink Multi Flower Lace Fancy Lace Floral Lace","price":1630,"image":"FNLC0021B-1680941183.jpg"},{"id":4760,"name":"Golden Color Peacock Patch Sequins Work Patch","price":1630,"image":"PATHE0245B(1)-1696498549.jpg"},{"id":4764,"name":"Beige color Leaf Shape Bead Work Patch","price":130,"image":"PATHE0213M(1)-1681277426.jpg"},{"id":4766,"name":"Off White Velvet Embroided Boder With White Net Frill Neckline\/Neck Patches Applique for Suit, Kurtis and Tops","price":420,"image":"PATNC0014(1)-1681300417.jpg"},{"id":4767,"name":"Off White Neck Patches\/Necklines Applique for Suits, Kurtis and Tops","price":170,"image":"PATNC0015(1)-1681366479.jpg"},{"id":4768,"name":"Beige color beads work Neck Patches\/Necklines Applique for Suits, Kurtis and Tops","price":180,"image":"PATNC0016(1)-1681370620.jpg"},{"id":4769,"name":"Off White color Neck Patches\/Necklines Applique for Suits, Kurtis and Tops","price":180,"image":"PATNC0017(1)-1681371499.jpg"},{"id":4770,"name":"Off White Boat Shape Neck Patch\/Neckline Applique for Suit, Kurtis and Tops","price":100,"image":"PATNC0018(1)-1681372768.jpg"},{"id":4771,"name":"White Color Organza Flower Design Neck Patch\/Neckline Applique for Suits, Kurtis and Tops","price":130,"image":"PATNC0019(1)-1681373516.jpg"},{"id":4772,"name":"Cream Color Designer Cotton Neck Patch\/Neckline Applique for Suits, Kurtis and Tops","price":130,"image":"PATNC0020(1)-1681374229.jpg"},{"id":4773,"name":"Cream Color Designer transparent sequence work Neck Patch\/Neckline Applique for Suits, Kurtis and Tops","price":170,"image":"PATNC0021(1)-1681382157.jpg"},{"id":4774,"name":"Off White Cotton Designer Neck Patch\/Neckline Applique for Suits,Kurtis and Tops.","price":130,"image":"PATNC0022(1)-1681383184.jpg"},{"id":4775,"name":"Beige Color Plastic Stone and Beads Work Neck Patch\/Neckline Applique For Suits, Kurtis and Tops","price":420,"image":"PATNC0023(1)-1681383979.jpg"},{"id":4776,"name":"White Cotton Thread Neck Patch\/Neckline Applique for Suits, Kurtis and Tops","price":320,"image":"PATNC0024(1)-1681384421.jpg"},{"id":4777,"name":"Black Lace with White Beaded Pearl for Lehenga, Saree Border lace for Dupatta","price":500,"image":"WEST0005(1)-1681472839.jpg"},{"id":4778,"name":"Black pearl lace with golden chain for dupatta ladies' suits","price":750,"image":"WEST0006(2)-1681473104.jpg"},{"id":4780,"name":"White Beaded Pearl Lace for Suits, Lehenga and Dupatta","price":500,"image":"WEST0005A(1)-1681474009.jpg"},{"id":4781,"name":"Black Beaded Pearl Lace for Suits, Lehenga and Dupatta","price":500,"image":"WEST0005B(1)-1681474351.jpg"},{"id":4782,"name":"Black Golden Pearl Lace for Suits, Lehenga and Dupatta etc.","price":500,"image":"WEST0005C()-1681537919.jpg"},{"id":4783,"name":"White Golden Pearl Lace for Suits, Lehenga and Dupatta etc.","price":500,"image":"WEST0005D(1)-1681538422.jpg"},{"id":4784,"name":"Black Lace with Center Chain and White Pearl","price":750,"image":"WEST0008(1)-1681539405.jpg"},{"id":4785,"name":"Black center white pearl Lace for dupatta ladies' suits","price":670,"image":"WEST0007(1)-1681539995.jpg"},{"id":4789,"name":"Silver Rhinestone Ribbon Tassel Chain, Rhinestone Fringe Trim Diamond Crystal Tassel Fringe Trim for Sewing Crafts Wedding Party Clothing Accessories Female Jewelry","price":1130,"image":"STNCH0003A(1)-1682059010.jpg"},{"id":4794,"name":"Golden Color 2 Part Metal Frog Button \/ Frog Buckle Rhinestone buttons","price":130,"image":"WBTN00233(1)-1682147006.jpg"},{"id":4795,"name":"Golden Color 2 Part Metal Frog Button \/ Frog - 5 PIECES","price":250,"image":"WBTN00234(1)-1682147183.jpg"},{"id":4796,"name":"Golden Color 2 Part Metal Frog Button \/ Frog Buckle - 5 PIECES","price":290,"image":"WBTN00235(1)-1682147308.jpg"},{"id":4797,"name":"Golden Rhinestone Chain\/Dori Rhinestone Strips for Dresses, Tops, DIY etc.","price":250,"image":"DORI0014(1)-1682323729.jpg"},{"id":4798,"name":"Metallic Grey Rhinestone Cord Chain\/Dori Rhinestone Strips for Dresses, Tops, DIY etc.","price":250,"image":"DORI0014A(2)-1682324142.jpg"},{"id":4799,"name":"Peach Color Rhinestone Cord Chain\/Dori Rhinestone Strips for Dresses, Tops, DIY etc.","price":250,"image":"DORI0014B(1)-1682324553.jpg"},{"id":4800,"name":"Silver Color Rhinestone Cord\/Chain\/Dori Rhinestone Strips for Dresses, Tops, DIY etc.","price":250,"image":"DORI0014C(1)-1682325394.jpg"},{"id":4802,"name":"Black Running Leopard Cheetah Patch Beads Work Embroidery Patch - 2 pieces","price":650,"image":"PATHE0246A(1)-1682403390.jpg"},{"id":4804,"name":"Golden Leopard Cheetah Patch Beads Work Embroidery Patch - 2 pieces","price":580,"image":"PATHE0247(1)-1682407050.jpg"},{"id":4810,"name":"Light Pink Color Assorted Marble Metal Base Fancy Buttons","price":420,"image":"WBTN00236(1)-1682502811.jpg"},{"id":4811,"name":"Light Blue Color Assorted Marble Metal Base Fancy Buttons","price":420,"image":"WBTN00236A(1)-1682506114.jpg"},{"id":4812,"name":"White Color Assorted Marble Metal Base Fancy Buttons","price":420,"image":"WBTN00236B(1).jpg"},{"id":4813,"name":"Hot Pink Color Assorted Marble Metal Base Fancy Buttons","price":420,"image":"WBTN00236C(1).jpg"},{"id":4814,"name":"Baby Pink Color Assorted Marble Metal Base Fancy Buttons","price":420,"image":"WBTN00236D(1).jpg"},{"id":4815,"name":"Dark Green Color Assorted Marble Metal Base Fancy Buttons","price":420,"image":"WBTN00236E(1).jpg"},{"id":4816,"name":"Peach Color Assorted Marble Metal Base Fancy Buttons","price":420,"image":"WBTN00236F(1).jpg"},{"id":4817,"name":"Off White Color Assorted Marble Metal Base Fancy Buttons","price":420,"image":"WBTN00236G(1).jpg"},{"id":4818,"name":"Black Color Assorted Marble Metal Base Fancy Buttons","price":420,"image":"WBTN00236H(1).jpg"},{"id":4819,"name":"Red Color Assorted Marble Metal Base Fancy Buttons","price":420,"image":"WBTN00236I(1).jpg"},{"id":4820,"name":"Green Color Assorted Marble Metal Base Fancy Buttons","price":420,"image":"WBTN00236J(1).jpg"},{"id":4821,"name":"Grey Color Assorted Marble Metal Base Fancy Buttons","price":420,"image":"WBTN00236K(1).jpg"},{"id":4822,"name":"Yellow Color Assorted Marble Metal Base Fancy Buttons","price":420,"image":"WBTN00236L(1).jpg"},{"id":4826,"name":"Off-White Color Flower Design Light Shade Dyeable Cotton Neck Patch\/Neckline Applique","price":150,"image":"PATNC0031(1).jpg"},{"id":4831,"name":"Silver Rainbow (Silver AB) Color Rhinestone Cord\/Chain\/Dori Rhinestone Strips for Dresses, Tops, DIY etc.","price":250,"image":"DORI0014D(2)-1683280698.jpg"},{"id":4833,"name":"Black Color Multi Floral Thread Work Lace With Velvet Base","price":1460,"image":"THBD0030(1)-1683614632.jpg"},{"id":4834,"name":"Greyish Blue Color Cutwork Zari Lace Zari Border","price":540,"image":"ZRBD0043(1)-1683784975.jpg"},{"id":4835,"name":"Blue Color Cutwork Zari Lace Zari Border","price":540,"image":"ZRBD0043A(1).jpg"},{"id":4836,"name":"Cream Color Cutwork Zari Lace Zari Border","price":540,"image":"ZRBD0043B(1).jpg"},{"id":4837,"name":"Coffee Color Cutwork Zari Lace Zari Border","price":540,"image":"ZRBD0043C(1).jpg"},{"id":4838,"name":"Pastel Green Color Cutwork Zari Lace Zari Border","price":540,"image":"ZRBD0043D(1).jpg"},{"id":4839,"name":"Navy Blue Color Designer Zari Lace Zari Border for sarees, suits, dupatta etc.","price":750,"image":"ZRBD0044(1).jpg"},{"id":4840,"name":"Grey Color Designer Zari Lace Zari Border for sarees, suits, dupatta etc.","price":750,"image":"ZRBD0044A(1).jpg"},{"id":4841,"name":"Light Blue Color Designer Zari Lace Zari Border for sarees, suits, dupatta etc.","price":750,"image":"ZRBD0044B(1).jpg"},{"id":4842,"name":"Greyish Blue Color Designer Zari Lace Zari Border for sarees, suits, dupatta etc.","price":750,"image":"ZRBD0044C(1).jpg"},{"id":4843,"name":"Dark Green Color Designer Zari Lace Zari Border for sarees, suits, dupatta etc.","price":750,"image":"ZRBD0044D(1).jpg"},{"id":4844,"name":"Golden Color Sequins and Dabka Work Designer Embroidery Lace\/ Border","price":600,"image":"SQBD0018(1)-1683792513.jpg"},{"id":4845,"name":"Ferozi Blue Color Sequins and Dabka Work Designer Embroidery Lace\/ Border","price":600,"image":"SQBD0018A(1)-1683792645.jpg"},{"id":4847,"name":"Golden Oxidized Buttons Kurta Patti Buttons","price":380,"image":"KURBT0039A(1).jpg"},{"id":4848,"name":"Metallic Grey Oxidized Buttons Designer Kurta Patti Buttons","price":280,"image":"KURBT0040(1).jpg"},{"id":4851,"name":"Golden Oxidized Buttons Designer Kurta Patti Buttons Mirror Buttons","price":350,"image":"KURBT0041A(1).jpg"},{"id":4852,"name":"Golden Oxidized Buttons Designer Kurta Patti Buttons Mirror Pearl Buttons","price":380,"image":"KURBT0042(1).jpg"},{"id":4856,"name":"White Printed Oval Shape Plastic Buckles","price":170,"image":"BUCL00103(1)-1684216272.jpg"},{"id":4857,"name":"White Printed Flower Shape Plastic Buckles","price":170,"image":"BUCL00104(1)-1684216465.jpg"},{"id":4858,"name":"Rectangular Plastic Buckle for belt, handbag and fashion accessories, Suitable for most styles silk scarves, tee shirt, fashion ladies Women Belt buckle","price":210,"image":"BUCL00105(1)-1684216696.jpg"},{"id":4859,"name":"Rectangular Plastic Buckle for belt, handbag and fashion accessories, Suitable for most styles silk scarves, tee shirt, fashion ladies Women Belt buckle","price":210,"image":"BUCL00105A(1)-1684218548.jpg"},{"id":4860,"name":"Off-White Rectangular Plastic Buckle for belt, handbag and fashion accessories, Suitable for most styles silk scarves, tee shirt, fashion ladies Women Belt buckle","price":170,"image":"BUCL00106(1)-1684222095.jpg"},{"id":4861,"name":"Black Round Plastic Buckle for belt, handbag and fashion accessories, Suitable for most styles silk scarves, tee shirt, fashion ladies Women Belt buckle","price":230,"image":"BUCL00107(1)-1684222448.jpg"},{"id":4864,"name":"Green Color Glass Beads Work Fancy Patch","price":400,"image":"PATF0090(1)-1684492232.jpg"},{"id":4865,"name":"Pink Color Glass Beads Work Fancy Patch","price":400,"image":"PATF0090A(1).jpg"},{"id":4866,"name":"Orange Color Glass Beads Work Fancy Patch","price":400,"image":"PATF0090B(1).jpg"},{"id":4867,"name":"Antique Color Glass Beads Work Fancy Patch","price":400,"image":"PATF0090C(1).jpg"},{"id":4868,"name":"Rust Color Glass and Pearl Beads Work Fancy Patch","price":330,"image":"PATF0091(1).jpg"},{"id":4870,"name":"Metallic Grey Color Glass and Pearl Beads Work Fancy Patch","price":330,"image":"PATF0091B(1).jpg"},{"id":4871,"name":"Pink Color Glass and Pearl Beads Work Fancy Patch","price":330,"image":"PATF0091C(1).jpg"},{"id":4872,"name":"Orange Color Glass and Pearl Beads Work Fancy Patch","price":330,"image":"PATF0091D(1).jpg"},{"id":4873,"name":"Light Pink Color Glass and Pearl Beads Work Fancy Patch","price":330,"image":"PATF0091E(1).jpg"},{"id":4874,"name":"Off White Color Glass and Pearl Beads Work Fancy Patch","price":330,"image":"PATF0091F(1).jpg"},{"id":4875,"name":"Metallic Blue Color Glass and Pearl Beads Work Fancy Patch","price":330,"image":"PATF0091G(1).jpg"},{"id":4876,"name":"Off White Color Glass Beads Work Fancy Patch","price":300,"image":"PATF0092(1).jpg"},{"id":4877,"name":"Rust Orange Color Glass Beads Work Fancy Patch","price":300,"image":"PATF0092A(1).jpg"},{"id":4878,"name":"Bright Orange Color Glass Beads Work Fancy Patch","price":300,"image":"PATF0092B(1).jpg"},{"id":4879,"name":"Green Color Glass Beads Work Fancy Patch","price":300,"image":"PATF0092C(1).jpg"},{"id":4880,"name":"Peach Color Glass Beads Work Fancy Patch","price":300,"image":"PATF0092D(1).jpg"},{"id":4881,"name":"Silver Color Glass Beads Work Fancy Patch","price":300,"image":"PATF0092E(1).jpg"},{"id":4882,"name":"Golden Flower Design Round Shape Coat Buttons \/ Blazer Buttons","price":780,"image":"MCBTN00115(1)-1685089508.jpg"},{"id":4883,"name":"Antique Color Crown Design Round Metal Coat Buttons Blazer Buttons - Sold With Box","price":880,"image":"MCBTN00116(1)-1685424939.jpg"},{"id":4884,"name":"Silver Color Crown Design Round Metal Coat Buttons Blazer Buttons - Sold With Box","price":880,"image":"MCBTN00116A(1)-1685425318.jpg"},{"id":4885,"name":"White Color Anchor Design Round Metal Coat Buttons Blazer Buttons - Sold With Box","price":880,"image":"MCBTN00117(1)-1685426521.jpg"},{"id":4886,"name":"Black Color Anchor Design Round Metal Coat Buttons Blazer Buttons - Sold With Box","price":880,"image":"MCBTN00117A(1)-1685430923.jpg"},{"id":4888,"name":"Black-Golden Color Plain Round Metal Coat Buttons Blazer Buttons - Sold With Box","price":880,"image":"MCBTN00118A(1)-1685433319.jpg"},{"id":4889,"name":"Black-Golden Color Designer Round Metal Coat Buttons Blazer Buttons - Sold With Box","price":880,"image":"MCBTN00119(1)-1685433735.jpg"},{"id":4890,"name":"Black-Silver Color Designer Round Metal Coat Buttons Blazer Buttons - Sold With Box","price":880,"image":"MCBTN00119A(1)-1685433913.jpg"},{"id":4891,"name":"Golden-Black Color Leopard Face Sequins Work Designer Patch","price":650,"image":"PATHE0248(1)-1685619045.jpg"},{"id":4892,"name":"Metallic Grey Color Leopard Face Sequins Work Designer Patch","price":820,"image":"PATHE0249(1)-1685686573.jpg"},{"id":4893,"name":"Black Color Scorpion Design Bead And Sequins Work Designer Fancy Embroidery Patch - SMALL , 2 PIECES","price":1080,"image":"PATHE0250(1).jpg"},{"id":4894,"name":"Black Color Scorpion Design Bead And Sequins Work Designer Fancy Embroidery Patch - BIG","price":1370,"image":"PATHE0250A(1).jpg"},{"id":4895,"name":"Metallic Grey Color Lion Face Design Bead And Sequins Work Designer Fancy Embroidery Patch","price":1420,"image":"PATHE0251(1).jpg"},{"id":4896,"name":"Rose Gold Color Lion Face Design Bead And Sequins Work Designer Fancy Embroidery Patch","price":1420,"image":"PATHE0251A(1).jpg"},{"id":4897,"name":"Metallic Grey Color Lion Face Design Dabka Nakshi Work Designer Fancy Embroidery Patch","price":580,"image":"PATHE0252(1).jpg"},{"id":4898,"name":"Silver Color Lion Face Design Dabka Nakshi Work Designer Fancy Embroidery Patch","price":580,"image":"PATHE0252A(1).jpg"},{"id":4901,"name":"Yellow Color Mirror Work Designer Neck Patch\/Neckline Applique Neck Patch Applique for Suits Blouse Choli Dresses etc.","price":500,"image":"PATNC0038(1)-1686208380.jpg"},{"id":4902,"name":"Off White Color Mirror Work Designer Neck Patch Applique with Sleeves for Suits Blouse Dresses etc.","price":1225,"image":"PATNC0039(1)-1686291535.jpg"},{"id":4903,"name":"Multicolored Thread Work Designer Neck Patch\/Neckline Applique Neck Patch Applique for Suits Blouse Dresses etc.","price":210,"image":"PATNC0040(1)-1686295296.jpg"},{"id":4905,"name":"Golden Color Long Kurti\/Dress Front Patch Designer Patch Applique for Suits Sherwani Kurti Dresses etc.","price":375,"image":"PATNC0082(1)-1693566443.jpg"},{"id":4909,"name":"Black-Red Color Embraided Designer Neck Patch Applique for Suits Dress Kurti Dresses etc.","price":210,"image":"PATNC0044(1)-1686642345.jpg"},{"id":4910,"name":"Silver Red Color Embroided Kurti\/Dress Designer Neck Patch Applique","price":502.5,"image":"PATNC0045(1)-1686644236.jpg"},{"id":4911,"name":"Antique Golden Color Embroided Kurti\/Dress Designer Neck Patch with Sleeves","price":660,"image":"PATNC0047(1)-1686645458.jpg"},{"id":4912,"name":"Off white Threadwork Embroided Kurti\/Dress Designer Patch Applique","price":750,"image":"PATNC0046(1)-1686648029.jpg"},{"id":4913,"name":"Red Threadwork Embroided Kurti\/Dress Designer Patch Applique","price":375,"image":"PATNC0046A(1)-1686648395.jpg"},{"id":4916,"name":"Brown color Threadwork Embroided Kurti\/Dress Designer Patch Applique","price":375,"image":"PATNC0046D(1)-1686649373.jpg"},{"id":4918,"name":"Black Color Thread and Ribbon Work Embroided Kurti\/Dress Designer Neck Patch","price":235,"image":"PATNC0048(2)-1686651292.jpg"},{"id":4919,"name":"Red Rose Embroidered Sew\/Iron on Patches, Cloth Sticker Patches for Clothing, Applique Patches for Clothes, Flower Embroidery Patch Jeans Backpack Iron Dress Badge DIY","price":300,"image":"PATME0020(1)-1686814759.jpg"},{"id":4920,"name":"Mickey Mouse Patch Embroidery Patch\/Applique","price":220,"image":"PATME0021(1)-1686817666.jpg"},{"id":4924,"name":"Cream Color Bird Shape Designer Thread Work Press-On Patch\/Applique","price":170,"image":"PATME0024(1)-1686908039.jpg"},{"id":4925,"name":"Blue Rose Embroidered Sew\/Iron on Patches, Cloth Sticker Patches for Clothing, Applique Patches for Clothes, Flower Embroidery Patch Jeans Backpack Iron Dress Badge DIY","price":250,"image":"PATME0025(1)-1686908282.jpg"},{"id":4926,"name":"Purple Rose Embroidered Sew\/Iron on Patches, Cloth Sticker Patches for Clothing, Applique Patches for Clothes, Flower Embroidery Patch Jeans Backpack Iron Dress Badge DIY","price":250,"image":"PATME0025A(1)-1686908426.jpg"},{"id":4927,"name":"Purple Round shape Thread Work Sew\/Iron on Patches, Cloth Sticker Patches for Clothing, Applique Patches for Clothes, Embroidery Patch Jeans Backpack Iron Dress Badge DIY","price":170,"image":"PATME0026(1)-1686909298.jpg"},{"id":4928,"name":"Emoji Faces Assorted Sew\/Iron on Patches, Cloth Sticker Patches for Clothing, Applique Patches for Clothes, Embroidery Patch Jeans Backpack Iron Dress Badge DIY","price":210,"image":"PATME0027(1)-1686909982.jpg"},{"id":4929,"name":"Black Moustache Sewon \/ Press On Patch for tops, jeans etc.","price":230,"image":"PATME0028(1)-1686910576.jpg"},{"id":4930,"name":"Snake patch Sewon \/ Press On Patch for tops, jeans etc.","price":210,"image":"PATME0029(1)-1686916861.jpg"},{"id":4931,"name":"Multi Color Heart Shape Sewon \/ Press On Patch for tops, jeans etc.","price":130,"image":"PATME0030(1)-1686917041.jpg"},{"id":4932,"name":"Multi Color Sequins Work Sewon \/ Press On Patch for tops, jeans etc.","price":130,"image":"PATME0031(1)-1686917173.jpg"},{"id":4933,"name":"Black Flower Fancy Buttons For Kurtis, Tops etc. Fancy Buttons For Suits","price":300,"image":"WBTN00237(1)-1686994875.jpg"},{"id":4934,"name":"White Rose Flower Design Fancy Buttons For Kurtis, Tops etc. Fancy Buttons For Suits","price":280,"image":"WBTN00238(1)-1686995099.jpg"},{"id":4935,"name":"Off-White Flower Design Fancy Pearl Buttons For Kurtis, Tops etc. Fancy Buttons For Suits","price":250,"image":"WBTN00239(1)-1687156134.jpg"},{"id":4936,"name":"White Golden Designer Fancy Pearl Buttons For Kurtis, Tops etc. Fancy Buttons For Suits","price":270,"image":"WBTN00240(1)-1687157824.jpg"},{"id":4937,"name":"Golden Color Rhinestone and Pearl Work Designer Fancy Button For Suits, Dresses, DIY Craft","price":300,"image":"WBTN00241(1)-1687160122.jpg"},{"id":4938,"name":"Dark Golden Color Rhinestone and Pearl Work Designer Fancy Button For Suits, Dresses, DIY Craft","price":250,"image":"WBTN00242(1)-1687160579.jpg"},{"id":4939,"name":"Grey Color Bow Shape Rhinestone and Pearl Work Button For Suits, Dresses, DIY Craft","price":400,"image":"WBTN00243(1)-1687168806.jpg"},{"id":4940,"name":"White Golden Flower Tree Designer Fancy Pearl Buttons For Kurtis, Tops etc. Fancy Buttons For Suits","price":300,"image":"WBTN00244(1)-1687175748.jpg"},{"id":4941,"name":"Designer Fancy Pearl and Rhinestone Buttons For Kurtis, Tops etc. Fancy Buttons For Suits","price":300,"image":"WBTN00245(1)-1687327998.jpg"},{"id":4942,"name":"Peach Designer Fancy Rhinestone Buttons For Kurtis, Tops etc. Fancy Buttons For Suits","price":300,"image":"WBTN00246(1)-1687328174.jpg"},{"id":4943,"name":"Beautiful Dyeable Embroidered Net White Lace Neckline, Dyeable Sewing Neck Applique, Sew On Patch Neck Applique Dress Motif Applique DIY","price":220,"image":"PATNC0050(1)-1687849926.jpg"},{"id":4945,"name":"Dyeable Embroidered Off White Neckline With Center Flower Line , Dyeable Sewing Neck Applique, Sew On Patch Neck Applique Dress Motif Applique DIY","price":150,"image":"PATNC0052(1)-1687850875.jpg"},{"id":4951,"name":"Off-White Rectangle Shape Sequins Work Dyeable Embroidered Neckline with Golden Sequins Work, Dyeable Sewing Neck Applique, Sew On Patch Neck Applique Dress Motif Applique DIY","price":180,"image":"PATNC0058(1)-1687867211.jpg"},{"id":4953,"name":"Off-White Rectangle Shape Sequins and Thread Work Dyeable Embroidered Neckline with Golden Sequins Work, Dyeable Sewing Neck Applique, Sew On Patch Neck Applique Dress Motif Applique DIY","price":180,"image":"PATNC0060(1)-1687867531.jpg"},{"id":4954,"name":"Off-White Rectangle Shape Sequins and Thread Work Dyeable Embroidered Neckline with Golden Sequins Work, Dyeable Sewing Neck Applique, Sew On Patch Neck Applique Dress Motif Applique DIY","price":180,"image":"PATNC0061(1)-1687932128.jpg"},{"id":4958,"name":"Pastel Yellow Color Designer Fancy Rhinestone Buttons For Kurtis, Tops etc. Fancy Buttons For Suits","price":270,"image":"WBTN00247(1)-1688036024.jpg"},{"id":4959,"name":"Greyish Blue Color Designer Fancy Rhinestone Buttons For Kurtis, Tops etc. Fancy Buttons For Suits","price":270,"image":"WBTN00247A(1)-1688036532.jpg"},{"id":4960,"name":"Cream Color Designer Fancy Rhinestone Buttons For Kurtis, Tops etc. Fancy Buttons For Suits","price":270,"image":"WBTN00247B(1)-1688037339.jpg"},{"id":4961,"name":"Peacock Green Color Designer Fancy Rhinestone Buttons For Kurtis, Tops etc. Fancy Buttons For Suits","price":280,"image":"WBTN00248(1)-1688037945.jpg"},{"id":4962,"name":"Light Pink Color Designer Fancy Rhinestone Buttons For Kurtis, Tops etc. Fancy Buttons For Suits","price":280,"image":"WBTN00248A(1)-1688038714.jpg"},{"id":4963,"name":"White Designer Fancy Pearl and Rhinestone Buttons For Kurtis, Tops etc. Fancy Buttons For Suits","price":250,"image":"WBTN00249(1)-1688039402.jpg"},{"id":4964,"name":"Pista Green Designer Fancy Pearl and Rhinestone Buttons For Kurtis, Tops etc. Fancy Buttons For Suits","price":250,"image":"WBTN00249A(1)-1688039687.jpg"},{"id":4965,"name":"Peach-Pink Designer Fancy Pearl and Rhinestone Buttons For Kurtis, Tops etc. Fancy Buttons For Suits","price":250,"image":"WBTN00249B(1)-1688039777.jpg"},{"id":4966,"name":"Purple Designer Fancy Pearl and Rhinestone Buttons For Kurtis, Tops etc. Fancy Buttons For Suits","price":250,"image":"WBTN00249C(1)-1688102554.jpg"},{"id":4967,"name":"White Color Swan\/Flamingo Shape Beads Work Fancy Applique Patch For Dresses, Bags, DIY Craft","price":230,"image":"PATF0093(1)-1688103858.jpg"},{"id":4968,"name":"Peach Color Swan\/Flamingo Shape Beads Work Fancy Applique Patch For Dresses, Bags, DIY Craft","price":230,"image":"PATF0093A(1)-1688104406.jpg"},{"id":4969,"name":"Dark Red Designer Fancy Rhinestone Buttons For Kurtis, Tops etc. Fancy Buttons For Suits","price":290,"image":"WBTN00250(1)-1688123951.jpg"},{"id":4970,"name":"Aqua Green Designer Fancy Rhinestone Buttons For Kurtis, Tops etc. Fancy Buttons For Suits","price":290,"image":"WBTN00250A(1)-1688124024.jpg"},{"id":4971,"name":"Mauvish Grey Designer Fancy Rhinestone Buttons For Kurtis, Tops etc. Fancy Buttons For Suits","price":290,"image":"WBTN00250B(1)-1688124127.jpg"},{"id":4972,"name":"Ferozi Blue Designer Fancy Rhinestone Buttons For Kurtis, Tops etc. Fancy Buttons For Suits","price":290,"image":"WBTN00250C(1)-1688124205.jpg"},{"id":4973,"name":"Black Designer Fancy Rhinestone Buttons For Kurtis, Tops etc. Fancy Buttons For Suits","price":290,"image":"WBTN00250D(1)-1688124390.jpg"},{"id":4974,"name":"Yellow Designer Fancy Rhinestone Buttons For Kurtis, Tops etc. Fancy Buttons For Suits","price":290,"image":"WBTN00250E(1)-1688124443.jpg"},{"id":4975,"name":"25 WATTS-230 VOLTS Soldering Iron For Home Use & Small Repairing Work For Electronics\/ Fabrics","price":210,"image":"71bOcuqRRBL._SX522_-1688451667.jpg"},{"id":4988,"name":"Golden Rectangle Rhinestone Buckle, Metal Buckle for Scarfs, Cardigans, Footwears etc.","price":330,"image":"BUCL00108(1)-1689150798.jpg"},{"id":4989,"name":"Silver Rectangle Rhinestone Buckle, Metal Buckle for Scarfs, Cardigans, Footwears etc.","price":330,"image":"BUCL00108A(1)-1689150877.jpg"},{"id":4990,"name":"Golden Rectangle Rhinestone and Pearl Buckle, Metal Buckle for Scarfs, Cardigans, Footwears etc.","price":330,"image":"BUCL00109(1)-1689150966.jpg"},{"id":4991,"name":"Silver Rectangle Rhinestone and Pearl Buckle, Metal Buckle for Scarfs, Cardigans, Footwears etc.","price":330,"image":"BUCL00109A(1)-1689151030.jpg"},{"id":4992,"name":"Muti Color Round Wooden Buttons for Kurtis, Cardigans, Sweaters etc.","price":130,"image":"WOBTN0051(1)-1689154002.jpg"},{"id":4993,"name":"Red White Color Round Wooden Buttons for Kurtis, Cardigans, Sweaters etc.","price":130,"image":"WOBTN0053(1)-1689154461.jpg"},{"id":4994,"name":"Dark Brown Round Wooden Buttons for Kurtis, Cardigans, Sweaters etc.","price":170,"image":"WOBTN0054(1)-1689154574.jpg"},{"id":4995,"name":"Brown-Grey Round Wooden Buttons for Kurtis, Cardigans, Sweaters etc.","price":170,"image":"WOBTN0055(1)-1689154713.jpg"},{"id":4996,"name":"Brown-Black Round Wooden Buttons for Kurtis, Cardigans, Sweaters etc.","price":200,"image":"WOBTN0054A(1)-1689154957.jpg"},{"id":4997,"name":"Skin Color Round Wooden Buttons for Kurtis, Cardigans, Sweaters etc.","price":170,"image":"WOBTN0055(1)-1689155058.jpg"},{"id":4998,"name":"Black Multi Color Round Wooden Buttons for Kurtis, Cardigans, Sweaters etc.","price":130,"image":"WOBTN0056(1)-1689155885.jpg"},{"id":4999,"name":"Skin Color Round Wooden Buttons for Kurtis, Cardigans, Sweaters etc.","price":130,"image":"WOBTN0057(1)-1689156652.jpg"},{"id":5000,"name":"Skin Multi Color Round Wooden Buttons for Kurtis, Cardigans, Sweaters etc.","price":130,"image":"WOBTN0058(1)-1689156849.jpg"},{"id":5001,"name":"Black Golden Rhinestone Lace for Suits, Dupattas, Dresses etc.","price":330,"image":"DORI0015(1)-1689244165.jpg"},{"id":5002,"name":"Black Silver Rhinestone Lace for Suits, Dupattas, Dresses etc.","price":330,"image":"DORI0015a(1)-1689244269.jpg"},{"id":5003,"name":"Black Peach Rhinestone Lace for Suits, Dupattas, Dresses etc.","price":330,"image":"DORI0015B(1)-1689244335.jpg"},{"id":5004,"name":"Silver Rainbow Rhinestone Lace for Suits, Dupattas, Dresses etc.","price":330,"image":"DORI0015C(1)-1689244408.jpg"},{"id":5005,"name":"Silver Rhinestone Lace for Suits, Dupattas, Dresses etc.","price":420,"image":"DORI0015D(1)-1689244480.jpg"},{"id":5009,"name":"Golden-Black Peacock Design Blouse Patch Designer Neck Patch Applique for Suits Blouse Choli Dresses etc.","price":575,"image":"PATNC0065(1)-1689841077.jpg"},{"id":5011,"name":"Red-Green Rose Design Blouse Patch Designer Neck Patch Applique for Suits Blouse Choli Dresses etc.","price":1200,"image":"PATNC0066(1)-1689845063.jpg"},{"id":5012,"name":"Orange Color Mirror Work Designer Neck Patch\/Neckline Applique Neck Patch Applique for Suits Blouse Choli Dresses etc.","price":500,"image":"PATNC0038A(1)-1689845607.jpg"},{"id":5013,"name":"Purple Color Mirror Work Designer Neck Patch\/Neckline Applique Neck Patch Applique for Suits Blouse Choli Dresses etc.","price":500,"image":"PATNC0038B(1)-1689845785.jpg"},{"id":5014,"name":"Magenta Color Mirror Work Designer Neck Patch\/Neckline Applique Neck Patch Applique for Suits Blouse Choli Dresses etc.","price":500,"image":"PATNC0038C(1)-1689845930.jpg"},{"id":5016,"name":"Designer Long Pearl cape\/pearl necklace poncho for Girls for blouse gowns saree dresses etc. pack of 1 piece","price":4170,"image":"cape0002-1689846992.jpg"},{"id":5019,"name":"'With You' Assorted Charms\/Pendants for bags, keychains, craft items etc.","price":230,"image":"charm-assorted-1690185730.jpg"},{"id":5020,"name":"'Cheer Up' Assorted Charms\/Pendants for bags, keychains, craft items etc.","price":230,"image":"charm-assorted1-1690185863.jpg"},{"id":5021,"name":"'Love You' Assorted Charms\/Pendants for bags, keychains, craft items etc.","price":230,"image":"charm-assorted2-1690186377.jpg"},{"id":5022,"name":"Assorted Charms\/Pendants for bags, keychains, craft items etc.- pack of 12 pcs","price":670,"image":"charm-assorted3-1690199610.jpg"},{"id":5023,"name":"White Color Butterfly Patch","price":380,"image":"PATHE0254(1)-1690271487.jpg"},{"id":5024,"name":"Black Color Butterfly Patch","price":380,"image":"PATHE0255(1)-1690271622.jpg"},{"id":5025,"name":"Red-Golden Fish Design Embroidery Patch | Fish Patch","price":180,"image":"PATHE0256(1)-1690273874.jpg"},{"id":5026,"name":"Green-Golden Fish Design Embroidery Patch | Fish Patch","price":180,"image":"PATHE0256A(1)-1690276145.jpg"},{"id":5027,"name":"Cream-Golden Fish Design Embroidery Patch | Fish Patch","price":180,"image":"PATHE0256B(1)-1690276171.jpg"},{"id":5029,"name":"Purple-Golden Fish Design Embroidery Patch | Fish Patch","price":180,"image":"PATHE0256E(1)-1690276440.jpg"},{"id":5031,"name":"Sea Green Fish Design Embroidery Patch | Fish Patch","price":180,"image":"PATHE0256F(1)-1690277057.jpg"},{"id":5032,"name":"Peach Fish Design Embroidery Patch | Fish Patch","price":180,"image":"PATHE0256G(1)-1690277241.jpg"},{"id":5033,"name":"Neon Green Fish Design Embroidery Patch | Fish Patch","price":180,"image":"PATHE0256H(1)-1690277564.jpg"},{"id":5034,"name":"Maroon Fish Design Embroidery Patch | Fish Patch","price":180,"image":"PATHE0256I(1)-1690277824.jpg"},{"id":5035,"name":"Orange Fish Design Embroidery Patch | Fish Patch","price":180,"image":"PATHE0256J(1)-1690277999.jpg"},{"id":5046,"name":"Yellow Fish Design Embroidery Patch | Fish Patch","price":180,"image":"PATHE0256D(1)-1690282092.jpg"},{"id":5047,"name":"Green Golden Flower Design Metal Kurta Patti Buttons","price":170,"image":"KURBT0044(1)-1690282810.jpg"},{"id":5048,"name":"Mauve Golden Flower Design Metal Kurta Patti Buttons","price":170,"image":"KURBT0044A(1)-1690283588.jpg"},{"id":5049,"name":"Ferozi Golden Flower Design Metal Kurta Patti Buttons","price":170,"image":"KURBT0044B(1)-1690284056.jpg"},{"id":5050,"name":"Yellow Golden Flower Design Metal Kurta Patti Buttons","price":170,"image":"KURBT0044C(1)-1690284236.jpg"},{"id":5051,"name":"Golden Orange Color Metal Kurta Patti Buttons","price":130,"image":"KURBT0045(1)-1690284755.jpg"},{"id":5052,"name":"Golden Stone Work Metal Kurta Patti Buttons","price":90,"image":"KURBT0046(1)-1690285428.jpg"},{"id":5055,"name":"Golden Rhinestone Stone Work Metal Kurta Patti Buttons","price":210,"image":"KURBT0049(1)-1690351868.jpg"},{"id":5056,"name":"Golden Eye Design Rhinestone Stone Pearl Work Metal Kurta Patti Buttons","price":80,"image":"KURBT0050(1)-1690353095.jpg"},{"id":5057,"name":"Golden Design Rhinestone Stone Pearl Work Metal Kurta Patti Buttons","price":220,"image":"KURBT0051(1)-1690356327.jpg"},{"id":5058,"name":"Golden Design Rhinestone and Pearl Work Metal Kurta Patti Buttons","price":230,"image":"KURBT0052(1)-1690356632.jpg"},{"id":5059,"name":"Golden Design Rhinestone Work Metal Kurta Patti Buttons","price":130,"image":"KURBT0053(1)-1690356767.jpg"},{"id":5060,"name":"Golden Design Rhinestone Work Metal Kurta Patti Buttons","price":200,"image":"KURBT0054(1)-1690363031.jpg"},{"id":5061,"name":"Golden Metal Kurta Patti Buttons","price":210,"image":"KURBT0055(1)-1690363161.jpg"},{"id":5063,"name":"White Thread Work Dyeable Patch Embroidery Patch For Dresses, Suits, DIY etc.","price":300,"image":"PATHE0259(1)-1690538380.jpg"},{"id":5064,"name":"White Flower Design Thread Work Dyeable Patch Embroidery Patch For Dresses, Suits, DIY etc.","price":300,"image":"PATHE0260(1)-1690538561.jpg"},{"id":5065,"name":"White Thread Work Dyeable Patch Embroidery Patch For Dresses, Suits, DIY etc.","price":120,"image":"PATHE0261(1)-1690538819.jpg"},{"id":5066,"name":"Black Leaf Shape Beads Work Designer Patch for dresses, suits etc.","price":380,"image":"PATHE0263(1)-1690542742.jpg"},{"id":5067,"name":"Pink Butterfly Patch Beads Work Designer Patch for dresses, suits etc.","price":230,"image":"PATHE0264(1)-1690543172.jpg"},{"id":5068,"name":"Rhinestone Work Designer Assorted Buttons- Pack of 10 pieces","price":170,"image":"A-BTN0001-1690545716.jpg"},{"id":5069,"name":"Golden Rhinestone Work Designer Assorted Buttons- Pack of 10 pieces","price":170,"image":"A-BTN0002-1690545917.jpg"},{"id":5070,"name":"Orange - Golden Rhinestone Work Designer Assorted Buttons in Pairs- Pack of 14 pieces","price":200,"image":"A-BTN0003-1690546068.jpg"},{"id":5071,"name":"Multi Color Rhinestone Work Designer Assorted Buttons in Pairs- Pack of 15 pieces","price":250,"image":"A-BTN0004-1690546195.jpg"},{"id":5072,"name":"Golden Rhinestone Work Designer Assorted Buttons- Pack of 20 pieces","price":250,"image":"A-BTN0005-1690546345.jpg"},{"id":5073,"name":"Enamel Rhinestone Work Designer Assorted Buttons- Pack of 10 pieces","price":200,"image":"A-BTN0006-1690611554.jpg"},{"id":5074,"name":"Round Assorted Plastic Buttons- Pack of 35 pieces","price":250,"image":"A-BTN0007-1690612609.jpg"},{"id":5075,"name":"Multi Colored Small-Size Rhinestone Assorted Buttons- Pack of 20 pieces","price":250,"image":"A-BTN0008-1690613755.jpg"},{"id":5076,"name":"Multi Colored Rhinestone Crystal Assorted Buttons- Pack of 18 pieces","price":250,"image":"A-BTN0009-1690614078.jpg"},{"id":5077,"name":"Off-White Color Pearl and Thread Work Designer Embroidery Collar for Shirts etc.","price":130,"image":"COLR00009(1)-1690793163.jpg"},{"id":5078,"name":"Off-White Color Stone and Sequins Work Designer Embroidery Collar for Shirts etc.","price":150,"image":"COLR00010(1)-1690793264.jpg"},{"id":5080,"name":"Sidhu Moose Wala Patch Stone Patch Hotfix Patch Iron on Patch\/Sticker","price":830,"image":"sidhu1-1690803022.jpg"},{"id":5094,"name":"Golden Gota Work Neck Patch Sew-on Neck Applique, Sew On Patch Dress Motif Applique DIY","price":420,"image":"PATNC0074(1)-1690890002.jpg"},{"id":5096,"name":"Golden Gota Work Small Neck Patch Sew-on Neck Applique, Sew On Patch Dress Motif Applique DIY","price":330,"image":"PATNC0076(1)-1690890254.jpg"},{"id":5098,"name":"Golden Long Gota Work Small Neck Patch Sew-on Neck Applique, Sew On Patch Dress Motif Applique DIY","price":380,"image":"PATNC0078(1)-1690890645.jpg"},{"id":5100,"name":"Metallic Grey Color Lion Face Design Beads Work Designer Fancy Embroidery Patch","price":380,"image":"PATHE0265(1)-1691148723.jpg"},{"id":5102,"name":"Black Color Lion Face Design Beads Work Designer Fancy Embroidery Patch","price":380,"image":"PATHE0265B(1).-1691150956.jpg"},{"id":5104,"name":"Multi color Neck Patch Sew-on Neck Applique, Sew On Patch Dress Motif Applique DIY- DESIGN 1","price":110,"image":"patnc0080d-1695124935.jpg"},{"id":5105,"name":"Multi color Neck Patch Sew-on Neck Applique, Sew On Patch Dress Motif Applique DIY- DESIGN 2","price":110,"image":"patnc0080c-1695124918.jpg"},{"id":5106,"name":"Multi color Neck Patch Sew-on Neck Applique, Sew On Patch Dress Motif Applique DIY- DESIGN 3","price":110,"image":"PATNC0080B(1)-1695124898.jpg"},{"id":5107,"name":"Golden Sequins and Zari Work Lace Bridal Lace for Dupatta, lehnga etc.","price":1040,"image":"ZRBD0045(2)-1691836935.jpg"},{"id":5108,"name":"Golden Cutwork Sequins and Zari Work Lace Bridal Lace for Dupatta, lehnga etc.","price":540,"image":"ZRBD0046(1)-1691837127.jpg"},{"id":5109,"name":"Golden Sequins and Zari Work Lace Bridal Lace for Dupatta, lehnga etc. - Design 1","price":1020,"image":"ZRBD0047(1)-1691837365.jpg"},{"id":5110,"name":"Light Golden Sequins and Zari Work Lace Bridal Lace for Dupatta, lehnga etc. - Design 2","price":1370,"image":"ZRBD0048(1)-1691838299.jpg"},{"id":5111,"name":"Light Golden Sequins and Zari Work Lace Bridal Lace for Dupatta, lehnga etc. - Design 3","price":710,"image":"ZRBD0049(1)-1691838416.jpg"},{"id":5112,"name":"Red color Feather Style Light Weight Button For Kurtis, Tops etc.","price":170,"image":"WBTN00251(1)-1692183627.jpg"},{"id":5113,"name":"Royal Blue color Feather Style Light Weight Button For Kurtis, Tops etc.","price":170,"image":"WBTN00251A(1)-1692183929.jpg"},{"id":5114,"name":"Brown color Feather Style Light Weight Button For Kurtis, Tops etc.","price":170,"image":"WBTN00251B(1)-1692184159.jpg"},{"id":5115,"name":"Light Peach color Feather Style Light Weight Button For Kurtis, Tops etc.","price":170,"image":"WBTN00251C(1)-1692184343.jpg"},{"id":5116,"name":"Grey color Feather Style Light Weight Button For Kurtis, Tops etc.","price":170,"image":"WBTN00251D(1)-1692184506.jpg"},{"id":5117,"name":"Maroon color Feather Style Light Weight Button For Kurtis, Tops etc.","price":170,"image":"WBTN00251E(1)-1692184907.jpg"},{"id":5118,"name":"Neon Pink color Feather Style Light Weight Button For Kurtis, Tops etc.","price":170,"image":"WBTN00251F(1)-1692185150.jpg"},{"id":5119,"name":"Yellow color Feather Style Light Weight Button For Kurtis, Tops etc.","price":170,"image":"WBTN00251G(1)-1692185310.jpg"},{"id":5120,"name":"Desaturated Pink color Feather Style Light Weight Button For Kurtis, Tops etc.","price":170,"image":"WBTN00251H(1)-1692185860.jpg"},{"id":5121,"name":"Mehandi Green color Feather Style Light Weight Button For Kurtis, Tops etc.","price":170,"image":"WBTN00251I(1)-1692186099.jpg"},{"id":5122,"name":"Mauve color Feather Style Light Weight Button For Kurtis, Tops etc.","price":170,"image":"WBTN00251J(1)-1692186273.jpg"},{"id":5123,"name":"Mouse Grey color Feather Style Light Weight Button For Kurtis, Tops etc.","price":170,"image":"WBTN00251K(1)-1692186566.jpg"},{"id":5124,"name":"Dark Brown color Feather Style Light Weight Button For Kurtis, Tops etc.","price":170,"image":"WBTN00251L(1)-1692186817.jpg"},{"id":5125,"name":"Neon Green color Feather Style Light Weight Button For Kurtis, Tops etc.","price":170,"image":"WBTN00251M(1)-1692186964.jpg"},{"id":5126,"name":"Light Golden Sequins and Zari Work Lace Bridal Lace for Dupatta, lehnga etc. - Design 4","price":750,"image":"ZRBD0050(1)-1692358687.jpg"},{"id":5127,"name":"Antique Golden Sequins and Zari Work Lace Bridal Lace for Dupatta, lehnga etc.","price":1040,"image":"ZRBD0051(1)-1692358885.jpg"},{"id":5128,"name":"Light Golden Sequins and Zari Work Lace Bridal Lace for Dupatta, lehnga etc.","price":1040,"image":"ZRBD0051A(1)-1692359072.jpg"},{"id":5129,"name":"Light Golden Sequins and Zari Work Lace Bridal Lace for Dupatta, lehnga etc.","price":1250,"image":"ZRBD0052(1)-1692359269.jpg"},{"id":5130,"name":"Golden Zari Work Lace Bridal Lace for Dupatta, lehnga etc.","price":580,"image":"ZRBD0053(2)-1692359964.jpg"},{"id":5131,"name":"Golden Zari Work Lace Bridal Lace for Dupatta, lehnga etc.","price":880,"image":"ZRBD0054(1)-1692360039.jpg"},{"id":5132,"name":"Antique Golden Zari Work Lace Bridal Lace for Dupatta, lehnga etc.","price":1130,"image":"ZRBD0055(1)-1692360204.jpg"},{"id":5133,"name":"Golden Sequins and Zari Work Lace Bridal Lace for Dupatta, lehnga etc. Zari Lace","price":480,"image":"ZRBD0056(1)-1692612157.jpg"},{"id":5134,"name":"Light Golden Sequins and Zari Work Lace Bridal Lace for Dupatta, lehnga etc. Zari Lace","price":680,"image":"ZRBD0057(1)-1692613053.jpg"},{"id":5135,"name":"Rose Golden Sequins and Zari Work Lace Bridal Lace for Dupatta, lehnga etc. Zari Lace","price":430,"image":"ZRBD0058(1)-1692613206.jpg"},{"id":5136,"name":"Light Golden Cutwork Design Sequins and Zari Work Lace Bridal Lace for Dupatta, lehnga etc. Zari Lace","price":1040,"image":"ZRBD0059(1)-1692613582.jpg"},{"id":5137,"name":"Antique Golden Cutwork Design Sequins and Zari Work Lace Bridal Lace for Dupatta, lehnga etc. Zari Lace","price":1040,"image":"ZRBD0059A(1)-1692613741.jpg"},{"id":5138,"name":"Golden Cutwork Design Sequins and Zari Work Lace Bridal Lace for Dupatta, lehnga etc. Zari Lace","price":540,"image":"ZRBD0060A(1)-1692615519.jpg"},{"id":5139,"name":"Rose Golden Cutwork Design Sequins and Zari Work Lace Bridal Lace for Dupatta, lehnga etc. Zari Lace","price":1080,"image":"ZRBD0061(1)-1692615859.jpg"},{"id":5140,"name":"Light Golden Cutwork Design Sequins and Zari Work Lace Bridal Lace for Dupatta, lehnga etc. Zari Lace","price":1080,"image":"ZRBD0061A(1)-1692617272.jpg"},{"id":5142,"name":"Light Golden Sequins and Zari Work Lace Bridal Lace for Dupatta, lehnga etc. Zari Lace Flower Design","price":480,"image":"ZRBD0062(1)-1692617732.jpg"},{"id":5143,"name":"Light Golden Sequins and Zari Work Lace Bridal Lace for Dupatta, lehnga etc. Zari Lace Flower Design","price":650,"image":"ZRBD0063(1)-1692617613.jpg"},{"id":5144,"name":"Golden Cutwork Design Sequins and Zari Work Lace Bridal Lace for Dupatta, lehnga etc. Zari Lace","price":750,"image":"ZRBD0064(1)-1692617836.jpg"},{"id":5145,"name":"Water Golden Criss-Cross Design Sequins and Zari Work Lace Bridal Lace for Dupatta, lehnga etc. Zari Lace","price":520,"image":"ZRBD0065(1)-1692618135.jpg"},{"id":5146,"name":"Rose Golden Criss-Cross Design Sequins and Zari Work Lace Bridal Lace for Dupatta, lehnga etc. Zari Lace","price":520,"image":"ZRBD0065A(1)-1692618236.jpg"},{"id":5147,"name":"Light Golden Sequins and Zari Work Lace Bridal Lace for Dupatta, lehnga etc. Zari Lace","price":650,"image":"ZRBD0066(1)-1692619392.jpg"},{"id":5148,"name":"Golden Sequins and Zari Work Lace Bridal Lace for Dupatta, lehnga etc. Zari Lace","price":650,"image":"ZRBD0066A(1)-1692619662.jpg"},{"id":5149,"name":"Golden Leaf Design Sequins and Zari Work Lace Bridal Lace for Dupatta, lehnga etc. Zari Lace","price":400,"image":"ZRBD0067(1)-1692619600.jpg"},{"id":5150,"name":"Stiff Black Polyester Horsehair Trim Braid Hem\/Plastic Net for Sewing Wedding Dress Gowns-12 mm, pack of 50 yrads","price":250,"image":"PLNET0007(3)-1692776733.jpg"},{"id":5151,"name":"Stiff Black Polyester Horsehair Trim Braid Hem\/Plastic Net for Sewing Wedding Dress Gowns-1 inch , pack of 50 yrads","price":330,"image":"PLNET0006-1692777755.jpg"},{"id":5152,"name":"Stiff Black Polyester Horsehair Trim Braid Hem\/Plastic Net for Sewing Wedding Dress Gowns-2 inch , pack of 50 yrads","price":670,"image":"PLNET0006(1)-1692778032.jpg"},{"id":5153,"name":"Stiff Black Polyester Horsehair Trim Braid Hem\/Plastic Net for Sewing Wedding Dress Gowns-3 inch , pack of 50 yrads","price":1000,"image":"PLNET0006-1692778262.jpg"},{"id":5154,"name":"Stiff Black Polyester Horsehair Trim Braid Hem\/Plastic Net for Sewing Wedding Dress Gowns-4 inch , pack of 50 yrads","price":2250,"image":"PLNET0007(2)-1692779063.jpg"},{"id":5156,"name":"Silver Leaf Shape Beads Work Designer Patch for dresses, suits etc.","price":380,"image":"PATHE0268A(1)-1692878104.jpg"},{"id":5157,"name":"Rose Gold Leaf Shape Beads Work Designer Patch for dresses, suits etc.","price":380,"image":"PATHE0268B(1)-1692878203.jpg"},{"id":5158,"name":"Blue Leaf Shape Beads Work Designer Patch for dresses, suits etc.","price":380,"image":"PATHE0268C(1)-1692878451.jpg"},{"id":5159,"name":"Off-White Color Rectangle Shape Plastic Stones","price":200,"image":"PLASTIC-STONE-1693048824.jpg"},{"id":5160,"name":"Antique Golden\/Brown Color Embroided Kurti\/Dress Designer Neck Patch with Sleeves","price":798,"image":"PATNC0084(1)-1693566967.jpg"},{"id":5161,"name":"Golden Designer Blouse Back Doli Patch Designer Neck Patch Applique for Suits Blouse Choli Dresses etc. Bridal Blouse Patch","price":4080,"image":"PATNC0081(1)-1693567415.jpg"},{"id":5162,"name":"Antique Golden\/Brown Color Embroided Kurti\/Dress Designer Neck Patch Blouse Patch","price":900,"image":"PATNC0083(1)-1693567851.jpg"},{"id":5163,"name":"Black-Golden Color Embroided Kurti\/Dress Designer Neck Patch\/Applique","price":500,"image":"PATNC0080(1)-1693568983.jpg"},{"id":5164,"name":"Black-Silver Color Embroided Kurti\/Dress Designer Neck Patch\/Applique","price":500,"image":"PATNC0080B(1)-1693568998.jpg"},{"id":5165,"name":"Black Color Embroided Kurti\/Dress Designer Neck Patch\/Applique","price":500,"image":"PATNC0080A(1)-1693569071.jpg"},{"id":5166,"name":"Orange Color Mirror Work Designer Neck Patch Applique with Sleeves for Suits Blouse Dresses etc.","price":1225,"image":"PATNC0039A(1)-1693650865.jpg"},{"id":5167,"name":"Golden Cutwork Mirror Lace for Dupatta, Lehenga etc. Mirror Work Lace Border","price":1380,"image":"MRLC0022(1)-1693655088.jpg"},{"id":5168,"name":"Blue Color Swan\/Flamingo Shape Beads Work Fancy Applique Patch For Dresses, Bags, DIY Craft","price":230,"image":"PATF0093B-1(1)-1693897146.jpg"},{"id":5169,"name":"Golden Mirror Lace for Dupatta, Lehenga etc. Mirror Work Lace Border","price":1250,"image":"MRLC0023(1)-1693899072.jpg"},{"id":5170,"name":"Golden Round Mirror Lace for Dupatta, Lehenga etc. Mirror Work Lace Border","price":650,"image":"MRLC0024(1)-1693899186.jpg"},{"id":5171,"name":"Golden Mirror Lace for Dupatta, Lehenga etc. Mirror Work Lace Border","price":960,"image":"MRLC0025(1)-1693899428.jpg"},{"id":5172,"name":"Golden Mirror Lace for Dupatta, Lehenga etc. Mirror Work Lace Border","price":1040,"image":"MRLC0026(1)-1693899444.jpg"},{"id":5173,"name":"Golden Cutwork Mirror Lace for Dupatta, Lehenga etc. Mirror Work Lace Border","price":960,"image":"MRLC0027(1)-1693900231.jpg"},{"id":5174,"name":"Black Single Line Mirror Lace for Dupatta, Lehenga etc. Mirror Work Lace Border","price":400,"image":"MRLC0028(1)-1693900446.jpg"},{"id":5176,"name":"Light Golden Single Line Mirror Lace for Dupatta, Lehenga etc. Mirror Work Lace Border","price":400,"image":"MRLC0028B(1)-1693900666.jpg"},{"id":5177,"name":"Off-White Single Line Mirror Lace for Dupatta, Lehenga etc. Mirror Work Lace Border","price":400,"image":"MRLC0028C(1)-1693900837.jpg"},{"id":5178,"name":"White Teddy Design Fancy Fur Patch","price":170,"image":"PATF0096(1)-1693914581.jpg"},{"id":5179,"name":"Light Brown Teddy Design Fancy Fur Patch","price":170,"image":"PATF0096A(1)-1693999803.jpg"},{"id":5180,"name":"Vanilla Color Teddy Design Fancy Fur Patch","price":170,"image":"PATF0096B(1)-1693999912.jpg"},{"id":5181,"name":"Black Teddy Design Fancy Fur Patch","price":170,"image":"PATF0096c(1)-1693999977.jpg"},{"id":5182,"name":"Peach Teddy Design Fancy Fur Patch","price":170,"image":"PATF0096D(1)-1694000154.jpg"},{"id":5183,"name":"Black Butterfly Design Fancy Fur Patch","price":250,"image":"PATF0097(1)-1694159136.jpg"},{"id":5184,"name":"Vanilla Butterfly Design Fancy Fur Patch","price":250,"image":"PATF0097A(1)-1694159250.jpg"},{"id":5185,"name":"Brown Butterfly Design Fancy Fur Patch","price":250,"image":"PATF0097B(1)-1694159304.jpg"},{"id":5186,"name":"Grey Butterfly Design Fancy Fur Patch","price":250,"image":"PATF0097C(1)-1694159362.jpg"},{"id":5187,"name":"Navy Blue Butterfly Design Fancy Fur Patch","price":250,"image":"PATF0097D(1)-1694159709.jpg"},{"id":5188,"name":"Baby Pink Butterfly Design Fancy Fur Patch","price":250,"image":"PATF0097E(1)-1694159780.jpg"},{"id":5189,"name":"Light Peach Butterfly Design Fancy Fur Patch","price":250,"image":"PATF0097F(1)-1694159929.jpg"},{"id":5190,"name":"Red Butterfly Design Fancy Fur Patch","price":250,"image":"PATF0097G(1)-1694160040.jpg"},{"id":5191,"name":"Vanilla Color Rabbit Ears Design Fancy Fur Patch","price":170,"image":"PATF0095(1)-1694252090.jpg"},{"id":5192,"name":"Grey Color Rabbit Ears Design Fancy Fur Patch","price":170,"image":"PATF0095A(1)-1694252189.jpg"},{"id":5193,"name":"Black Color Rabbit Ears Design Fancy Fur Patch","price":170,"image":"PATF0095B(1)-1694252348.jpg"},{"id":5194,"name":"Peach Color Rabbit Ears Design Fancy Fur Patch","price":170,"image":"PATF0095C(1)-1694252513.jpg"},{"id":5195,"name":"Baby Pink Color Rabbit Ears Design Fancy Fur Patch","price":170,"image":"PATF0095D(1)-1694252649.jpg"},{"id":5196,"name":"Golden Color Rabbit Ears Design Fancy Fur Patch","price":170,"image":"PATF0095E(1)-1694252851.jpg"},{"id":5197,"name":"Brown Color Rabbit Ears Design Fancy Fur Patch","price":170,"image":"PATF0095F(1)-1694252926.jpg"},{"id":5198,"name":"Dark Green Color Rabbit Ears Design Fancy Fur Patch","price":170,"image":"PATF0095G(1)-1694253004.jpg"},{"id":5200,"name":"Rose-Golden Bride-Bridegroom Hand Embroidery Patch","price":550,"image":"PATHE0157A(1)-Right--1694416333.jpg"},{"id":5201,"name":"Dull-Golden Bridal Doli Patch Hand Embroidery Patch\/Applique","price":960,"image":"PATHE0269(1)-1694417417.jpg"},{"id":5202,"name":"Rose-Golden Bridal Doli Patch Hand Embroidery Patch\/Applique","price":960,"image":"PATHE0269A(1)-1694418306.jpg"},{"id":5203,"name":"Blue Color Multi Angel Wings Patch\/Applique Sequins Work Patch","price":920,"image":"PATHE0270(1)-1694588243.jpg"},{"id":5204,"name":"Pink Color Multi Angel Wings Patch\/Applique Sequins Work Patch","price":920,"image":"PATHE0270A(1)-1694588347.jpg"},{"id":5205,"name":"Metallic Grey Color Angel Wings Patch\/Applique Sequins Work Patch","price":750,"image":"PATHE0271(1)-1694588556.jpg"},{"id":5206,"name":"Golden Color Angel Wings Patch\/Applique Sequins Work Patch","price":750,"image":"PATHE0271A(1)-1694588771.jpg"},{"id":5215,"name":"Assorted Wooden Buttons - PACK OF 62 PIECES","price":330,"image":"assorted-1694778084.jpg"},{"id":5216,"name":"Water Golden Rectangle Shape Zardozi Neck Patch Neckline","price":200,"image":"PATNC0094(3)-1695109737.jpg"},{"id":5218,"name":"Pearl Matte \/ Light Golden Rectangle Shape Zardozi Neck Patch Neckline","price":200,"image":"PATNC0094B(3)-1695109505.jpg"},{"id":5219,"name":"Water Golden Zardozi Neck Patch Neckline","price":250,"image":"PATNC0095(3)-1695020456.jpg"},{"id":5221,"name":"Pearl Matte \/ Light Golden Zardozi Neck Patch Neckline","price":250,"image":"PATNC0095B(3)-1695019543.jpg"},{"id":5222,"name":"Rainbow Color Pearl Button for Tops, Sweaters, Dresses etc.","price":330,"image":"PRLBTN0071(1)-1695116626.jpg"},{"id":5223,"name":"White Color with Metal Base Pearl Button for Tops, Sweaters, Dresses etc.","price":200,"image":"PRLBTN0072(1)-1695118017.jpg"},{"id":5224,"name":"Textured Off-White Color Pearl Button for Tops, Sweaters, Dresses etc.","price":230,"image":"PRLBTN0073(1)-1695119746.jpg"},{"id":5225,"name":"Off-White Color Pearl Button With Center Stone for Tops, Sweaters, Dresses etc.","price":270,"image":"PRLBTN0074(1)-1695119934.jpg"},{"id":5226,"name":"Off-White Color Rectangle Shape Pearl Button for Tops, Sweaters, Dresses etc.","price":330,"image":"PRLBTN0075(1)-1695120066.jpg"},{"id":5227,"name":"Golden color light weight fringes lace Kiran Lace for dupattas","price":330,"image":"FRNG0008A(1)-1695196128.jpg"},{"id":5229,"name":"Rose Gold Fringes Lace Trim Kiran Crush Lace Frill Lace for dupattas","price":330,"image":"FRNG00233(1)-1695204343.jpg"},{"id":5230,"name":"Pearl Matte Light Golden Fringes Lace Trim Kiran Crush Lace Frill Lace for dupattas","price":300,"image":"FRNG00232(1)-1695204596.jpg"},{"id":5231,"name":"White Golden Fringes Lace Trim Kiran Crush Lace Frill Lace - Dyeable","price":415,"image":"FRNG00229(3)-1695205985.jpg"},{"id":5232,"name":"Yellowish Golden Fringes Lace Trim Kiran Crush Lace Frill Lace for dupattas","price":250,"image":"FRNG00230(1)-1695210657.jpg"},{"id":5233,"name":"Silver Fringes Lace Trim Kiran Crush Lace Frill Lace for dupattas","price":250,"image":"FRNG00230A(1)-1695210823.jpg"},{"id":5234,"name":"Light Golden Fringes Lace Trim Kiran Crush Lace Frill Lace for dupattas","price":250,"image":"FRNG00230B(1)-1695210897.jpg"},{"id":5235,"name":"Pearl Matte Fringes Lace Trim Kiran Crush Lace Frill Lace for dupattas","price":250,"image":"FRNG00230C(1)-1695211107.jpg"},{"id":5236,"name":"Black Grey Peacock Design Fancy Embroidery Patch\/Applique For Dresses, Suits, Blazers, etc.","price":1790,"image":"PATHE0232A(1)-1695369572.jpg"},{"id":5237,"name":"Sky Blue Color Tassels - Pack of 4","price":135,"image":"TASSL0001-1695371642.jpg"},{"id":5238,"name":"Lavender Color Tassels - Pack of 4","price":135,"image":"TASSL0001A-1695374255.jpg"},{"id":5239,"name":"Reddish Color Tassels - Pack of 4","price":135,"image":"TASSL0001B-1695374319.jpg"},{"id":5240,"name":"Magenta Color Tassels - Pack of 4","price":135,"image":"TASSL0004B-1695374393.jpg"},{"id":5241,"name":"Black Color Tassels - Pack of 4","price":135,"image":"TASSL0004D-1695375616.jpg"},{"id":5242,"name":"Peach Color Tassels - Pack of 4","price":135,"image":"TASSL0004E-1695375654.jpg"},{"id":5243,"name":"Royal Blue Color Tassels - Pack of 4","price":135,"image":"TASSL0004F-1695375723.jpg"},{"id":5244,"name":"Rose Gold Color Tassels - Pack of 4","price":135,"image":"TASSL0004G-1695375858.jpg"},{"id":5245,"name":"Light Green Color Tassels - Pack of 4","price":135,"image":"TASSL0004H-1695375994.jpg"},{"id":5246,"name":"Light Golden Color Tassels - Pack of 4","price":135,"image":"TASSL0004I-1695376060.jpg"},{"id":5247,"name":"Purple Color Tassels - Pack of 4","price":135,"image":"TASSL0004J-1695376412.jpg"},{"id":5248,"name":"Maroon Color Tassels - Pack of 4","price":135,"image":"TASSL0004K-1695376579.jpg"},{"id":5249,"name":"Red Color Tassels - Pack of 4","price":135,"image":"TASSL0004L-1695376641.jpg"},{"id":5250,"name":"Bronze Color Tassels - Pack of 4","price":135,"image":"TASSL0004M-1695376699.jpg"},{"id":5251,"name":"Golden Color Tassels - Pack of 4","price":135,"image":"TASSL0004N-1695376776.jpg"},{"id":5252,"name":"Silver Color Tassels - Pack of 4","price":135,"image":"TASSL0004O-1695380327.jpg"},{"id":5253,"name":"Neon Yellow Color Tassels - Pack of 4","price":135,"image":"TASSL0004P-1695380409.jpg"},{"id":5254,"name":"White Color Tassels - Pack of 4","price":135,"image":"TASSL0004Q-1695380509.jpg"},{"id":5255,"name":"Off-White Color Tassels - Pack of 4","price":135,"image":"TASSL0004R-1695381214.jpg"},{"id":5256,"name":"Grey Color Tassels - Pack of 4","price":135,"image":"TASSL0004S-1695381272.jpg"},{"id":5257,"name":"Light Golden Tassel and Sequins Laddoo Hangings\/Latkans - 2 pieces","price":200,"image":"HANG0031(1)-1695982108.jpg"},{"id":5258,"name":"White Tassel and Sequins Laddoo Hangings\/Latkans - 2 pieces","price":200,"image":"HANG0031A(1)-1695982211.jpg"},{"id":5259,"name":"Magenta Tassel and Sequins Laddoo Hangings\/Latkans - 2 pieces","price":200,"image":"HANG0031B(1)-1695982283.jpg"},{"id":5260,"name":"Navy Blue Tassel and Sequins Laddoo Hangings\/Latkans - 2 pieces","price":200,"image":"HANG0031c(1)-1695982389.jpg"},{"id":5261,"name":"Grey Tassel and Sequins Laddoo Hangings\/Latkans - 2 pieces","price":200,"image":"HANG0031D(1)-1695982481.jpg"},{"id":5262,"name":"Golden and Sequins Laddoo Hangings\/Latkans - 2 pieces","price":200,"image":"HANG0031E(1)-1695982656.jpg"},{"id":5263,"name":"Lavender Tassel and Sequins Laddoo Hangings\/Latkans - 2 pieces","price":200,"image":"HANG0031F(1)-1695982766.jpg"},{"id":5264,"name":"Reddish Golden Tassel and Sequins Laddoo Hangings\/Latkans - 2 pieces","price":200,"image":"HANG0031G(1)-1695983001.jpg"},{"id":5265,"name":"Multi Tassel and Sequins Laddoo Hangings\/Latkans - 2 pieces","price":200,"image":"HANG0031H(1)-1695983345.jpg"},{"id":5266,"name":"Orange Tassel and Sequins Laddoo Hangings\/Latkans - 2 pieces","price":200,"image":"HANG0031i(1)-1695984057.jpg"},{"id":5267,"name":"Wine Tassel and Sequins Laddoo Hangings\/Latkans - 2 pieces","price":200,"image":"HANG0031J(1)-1695984132.jpg"},{"id":5268,"name":"Light Green Tassel and Sequins Laddoo Hangings\/Latkans - 2 pieces","price":200,"image":"HANG0031K(1)-1695984353.jpg"},{"id":5269,"name":"Multi Golden Tassel and Sequins Laddoo Hangings\/Latkans - 2 pieces","price":200,"image":"HANG0031L(1)-1695984519.jpg"},{"id":5270,"name":"Silver Mirror and Crystal Hangings\/Latkans - 2 pieces","price":250,"image":"HANG0032(1)-1695986705.jpg"},{"id":5271,"name":"Baby Pink Mirror and Crystal Hangings\/Latkans - 2 pieces","price":250,"image":"HANG0032A(1)-1695986788.jpg"},{"id":5272,"name":"Black Mirror and Crystal Hangings\/Latkans - 2 pieces","price":250,"image":"HANG0032B(1)-1695986875.jpg"},{"id":5273,"name":"Peacock Blue Mirror and Crystal Hangings\/Latkans - 2 pieces","price":250,"image":"HANG0032C(1)-1695987022.jpg"},{"id":5274,"name":"Multi Mirror and Crystal Hangings\/Latkans - 2 pieces","price":250,"image":"HANG0032D(1)-1695987191.jpg"},{"id":5275,"name":"Peach Mirror and Crystal Hangings\/Latkans - 2 pieces","price":250,"image":"HANG0032E(1)-1695987323.jpg"},{"id":5276,"name":"Lavender Mirror and Crystal Hangings\/Latkans - 2 pieces","price":250,"image":"HANG0032G(1)-1695987471.jpg"},{"id":5277,"name":"Metallic Blue Mirror and Crystal Hangings\/Latkans - 2 pieces","price":250,"image":"HANG0032H(1)-1695987761.jpg"},{"id":5278,"name":"Golden Mirror and Crystal Hangings\/Latkans - 2 pieces","price":250,"image":"HANG0032J-1695988422.jpg"},{"id":5279,"name":"Maroon Mirror and Crystal Hangings\/Latkans - 2 pieces","price":250,"image":"HANG0032K-1695988478.jpg"},{"id":5280,"name":"Yellow Mirror and Crystal Hangings\/Latkans - 2 pieces","price":250,"image":"HANG0032L-1695988532.jpg"},{"id":5281,"name":"Red Mirror and Crystal Hangings\/Latkans - 2 pieces","price":250,"image":"HANG0032M-1695988573.jpg"},{"id":5282,"name":"Golden Color Gota Patti Neck Patch\/ Neckline for suits, kurtis etc.","price":430,"image":"PATNC0096(1)-1696328737.jpg"},{"id":5283,"name":"Golden Color Gota Patti Neck Patch\/ Neckline for suits, kurtis etc.","price":500,"image":"PATNC0097(1)-1696328916.jpg"},{"id":5284,"name":"Golden Color Gota Patti Neck Patch\/ Neckline for suits, kurtis etc.","price":500,"image":"PATNC0098(1)-1696329390.jpg"},{"id":5286,"name":"Maroon Color Designer Round Metal Coat Buttons Blazer Buttons - Sold With Box","price":550,"image":"MCBTN00120(1)-1696333163.jpg"},{"id":5289,"name":"Silver Designer Round Metal Coat Buttons Blazer Buttons - Sold With Box","price":850,"image":"MCBTN00123(1)-1696415199.jpg"},{"id":5290,"name":"Golden Antique Designer Round Metal Coat Buttons Blazer Buttons - Sold With Box","price":850,"image":"MCBTN00124(1)-1696417600.jpg"},{"id":5293,"name":"Golden Color Aluminum Metal Chain","price":375,"image":"MTLCH0032A(2)-1696499041.jpg"},{"id":5294,"name":"Silver Color Aluminum Metal Chain","price":375,"image":"MTLCH0032A(1)-1696499135.jpg"},{"id":5295,"name":"White Color Dandia Theme Neck Patch\/ Neckline for suits, kurtis etc.","price":330,"image":"PATNC00100(1)-1696576730.jpg"},{"id":5296,"name":"Black Color Dandia Theme Neck Patch\/ Neckline for suits, kurtis etc.","price":330,"image":"PATNC00100A(1)-1696577082.jpg"},{"id":5297,"name":"Black Color Navratri Theme Neck Patch\/ Neckline for suits, kurtis etc.","price":330,"image":"PATNC00102A(1)-1696577549.jpg"},{"id":5298,"name":"White Color Navratri Theme Neck Patch\/ Neckline for suits, kurtis etc.","price":330,"image":"PATNC00101A(1)-1696578371.jpg"},{"id":5299,"name":"White Color Navratri Theme Peacock Design Neck Patch\/ Neckline for suits, kurtis etc.","price":330,"image":"PATNC00102(1)-1696581165.jpg"},{"id":5300,"name":"Black Color Navratri Theme Peacock Design Neck Patch\/ Neckline for suits, kurtis etc.","price":330,"image":"PATNC00102A(1)-1696581301.jpg"},{"id":5301,"name":"White Color Navratri Theme Bridal Neck Patch\/ Neckline for suits, kurtis etc.","price":330,"image":"PATNC00103(1)-1696581766.jpg"},{"id":5302,"name":"Black Color Navratri Theme Bridal Neck Patch\/ Neckline for suits, kurtis etc.","price":330,"image":"PATNC00103A(1)-1696581830.jpg"},{"id":5303,"name":"White Pearl Work Neck Patch Sew-on Neck Applique, Sew On Patch Dress Motif Applique DIY","price":480,"image":"PATNC00104(1)-1696582020.jpg"},{"id":5304,"name":"4 x 6 MM Cone Faceted Crystal Beads in White Color","price":125,"image":"CGBDS0010(1)-1696679859.jpg"},{"id":5305,"name":"4 x 6 MM Cone Faceted Crystal Beads in Yellow Color","price":125,"image":"CGBDS0010A(1)-1696680006.jpg"},{"id":5306,"name":"4 x 6 MM Cone Faceted Crystal Beads in Dark Green Color","price":125,"image":"CGBDS0010B(1)-1696680070.jpg"},{"id":5307,"name":"4 x 6 MM Cone Faceted Crystal Beads in Sky Blue Color","price":125,"image":"CGBDS0010C(1)-1696680422.jpg"},{"id":5308,"name":"4 x 6 MM Cone Faceted Crystal Beads in Mauve Color","price":125,"image":"CGBDS0010D(1)-1696680590.jpg"},{"id":5309,"name":"4 x 6 MM Cone Faceted Crystal Beads in Sea Green Color","price":125,"image":"CGBDS0010E(1)-1696680790.jpg"},{"id":5310,"name":"4 x 6 MM Cone Faceted Crystal Beads in Light Pink Color","price":125,"image":"CGBDS0010F(1)-1696680900.jpg"},{"id":5311,"name":"Crystal Beads for Craft and Jewellery Making, Crystal Tear Drop Shape Glass Beads 8X5MM - Light Peach Color","price":165,"image":"CGBDS0011(1)-1696836842.jpg"},{"id":5312,"name":"Crystal Beads for Craft and Jewellery Making, Crystal Tear Drop Shape Glass Beads 8X5MM - Dark Green Color","price":165,"image":"CGBDS0011A(1)-1696836922.jpg"},{"id":5313,"name":"Crystal Beads for Craft and Jewellery Making, Crystal Tear Drop Shape Glass Beads 8X5MM - Red Color","price":165,"image":"CGBDS0011B(1)-1696836983.jpg"},{"id":5314,"name":"Crystal Beads for Craft and Jewellery Making, Crystal Tear Drop Shape Glass Beads 8X5MM - Light Mint Green Color","price":165,"image":"CGBDS0011C(1)-1696837044.jpg"},{"id":5315,"name":"Crystal Beads for Craft and Jewellery Making, Crystal Tear Drop Shape Glass Beads 8X5MM - Sky Blue Color","price":165,"image":"CGBDS0011D(1)-1696837100.jpg"},{"id":5316,"name":"Crystal Beads for Craft and Jewellery Making, Crystal Tear Drop Shape Glass Beads 8X5MM - Gray Color","price":165,"image":"CGBDS0011E(1)-1696837207.jpg"},{"id":5317,"name":"Metallic Grey Textured Round Metal Coat Buttons Blazer Buttons - Sold With Box","price":550,"image":"MCBTN00128(1)-1697530448.jpg"},{"id":5318,"name":"Golden Textured Round Metal Coat Buttons Blazer Buttons - Sold With Box","price":550,"image":"MCBTN00128A(1)-1697531179.jpg"},{"id":5319,"name":"Metallic Grey Round Metal Coat Buttons Blazer Buttons - Sold With Box","price":650,"image":"MCBTN00129(1)-1697531351.jpg"},{"id":5320,"name":"Silver Round Metal Coat Buttons Blazer Buttons - Sold With Box","price":650,"image":"MCBTN00129A(1)-1697531599.jpg"},{"id":5321,"name":"Matte Grey Round Metal Coat Buttons Blazer Buttons - Sold With Box","price":650,"image":"MCBTN00129B(1)-1697531789.jpg"},{"id":5322,"name":"Metallic Grey Round Metal Coat Buttons Blazer Buttons - Sold With Box","price":650,"image":"MCBTN00130(1)-1697535534.jpg"},{"id":5323,"name":"Golden Round Metal Coat Buttons Blazer Buttons - Sold With Box","price":650,"image":"MCBTN00130A(1)-1697535616.jpg"},{"id":5324,"name":"Matte Grey Dotted Round Metal Coat Buttons Blazer Buttons - Sold With Box","price":650,"image":"MCBTN00131(1)-1697536329.jpg"},{"id":5325,"name":"Metallic Grey Dotted Round Metal Coat Buttons Blazer Buttons - Sold With Box","price":650,"image":"MCBTN00131A(1)-1697536768.jpg"},{"id":5326,"name":"Matte Grey Plain Round Metal Coat Buttons Blazer Buttons - Sold With Box","price":650,"image":"MCBTN00132(1)-1697536392.jpg"},{"id":5328,"name":"Peach Color Floral Fancy Patch \/ Applique","price":330,"image":"PATF0095(1)-1698062581.jpg"},{"id":5329,"name":"Pink Color Floral Fancy Patch \/ Applique","price":330,"image":"PATF0095A(1)-1698062651.jpg"},{"id":5330,"name":"Pista Green Color Floral Fancy Patch \/ Applique","price":330,"image":"PATF0095B(1)-1698301994.jpg"},{"id":5331,"name":"Light Pink Color Floral Fancy Patch \/ Applique","price":330,"image":"PATF0095C(1)-1698062756.jpg"},{"id":5332,"name":"Vanilla Color Floral Fancy Patch \/ Applique","price":330,"image":"PATF0095D(1)-1698062822.jpg"},{"id":5333,"name":"Grey Color Floral Fancy Patch \/ Applique","price":330,"image":"PATF0095E(1)-1698062871.jpg"},{"id":5334,"name":"Navy Blue Color Floral Fancy Patch \/ Applique","price":330,"image":"PATF0095F(1)-1698062926.jpg"},{"id":5335,"name":"White Color Floral Fancy Patch \/ Applique","price":330,"image":"PATF0095G(1)-1698062974.jpg"},{"id":5336,"name":"Off-White Pearl Work Neck Patch Sew-on Neck Applique, Sew On Patch Dress Motif Applique DIY","price":580,"image":"PATNC00105(1)-1698229529.jpg"},{"id":5337,"name":"Off-White Butterfly Patch Beads Work Designer Patch for dresses, suits etc.","price":230,"image":"PATHE0264A(1)-1698477659.jpg"},{"id":5338,"name":"Grey Butterfly Patch Beads Work Designer Patch for dresses, suits etc.","price":230,"image":"PATHE0264B(1)-1698477917.jpg"},{"id":5339,"name":"Dark Peach Butterfly Patch Beads Work Designer Patch for dresses, suits etc.","price":230,"image":"PATHE0264C(1)-1698477974.jpg"},{"id":5341,"name":"Yellow Butterfly Patch Beads Work Designer Patch for dresses, suits etc.","price":230,"image":"PATHE0264E(1)-1698478179.jpg"},{"id":5342,"name":"Blue Color Floral Thread Work Lace Velvet Lace","price":2690,"image":"THBD0031(1)-1698489344.jpg"},{"id":5343,"name":"Dark Green Color Floral Thread Work Lace Velvet Lace","price":2690,"image":"THBD0031A(1)-1698489492.jpg"},{"id":5344,"name":"Maroon Color Floral Thread Work Lace Velvet Lace","price":2690,"image":"THBD0031B(1)-1698489542.jpg"},{"id":5345,"name":"Silver Pearl and Mirror Work Neck Patch Sew-on Neck Applique, Sew On Patch Dress Motif Applique DIY","price":540,"image":"PATNC00106(1)-1698665204.jpg"},{"id":5346,"name":"Light Golden Pearl and Mirror Work Neck Patch Sew-on Neck Applique, Sew On Patch Dress Motif Applique DIY","price":540,"image":"PATNC00106A(1)-1698665321.jpg"},{"id":5347,"name":"Silver Pearl and Mirror Work Neck Patch Sew-on Neck Applique, Sew On Patch Dress Motif Applique DIY","price":540,"image":"PATNC00107(1)-1698665589.jpg"},{"id":5348,"name":"Dark Green - Golden Round Shape Rhinestone Buttons","price":165,"image":"WBTN00252(1)-1698826612.jpg"},{"id":5349,"name":"Pastel Green - Golden Round Shape Rhinestone Buttons","price":165,"image":"WBTN00252A(1)-1698831471.jpg"},{"id":5350,"name":"Grey-Golden Round Shape Rhinestone Buttons","price":165,"image":"WBTN00252B(1)-1698831613.jpg"},{"id":5351,"name":"Dark Peach- Golden Round Shape Rhinestone Buttons","price":165,"image":"WBTN00252D(1)-1698832224.jpg"},{"id":5352,"name":"Light Pink - Golden Round Shape Rhinestone Buttons","price":165,"image":"WBTN00252E(1)-1698837548.jpg"},{"id":5353,"name":"Yellow - Golden Round Shape Rhinestone Buttons","price":165,"image":"WBTN00252F(1)-1698837640.jpg"},{"id":5354,"name":"Light Green - Golden Round Shape Rhinestone Buttons","price":165,"image":"WBTN00252G(1)-1698838881.jpg"},{"id":5355,"name":"Sky Blue - Golden Round Shape Rhinestone Buttons","price":165,"image":"WBTN0025HG(1)-1698838981.jpg"},{"id":5356,"name":"Magenta - Golden Round Shape Rhinestone Buttons","price":165,"image":"WBTN00252I(1)-1698839141.jpg"},{"id":5357,"name":"Beige - Golden Round Shape Rhinestone Buttons","price":165,"image":"WBTN00252J(1)-1698839957.jpg"},{"id":5358,"name":"Blue - Golden Round Shape Rhinestone Buttons","price":165,"image":"WBTN00252K(1)-1698840011.jpg"},{"id":5359,"name":"Black Round Shape Metal Ladies Buttons Small Size - 10 pieces","price":165,"image":"WBTN00253(1)-1698909103.jpg"},{"id":5360,"name":"Yellow Round Shape Metal Ladies Buttons Small Size - 10 pieces","price":165,"image":"WBTN00253B(1)-1698909373.jpg"},{"id":5361,"name":"Light Pink Round Shape Metal Ladies Buttons Small Size - 10 pieces","price":165,"image":"WBTN00253A(1)-1698909323.jpg"},{"id":5362,"name":"Light Green Round Shape Metal Ladies Buttons Small Size - 10 pieces","price":165,"image":"WBTN00253C(1)-1698909496.jpg"},{"id":5363,"name":"Navy Blue Round Shape Metal Ladies Buttons Small Size - 10 pieces","price":165,"image":"WBTN00253D(1)-1698909564.jpg"},{"id":5364,"name":"Maroon Round Shape Metal Ladies Buttons Small Size - 10 pieces","price":165,"image":"WBTN00253F(1)-1698909709.jpg"},{"id":5365,"name":"Dark Green Round Shape Metal Ladies Buttons Small Size - 10 pieces","price":165,"image":"WBTN00253G(1)-1698909770.jpg"},{"id":5366,"name":"Red Round Shape Metal Ladies Buttons Small Size - 10 pieces","price":165,"image":"WBTN00253H(1)-1698909921.jpg"},{"id":5367,"name":"Sky Blue Round Shape Metal Ladies Buttons Small Size - 10 pieces","price":165,"image":"WBTN00253I(1)-1698910749.jpg"},{"id":5368,"name":"Cream Round Shape Metal Ladies Buttons Small Size - 10 pieces","price":165,"image":"WBTN00253J(1)-1698911376.jpg"},{"id":5369,"name":"Cream Square Shape Metal Ladies Buttons Small Size - 10 pieces","price":165,"image":"WBTN00254(1)-1698920791.jpg"},{"id":5370,"name":"Sky Blue Square Shape Metal Ladies Buttons Small Size - 10 pieces","price":165,"image":"WBTN00254A(1)-1698920895.jpg"},{"id":5371,"name":"Maroon Square Shape Metal Ladies Buttons Small Size - 10 pieces","price":165,"image":"WBTN00254B(1)-1698920969.jpg"},{"id":5372,"name":"Yellow Square Shape Metal Ladies Buttons Small Size - 10 pieces","price":165,"image":"WBTN00254C(1)-1698921037.jpg"},{"id":5373,"name":"Black Square Shape Metal Ladies Buttons Small Size - 10 pieces","price":165,"image":"WBTN00254D(1)-1698921190.jpg"},{"id":5374,"name":"Baby Pink Square Shape Metal Ladies Buttons Small Size - 10 pieces","price":165,"image":"WBTN00254E(1)-1698924129.jpg"},{"id":5375,"name":"Dark Green Square Shape Metal Ladies Buttons Small Size - 10 pieces","price":165,"image":"WBTN00254f(1)-1698926366.jpg"},{"id":5376,"name":"Navy Blue Square Shape Metal Ladies Buttons Small Size - 10 pieces","price":165,"image":"WBTN00254G(1)-1698990662.jpg"},{"id":5377,"name":"Sea Green Square Shape Metal Ladies Buttons Small Size - 10 pieces","price":165,"image":"WBTN00254H(1)-1698990755.jpg"},{"id":5378,"name":"Red Square Shape Metal Ladies Buttons Small Size - 10 pieces","price":165,"image":"WBTN00254I(1)-1698990841.jpg"},{"id":5379,"name":"Grey Square Shape Metal Ladies Buttons Small Size - 10 pieces","price":165,"image":"WBTN00254J(1)-1698990903.jpg"},{"id":5380,"name":"Blue Color Round Shape Metal Ladies Buttons Small Size - 5 pieces","price":165,"image":"WBTN00255(1)-1699257550.jpg"},{"id":5381,"name":"Maroon Color Round Shape Metal Ladies Buttons Small Size - 5 pieces","price":165,"image":"WBTN00255A(1)-1699266728.jpg"},{"id":5382,"name":"Sky Blue Color Round Shape Metal Ladies Buttons Small Size - 5 pieces","price":165,"image":"WBTN00255B(1)-1699267958.jpg"},{"id":5383,"name":"Light Pink Color Round Shape Metal Ladies Buttons Small Size - 5 pieces","price":165,"image":"WBTN00255C(1)-1699268086.jpg"},{"id":5384,"name":"Dark Green Color Round Shape Metal Ladies Buttons Small Size - 5 pieces","price":165,"image":"WBTN00255D(1)-1699268161.jpg"},{"id":5385,"name":"Black Color Round Shape Metal Ladies Buttons Small Size - 5 pieces","price":165,"image":"WBTN00255E(1)-1699268216.jpg"},{"id":5386,"name":"Mint Green Color Round Shape Metal Ladies Buttons Small Size - 5 pieces","price":165,"image":"WBTN00255F(1)-1699268286.jpg"},{"id":5387,"name":"Cream Color Round Shape Metal Ladies Buttons Small Size - 5 pieces","price":165,"image":"WBTN00255G(1)-1699268347.jpg"},{"id":5388,"name":"Red Color Round Shape Metal Ladies Buttons Small Size - 5 pieces","price":165,"image":"WBTN00255H(1)-1699268450.jpg"},{"id":5389,"name":"Blue Color Round Shape Metal Ladies Buttons Small Size - 5 pieces","price":165,"image":"WBTN00255I(1)-1699268535.jpg"},{"id":5390,"name":"Yellow Color Round Shape Metal Ladies Buttons Small Size - 5 pieces","price":165,"image":"WBTN00255J(1)-1699268594.jpg"},{"id":5391,"name":"Red Color Round Flower Design Metal Ladies Buttons Small Size - 10 pieces","price":165,"image":"WBTN00256(1)-1699271480.jpg"},{"id":5392,"name":"Grey Color Round Flower Design Metal Ladies Buttons Small Size - 10 pieces","price":165,"image":"WBTN00256A(1)-1699271558.jpg"},{"id":5393,"name":"Black Color Round Flower Design Metal Ladies Buttons Small Size - 10 pieces","price":165,"image":"WBTN00256B(1)-1699271745.jpg"},{"id":5394,"name":"Yellow Color Round Flower Design Metal Ladies Buttons Small Size - 10 pieces","price":165,"image":"WBTN00256C(1)-1699271763.jpg"},{"id":5395,"name":"Dark Green Color Round Flower Design Metal Ladies Buttons Small Size - 10 pieces","price":165,"image":"WBTN00256D(1)-1699271783.jpg"},{"id":5396,"name":"Sky Blue Color Round Flower Design Metal Ladies Buttons Small Size - 10 pieces","price":165,"image":"WBTN00256E(1)-1699271911.jpg"},{"id":5397,"name":"Maroon Color Round Flower Design Metal Ladies Buttons Small Size - 10 pieces","price":165,"image":"WBTN00256F(1)-1699271936.jpg"},{"id":5398,"name":"Cream Color Round Flower Design Metal Ladies Buttons Small Size - 10 pieces","price":165,"image":"WBTN00256G(1)-1699271953.jpg"},{"id":5399,"name":"Mint Green Color Round Flower Design Metal Ladies Buttons Small Size - 10 pieces","price":165,"image":"WBTN00256H(1)-1699272038.jpg"},{"id":5400,"name":"Baby Pink Color Round Flower Design Metal Ladies Buttons Small Size - 10 pieces","price":165,"image":"WBTN00256I(1)-1699272135.jpg"},{"id":5401,"name":"Golden\/Beige Color Fancy Tassel Shells Dori\/Cord","price":215,"image":"DORI0019(1)-1699431781.jpg"},{"id":5402,"name":"Dark Multi (Red-Green-Yellow) Color Fancy Tassel Shells Dori\/Cord","price":215,"image":"DORI0019Aa(1)-1699432238.jpg"},{"id":5403,"name":"Wine Color Fancy Tassel Shells Dori\/Cord","price":215,"image":"DORI0019B(1)-1699432364.jpg"},{"id":5404,"name":"Baby Pink Color Fancy Tassel Shells Dori\/Cord","price":215,"image":"DORI0019C(1)-1699432541.jpg"},{"id":5405,"name":"Red Color Fancy Tassel Shells Dori\/Cord","price":215,"image":"DORI0019D(1)-1699432637.jpg"},{"id":5406,"name":"Pastel Multi Color Fancy Tassel Shells Dori\/Cord","price":215,"image":"DORI0019E(1)-1699432995.jpg"},{"id":5407,"name":"Maroon Multi Color Fancy Tassel Shells Dori\/Cord","price":215,"image":"DORI0019F(1)-1699433238.jpg"},{"id":5408,"name":"Purple Color Fancy Tassel Shells Dori\/Cord","price":215,"image":"DORI0019G(1)-1699433296.jpg"},{"id":5409,"name":"Multi Color Fancy Tassel Shells Dori\/Cord","price":215,"image":"DORI0019H(1)-1699433357.jpg"},{"id":5410,"name":"Peach Pink Color Fancy Tassel Shells Dori\/Cord","price":215,"image":"DORI0019I(1)-1699433418.jpg"},{"id":5411,"name":"Dark Green Round Shape Sparkle Buttons 2 hole - Pack of 5 pieces","price":200,"image":"WBTN00257(1)-1699868439.jpg"},{"id":5412,"name":"Orange Round Shape Sparkle Buttons 2 hole - Pack of 5 pieces","price":200,"image":"WBTN00257A(1)-1699869007.jpg"},{"id":5413,"name":"Light Green Round Shape Sparkle Buttons 2 hole - Pack of 5 pieces","price":200,"image":"WBTN00257B(1)-1699869773.jpg"},{"id":5414,"name":"Light Pink Round Shape Sparkle Buttons 2 hole - Pack of 5 pieces","price":200,"image":"WBTN00257C(1)-1699869906.jpg"},{"id":5415,"name":"Silver Round Shape Sparkle Buttons 2 hole - Pack of 5 pieces","price":200,"image":"WBTN00257D(1)-1699870172.jpg"},{"id":5416,"name":"Red Round Shape Sparkle Buttons 2 hole - Pack of 5 pieces","price":200,"image":"WBTN00257E(1)-1699870434.jpg"},{"id":5417,"name":"Purple Round Shape Sparkle Buttons 2 hole - Pack of 5 pieces","price":200,"image":"WBTN00257F(1)-1699870509.jpg"},{"id":5418,"name":"Ferozi Blue Round Shape Sparkle Buttons 2 hole - Pack of 5 pieces","price":200,"image":"WBTN00257G(1)-1699873189.jpg"},{"id":5419,"name":"Yellow Round Shape Sparkle Buttons 2 hole - Pack of 5 pieces","price":200,"image":"WBTN00257H(1)-1699873290.jpg"},{"id":5420,"name":"Dark Blue Round Shape Sparkle Buttons 2 hole - Pack of 5 pieces","price":200,"image":"WBTN00257I(1)-1699873345.jpg"},{"id":5421,"name":"Magenta Round Shape Sparkle Buttons 2 hole - Pack of 5 pieces","price":200,"image":"WBTN00257J(1)-1699873430.jpg"},{"id":5422,"name":"Dark Green Zari Lace Bridal Lace for Dupatta, lehnga etc. Cutwork Zari Lace","price":650,"image":"ZRBD0068(1)-1700218444.jpg"},{"id":5423,"name":"Grey Zari Lace Bridal Lace for Dupatta, lehnga etc. Cutwork Zari Lace","price":650,"image":"ZRBD0068A(1)-1700300333.jpg"},{"id":5424,"name":"Sea Green Zari Lace Bridal Lace for Dupatta, lehnga etc. Cutwork Zari Lace","price":650,"image":"ZRBD0068B(1)-1700300528.jpg"},{"id":5425,"name":"Golden Zari Lace Bridal Lace for Dupatta, lehnga etc. Cutwork Zari Lace","price":650,"image":"ZRBD0068C(1)-1700300601.jpg"},{"id":5426,"name":"Peach Zari Lace Bridal Lace for Dupatta, lehnga etc. Cutwork Zari Lace","price":400,"image":"ZRBD0068D(1)-1700302121.jpg"},{"id":5427,"name":"Pastel Green - Golden Zari Lace Bridal Lace for Dupatta, lehnga etc. Cutwork Zari Lace","price":580,"image":"ZRBD0069(1)-1700468929.jpg"},{"id":5428,"name":"Peach Golden Zari Lace Bridal Lace for Dupatta, lehnga etc. Cutwork Zari Lace","price":580,"image":"ZRBD0069A(1)-1700472121.jpg"},{"id":5429,"name":"Pink - Golden Zari Lace Bridal Lace for Dupatta, lehnga etc. Cutwork Zari Lace","price":580,"image":"ZRBD0069B(1)-1700472399.jpg"},{"id":5430,"name":"Ferozi - Golden Zari Lace Bridal Lace for Dupatta, lehnga etc. Cutwork Zari Lace","price":580,"image":"ZRBD0069C(1)-1700472681.jpg"},{"id":5431,"name":"Golden Zari Lace Bridal Lace for Dupatta, lehnga etc. Cutwork Zari Lace","price":580,"image":"ZRBD0069D(1)-1700473190.jpg"},{"id":5432,"name":"Grey Zari Lace Bridal Lace for Dupatta, lehnga etc. Cutwork Zari Lace","price":580,"image":"ZRBD0069E(1)-1700473287.jpg"},{"id":5433,"name":"Red - Golden Zari Lace Bridal Lace for Dupatta, lehnga etc. Cutwork Zari Lace","price":580,"image":"ZRBD0069F(1)-1700473724.jpg"},{"id":5434,"name":"Red-Black Multi Color Patra Lace for Dupatta, Lehenga etc. Mirror Work Lace Border","price":680,"image":"MRLC0030(1)-1700476963.jpg"},{"id":5435,"name":"Multi Color Patra Lace for Dupatta, Lehenga etc. Mirror Work Lace Border","price":680,"image":"MRLC0030A(1)-1700477038.jpg"},{"id":5436,"name":"Multi Color Patra Lace for Dupatta, Lehenga etc. Mirror Work Lace Border","price":680,"image":"MRLC0030B(1)-1700477156.jpg"},{"id":5437,"name":"Black Color Leaf Thread Work Lace","price":915,"image":"THBD0032(1)-1700477475.jpg"},{"id":5438,"name":"Pastel Multi Color Sequins Work Designer Embroidery Lace\/ Border","price":1125,"image":"SQBD0019(1)-1700478983.jpg"},{"id":5439,"name":"Multi Color Sequins Work Designer Embroidery Lace\/ Border","price":1125,"image":"SQBD0020(1)-1700479326.jpg"},{"id":5440,"name":"Pastel Multi Color Sequins Work Designer Embroidery Lace\/ Border","price":800,"image":"SQBD0021(1)-1700479397.jpg"},{"id":5441,"name":"Golden Color Organza Flower With Beads Work For Dress, Gowns, Tops etc.","price":330,"image":"PATF0100 (1)-1700648076.jpg"},{"id":5444,"name":"Ferozi Color Organza Flower With Beads Work For Dress, Gowns, Tops etc.","price":330,"image":"PATF0100 (4)-1700649025.jpg"},{"id":5446,"name":"Black Color Organza Flower With Beads Work For Dress, Gowns, Tops etc.","price":330,"image":"PATF0100 (7)-1700649645.jpg"},{"id":5447,"name":"Blue Color Organza Flower With Beads Work For Dress, Gowns, Tops etc.","price":330,"image":"PATF0100 (8)-1700649705.jpg"},{"id":5449,"name":"Pista Green Color Organza Flower With Beads Work For Dress, Gowns, Tops etc. - design 2","price":330,"image":"PATF0101 (1)-1700651406.jpg"},{"id":5450,"name":"Golden Color Organza Flower With Beads Work For Dress, Gowns, Tops etc. - design 2","price":330,"image":"PATF0101 (2)-1700653418.jpg"},{"id":5451,"name":"Light Grey Color Organza Flower With Beads Work For Dress, Gowns, Tops etc. - design 2","price":330,"image":"PATF0101 (3)-1700653332.jpg"},{"id":5452,"name":"Pink Color Organza Flower With Beads Work For Dress, Gowns, Tops etc. - design 2","price":330,"image":"PATF0101 (4)-1700653344.jpg"},{"id":5453,"name":"Pink-Peach Color Organza Flower With Beads Work For Dress, Gowns, Tops etc. - design 2","price":330,"image":"PATF0101 (5)-1700653358.jpg"},{"id":5454,"name":"Peach Color Organza Flower With Beads Work For Dress, Gowns, Tops etc. - design 2","price":330,"image":"PATF0101 (6)-1700654014.jpg"},{"id":5455,"name":"Pastel Lemon Color Organza Flower With Beads Work For Dress, Gowns, Tops etc. - design 2","price":330,"image":"PATF0101 (7)-1700654029.jpg"},{"id":5456,"name":"Beige Color Organza Flower With Beads Work For Dress, Gowns, Tops etc. - design 2","price":330,"image":"PATF0101 (8)-1700654036.jpg"},{"id":5457,"name":"Blue Color Organza Flower With Beads Work For Dress, Gowns, Tops etc. - design 2","price":330,"image":"PATF0101 (9)-1700654050.jpg"},{"id":5459,"name":"Lavender Color Organza Flower With Beads Work For Dress, Gowns, Tops etc. - design 2","price":330,"image":"PATF0101 (11)-1700654094.jpg"},{"id":5466,"name":"Golden Color Organza Flower For Dress, Gowns, Tops etc. - design 3","price":330,"image":"PATF0102D(1)-1700720494.jpg"},{"id":5467,"name":"Ferozi Color Organza Flower For Dress, Gowns, Tops etc. - design 3","price":330,"image":"PATF0102E(1)-1700720546.jpg"}]