Unwrap Savings:

Fresh Arrivals, Fresh Discounts!
Designing made easy
Turn that common and ordinary dress into a piece of art with our extensive collection of accessories. Be your own designer or take our products to your boutique and bring your imagination to life. Be creative. With our accessories, we have made designing easy for you.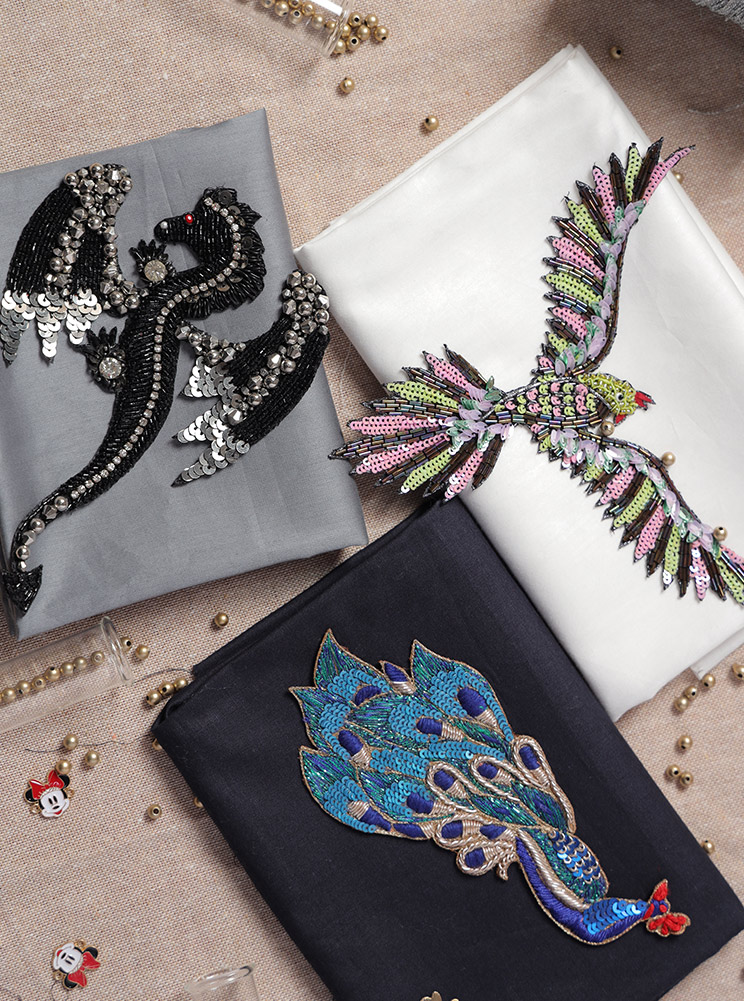 Designersneed, an Online Unit by Mohan Shoppe has been serving its customers since 1994, and has become the one-stop shop for all your Designer Needs. Be it embroidery materials or embellishment, stone or beads, we got you covered. Discover a whole new world of high-quality, beautifully designed and attractive embroidery material and that too at discounted prices. At Designersneed, we have an extensive collection of Embroidery Material.
Laces, Metal Sequins, Pom Poms, Mirrors, Gota Patti, Doris and wires, Beads, and other embroidery supplies—all your designing needs in one place.
Also, access our exclusive customer services and chat with our dedicated personnel to find out what fits your needs. Designersneed aims to provide you with world-class embroidery tools that meet your needs and your budget.
We know that design has many interpretations. In the context of the fashion/clothing industry, for some, the word "designer" may mean a very expensive, top of the line product, usually worn at Fashion Shows or high-profile parties. In contrast, for some others, it may mean a hand-tailored, out-of-the-box design usually worn for weddings, or any out of the house event.
A common misconception is that the sole purpose of designer/design is to produce exclusive and expensive products.
For us, it simply means the embodiment of your creativity. We believe that designer product should be accessible to everyone, differently though, depending on the individual's creativity.
A simple embroidery material used effectively can create a splendid design. Whatever fabric you are using, be it a simple satin fabric or a fabric suited for a specific purpose, for example, a mirror work fabric like Crepe, or an embroidery fabric like Georgette, we believe that you have all the rights to create a designer product for yourself.
With that in mind, Designer Needs brings you thousands of products to give wings to your creativity and imagination. You can choose from our amazing and rich catalogue of Fancy Buttons, laces, stones—glass, pearl and Kundan stones, gottapattis, threads—satin threads, crochet threads and others, sitaras and sequins, and a lot more products.
You just need to have fabric glue or basic sewing knowledge if you want to be your designer. And if you want to do a complex design, you can take your handpicked accessories to your own tailor/designer and let him do the magic for you.
You can also look at our blog section for more ideas of what accessory to choose and what product will go with which dress material. We have curated a list of articles for our customers to get more information about all your designing/fashion questions.
Again, we thank you for choosing Designer Needs as your favourite place for fashion products and embroidery material. If you have anything to say to us, feel free to reach us on our email, or by simply clicking the chat-head on the right-bottom corner of your screen,
Show More
[{"id":1,"name":"Round Green Glass Beads","price":170,"image":"GLSBD001A(1)-1604402481.jpg"},{"id":18,"name":"Dark Blue Concealed YKK Zips CHC-26 (ZPYK919)","price":60,"image":"ZPYK919(2)-1624346497.jpg"},{"id":19,"name":"Purple Concealed YKK Zips CHC-26 (ZPYK915)","price":60,"image":"ZPYK915(2)-1624346470.jpg"},{"id":20,"name":"Machine Embroidery Patch Red Flower (PATME0005)","price":170,"image":"PATME0005(1)-1605175792.jpg"},{"id":48,"name":"Golden-Red Dulha-Dulhan Bridal Hand Embroidery Patch","price":550,"image":"PATHE00048(2)-1605269413.jpg"},{"id":49,"name":"Hand Embroidery Patch Golden (PATHE00049)","price":370,"image":"PATHE00049(1)-1605269894.jpg"},{"id":78,"name":"Hand Embroidery Patch Cream Color (PATHE00079)","price":480,"image":"PATHE00079(2)-1605609679.jpg"},{"id":106,"name":"Coat Button Round Shape Black Color White Flower-sold with box","price":980,"image":"mcbtn4-1644997820.jpg"},{"id":107,"name":"Coat Button Round Golden Color (MCBTN0010)","price":650,"image":"MCBTN0010(3)-1605772832.jpg"},{"id":110,"name":"Flowers Black-White-Red Saturn Ribbon 10 Pieces (FLR0001)","price":170,"image":"FLR0001(1)-1606541903.jpg"},{"id":111,"name":"Flowers Yellow Color Net 2.6 cm set of 10 Pieces (FLR0002)","price":170,"image":"FLR0002(1)-1606541934.jpg"},{"id":112,"name":"Flowers Brown Fur 5.8 cm set of 5 Pieces (FLR0003)","price":210,"image":"FLR0003(1)-1606541982.jpg"},{"id":115,"name":"Flowers Light Green Color 3.7 cm*4.0 cm set of 10 Pieces (FLR0006)","price":250,"image":"FLR0006(1)-1606541724.jpg"},{"id":116,"name":"Flowers Tiger Print 3.7 cm set of 5 Pieces (FLR0007)","price":370,"image":"FLR0007(1)-1605779772.jpg"},{"id":118,"name":"Mixed Light Pastel Color Flowers set of 3 Pieces","price":380,"image":"FLR0009(3)-1606541830.jpg"},{"id":119,"name":"Ladies Buttons Flower Shape Baby Pink Color WBTN0001","price":500,"image":"WBTN001(4)-1605781312.jpg"},{"id":120,"name":"Ladies Button Stone Work Casting Metal Red Color (WBTN002)","price":290,"image":"WBTN002(1)-1605782536.jpg"},{"id":127,"name":"Ladies Brown Color Buttons Round Shape (WBTN008)","price":420,"image":"WBTN008(4)-1605786159.jpg"},{"id":129,"name":"Peacock Green Concealed YKK Zips CHC-26 (ZPYK908)","price":60,"image":"ZPYK908(1)-1624088484.jpg"},{"id":130,"name":"Pink Concealed YKK Zips CHC-26 (ZPYK853)","price":60,"image":"ZPYK853(2)-1624088528.jpg"},{"id":131,"name":"Light Pink Concealed YKK Zips CHC-26 (ZPYK852)","price":60,"image":"ZPYK852(2)-1624088680.jpg"},{"id":132,"name":"Strong Blue Concealed YKK Zips CHC-26 (ZPYK835)","price":60,"image":"ZPYK835(2)-1624088753.jpg"},{"id":133,"name":"Hot Pink Concealed YKK Zips CHC-26 (ZPYK817)","price":60,"image":"ZPYK817(2)-1624088833.jpg"},{"id":134,"name":"Light Violet Concealed YKK Zips CHC-26 (ZPYK553)","price":60,"image":"ZPYK553(1)-1605856889.jpg"},{"id":135,"name":"Dark Ferozi Concealed YKK Zips CHC-26 (ZPYK550)","price":60,"image":"ZPYK550(2)-1624088900.jpg"},{"id":137,"name":"Deep Maroon Concealed YKK Zips CHC-26 (ZPYK527)","price":60,"image":"ZPYK527(2)-1624089019.jpg"},{"id":138,"name":"Purple Concealed YKK Zips CHC-26 (ZPYK526)","price":60,"image":"ZPYK526(2)-1624089093.jpg"},{"id":139,"name":"Maroon Concealed YKK Zips CHC-26 (ZPYK520)","price":60,"image":"ZPYK520(2)-1624089192.jpg"},{"id":140,"name":"Red Concealed YKK Zips CHC-26 (ZPYK519)","price":60,"image":"ZPYK519(2)-1624089232.jpg"},{"id":142,"name":"Bright Pink Concealed YKK Zips CHC-26 (ZPYK516)","price":60,"image":"ZPYK516(2)-1620622676.jpg"},{"id":143,"name":"Soft Pink Concealed YKK Zips CHC-26 (ZPYK335)","price":60,"image":"ZPYK335(2)-1624089286.jpg"},{"id":144,"name":"Bright Purple Concealed YKK Zips CHC-26 (ZPYK303)","price":60,"image":"ZPYK303(2)-1624089338.jpg"},{"id":145,"name":"Dark Pink Concealed YKK Zips CHC-26 (ZPYK299)","price":60,"image":"ZPYK299(2)-1624089385.jpg"},{"id":147,"name":"Light Pink Concealed YKK Zips CHC-26 (ZPYK289)","price":60,"image":"ZPYK289(2)-1624089423.jpg"},{"id":148,"name":"Violet Concealed YKK Zips CHC-26 (ZPYK281)","price":60,"image":"ZPYK281(2)-1624089458.jpg"},{"id":149,"name":"Desaturated Dark violet Concealed YKK Zips CHC-26 (ZPYK265)","price":60,"image":"ZPYK265(2)-1624089528.jpg"},{"id":150,"name":"Magenta Pink Concealed YKK Zips CHC-26 (ZPYK258)","price":60,"image":"ZPYK258(2)-1624089573.jpg"},{"id":151,"name":"Old Rose Concealed YKK Zips CHC-26 (ZPYK212)","price":60,"image":"ZPYK212(2)-1624089624.jpg"},{"id":152,"name":"Dark Blue Concealed YKK Zips CHC-26 (ZPYK220)","price":60,"image":"ZPYK220(2)-1624089794.jpg"},{"id":153,"name":"Wine Concealed YKK Zips CHC-26 (ZPYK230)","price":60,"image":"ZPYK230(2)-1624090041.jpg"},{"id":155,"name":"Moderate Light Blue Concealed YKK Zips CHC-26 (ZPYK162)","price":60,"image":"ZPYK162(2)-1624090356.jpg"},{"id":156,"name":"Red Concealed YKK Zips CHC-26 (ZPYK140)","price":60,"image":"ZPYK140(2)-1624090497.jpg"},{"id":157,"name":"Deep Royal Blue Concealed YKK Zips CHC-26 (ZPYK076)","price":60,"image":"ZPYK076(1)-1605868136.jpg"},{"id":158,"name":"Strong Blue Concealed YKK Zips CHC-26 (ZPYK115)","price":60,"image":"ZPYK115(1)-1605868320.jpg"},{"id":159,"name":"Dark Voilet Concealed YKK Zips CHC-26 (ZPYK048)","price":60,"image":"ZPYK048(1)-1605868851.jpg"},{"id":160,"name":"Dark Cyan Blue Concealed YKK Zips CHC-26 (ZPYK046)","price":60,"image":"ZPYK46(2)-1614160343.jpg"},{"id":162,"name":"Sea Green Concealed YKK Zips CHC-26 (ZPYK018)","price":60,"image":"ZPYK18(2)-1614159487.jpg"},{"id":163,"name":"Light Blue Concealed YKK Zips CHC-26 (ZPYK026)","price":60,"image":"ZPYK26(2)-1614160018.jpg"},{"id":165,"name":"Fancy Lace in Cream Color-9 meters","price":2880,"image":"FNLC0002(2)-1608552035.jpg"},{"id":166,"name":"Fancy Lace in Rose Gold Color Stone and Zari Work - 9 meters","price":790,"image":"FNLC0003(1)-1605946909.jpg"},{"id":171,"name":"Golden Color Fringes Sequins Work -9 meters","price":1500,"image":"FRNG0001C(1)-1616587003.jpg"},{"id":173,"name":"Crinoline Petticot\/Underskirt Dress for gowns, dresses, etc. (6 hoop)","price":1830,"image":"crpt-1639736531.jpg"},{"id":178,"name":"GPO Lace Polyester in White Color","price":670,"image":"GPOLC0006(1)-1606385490.jpg"},{"id":183,"name":"Mirror Lace Golden Color - 9 meter(roll)","price":1630,"image":"MRLC0001(1)-1606387546.jpg"},{"id":186,"name":"Mirror Lace Golden Color - 9 meter(roll)","price":1580,"image":"MRLC0004(1)-1606388161.jpg"},{"id":190,"name":"Thread Work Lace in Multi Color Flowers with Zari Work- 9 meters (1 Roll)","price":880,"image":"THDLC0003(1)-1606390939.jpg"},{"id":192,"name":"Zari Work Lace in Dark Green Color -9 meters (1 Roll)","price":580,"image":"ZRWLC0003(1)-1606392423.jpg"},{"id":205,"name":"Glass Beads Metallic Brown-721 Pipe Shape (MGBGB0001)","price":920,"image":"MGBGB0001(2)-1606471448.jpg"},{"id":206,"name":"Glass Beads Olive Green Color Pipe Shape (MGBGB0002)","price":1170,"image":"MGBGB0002(2)-1606465621.jpg"},{"id":207,"name":"Glass Beads Blue Color Pipe Shape (MGBGB0003)","price":1170,"image":"MGBGB0003(2)-1606466700.jpg"},{"id":208,"name":"Glass Beads Golden Color Pipe Shape (MGBGB0004)","price":790,"image":"MGBGB0004(3)-1606469397.jpg"},{"id":209,"name":"Glass Beads Silver Color Pipe Shape (MGBGB0005)","price":790,"image":"MGBGB0005(2)-1606469662.jpg"},{"id":210,"name":"Glass Beads Light Mauve Pipe Shape (MGBGB0006)","price":1170,"image":"MGBGB0006(2)-1606471926.jpg"},{"id":211,"name":"Glass Beads Brown Rainbow-648 (MGBGB0007)","price":790,"image":"MGBGB0007(2)-1606474137.jpg"},{"id":212,"name":"Glass Beads Brown Rainbow-648 Round Square Hole (MGBGB0008)","price":790,"image":"MGBGB0008(3)-1606474622.jpg"},{"id":213,"name":"Glass Beads Golden Rainbow-634 Round Square Hole (MGBGB0009)","price":790,"image":"MGBGB0009(3)-1606475231.jpg"},{"id":214,"name":"Glass Beads Silver Rainbow Square Hole (MGBGB0010 )","price":500,"image":"MGBGB0010(1)-1645597777.jpg"},{"id":218,"name":"PATF0004 (Black Color Fancy Patch)","price":580,"image":"PATF0004(1)-1607074832.jpg"},{"id":224,"name":"PATF0010 (Black Color Fancy Patch)","price":1000,"image":"PATF0010(1)-1607079201.jpg"},{"id":228,"name":"PATF0014 (White Color Fancy Patch)","price":400,"image":"PATF0014(1)-1607081118.jpg"},{"id":230,"name":"PATF0017 (Black Fancy Patch)","price":750,"image":"PATF0017(1)-1607083811.jpg"},{"id":231,"name":"PATF0018 (Black Fancy Patch)","price":1250,"image":"PATF0018(1)-1607150737.jpg"},{"id":235,"name":"PATF0022 (Black Flower Shape Fancy Patch)","price":80,"image":"PATF0022(1)-1607153579.jpg"},{"id":242,"name":"PATF0029 (Brown Color Fur Type Ball Patch)","price":170,"image":"PATF0029(1)-1607160614.jpg"},{"id":245,"name":"PATF0032 (Golden Flower Patch)","price":80,"image":"PATF0032(2)-1607161353.jpg"},{"id":247,"name":"PATF0034 (Peach Fabric Flower)","price":60,"image":"PATF0034(2)-1607161753.jpg"},{"id":248,"name":"PATF0035 (Golden Flower Shape Fancy Patch)","price":40,"image":"PATF0035(2)-1607161932.jpg"},{"id":251,"name":"Flowers Light Pink Color Net Fabric set of 10 Pieces (FLR0002B)","price":170,"image":"FLR0002B(1)-1610439183.jpg"},{"id":252,"name":"Flowers Light Peach Color Net Fabric set of 10 Pieces (FLR0002C)","price":170,"image":"FLR0002C(1)-1610439463.jpg"},{"id":253,"name":"Flowers Red Color Net Fabric set of 10 Pieces (FLR0002D)","price":170,"image":"FLR0002D(1)-1610439868.jpg"},{"id":254,"name":"Flowers Sky Blue Color Net Fabric set of 10 Pieces (FLR0002E)","price":170,"image":"FLR0002E(1)-1610440047.jpg"},{"id":255,"name":"Flowers Light Cyan Color Net Fabric set of 10 Pieces (FLR0002F)","price":170,"image":"FLR0002F(1)-1610600997.jpg"},{"id":256,"name":"Flowers Ferozi Blue Color Net Fabric set of 10 Pieces (FLR0002G)","price":170,"image":"FLR0002G(1)-1610601386.jpg"},{"id":258,"name":"Flowers Dark Pink Color Net Fabric set of 10 Pieces (FLR0002I)","price":170,"image":"FLR0002I(1)-1610602539.jpg"},{"id":261,"name":"Flowers Mauvelous Pink Color Net Fabric set of 10 Pieces (FLR0002L)","price":170,"image":"FLR0002L(1)-1610604695.jpg"},{"id":262,"name":"Flowers Black Color Net Fabric set of 10 Pieces (FLR0002M)","price":170,"image":"FLR0002M(1)-1610605062.jpg"},{"id":264,"name":"Ladies Button (Cord Button\/ Chinese Frog Button) Off White Color (WBTN0011)","price":170,"image":"WBTN0011(2)-1610615887.jpg"},{"id":265,"name":"Black Color Cord Button\/ Chinese Frog Button\/ Knot Buttons for Dresses , Bags etc.","price":210,"image":"WBTN0012(1)-1610616556.jpg"},{"id":266,"name":"Ladies Button (Cord Button\/ Chinese Frog Button) Off-White Color (WBTN0013)","price":170,"image":"WBTN0013(2)-1610617389.jpg"},{"id":267,"name":"Ladies Button (Cord Button\/ Chinese Frog Button) Off White Color (WBTN0014)","price":170,"image":"WBTN0014(1)-1610617831.jpg"},{"id":268,"name":"Black Color Cord Button\/ Chinese Frog Button\/ Knot Buttons for Dresses , Bags etc.","price":210,"image":"WBTN0014A(2)-1610618987.jpg"},{"id":269,"name":"Ladies Button (Cord Button\/ Chinese Frog Button) Off-White Color (WBTN0015)","price":250,"image":"WBTN0016(1)-1634385202.jpg"},{"id":280,"name":"Round Shape Silver Color Buckle","price":330,"image":"BUCL0091(1)-1672401299.jpg"},{"id":284,"name":"BUCL0005 Black Color Leather Buckle","price":290,"image":"BCL0005(1)-1613210534.jpg"},{"id":285,"name":"BUCL0006 Black Color Leather Buckle","price":220,"image":"BCL0006(1)-1613210883.jpg"},{"id":286,"name":"BUCL0007 Black Color Rectangle Shape Leather Buckle","price":230,"image":"BCL0007(1)-1613211760.jpg"},{"id":287,"name":"BUCL0008 Black Color Rectangle Shape Leather Buckle","price":250,"image":"BCL0008(1)-1613213265.jpg"},{"id":288,"name":"BUCL0009 Black Color Leather Buckle","price":230,"image":"BCL0009(1)-1613213689.jpg"},{"id":290,"name":"BUCL0011 Black Color Leather Buckle","price":180,"image":"BCL0011(1)-1613214254.jpg"},{"id":291,"name":"GLST0001 Silver Glass Stones","price":250,"image":"GLSTN0001(1)-1613215583.jpg"},{"id":295,"name":"GLST0004 Oval Shape Golden Color Glass Stone","price":920,"image":"GLSTN0004(2)-1613218155.jpg"},{"id":296,"name":"GLST0005 Eye Shape Silver Color Glass Stone","price":210,"image":"GLSTN0005(1)-1613366241.jpg"},{"id":297,"name":"GLST0006 Eye Shape Golden Color Glass Stone","price":500,"image":"GLSTN0006(1)-1613366749.jpg"},{"id":298,"name":"GLST0007 Round Shape Golden Color Glass Stone","price":250,"image":"GLSTN0007(1)-1613368060.jpg"},{"id":299,"name":"GLST0008 Silver Color Leaf Shape Glass Stone","price":210,"image":"GLSTN0008(1)-1613368434.jpg"},{"id":300,"name":"GPT0001 Golden Color Gota Patti","price":420,"image":"GPT0001 (1)-1613371338.jpg"},{"id":301,"name":"GPT0002 Yellowish Silver Color Gota Patti","price":420,"image":"GPT0002(1)-1613372606.jpg"},{"id":302,"name":"GPT0003 Rose Gold Color Gota Patti","price":830,"image":"GPT0003(1)-1613372891.jpg"},{"id":303,"name":"GPT0004 Neon Yellowish Silver Color Gota Patti","price":420,"image":"GPT0004(1)-1613373480.jpg"},{"id":304,"name":"GPT0005 Golden Color Gota Patti","price":830,"image":"GPT0005(1)-1613373830.jpg"},{"id":305,"name":"GPT0006 Golden Color Gota Patti with Orange Kinari","price":830,"image":"GPT0006(1)-1613374200.jpg"},{"id":306,"name":"GPT0007 Light Golden Color Gota Patti with Yellow Kinari","price":830,"image":"GPT0007(1)-1613374884.jpg"},{"id":308,"name":"GPT0009 Light Golden Color Flower Gota Patti with Yellow Kinari","price":1080,"image":"GPT0009(1)-1613376203.jpg"},{"id":309,"name":"GPT0010 Golden Color Gota Patti","price":420,"image":"GPT0010(1)-1613376828.jpg"},{"id":310,"name":"GPT0011 Silver-Rose Gold Color Gota Patti","price":830,"image":"GPT0011(1)-1613377138.jpg"},{"id":311,"name":"GPT0012 Golden Color Gota Patti With Orange Kinari","price":830,"image":"GPT0012(1)-1613377314.jpg"},{"id":312,"name":"GPT0013 Silver Color Gota Patti with Orange Kinari","price":420,"image":"GPT0013(1)-1613377773.jpg"},{"id":313,"name":"GPT0014 Antique Color Gota Patti","price":580,"image":"GPT0014(1)-1613380551.jpg"},{"id":314,"name":"GPT0015 Light Golden Color Gota Patti with Yellow Kinari","price":420,"image":"GPT0015(1)-1613381228.jpg"},{"id":315,"name":"GPT0016 Silver Color Gota Patti","price":420,"image":"GPT0016(1)-1613381514.jpg"},{"id":316,"name":"GPT0017 Light Golden Color Gota Patti","price":420,"image":"GPT0017(1)-1613381760.jpg"},{"id":318,"name":"GPT0019 Silver Color Gota Patti","price":420,"image":"GPT0019(1)-1613382275.jpg"},{"id":320,"name":"MTSEQ0001 Silver Color Ring Shape Metal Sequins","price":330,"image":"MTSEQ0001(1)-1613385844.jpg"},{"id":321,"name":"MTSEQ0003 Dull Golden Color Round Shape Metal Sequins","price":330,"image":"MTSEQ0003(1)-1613386493.jpg"},{"id":323,"name":"MTSEQ0005 Dull Golden Color Round Shape Metal Sequins","price":330,"image":"MTSEQ0005(1)-1613389216.jpg"},{"id":326,"name":"MTSEQ0008 Golden Color Square Shape Metal Sequins","price":330,"image":"MTSEQ0008(1)-1613390740.jpg"},{"id":327,"name":"MTSEQ0009 Silver Color Flower Shape Metal Sequins","price":330,"image":"MTSEQ0009(1)-1613391210.jpg"},{"id":330,"name":"MTSEQ0012 Dull Golden Color Katori Shape Metal Sequins","price":220,"image":"MTSEQ0012(1)-1613464570.jpg"},{"id":337,"name":"HFX0007 Golden Color Square Shape Gluefix","price":200,"image":"HFX0007(1)-1613540834.jpg"},{"id":338,"name":"HFX0008 Silver Color Leaf Shape Hotfix with Golden Frame","price":250,"image":"HFX0008(1)-1613541503.jpg"},{"id":339,"name":"HFX0009 Golden Color Square Shape Gluefix","price":130,"image":"HFX0009(1)-1613541910.jpg"},{"id":340,"name":"HFX0010 Peach Color Circle Shape With Golden Frame Hotfix","price":200,"image":"HFX0010(1)-1613542484.jpg"},{"id":341,"name":"HFX0011 Peach Color Leaf Shape Hotfix with Golden Frame","price":250,"image":"HFX0011(1)-1613542864.jpg"},{"id":342,"name":"HFX0012 Peach Color S-Shape Hotfix","price":330,"image":"HFX0012(1)-1613722721.jpg"},{"id":344,"name":"HFX0014 Peach Color Eye Shape Hotfix","price":120,"image":"HFX0014(1)-1613722867.jpg"},{"id":345,"name":"HFX0015 Peach Color Round Shape Hotfix","price":120,"image":"HFX0015(1)-1645092289.jpg"},{"id":348,"name":"HFX0018 Copper Color Square Shape Hotfix","price":250,"image":"HFX00018(1)-1613723063.jpg"},{"id":352,"name":"WBD0004 Red Color Wooden Beads","price":330,"image":"WBD0004(1)-1613723404.jpg"},{"id":355,"name":"WBD0007 Brown Color Cube Shape Wooden Beads","price":330,"image":"WBD0007(1)-1613723532.jpg"},{"id":356,"name":"WBD0008 Dark Brown Color Round Shape Wooden Beads","price":200,"image":"WBD0008(1)-1613723580.jpg"},{"id":357,"name":"WBD0009 Dark Brown Color Wooden Beads","price":280,"image":"WBD0009(1)-1613723622.jpg"},{"id":359,"name":"WBD0011 Light Brown Color Round Shape Wooden Beads","price":130,"image":"WBD00011(1)-1613723709.jpg"},{"id":364,"name":"MRBD0004 Red Color Marble Beads","price":130,"image":"MRBD0004(1)-1613724063.jpg"},{"id":365,"name":"MRBD0005 Light Green Color Marble Beads","price":130,"image":"MRBD0005(1)-1613724121.jpg"},{"id":372,"name":"Silver Color Sew On Rhinestone \/ Softi \/ Chatons in Flat Back Metal Setting (6mm-30ss)","price":460,"image":"SOFTI0001(1)-1624270848.jpg"},{"id":373,"name":"Silver Color Sew On Rhinestone \/ Softi \/ Chatons in Flat Back Metal Setting (4mm-16ss)","price":500,"image":"SOFTI0001A(1)-1624270828.jpg"},{"id":374,"name":"BDLA0001 Rainbow Color Baadla (Metallic look Soft Dori)","price":150,"image":"BDLA0001(1)-1624085091.jpg"},{"id":375,"name":"BDLA0002 Golden Color Baadla (Metallic look Soft Dori)","price":100,"image":"BDLA0002(1)-1624085123.jpg"},{"id":376,"name":"BDLA0003 Rose Gold Color Baadla (Metallic look Soft Dori)","price":100,"image":"BDLA0003(1)-1624085146.jpg"},{"id":377,"name":"BDLA0004 Silver Color Baadla (Metallic look Soft Dori)","price":100,"image":"BDLA0004(1)-1624085170.jpg"},{"id":378,"name":"Black Color Leaf Shape Pearl Stones with Chain","price":300,"image":"PLST0001(1)-1624263144.jpg"},{"id":379,"name":"PLST0001A Black Color Leaf Shape Pearl Stones with Chain","price":420,"image":"PLST0001A(1)-1624263180.jpg"},{"id":380,"name":"PLST0002 Black Color Oval Shape Pearl Stones with Chain","price":380,"image":"PLST0002(1)-1624263202.jpg"},{"id":381,"name":"PLST0003 Cream Color Leaf Shape Pearl Stones with Chain","price":300,"image":"PLST0003(1)-1624263257.jpg"},{"id":382,"name":"PLST0003A Cream Color Leaf Shape Pearl Stones with Chain","price":420,"image":"PLST0003A(1)-1624263298.jpg"},{"id":383,"name":"PLST0004 Cream Color Round Shape Pearl Stones with Chain","price":330,"image":"PLST0004(1)-1624263322.jpg"},{"id":384,"name":"PLST0005 Cream Color Oval Shape Pearl Stones with Chain","price":380,"image":"PLST0005(1)-1624263360.jpg"},{"id":385,"name":"PLST0006 Cream Color Round Shape with Single Stone Pearl Stones","price":330,"image":"PLST0006(1)-1624263398.jpg"},{"id":386,"name":"PRLBD0001 Off White Color Round Shape Pearl Beads","price":120,"image":"PRLBD0001(1)-1624263554.jpg"},{"id":387,"name":"PRLBD0002 Cream Color Round Shape Pearl Beads","price":120,"image":"PRLBD0002(1)-1624263576.jpg"},{"id":388,"name":"NLK0001 Mauve Color Twisted Shape Nalki Glass Beads","price":250,"image":"NLK0001(1)-1624084545.jpg"},{"id":389,"name":"NLK0001A Orange Color Twisted Shape Nalki Glass Beads","price":250,"image":"NLK0001A(1)-1624084463.jpg"},{"id":390,"name":"NLK0001B Rainbow Color Twisted Shape Nalki Glass Beads","price":250,"image":"NLK0001B(1)-1624084435.jpg"},{"id":391,"name":"NLK0001C Antique Color Twisted Shape Nalki Glass Beads","price":200,"image":"NLK0001C(1)-1624084408.jpg"},{"id":392,"name":"NLK0001D Grey Color Twisted Shape Nalki Glass Beads","price":200,"image":"NLK0001D(1)-1624084605.jpg"},{"id":393,"name":"MRR0001 Golden Color Square Shape Mirror","price":210,"image":"MRR0001(1)-1624084698.jpg"},{"id":394,"name":"MRR0002 Brown Color Circle Shape Mirror","price":380,"image":"MRR0002(1)-1624084727.jpg"},{"id":395,"name":"MRR0003 Silver Color Rhombus Shape Mirror","price":110,"image":"MRR0003(1)-1624084749.jpg"},{"id":399,"name":"MRR0007 Golden Color Diamond Shape Mirror","price":170,"image":"MRR0007(1)-1624084960.jpg"},{"id":400,"name":"MRR0008 Silver Color Eye Shape Mirror","price":170,"image":"MRR0008(1)-1624084982.jpg"},{"id":413,"name":"BRCH0002 Red Color Flower Shape Brooch","price":330,"image":"BRCH0002(1)-1624271412.jpg"},{"id":414,"name":"BRCH0003 Grey Color Flower Brooch","price":290,"image":"BRCH0003(1)-1624271435.jpg"},{"id":415,"name":"BRCH0004 Green Color Flower Pot Shape Brooch","price":290,"image":"BRCH0004(1)-1624271459.jpg"},{"id":416,"name":"BRCH0005 Blue Color Rose Shape Brooch","price":420,"image":"BRCH0005(1)-1624271541.jpg"},{"id":418,"name":"BRCH0006 Desaturated Light Pink Color Flower Brooch","price":290,"image":"BRCH0006(1)-1624271630.jpg"},{"id":419,"name":"BRCH0007 Butterfly Design Brooch","price":380,"image":"BRCH0007(1)-1624271654.jpg"},{"id":420,"name":"BRCH0008 Silver Eye Shape stitchable Brooch With Stones (without pin)","price":580,"image":"BRCH0008(1)-1624271699.jpg"},{"id":421,"name":"BRCH0009 Grey Stone With Golden Frame stitchable Brooch(without pin)","price":170,"image":"BRCH0009(1)-1624271730.jpg"},{"id":422,"name":"BRCH0010 Silver Stone with Golden Frame stitchable Brooch(without pin)","price":460,"image":"BRCH0010(1)-1624271746.jpg"},{"id":423,"name":"SHL0001 Square Shape Cream Color Shells","price":210,"image":"SHL0001(1)-1624270928.jpg"},{"id":424,"name":"SHL0002 Fish Shape Cream Color Shells","price":290,"image":"SHL0002(1)-1624270947.jpg"},{"id":425,"name":"SHL0003 Cream Color Shells","price":290,"image":"SHL0003(1)-1624270966.jpg"},{"id":427,"name":"SHL0005 Round Shape Shells","price":250,"image":"SHL0005(1)-1624271003.jpg"},{"id":428,"name":"SHL0006 Square Shape Tiger Print Shells","price":210,"image":"SHL0006(1)-1624271022.jpg"},{"id":494,"name":"SQBD0007 Hot Pink Color Sequins Work Border","price":1020,"image":"SQBD0007(1)-1624338136.jpg"},{"id":497,"name":"THBD0002 Ornage Color Flowers Thread Work Border","price":880,"image":"THBD0002(1)-1624340077.jpg"},{"id":514,"name":"MTLCH0001 Golden Metal Stone Chain with White Glass Stones","price":580,"image":"MTLCH0001(1)-1624343618.jpg"},{"id":515,"name":"MTLCH0001A Golden Color Metal Chain With White Stone","price":420,"image":"MTLCH0001A(1)-1624343639.jpg"},{"id":516,"name":"MTLCH0002 Golden Metal Stone Chain with Golden Glass Stones","price":750,"image":"MTLCH0002(1)-1624343662.jpg"},{"id":517,"name":"MTLCH0002A Golden Color Metal Chains with Golden Stone","price":500,"image":"MTLCH0002A(1)-1624343682.jpg"},{"id":518,"name":"MTLCH0003 Golden Metal Stone Chain with White Pearl Stone","price":330,"image":"MTLCH0003(1)-1624343697.jpg"},{"id":519,"name":"MTLCH0004 Golden Metal Chain","price":130,"image":"MTLCH0004(1)-1624343715.jpg"},{"id":520,"name":"MTLCH0004A Golden Metal Chain","price":210,"image":"MTLCH0004A(1)-1624343733.jpg"},{"id":522,"name":"ELS0001White Color Elastic - 1 inch","price":320,"image":"ELS0001(1)-1624343785.jpg"},{"id":523,"name":"ELS0002 White Color Elastic -1.25 inces","price":360,"image":"ELS0002(1)-1624343798.jpg"},{"id":524,"name":"ELS0003 White Color Elastic - 0.75 inches","price":240,"image":"ELS0003(1)-1624343818.jpg"},{"id":525,"name":"ELS0004 White Color Elastics 1.5 inches","price":400,"image":"ELS0004(1)-1624343839.jpg"},{"id":526,"name":"ELS0005 White color Elastic 2 inches","price":570,"image":"ELS0005(1)-1624343860.jpg"},{"id":528,"name":"ELS0007 White Color Elastic - 8 mm","price":170,"image":"ELS0007(1)-1624343890.jpg"},{"id":529,"name":"ELS0008 White Color Elastic - 1\/2 inch","price":320,"image":"ELS0008(1)-1624343907.jpg"},{"id":530,"name":"ELS0009 White Color Elastic with Golden Zari - 1 inch","price":330,"image":"ELS0009(1)-1624343936.jpg"},{"id":532,"name":"Yellow Color Concealed YKK Zips CHC-26 (ZPYK001)","price":60,"image":"ZPYK1(2)-1624344583.jpg"},{"id":533,"name":"Orange Color Concealed YKK Zips CHC-26 (ZPYK006)","price":60,"image":"ZPYK6(2)-1624344614.jpg"},{"id":534,"name":"Antique Golden Color Concealed YKK Zips CHC-26 (ZPYK007)","price":60,"image":"ZPYK007(2)-1620622978.jpg"},{"id":535,"name":"Dark Green Color Concealed YKK Zips CHC-26 (ZPYK017)","price":60,"image":"ZPYK17(2)-1624344727.jpg"},{"id":536,"name":"Dark Cyan Color Concealed YKK Zips CHC-26 (ZPYK023)","price":60,"image":"ZPYK23(2)-1624344756.jpg"},{"id":537,"name":"Purple Color Concealed YKK Zips CHC-26 (ZPYK029)","price":60,"image":"ZPYK29(2)-1624344782.jpg"},{"id":538,"name":"Cream Color Concealed YKK Zips CHC-26 (ZPYK031)","price":60,"image":"ZPYK31(2)-1624344809.jpg"},{"id":539,"name":"Light Cyan Color Concealed YKK Zips CHC-26 (ZPYK049)","price":60,"image":"ZPYK49(2)-1624344828.jpg"},{"id":540,"name":"Sunglow Yellow Color Concealed YKK Zips CHC-26 (ZPYK056)","price":60,"image":"ZPYK56(2)-1624344849.jpg"},{"id":541,"name":"Dark Blue Color Concealed YKK Zips CHC-26 (ZPYK067)","price":60,"image":"ZPYK67(2)-1624344873.jpg"},{"id":542,"name":"Coral Red Color Concealed YKK Zips CHC-26 (ZPYK082)","price":60,"image":"ZPYK82(2)-1624344892.jpg"},{"id":543,"name":"Light Mustard Color Concealed YKK Zips CHC-26 (ZPYK087)","price":60,"image":"ZPYK87(2)-1624344911.jpg"},{"id":544,"name":"Dark Peach Color Concealed YKK Zips CHC-26 (ZPYK090)","price":60,"image":"ZPYK90(2)-1624344933.jpg"},{"id":545,"name":"Sky Blue Color Concealed YKK Zips CHC-26 (ZPYK066)","price":60,"image":"ZPYK99(2)-1624344963.jpg"},{"id":546,"name":"Light Golden Color Concealed YKK Zips CHC-26 (ZPYK108)","price":60,"image":"ZPYK108(1)-1624344994.jpg"},{"id":547,"name":"Light Peach Color Concealed YKK Zips CHC-26 (ZPYK114)","price":60,"image":"ZPYK114(2)-1624345026.jpg"},{"id":548,"name":"Off White Color Concealed YKK Zips CHC-26 (ZPYK121)","price":60,"image":"ZPYK121(2)-1624345062.jpg"},{"id":549,"name":"Bright Green Color Concealed YKK Zips CHC-26 (ZPYK148)","price":60,"image":"ZPYK148(2)-1624345086.jpg"},{"id":550,"name":"Dark Grey Color Concealed YKK Zips CHC-26 (ZPYK155)","price":60,"image":"ZPYK155(2)-1624345108.jpg"},{"id":551,"name":"Dusty Grey Color Concealed YKK Zips CHC-26 (ZPYK181)","price":60,"image":"ZPYK181(2)-1624345127.jpg"},{"id":552,"name":"Light Grey Color Concealed YKK Zips CHC-26 (ZPYK195)","price":60,"image":"ZPYK195(2)-1624345150.jpg"},{"id":553,"name":"Blueish White Color Concealed YKK Zips CHC-26 (ZPYK208)","price":60,"image":"ZPYK208(2)-1624345173.jpg"},{"id":554,"name":"Dull Peach Color Concealed YKK Zips CHC-26 (ZPYK213)","price":60,"image":"ZPYK213(2)-1620621767.jpg"},{"id":555,"name":"Mehandi Green Color Concealed YKK Zips CHC-26 (ZPYK223)","price":60,"image":"ZPYK223(2)-1620623541.jpg"},{"id":556,"name":"Very Light Dull Peach Color Concealed YKK Zips CHC-26 (ZPYK274)","price":60,"image":"ZPYK274(2)-1624345201.jpg"},{"id":557,"name":"Blue Color Concealed YKK Zips CHC-26 (ZPYK294)","price":60,"image":"ZPYK294(2)-1620620033.jpg"},{"id":558,"name":"Brown Color Concealed YKK Zips CHC-26 (ZPYK296)","price":60,"image":"ZPYK296(2)-1624345230.jpg"},{"id":559,"name":"Bright Peach Color Concealed YKK Zips CHC-26 (ZPYK348)","price":60,"image":"ZPYK348(2)-1624345285.jpg"},{"id":560,"name":"Desaturated Pink Color Concealed YKK Zips CHC-26 (ZPYK377)","price":60,"image":"ZPYK377(2)-1624345321.jpg"},{"id":561,"name":"White Color Concealed YKK Zips CHC-26 (ZPYK501)","price":60,"image":"ZPYK501(2)-1624345350.jpg"},{"id":562,"name":"Bright Yellow Color Concealed YKK Zips CHC-26 (ZPYK503)","price":60,"image":"ZPYK503(2)-1624345375.jpg"},{"id":563,"name":"Yellow Color Concealed YKK Zips CHC-26 (ZPYK504)","price":60,"image":"ZPYK504(2)-1624345415.jpg"},{"id":564,"name":"Mustard Color Concealed YKK Zips CHC-26 (ZPYK510)","price":60,"image":"ZPYK510(2)-1624345450.jpg"},{"id":565,"name":"Baby Pink Color Concealed YKK Zips CHC-26 (ZPYK513)","price":60,"image":"ZPYK513(2)-1624345481.jpg"},{"id":566,"name":"Cherry Red Color Concealed YKK Zips CHC-26 (ZPYK517)","price":60,"image":"ZPYK517(2)-1620622788.jpg"},{"id":567,"name":"Very Light Peach Color Concealed YKK Zips CHC-26 (ZPYK521)","price":60,"image":"ZPYK521(2)-1624345537.jpg"},{"id":568,"name":"Orange Color Concealed YKK Zips CHC-26 (ZPYK523)","price":60,"image":"ZPYK523(2)-1624345593.jpg"},{"id":569,"name":"Bright Light Green Color Concealed YKK Zips CHC-26 (ZPYK536)","price":60,"image":"ZPYK536(2)-1624345636.jpg"},{"id":570,"name":"Ferozi Blue Color Concealed YKK Zips CHC-26 (ZPYK547)","price":60,"image":"ZPYK547(2)-1624345672.jpg"},{"id":571,"name":"French Vanilla Color Concealed YKK Zips CHC-26 (ZPYK551)","price":60,"image":"ZPYK551(2)-1624345699.jpg"},{"id":572,"name":"Olive Green Color Concealed YKK Zips CHC-26 (ZPYK562)","price":60,"image":"ZPYK562(2)-1624346205.jpg"},{"id":573,"name":"Dark Brown Color Concealed YKK Zips CHC-26 (ZPYK570)","price":60,"image":"ZPYK570(2)-1624346275.jpg"},{"id":574,"name":"Black Color Concealed YKK Zips CHC-26 (ZPYK580)","price":60,"image":"ZPYK580(2)-1624346311.jpg"},{"id":575,"name":"Light Peach Color Concealed YKK Zips CHC-26 (ZPYK812)","price":60,"image":"ZPYK812(2)-1624346350.jpg"},{"id":576,"name":"Dark Orange Color Concealed YKK Zips CHC-26 (ZPYK816)","price":60,"image":"ZPYK816(3)-1614765690.jpg"},{"id":577,"name":"Bright Red Color Concealed YKK Zips CHC-26 (ZPYK820)","price":60,"image":"ZPYK820(2)-1614766180.jpg"},{"id":578,"name":"Mustard Color Concealed YKK Zips CHC-26 (ZPYK847)","price":60,"image":"ZPYK847(2)-1614766967.jpg"},{"id":579,"name":"Light Peach Color Concealed YKK Zips CHC-26 (ZPYK851)","price":60,"image":"ZPYK851(2)-1614771555.jpg"},{"id":580,"name":"Brown Color Concealed YKK Zips CHC-26 (ZPYK859)","price":60,"image":"ZPYK859(2)-1614772016.jpg"},{"id":581,"name":"Dark Green Color Concealed YKK Zips CHC-26 (ZPYK869)","price":60,"image":"ZPYK869(2)-1614772302.jpg"},{"id":582,"name":"Light Pastel Green Color Concealed YKK Zips CHC-26 (ZPYK871)","price":60,"image":"ZPYK871(2)-1614772710.jpg"},{"id":583,"name":"Dark Grass Green Color Concealed YKK Zips CHC-26 (ZPYK876)","price":60,"image":"ZPYK876(2)-1614773130.jpg"},{"id":584,"name":"Light Tea Green Color Concealed YKK Zips CHC-26 (ZPYK881)","price":60,"image":"ZPYK881(2)-1614773480.jpg"},{"id":585,"name":"Mehandi Green Color Concealed YKK Zips CHC-26 (ZPYK888)","price":60,"image":"ZPYK888(2)-1614773813.jpg"},{"id":586,"name":"Light Golden Color Concealed YKK Zips CHC-26 (ZPYK891)","price":60,"image":"ZPYK891(2)-1614774124.jpg"},{"id":587,"name":"Light Golden Color Concealed YKK Zips CHC-26 (ZPYK892)","price":60,"image":"ZPYK892(2)-1614835355.jpg"},{"id":588,"name":"Very Dark Brown Color Concealed YKK Zips CHC-26 (ZPYK917)","price":60,"image":"ZPYK917(2)-1614835574.jpg"},{"id":589,"name":"PLSBD0002 Golden Color Round Plastic Beads- 1 cm approx.","price":100,"image":"PLSBD0002(1)-1614836737.jpg"},{"id":590,"name":"PLSBD0003 Golden Color Round Shape Plastic Beads -14 mm","price":100,"image":"PLSBD0003(2)-1614836969.jpg"},{"id":591,"name":"PLSBD0004 Golden Color Plastic Beads -5mm approx.","price":100,"image":"PLSBD0004(2)-1614837145.jpg"},{"id":592,"name":"BULLWR0001 Light Golden Color Bullion Wire\/ Fancy Kora \/ Twisted Kora (Color Code F-7)","price":230,"image":"BULLWR0001(1)-1614840274.jpg"},{"id":593,"name":"BULLWR0002 Copper color Bullion Wire\/ Fancy Kora \/ Twisted Kora (Color Code- 102-VPJ)","price":230,"image":"BULLWR0002(1)-1614841610.jpg"},{"id":594,"name":"DABK0001 Golden Color Dabka(Color Code 102-BPJ)","price":230,"image":"DABK0001(1)-1614842213.jpg"},{"id":595,"name":"DABK0002 Light Golden Color Dabka (Color Code F-7)","price":230,"image":"DABK0002(1)-1614842723.jpg"},{"id":596,"name":"DABK0003 Antique (13 no.) Color Dabka","price":220,"image":"DABK0003(1)-1614843294.jpg"},{"id":597,"name":"DABK0004 Antique Copper (104 no.) Color Dabka","price":230,"image":"DABK0004(1)-1614843799.jpg"},{"id":598,"name":"DABK0005 Silver Color Dabka","price":270,"image":"DABK0005(1)-1614845392.jpg"},{"id":599,"name":"DABK0006 Antique Copper (36 no.) Color Dabka","price":220,"image":"DABK0006 (1)-1614846059.jpg"},{"id":600,"name":"NAKSHI001 Antique Color Nakshi","price":230,"image":"NAKSHI001(1)-1614850510.jpg"},{"id":601,"name":"NAKSHI002 Antique Golden Color Nakshi (Color Code 104-BPJ)","price":230,"image":"NAKSHI002(1)-1614850856.jpg"},{"id":602,"name":"NAKSHI003 Rose Gold Color Nakshi","price":230,"image":"NAKSHI003(1)-1614851070.jpg"},{"id":603,"name":"NAKSHI004 Light Golden Color Nakshi (Color Code F-7-30 NO)","price":230,"image":"NAKSHI004(1)-1614851714.jpg"},{"id":604,"name":"NAKSHI005 Silver Color Nakshi","price":270,"image":"NAKSHI005(1)-1614852002.jpg"},{"id":605,"name":"KORA0001 Silver Color Kora\/ Bullion Wire","price":270,"image":"KORA0001(1)-1614852638.jpg"},{"id":606,"name":"KORA0002 Antique Color Kora\/ Bullion Wire (Color Code -13)","price":220,"image":"KORA0002(1)-1614853504.jpg"},{"id":607,"name":"ORGRB0001 White Color Organza Ribbon - 2.5 cm","price":130,"image":"ORGRB0001(1)-1614855709.jpg"},{"id":609,"name":"ORGRB0003 White Color Organza Ribbon -1.2 cm","price":70,"image":"ORGRB0003(1)-1614858718.jpg"},{"id":611,"name":"METZP0002 Peach Color Ykk Metal Zip 20\" inches","price":160,"image":"ZPYK0002(2)-1615195365.jpg"},{"id":612,"name":"Beige Color YKk 30\" Inches Metal Zips","price":190,"image":"ZPYK0011(2)-1615196674.jpg"},{"id":613,"name":"Black Color 20,25 and 30 inches Ykk Zip with Golden Chain","price":170,"image":"ZPYK0003(2)-1615197275.jpg"},{"id":614,"name":"METZP0005 Red Color Ykk Metal Zip 20\" inches","price":160,"image":"ZPYK0004(2)-1615198402.jpg"},{"id":615,"name":"METZP0006 Baby Pink Color Ykk Zip 20\" inches","price":160,"image":"ZPYK0005(2)-1615199551.jpg"},{"id":616,"name":"METZP0007 Bright Red Color Ykk Metal Zip 20\" inches","price":160,"image":"ZPYK0006(2)-1615200279.jpg"},{"id":617,"name":"Maroon Color Ykk Metal Zip 25\" inches","price":180,"image":"maroon-1686209696.jpg"},{"id":618,"name":"METZP0009 Black Color Ykk Zip with Silver Chain 20\" inches","price":130,"image":"ZPYK0008(2)-1615203173.jpg"},{"id":620,"name":"White Color Ykk Zip with Golden chain 20\" , 25\" inches","price":170,"image":"ZPYK0010(2)-1615203773.jpg"},{"id":629,"name":"Triangle Shape Wooden Frame for Embroidery FRAM0001","price":330,"image":"FRM0001(1)-1615357404.jpg"},{"id":630,"name":"Square Shape Wooden Frame For Embroidery FRAM0005","price":330,"image":"FRM0002(2)-1615358096.jpg"},{"id":631,"name":"Oval Shape Wooden Embroidery Frame FRAM0003","price":330,"image":"FRM0003-1615358427.jpg"},{"id":638,"name":"White Coreset Wire \/ Rigilene\/ Boning wire-8 mm","price":460,"image":"CORST0001(5)-1636523697.jpg"},{"id":639,"name":"GHUN0001 Golden Color Ghungroo","price":80,"image":"GHUN0001(1)-1615370521.jpg"},{"id":640,"name":"Silver Color Ghungroo GHUN0002","price":100,"image":"GHUN0002(1)-1615370673.jpg"},{"id":641,"name":"PAD0001 White Color Blouse Pads\/Blouse Cups","price":170,"image":"PAD0001(1)-1615528137.jpg"},{"id":642,"name":"PAD0002 Skin Color Blouse Pads\/Blouse Cups","price":170,"image":"PAD0002(1)-1615528536.jpg"},{"id":643,"name":"PAD0003 Black Color Blouse Pads\/ Blouse Cups","price":170,"image":"PAD0003(1)-1615528888.jpg"},{"id":644,"name":"MUKS0001 Rose Gold Color Mukaish\/ Metal Strips","price":450,"image":"MUKS0001(3)-1615529850.jpg"},{"id":645,"name":"MUKS0002 Silver Color Mukaish\/ Metal Strip","price":420,"image":"MUKS0002(2)-1615530506.jpg"},{"id":646,"name":"GPT0020 Drop Shape Rose Gold Color Leather Patti","price":170,"image":"GPT0020(1)-1615531958.jpg"},{"id":647,"name":"GPT0020A Drop Shape rose Gold Color Leather Patti","price":170,"image":"GPT0020A(1)-1615532670.jpg"},{"id":648,"name":"GPT0021 Rose Gold Color Square Shape Gota Patti","price":250,"image":"GPT0021(1)-1615533149.jpg"},{"id":649,"name":"GPT0022 Rhombus Shape Rose gold Color Leather Patti","price":170,"image":"GPT0022(1)-1615533624.jpg"},{"id":652,"name":"GPT0025 Leaf Shape Golden Color Gota Patti","price":250,"image":"GPT0025(1)-1615540436.jpg"},{"id":653,"name":"GPT0026 Rhombus Shape Golden Color Gota Patti","price":280,"image":"GPT0026(1)-1615540914.jpg"},{"id":655,"name":"GPT0028 Rose Gold Color Gota Patti","price":330,"image":"GPT0028(1)-1615541841.jpg"},{"id":656,"name":"GPT0029 Drop Shape Rose Gold Color Gota Patti","price":250,"image":"GPT0029(1)-1615542331.jpg"},{"id":657,"name":"GPT0030 Round Shape Golden Color Leather Patti","price":250,"image":"GPT0030(1)-1615542673.jpg"},{"id":658,"name":"GPT0031 Golden Color Eye Shape Gota Patti","price":250,"image":"GPT0031(1)-1615543113.jpg"},{"id":659,"name":"GPT0032 Light Golden Color Eye Shape Leather Patti","price":170,"image":"GPT0032(1)-1615543486.jpg"},{"id":669,"name":"FNLC0008 Red Green Color Fancy Lace","price":670,"image":"FNLC0008(1)-1616414097.jpg"},{"id":670,"name":"FNLC0008A Blue Red Color Fancy Lace","price":670,"image":"FNLC0008A(1)-1616414416.jpg"},{"id":671,"name":"FNLC0008B Orange Color Fancy Lace","price":670,"image":"FNLC0008B(1)-1616414915.jpg"},{"id":676,"name":"CDTAP0001 Rose Gold Color Acrylic Tape Sewable (CD Tape)","price":330,"image":"CDTAP0001(2)-1616486153.jpg"},{"id":681,"name":"CDTAP0008 Black Color Acrylic Tape Sewable (Cd Tape)","price":330,"image":"CDTAP0008(2)-1616492954.jpg"},{"id":683,"name":"CDTAP0011 Silver Color Acrylic Tape Sewable (CD Tape)","price":330,"image":"CDTAP0011(2)-1616493467.jpg"},{"id":688,"name":"CDTAP0017 Silver Color Sparkle Acrylic Tape Sewable (CD Tape)","price":420,"image":"CDTAP0017(1)-1679999430.jpg"},{"id":689,"name":"CDTAP0019 Rainbow Color Acrylic Tape Sewable (CD Tape)","price":420,"image":"CDTAP0019(1)-1616495469.jpg"},{"id":692,"name":"CDTAP0023 Dark Pink Color Acrylic Tape Sewable (CD Tape)","price":330,"image":"CDTAP0023(2)-1616499410.jpg"},{"id":693,"name":"Emerald Green Color Acrylic Tape Sewable (CD Tape)","price":330,"image":"CDTAP0024(2)-1616563513.jpg"},{"id":694,"name":"Navy Blue Color Acrylic Tape Sewable (CD Tape)","price":330,"image":"CDTAP0042(1)-1679999393.jpg"},{"id":695,"name":"CDTAP0026 Golden Color Sparkle Acrylic Tape Sewable (CD Tape)","price":330,"image":"CDTAP0026(1)-1616564188.jpg"},{"id":696,"name":"CDTAP0027 Light Golden Color Acrylic Tape Sewable (CD Tape)","price":330,"image":"CDTAP0027(2)-1616564451.jpg"},{"id":697,"name":"Black Color Leather Tape Sewable (CD Tape)","price":420,"image":"CDTAP00028(2)-1616564670.jpg"},{"id":698,"name":"CDTAP0029 Black Color Sparkle Acrylic Tape Sewable (CD Tape)","price":420,"image":"CDTAP00029(2)-1616564911.jpg"},{"id":699,"name":"CDTAP0030 Golden Color Acrylic Tape Sewable (CD Tape)","price":330,"image":"cdtap-1679919122.jpg"},{"id":700,"name":"FRNG0001A Silver Color Fringes Sequins Work","price":1500,"image":"FRNG0001A(1)-1616584616.jpg"},{"id":701,"name":"FRNG0001B Pink Color Fringes Sequins Work","price":1500,"image":"FRNG0001B(1)-1616584918.jpg"},{"id":702,"name":"FRNG0001C Magenta Color Fringes Sequins Work","price":1500,"image":"FRNG0001D(1)-1616585968.jpg"},{"id":705,"name":"Blue-Black Color Hand Embroidery Gents\/Men Shirt Patch","price":560,"image":"PATHE0086(1)-1616649756.jpg"},{"id":707,"name":"Red-Blue Color Hand Embroidery Gents\/men Shirt Patch","price":630,"image":"PATHE0088(1)-1616650948.jpg"},{"id":708,"name":"Red-Black Color Hand Embroidery Gents\/men Shirt Patch","price":630,"image":"PATHE0089(1)-1616651742.jpg"},{"id":715,"name":"BUCL0012A Golden Square Shape Color Buckle","price":290,"image":"BUCL0012A-2(1)-1642155763.jpg"},{"id":717,"name":"BUCL0013B Round Shape Golden Color Buckle","price":230,"image":"BUCL0013B(1)-1616659128.jpg"},{"id":719,"name":"BUCL0013A Round Shape Silver Color Buckle","price":230,"image":"BUCL0013A(1)-1616659126.jpg"},{"id":720,"name":"BUCL0014 Round Shape Silver Color Buckle","price":210,"image":"BUCL0014(1)-1616659900.jpg"},{"id":722,"name":"BUCL0014B Round Shape Golden Color Buckle","price":210,"image":"BUCL0014B(1)-1616659907.jpg"},{"id":738,"name":"PATF0040B Golden Color Butterfly Fancy Patch","price":290,"image":"PATF0040B(1)-1616824806.jpg"},{"id":739,"name":"PATF0040C Black Color Butterfly Fancy Patch","price":290,"image":"PATF0040C(1)-1616833219.jpg"},{"id":741,"name":"PATF0040E Brown Color Butterfly Fancy Patch","price":290,"image":"PATF0040E(1)-1616833775.jpg"},{"id":742,"name":"PATF0040F Grey Color Butterfly Fancy Patch","price":290,"image":"PATF0040G(3)-1616833898.jpg"},{"id":744,"name":"BDLC0001 Golden Color Beaded Lace","price":600,"image":"BDLC0001(1)-1617091382.jpg"},{"id":746,"name":"BDLC0003 White Color Pearl Work Beaded Lace","price":600,"image":"BDLC0003(1)-1617091878.jpg"},{"id":761,"name":"COTN0011 White Color Cotton Lace (Dyeable)","price":9000,"image":"COTN0011(1)-1617099788.jpg"},{"id":763,"name":"COTN0013 Black Color Cotton Lace","price":4500,"image":"COTN0013(1)-1617100415.jpg"},{"id":764,"name":"COTN0014 Black Color Cotton Lace","price":2170,"image":"COTN0014(1)-1617100576.jpg"},{"id":765,"name":"COTN0017 Cream Color Cotton Lace (Dyeable)","price":750,"image":"COTN0017(1)-1617100812.jpg"},{"id":778,"name":"PMPLC0004 White Color Pompom Lace","price":220,"image":"PMPLC0004(1)-1617106612.jpg"},{"id":779,"name":"PMPLC0005 White Color Pompom Lace (Crosia Lace)","price":1420,"image":"PMPLC0005(1)-1617106937.jpg"},{"id":781,"name":"Ladies Button Grey Color (WBTN0023B)","price":200,"image":"WBTN23B(1)-1617173114.jpg"},{"id":792,"name":"Ladies Button Yellow Color (WBTN0023G)","price":200,"image":"WBTN0023G(1)-1617191903.jpg"},{"id":793,"name":"Ladies Button Dark Pink Color (WBTN0023H)","price":200,"image":"WBTN0023H(1)-1617192403.jpg"},{"id":803,"name":"KURBT0002 Orange Color Kundan Work Fancy Kurta Patti Buttons with Chain","price":300,"image":"KURBT0002(1)-1617273552.jpg"},{"id":807,"name":"KURBT0005 Blue Color Kundan Work Fancy Kurta Patti Buttons with Chain","price":430,"image":"KURBT0005(1)-1617274632.jpg"},{"id":813,"name":"KURBT0012 Golden Color Kundan Work Fancy Kurta Patti Buttons with Chain","price":320,"image":"KURBT0012(1)-1617277024.jpg"},{"id":814,"name":"KURBT0013 Metallic Grey Color Mirror Work Fancy Kurta Patti Buttons with Chain","price":200,"image":"KURBT0013(1)-1617277151.jpg"},{"id":835,"name":"Red Color Sew On Rhinestone \/ Softi \/ Chatons in Flat Back Metal Setting (8mm-40ss)","price":330,"image":"SOFTI0002A(1)-1617347166.jpg"},{"id":836,"name":"Black Color Sew On Rhinestone \/ Softi \/ Chatons in Flat Back Metal Setting (8mm-40ss)","price":290,"image":"SOFTI0002B(1)-1617347399.jpg"},{"id":837,"name":"Peach Color Sew On Rhinestone \/ Softi \/ Chatons in Flat Back Metal Setting (8mm-40ss)","price":580,"image":"SOFTI0002C(1)-1617347660.jpg"},{"id":839,"name":"Wine Color Sew On Rhinestone \/ Softi \/ Chatons in Flat Back Metal Setting (6mm-30ss)","price":210,"image":"SOFTI0003A(1)-1617348644.jpg"},{"id":841,"name":"Red Stone Color Sew On Rhinestone \/ Softi \/ Chatons in Flat Back Metal Setting (6mm-30ss)","price":170,"image":"SOFTI0003C(1)-1617349371.jpg"},{"id":842,"name":"Dark Ferozi Color Sew On Rhinestone \/ Softi \/ Chatons in Flat Back Metal Setting (6mm-30ss)","price":170,"image":"SOFTI0003D(1)-1617350416.jpg"},{"id":843,"name":"Dark Green(Emerald) Color Sew On Rhinestone \/ Softi \/ Chatons in Flat Back Metal Setting (6mm-30ss)","price":250,"image":"SOFTI0003E(1)-1617350453.jpg"},{"id":844,"name":"Navy Blue (Montana) Color Sew On Rhinestone \/ Softi \/ Chatons in Flat Back Metal Setting (8mm-40ss)","price":290,"image":"SOFTI0002(1)-1617350485.jpg"},{"id":845,"name":"CHAND0001 Red Color Eye Shape Chandla\/Rhinestones\/Non-Hotfix","price":200,"image":"CHAND0001(1)-1617363714.jpg"},{"id":846,"name":"CHAND0001A Silver Color Eye Shape Chandla\/Rhinestones\/Non-Hotfix","price":200,"image":"CHAND0001A(1)-1617364023.jpg"},{"id":847,"name":"CHAND0001B Golden Color Eye Shape Chandla\/Rhinestones\/Non-Hotfix","price":250,"image":"CHAND0001B(1)-1617364460.jpg"},{"id":848,"name":"CHAND0002 Golden Color Leaf\/Paan Shape Chandla\/Rhinestones\/Non-Hotfix","price":200,"image":"CHAND0002(1)-1617364795.jpg"},{"id":849,"name":"CHAND0002A Silver Color Leaf\/Paan Shape Chandla\/Rhinestones\/Non-Hotfix","price":200,"image":"CHNAD0002A(1)-1617365106.jpg"},{"id":850,"name":"CHAND0003 Silver Color Round Shape Chandla\/Rhinestones\/Non-Hotfix","price":170,"image":"CHNAD0003(1)-1617365380.jpg"},{"id":855,"name":"BUCL0019 Golden Color Stone Work Buckle","price":130,"image":"BUCL0019(1)-1617431856.jpg"},{"id":857,"name":"MTSEQ0022 Golden Color Round Shape Metal Sequins","price":330,"image":"MTSEQ0022(2)-1617434276.jpg"},{"id":872,"name":"METSEQ0013 Golden Color Round Shape Metal Sequins","price":330,"image":"MTSEQ0013(1)-1617446893.jpg"},{"id":873,"name":"MTSEQ0014 Silver Color Shape Metal Sequins","price":330,"image":"MTSEQ0014(1)-1617447658.jpg"},{"id":874,"name":"MTSEQ0016 Silver Color Oval Shape Metal Sequins","price":330,"image":"MTSEQ0016(1)-1617447659.jpg"},{"id":877,"name":"MTSEQ0019 Silver Color Metal Sequins","price":330,"image":"MTSEQ0019(1)-1617450160.jpg"},{"id":893,"name":"HOOK001 Silver Color Pony Eye Hook","price":270,"image":"HOOK001(1)-1617621773.jpg"},{"id":894,"name":"HOOK001A Silver Color Pony Eye Hook","price":500,"image":"HOOK001A(1)-1617621952.jpg"},{"id":896,"name":"TICH001A Pony Tich Buttons\/ Snap Fasteners\/ Press Buttons","price":300,"image":"TICH002(1)-1617622831.jpg"},{"id":897,"name":"GPT0033 Rose Gold Color Gota Patti","price":210,"image":"GPT0033(1)-1617625130.jpg"},{"id":898,"name":"GPT0033A Light Golden Color Gota Patti","price":210,"image":"GPT0033A(1)-1617687815.jpg"},{"id":899,"name":"GPT0034 Medium Golden Color Gota Patti Star Shape","price":210,"image":"GPT0034(1)-1617688691.jpg"},{"id":900,"name":"GPT0035 Ferozi-Gold Color Gota Patti Flower","price":140,"image":"GPT0035(1)-1617689094.jpg"},{"id":901,"name":"GPT0035A Green-Gold Color Gota Patti Flower","price":140,"image":"GPT0035A(3)-1617689360.jpg"},{"id":902,"name":"GPT0035B Magenta-Golden Color Gota Patti FLower","price":140,"image":"GPT0035B(1)-1617689505.jpg"},{"id":903,"name":"GPT0035C Dark Blue-Gold Color Gota Patti Flower","price":140,"image":"GPT0035C(1)-1617689640.jpg"},{"id":904,"name":"GPT0036 Golden Color Star Shape Gota Patti","price":210,"image":"GPT0036(1)-1617690669.jpg"},{"id":905,"name":"GPT0037 Brown Color Gota Patti Flower","price":210,"image":"GPT0037(1)-1617691025.jpg"},{"id":906,"name":"GPT0037A Golden Color Gota Patti Flower","price":210,"image":"GPT0037A(1)-1617691247.jpg"},{"id":907,"name":"GPT0038 Silver Color Gota Patti Flower","price":210,"image":"GPT0038(1)-1617691550.jpg"},{"id":908,"name":"GPT0038A Brown Color Gota Patti Flower","price":210,"image":"GPT0038A(1)-1617691699.jpg"},{"id":909,"name":"GPT0040 Silver Color Gota Patti Flower","price":210,"image":"GPT0040(1)-1617691892.jpg"},{"id":910,"name":"GPT0042 Medium Golden Color Gota Patti Flower","price":250,"image":"GPT0042(1)-1617692606.jpg"},{"id":911,"name":"GPT0043 Golden Silver Color Gota Patti Star Shape","price":210,"image":"GPT0043(1)-1617692907.jpg"},{"id":912,"name":"GPTPA0001 Sunflower Color Gota Patti Patches","price":170,"image":"GPTPA0001(1)-1617694838.jpg"},{"id":913,"name":"GPTPA0002 Gold Color Gota Flower Patch","price":200,"image":"GPTPA0002(2)-1617695599.jpg"},{"id":914,"name":"GPTPA0003 Copper Color Gota Flower Patch","price":170,"image":"GPTPA0003(1)-1617695851.jpg"},{"id":915,"name":"GPTPA0004 Golden Color Gota Flower Patch","price":170,"image":"GPTPA0004(1)-1617696462.jpg"},{"id":916,"name":"GPTPA0005 Gold Color with Orange Kinari Gota Flower Patch","price":170,"image":"GPTPA0005(1)-1617696729.jpg"},{"id":917,"name":"GPTPA0006 Light Golden Color Gota Flower Patch","price":130,"image":"GPTPA0006(1)-1617696970.jpg"},{"id":918,"name":"GPTPA0007 Rose Gold Color Gota Flower Patch","price":170,"image":"GPTPA0007(2)-1617697151.jpg"},{"id":936,"name":"PATR0001 Golden Color Round Shape Sitara\/Patra without Hole","price":220,"image":"PATR0001(1)-1617788592.jpg"},{"id":937,"name":"PATR0002 Silver Color Rhombus Shape Sitara\/Patra without Hole","price":330,"image":"PATR0002(1)-1617789131.jpg"},{"id":938,"name":"PATR0004 Golden Color Rhombus Shape Sitara\/Patra without Hole","price":330,"image":"PATR0004(1)-1617789642.jpg"},{"id":939,"name":"PATR0005 Silver Color Triangle Shape Sitara\/Patra without Hole","price":330,"image":"PATR0005(1)-1617789916.jpg"},{"id":940,"name":"PATR0006 Silver Color Round Shape Sitara\/Patra without Hole","price":220,"image":"PATR0006(1)-1617790894.jpg"},{"id":941,"name":"PATR0007 Golden Color Rhombus Shape Sitara\/Patra without Hole","price":330,"image":"PATR0007(1)-1617791229.jpg"},{"id":942,"name":"PATR0008 Golden Square Shape Sitara\/Patra without Hole","price":220,"image":"PATR0008(1)-1617791521.jpg"},{"id":943,"name":"PATR0009 Golden Color Round Shape Sitara\/Patra without Hole","price":220,"image":"PATR0009(1)-1617791985.jpg"},{"id":944,"name":"PATR0010 Silver Color Square Shape Sitara\/Patra without Hole","price":220,"image":"PATR0010(1)-1617792537.jpg"},{"id":945,"name":"PATR0011 Silver Color Round Shape Sitara\/Patra without Hole","price":220,"image":"PATR00011(1)-1617793387.jpg"},{"id":946,"name":"PATR0012 Silver Color Square Shape Sitara\/Patra without Hole","price":220,"image":"PATR0012(1)-1617793652.jpg"},{"id":947,"name":"PATR0013 Silver Color Drop Shape Sitara\/Patra without Hole","price":330,"image":"PATR0013(1)-1617793893.jpg"},{"id":948,"name":"PATR0014 Silver Color Rhombus Shape Sitara\/Patra without Hole","price":330,"image":"PATR0014(1)-1617794144.jpg"},{"id":953,"name":"(MRBD0007) 2 MM Blue Color Round Shape Marble\/Seed Beads (Jayco Moti)","price":200,"image":"MRBD0007(2)-1617866229.jpg"},{"id":954,"name":"(MRBD0007B) 2 MM Orange Color Round Shape Marble\/Seed Beads (Jayco Moti)","price":200,"image":"MRBD0007B(2)-1617867863.jpg"},{"id":955,"name":"(MRBD0007A) 2 MM Pink Color Round Shape Marble\/Seed Beads (Jayco Moti)","price":200,"image":"MRBD0007A(2)-1617867872.jpg"},{"id":956,"name":"(MRBD0007C) 2 MM Light Golden Color Round Shape Marble\/Seed Beads (Jayco Moti)","price":200,"image":"MRBD0007C(2)-1617868701.jpg"},{"id":957,"name":"(MRBD0007D) 2 MM Brown Color Round Shape Marble\/Seed Beads (Jayco Moti)","price":200,"image":"MRBD0007D(2)-1617868728.jpg"},{"id":958,"name":"(MRBD0007E) 2 MM Cherry Red Color Round Shape Marble\/Seed Beads (Jayco Moti)","price":200,"image":"MRBD0007E(2)-1617869425.jpg"},{"id":959,"name":"(MRBD0007F) 2 MM Ferozi Color Round Shape Marble\/Seed Beads (Jayco Moti)","price":200,"image":"MRBD0007F(2)-1617869448.jpg"},{"id":960,"name":"(MRBD0007G) 2 MM Sky Blue Color Round Shape Marble\/Seed Beads (Jayco Moti)","price":200,"image":"MRBD0007G(2)-1617869455.jpg"},{"id":961,"name":"(MRBD0007H) 2 MM Yellow Color Round Shape Marble\/Seed Beads (Jayco Moti)","price":200,"image":"MRBD0007H(2)-1617869930.jpg"},{"id":962,"name":"(MRBD0007I) 2 MM Orange Color Round Shape Marble\/Seed Beads (Jayco Moti)","price":200,"image":"MRBD0007I(2)-1617869997.jpg"},{"id":963,"name":"(MRBD0007J) 2 MM Purple Color Round Shape Marble\/Seed Beads (Jayco Moti)","price":200,"image":"MRBD0007J(2)-1617870067.jpg"},{"id":964,"name":"(MRBD0007K) 2 MM Red Color Round Shape Marble\/Seed Beads (Jayco Moti)","price":200,"image":"MRBD0007K(2)-1617870117.jpg"},{"id":965,"name":"(MRBD0007L) 2 MM Hot Pink Color Round Shape Marble\/Seed Beads (Jayco Moti)","price":200,"image":"MRBD0007L(2)-1617870873.jpg"},{"id":966,"name":"(MRBD0007M) 2 MM Light Green Color Round Shape Marble\/Seed Beads (Jayco Moti)","price":200,"image":"MRBD0007M(2)-1617870906.jpg"},{"id":967,"name":"(MRBD0007N) 2 MM Dark Green Color Round Shape Marble\/Seed Beads (Jayco Moti)","price":200,"image":"MRBD0007N(2)-1617870932.jpg"},{"id":995,"name":"Pink Color Drop Shape Fancy Patch","price":330,"image":"PATF0046(1)-1618387914.jpg"},{"id":996,"name":"PATF0046A Orange Color Drop Shape Fancy Patch","price":330,"image":"PATF0046A(1)-1618388595.jpg"},{"id":997,"name":"PATF0046B Green Color Drop Shape Fancy Patch","price":330,"image":"PATF0046B(1)-1618388643.jpg"},{"id":1001,"name":"PATF0047B Maroon Color Drop Shape Fancy Patch","price":300,"image":"PATF0047B(1)-1618392061.jpg"},{"id":1002,"name":"PATF0047C Golden Color Drop Shape Fancy Patch","price":300,"image":"PATF0047C(1)-1618392096.jpg"},{"id":1008,"name":"GLST0009 Silver Color Drop Shape Center Glass Stone with Golden Frame","price":250,"image":"GLST0009(1)-1618395424.jpg"},{"id":1009,"name":"GLST0010 Silver Color Oval Shape Center Glass Stone with Golden Frame","price":200,"image":"GLST0010(1)-1618395890.jpg"},{"id":1010,"name":"GLST0011 Silver Color Eye Shape Center Glass Stone with Golden Frame","price":180,"image":"GLST0011(1)-1618395918.jpg"},{"id":1011,"name":"PLAST0001 Cream Color Round Shape Plastic Stones","price":200,"image":"PLAST0001(1)-1618398110.jpg"},{"id":1012,"name":"PLAST0002 Black Color Drop Shape Plastic Stones","price":230,"image":"PLAST0002(1)-1618398506.jpg"},{"id":1013,"name":"PLAST0003 Cream Color Square Shape Plastic Stones","price":170,"image":"PLAST0003(1)-1618398698.jpg"},{"id":1014,"name":"PLAST0004 Cream Color Round Shape Plastic Stones","price":170,"image":"PLAST0004(1)-1618399278.jpg"},{"id":1015,"name":"PLAST0005 Black Color Square Shape Plastic Stones","price":230,"image":"PLAST0005(1)-1618402269.jpg"},{"id":1016,"name":"PLAST0006 Cream Color Plastic Stones","price":270,"image":"PLAST0006(1)-1618402789.jpg"},{"id":1017,"name":"PLAS0007 Cream Color Drop Shape Plastic Stones","price":200,"image":"PLAST0007(1)-1618402843.jpg"},{"id":1018,"name":"PLAST0008 Cream Color Eye Shape Plastic Stones","price":170,"image":"PLAST0008(1)-1618402882.jpg"},{"id":1019,"name":"PLAST0009 Cream Color Oval Shape Plastic Stones","price":200,"image":"PLAST0009(1)-1618403159.jpg"},{"id":1020,"name":"Maroon Color 6ss Hot Fix SWAR0001","price":330,"image":"SWAR0001(2)-1-1645100081.jpg"},{"id":1021,"name":"SWAR0001A Olive Color 6ss Hot Fix","price":290,"image":"SWAR0001A(2)-1-1645100039.jpg"},{"id":1022,"name":"SWAR0001C Grey Color 6ss Hot Fix","price":290,"image":"SWAR0001C(3)-1-1645100014.jpg"},{"id":1023,"name":"SWAR0001B Peach Color 6ss Hot Fix","price":420,"image":"SWAR0001B(2)-1-1645099819.jpg"},{"id":1024,"name":"SWAR0001D Red Color 6ss Hot Fix","price":250,"image":"SWAR0001D(2)-1-1645099842.jpg"},{"id":1025,"name":"SWAR0001E Brown Color 6ss Hot Fix","price":250,"image":"SWAR0001E(2)-1-1645099661.jpg"},{"id":1027,"name":"SWAR0001G Light Pink Color 6ss Hot Fix","price":830,"image":"SWAR0001G(2)-2-1645099639.jpg"},{"id":1028,"name":"SWAR0001H Blue Color 6ss Hot Fix","price":290,"image":"SWAR0001H(2)-1-1645099416.jpg"},{"id":1029,"name":"SWAR0001I Medium Golden Color 6ss Hot Fix","price":210,"image":"SWAR0001I(2)-1-1645099445.jpg"},{"id":1030,"name":"SWAR0001J Orange Color 6ss Hot Fix","price":290,"image":"SWAR0001J(2).jpg-1-1645098515.jpg"},{"id":1032,"name":"SWAR0001L Navy Blue Color 6ss Hot Fix","price":250,"image":"SWAR0001L(2).jpg-1-1645098324.jpg"},{"id":1033,"name":"SWAR0003 Medium Pink Color 16ss Hot Fix","price":750,"image":"SWAR0003(2).jpg-1-1645097143.jpg"},{"id":1034,"name":"SWAR0003A Red Color 16ss Hot Fix","price":290,"image":"SWAR0003A(2).jpg-1-1645097119.jpg"},{"id":1035,"name":"SWAR0003B Golden Color 16ss Hot Fix","price":210,"image":"SWAR0003B(2).jpg-1-1645097174.jpg"},{"id":1036,"name":"SWAR0003C Black Color 16ss Hot Fix","price":250,"image":"SWAR0003C(2).jpg-1-1645097199.jpg"},{"id":1037,"name":"SWAR0003D Orange Color 16ss Hot Fix","price":290,"image":"SWAR0003D(2)-2-1645096821.jpg"},{"id":1038,"name":"SWAR0003E Metallic Grey Color 16ss Hot Fix","price":210,"image":"SWAR0003E(2)-2-1645096799.jpg"},{"id":1040,"name":"SWAR0003G Royal Blue Color 16ss Hot Fix","price":170,"image":"SWAR0003G(2)-1-1645096320.jpg"},{"id":1042,"name":"SWAR0003I Navy Blue Color 16ss Hot Fix","price":290,"image":"SWAR0003I(2)-2-1645096196.jpg"},{"id":1043,"name":"SWAR0003J Silver Color 16ss Hot Fix","price":250,"image":"SWAR0003J(2)-1-1645096101.jpg"},{"id":1044,"name":"SWAR0003K Light Green Color 16ss Hot Fix","price":170,"image":"SWAR0003K(2)-1-1645095970.jpg"},{"id":1045,"name":"SWAR0003L Olive Color 16ss Hot Fix","price":170,"image":"SWAR0003L(2)-1-1645095906.jpg"},{"id":1046,"name":"Grey Color Hot Fix SWAR0002 (10ss, 6ss)","price":210,"image":"SWAR0001F(2)-2221-1645095783.jpg"},{"id":1048,"name":"SWAR0002B Olive Green Color 10ss Hot Fix SWAR0002B","price":210,"image":"SWAR0001F(7)-1-1645095341.jpg"},{"id":1050,"name":"Light Pink Color 10ss Hot Fix SWAR0002D","price":750,"image":"SWAR0002A(2)-1645094817.jpg"},{"id":1051,"name":"Dark Green Color 10ss Hot Fix SWAR0002E","price":170,"image":"SWAR0002B(1)-1-1645094737.jpg"},{"id":1052,"name":"Light Blue Color 10ss Hot Fix SWAR0002F","price":290,"image":"SWAR0002F(2).jpg"},{"id":1053,"name":"Metallic Grey Color 10ss Hot Fix SWAR0002G","price":210,"image":"SWAR0002G(2).jpg"},{"id":1054,"name":"Light Green Color 10ss Hot Fix SWAR0002H","price":170,"image":"SWAR0002H(2).jpg"},{"id":1058,"name":"Cream Color Dyeable Cotton Lace with Zari DYTC0004","price":470,"image":"DYCT0004(1).jpg"},{"id":1060,"name":"Cream Color Dyeable Cotton Lace DYTC0006","price":850,"image":"DYCT0006(1).jpg"},{"id":1061,"name":"Cream Color Dyeable Cotton Lace with Zari DYTC0007","price":920,"image":"DYCT0007(1).jpg"},{"id":1062,"name":"Cream Color Dyeable Cotton Lace with Zari and Sequins DYTC0008","price":880,"image":"DYCT0008(1).jpg"},{"id":1065,"name":"Cream color Mirror Lace MRLC0005","price":420,"image":"MRLC0005(1).jpg"},{"id":1078,"name":"Golden color Western Lace WEST0002","price":1250,"image":"WEST0002(2).jpg"},{"id":1083,"name":"Silver color Cap Shape Charms","price":330,"image":"CHARM0017(4)-1695469457.jpg"},{"id":1084,"name":"Golden color Connector Charms","price":330,"image":"CHARM0018(4)-1695469579.jpg"},{"id":1091,"name":"Golden color Leaf Shape Charms CHARM0025","price":330,"image":"CHARM0025(1).jpg"},{"id":1092,"name":"Golden color Charms CHARM0026","price":330,"image":"CHARM0026(4)-1695470739.jpg"},{"id":1093,"name":"Golden color Leaf Shape Charms","price":330,"image":"CHARM0027(2)-1695470769.jpg"},{"id":1094,"name":"Golden color Charms CHARM0028","price":200,"image":"CHARM0028(1).jpg"},{"id":1116,"name":"Golden color Round Shape with Glass Stone Ladies Buttons\/zircon balls\/shamballa beads","price":200,"image":"WBTN0030(1).jpg"},{"id":1118,"name":"Black color Round Shape with Glass Stone Ladies Buttons\/zircon balls\/shamballa beads","price":200,"image":"WBTN0030B(1).jpg"},{"id":1119,"name":"Light Blue color Round Shape Ladies Buttons Loop Hole\/Zircon Balls\/shamballa beads","price":200,"image":"WBTN0030C(1).jpg"},{"id":1120,"name":"Ornagecolor Round Shape Ladies Buttons Loop Hole\/Zircon Balls\/shamballa beads","price":200,"image":"WBTN0030D(1).jpg"},{"id":1122,"name":"Dark Pink color Round Shape Ladies Buttons Loop Hole\/Zircon Balls\/shamballa beads","price":270,"image":"WBTN0030F(1).jpg"},{"id":1124,"name":"Navy Blue color Round Shape Ladies Buttons Loop Hole\/Zircon Balls\/shamballa beads","price":200,"image":"WBTN0030H(1).jpg"},{"id":1127,"name":"Dark Green color Round Shape Ladies Buttons Loop Hole\/Zircon Balls\/shamballa beads","price":200,"image":"WBTN0030K(1).jpg"},{"id":1128,"name":"Dark Blue color Round Shape Ladies Buttons Loop Hole\/Zircon Balls\/shamballa beads","price":200,"image":"WBTN0030L(1).jpg"},{"id":1129,"name":"Yellow color Round Shape Ladies Buttons Loop Hole\/Zircon Balls\/shamballa beads","price":200,"image":"WBTN0030M(1).jpg"},{"id":1130,"name":"Dark Purple color Round Shape Ladies Buttons Loop Hole\/Zircon Balls\/shamballa beads","price":200,"image":"WBTN0030N(1).jpg"},{"id":1131,"name":"Peach color Eye shape Plastic StonesPLST0010","price":250,"image":"PLSAT0010(1).jpg"},{"id":1132,"name":"Light Blue color Eye shape Plastic Stones PLST0010A","price":250,"image":"PLST0010A(1).jpg"},{"id":1133,"name":"Yellow color Oval shape Plastic Stones PLST0011","price":170,"image":"PLST0011(1).jpg"},{"id":1134,"name":"Silver color Oval shape Plastic Stones PLST0011A","price":170,"image":"PLST0011A(1).jpg"},{"id":1135,"name":"Light Green color Oval shape Plastic Stones PLST0012","price":250,"image":"PLST0012(1).jpg"},{"id":1137,"name":"Purple color Oval shape Plastic Stones PLST0012B","price":250,"image":"PLST0012B(1).jpg"},{"id":1138,"name":"Ferozi Blue color Leaf shape Plastic StonesPLST0013","price":170,"image":"PLST0013(1).jpg"},{"id":1139,"name":"Maroon color Leaf shape Plastic Stones PLST0013A","price":170,"image":"PLST0013A(1).jpg"},{"id":1140,"name":"Peach color Leaf shape Plastic Stones PLST0013B","price":170,"image":"PLST0013B(1).jpg"},{"id":1141,"name":"Purple color Leaf shape Plastic Stones PLST0013C","price":170,"image":"PLST0013C(1).jpg"},{"id":1142,"name":"Orange color Leaf shape Plastic Stones PLST0013D","price":170,"image":"PLST0013D(1).jpg"},{"id":1143,"name":"Yellow color Leaf shape Plastic Stones PLST0014","price":250,"image":"PLST0014(1).jpg"},{"id":1144,"name":"Light Green color Eye shape Plastic Stones PLST0015","price":170,"image":"PLST0015(1).jpg"},{"id":1151,"name":"Multi color Round shape Plastic Beads PLSBD0005","price":330,"image":"PLSBD0005(1).jpg"},{"id":1152,"name":"Multi color Cylinderical shape Plastic Beads PLSBD0006","price":200,"image":"PLSBD0006(2).jpg"},{"id":1153,"name":"Multi color Eye shape Plastic Beads PLSBD0007","price":200,"image":"PLSBD0007(1).jpg"},{"id":1154,"name":"Multi color Round shape Plastic Beads PLSBD0008","price":200,"image":"PLSBD0008(1).jpg"},{"id":1155,"name":"Multi color Plastic Beads PLSBD0009","price":200,"image":"PLSBD0009(1).jpg"},{"id":1156,"name":"Antique color Flower shape Plastic Beads PLSBD0010","price":200,"image":"PLSBD0010(1).jpg"},{"id":1157,"name":"Multi color Round shape Plastic Beads PLSBD0011","price":200,"image":"PLSBD0011(1).jpg"},{"id":1158,"name":"Multi color Rondelle shape Plastic Beads PLSBD0012","price":200,"image":"PLSBD0012(1).jpg"},{"id":1159,"name":"Multi color Leaf shape Plastic Beads PLSBD0013","price":200,"image":"PLSBD0013(1).jpg"},{"id":1160,"name":"Multi color Cylendrical shape Plastic Beads PLSBD0014","price":200,"image":"PLSBD0014(1).jpg"},{"id":1162,"name":"Golden color Plastic Beads PLSBD0016","price":250,"image":"PLSBD0016(1).jpg"},{"id":1163,"name":"Multi color Round shape Plastic Beads PLSBD0017","price":200,"image":"PLSBD0017(1).jpg"},{"id":1164,"name":"Silver Rainbow color Cuboidal shape Plastic Beads PLSBD0018","price":250,"image":"PLSBD0018(1).jpg"},{"id":1165,"name":"Mulit color Plastic Beads PLSBD0019","price":200,"image":"PLSBD0019(1).jpg"},{"id":1166,"name":"Silver Rainbow color Plastic Beads PLSBD0020","price":250,"image":"PLSBD0020(1).jpg"},{"id":1167,"name":"Silver Rainbow color Eye shape Plastic Beads PLSBD0021","price":250,"image":"PLSBD0021(1).jpg"},{"id":1168,"name":"Silver Rainbow color Flower shape Plastic Beads PLSBD0022","price":250,"image":"PLSBD0022(1).jpg"},{"id":1169,"name":"Silver Rainbow color Drop shape Plastic Beads PLSBD0023","price":250,"image":"PLSBD0023(1).jpg"},{"id":1170,"name":"Multi color Round shape Plastic Beads PLSBD0024","price":330,"image":"PLSBD0024(1).jpg"},{"id":1173,"name":"Metallic Grey Color Design Metal SequinsMTSEQ0023","price":500,"image":"MTSEQ0023(1).jpg"},{"id":1175,"name":"Silver Color Eye shape Design Metal Sequins MTSEQ0025","price":330,"image":"MTSEQ0025(1).jpg"},{"id":1176,"name":"Antique Color Design Metal SequinsMTSEQ0026","price":330,"image":"MTSEQ0026(1).jpg"},{"id":1178,"name":"Dull Golden Color Square shape Design Metal Sequins MTSEQ0028","price":330,"image":"MTSEQ0028(1).jpg"},{"id":1179,"name":"Antique Color Flower shape Design Metal Sequins MTSEQ0029","price":130,"image":"MTSEQ0029(1).jpg"},{"id":1180,"name":"Skin color Fancy Frill Lace FNLC0009","price":800,"image":"FNLC0009(1).jpg"},{"id":1181,"name":"Red color Fancy Frill Lace FNLC0009A","price":800,"image":"FNLC0009A(1).jpg"},{"id":1190,"name":"Orange color Fancy Frill Lace FNLC0010B","price":400,"image":"FNLC0010B(1).jpg"},{"id":1205,"name":"Silver color Drop \/ Briolette Shape Crystal Glass Beads CGBDS0001E","price":250,"image":"CGBDS0001E(1).jpg"},{"id":1206,"name":"Black color Drop \/ Briolette Shape Crystal Glass Beads CGBDS0001F","price":250,"image":"CGBDS0001F(1).jpg"},{"id":1207,"name":"Maroon Rainow color Drop \/ Briolette Shape Crystal Glass Beads CGBDS0002","price":170,"image":"CGBDS0002(1).jpg"},{"id":1210,"name":"Red Rainbow color Conical Shape Crystal Glass Beads CGBDS0004A","price":180,"image":"CGBDS0004A(1).jpg"},{"id":1212,"name":"Red color Conical Shape Crystal Glass Beads CGBDS0004C","price":250,"image":"CGBDS0004C(1).jpg"},{"id":1214,"name":"Light Blue color Conical Shape Crystal Glass Beads CGBDS0005","price":250,"image":"CGBDS0005(1).jpg"},{"id":1216,"name":"Golden color Conical Shape Crystal Glass Beads CGBDS0006","price":210,"image":"CGBDS0006(1).jpg"},{"id":1217,"name":"Peach Rainbow color Conical Shape Crystal Glass Beads CGBDS0006A","price":210,"image":"CGBDS0006A(1).jpg"},{"id":1218,"name":"Golden color Round \/ Rondelle \/ Tyre Faceted Shape Crystal Glass Beads CGBDS0007","price":210,"image":"CGBDS0007(1)-1619762772.jpg"},{"id":1222,"name":"White Color GPO Lace GPO0013","price":1500,"image":"GPO0013(1).jpg"},{"id":1229,"name":"White Color Flower GPO Lace GPO0020","price":1000,"image":"GPO0020(1).jpg"},{"id":1230,"name":"White Color GPO Lace GPO0021","price":300,"image":"GPO0021(1).jpg"},{"id":1240,"name":"Dull Golden Color Mirror Work Lace MRLC0011","price":1380,"image":"MRLC0011(1).jpg"},{"id":1252,"name":"Light Golden Color Pearl Work\/Bead Work Lace BDPL0006","price":960,"image":"BDPL0006(1).jpg"},{"id":1308,"name":"Grey Color Beads Work Western Lace WEST0004B","price":1250,"image":"WEST0004B(1).jpg"},{"id":1310,"name":"Black Color Western Lace with Hotfix Work WEST0005","price":1950,"image":"WEST0005(1).jpg"},{"id":1313,"name":"Red Color Western Lace with Hotfix work WEST0008","price":150,"image":"WEST0008(1).jpg"},{"id":1321,"name":"Light Green Color Ring shape Plastic Sequins\/ Sitara\/Sippi SEQ0031","price":330,"image":"SEQ0031(1).jpg"},{"id":1323,"name":"Light Pink Color Round shape Plastic Sequins\/ Sitara\/Sippi SEQ0033","price":170,"image":"SEQ0033(1).jpg"},{"id":1325,"name":"Orange Color Eye shape Plastic Sequins\/ Sitara\/Sippi SEQ0035","price":330,"image":"SEQ0035(1).jpg"},{"id":1326,"name":"Silver Rainbow Color Round shape Plastic Sequins\/ Sitara\/Sippi SEQ0036","price":330,"image":"SEQ0036(1).jpg"},{"id":1339,"name":"Purple Color Square Shape Plastic Sequins\/ Sitara\/Sippi SEQ0049","price":330,"image":"SEQ0049(1).jpg"},{"id":1408,"name":"Light Golden Color Triangle Shape Charms CHARM0031","price":380,"image":"CHARM0031(1).jpg"},{"id":1409,"name":"Metallic Grey Color Spiral Shape Charms CHARM0032","price":170,"image":"CHARM0032(1).jpg"},{"id":1410,"name":"Mehandi Polish Antique Color Assorted Shape Charms CHARM0033","price":210,"image":"CHARM0033(1).jpg"},{"id":1414,"name":"Mehandi Polish Antique Color Round Shape Charms CHARM0037","price":170,"image":"CHARM0037(1).jpg"},{"id":1415,"name":"Mehandi Polish Antique Color Round Shape Charms CHARM0038","price":250,"image":"CHARM0038(1).jpg"},{"id":1416,"name":"Mehandi Polish Antique Color Assorted Shape Charms CHARM0039","price":250,"image":"CHARM0039(1).jpg"},{"id":1417,"name":"Silver Color Drop Shape Charms CHARM0040","price":290,"image":"CHARM0040(1).jpg"},{"id":1418,"name":"Golden Color Round Shape Charms CHARM0041","price":210,"image":"CHARM0041(1).jpg"},{"id":1419,"name":"Antique Golden Color Assorted Shape Charms CHARM0042","price":170,"image":"CHARM0042(1).jpg"},{"id":1420,"name":"Silver Color Round Shape Charms CHARM0043","price":380,"image":"CHARM0043(2).jpg"},{"id":1421,"name":"Mehandi Polish Antique Golden Color Assorted Shape Charms CHARM0044","price":460,"image":"CHARM0044(1).jpg"},{"id":1422,"name":"Metallic Grey Color Necklace Shape Charms CHARM0045","price":250,"image":"CHARM0045(1).jpg"},{"id":1423,"name":"Mehandi Polish Antique Golden Color Semi-Circle Shape Charms CHARM0046","price":130,"image":"CHARM0046(1).jpg"},{"id":1424,"name":"Golden Color Assorted Shape Charms CHARM0047","price":250,"image":"CHARM0047(1).jpg"},{"id":1425,"name":"Mehandi Polish Antique Golden Color Leaf Shape Charms CHARM0048","price":250,"image":"CHARM0048(1).jpg"},{"id":1426,"name":"Silver Color Assorted Shape Charms CHARM0049","price":250,"image":"CHARM0049(1).jpg"},{"id":1427,"name":"Antique Golden Color Leaf Shape Charms CHARM0050","price":330,"image":"CHARM0050(1).jpg"},{"id":1428,"name":"Antique Golden Color Triangle Shape Charms CHARM0051","price":250,"image":"CHARM0051(1).jpg"},{"id":1429,"name":"Silver Color Round Shape Charms CHARM0052","price":250,"image":"CHARM0052(1).jpg"},{"id":1430,"name":"Dark Green Color Baadla(Metal look Soft Dori) BDLA0005","price":100,"image":"BDLA0005(2).jpg"},{"id":1431,"name":"Dark Blue Color Baadla(Metal look Soft Dori) BDLA0006","price":100,"image":"BDLA0006(2).jpg"},{"id":1432,"name":"Copper Color Baadla(Metal look Soft Dori) BDLA0007","price":100,"image":"BDLA0007(2).jpg"},{"id":1433,"name":"Black Color Baadla(Metal look Soft Dori) BDLA0008","price":100,"image":"BDLA0008(2).jpg"},{"id":1434,"name":"Dark Golden Color Baadla(Metal look Soft Dori) BDLA0009","price":100,"image":"BDLA0009(3).jpg"},{"id":1435,"name":"Yellow Blue color Round Shape Marble Beads MRBD0008","price":200,"image":"MRBD0008(2).jpg"},{"id":1436,"name":"Ferozi Rainbow color Round Shape Marble Beads MRBD0009","price":170,"image":"MRBD0009(2).jpg"},{"id":1437,"name":"Multi color Round Shape Marble Beads MRBD0010","price":250,"image":"MRBD0010(2).jpg"},{"id":1438,"name":"Metallic Grey color Round Shape Marble Beads MRBD0011","price":120,"image":"MRBD0011(2).jpg"},{"id":1439,"name":"Magenta color Round Shape Marble Beads MRBD0012","price":120,"image":"MRBD0012(2).jpg"},{"id":1440,"name":"Grey Rainbow color Round Shape Marble Beads MRBD0013","price":120,"image":"MRBD0013(2).jpg"},{"id":1441,"name":"Orange-Yellow color Round Shape Marble Beads MRBD0014","price":250,"image":"MRBD0014(2).jpg"},{"id":1442,"name":"Maroon color Drop Shape Plastic Stones (Ghad Fitting) with Flat Back PLST0016","price":250,"image":"PLST0016(1).jpg"},{"id":1443,"name":"Ferozi Blue color Square Shape Plastic Stones (Ghad Fitting) with Flat Back PLST0017","price":250,"image":"PLST0017(1).jpg"},{"id":1444,"name":"Maroon color Square Shape Plastic Stones (Ghad Fitting) with Flat Back PLST0017A","price":250,"image":"PLST0017A(1).jpg"},{"id":1445,"name":"Black-Golden color Flower Shape Brooch With Stones BRCH0011","price":250,"image":"BRCH0011(1).jpg"},{"id":1446,"name":"Red-Golden color Flower Shape Brooch With Stones BRCH0011A","price":250,"image":"BRCH0011A(1).jpg"},{"id":1447,"name":"Orange-Golden color Flower Shape Brooch With Stones BRCH0011B","price":250,"image":"BRCH0011B(1).jpg"},{"id":1448,"name":"Blue-Golden color Flower Shape Brooch With Stones BRCH0011C","price":250,"image":"BRCH0011C(1).jpg"},{"id":1449,"name":"Pink-Golden color Flower Shape Brooch With Stones BRCH0011D","price":250,"image":"BRCH0011D(1).jpg"},{"id":1450,"name":"Light Green-Golden color Flower Shape Brooch With Stones BRCH0011E","price":250,"image":"BRCH0011E(1).jpg"},{"id":1455,"name":"Maroon Color Metal Chains MTLCH0014A","price":670,"image":"MTLCH0014A(1).jpg"},{"id":1456,"name":"Red-White Color Metal Chains MTLCH0014B","price":670,"image":"MTLCH0014B(1).jpg"},{"id":1457,"name":"Black-White Color Metal Chains MTLCH0014C","price":670,"image":"MTLCH0014C(1).jpg"},{"id":1458,"name":"Blue-White Color Metal Chains","price":670,"image":"MTLCH0014D(1).jpg"},{"id":1461,"name":"Dull Golden color Square Shape Plastic Stones","price":200,"image":"PLST0018(1).jpg"},{"id":1463,"name":"Dull Golden color Flower Shape Plastic Stones","price":200,"image":"PLST0020(1).jpg"},{"id":1464,"name":"Dull Golden color Round Shape Plastic Stones","price":250,"image":"PLST0021(1).jpg"},{"id":1465,"name":"Dull Golden color Round Shape Plastic Stones","price":280,"image":"PLST0022(1).jpg"},{"id":1466,"name":"Dull Golden color Leaf Shape Plastic Stones \\","price":170,"image":"PLST0023(1).jpg"},{"id":1467,"name":"Dull Golden color Leaf Shape Plastic Stones","price":250,"image":"PLST0024(1).jpg"},{"id":1468,"name":"Dull Golden color Eye Shape Plastic Stones","price":280,"image":"PLST0025(1).jpg"},{"id":1469,"name":"Dull Golden color Square Shape Plastic Stones PLST0026","price":280,"image":"PLST0026(1).jpg"},{"id":1470,"name":"Dull Golden color Oval Shape Plastic Stones PLST0027","price":330,"image":"PLST0027(1).jpg"},{"id":1472,"name":"Purple Sparkle Color Square Shape Plastic Sequins SEQ0053","price":330,"image":"SEQ0053(1).jpg"},{"id":1473,"name":"Metallic Pink Color Round Shape Plastic Sequins SEQ0054","price":670,"image":"SEQ0054(1).jpg"},{"id":1474,"name":"Ferozi Color Ring Shape Plastic Sequins SEQ0055","price":330,"image":"SEQ0055(1).jpg"},{"id":1475,"name":"Ferozi Color Oval Shape Plastic Sequins SEQ0056","price":330,"image":"SEQ0056(1).jpg"},{"id":1477,"name":"Magenta Color Rhombus Shape Plastic Sequins SEQ0058","price":330,"image":"SEQ0058(1).jpg"},{"id":1478,"name":"Mehandi-Mustard Color Round Shape Plastic Sequins SEQ0059","price":330,"image":"SEQ0059(1).jpg"},{"id":1479,"name":"Metallic Peach Color Round Shape Plastic Sequins SEQ0060","price":330,"image":"SEQ0060(1).jpg"},{"id":1482,"name":"Yellow Color Round Shape Plastic Sequins SEQ0063","price":170,"image":"SEQ0063(1).jpg"},{"id":1483,"name":"Yellow Color Rectangle Shape Plastic Sequins SEQ0064","price":170,"image":"SEQ0064(1).jpg"},{"id":1485,"name":"Golden Color Flower Designs Kurta Patti Button KURBT0019","price":100,"image":"KURBT0019(1).jpg"},{"id":1503,"name":"Georgette Viscose Thread Work Fabric GVFB0001","price":1920,"image":"fabric-1622102119.jpg"},{"id":1509,"name":"Golden color flower shape plastic sequins SEQ0067","price":670,"image":"SEQ0067(1).jpg"},{"id":1512,"name":"Light Peach color Round Shape Plastic Sequins\/Sitara\/Sippi SEQ0027A","price":330,"image":"SEQ0027A(1).jpg"},{"id":1522,"name":"Silver color Round Shape Plastic Sequins\/Sitara\/Sippi SEQ0075","price":130,"image":"SEQ0075(1).jpg"},{"id":1527,"name":"Peach color Leaf Shape Plastic Sequins\/Sitara\/Sippi SEQ0080","price":170,"image":"SEQ0080(1).jpg"},{"id":1533,"name":"Light Golden-Multi color Round Shape Plastic Sequins\/Sitara\/Sippi SEQ0086","price":330,"image":"SEQ0086(1).jpg"},{"id":1534,"name":"Multi color Paan Shape Plastic Sequins\/Sitara\/Sippi SEQ0087","price":170,"image":"SEQ0087(1).jpg"},{"id":1536,"name":"Silver color Assorted Shape Plastic Sequins\/Sitara\/Sippi SEQ0089","price":170,"image":"SEQ0089(1).jpg"},{"id":1538,"name":"Ferozi Color Rectangle Shape Plastic Sequins\/Sitara\/Sippi SEQ0064A","price":170,"image":"SEQ0064A(1).jpg"},{"id":1542,"name":"Peach Color Square Shape Plastic Sequins\/Sitara\/Sippi SEQ0094","price":170,"image":"SEQ0094(1).jpg"},{"id":1544,"name":"Light Pink Color Square Shape Plastic Sequins\/Sitara\/Sippi SEQ0095A","price":330,"image":"SEQ0095A(1).jpg"},{"id":1552,"name":"Antique Golden Color Round Shape Mehandi Polish Metal Charms CHARM0053","price":250,"image":"CHARM0053(1).jpg"},{"id":1553,"name":"Antique Golden Color Assorted Shape Mehandi Polish Metal Charms CHARM0054","price":420,"image":"CHARM0054(1).jpg"},{"id":1558,"name":"Antique Golden Color Flower Shape Mehandi Polish Metal Charms CHARM0059","price":330,"image":"CHARM0059(1).jpg"},{"id":1560,"name":"Golden Color Triangular Shape Metal Wire Charms CHARM0061","price":250,"image":"_MAX2606-1630387449.jpg"},{"id":1561,"name":"Antique Golden Color Square Shape Mehandi Polish Metal Charms CHARM0062","price":370,"image":"CHARM0062(1).jpg"},{"id":1562,"name":"Antique Golden Color Rectangular Shape Mehandi Polish Metal Charms CHARM0063","price":420,"image":"CHARM0063(1).jpg"},{"id":1563,"name":"Golden Color Round Shape Metal Charms CHARM0064","price":420,"image":"CHARM0064(1).jpg"},{"id":1564,"name":"Golden Color Ring Shape Metal Wire Charms CHARM0065","price":250,"image":"CHARM0065(1).jpg"},{"id":1566,"name":"Golden Color Eye Shape Metal Charms CHARM0067","price":500,"image":"CHARM0067(1).jpg"},{"id":1567,"name":"Metallic Grey Color Assorted Shape Metal Charms CHARM0068","price":380,"image":"CHARM0068(1).jpg"},{"id":1568,"name":"White Color Glass Beads(Nalki) Tube Shape GLSBD0002","price":250,"image":"GLSBD0002(1).jpg"},{"id":1570,"name":"Metallic Grey Color Glass Beads(Nalki) GLSBD0004","price":250,"image":"GLSBD0004(1).jpg"},{"id":1571,"name":"Grey Rainbow Color Glass Beads GLSBD0005","price":250,"image":"GLSBD0005(1).jpg"},{"id":1572,"name":"Silver Color Designer Metal Chains MTLCH0015","price":380,"image":"MTLCH0015(1).jpg"},{"id":1573,"name":"Silver Color Designer Metal Chains MTLCH0016","price":380,"image":"MTLCH0016(1).jpg"},{"id":1576,"name":"Silver color Flower shape Plastic Beads PLSBD0025","price":330,"image":"PLSBD0025(1).jpg"},{"id":1577,"name":"Silver color Oval shape Plastic Beads PLSBD0026","price":330,"image":"PLSBD0026(1).jpg"},{"id":1578,"name":"Silver color Oval shape Plastic Beads PLSBD0027","price":330,"image":"PLSBD0027(1).jpg"},{"id":1579,"name":"Silver color Square shape Plastic Beads PLSBD0028","price":330,"image":"PLSBD0028(1).jpg"},{"id":1580,"name":"Silver color Round shape Plastic Beads PLSBD0029","price":330,"image":"PLSBD0029(1).jpg"},{"id":1581,"name":"Silver color Square shape Plastic Beads PLSBD0030","price":330,"image":"PLSBD0030(1).jpg"},{"id":1583,"name":"Silver color Cap shape Plastic Beads PLSBD0032","price":330,"image":"PLSBD0032(1).jpg"},{"id":1584,"name":"Silver color Cap shape Plastic Beads PLSBD0033","price":330,"image":"PLSBD0033(1).jpg"},{"id":1585,"name":"Silver color Flower shape Plastic Beads PLSBD0034","price":330,"image":"PLSBD0034(1).jpg"},{"id":1586,"name":"Silver color Assorted shape Plastic Beads PLSBD0035","price":330,"image":"PLSBD0035(1).jpg"},{"id":1587,"name":"Grey color Rectangle shape Plastic Beads PLSBD0036","price":330,"image":"PLSBD0036(1).jpg"},{"id":1588,"name":"Silver color Assorted shape Plastic Beads PLSBD0037","price":580,"image":"PLSBD0037(1)-1624078206.jpg"},{"id":1589,"name":"Rose Gold Color Drop Shape Leather Patti GPT0020B","price":170,"image":"GPT0020B(1).jpg"},{"id":1590,"name":"Golden Color Square Shape Gota Patti GPT0021B","price":250,"image":"GPT0021A(3).jpg"},{"id":1591,"name":"Rose Gold Color Rhombus Shape Leather Patti GPT0022A","price":250,"image":"GPT0022A(1).jpg"},{"id":1592,"name":"Golden Color Rhombus Shape Gota Patti GPT0022B","price":250,"image":"GPT0022B(1).jpg"},{"id":1593,"name":"Light Golden Color Eye Shape Gota Patti GPT0044","price":250,"image":"GPT0044(1).jpg"},{"id":1594,"name":"Rose Gold Color Eye Shape Gota Patti GPT0044A","price":250,"image":"GPT0044A(1).jpg"},{"id":1595,"name":"Rose Golden Color Eye Shape Gota Patti GPT0044B","price":250,"image":"GPT0044B(1).jpg"},{"id":1596,"name":"Silver Color Drop Shape Gota Patti GPT0045","price":250,"image":"GPT0045(1).jpg"},{"id":1597,"name":"Rose Gold Color Round Shape Gota Patti GPT0046","price":250,"image":"GPT0046(1).jpg"},{"id":1599,"name":"Golden Color Drop Shape Leather Patti GPT0048","price":280,"image":"GPT0048(1).jpg"},{"id":1600,"name":"Light Golden Color Eye Shape Leather Patti GPT0049","price":170,"image":"GPT0049(1).jpg"},{"id":1601,"name":"Light Golden Color Drop Shape Gota Patti GPT0050","price":250,"image":"GPT0050(1).jpg"},{"id":1602,"name":"Rose Gold Color Drop Shape Leather Patti GPT0051","price":170,"image":"GPT0051(1).jpg"},{"id":1603,"name":"Light Golden Color Round Shape Gota PattiGPT0052","price":170,"image":"GPT0052(1).jpg"},{"id":1605,"name":"Golden Color Eye Shape Leather Patti GPT0054","price":280,"image":"GPT0054(1).jpg"},{"id":1608,"name":"Silver Color Drop Shape Gota Patti GPT0056","price":250,"image":"GPT0056(1).jpg"},{"id":1609,"name":"Golden Color Round Shape Gota Patti GPT0057","price":280,"image":"GPT0057(1).jpg"},{"id":1611,"name":"Rose Gold Color Round Shape Gota Patti GPT0058A","price":250,"image":"GPT0058A(1).jpg"},{"id":1612,"name":"Light Golden Color Round Shape Gota Patti GPT0059","price":250,"image":"GPT0059(1).jpg"},{"id":1613,"name":"Light Golden Color Eye Shape Gota Patti GPT0060","price":250,"image":"GPT0060(1).jpg"},{"id":1614,"name":"Light Golden Color Round Shape Leather Patti GPT0061","price":170,"image":"GPT0061(1).jpg"},{"id":1615,"name":"Light Golden Color Rhombus Shape Gota Patti GPT0062","price":250,"image":"GPT0062(1).jpg"},{"id":1616,"name":"Rose Gold Color Triangular Shape Gota Patti GPT0063","price":250,"image":"GPT0063(1).jpg"},{"id":1617,"name":"Silver Color Drop Shape Gota Patti GPT0064","price":250,"image":"GPT0064(1).jpg"},{"id":1618,"name":"Golden Color Drop Shape Gota Patti GPT0065","price":250,"image":"GPT0065(1).jpg"},{"id":1620,"name":"Multi Color Round Shape Glass Beads GLSBD0006","price":130,"image":"GLSBD0006(1).jpg"},{"id":1621,"name":"Yellow Color Glass Beads GLSBD0007","price":130,"image":"GLSBD0007(1).jpg"},{"id":1622,"name":"Green Color Glass Beads GLSBD0007A","price":130,"image":"GLSBD0007A(1).jpg"},{"id":1623,"name":"Yellow Color Round Shape Glass Beads GLSBD0008","price":130,"image":"GLSBD0008(1).jpg"},{"id":1626,"name":"Diamond Shape Silver Color Mirror MRR0009","price":80,"image":"MRR0009(1).jpg"},{"id":1627,"name":"Diamond Shape Silver Color Mirror MRR0009A","price":130,"image":"MRR0009A(1).jpg"},{"id":1628,"name":"Drop Shape Silver Color Mirror MRR0010","price":130,"image":"MRR0010(1).jpg"},{"id":1629,"name":"Round Shape Silver Color Mirror MRR0011","price":110,"image":"MRR0011(1).jpg"},{"id":1630,"name":"Round Shape Silver Color Mirror MRR0011A","price":110,"image":"MRR0011A(1).jpg"},{"id":1631,"name":"Round Shape Silver Color Mirror MRR0011B","price":110,"image":"MRR0011B(1).jpg"},{"id":1632,"name":"Round Shape Silver Color Mirror MRR0011C","price":110,"image":"MRR0011C(1).jpg"},{"id":1635,"name":"Moon Shape Silver Color Mirror MRR0013","price":80,"image":"MRR0013(1).jpg"},{"id":1636,"name":"Eye Shape Silver Color Mirror MRR0014","price":120,"image":"MRR0014(1).jpg"},{"id":1637,"name":"Golden Color Rectangle Shape GlueFix Stones HFX0006A","price":200,"image":"HFX0006A(2).jpg"},{"id":1638,"name":"Silver Color Square Shape GlueFix Stones HFX0007A","price":200,"image":"HFX0007A(2).jpg"},{"id":1640,"name":"Copper Color S-Shape Shape Hotfix Stones HFX0012A","price":250,"image":"HFX0012A(2).jpg"},{"id":1641,"name":"Copper Color Rectangle Shape GlueFix Stones HFX0013A","price":280,"image":"HFX0013A(2).jpg"},{"id":1642,"name":"Peach Color Round Shape GlueFix Stones HFX0015A","price":120,"image":"HFX0015A(1).jpg"},{"id":1643,"name":"Peach Color Leaf Shape GlueFix Stones HFX0018","price":120,"image":"HFX0018(1).jpg"},{"id":1644,"name":"Peach Color Leaf Shape GlueFix Stones HFX0019","price":120,"image":"HFX0019(2).jpg"},{"id":1645,"name":"White Color Round Shape Hotfix Stones HFX0020","price":250,"image":"HFX0020(2).jpg"},{"id":1647,"name":"Golden Color Triangular Shape Hotfix Stones HFX0021A","price":250,"image":"HFX0021A(2).jpg"},{"id":1648,"name":"Silver Color Triangular Shape Hotfix Stones HFX0021B","price":250,"image":"HFX0021B(2).jpg"},{"id":1649,"name":"Copper Color Assorted Shape Hotfix Stones HFX0022","price":250,"image":"HFX0022(2).jpg"},{"id":1650,"name":"Copper Color Round Shape Hotfix Stones HFX0020A","price":250,"image":"HFX0020A(2)-1645598330.jpg"},{"id":1652,"name":"Matte Golden Color Round Shape Hotfix Stones HFX0025","price":500,"image":"HFX0025(2).jpg"},{"id":1653,"name":"Metallic Grey Color Round Shape Hotfix Stones HFX0025A","price":500,"image":"HFX0025A(2).jpg"},{"id":1654,"name":"Light Golden Color Katori Shape Plastic Sequins SEQ0103","price":330,"image":"SEQ0103(1).jpg"},{"id":1658,"name":"Medium Golden Color Katori Shape Plastic Sequins SEQ0104","price":330,"image":"SEQ0104(1).jpg"},{"id":1661,"name":"Silver Color Katori Shape Plastic Sequins SEQ0105","price":330,"image":"SEQ0105(1).jpg"},{"id":1662,"name":"Silver MR Color Katori Shape Plastic Sequins SEQ0106","price":330,"image":"SEQ0106(1).jpg"},{"id":1665,"name":"Dull Golden Color Katori Shape mm Plastic Sequins SEQ0107","price":330,"image":"SEQ0107(1).jpg"},{"id":1667,"name":"Paani AR Color Katori Shape Plastic Sequins SEQ0108","price":330,"image":"SEQ0108(1).jpg"},{"id":1670,"name":"White Pearl V 17 Color Katori Shape Plastic Sequins SEQ0109","price":330,"image":"SEQ0109(1).jpg"},{"id":1673,"name":"Rose Gold Zari Color Katori Shape Plastic Sequins SEQ0110","price":300,"image":"SEQ0110(1).jpg"},{"id":1674,"name":"Paani Clear Color Katori Shape Plastic Sequins SEQ0111","price":330,"image":"SEQ0111(1).jpg"},{"id":1676,"name":"Dark Golden MR Color Katori Shape Plastic Sequins SEQ0113","price":330,"image":"SEQ0113(1).jpg"},{"id":1678,"name":"White Paani Clear Color Katori Shape Plastic Sequins SEQ0114","price":330,"image":"SEQ0114(1).jpg"},{"id":1679,"name":"Silver color Drop Shape Plastic Stones (Ghad Fitting) with Flat Back PLST0016A","price":250,"image":"PLST0016A(1).jpg"},{"id":1681,"name":"Off-White color Oval Shape Plastic Stones (Ghad Fitting) with Flat Back PLST0030","price":250,"image":"PLST0030(1).jpg"},{"id":1682,"name":"Silver Metallic Color Oval Shape Plastic Stones PLST0031","price":250,"image":"PLST0031(1).jpg"},{"id":1684,"name":"Silver color Round Shape Kundan\/Glass Stones (Ghad Fitting) with Golden Frame GLST0012","price":270,"image":"GLST0012(1).jpg"},{"id":1685,"name":"Silver color Octagonal Shape Kundan\/Glass Stones (Ghad Fitting) with Golden Frame GLST0013","price":300,"image":"GLST0013(1).jpg"},{"id":1686,"name":"Silver color Drop Shape Kundan\/Glass Stones (Ghad Fitting) with Golden Frame GLST0014","price":250,"image":"GLST0014(1).jpg"},{"id":1687,"name":"Silver color Round Shape Kundan\/Glass Stones (Ghad Fitting) with Golden Frame GLST0015","price":270,"image":"GLST0015(1).jpg"},{"id":1688,"name":"Golden color Drop Shape Kundan\/Glass Stones (Ghad Fitting) with Golden Frame GLST0016","price":380,"image":"GLST0016(1).jpg"},{"id":1690,"name":"Golden Color Shell Shape Plastic Beads PLSBD0061","price":120,"image":"PLSBD0061(2).jpg"},{"id":1691,"name":"Golden Color Assorted Shape Plastic Beads PLSBD0038","price":130,"image":"PLSBD0038(1).jpg"},{"id":1692,"name":"Golden Color Rhombus Shape Plastic Beads PLSBD0039","price":130,"image":"PLSBD0039(1).jpg"},{"id":1693,"name":"Light Golden Color Drop Shape Plastic Beads with Sparkle PLSBD0040","price":130,"image":"PLSBD0040(1).jpg"},{"id":1694,"name":"Skin-Brown Color Cashew Shape plastic Beads PLSBD0041","price":130,"image":"PLSBD0041(1).jpg"},{"id":1695,"name":"Skin-Brown Color Rondelle Shape Plastic Beads PLSBD0042","price":130,"image":"PLSBD0042(1).jpg"},{"id":1696,"name":"Golden Color Plastic Beads PLSBD0043","price":130,"image":"PLSBD0043(1).jpg"},{"id":1697,"name":"Ornage Color Heart Shape Plastic Beads PLSBD0044","price":130,"image":"PLSBD0044(1).jpg"},{"id":1698,"name":"Brown Color Flower Shape Plastic Beads PLSBD0045","price":130,"image":"PLSBD0045(1).jpg"},{"id":1699,"name":"Skin-Brown Color Round Shape Plastic Beads PLSBD0046","price":130,"image":"PLSBD0046(1).jpg"},{"id":1700,"name":"Skin-Brown Color Plastic Beads PLSBD0047","price":130,"image":"PLSBD0047(1).jpg"},{"id":1701,"name":"Light golden color Cuboidal Shape Plastic Beads PLSBD0048","price":130,"image":"PLSBD0048(1).jpg"},{"id":1702,"name":"Golden Color Plastic Beads with Glitter PLSBD0049","price":130,"image":"PLSBD0049(1).jpg"},{"id":1703,"name":"Skin-Brown Color Oval Shape Plastic Beads PLSBD0050","price":130,"image":"PLSBD0050(1).jpg"},{"id":1704,"name":"Golden Color Plastic Beads PLSBD0051","price":130,"image":"PLSBD0051(1).jpg"},{"id":1706,"name":"Light Golden Round Shape Plastic Beads PLSBS0053","price":130,"image":"PLSBD0053(1).jpg"},{"id":1707,"name":"Orange Color Twisted Plastic Beads PLSBD0054","price":130,"image":"PLSBD0054(1).jpg"},{"id":1708,"name":"Light Golden Round Shape Plastic Beads with Glitter PLSBS0055","price":120,"image":"PLSBD0055(1).jpg"},{"id":1709,"name":"Golden Color Flower Shape Plastic Beads PLSBD0056","price":200,"image":"PLSBD0056(1).jpg"},{"id":1710,"name":"Metallic Grey Color Leaf Shape Plastic Beads PLSBD0057","price":280,"image":"PLSBD0057(1).jpg"},{"id":1711,"name":"Orange Color Flower Shape Plastic Beads PLSBD0058","price":200,"image":"PLSBD0058(1).jpg"},{"id":1712,"name":"Ornage Color Plastic Beads PLSBD0059","price":200,"image":"PLSBD0059(1).jpg"},{"id":1713,"name":"Brown Color Plastic Beads PLSBD0059A","price":200,"image":"PLSBD0059A(1).jpg"},{"id":1714,"name":"Dull Golden Color Plastic Beads PLSBD0060","price":130,"image":"PLSBD0060(1).jpg"},{"id":1734,"name":"Pista-Green Color Round Shape Gota Patti Patches GPTPA0008","price":200,"image":"GPTPA0008(3).jpg"},{"id":1735,"name":"Black-Golden Color Round Shape Gota Patti Patches GPTPA0008A","price":200,"image":"GPTPA0008A(1).jpg"},{"id":1736,"name":"Orange Color Round Shape Gota Patti Patches GPTPA0008B","price":200,"image":"GPTPA0008B(1).jpg"},{"id":1739,"name":"Cherry Red Color D-shape Gota Patti Patches GPTPA0009B","price":250,"image":"GPTPA0009B(1).jpg"},{"id":1744,"name":"Skin Color Square Shape Gota Patti Patches GPTPA0011A","price":250,"image":"GPTPA0011A(1).jpg"},{"id":1745,"name":"Blue Color Square Shape Gota Patti Patches GPTPA0011B","price":250,"image":"GPTPA0011B(2).jpg"},{"id":1748,"name":"Dark Green Color Square Shape Gota Patti Patches GPTPA0011E","price":250,"image":"GPTPA0011E(1).jpg"},{"id":1749,"name":"Pista-Green Color D-shape Gota Patti Patches GPTPA0012","price":250,"image":"GPTPA0012(1).jpg"},{"id":1750,"name":"Orange Color D-Shape Gota Patti Patches GPTPA0012A","price":250,"image":"GPTPA0012A(1).jpg"},{"id":1751,"name":"Light Pink Color D-shape Gota Patti Patches GPTPA0012B","price":250,"image":"GPTPA0012B(1).jpg"},{"id":1752,"name":"Maroon Color D-shape Gota Patti Patches GPTPA0012C","price":250,"image":"GPTPA0012C(1).jpg"},{"id":1753,"name":"Blue Color D-shape Gota Patti Patches GPTPA0012D","price":250,"image":"GPTPA0012D(1).jpg"},{"id":1754,"name":"Golden Color D-shape Gota Patti Patches GPTPA0012E","price":250,"image":"GPTPA0012E(1).jpg"},{"id":1755,"name":"Navy Blue Color Round Shape Gota Patti Patches GPTPA0013","price":250,"image":"GPTPA0013(1).jpg"},{"id":1756,"name":"Royal Blue Color Round Shape Gota Patti Patches GPTPA0013A","price":250,"image":"GPTPA0013A(1).jpg"},{"id":1758,"name":"Baze Color Round Shape Gota Patti Patches GPTPA0013C","price":250,"image":"GPTPA0013C(1).jpg"},{"id":1759,"name":"Orange Color Round Shape Gota Patti Patches GPTPA0013D","price":250,"image":"GPTPA0013D(1).jpg"},{"id":1772,"name":"Green Color Drop Shape Gota Patti Patches GPTPA0017A","price":250,"image":"GPTPA0017A(1).jpg"},{"id":1775,"name":"Green Color Triangular Shape Gota Patti Patches GPTPA0019A","price":290,"image":"GPTPA0019A(1).jpg"},{"id":1777,"name":"Peach Color Triangular Shape Gota Patti Patches GPTPA0019C","price":290,"image":"GPTPA0019C(2).jpg"},{"id":1778,"name":"Pink Color Triangular Shape Gota Patti Patches GPTPA0019D","price":290,"image":"GPTPA0019D(1).jpg"},{"id":1779,"name":"Royal Blue Color Triangular Shape Gota Patti Patches GPTPA0019E","price":290,"image":"GPTPA0019E(1).jpg"},{"id":1782,"name":"Green Color Round Shape Gota Patti Patches GPTPA0020A","price":170,"image":"GPTPA0020A(1).jpg"},{"id":1783,"name":"Orange Color Round Shape Gota Patti Patches GPTPA0020B","price":170,"image":"GPTPA0020B(1).jpg"},{"id":1785,"name":"Light Blue Color Round Shape Gota Patti Patches GPTPA0020D","price":170,"image":"GPTPA0020D(1).jpg"},{"id":1786,"name":"Skin Color Ambi Shape Gota Patti Patches GPTPA0021","price":150,"image":"GPTPA0021(2).jpg"},{"id":1791,"name":"Red Color Square Shape Ladies Buttons WBTN0038B","price":220,"image":"WBTN0038B(1).jpg"},{"id":1798,"name":"Maroon Color Square Shape Ladies Buttons WBTN0038I","price":220,"image":"WBTN0038I(1).jpg"},{"id":1799,"name":"Black Color Flower Shape Ladies Buttons WBTN0039","price":250,"image":"WBTN0039(1).jpg"},{"id":1800,"name":"Light Blue Color Flower Shape Ladies Buttons WBTN0039A","price":250,"image":"WBTN0039A(1).jpg"},{"id":1801,"name":"Peach Color Flower Shape Ladies Buttons WBTN0039B","price":250,"image":"WBTN0039B(1).jpg"},{"id":1803,"name":"Light Green Color Flower Shape Ladies Buttons WBTN0039D","price":250,"image":"WBTN0039D(1).jpg"},{"id":1804,"name":"Light Pink Color Flower Shape Ladies Buttons WBTN0040","price":250,"image":"WBTN0040(1).jpg"},{"id":1805,"name":"Black Color Flower Shape Ladies Buttons WBTN0040A","price":250,"image":"WBTN0040A(1).jpg"},{"id":1806,"name":"Maroon Color Flower Shape Ladies Buttons WBTN0040B","price":250,"image":"WBTN0040B(1).jpg"},{"id":1807,"name":"Peach Color Flower Shape Ladies Buttons WBTN0040C","price":250,"image":"WBTN0040C(1).jpg"},{"id":1808,"name":"Light Green Color Flower Shape Ladies Buttons WBTN0040D","price":250,"image":"WBTN0040D(1).jpg"},{"id":1810,"name":"Black Color Flower Shape Ladies Buttons with Stone WBTN0041","price":290,"image":"WBTN0041(1).jpg"},{"id":1811,"name":"Ferozi Color Flower Shape Ladies Buttons with Stone WBTN0041A","price":290,"image":"WBTN0041A(1).jpg"},{"id":1813,"name":"Pink Color Flower Shape Ladies Buttons with Stone WBTN0041C","price":290,"image":"WBTN0041C(1).jpg"},{"id":1814,"name":"Yellow Color Flower Shape Ladies Buttons with Stone WBTN0041D","price":290,"image":"WBTN0041D(1).jpg"},{"id":1815,"name":"White Color Flower Shape Ladies Buttons with Stone WBTN0041E","price":290,"image":"WBTN0041E(1).jpg"},{"id":1816,"name":"Medium Pink Color Flower Shape Ladies Buttons with Stone WBTN0041F","price":290,"image":"WBTN0041F(1).jpg"},{"id":1817,"name":"Black Color Ladies Button with Glass Bead and StonesWBTN0042","price":330,"image":"WBTN0042(1).jpg"},{"id":1818,"name":"Lemon Color Ladies Button with Glass Bead and StonesWBTN0042A","price":330,"image":"WBTN0042A(1).jpg"},{"id":1820,"name":"Orange Color Ladies Button with Glass Bead and StonesWBTN0042C","price":330,"image":"WBTN0042C(1).jpg"},{"id":1822,"name":"Magenta Pink-Dull Golden Color Round Ladies Button with Plastic Beads WBTN0043A","price":210,"image":"WBTN0043A(1).jpg"},{"id":1823,"name":"Dull Golden Color Round Ladies Button with Plastic Beads WBTN0043B","price":210,"image":"WBTN0043B(1).jpg"},{"id":1825,"name":"Black-Dull Golden Color Round Ladies Button with Plastic Beads WBTN0043D","price":210,"image":"WBTN0043D(1).jpg"},{"id":1826,"name":"Orange-Dull Golden Color Round Ladies Button with Plastic Beads WBTN0043E","price":210,"image":"WBTN0043E(1).jpg"},{"id":1827,"name":"Multi-Dull Golden Color Round Ladies Button with Plastic Beads WBTN0043F","price":210,"image":"WBTN0043F(1).jpg"},{"id":1829,"name":"Bottle Green Color Round Shape Thread and Beads Work Ladies Button WBTN0045","price":300,"image":"WBTN0045(1).jpg"},{"id":1831,"name":"Red Color Round Shape Thread and Beads Work Ladies Button WBTN0045B","price":300,"image":"WBTN0045B(1).jpg"},{"id":1832,"name":"Navy Blue Color Round Shape Thread and Beads Work Ladies Button WBTN0045C","price":300,"image":"WBTN0045C(1).jpg"},{"id":1834,"name":"Light Pink Color Round Shape Thread and Beads Work Ladies Button WBTN0045E","price":300,"image":"WBTN0045E(1).jpg"},{"id":1835,"name":"Golden Color Round Shape Thread and Beads Work Ladies Button WBTN0045F","price":300,"image":"WBTN0045F(1).jpg"},{"id":1836,"name":"Peach Color Round Shape Thread and Beads Work Ladies Button WBTN0045G","price":300,"image":"WBTN0045G(1).jpg"},{"id":1837,"name":"Yellow Color Round Shape Thread and Beads Work Ladies Button WBTN0045H","price":300,"image":"WBTN0045H(1).jpg"},{"id":1838,"name":"White Color Round Shape Thread and Beads Work Ladies Button WBTN0045I","price":300,"image":"WBTN0045I(1).jpg"},{"id":1840,"name":"Ferozi Color Round Shape Thread and Beads Work Ladies Button WBTN0045K","price":300,"image":"WBTN0045K(1).jpg"},{"id":1842,"name":"Magenta Color Fancy Dori DORI0001","price":210,"image":"DORI0001(1).jpg"},{"id":1843,"name":"Mint Green Color Fancy Dori DORI0001A","price":210,"image":"DORI0001A(1).jpg"},{"id":1853,"name":"Orange Color Fancy Dori DORI0001K","price":210,"image":"DORI0001K(1).jpg"},{"id":1859,"name":"Medium Golden French\/Franc-Cut Sewon Sequins\/Pailletes\/Spangles SEQFC0001","price":300,"image":"SEQFC0001(1).jpg"},{"id":1860,"name":"Light Golden French\/Franc-Cut Sewon Sequins\/Pailletes\/Spangles SEQFC0002","price":300,"image":"SEQFC0002(1).jpg"},{"id":1861,"name":"Dull Golden French\/Franc-Cut Sewon Sequins\/Pailletes\/Spangles SEQFC0003","price":300,"image":"SEQFC0003(1).jpg"},{"id":1862,"name":"Dark Golden MR French\/Franc-Cut Sewon Sequins\/Pailletes\/Spangles SEQFC0004","price":300,"image":"SEQFC0004(1).jpg"},{"id":1863,"name":"Light Golden MR French\/Franc-Cut Sewon Sequins\/Pailletes\/Spangles SEQFC0005","price":300,"image":"SEQFC0005(1).jpg"},{"id":1864,"name":"Silver French\/Franc-Cut Sewon Sequins\/Pailletes\/Spangles SEQFC0006","price":300,"image":"SEQFC0006(1).jpg"},{"id":1888,"name":"Golden Color Crown Print Round Shape Metal Coat Buttons (Sold With Box)","price":880,"image":"MCBTN0021(3).jpg"},{"id":1889,"name":"Brown Golden Color Round Shape Metal Coat Buttons (Sold With Box)","price":880,"image":"mcbtn2-1644997658.jpg"},{"id":1913,"name":"Yellow Color Round Shape Fancy Plastic Beads","price":250,"image":"PLSBD0061E(1)-1627905664.jpg"},{"id":1915,"name":"Green Color Round Shape Fancy Plastic Beads","price":250,"image":"PLSBD0061(1)-1627972431.jpg"},{"id":1916,"name":"Blue Color Round Shape Fancy Plastic Beads","price":250,"image":"PLSBD0061B(1)-1627979265.jpg"},{"id":1917,"name":"Pink Color Round Shape Fancy Plastic Beads","price":250,"image":"PLSBD0061C(1)-1627980063.jpg"},{"id":1918,"name":"Red Color Round Shape Fancy Plastic Beads","price":250,"image":"PLSBD0061D(1)-1627980401.jpg"},{"id":1919,"name":"Off-White Color Cotton Staple Thread For Embroidery Machine","price":600,"image":"CTST0001(1)-1627985835.jpg"},{"id":1920,"name":"White Color Polyester Thread\/Adda Cone\/ Polyested Tana","price":550,"image":"POLTH0001(1)-1627987940.jpg"},{"id":1921,"name":"Overlock Spun Polyester Cone Sewing Thread","price":870,"image":"OVLC0001(1)-1628054705.jpg"},{"id":1922,"name":"Overlock Polyester Cone Sewing Thread (Kachi Cone) Serger,Over Lock, Merrow, Single Needle","price":600,"image":"OVLC0002(1)-1628055028.jpg"},{"id":1923,"name":"Off-White Color Adda Cone Cotton Thread\/Cord","price":700,"image":"ADCON0001(1)-1628158843.jpg"},{"id":1924,"name":"Bleach White Color Twisted Piping Macrame Cotton Dori\/Cord Thread","price":200,"image":"PPDORI0001(1)-1628161549.jpg"},{"id":1925,"name":"Bleach White Color Twisted Piping Macrame Cotton Dori\/Cord Thread","price":180,"image":"PPDORI0002(1)-1628162328.jpg"},{"id":1926,"name":"50 yard Stiff White Polyester Horsehair Trim Braid Hem\/Plastic Net for Sewing Wedding Dress Gowns-1 inch","price":270,"image":"PLNET0001(1)-1628230583.jpg"},{"id":1927,"name":"50 yard Stiff White Polyester Horsehair Trim Braid Hem\/Plastic Net for Sewing Wedding Dress Gowns-3 inches","price":750,"image":"PLNET0002(1)-1628231796.jpg"},{"id":1928,"name":"Stiff White Polyester Horse Hair Trim Braid Hem\/Plastic Net for Sewing Wedding Dress Gowns -1.5 inches","price":470,"image":"PLNET0003(1)-1628232271.jpg"},{"id":1929,"name":"50 yard Stiff White Polyester Horsehair Trim Braid Hem\/Plastic Net for Sewing Wedding Dress Gowns-2 inches","price":670,"image":"PLNET0004(1)-1628233252.jpg"},{"id":1930,"name":"50 yard Stiff White Polyester Horsehair Trim Braid Hem\/Plastic Net for Sewing Wedding Dress Gowns-12 mm","price":210,"image":"PLNET0005(1)-1628234166.jpg"},{"id":1931,"name":"50 yard Stiff White Polyester Horsehair Trim Braid Hem\/Plastic Net for Sewing Wedding Dress Gowns-6 inches","price":2080,"image":"PLNET0006(1)-1628234484.jpg"},{"id":1932,"name":"Yellow Color Kundan Work Kurta Patti Button in Round Shape","price":230,"image":"KURBT0021(1)-1628315417.jpg"},{"id":1934,"name":"Orange Color Kundan Work Kurta Patti Button in Round Shape","price":230,"image":"KURBT0021B(1).jpg"},{"id":1938,"name":"Grey Color Kundan Work Kurta Patti Button in Round Shape","price":230,"image":"KURBT0021F(1).jpg"},{"id":1939,"name":"Black Color Kundan Work Kurta Patti Button in Round Shape","price":230,"image":"KURBT0021G(1).jpg"},{"id":1940,"name":"Maroon Color Kundan Work Kurta Patti Button in Round Shape","price":230,"image":"KURBT0021H(1).jpg"},{"id":1945,"name":"Dark Green Color Kundan Work Kurta Patti Button in Oval Shape","price":330,"image":"KURBT0022D(1).jpg"},{"id":1948,"name":"Orange Color Kundan Work Kurta Patti Button in Oval Shape","price":330,"image":"KURBT0022G(1).jpg"},{"id":1949,"name":"Yellow Color Kundan Work Kurta Patti Button in Oval Shape","price":330,"image":"KURBT0022H(1).jpg"},{"id":1960,"name":"Red Color Artificial Fabric Flowers","price":170,"image":"FLR0010(1)-1637915184.jpg"},{"id":1961,"name":"Hot Pink Color Artificial Fabric Flowers","price":170,"image":"FLR0010A(1).jpg"},{"id":1962,"name":"Dark Blue Color Artificial Fabric Flowers","price":170,"image":"FLR0010B(1).jpg"},{"id":1963,"name":"Grey Color Artificial Fabric Flowers","price":170,"image":"FLR0010C(1).jpg"},{"id":1965,"name":"Mustard Color Artificial Fabric Flowers","price":170,"image":"FLR0010E(1).jpg"},{"id":1966,"name":"Yellow Color Artificial Fabric Flower With Pearl Stone","price":170,"image":"FLR0011(1).jpg"},{"id":1972,"name":"Black Color Artificial Fabric Flower With Pearl Stone","price":170,"image":"FLR0011F(1).jpg"},{"id":1977,"name":"Pista Green Color Artificial Fabric Flower With Pearl Stone","price":170,"image":"FLR0011K(1).jpg"},{"id":1978,"name":"Blue Color Artificial Organza Fabric Flower with Pearl Stones","price":290,"image":"FLR0012(1).jpg"},{"id":1979,"name":"Black Color Artificial Organza Fabric Flower with Pearl Stones","price":290,"image":"FLR0012A(1).jpg"},{"id":1981,"name":"Navy Blue Color Artificial Fabric Flower","price":280,"image":"FLR0013(1).jpg"},{"id":1982,"name":"Black Color Artificial Fabric Flower","price":280,"image":"FLR0013A(1).jpg"},{"id":1984,"name":"Lemon Color Artificial Fabric Flower","price":280,"image":"FLR0013C(1).jpg"},{"id":1985,"name":"Grey Color Artificial Fabric Flower","price":280,"image":"FLR0013D(1).jpg"},{"id":1987,"name":"Black Color Artificial Fabric Flower With Pearl Bead","price":250,"image":"FLR0014(1).jpg"},{"id":1988,"name":"Maroon Color Artifical Fabric Flower With Pearl Bead","price":250,"image":"FLR0014A(1).jpg"},{"id":1989,"name":"Sky Blue Color Artificial Fabric Flower With Pearl Bead","price":250,"image":"FLR0014B(1).jpg"},{"id":1991,"name":"Dark Peach Color Artificial Fabric Flower With Pearl Bead","price":250,"image":"FLR0014D(1).jpg"},{"id":1992,"name":"Grey Color Artificial Fabric Flower With Pearl Bead","price":250,"image":"FLR0014E(1).jpg"},{"id":1995,"name":"Green Color Artificial Fabric Flower With Pearl Bead","price":250,"image":"FLR0014H(1).jpg"},{"id":1996,"name":"Blue Color Artificial Fabric Flower With Pearl Bead","price":250,"image":"FLR0014I(1).jpg"},{"id":1998,"name":"Grey Color Artificial Fabric Flower With Beads","price":210,"image":"FLR0015A(1).jpg"},{"id":2002,"name":"Brown Color Artificial Fabric Flower With Beads","price":210,"image":"FLR0015F(1).jpg"},{"id":2004,"name":"Black-Yellow Color Artificial Fabric Flower With Beads","price":250,"image":"FLR0016(1).jpg"},{"id":2005,"name":"Grey-Yellow Color Artificial Fabric Flower With Beads","price":250,"image":"FLR0016A(1).jpg"},{"id":2006,"name":"Black Color Felt Fabric Artificial Flower","price":250,"image":"FLR0017(1).jpg"},{"id":2009,"name":"Lemon Color Felt Fabric Artificial Flower With Pearl Stone","price":250,"image":"FLR0019A(1).jpg"},{"id":2011,"name":"Grey Color Felt Fabric Artificial Flower","price":250,"image":"FLR0020A(1).jpg"},{"id":2022,"name":"Mustard Color Hanging Style Fancy Designer Buttons With Metal Base","price":130,"image":"WBTN0048(1).jpg"},{"id":2023,"name":"Black Color Hanging Style Fancy Designer Buttons With Metal Base","price":130,"image":"WBTN0048C(1).jpg"},{"id":2024,"name":"Dark Blue Color Hanging Style Fancy Designer Buttons With Metal Base","price":130,"image":"WBTN0048B(1).jpg"},{"id":2025,"name":"Maroon Color Hanging Style Fancy Designer Buttons With Metal Base","price":130,"image":"WBTN0048A(1).jpg"},{"id":2026,"name":"Red Color Hanging Style Fancy Designer Buttons With Metal Base","price":130,"image":"WBTN0048D(1).jpg"},{"id":2027,"name":"Peach Color Hanging Style Fancy Designer Buttons With Metal Base","price":130,"image":"WBTN0048E(1).jpg"},{"id":2028,"name":"Yellow Color Hanging Style Fancy Designer Buttons With Metal Base","price":130,"image":"WBTN0048F(1).jpg"},{"id":2037,"name":"Silver Color Pearl Beads and Glass Stone Work Fancy Buttons","price":420,"image":"WBTN0056(1).jpg"},{"id":2038,"name":"Pearl Beads and Glass Stone Work Fancy Buttons with Rose Gold Base","price":420,"image":"WBTN0056A(1).jpg"},{"id":2039,"name":"Golden Color Pearl Beads and Glass Stone Work Fancy Buttons","price":210,"image":"WBTN0059(1).jpg"},{"id":2040,"name":"Silver Color Pearl Beads and Glass Stone Work Fancy Buttons","price":330,"image":"WBTN0059A(1).jpg"},{"id":2071,"name":"Dark Peach Color Fancy Fur Patch With Butterfly Designing","price":330,"image":"PATF0048(1).jpg"},{"id":2078,"name":"Brown Color Fancy Fur Patch With Butterfly Designing","price":330,"image":"PATF0048G(1).jpg"},{"id":2080,"name":"Dark Peach Color Fur Patch","price":210,"image":"PATF0049A(1).jpg"},{"id":2081,"name":"Light Peach Color Fur Patch","price":210,"image":"PATF0049B(1).jpg"},{"id":2082,"name":"Baby Pink Color Fur Patch","price":210,"image":"PATF0049C(1).jpg"},{"id":2083,"name":"White Color Fur Patch","price":210,"image":"PATF0049D(1).jpg"},{"id":2084,"name":"Red Color Fur Patch","price":210,"image":"PATF0049E(1).jpg"},{"id":2085,"name":"Black Color Fur Patch","price":210,"image":"PATF0049G(1).jpg"},{"id":2086,"name":"Brown Color Fur Patch","price":210,"image":"PATF0049H(1).jpg"},{"id":2087,"name":"White Color Bead Work Fancy Patch in Flower Shape","price":200,"image":"PATF0050(1).jpg"},{"id":2088,"name":"Light Peach Color Bead Work Fancy Patch in Flower Shape","price":200,"image":"PATF0050A(1).jpg"},{"id":2089,"name":"Baby Pink Color Bead Work Fancy Patch in Flower Shape","price":200,"image":"PATF0050B(1).jpg"},{"id":2090,"name":"Gray Color Bead Work Fancy Patch in Flower Shape","price":200,"image":"PATF0050C(1).jpg"},{"id":2091,"name":"Light Golden Color Bead Work Fancy Patch in Flower Shape","price":200,"image":"PATF0050D(1).jpg"},{"id":2094,"name":"Golden Color Beads and Sequins Work Fancy Patch","price":630,"image":"PATF0051(1).jpg"},{"id":2095,"name":"Pink-Golden Color Beads and Sequins Work Fancy Patch","price":630,"image":"PATF0051A(1).jpg"},{"id":2096,"name":"Silver-Golden Color Beads and Sequins Work Fancy Patch","price":630,"image":"PATF0051B(1).jpg"},{"id":2097,"name":"Yellow-Golden Color Beads and Sequins Work Fancy Patch","price":630,"image":"PATF0051C(1).jpg"},{"id":2098,"name":"Red-Golden Color Beads and Sequins Work Fancy Patch","price":630,"image":"PATF0051D(1).jpg"},{"id":2099,"name":"Peach Color Satin Fabric Bow For Craft Material, Dresses, Hair Bands, Clips","price":210,"image":"BOW0001(1).jpg"},{"id":2100,"name":"Baby Pink Color Satin Fabric Bow For Craft Material, Dresses, Hair Bands, Clips","price":210,"image":"BOW0001A(1).jpg"},{"id":2101,"name":"Cream Color Satin Fabric Bow For Craft Material, Dresses, Hair Bands, Clips","price":210,"image":"BOW0001B(1).jpg"},{"id":2102,"name":"White Color Satin Fabric Bow For Craft Material, Dresses, Hair Bands, Clips","price":210,"image":"BOW0001C(1).jpg"},{"id":2103,"name":"Gray Color Satin Fabric Bow For Craft Material, Dresses, Hair Bands, Clips","price":210,"image":"BOW0001D(1).jpg"},{"id":2104,"name":"Baze Color Satin Fabric Bow For Craft Material, Dresses, Hair Bands, Clips","price":210,"image":"BOW0001E(1).jpg"},{"id":2105,"name":"Black Color Satin Fabric Bow For Craft Material, Dresses, Hair Bands, Clips","price":210,"image":"BOW0001F(1).jpg"},{"id":2106,"name":"Baby Pink Color Satin Fabric Bow For Craft Material, Dresses, Hair Bands, Clips","price":210,"image":"BOW0002(1).jpg"},{"id":2107,"name":"Gray Color Satin Fabric Bow For Craft Material, Dresses, Hair Bands, Clips","price":210,"image":"BOW0002A(1).jpg"},{"id":2111,"name":"Peach Color Satin Fabric Bow For Craft Material, Dresses, Hair Bands, Clips","price":210,"image":"BOW0002E(1).jpg"},{"id":2112,"name":"Black-Red Color Satin Fabric Bow For Craft Material, Dresses, Hair Bands, Clips","price":210,"image":"BOW0002F(1).jpg"},{"id":2142,"name":"Orange Color Hand Embroidery Patch in Boat Shape","price":380,"image":"PATHE0097B(1)-1630657641.jpg"},{"id":2147,"name":"Neon Yellow Hand Embroidery Patch in Boat Shape","price":430,"image":"PATHE0097F(1)-1631266043.jpg"},{"id":2150,"name":"Dark Peach Hand Embroidery Patch in Boat Shape","price":430,"image":"PATHE0097I(1)-1631268136.jpg"},{"id":2151,"name":"Light Pink Hand Embroidery Patch in Boat Shape","price":430,"image":"PATHE0097J(1)-1631268535.jpg"},{"id":2152,"name":"Gray Hand Embroidery Patch in Gramophone Shape","price":300,"image":"PATHE0098(1)-1631275333.jpg"},{"id":2153,"name":"Light Red Hand Embroidery Patch in Gramophone Shape","price":300,"image":"PATHE0098B(1)-1631276481.jpg"},{"id":2154,"name":"Sea Green Hand Embroidery Patch in Gramophone Shape","price":300,"image":"PATHE0098A(1)-1631347297.jpg"},{"id":2157,"name":"Black Hand Embroidery Patch in Gramophone Shape","price":300,"image":"PATHE0098H(1)-1631352763.jpg"},{"id":2158,"name":"Light Pink Hand Embroidery Patch in Gramophone Shape","price":300,"image":"PATHE0098F(1)-1631353206.jpg"},{"id":2161,"name":"Sea Green Hand Embroidery Patch in Key Shape","price":380,"image":"PATHE0099C(1)-1631354407.jpg"},{"id":2164,"name":"Ferozi Blue Hand Embroidery Patch in Hut Shape","price":300,"image":"PATHE0100(1)-1631360297.jpg"},{"id":2165,"name":"Yellow Hand Embroidery Patch in Hut Shape","price":300,"image":"PATHE0100A(1)-1631360560.jpg"},{"id":2166,"name":"Light Pink Hand Embroidery Patch in Hut Shape","price":300,"image":"PATHE0100B(1)-1631361043.jpg"},{"id":2167,"name":"Orange Hand Embroidery Patch in Hut Shape","price":300,"image":"PATHE0100C(1)-1631690767.jpg"},{"id":2168,"name":"Golden Hand Embroidery Patch in Hut Shape","price":300,"image":"PATHE0100D(1)-1631692101.jpg"},{"id":2169,"name":"Black Hand Embroidery Patch in Hut Shape","price":300,"image":"PATHE0100E(1)-1631692705.jpg"},{"id":2170,"name":"Gray Hand Embroidery Patch in Hut Shape","price":300,"image":"PATHE0100G(1)-1631693329.jpg"},{"id":2172,"name":"Blue Color Hand Embroidery Patch in Round Shape","price":210,"image":"PATHE0101(1)-1631698342.jpg"},{"id":2173,"name":"Dark Green Color Hand Embroidery Patch in Round Shape","price":210,"image":"PATHE0101A(1)-1631698880.jpg"},{"id":2176,"name":"Golden Green Hand Embroidery Patch in Cup Shape","price":570,"image":"PATHE0104(1)-1631703302.jpg"},{"id":2177,"name":"Golden Yellow Hand Embroidery Patch in Cup Shape","price":570,"image":"PATHE0104A(1)-1631704055.jpg"},{"id":2178,"name":"Golden Orange Hand Embroidery Patch in Cup Shape","price":570,"image":"PATHE0104B(1)-1631705169.jpg"},{"id":2179,"name":"Golden Hand Embroidery Patch in Cup Shape","price":570,"image":"PATHE0104C(1)-1631706582.jpg"},{"id":2180,"name":"Golden Light Pink Hand Embroidery Patch in Cup Shape","price":570,"image":"PATHE0104D(1)-1631707215.jpg"},{"id":2181,"name":"Golden Magenta Pink Hand Embroidery Patch in Cup Shape","price":570,"image":"PATHE0104F(1)-1631793126.jpg"},{"id":2182,"name":"Golden Maroon Hand Embroidery Patch in Cup Shape","price":570,"image":"PATHE0104H(1)-1631794496.jpg"},{"id":2183,"name":"Golden Red Hand Embroidery Patch in Cup Shape","price":570,"image":"PATHE0104I(1)-1631876743.jpg"},{"id":2184,"name":"Golden Black Hand Embroidery Patch in Cup Shape","price":570,"image":"PATHE0104J(1)-1631877099.jpg"},{"id":2187,"name":"Blue Cow Hand Embroidery Patch","price":230,"image":"PATHE0107E(1)-1651813169.jpg"},{"id":2194,"name":"White Color Flower Shape Metal Pearl Buttons with Rose Gold Polish","price":330,"image":"WBTN0054(1)-1632304113.jpg"},{"id":2198,"name":"Light Blue Color Butterfly Shape Metal Charms","price":210,"image":"CHARM0070A(1)-1633429381.jpg"},{"id":2199,"name":"Dark Red Color Butterfly Shape Metal Charms","price":210,"image":"CHARM0070B(1)-1633429872.jpg"},{"id":2202,"name":"Neon Pink Color Evil Eye Shape Metal Charms","price":170,"image":"CHARM0071B(1)-1633522276.jpg"},{"id":2204,"name":"Bright Red Color Flower Shape With Evil Eye Metal Charms","price":210,"image":"CHARM0072(1)-1633588979.jpg"},{"id":2205,"name":"Black Color Flower Shape With Evil Eye Metal Charms","price":210,"image":"CHARM0072A(1)-1633589187.jpg"},{"id":2207,"name":"Black Color Hand Shape With Evil Eye Metal Charms","price":210,"image":"CHARM0074(1)-1633590535.jpg"},{"id":2208,"name":"White Color Evil Eye Assorted Shape Metal Charms","price":250,"image":"CHARM0075(1)-1633592137.jpg"},{"id":2209,"name":"Red Color Evil Eye Assorted Shape Metal Charms","price":250,"image":"CHARM0075A(1)-1633594050.jpg"},{"id":2210,"name":"Light Blue Color Evil Eye Assorted Shape Metal Charms","price":250,"image":"CHARM0075B(1)-1633595348.jpg"},{"id":2211,"name":"Dark Blue Color Evil Eye Assorted Shape Metal Charms","price":250,"image":"CHARM0075C(1)-1633595584.jpg"},{"id":2212,"name":"Dark Red Evil Eye Elephant Shape Metal Charms","price":210,"image":"CHARM0076(1)-1633599066.jpg"},{"id":2218,"name":"Rainbow Color Crystal Stone Buttons with Metal Base","price":210,"image":"WBTN0062D(1)-1633677909.jpg"},{"id":2231,"name":"Light Golden Color Insect Shape Glass Beads Work Hand Embroidery Patch","price":300,"image":"PATHE0109(1)-1633760388.jpg"},{"id":2232,"name":"Antique Golden Color Insect Shape Glass Beads Work Hand Embroidery Patch","price":300,"image":"PATHE0109A(1)-1633760567.jpg"},{"id":2233,"name":"Dull Golden Color Insect Shape Glass Beads Work Hand Embroidery Patch","price":300,"image":"PATHE0109B(1)-1633761016.jpg"},{"id":2234,"name":"Navy Blue Color Insect Shape Glass Beads Work Hand Embroidery Patch","price":300,"image":"PATHE0109C(1)-1633761593.jpg"},{"id":2235,"name":"White Color Insect Shape Glass Beads Work Hand Embroidery Patch","price":300,"image":"PATHE0109D(1)-1633761877.jpg"},{"id":2237,"name":"Round Shape Wooden Embroidery Frame","price":330,"image":"FRAM0004 (9)-1633776050.jpg"},{"id":2238,"name":"Round Shape Wooden Embroidery Frame 6,8,10,12,14 inches","price":80,"image":"FRAM0004 (7)-1633776997.jpg"},{"id":2240,"name":"Dull Golden Color Square Shape Metal Base Buttons","price":210,"image":"WBTN0063B(1)-1633778111.jpg"},{"id":2241,"name":"Silver Color Square Shape Metal Base Buttons","price":210,"image":"WBTN0063C(1)-1633778345.jpg"},{"id":2251,"name":"Golden Color Round Shape Stone Work Buttons","price":203,"image":"WBTN0064(1)-1633952015.jpg"},{"id":2252,"name":"Light Golden Color Round Shape Stone Work Buttons","price":203,"image":"WBTN0064A(1)-1633952324.jpg"},{"id":2259,"name":"Black Color Round Shape Metal Base Buttons","price":170,"image":"WBTN0065B(1)-1634024348.jpg"},{"id":2260,"name":"Light Pink Color Round Shape Metal Base Buttons","price":170,"image":"WBTN0065C(1)-1634024561.jpg"},{"id":2263,"name":"Off-White Color Flower Shape Pearl Stone Work Fancy Button","price":250,"image":"WBTN0067(1)-1634025723.jpg"},{"id":2264,"name":"Black Color Flower Shape Fancy Buttons","price":170,"image":"WBTN0068(1)-1634112139.jpg"},{"id":2265,"name":"Peach Color Flower Shape Fancy Buttons","price":170,"image":"WBTN0068A(2)-1634112440.jpg"},{"id":2266,"name":"Light Golden Color Flower Shape Fancy Buttons","price":170,"image":"WBTN0068B(1)-1634120861.jpg"},{"id":2267,"name":"Pink Color Flower Shape Fancy Buttons","price":170,"image":"WBTN0068C(2)-1634121938.jpg"},{"id":2268,"name":"Light Pink Stone Work Fancy Metal Buttons","price":170,"image":"WBTN0069(1)-1634123453.jpg"},{"id":2270,"name":"Peach Stone Work Fancy Metal Buttons","price":170,"image":"WBTN0069B(1)-1634123964.jpg"},{"id":2271,"name":"Golden Color Beads And Cutdana Work Hand Embroidery Patch","price":370,"image":"PATHE0110(1)-1639030721.jpg"},{"id":2274,"name":"Metallic Gray Color Cutdana work Hand Embroidery Patch","price":380,"image":"PATHE0113(1)-1634210585.jpg"},{"id":2285,"name":"Metallic Grey Color Beads Work Hand Embroidery Patch","price":180,"image":"PATHE0119(1)-1634364525.jpg"},{"id":2286,"name":"Golden Color Beads Work Hand Embroidery Patch","price":180,"image":"PATHE0119A(1)-1634364730.jpg"},{"id":2287,"name":"Black-Blue Color Hand Embroidery Gents\/Men Shirt Patch","price":420,"image":"PATHE0120(1)-1634549381.jpg"},{"id":2290,"name":"Black Color Dabka Work Designer Hand Embroidery Gents\/Men Shirt Patch","price":580,"image":"PATHE0123(1)-1634550028.jpg"},{"id":2291,"name":"Red-Golden Color Hand Embroidery Gents\/Men Shirt Patch","price":500,"image":"PATHE0124(1)-1634550212.jpg"},{"id":2292,"name":"Black Color Dabka and Thread Work Hand Embroidery Gents\/Men Shirt Patch","price":580,"image":"PATHE0125(1)-1634550439.jpg"},{"id":2293,"name":"Black-Blue Designer Hand Embroidery Patch","price":580,"image":"PATHE0126(1)-1634550598.jpg"},{"id":2295,"name":"Blue-Black Eye Shape Hand Embroidery Patch","price":180,"image":"PATHE0128(1)-1634635576.jpg"},{"id":2296,"name":"Royal Blue-Black Eye Shape Hand Embroidery Patch","price":180,"image":"PATHE0128A(1)-1634635823.jpg"},{"id":2300,"name":"Red Evil Eye Shape Hand Embroidery Patch","price":230,"image":"PATHE0129B(1)-1634636441.jpg"},{"id":2304,"name":"Red-White Color Oval Shape Beads work Hand Embroidery Patch","price":180,"image":"PATHE0132(1)-1634713832.jpg"},{"id":2305,"name":"Red-Black Face Beads Work Hand Embroidery Patch","price":160,"image":"PATHE0133(1)-1634714022.jpg"},{"id":2306,"name":"White Color Beads Work Hand Embroidery Patch","price":160,"image":"PATHE0134(1)-1634714649.jpg"},{"id":2307,"name":"Red Ghost Shape Beads Work hand Embroidery Patch","price":160,"image":"PATHE0135(1)-1634714871.jpg"},{"id":2308,"name":"Red-White-Hand Shape Beads Work Hand Embroidery Patch","price":180,"image":"PATHE0136(1)-1634715131.jpg"},{"id":2309,"name":"Red-White Santa Claus Shape Beads Work Hand Embroidery Patch","price":180,"image":"PATHE0137(1)-1634715779.jpg"},{"id":2310,"name":"Red-white-Black Beads Work Hand Embroidery Patch","price":160,"image":"PATHE0138(1)-1634715966.jpg"},{"id":2312,"name":"Coffee Brown Color Wooden Buttons","price":200,"image":"WOBTN0007(1)-1634811177.jpg"},{"id":2315,"name":"Light Brown Square Shape Wooden Buttons","price":170,"image":"WOBTN0010(1)-1634812429.jpg"},{"id":2316,"name":"Coffee Brown Rectangular Shape Wooden Buttons","price":200,"image":"WOBTN0011(1)-1634812685.jpg"},{"id":2317,"name":"Square Shape Brown Color Wooden Buttons","price":120,"image":"WOBTN0012(1)-1634812925.jpg"},{"id":2318,"name":"Dark Brown Color Round Wooden Buttons","price":170,"image":"WOBTN0013(1)-1634813160.jpg"},{"id":2319,"name":"Skin Color Round Wooden Buttons","price":170,"image":"WOBTN0014(1)-1634815589.jpg"},{"id":2320,"name":"Coffee Color Square Shape wooden Buttons","price":170,"image":"WOBTN0015(1)-1634816548.jpg"},{"id":2322,"name":"Coffee Color Eye Shape Wooden Buttons","price":120,"image":"WOBTN0017(3)-1634817116.jpg"},{"id":2323,"name":"Skin Color Square Shape Wooden Buttons","price":170,"image":"WOBTN0018(1)-1634817308.jpg"},{"id":2324,"name":"Light Brown Color Square Shape Wooden Buttons","price":170,"image":"WOBTN0019(1)-1634817448.jpg"},{"id":2327,"name":"Multi Color Butterfly Shape Wooden Buttons","price":130,"image":"WOBTN0020B(1)-1634903481.jpg"},{"id":2329,"name":"Green Color Butterfly Shape Wooden Buttons","price":170,"image":"WOBTN0021(1)-1634904714.jpg"},{"id":2330,"name":"Yellow Color Butterfly Shape Wooden Buttons","price":170,"image":"WOBTN0021A(1)-1634904897.jpg"},{"id":2331,"name":"Sea Green Color Butterfly Shape Wooden Buttons","price":170,"image":"WOBTN0021B(1)-1634905019.jpg"},{"id":2334,"name":"White Color Flower Printed Butterfly Shape Wooden Buttons","price":170,"image":"WOBTN0022(1)-1634967345.jpg"},{"id":2336,"name":"Green Color Mina\/Kundan Work Plastic Base and Brass Coins Buttons","price":200,"image":"WBTN0070(1)-1634978224.jpg"},{"id":2343,"name":"Purple Color Mina\/Kundan Work Plastic Base and Brass Coins Buttons","price":250,"image":"WBTN0070G(1)-1634987828.jpg"},{"id":2373,"name":"Brown Color Round Shape Multi Color Thread Work Wooden Buttons","price":130,"image":"WOBTN0024(1)-1635407018.jpg"},{"id":2374,"name":"Coffee Brown Color Round Shape Multi Color Thread Work Wooden Buttons","price":120,"image":"WOBTN0024A(1)-1635407258.jpg"},{"id":2376,"name":"Light Brown Color Round American Flag Print Wooden Buttons","price":100,"image":"WOBTN0026(1)-1635407963.jpg"},{"id":2377,"name":"Light Brown Color Round Pink Stars Print Wooden Buttons","price":100,"image":"WOBTN0027(1)-1635408279.jpg"},{"id":2378,"name":"Light Brown Color Round Printed Wooden Buttons","price":100,"image":"WOBTN0028(1)-1635408531.jpg"},{"id":2380,"name":"Light Brown Color Round Printed Wooden Buttons","price":130,"image":"WOBTN0030(1)-1635411195.jpg"},{"id":2388,"name":"White-Rose Gold Color Heart-Bird Shape Beads Work Hand Embroidery Patch","price":500,"image":"PATHE0142(1)-1635584365.jpg"},{"id":2391,"name":"Black-Rose Gold Color Heart-Bird Shape Beads Work Hand Embroidery Patch","price":500,"image":"PATHE0142C(1)-1635591078.jpg"},{"id":2392,"name":"Silver-Rose Gold Color Heart-Bird Shape Beads Work Hand Embroidery Patch","price":500,"image":"PATHE0142D(1)-1635591259.jpg"},{"id":2399,"name":"Peach Color Checked Magji Gota Work Lace","price":170,"image":"GTLC0020(2)-1635837740.jpg"},{"id":2401,"name":"Light Pink Color Checked Magji Gota Work Lace","price":170,"image":"GTLC0020B(1)-1635842424.jpg"},{"id":2402,"name":"Maroon Color Checked Magji Gota Work Lace","price":170,"image":"GTLC0020C(1)-1635842577.jpg"},{"id":2403,"name":"Purple Color Checked Magji Gota Work Lace","price":170,"image":"GTLC0020D(1)-1635843112.jpg"},{"id":2404,"name":"Magenta Color Checked Magji Gota Work Lace","price":170,"image":"GTLC0020E(1)-1635843382.jpg"},{"id":2405,"name":"Orange Color Checked Magji Gota Work Lace","price":170,"image":"GTLC0020F(1)-1635843686.jpg"},{"id":2406,"name":"Bright\/Cherry Red Color Checked Magji Gota Work Lace","price":170,"image":"GTLC0020G(1)-1635843799.jpg"},{"id":2407,"name":"Black Color Checked Magji Gota Work Lace","price":170,"image":"GTLC0020H(1)-1635844065.jpg"},{"id":2409,"name":"Blue Color Checked Magji Gota Work Lace","price":170,"image":"GTLC0020J(1)-1637559834.jpg"},{"id":2412,"name":"Navy Blue-Golden Hotfix Work Fancy Elastic","price":250,"image":"FNELS0009(1)-1635920633.jpg"},{"id":2418,"name":"Round Shape Golden-Silver Color Stone Work Metal Buttons","price":250,"image":"WBTN0076(1)-1636456854.jpg"},{"id":2420,"name":"Golden Color Round Metal Buttons","price":175,"image":"WBTN0078(1)-1636459647.jpg"},{"id":2421,"name":"White Coreset Wire \/ Rigilene\/ Boning wire - 6 mm","price":415,"image":"CORST0002(1)-1636527101.jpg"},{"id":2422,"name":"White Coreset Wire \/ Rigilene\/ Boning wire - 12 mm","price":540,"image":"CORST0003(1)-1636527865.jpg"},{"id":2423,"name":"Round Shape Golden-Silver Color Stone Work Metal Buttons","price":330,"image":"WBTN0079(1)-1636531047.jpg"},{"id":2424,"name":"Golden Color Square Shape Metal Buttons","price":250,"image":"WBTN0080(1)-1636531539.jpg"},{"id":2426,"name":"Golden-Green Color Square Shape Metal Buttons","price":250,"image":"WBTN0080B(1)-1636531866.jpg"},{"id":2427,"name":"Golden-White Color Square Shape Metal Buttons","price":250,"image":"WBTN0080C(1)-1636532015.jpg"},{"id":2428,"name":"Golden-Orange Color Square Shape Metal Buttons","price":250,"image":"WBTN0080D(1)-1636532199.jpg"},{"id":2431,"name":"Golden Color Bird Shape Hand Embroidery Patch","price":230,"image":"PATHE00149A(1)-1636613067.jpg"},{"id":2432,"name":"Black Moon-Star Shape Hand Embroidery Patch","price":150,"image":"PATHE00150(1)-1636613453.jpg"},{"id":2434,"name":"Golden Moon-Star Shape Hand Embroidery Patch","price":150,"image":"PATHE00150B(1)-1636614043.jpg"},{"id":2435,"name":"White Moon-Star Shape Hand Embroidery Patch","price":150,"image":"PATHE00150C(1)-1636614103.jpg"},{"id":2436,"name":"Silver Moon-Star Shape Hand Embroidery Patch","price":150,"image":"PATHE00150D(1)-1636614363.jpg"},{"id":2439,"name":"Golden color Leaf Shape Mehandi Polish Metal Charms","price":280,"image":"CHARM0077(1)-1636632663.jpg"},{"id":2442,"name":"Golden Designer Mehandi Polish Metal Charms","price":280,"image":"CHARM0079(1)-1636633335.jpg"},{"id":2443,"name":"Golden Designer Mehandi Polish Charms","price":330,"image":"CHARM0080(1)-1636696911.jpg"},{"id":2447,"name":"Round Shape One Hole Casting Metal Charms","price":250,"image":"CHARM0084(1)-1636699395.jpg"},{"id":2448,"name":"Golden Mehandi Polish Square Shape Metal Charms","price":280,"image":"CHARM0086(1)-1636699794.jpg"},{"id":2449,"name":"Black Color Rectangle Shape Evil Eye \/ Hamsa Patches","price":400,"image":"PATHE0151(1)-1636791250.jpg"},{"id":2467,"name":"Pink Color Zari Work Lace\/Border","price":710,"image":"ZRBD0019(1)-1637058759.jpg"},{"id":2469,"name":"Orange Color Zari Work Lace\/ Border","price":540,"image":"ZRBD0021(1)-1637059419.jpg"},{"id":2471,"name":"Black-Golden color Leather Buckle","price":140,"image":"BUCL0031(1)-1637409852.jpg"},{"id":2472,"name":"Black-Metallic Grey color Leather Buckle","price":140,"image":"BUCL0031A(1)-1637410022.jpg"},{"id":2473,"name":"Black-Golden color Leather Buckle BUCL0032","price":140,"image":"BUCL0032(1)-1637410149.jpg"},{"id":2474,"name":"Black-Metallic Grey color Leather Buckle BUCL0033","price":140,"image":"BUCL0033(1)-1637410261.jpg"},{"id":2475,"name":"Baby Pink - Pista Green Color Round Kundan Button","price":180,"image":"WBTN0082(1)-1637582400.jpg"},{"id":2479,"name":"Pista Green-Baby Pink Color Round Kundan Button","price":180,"image":"WBTN0082D(1)-1637583451.jpg"},{"id":2481,"name":"Silver Color Round Kundan Button","price":180,"image":"WBTN0082F(1)-1637644733.jpg"},{"id":2492,"name":"Golden color Round Shape Metal Coat Buttons (sold with box)","price":680,"image":"MCBTN0032(2)-1637751794.jpg"},{"id":2494,"name":"Antique-Golden color Round Shape Metal Coat Buttons (sold with box)","price":680,"image":"MCBTN0034(2)-1637753357.jpg"},{"id":2495,"name":"Golden-Black color Round Shape Metal Coat Buttons (sold with box)","price":780,"image":"MCBTN0035(1)-1637754104.jpg"},{"id":2504,"name":"Baby Pink Drop Shape Kundan Buttons With Metal Base","price":300,"image":"WBTN0084E(1)-1637841590.jpg"},{"id":2506,"name":"Baby Pink Color Artificial Fabric Flowers","price":170,"image":"FLR0010F(1)-1637915423.jpg"},{"id":2507,"name":"Yellow Color Artificial Fabric Flowers","price":170,"image":"FLR0010G(1)-1637924236.jpg"},{"id":2508,"name":"Royal Blue Color Artificial Fabric Flowers","price":170,"image":"FLR0010H(1)-1637924450.jpg"},{"id":2511,"name":"Dull-Golden Bride-Bridegroom Hand Embroidery Patch","price":550,"image":"PATHE0157(1)-Right--1638009562.jpg"},{"id":2513,"name":"Dull Golden Designer Hand Embroidery Patch","price":400,"image":"PATHE0159(1)-1638010752.jpg"},{"id":2517,"name":"Golden Bridal Hand Embroidery Patch","price":1150,"image":"PATHE0163(1)-1638012881.jpg"},{"id":2520,"name":"Black Stone Work Fancy Metal Buttons","price":170,"image":"WBTN0069D(1)-1638184186.jpg"},{"id":2521,"name":"Navy Blue Stone Work Fancy Metal Buttons","price":170,"image":"WBTN0069E(1)-1638184341.jpg"},{"id":2522,"name":"Golden Color Stone Work Round Shape Buttons","price":290,"image":"WBTN0085(1)-1638355711.jpg"},{"id":2524,"name":"Black-Golden Hanging Style Fancy Buttons","price":250,"image":"WBTN0087(1)-1638359517.jpg"},{"id":2525,"name":"White-Golden Hanging Style Fancy Buttons","price":250,"image":"WBTN0087A(1)-1638360096.jpg"},{"id":2526,"name":"Golden Round Shape Stone work Metal Buttons","price":170,"image":"WBTN0088(1)-1638428742.jpg"},{"id":2527,"name":"Golden Square Shape Stone Work metal Buttons","price":210,"image":"WBTN0089(1)-1638428970.jpg"},{"id":2528,"name":"Golden Leaf Shape Metal Button","price":170,"image":"WBTN0090(1)-1638429142.jpg"},{"id":2529,"name":"Dull Golden Flower Shape Metal Buttons","price":330,"image":"WBTN0092(1)-1638429395.jpg"},{"id":2530,"name":"Golden Round Stone Work Metal Buttons","price":250,"image":"WBTN0093(1)-1638430569.jpg"},{"id":2531,"name":"Silver Round Shape Stone work Metal Buttons","price":250,"image":"WBTN0093A(1)-1638430710.jpg"},{"id":2532,"name":"Dark Green Color Flower Shape Metal Buttons","price":200,"image":"WBTN0094(1)-1638431247.jpg"},{"id":2533,"name":"Black Color Flower Shape Metal Buttons","price":200,"image":"WBTN0094A(1)-1638431693.jpg"},{"id":2534,"name":"Light Pink Color Flower Shape Metal Buttons","price":200,"image":"WBTN0094B(4)-1638431959.jpg"},{"id":2535,"name":"Aqua Blue(Ferozi) Color Flower Shape Metal Buttons","price":200,"image":"WBTN0094C(1)-1638432300.jpg"},{"id":2536,"name":"Red Color Flower Shape Metal Buttons","price":200,"image":"WBTN0094D(1)-1638433140.jpg"},{"id":2537,"name":"White Color Flower Shape Metal Buttons","price":200,"image":"WBTN0094E(1)-1638433380.jpg"},{"id":2543,"name":"Gold Color Round Shape Metal Coat\/Jacket Buttons","price":780,"image":"MCBTN0038(1)-1638615232.jpg"},{"id":2544,"name":"Golden Color Round Shape Metal Coat\/Jacket Buttons","price":850,"image":"MCBTN0039(1)-1638615406.jpg"},{"id":2549,"name":"Black-Golden Color Lion Print Round Shape Metal Coat\/Jacket Buttons","price":780,"image":"MCBTN0044(1)-1638617110.jpg"},{"id":2551,"name":"Metallic Black Color Round Shape Metal Coat\/Jacket Buttons","price":720,"image":"MCBTN0046(1)-1638620240.jpg"},{"id":2552,"name":"Metallic Grey Color Round Shape Metal Coat\/Jacket Buttons","price":680,"image":"MCBTN0047(1)-1638620444.jpg"},{"id":2570,"name":"Pink Color Thread And Sequins Work Designer Butterfly Patch","price":250,"image":"PATHE0169(1)-1639041560.jpg"},{"id":2571,"name":"Peach Color Thread And Sequins Work Designer Butterfly Patch","price":250,"image":"PATHE0169A(1)-1639041953.jpg"},{"id":2572,"name":"Navy Blue Color Thread And Sequins Work Designer Butterfly Patch","price":250,"image":"PATHE0169B(1)-1639041999.jpg"},{"id":2573,"name":"Red Color Thread And Sequins Work Designer Butterfly Patch","price":250,"image":"PATHE0169C(1)-1639042016.jpg"},{"id":2574,"name":"Orange Color Thread And Sequins Work Designer Butterfly Patch","price":250,"image":"PATHE0169D(1)-1639042406.jpg"},{"id":2575,"name":"Ferozi Color Thread And Sequins Work Designer Butterfly Patch","price":250,"image":"PATHE0169E(1)-1639042435.jpg"},{"id":2576,"name":"Baby Pink Color Thread And Sequins Work Designer Butterfly Patch","price":250,"image":"PATHE0169F(1)-1639042479.jpg"},{"id":2577,"name":"Yellow Color Thread And Sequins Work Designer Butterfly Patch","price":250,"image":"PATHE0169G(1)-1639044528.jpg"},{"id":2578,"name":"Mint Green color Thread And Sequins Work Designer Butterfly Patch","price":250,"image":"PATHE0169H(1)-1639044592.jpg"},{"id":2579,"name":"Golden Color Thread And Sequins Work Designer Butterfly Patch","price":250,"image":"PATHE0169I(1)-1639044631.jpg"},{"id":2580,"name":"Antique Golden Color Thread And Sequins Work Designer Butterfly Patch","price":250,"image":"PATHE0169J(1)-1639044687.jpg"},{"id":2585,"name":"Golden Zari Work Fancy Border","price":1380,"image":"ZRBD0022B(1)-1639121121.jpg"},{"id":2591,"name":"Round Shape Peach Color Buckle BUCL0014C","price":210,"image":"BUCL0014C(1)-1639218165.jpg"},{"id":2599,"name":"Golden Color Rectangular Shape Metal Buckles - 6 pieces","price":250,"image":"BUCL0035(1)-1639392993.jpg"},{"id":2600,"name":"Golden Color E-Shape Metal Buckle","price":170,"image":"BUCL0036(1)-1639393222.jpg"},{"id":2605,"name":"Silver Color Stone Work Fancy Applique Patches\/Decorative Patch for Suits, Dresses, Belts etc.","price":630,"image":"PATF0052A(1)-1639469752.jpg"},{"id":2606,"name":"Black Color Stone Work Fancy Applique Patches\/Decorative Patch for Suits, Dresses, Belts etc.","price":630,"image":"PATF0052B(1)-1639469845.jpg"},{"id":2610,"name":"Multi Color Stone Work Designer Fancy Applique Patches\/Decorative Hotfix Patches","price":210,"image":"PATF0053C-1(1)-1667539907.jpg"},{"id":2614,"name":"Golden Color Stone & Fur Work Designer Fancy Applique Patches\/Decorative Patches","price":100,"image":"PATF0055(1)-1639565517.jpg"},{"id":2615,"name":"Peach Color Stone & Fur Work Designer Fancy Applique Patches\/Decorative Patches","price":100,"image":"PATF0055A(1)-1639565851.jpg"},{"id":2617,"name":"Peach Color Stone Work Designer Fancy Applique Patches\/Decorative Patches","price":100,"image":"PATF0057A(1)-1639568910.jpg"},{"id":2620,"name":"Peach Color Stone Work Applique Patch\/Decorative Patch","price":230,"image":"PATF0058A(1)-1639570442.jpg"},{"id":2621,"name":"Grey Color Stone Work Applique Patch\/Decorative Patch","price":230,"image":"PATF0058B(1)-1639570641.jpg"},{"id":2622,"name":"Golden color Light Weight Aluminium\/Metal Chain","price":270,"image":"MTLCH0017(1)-1639720543.jpg"},{"id":2626,"name":"Golden color Light Weight Aluminium\/Metal Chain","price":130,"image":"MTLCH0021(1)-1639722589.jpg"},{"id":2627,"name":"Dark Golden color Light Weight Aluminium\/Metal Chain","price":540,"image":"MTLCH0022(1)-1639723181.jpg"},{"id":2630,"name":"Black Color Glass Beads Work Fancy Applique Patch\/Decorative Patches","price":230,"image":"PATF0059(1)-1639728859.jpg"},{"id":2631,"name":"White Color Glass Beads Work Fancy Applique Patch\/Decorative Patches","price":230,"image":"PATF0059A(1)-1639729397.jpg"},{"id":2632,"name":"Metallic Navy Blue Color Glass Beads Work Fancy Applique Patch\/Decorative Patches","price":230,"image":"PATF0059B(1)-1639729675.jpg"},{"id":2633,"name":"Metallic Grey Color Glass Beads Work Fancy Applique Patch\/Decorative Patches","price":230,"image":"PATF0059C(1)-1639729702.jpg"},{"id":2634,"name":"Golden Color Glass Beads Work Fancy Applique Patch\/Decorative Patches","price":230,"image":"PATF0059D(1)-1639729894.jpg"},{"id":2635,"name":"Black-Golden Color Flower Shape Fancy Metal Buttons","price":230,"image":"WBTN0095(1)-1639740232.jpg"},{"id":2638,"name":"Peach-Black Color Bead Work Evil Eye\/Hamsa Hand Shape Patch","price":790,"image":"PATHE0172B(1)-1639809649.jpg"},{"id":2639,"name":"Baby Pink Color Fancy Patch\/Applique","price":170,"image":"PATF0060(1)-1639987129.jpg"},{"id":2646,"name":"Grey Color Bow Shape Stone Work Fancy Patch\/Applique","price":250,"image":"PATF0061(1)-1639999707.jpg"},{"id":2647,"name":"Lemon Color Bow Shape Stone Work Fancy Patch\/Applique","price":250,"image":"PATF0061A(1)-1639999882.jpg"},{"id":2649,"name":"Black Color Bow Shape Stone Work Fancy Patch\/Applique","price":250,"image":"PATF0061C(1)-1640000172.jpg"},{"id":2650,"name":"Golden Color Bow Shape Stone Work Fancy Patch\/Applique","price":250,"image":"PATF0061D(1)-1640000323.jpg"},{"id":2651,"name":"Red Color Bow Shape Stone Work Fancy Patch\/Applique","price":250,"image":"PATF0061E(1)-1640000457.jpg"},{"id":2669,"name":"Metallic Grey Color Metal Coat Buttons -sold with box","price":780,"image":"MCBTN0055(1)-1640340905.jpg"},{"id":2670,"name":"Metallic Grey-Copper Color Metal Coat Buttons -sold with box","price":780,"image":"MCBTN0056(1)-1640341093.jpg"},{"id":2671,"name":"Metallic Black Color Metal Coat Buttons -sold with box","price":780,"image":"MCBTN0057(1)-1640342311.jpg"},{"id":2676,"name":"Black Golden Color Metal Coat Buttons -sold with box","price":780,"image":"MCBTN0061(1)-1640347002.jpg"},{"id":2742,"name":"Golden Color Hand Embroidery Fancy Belts for dresses, lehngas, sarees, etc.(adjustable)","price":1460,"image":"BELT0004(1)-1641294269.jpg"},{"id":2751,"name":"Fancy Designer Rhinestone Belts for dresses, lehngas, sarees, etc.(adjustable)","price":920,"image":"BELT0013(1)-1679547764.jpg"},{"id":2752,"name":"Reddish Color Drop Shape Kundan Buttons","price":200,"image":"WBTN0023J(1)-1641366440.jpg"},{"id":2753,"name":"Pista Green Color Drop Shape Kundan Buttons","price":200,"image":"WBTN0023K(1)-1641366626.jpg"},{"id":2754,"name":"Peach Color Drop Shape Kundan Buttons","price":200,"image":"WBTN0023L(1)-1641366766.jpg"},{"id":2764,"name":"Silver color Metal D Shape Loop Buckle\/ bag rings","price":170,"image":"BUCL0094(2)-1676274157.jpg"},{"id":2771,"name":"Owl Shape Designer Machine Embroidery Patch\/Applique","price":210,"image":"PATME0009(1)-1641880414.jpg"},{"id":2772,"name":"Red color flower shape thread work designer machine embroidery patch\/applique","price":170,"image":"PATME0010(1)-1641976767.jpg"},{"id":2773,"name":"Army Man Thread Work Machine Embroidery Patch\/Applique","price":270,"image":"patme-1676878708.jpg"},{"id":2775,"name":"Red Rose Shape Thread Work Machine Embroidery Patch","price":300,"image":"PATME0013(1)-1641982113.jpg"},{"id":2776,"name":"Black Bee Shape Thread Work Machine Embroidery Patch","price":230,"image":"PATME0014(1)-1641982407.jpg"},{"id":2778,"name":"Mustard Color Eagle Shape Thread Work Machine Embroidery Patch","price":170,"image":"PATME0016(1)-1642054817.jpg"},{"id":2780,"name":"Metallic Grey Color Rectangle Shape Metal Buckle With Stone Work","price":170,"image":"BUCL0042(1)-1642061887.jpg"},{"id":2781,"name":"Black color Round Shape Metal Coat Buttons for coats, blazers, jackets etc.(sold with box)","price":680,"image":"MCBTN0036A(1)-1642143688.jpg"},{"id":2787,"name":"Square Shape Grey Color Buckle","price":290,"image":"BUCL0012B-2(1)-1642152526.jpg"},{"id":2788,"name":"Pony Mini Tailor Shears Embroidery Scissors Small Scissors Thread Scissors Plastic Plus Handle Elbow Pointed Scissors - 2 pieces","price":180,"image":"scissor1-1692870791.jpg"},{"id":2789,"name":"MUNIX Small Plastic Tailor Shears Embroidery Scissors Small Scissors Thread Scissors Plastic Plus Long Handle Elbow Pointed Scissors","price":330,"image":"SCR0002(4)-1642159851.jpg"},{"id":2790,"name":"Off-White color Pearl Beads 3,4,5,6,8,10,12,10,16,18,20 mm Sizes","price":200,"image":"PLBD0001(1)-1642223744.jpg"},{"id":2791,"name":"Rose Gold Color Designer Dabka Work Zarodosi Work Patch","price":680,"image":"PATHE0174(1)-1642586200.jpg"},{"id":2792,"name":"Rose Golden Color Zarodozi Patch","price":710,"image":"PATHE0175(1)-1642586524.jpg"},{"id":2793,"name":"Rose Gold Color Dabka Work Zarodozi Patch-PATHE0176","price":710,"image":"PATHE0176(1)-1642586852.jpg"},{"id":2794,"name":"Rose Gold Color Designer Dabka Work Zarodozi Patch-PATHE0177","price":710,"image":"PATHE0177(1)-1642587550.jpg"},{"id":2795,"name":"White Color Ostrich Feather Lace (Different colors Available on Enquiry)","price":3000,"image":"FTRLC0001(1)-1642675278.jpg"},{"id":2796,"name":"Black Color Ostrich Feather Lace (Different colors Available on Enquiry)","price":3000,"image":"FTRLC0001A(1)-1642675454.jpg"},{"id":2797,"name":"Off-White Color Feather Lace (Different colors Available on Enquiry)","price":550,"image":"FTRLC0002(1)-1642676264.jpg"},{"id":2820,"name":"Red Green Color Stone Work Fancy Brooch for saree, sherwani, coats, blazers etc.","price":670,"image":"BRCH0027(1)-1643358871.jpg"},{"id":2822,"name":"Green Color Butterfly Shape Fancy Brooch for saree, sherwani, coats, blazers etc.","price":1000,"image":"BRCH0028(1)-1643363013.jpg"},{"id":2858,"name":"Dull Golden Dabka, Nakshi Work Bridal Doli Embroidery Patch","price":920,"image":"PATHE0184(1)-1643779567.jpg"},{"id":2859,"name":"Golden Color Bridal Doli Dabka, Nakshi Work Embroidery Patch","price":650,"image":"PATHE0183(1)-1643779976.jpg"},{"id":2860,"name":"Black Stone With Golden Frame Stitchable Brooch(without pin)","price":170,"image":"BRCH0009A(1)-1643886388.jpg"},{"id":2861,"name":"Silver Stone With Golden Frame Stitchable Brooch(without pin)","price":170,"image":"BRCH0009B(1)-1643886700.jpg"},{"id":2862,"name":"Red Stone With Golden Frame Stitchable Brooch(without pin)","price":170,"image":"BRCH0009D(1)-1643887245.jpg"},{"id":2863,"name":"Blue Stone With Golden Frame Stitchable Brooch(without pin)","price":170,"image":"BRCH0009C(1)-1643886910.jpg"},{"id":2864,"name":"Baby Pink Stone With Golden Frame Stitchable Brooch(without pin)","price":170,"image":"BRCH0009E(1)-1643887536.jpg"},{"id":2865,"name":"Peach Stone With Golden Frame Stitchable Brooch(without pin)","price":170,"image":"BRCH0009F(1)-1643887778.jpg"},{"id":2866,"name":"Golden Stone With Golden Frame Stitchable Brooch(without pin)","price":170,"image":"BRCH0009G(1)-1643887849.jpg"},{"id":2867,"name":"Black Golden Crown Printing Round Metal Buttons for coats, jackets, blazers etc.- Sold with Box","price":680,"image":"MCBTN0071(1)-1643954044.jpg"},{"id":2868,"name":"Copper color artificial metal flowers","price":200,"image":"MTFLR0001(1)-1643955798.jpg"},{"id":2871,"name":"Light Golden color artificial metal flowers","price":200,"image":"MTFLR0001C(1)-1643956315.jpg"},{"id":2872,"name":"Light Golden Metal Flower Five Petals","price":210,"image":"MTFLR0002(1)-1643956831.jpg"},{"id":2874,"name":"Golden Metal Flower Five Petals","price":210,"image":"MTFLR0002B(1)-1643957548.jpg"},{"id":2875,"name":"Fevicryl Fabric Glue for Sticking beads, sequins, stones etc. to the fabric.","price":120,"image":"Fbglue0001-1643960166.jpg"},{"id":2876,"name":"Orange color soft feather for craft material, hair pins etc.","price":130,"image":"FTHR0001(1)-1644224521.jpg"},{"id":2877,"name":"Red color soft feather for craft material, hair pins etc.","price":130,"image":"FTHR0001A(1)-1644227630.jpg"},{"id":2878,"name":"Light Pink color soft feather for craft material, hair pins etc.","price":130,"image":"FTHR0001B(1)-1644227886.jpg"},{"id":2879,"name":"Dark Pink color soft feather for craft material, hair pins etc.","price":130,"image":"FTHR0001C(1)-1644228464.jpg"},{"id":2880,"name":"Light Blue color soft feather for craft material, hair pins etc.","price":130,"image":"FTHR0001D(1)-1644228664.jpg"},{"id":2881,"name":"Navy Blue color soft feather for craft material, hair pins etc.","price":130,"image":"FTHR0001E(1)-1644228905.jpg"},{"id":2882,"name":"White color soft feather for craft material, hair pins etc.","price":130,"image":"FTHR0001F(1)-1644229146.jpg"},{"id":2883,"name":"Black color soft feather for craft material, hair pins etc.","price":130,"image":"FTHR0001G(1)-1644229334.jpg"},{"id":2884,"name":"Golden Color Metal Buckle","price":230,"image":"BUCL0044(1)-1644309444.jpg"},{"id":2885,"name":"Golden Color Square Shape Metal Buckle","price":270,"image":"BUCL0045(1)-1644313119.jpg"},{"id":2886,"name":"Golden Color Rectangle Shape Metal Buckle","price":230,"image":"BUCL0046(1)-1644313345.jpg"},{"id":2887,"name":"Golden Color Metal Buckle","price":200,"image":"BUCL0047(1)-1644313564.jpg"},{"id":2888,"name":"Golden Metal Buckle with Stones For Cardigans, Bellies, Dresses, Belts etc.","price":130,"image":"BUCL0056(1)-1644403298.jpg"},{"id":2889,"name":"Black Golden Leather Buckle for shoes, dresses, belts etc.","price":140,"image":"BUCL0048(1)-1644407857.jpg"},{"id":2890,"name":"Black Golden Leather Buckle for shoes, dresses, belts etc.","price":140,"image":"BUCL0049(1)-1644408214.jpg"},{"id":2892,"name":"Black Leather Buckle for shoes, dresses, belts etc.","price":140,"image":"BUCL0051(1)-1644408929.jpg"},{"id":2897,"name":"Green Color Beads Work Fancy Patch","price":580,"image":"PATHE0188(1)-1645006123.jpg"},{"id":2898,"name":"Mauve Color Beads Work Fancy Patch","price":580,"image":"PATHE0188A(1)-1645006526.jpg"},{"id":2899,"name":"Grey Color Beads Work Fancy Patch","price":580,"image":"PATHE0188B(1)-1645006737.jpg"},{"id":2900,"name":"Light Peach Color Beads Work Fancy Patch","price":580,"image":"PATHE0188C(1)-1645007017.jpg"},{"id":2901,"name":"Dark Peach Color Beads Work Fancy Patch","price":580,"image":"PATHE0188D(1)-1645007207.jpg"},{"id":2903,"name":"Black Color Flower Shape Beads Work Fancy Patch","price":180,"image":"PATHE0189(1)-1645011833.jpg"},{"id":2904,"name":"Grey Color Flower Shape Beads Work Fancy Patch","price":180,"image":"PATHE0189B(1)-1645012160.jpg"},{"id":2905,"name":"Green Color Flower Shape Beads Work Fancy Patch","price":180,"image":"PATHE0189A(1)-1645012168.jpg"},{"id":2906,"name":"Begie Color Flower Shape Beads Work Fancy Patch","price":180,"image":"PATHE0189C(1)-1645074352.jpg"},{"id":2907,"name":"White color Flower Shape Beads Work Fancy Patch","price":180,"image":"51QKRAmZXyL._SL1500_-1682927751.jpg"},{"id":2908,"name":"Black Golden Color Leather Fancy Show Stitchable Buckles (Non Openable)","price":220,"image":"BUCL0057(1)-1645085218.jpg"},{"id":2909,"name":"Black-Golden Designer Leather Buckles","price":330,"image":"BUCL0058(1)-1645085441.jpg"},{"id":2910,"name":"Black-Golden Designer Leather Buckles","price":230,"image":"BUCL0059(1)-1645085974.jpg"},{"id":2911,"name":"Black Golden Color Leather Fancy Show Stitchable Buckles with Chain (Non Openable)","price":230,"image":"BUCL0060(1)-1645086190.jpg"},{"id":2912,"name":"Black-Golden Center Rings Leather Stitchable Buckles (Non Openable)","price":380,"image":"BUCL0061(1)-1645087525.jpg"},{"id":2913,"name":"Black Golden Center Cow Shape Leather Fancy Show Stitchable Buckle (Non Openable)","price":290,"image":"BUCL0062(1)-1645090141.jpg"},{"id":2915,"name":"Golden Color Lion Embossed Metal Coat Buttons-sold with box","price":680,"image":"MCBTN0073(1)-1645247491.jpg"},{"id":2918,"name":"Golden Pearl Lace For Dupattas and Suits","price":420,"image":"PRLC0001(1) 465-240--1645509195.jpg"},{"id":2919,"name":"Golden Pearl Lace with Gota Work For Dupattas and Suits","price":330,"image":"PRLC0002(1) 365-200--1645509520.jpg"},{"id":2920,"name":"Light Golden (PEARL MATTE) color light weight fringes lace for dupattas","price":330,"image":"FRNG0008(1)-1645510405.jpg"},{"id":2921,"name":"Golden color light weight fringes kiran lace for dupattas","price":300,"image":"FRNG0009(1)-1645511970.jpg"},{"id":2922,"name":"Light Golden (pearl matte) color crushed fringes kiran lace for dupattas","price":300,"image":"FRNG0010(1)-1645512350.jpg"},{"id":2924,"name":"Light Pink Color Checked Magji Gota Work Lace","price":250,"image":"GTLC0021A(1)-1645514374.jpg"},{"id":2925,"name":"Purple Color Checked Magji Gota Work Lace","price":250,"image":"GTLC0021C(1)-1645514796.jpg"},{"id":2927,"name":"Dark Green Color Checked Magji Gota Work Lace","price":250,"image":"GTLC0021D(1)-1645514872.jpg"},{"id":2928,"name":"Orange Color Checked Magji Gota Work Lace","price":250,"image":"GTLC0021E(1)-1645515604.jpg"},{"id":2931,"name":"Navy Blue Color Checked Magji Gota Work Lace","price":250,"image":"GTLC0021H(1)-1645517110.jpg"},{"id":2932,"name":"Mehandi Green Color Checked Magji Gota Work Lace","price":250,"image":"GTLC0021I(1)-1645517120.jpg"},{"id":2935,"name":"Lemon Color Checked Magji Gota Work Lace","price":250,"image":"GTLC0021L(1)-1645518201.jpg"},{"id":2936,"name":"Grey Color Checked Magji Gota Work Lace","price":250,"image":"GTLC0021M(1)-1645518233.jpg"},{"id":2937,"name":"Red Color Checked Magji Gota Work Lace","price":250,"image":"GTLC0021N(1)-1645518626.jpg"},{"id":2939,"name":"Silver Multi Color Fancy Designer Buttons","price":170,"image":"WBTN0102(1)-1645519498.jpg"},{"id":2941,"name":"Cream Color Fancy Elastic","price":200,"image":"FNELS0013(A1)-1645687989.jpg"},{"id":2944,"name":"Maroon Color Fancy Elastic","price":200,"image":"FNELS0013D(1)-1645688821.jpg"},{"id":2948,"name":"Red Color Floral Print Fancy Elastic","price":250,"image":"FNELS0014A(1)-1645689476.jpg"},{"id":2949,"name":"Peach White Designer Fancy Elastic","price":210,"image":"FNELS0015(1)-1645689769.jpg"},{"id":2950,"name":"Black White Designer Fancy Elastic","price":210,"image":"FNELS0015A(1)-1645690103.jpg"},{"id":2954,"name":"Black Color Designer Stone Work Fancy Brooch-sold with box","price":830,"image":"BRCH0038(1)-1645696012.jpg"},{"id":2958,"name":"Silver-Blue Color Stone Work Fancy Brooch for Dresses, Coats, Blazers etc. - sold with box","price":880,"image":"BUCL0042(2)-1645698836.jpg"},{"id":2968,"name":"Purple Golden Color Stone Work Fancy Brooch-sold with box","price":1420,"image":"BUCL0048(1)-1645778819.jpg"},{"id":2971,"name":"Rust Color Shiny Crystal Work Fancy Designer Brooch-sold with box","price":670,"image":"BUCL0051(1)-1645782750.jpg"},{"id":2974,"name":"Black Color Stone Work Fancy Brooch for Blazers, Coats, Sarees, Dresses, etc.- sold with box","price":790,"image":"BUCL0053(1)-1645785547.jpg"},{"id":2975,"name":"Royal Blue Color Stone Work Designer Brooch-sold with box","price":790,"image":"BUCL0054(1)-1645786486.jpg"},{"id":2977,"name":"Golden Color Shell Charms","price":250,"image":"CHARM0097(1)-1645859847.jpg"},{"id":2978,"name":"Silver Color Shell Charms","price":250,"image":"CHARM0097A-1645862293.jpg"},{"id":2984,"name":"Pink Color 9 MM Fimo Rubber Beads for Art Craft Home Decoration Jewelry Clothing Neckless Bracelet","price":290,"image":"FMBD0001(2)-1646297665.jpg"},{"id":2985,"name":"Yellow-Pink Color 9 MM Fimo Rubber Beads for Art Craft Home Decoration Jewelry Clothing Neckless Bracelet","price":290,"image":"FMBD0001A(1)-1646300269.jpg"},{"id":2986,"name":"Skin Color 6 MM Fimo Rubber Beads for Art Craft Home Decoration Jewelry Clothing Neckless Bracelet","price":130,"image":"FMBD0002(1)-1646301129.jpg"},{"id":2987,"name":"Dark Green Color 6 MM Fimo Rubber Beads for Art Craft Home Decoration Jewelry Clothing Neckless Bracelet","price":130,"image":"FMBD0002A(1)-1646301516.jpg"},{"id":2988,"name":"Peach Color 6 MM Fimo Rubber Beads for Art Craft Home Decoration Jewelry Clothing Neckless Bracelet","price":170,"image":"FMBD0002B(1)-1646301679.jpg"},{"id":2989,"name":"Purple Color Mirror Work Fancy Metal Buttons for Ladies Suits, Kurtis , Jewellery Making etc.","price":150,"image":"WBTN01069(1)-1646306792.jpg"},{"id":2990,"name":"Golden Color Mirror Work Fancy Metal Buttons for Ladies Suits, Kurtis , Jewellery Making etc.","price":150,"image":"WBTN01069A(1)-1646307066.jpg"},{"id":2993,"name":"Maroon Color Mirror Work Fancy Metal Buttons for Ladies Suits, Kurtis , Jewellery Making etc.","price":150,"image":"WBTN01069D(1)-1646307640.jpg"},{"id":2995,"name":"Carnation Pink Color Mirror Work Fancy Metal Buttons for Ladies Suits, Kurtis , Jewellery Making etc.","price":150,"image":"WBTN01069F(1)-1646309103.jpg"},{"id":2996,"name":"Dark Green Color Mirror Work Fancy Metal Buttons for Ladies Suits, Kurtis , Jewellery Making etc.","price":150,"image":"WBTN01069G(1)-1646309107.jpg"},{"id":2998,"name":"Ferozi Color Mirror Work Fancy Metal Buttons for Ladies Suits, Kurtis , Jewellery Making etc.","price":150,"image":"WBTN01069I(1)-1646309748.jpg"},{"id":2999,"name":"Red Color Mirror Work Fancy Metal Buttons for Ladies Suits, Kurtis , Jewellery Making etc.","price":150,"image":"WBTN01069J(1)-1646309756.jpg"},{"id":3000,"name":"Black Color Mirror Work Fancy Metal Buttons for Ladies Suits, Kurtis , Jewellery Making etc.","price":150,"image":"WBTN01069M(1)-1646310000.jpg"},{"id":3002,"name":"Peach Color Mirror Work Fancy Metal Buttons for Ladies Suits, Kurtis , Jewellery Making etc.","price":150,"image":"WBTN01069L(1)-1646373806.jpg"},{"id":3003,"name":"Silver Color Hanging Style Fancy Metal Buttons for Ladies Suits, Kurtis, Jewellery Making etc.","price":180,"image":"WBTN0107(1)-1646374828.jpg"},{"id":3005,"name":"Baby Pink Color Mirror And Beads Work Fancy Metal Buttons","price":200,"image":"WBTN0108(1)-1646378618.jpg"},{"id":3006,"name":"Purple Color Mirror And Beads Work Fancy Metal Buttons","price":200,"image":"WBTN0108A(1)-1646379965.jpg"},{"id":3007,"name":"Green Color Mirror And Beads Work Fancy Metal Buttons","price":200,"image":"WBTN0108B(1)-1646379985.jpg"},{"id":3008,"name":"Yellow Color Mirror And Beads Work Fancy Metal Buttons","price":200,"image":"WBTN0108C(1)-1646379997.jpg"},{"id":3010,"name":"Dark Blue Color Mirror And Beads Work Fancy Metal Buttons","price":200,"image":"WBTN0108E(1)-1646381314.jpg"},{"id":3011,"name":"Grey Color Mirror And Beads Work Fancy Metal Buttons","price":200,"image":"WBTN0108F(1)-1646381355.jpg"},{"id":3012,"name":"Dark Green Color Mirror And Beads Work Fancy Metal Buttons","price":200,"image":"WBTN0108G(1)-1646381705.jpg"},{"id":3013,"name":"Peach Color Mirror And Beads Work Fancy Metal Buttons","price":200,"image":"WBTN0108H(3)-1646381819.jpg"},{"id":3014,"name":"Off-White Color Mirror And Beads Work Fancy Metal Buttons","price":200,"image":"WBTN0108I(3)-1646381911.jpg"},{"id":3015,"name":"Black Color Mirror And Beads Work Fancy Metal Buttons","price":200,"image":"WBTN0108J(1)-1646383092.jpg"},{"id":3016,"name":"Mint Green Color Mirror And Beads Work Fancy Metal Buttons","price":200,"image":"WBTN0108K(1)-1646383722.jpg"},{"id":3017,"name":"Reddish Color Mirror And Beads Work Fancy Metal Buttons","price":200,"image":"WBTN0108L(1)-1646384015.jpg"},{"id":3018,"name":"Red Color Mirror And Beads Work Fancy Metal Buttons","price":200,"image":"WBTN0108M(1)-1646384133.jpg"},{"id":3020,"name":"Metallic Blue Color Beads Work Fancy Buttons","price":150,"image":"WBTN0109A(1)-1646387860.jpg"},{"id":3035,"name":"Silver Stone Work Fancy Metal Buttons with Golden Base","price":460,"image":"wbtn00 (1)-1647846802.jpg"},{"id":3036,"name":"Metallic Grey Color Round Shape Metal Buckle for belts, footwears etc.","price":270,"image":"BUCL0063(1)-1647855154.jpg"},{"id":3040,"name":"Silver Color Rectangle Shape Metal Buckle for belts, footwears etc.","price":270,"image":"BUCL0064A(1)-1647855888.jpg"},{"id":3042,"name":"Matte Finish Golden Color Round Metal Shirt Buttons","price":250,"image":"SHBTN0006(1)-1647858339.jpg"},{"id":3044,"name":"Glossy Finish Golden Color Round Metal Shirt Buttons","price":250,"image":"SHBTN0007(1)-1647861141.jpg"},{"id":3045,"name":"Matte Finish Golden Color Rounded Triangular Shape Metal Shirt Buttons","price":250,"image":"SHBTN0009(1)-1647861515.jpg"},{"id":3046,"name":"Glossy Golden Color Rounded Triangular Shape Metal Shirt Buttons","price":250,"image":"SHBTN0007A(1)-1647929955.jpg"},{"id":3047,"name":"Golden Color Round Shape Metal Shirt Button","price":250,"image":"SHBTN0008(2)-1647930547.jpg"},{"id":3048,"name":"Golden Color Square Shape Metal Shirt Button","price":250,"image":"SHBTN0009(1)-1647932340.jpg"},{"id":3049,"name":"Silver Color Square Shape Metal Shirt Button","price":250,"image":"SHBTN0009A(1)-1647932568.jpg"},{"id":3050,"name":"Matte Finish Golden Color Square Shape Metal Shirt Button","price":250,"image":"SHBTN0009B(1)-1647932833.jpg"},{"id":3051,"name":"Metallic Grey Round Shape 4 Hole Metal Button","price":250,"image":"SHBTN0010(1)-1647933189.jpg"},{"id":3052,"name":"Matte Golden Round Shape 4 Hole Metal Button","price":250,"image":"SHBTN0010A(1)-1647933490.jpg"},{"id":3053,"name":"Golden Round Shape 4 Hole Metal Button","price":250,"image":"SHBTN0010B(1)-1647933972.jpg"},{"id":3054,"name":"Golden Color B Alphabet Embroidery Patch","price":120,"image":"PATHE000190-B(1)-1649141757.jpg"},{"id":3055,"name":"Golden Color C Alphabet Embroidery Patch","price":120,"image":"PATHE000190-C(1)-1649141738.jpg"},{"id":3056,"name":"Golden Color D Alphabet Embroidery Patch","price":120,"image":"PATHE000190-D(1)-1649141716.jpg"},{"id":3057,"name":"Golden Color E Alphabet Embroidery Patch","price":120,"image":"PATHE000190-E(1)-1649141686.jpg"},{"id":3058,"name":"Golden Color F Alphabet Embroidery Patch","price":120,"image":"PATHE000190-F(1)-1649141661.jpg"},{"id":3059,"name":"Golden Color G Alphabet Embroidery Patch","price":120,"image":"PATHE000190-G(1)-1649141641.jpg"},{"id":3060,"name":"Golden Color H Alphabet Embroidery Patch","price":120,"image":"PATHE000190-H(1)-1649141620.jpg"},{"id":3062,"name":"Golden Color J Alphabet Embroidery Patch","price":120,"image":"PATHE000190-J(1)-1649141574.jpg"},{"id":3064,"name":"Golden Color L Alphabet Embroidery Patch","price":120,"image":"PATHE000190-L(1)-1649141366.jpg"},{"id":3067,"name":"Golden Color O Alphabet Embroidery Patch","price":120,"image":"PATHE000190-O(1)-1649141275.jpg"},{"id":3069,"name":"Golden Color Q Alphabet Embroidery Patch","price":120,"image":"PATHE000190-Q(1)-1649141226.jpg"},{"id":3070,"name":"Golden Color R Alphabet Embroidery Patch","price":120,"image":"PATHE000190-R(1)-1649141203.jpg"},{"id":3072,"name":"Golden Color T Alphabet Embroidery Patch","price":120,"image":"PATHE000190-T(1)-1649141153.jpg"},{"id":3073,"name":"Golden Color U Alphabet Embroidery Patch","price":120,"image":"PATHE000190-U(1)-1649141109.jpg"},{"id":3075,"name":"Golden Color W Alphabet Embroidery Patch","price":120,"image":"PATHE000190-W(1)-1649141060.jpg"},{"id":3078,"name":"Golden Color X Alphabet Embroidery Patch","price":120,"image":"PATHE000190-X(1)-1649140839.jpg"},{"id":3079,"name":"Golden Color Y Alphabet Embroidery Patch","price":120,"image":"PATHE000190-Y(1)-1649140816.jpg"},{"id":3080,"name":"Golden Color Z Alphabet Embroidery Patch","price":120,"image":"PATHE000190-Z(1)-1649140794.jpg"},{"id":3081,"name":"Yellow Color Thread and Beads Work Evil Eye Patch","price":300,"image":"PATHE0191B(1)-1648289072.jpg"},{"id":3082,"name":"Red Color Thread and Beads Work Evil Eye Patch","price":300,"image":"PATHE0191C(1)-1648289932.jpg"},{"id":3087,"name":"Golden Color Dabka Nakshi Work Hand Embroidery Patch\/Applique","price":280,"image":"PATHE0192(1)-1649226459.jpg"},{"id":3089,"name":"Golden Color Dabka Nakshi Work Hand Embroidery Patch\/Applique","price":280,"image":"PATHE0194(1)-1649229002.jpg"},{"id":3107,"name":"Black Golden Lion Embossed Metal Coat Buttons for Blazers, Jackets etc. (sold with box)","price":1230,"image":"MCBTN0075(1)-1649419370.jpg"},{"id":3110,"name":"Antique Golden Wings Embossed Metal Coat Buttons for Blazers, Jackets etc. (sold with box)","price":880,"image":"MCBTN0077(1)-1649481578.jpg"},{"id":3112,"name":"Black Golden Metal Coat Buttons for Blazers, Jackets etc. (sold with box)","price":1230,"image":"MCBTN0078A(1)-1649488572.jpg"},{"id":3114,"name":"Black Golden Lion Face Embossed Metal Coat Buttons for Blazers, Jackets etc. (sold with box)","price":880,"image":"MCBTN0079(1)-1649489245.jpg"},{"id":3115,"name":"Matte Black-Copper Round Shape Metal Coat Buttons for Blazers, Jackets etc. (sold with box)","price":880,"image":"MCBTN0080(1)-1649489627.jpg"},{"id":3116,"name":"Antique Color Round Shape Metal Coat Buttons for Blazers, Jackets etc. (sold with box)","price":1080,"image":"MCBTN0081(1)-1649489872.jpg"},{"id":3117,"name":"Black Golden Round Shape Metal Coat Buttons for Blazers, Jackets etc. (sold with box)","price":880,"image":"MCBTN0082(1)-1649490049.jpg"},{"id":3118,"name":"Black Golden Square Shape Metal Coat Buttons for Blazers, Jackets etc. (sold with box)","price":1230,"image":"MCBTN0083(1)-1649490684.jpg"},{"id":3133,"name":"Rose Gold Sequins Work Cut Work Lace","price":790,"image":"SQBD0014B(1)-1649834304.jpg"},{"id":3134,"name":"Light Green Sequins Work Cut Work Lace","price":790,"image":"SQBD0014C(1).jpg"},{"id":3136,"name":"Black Sequins Work Cut Work Lace","price":500,"image":"SQBD0014E(1).jpg"},{"id":3138,"name":"Skin Sequins Work Cut Work Lace","price":790,"image":"SQBD0014G(1).jpg"},{"id":3145,"name":"Off-White Color Thread Work Lakhnavi Border","price":580,"image":"THBD0020(1)-1649843128.jpg"},{"id":3146,"name":"Off-White Color Checked Pattern Thread Work Lakhnavi Border","price":750,"image":"THBD0021(1)-1649843450.jpg"},{"id":3149,"name":"White Color Organza Lace With Zari Work","price":700,"image":"NETLC0015(1)-1649918780.jpg"},{"id":3150,"name":"White Color Organza Lace Flower Print With Zari Work","price":700,"image":"NETLC0016(1)-1650007372.jpg"},{"id":3155,"name":"White Light Shade Dyeable GPO Lace","price":1000,"image":"GPO0026(1)-1650015931.jpg"},{"id":3158,"name":"White Color U-Shape GPO Lace","price":400,"image":"GPO0029(1)-1650018410.jpg"},{"id":3160,"name":"White Color Connecting Cotton Lace","price":680,"image":"COTN0018(1)-1650019379.jpg"},{"id":3162,"name":"Black Color 'B' Alphabet Beads Work Patch\/Applique","price":150,"image":"PATF0064-B(1)-1650267837.jpg"},{"id":3163,"name":"Light Peach Color 'B' Alphabet Beads Work Patch\/Applique","price":150,"image":"PATF0064-B(3)-1650267935.jpg"},{"id":3164,"name":"Light Pink Color 'B' Alphabet Beads Work Patch\/Applique","price":150,"image":"PATF0064-B(4)-1650267914.jpg"},{"id":3165,"name":"Black Color 'C' Alphabet Beads Work Patch\/Applique","price":150,"image":"PATF0064-C(1).jpg"},{"id":3166,"name":"Light Peach Color 'C' Alphabet Beads Work Patch\/Applique","price":150,"image":"PATF0064-C(3).jpg"},{"id":3167,"name":"Light Pink Color 'C' Alphabet Beads Work Patch\/Applique","price":150,"image":"PATF0064-C(4).jpg"},{"id":3168,"name":"Black Color 'D' Alphabet Beads Work Patch\/Applique","price":150,"image":"PATF0064-D(1).jpg"},{"id":3169,"name":"Light Peach Color 'D' Alphabet Beads Work Patch\/Applique","price":150,"image":"PATF0064-D(3).jpg"},{"id":3170,"name":"Light Pink Color 'D' Alphabet Beads Work Patch\/Applique","price":150,"image":"PATF0064-D(4).jpg"},{"id":3174,"name":"Black Color 'F' Alphabet Beads Work Patch\/Applique","price":150,"image":"PATF0064-F(1).jpg"},{"id":3175,"name":"Light Peach Color 'F' Alphabet Beads Work Patch\/Applique","price":150,"image":"PATF0064-F(3).jpg"},{"id":3176,"name":"Light Pink Color 'F' Alphabet Beads Work Patch\/Applique","price":150,"image":"PATF0064-F(4).jpg"},{"id":3177,"name":"Black Color 'G' Alphabet Beads Work Patch\/Applique","price":150,"image":"PATF0064-G(1).jpg"},{"id":3179,"name":"Light Pink Color 'G' Alphabet Beads Work Patch\/Applique","price":150,"image":"PATF0064-G(4).jpg"},{"id":3182,"name":"Light Pink Color 'H' Alphabet Beads Work Patch\/Applique","price":150,"image":"PATF0064-H(4).jpg"},{"id":3183,"name":"Black Color 'I' Alphabet Beads Work Patch\/Applique","price":150,"image":"PATF0064-I(1).jpg"},{"id":3186,"name":"Black Color 'J' Alphabet Beads Work Patch\/Applique","price":150,"image":"PATF0064-J(1).jpg"},{"id":3187,"name":"Light Peach Color 'J' Alphabet Beads Work Patch\/Applique","price":150,"image":"PATF0064-J(3).jpg"},{"id":3188,"name":"Light Pink Color 'J' Alphabet Beads Work Patch\/Applique","price":150,"image":"PATF0064-J(4).jpg"},{"id":3193,"name":"Light Peach Color 'L' Alphabet Beads Work Patch\/Applique","price":150,"image":"PATF0064-L(3).jpg"},{"id":3194,"name":"Light Pink Color 'L' Alphabet Beads Work Patch\/Applique","price":150,"image":"PATF0064-L(4).jpg"},{"id":3195,"name":"Black Color 'M' Alphabet Beads Work Patch\/Applique","price":150,"image":"PATF0064-M(1).jpg"},{"id":3202,"name":"Light Peach Color 'O' Alphabet Beads Work Patch\/Applique","price":150,"image":"PATF0064-O(3).jpg"},{"id":3203,"name":"Light Pink Color 'O' Alphabet Beads Work Patch\/Applique","price":150,"image":"PATF0064-O(4).jpg"},{"id":3207,"name":"Black Color 'Q' Alphabet Beads Work Patch\/Applique","price":150,"image":"PATF0064-Q(1).jpg"},{"id":3208,"name":"Light Peach Color 'Q' Alphabet Beads Work Patch\/Applique","price":150,"image":"PATF0064-Q(3).jpg"},{"id":3209,"name":"Light Pink Color 'Q' Alphabet Beads Work Patch\/Applique","price":150,"image":"PATF0064-Q(4).jpg"},{"id":3214,"name":"Black Color 'T' Alphabet Beads Work Patch\/Applique","price":150,"image":"PATF0064-T(1).jpg"},{"id":3216,"name":"Light Pink Color 'T' Alphabet Beads Work Patch\/Applique","price":150,"image":"PATF0064-T(4).jpg"},{"id":3217,"name":"Black Color 'U' Alphabet Beads Work Patch\/Applique","price":150,"image":"PATF0064-U(1).jpg"},{"id":3218,"name":"Light Peach Color 'U' Alphabet Beads Work Patch\/Applique","price":150,"image":"PATF0064-U(3).jpg"},{"id":3219,"name":"Light Pink Color 'U' Alphabet Beads Work Patch\/Applique","price":150,"image":"PATF0064-U(4).jpg"},{"id":3221,"name":"Light Pink Color 'V' Alphabet Beads Work Patch\/Applique","price":150,"image":"PATF0064-V(4).jpg"},{"id":3222,"name":"Black Color 'W' Alphabet Beads Work Patch\/Applique","price":150,"image":"PATF0064-W(1).jpg"},{"id":3224,"name":"Black Color 'X' Alphabet Beads Work Patch\/Applique","price":150,"image":"PATF0064-X(1).jpg"},{"id":3225,"name":"Light Peach Color 'X' Alphabet Beads Work Patch\/Applique","price":150,"image":"PATF0064-X(3).jpg"},{"id":3226,"name":"Light Pink Color 'X' Alphabet Beads Work Patch\/Applique","price":150,"image":"PATF0064-X(4).jpg"},{"id":3227,"name":"Black Color 'Y' Alphabet Beads Work Patch\/Applique","price":150,"image":"PATF0064-Y(1).jpg"},{"id":3228,"name":"Light Peach Color 'Y' Alphabet Beads Work Patch\/Applique","price":150,"image":"PATF0064-Y(3).jpg"},{"id":3229,"name":"Light Pink Color 'Y' Alphabet Beads Work Patch\/Applique","price":150,"image":"PATF0064-Y(4).jpg"},{"id":3230,"name":"Black Color 'Z' Alphabet Beads Work Patch\/Applique","price":150,"image":"PATF0064-Z(1).jpg"},{"id":3231,"name":"Light Peach Color 'Z' Alphabet Beads Work Patch\/Applique","price":150,"image":"PATF0064-Z(3).jpg"},{"id":3232,"name":"Light Pink Color 'Z' Alphabet Beads Work Patch\/Applique","price":150,"image":"PATF0064-Z(4).jpg"},{"id":3235,"name":"Orange Color Cotton Dori\/Cord With Golden Mix","price":130,"image":"DORI0002(1)-1650441490.jpg"},{"id":3236,"name":"Green Color Silk and Polyester Yarn Dori\/Cord","price":130,"image":"DORI0003(1)-1650442917.jpg"},{"id":3237,"name":"Blue Color Twisted Cotton Dori\/Cord","price":130,"image":"DORI0004(1)-1650447829.jpg"},{"id":3238,"name":"Pink Color Twisted Cotton Dori\/Cord","price":130,"image":"DORI0004A(1)-1650447987.jpg"},{"id":3239,"name":"Multi Pastel Colors Polyester Dori\/Cord","price":170,"image":"DORI0005(1)-1650448804.jpg"},{"id":3240,"name":"Coffee Color Baadla Dori\/Cord","price":170,"image":"DORI0006(1)-1650449323.jpg"},{"id":3242,"name":"Off-white Color Silk Thread Dori\/Cord","price":100,"image":"DORI0008(1)-1650451088.jpg"},{"id":3243,"name":"Brown Color Polyester-Baadla Dori\/Cord","price":80,"image":"DORI0009(1)-1650451390.jpg"},{"id":3244,"name":"Golden Color Cotton-Baadla Dori-Cord","price":170,"image":"DORI0010(1)-1650451674.jpg"},{"id":3245,"name":"Yellow Color Polyester Dori\/Cord","price":130,"image":"DORI0011(1)-1650520975.jpg"},{"id":3246,"name":"Black Grey Polyester Material Dori\/Cord","price":100,"image":"DORI0012(1)-1650521251.jpg"},{"id":3247,"name":"Off-White Color Silk Yarn Dori\/Cord","price":100,"image":"DORI0013(1)-1650521611.jpg"},{"id":3260,"name":"Metallic Grey Color Designer Peacock Head Hand Embroidery Patch","price":540,"image":"PATHE0211(1)-1650608451.jpg"},{"id":3263,"name":"Black Color Leaf Shape Fancy Kundan Button","price":250,"image":"WBTN0112(1)-1650709505.jpg"},{"id":3264,"name":"Dark Blue Color Leaf Shape Fancy Kundan Button","price":250,"image":"WBTN0112A(1).jpg"},{"id":3267,"name":"Yellow Color Leaf Shape Fancy Kundan Button","price":250,"image":"WBTN0112D(1).jpg"},{"id":3268,"name":"Ferozi Color Leaf Shape Fancy Kundan Button","price":250,"image":"WBTN0112E(1).jpg"},{"id":3269,"name":"Dark Green Color Leaf Shape Fancy Kundan Button","price":250,"image":"WBTN0112F(1).jpg"},{"id":3270,"name":"Orange Color Round Shape Kundan Buttons","price":220,"image":"WBTN0113(1).jpg"},{"id":3271,"name":"Ferozi Color Round Shape Fancy Kundan Button","price":220,"image":"WBTN0113A(1).jpg"},{"id":3272,"name":"Dark Blue Color Round Shape Fancy Kundan Button","price":220,"image":"WBTN0113B(1).jpg"},{"id":3273,"name":"Black Color Oval Shape Kundan Stone Work Buttons","price":250,"image":"WBTN0111(1).jpg"},{"id":3274,"name":"Dark Blue Color Oval Shape Kundan Stone Work Buttons","price":250,"image":"WBTN0111A(1).jpg"},{"id":3276,"name":"Orange Color Oval Shape Kundan Stone Work Buttons","price":250,"image":"WBTN0111C(1).jpg"},{"id":3277,"name":"Yellow Color Oval Shape Kundan Stone Work Buttons","price":250,"image":"WBTN0111D(1).jpg"},{"id":3278,"name":"Parrot Green Color Oval Shape Kundan Stone Work Buttons","price":250,"image":"WBTN0111E(1).jpg"},{"id":3279,"name":"Ferozi Color Oval Shape Kundan Stone Work Buttons","price":250,"image":"WBTN0111F(1).jpg"},{"id":3295,"name":"Red Color Oval Shape Stone Work Fancy Buckle","price":160,"image":"BUCL0065A(1).jpg"},{"id":3296,"name":"Black Color Oval Shape Stone Work Fancy Buckle","price":160,"image":"BUCL0065B(1).jpg"},{"id":3297,"name":"Dark Golden Color Oval Shape Stone Work Fancy Buckle","price":160,"image":"BUCL0065C(1).jpg"},{"id":3298,"name":"Silver Rainbow Color Oval Shape Stone Work Fancy Buckle","price":160,"image":"BUCL0065F(1)-1665472605.jpg"},{"id":3299,"name":"Silver Color Oval Shape Stone Work Fancy Buckle","price":160,"image":"BUCL0065E(1).jpg"},{"id":3300,"name":"Silver Rainbow Color Round Shape Stone Work Fancy Buckle","price":160,"image":"BUCL0066(1).jpg"},{"id":3304,"name":"Red Color Round Shape Stone Work Fancy Buckle","price":160,"image":"BUCL0066D(1).jpg"},{"id":3305,"name":"Black Color Round Shape Stone Work Fancy Buckle","price":160,"image":"BUCL0066E(1).jpg"},{"id":3306,"name":"Golden Color Square Shape Stone Work Fancy Buckle","price":210,"image":"BUCL0067(1).jpg"},{"id":3307,"name":"Silver Rainbow Color Square Shape Stone Work Fancy Buckle","price":210,"image":"BUCL0067A(1).jpg"},{"id":3308,"name":"Dark Golden Color Square Shape Stone Work Fancy Buckle","price":210,"image":"BUCL0067B(1).jpg"},{"id":3309,"name":"Red Color Square Shape Stone Work Fancy Buckle","price":210,"image":"BUCL0067C(1).jpg"},{"id":3310,"name":"Silver Color Square Shape Stone Work Fancy Buckle","price":210,"image":"BUCL0067D(1).jpg"},{"id":3311,"name":"Black Color Square Shape Stone Work Fancy Buckle","price":210,"image":"BUCL0067E(1).jpg"},{"id":3312,"name":"Peach Color Square Shape Stone Work Fancy Buckle","price":210,"image":"BUCL0067F(1).jpg"},{"id":3313,"name":"Golden Color Round Stone Work Fancy Buckle","price":210,"image":"BUCL0068(1).jpg"},{"id":3314,"name":"Red Color Round Stone Work Fancy Buckle","price":210,"image":"BUCL0068A(1).jpg"},{"id":3315,"name":"Peach Color Round Stone Work Fancy Buckle","price":210,"image":"BUCL0068B(1).jpg"},{"id":3316,"name":"Silver Rainbow Color Round Stone Work Fancy Buckle","price":210,"image":"BUCL0068C(1).jpg"},{"id":3317,"name":"Dark Golden Color Round Stone Work Fancy Buckle","price":210,"image":"BUCL0068D(1).jpg"},{"id":3318,"name":"Black Color Round Stone Work Fancy Buckle","price":210,"image":"BUCL0068E(1).jpg"},{"id":3319,"name":"Silver Color Round Stone Work Fancy Buckle","price":210,"image":"BUCL0068F(1).jpg"},{"id":3320,"name":"Golden Color Designer Square Stone Work Fancy Buckle","price":210,"image":"BUCL0069(1).jpg"},{"id":3323,"name":"Black Color Designer Square Stone Work Fancy Buckle","price":210,"image":"BUCL0069C(1).jpg"},{"id":3324,"name":"Dark Golden Color Designer Square Stone Work Fancy Buckle","price":210,"image":"BUCL0069(2).jpg"},{"id":3325,"name":"Silver Rainbow Color Designer Square Stone Work Fancy Buckle","price":210,"image":"BUCL0069E(1).jpg"},{"id":3326,"name":"Peach Color Designer Square Stone Work Fancy Buckle","price":210,"image":"BUCL0069F(1).jpg"},{"id":3327,"name":"Orange Color Sequins Work Lace","price":1420,"image":"SQBD0016(1)-1651652639.jpg"},{"id":3328,"name":"Green Color Sequins Work Lace","price":1420,"image":"SQBD0016A(1)-1651652591.jpg"},{"id":3329,"name":"Off-White Color Thread Work Border","price":700,"image":"THBD0024(1)-1651653614.jpg"},{"id":3330,"name":"Pista Green Color Thread Work Border","price":700,"image":"THBD0024A(1)-1651654043.jpg"},{"id":3331,"name":"Dark Pink Color Thread Work Border","price":700,"image":"THBD0024B(1)-1651654056.jpg"},{"id":3332,"name":"Light Green Color Zari Work Border","price":1000,"image":"ZRBD0028(1)-1651660278.jpg"},{"id":3333,"name":"Maroon Color Zari Work Fancy Border","price":1130,"image":"ZRBD0029(1)-1651660831.jpg"},{"id":3334,"name":"Light Blue Color Zari Work Fancy Border","price":1130,"image":"ZRBD0029B(1)-1651665167.jpg"},{"id":3335,"name":"Dark Green Color Zari Work Fancy Border","price":1130,"image":"ZRBD0029B(1)-1651666287.jpg"},{"id":3336,"name":"White Color Zari Work Fancy Border","price":1130,"image":"ZRBD0029C(1)-1651666484.jpg"},{"id":3337,"name":"Green Color Fancy Zari Work Lace","price":1000,"image":"ZRBD0030(1)-1651734486.jpg"},{"id":3338,"name":"Black Color Fancy Zari Work Lace","price":1000,"image":"ZRBD0030A(1)-1651734900.jpg"},{"id":3343,"name":"Peach Color Zari Work Lace For Suits, Dresses, Sarees etc.","price":1080,"image":"ZRBD0033(1)-1651736869.jpg"},{"id":3344,"name":"Dark Blue Color Zari Work Lace For Suits, Dresses, Sarees etc.","price":1080,"image":"ZRBD0033A(1)-1651737277.jpg"},{"id":3345,"name":"Sea Green Color Zari Work Lace For Suits, Dresses, Sarees etc.","price":1080,"image":"ZRBD0033B(1)-1651737636.jpg"},{"id":3346,"name":"Orange Color Zari Work Lace For Suits, Dresses, Sarees etc.","price":1080,"image":"ZRBD0033C(1)-1651737846.jpg"},{"id":3347,"name":"Magenta Color Zari Work Lace For Suits, Dresses, Sarees etc.","price":1080,"image":"ZRBD0033E(1)-1651738210.jpg"},{"id":3348,"name":"Ferozi Color Zari Work Lace For Suits, Dresses, Sarees etc.","price":1080,"image":"ZRBD0033D(1)-1651738193.jpg"},{"id":3349,"name":"Purple Color Zari Work Fancy Border for Suits, Dresses, Sarees etc.","price":970,"image":"ZRBD0034(1)-1651816825.jpg"},{"id":3350,"name":"Black Color Zari Work Fancy Border for Suits, Dresses, Sarees etc.","price":970,"image":"ZRBD0034A(1)-1651820303.jpg"},{"id":3351,"name":"Light Blue Color Zari Work Fancy Border for Suits, Dresses, Sarees etc.","price":970,"image":"ZRBD0034B(1)-1651820469.jpg"},{"id":3352,"name":"Purple Zari Work Fancy Border for Suits, Dresses, Sarees etc.","price":540,"image":"ZRBD0035(1)-1651821884.jpg"},{"id":3353,"name":"Ferozi Color Zari Work Lace For Suits, Dresses, Sarees etc.","price":540,"image":"ZRBD0035B(1)-1651822116.jpg"},{"id":3354,"name":"Reddish Color Zari Work Fancy Border for Suits, Dresses, Sarees etc.","price":540,"image":"ZRBD0035A(1)-1651822726.jpg"},{"id":3355,"name":"Silver Color Metal Chain - 9 mm","price":290,"image":"MTLCH0025(1)-1651827095.jpg"},{"id":3356,"name":"Metallic Grey Color Metal Chain - 9mm","price":290,"image":"MTLCH0025A(1).jpg"},{"id":3357,"name":"Silver Color Aluminium Light Weight Metal Chain - 7mm","price":130,"image":"MTLCH0026(1).jpg"},{"id":3359,"name":"Silver Color Metal Chain - 8mm","price":290,"image":"MTLCH0027(1).jpg"},{"id":3360,"name":"Golden Color Metal Chain - 8mm","price":290,"image":"MTLCH0027A(1).jpg"},{"id":3362,"name":"Golden Color Aluminium Light Weight Metal Chain - 6mm","price":110,"image":"MTLCH0028A(1).jpg"},{"id":3365,"name":"Metallic Grey Color Metal Chain - 8mm","price":120,"image":"MTLCH0030(1).jpg"},{"id":3366,"name":"Metallic Grey Color Aluminium Light Weight Metal Chain - 4mm","price":130,"image":"MTLCH0031(1).jpg"},{"id":3367,"name":"Silver Color Metal Aluminium Light Weight Chain - 4mm","price":130,"image":"MTLCH0031A(1).jpg"},{"id":3368,"name":"Golden Color Aluminium Light Weight Metal Chain - 4mm","price":130,"image":"MTLCH0031B(1).jpg"},{"id":3369,"name":"Red Eye Shape Stitchable Brooch Golden Frame -Without Pin","price":170,"image":"BUCL0058(1)-1652254516.jpg"},{"id":3370,"name":"Red Eye Shape Stitchable Brooch Silver Frame -Without Pin","price":170,"image":"BUCL0058A(1)-1652254655.jpg"},{"id":3371,"name":"Green Leaf Shape Stitchable Brooch Golden Frame -Without Pin","price":170,"image":"BRCH0059(1)-1652254771.jpg"},{"id":3372,"name":"Silver Stone Work Hanging Style Brooch Stitchable-without pin","price":210,"image":"BRCH0060(1)-1652256265.jpg"},{"id":3373,"name":"Golden Color Stone Work Fancy Stitchable Brooch - without pin","price":330,"image":"BRCH0061(1)-1652256373.jpg"},{"id":3374,"name":"Red Silver Stone Work Fancy Flower Stitchable Brooch-without pin","price":250,"image":"BRCH0062(1)-1652422368.jpg"},{"id":3375,"name":"Green Silver Stone Work Fancy Stitchable Brooch-without pin","price":250,"image":"BRCH0062A(1)-1652422440.jpg"},{"id":3376,"name":"Blue Silver Stone Work Fancy Flower Stitchable Brooch-without pin","price":250,"image":"BRCH0062B(1)-1652422509.jpg"},{"id":3381,"name":"Peacock Shape Fancy Designer Stitchable Brooch - Without Pin","price":200,"image":"BRCH0067(1)-1652423391.jpg"},{"id":3385,"name":"Grey Color Fancy Button","price":250,"image":"BRCH0071(1)-1652423805.jpg"},{"id":3390,"name":"Black Round Sequins Work Fancy Buttons","price":200,"image":"WBTN0115(1)-1652522782.jpg"},{"id":3391,"name":"White Rainbow Round Sequins Work Fancy Buttons","price":200,"image":"WBTN0115A(1)-1652522838.jpg"},{"id":3392,"name":"White Round Sequins Work Fancy Buttons","price":200,"image":"WBTN0115(3)-1652522875.jpg"},{"id":3393,"name":"Golden Round Sequins Work Fancy Buttons","price":200,"image":"WBTN0115C(1)-1652522949.jpg"},{"id":3396,"name":"Golden Color Spiral Print Buttons for Coat, Sherwani etc.","price":1750,"image":"MCBTN0085(1)-1652524501.jpg"},{"id":3401,"name":"Red Round Shape Fancy Buttons for Coats, Sherwani, etc.","price":1750,"image":"MCBTN0090(1)-1652524849.jpg"},{"id":3402,"name":"Blue White Round Shape Fancy Buttons for Coats, Sherwani, etc.","price":1750,"image":"MCBTN0091(1)-1652524891.jpg"},{"id":3403,"name":"Golden Stone Work Fancy Buckle for Cardigans, Belts, Bellies etc.","price":200,"image":"BUCL0071(1)-1652527594.jpg"},{"id":3406,"name":"Golden Round Shape Fancy Buckle","price":270,"image":"BUCL00100(1)-1679048351.jpg"},{"id":3407,"name":"Golden C Shape Stone Work Fancy Buckle","price":130,"image":"BUCL0075(1)-1652701165.jpg"},{"id":3408,"name":"Orange Color Printed Marble Beads","price":200,"image":"MRBD0027(1)-1652701742.jpg"},{"id":3409,"name":"Parrot Green Color Printed Marble Beads","price":200,"image":"MRBD0027A(1).jpg"},{"id":3410,"name":"Pink Color Printed Marble Beads","price":200,"image":"MRBD0027B(1).jpg"},{"id":3411,"name":"Voilet Color Printed Marble Beads","price":200,"image":"MRBD0027C(1).jpg"},{"id":3412,"name":"Dark Green Color Printed Marble Beads","price":200,"image":"MRBD0027D(1).jpg"},{"id":3413,"name":"Purple Color Printed Marble Beads","price":200,"image":"MRBD0027E(1).jpg"},{"id":3414,"name":"Red Color Printed Marble Beads","price":200,"image":"MRBD0027F(1).jpg"},{"id":3415,"name":"Yellow Color Printed Marble Beads","price":200,"image":"MRBD0027G(1).jpg"},{"id":3416,"name":"Blueish Green Color Printed Marble Beads","price":200,"image":"MRBD0027H(1)-1693632107.jpg"},{"id":3417,"name":"Blue Color Printed Marble Beads","price":200,"image":"MRBD0027I(1).jpg"},{"id":3418,"name":"Light Pink Color Printed Marble Beads","price":200,"image":"MRBD0027J(1)-1693632083.jpg"},{"id":3419,"name":"Maroon Color Printed Marble Beads","price":200,"image":"MRBD0027K(1).jpg"},{"id":3420,"name":"Brown Color Round Shape Coconut Buttons","price":130,"image":"WOBTN0032(1)-1652782833.jpg"},{"id":3422,"name":"Camel Color Round Shape Star Print Wooden Buttons","price":100,"image":"WOBTN0033(1).jpg"},{"id":3423,"name":"Light Brown Color Round Shape Printed Coconut Buttons","price":100,"image":"WOBTN0034(1).jpg"},{"id":3424,"name":"Light Brown Color Printed Round Shape Coconut Buttons","price":130,"image":"WOBTN0035(1).jpg"},{"id":3425,"name":"Camel Color Square Shape Printed Wooden Buttons","price":130,"image":"WOBTN0036(1).jpg"},{"id":3426,"name":"Light Brown Color Round Shape Star Printed Coconut Buttons","price":130,"image":"WOBTN0037(1).jpg"},{"id":3427,"name":"Camel Color Round Printed Wooden Buttons","price":100,"image":"WOBTN0038(1).jpg"},{"id":3428,"name":"Camel Color Round Printed Wooden Buttons","price":100,"image":"WOBTN0039(1).jpg"},{"id":3429,"name":"Camel Color Printed Round Shape Wooden Buttons","price":100,"image":"WOBTN0040(1).jpg"},{"id":3430,"name":"Camel Color Flower Printed Round Shape Wooden Buttons","price":100,"image":"WOBTN0041(1).jpg"},{"id":3431,"name":"Pink Color Printed Round Shape Wooden Buttons","price":100,"image":"WOBTN0042(1).jpg"},{"id":3432,"name":"Green Color Printed Round Shape Wooden Buttons","price":100,"image":"WOBTN0043(1).jpg"},{"id":3434,"name":" Rose Gold Round Metal Caps","price":380,"image":"HNCP0001(1).jpg"},{"id":3435,"name":" Rose Gold Square Shape Hanging Caps","price":380,"image":"HNCP0002(1).jpg"},{"id":3436,"name":" Rose Gold Color Bell Shape Hanging Caps","price":420,"image":"HNCP0003(1).jpg"},{"id":3437,"name":" Rose Gold Color Rectangle Shape Hanging Cap","price":500,"image":"HNCP0004(1).jpg"},{"id":3438,"name":" Rose Gold Bell Shape Hanging Cap","price":500,"image":"HNCP0005(1).jpg"},{"id":3439,"name":" Golden Color Rectangle Shape Hanging Caps","price":380,"image":"HNCP0006(1).jpg"},{"id":3441,"name":" Rose Gold Color Hanging Caps","price":420,"image":"HNCP0008(1).jpg"},{"id":3442,"name":"Light Camel Color Cylindrical shape Wooden Beads","price":330,"image":"WBD0012(1)-1653133572.jpg"},{"id":3444,"name":"Brown Color Wooden Beads","price":170,"image":"WBD0014(1)-1653134711.jpg"},{"id":3446,"name":"Camel Color Round Shape Wooden Beads","price":200,"image":"WBD0016(1)-1653299208.jpg"},{"id":3447,"name":"Black Color Oval Shape Wooden Beads","price":200,"image":"WBD0017(1)-1653299773.jpg"},{"id":3448,"name":"Camel Color Cubical Shape Wooden Beads","price":330,"image":"WBD0018(1)-1653301512.jpg"},{"id":3450,"name":"Mauve Color Flower Print Oval Wooden Beads","price":200,"image":"WBD0020(1)-1653380084.jpg"},{"id":3451,"name":"Red Color Oval Shape Wooden Beads","price":330,"image":"WBD0021(1)-1653380445.jpg"},{"id":3452,"name":"Coffee Brown Wooden Beads","price":330,"image":"WBD0022(1)-1653381227.jpg"},{"id":3453,"name":"Onion Color Round Shape Wooden Beads","price":170,"image":"WBD0023(1)-1653388187.jpg"},{"id":3454,"name":"Black Round Shape Wooden Beads","price":170,"image":"WBD0024(1)-1653388388.jpg"},{"id":3456,"name":"Brown Color Square Shape Wooden Beads","price":270,"image":"WBD0026(1)-1653389035.jpg"},{"id":3457,"name":"Light Camel Color Oval Shape Wooden Beads","price":170,"image":"WBD0027(1)-1653389264.jpg"},{"id":3458,"name":"Silver Color Fringes Lace","price":300,"image":"FRNG0012(1)-1653719900.jpg"},{"id":3460,"name":"Silver Color Fringes Lace - 1 inch","price":270,"image":"FRNG0014(1)-1653720140.jpg"},{"id":3461,"name":"Blue Golden Color Thread Work Lace","price":500,"image":"THBD0027(1)-1653720369.jpg"},{"id":3462,"name":"Brown Golden Color Thread Work Lace","price":500,"image":"THBD0027A(1)-1653720436.jpg"},{"id":3463,"name":"Pink Golden Color Thread Work Lace","price":500,"image":"THBD0027B(1)-1653720537.jpg"},{"id":3464,"name":"Grey Golden Color Thread Work Lace","price":500,"image":"THBD0027C(1)-1653720628.jpg"},{"id":3466,"name":"Dark Blue Golden Color Thread Work Lace","price":500,"image":"THBD0027E(1)-1653721276.jpg"},{"id":3507,"name":"Silver Color Triangular Shape Hanging Style Metal Buttons","price":180,"image":"WBTN0120(1)-1654172129.jpg"},{"id":3530,"name":"Dark Green Color Stone Work Drop Shape Fancy Buttons","price":180,"image":"WBTN0126(1)-1654513993.jpg"},{"id":3532,"name":"Light Blue Color Stone Work Drop Shape Fancy Buttons","price":180,"image":"WBTN0126B(1)-1654517704.jpg"},{"id":3533,"name":"Dark Blue Color Stone Work Drop Shape Fancy Buttons","price":180,"image":"WBTN0126C(1)-1654517735.jpg"},{"id":3534,"name":"Dark Peach Color Stone Work Drop Shape Fancy Buttons","price":180,"image":"WBTN0126D(1)-1654517757.jpg"},{"id":3535,"name":"Pastel Green Color Stone Work Drop Shape Fancy Buttons","price":180,"image":"WBTN0126E(1)-1654517776.jpg"},{"id":3536,"name":"Light Peach Color Stone Work Drop Shape Fancy Buttons","price":180,"image":"WBTN0126F(1)-1654579946.jpg"},{"id":3537,"name":"Baby Pink Color Stone Work Drop Shape Fancy Buttons","price":180,"image":"WBTN0126G(1)-1654580016.jpg"},{"id":3543,"name":"Silver Color with Orange Kinari Flower Chandi Gota Patti Patches For Embroidery, Decoration, Crafting etc.","price":250,"image":"GPT0067(1)-1654682949.jpg"},{"id":3544,"name":"Silver Color Flower Chandi Gota Patti Patches For Embroidery, Decoration, Crafting etc.","price":250,"image":"GPT0067A(1)-1654683363.jpg"},{"id":3545,"name":"Silver Color With Orange Kinari Flower Chandi Gota Patti Patch For Embroidery, Decoration, Crafting etc.","price":270,"image":"GPT0068(1)-1654683754.jpg"},{"id":3547,"name":"Dark Golden Silver Mix Flower Shape Chandi Gota Patti Patches For Embroidery, Decoration, Crafting etc.","price":270,"image":"GPT0069A(1)-1654686139.jpg"},{"id":3548,"name":"Silver Rose Gold Mix Flower Shape Chandi Gota Patti Patches For Embroidery, Decoration, Crafting etc.","price":270,"image":"GPT0069B(1)-1654686463.jpg"},{"id":3549,"name":"Silver Color Flower Shape Chandi Gota Patti Patches For Embroidery, Decoration, Crafting etc.","price":270,"image":"GPT0069C(1)-1654687633.jpg"},{"id":3550,"name":"Silver Yellow Mix Flower Shape Chandi Gota Patti Patches For Embroidery, Decoration, Crafting etc.","price":270,"image":"GPT0069D(1)-1654689019.jpg"},{"id":3551,"name":"Golden Star Shape Chandi Gota Patti Patches For Embroidery, Decoration, Crafting etc.","price":270,"image":"GPT0070(1)-1654760225.jpg"},{"id":3552,"name":"Silver Yellow Star Shape Gota Patti Patches For Embroidery, Decoration, Crafting etc.","price":270,"image":"GPT0070A(1)-1654760638.jpg"},{"id":3553,"name":"Silver Color Flower Shape Plastic Beads","price":210,"image":"PLSBD0062(1)-1655207618.jpg"},{"id":3554,"name":"Silver Color Round Shape Plastic Beads","price":210,"image":"PLSBD0063(1).jpg"},{"id":3555,"name":"Silver Color Assorted Shape Plastic Beads","price":210,"image":"PLSBD0064(1).jpg"},{"id":3556,"name":"Grey Metallic Color Drop Shape Plastic Stones","price":210,"image":"PLSBD0065(1).jpg"},{"id":3557,"name":"Silver Color Oval Shape Plastic Beads","price":170,"image":"PLSBD0066(1).jpg"},{"id":3559,"name":"Silver Color Round Ring Shape Plastic Beads","price":170,"image":"PLSBD0068(1).jpg"},{"id":3560,"name":"Silver Color Oval Shape Plastic Stones","price":170,"image":"PLSBD0069(1).jpg"},{"id":3561,"name":"Silver Color Round Ring Shape Printed Plastic Beads","price":210,"image":"PLSBD0070(1).jpg"},{"id":3562,"name":"Silver Color Square Shape Plastic Beads","price":210,"image":"PLSBD0071(1).jpg"},{"id":3563,"name":"Silver Color Assorted Shape Plastic Beads","price":170,"image":"PLSBD0072(1).jpg"},{"id":3564,"name":"Silver Color Square Shape Plastic Stones","price":170,"image":"PLSBD0073(1).jpg"},{"id":3565,"name":"Silver Color Cone Shape Plastic Beads","price":210,"image":"PLSBD0074(1).jpg"},{"id":3566,"name":"Silver Color Round Shape Plastic Stones","price":170,"image":"PLSBD0075(1).jpg"},{"id":3567,"name":"Silver Color Oval Shape Printed Plastic Beads","price":210,"image":"PLSBD0076(1).jpg"},{"id":3568,"name":"Silver Color Round Ring Shape Plastic Beads","price":170,"image":"PLSBD0077(1).jpg"},{"id":3569,"name":"Grey Metallic Color Oval Shape Plastic Stones","price":170,"image":"PLSBD0078(1).jpg"},{"id":3570,"name":"Silver Color Drop Shape Plastic Stones","price":170,"image":"PLSBD0079(1).jpg"},{"id":3571,"name":"Silver Color Square Shape Plastic Stones","price":170,"image":"PLSBD0080(1).jpg"},{"id":3572,"name":"Silver Color Round Shape Plastic Beads","price":170,"image":"PLSBD0081(1).jpg"},{"id":3573,"name":"Silver Color Square Shape Plastic Stones","price":330,"image":"PLSBD0082(1).jpg"},{"id":3574,"name":"Grey Metallic Color Rectangle Shape Plastic Stones","price":170,"image":"PLSBD0083(1).jpg"},{"id":3575,"name":"Silver Color Assorted Shape Plastic Beads","price":170,"image":"PLSBD0084(1).jpg"},{"id":3576,"name":"Silver Color Square Shape Plastic Beads","price":210,"image":"PLSBD0085(1).jpg"},{"id":3577,"name":"Silver Color Ghost Shape Plastic Beads","price":170,"image":"PLSBD0086(1).jpg"},{"id":3578,"name":"Silver Color Oval Shape Printed Plastic Beads","price":210,"image":"PLSBD0087(1).jpg"},{"id":3579,"name":"Silver Color Circular Shape Plastic Beads","price":210,"image":"PLSBD0088(1).jpg"},{"id":3580,"name":"Golden Stone Work Fancy Kurta Patti Button KURBT0027","price":100,"image":"KURBT0027(1)-1655711676.jpg"},{"id":3581,"name":"Golden Stone Work Fancy Kurta Patti Button KURBT0028","price":100,"image":"KURBT0028(1)-1655712906.jpg"},{"id":3583,"name":"Golden Stone and Pearl Work Fancy Kurta Patti Button KURBT0030","price":250,"image":"KURBT0030(1)-1655712967.jpg"},{"id":3584,"name":"Golden Stone Work Fancy Kurta Patti Button KURBT0031","price":100,"image":"KURBT0031(1)-1655713006.jpg"},{"id":3585,"name":"Golden Stone Work Fancy Kurta Patti Button KURBT0032","price":100,"image":"KURBT0032(1)-1655713035.jpg"},{"id":3586,"name":"Golden Stone Work Fancy Kurta Patti Button KURBT0033","price":100,"image":"KURBT0033(1)-1655713080.jpg"},{"id":3587,"name":"Golden Stone Work Fancy Kurta Patti Button KURBT0034","price":100,"image":"KURBT0034(1)-1655713107.jpg"},{"id":3588,"name":"Golden Stone Work Fancy Kurta Patti Button KURBT0035","price":100,"image":"KURBT0035(1)-1655713155.jpg"},{"id":3589,"name":"Golden Red Flower Stone Work Fancy Kurta Patti Button KURBT0036","price":170,"image":"KURBT0036(1)-1655713199.jpg"},{"id":3590,"name":"Golden Stone Work Fancy Kurta Patti Button KURBT0037","price":230,"image":"KURBT0037(1)-1655713230.jpg"},{"id":3591,"name":"Golden Stone Work Fancy Kurta Patti Button KURBT0038","price":250,"image":"KURBT0038(1)-1655713252.jpg"},{"id":3597,"name":"Green Color Stone and Pearl Beads Work Fancy Buttons ","price":170,"image":"WBTN0128E(1).jpg"},{"id":3599,"name":"Light Golden Color Round Shape Metal Buttons","price":280,"image":"WBTN0129(1).jpg"},{"id":3600,"name":"Black Color Round Shape Metal Buttons","price":280,"image":"WBTN0129A(1).jpg"},{"id":3601,"name":"Golden Brown Color Stone And Marble Work Metal Buttons","price":250,"image":"WBTN0130(1).jpg"},{"id":3602,"name":"Metallic Grey Color Stone And Marble Work Metal Buttons","price":250,"image":"WBTN0130A(1).jpg"},{"id":3603,"name":"Golden Color Stone And Marble Work Metal Buttons","price":280,"image":"WBTN0131(1).jpg"},{"id":3604,"name":"Black Golden Color Stone And Marble Work Metal Buttons","price":280,"image":"WBTN0131A(1).jpg"},{"id":3605,"name":"Multi Color Stone Work Hanging Style Fancy Buttons","price":170,"image":"WBTN0132(1).jpg"},{"id":3609,"name":"Baby Pink Crystal Stone Designer Fancy Button","price":300,"image":"WBTN0135(1).jpg"},{"id":3611,"name":"Golden Crystal Beads Work Flower Shape Fancy Ladies Buttons","price":300,"image":"WBTN0136(1).jpg"},{"id":3613,"name":"Peach Color Crystal Stone Work Fancy Ladies Buttons","price":300,"image":"WBTN0138(1).jpg"},{"id":3615,"name":"Golden Color Stone Work Flower Shape Fancy Button","price":420,"image":"WBTN0139A(1).jpg"},{"id":3619,"name":"Golden Oval Shape Stone And Pearl Work Fancy Buttons","price":250,"image":"WBTN0142(1).jpg"},{"id":3625,"name":"Silver Flower Shape Mirror Buttons","price":210,"image":"WBTN0147(1).jpg"},{"id":3626,"name":"Silver Round Shape Mirror Button For Ladies Suits and Dresses","price":250,"image":"WBTN0148(1).jpg"},{"id":3629,"name":"Grey Color Square Shape Korean Print Metal Buttons","price":210,"image":"WBTN0149B(1).jpg"},{"id":3630,"name":"Carrot Color Square Shape Korean Print Metal Buttons","price":210,"image":"WBTN0149C(1).jpg"},{"id":3631,"name":"Black Color Square Shape Korean Print Metal Buttons","price":210,"image":"WBTN0149D(1).jpg"},{"id":3644,"name":"Dark Golden Color Flower Shape Stone Work Buttons","price":290,"image":"WBTN0151(1).jpg"},{"id":3645,"name":"Light Golden Color Flower Shape Stone Work Buttons","price":290,"image":"WBTN0151A(1).jpg"},{"id":3647,"name":"Dark Golden Color Stone Work Buttons","price":210,"image":"WBTN0152(1).jpg"},{"id":3648,"name":"Silver Color Stone Work Buttons","price":250,"image":"WBTN0152A(1).jpg"},{"id":3650,"name":"Silver Color Leaf Shape Stone Work Fancy Patch","price":170,"image":"PATF0065A(1).jpg"},{"id":3653,"name":"Peach Color Leaf Shape Stone Work Fancy Patch","price":170,"image":"PATF0065D(1).jpg"},{"id":3654,"name":"Grey Color Stone Work Fancy Patch","price":250,"image":"PATF0066(1).jpg"},{"id":3655,"name":"Peach Color Stone Work Fancy Patch","price":300,"image":"PATF0066A(1).jpg"},{"id":3656,"name":"Dark Golden Color Stone Work Fancy Patch","price":250,"image":"PATF0066B(1).jpg"},{"id":3657,"name":"Silver Color Stone Work Fancy Patch","price":250,"image":"PATF0066C(1).jpg"},{"id":3658,"name":"Peach Color Designer Oavl Shape Stone Work Fancy Buckle","price":160,"image":"BUCL0065D(1)-1668584330.jpg"},{"id":3659,"name":"Grey Color Designer Square Stone Work Fancy Buckle","price":210,"image":"BUCL0069H(1)-1656670292.jpg"},{"id":3666,"name":"Yellow Color Marble Beads","price":200,"image":"MRBD0028F(1).jpg"},{"id":3668,"name":"Red Color Marble Beads","price":200,"image":"MRBD0028H(1).jpg"},{"id":3671,"name":"Golden Color Round Shape loop Hole Shirt Buttons","price":250,"image":"SHBTN0011(1)-1658223197.jpg"},{"id":3672,"name":"Silver Color Round Shape Loop Hole Shirt Buttons","price":250,"image":"SHBTN0011A(1)-1658227849.jpg"},{"id":3673,"name":"Golden Color Round Shape Loop Hole Embossed Shirt Buttons","price":200,"image":"SHBTN0012(1)-1658227917.jpg"},{"id":3674,"name":"Silver Color Round Shape Loop Hole Embossed Shirt Buttons","price":200,"image":"SHBTN0012A(1)-1658229211.jpg"},{"id":3675,"name":"Golden Color Round Shape Loop Hole Shirt Buttons","price":250,"image":"SHBTN0013(1)-1658229277.jpg"},{"id":3676,"name":"Metallic Grey Color Round Shape Loop Hole Shirt Buttons","price":250,"image":"SHBTN0013A(1)-1658229326.jpg"},{"id":3677,"name":"Golden Mehandi Polish Round Shape Loop Hole Shirt Buttons","price":250,"image":"SHBTN0014(1)-1658229363.jpg"},{"id":3678,"name":"Golden Black Color Round Shape Loop Hole Shirt Buttons","price":250,"image":"SHBTN0015(1)-1658229393.jpg"},{"id":3679,"name":"Black Golden Color Round Shape Loop Hole Flower Printed Shirt Buttons","price":250,"image":"SHBTN0016(1)-1658229432.jpg"},{"id":3680,"name":"Black Silver Color Round Shape Loop Hole Flower Printed Shirt Buttons","price":250,"image":"SHBTN0016B(1)-1658229454.jpg"},{"id":3681,"name":"Silver Color Round Shape Loop Hole Stone Work Shirt Buttons","price":280,"image":"SHBTN0017(1)-1658229475.jpg"},{"id":3682,"name":"Golden Color Round Shape Loop Hole Stone Work Shirt Buttons","price":280,"image":"SHBTN0017A(1)-1658229491.jpg"},{"id":3683,"name":"Silver Color Round Shape Loop Hole Shirt Buttons With Stone","price":280,"image":"SHBTN0018(1)-1658229510.jpg"},{"id":3684,"name":"Matte Golden Color Round Shape Loop Hole Shirt Buttons With Stone","price":280,"image":"SHBTN0018A(1)-1658229528.jpg"},{"id":3686,"name":"White Golden Doll Shape Pendant \/ Charm","price":250,"image":"CHARM0098(1)-1658306139.jpg"},{"id":3688,"name":"Golden Color Flower shape Metal Charms","price":370,"image":"CHARM00100(1)-1-1658313567.jpg"},{"id":3689,"name":"Silver Hanging Bird Designer Metal charms","price":250,"image":"CHARM0114(1)-1680163929.jpg"},{"id":3691,"name":"Golden Mehandi Polish Round Metal Charms","price":370,"image":"CHARM00103(1)-1658319040.jpg"},{"id":3692,"name":"Golden Leaf Shape metal Charms For Jewllery Making","price":370,"image":"CHARM00105(1)-1658399870.jpg"},{"id":3695,"name":"Golden Round Shape Mehandi Polish Metal Charms","price":370,"image":"CHARM00108(1)-1-1658400947.jpg"},{"id":3696,"name":"Golden Mehandi Polish Assorted Metal Charms","price":370,"image":"CHARM00109(1)-1-1658401257.jpg"},{"id":3697,"name":"Golden Mehandi Polish Maple Leaf Shape Metal Charms","price":370,"image":"CHARM00110(1)-1-1658401413.jpg"},{"id":3700,"name":"Golden Color Coin Charms","price":370,"image":"CHARM0113(1)-1658404010.jpg"},{"id":3701,"name":"White Color Pastel Shade Dyeable GPO Lace","price":1500,"image":"GPO0031(1)-1658404457.jpg"},{"id":3702,"name":"White Color Pastel Shade Dyeable GPO Connector Lace","price":540,"image":"GPO0032(1)-1658404696.jpg"},{"id":3703,"name":"White Color Pastel Shade Dyeable Fringes GPO Lace","price":1650,"image":"GPO0033(1)-1658470625.jpg"},{"id":3704,"name":"Flower Design White Color Pastel Shade Dyeable GPO Lace","price":950,"image":"GPO0034(1)-1658471484.jpg"},{"id":3705,"name":"White Color Pastel Shade Dyeable Flower GPO Lace","price":1630,"image":"GPO0035(1)-1658478925.jpg"},{"id":3706,"name":"White Color Cut Work Design Light Shades Dyeable GPO Lace","price":2290,"image":"GPO0036(1)-1658483116.jpg"},{"id":3707,"name":"White Color Light Shade Dyeable Cutwork GPO Lace","price":1500,"image":"GPO0037(1)-1658483452.jpg"},{"id":3710,"name":"White color Light Shade Dyeable Fringes GPO Laces","price":950,"image":"GPO0040(1)-1658490021.jpg"},{"id":3711,"name":"White Flower Light Shade Dyeable GPO Lace","price":1630,"image":"GPO0041(1)-1658489942.jpg"},{"id":3712,"name":"Silver Color Stone Work Fancy Frog Button","price":180,"image":"WBTN0153(1)-1658557983.jpg"},{"id":3717,"name":"Red Color Stone Work Belt Metal Patch","price":210,"image":"PATF0067D(1)-1658728878.jpg"},{"id":3719,"name":"Wine Color Stone Work Belt Metal Patch","price":210,"image":"PATF0067F(1)-1658728924.jpg"},{"id":3721,"name":"Peach Color Stone Work Belt Metal Patch","price":210,"image":"PATF0067H(1)-1658728962.jpg"},{"id":3722,"name":"Grey Color Stone Work Belt Metal Patch","price":210,"image":"PATF0067I(1)-1658728983.jpg"},{"id":3725,"name":"Golden Round Shape Metal Buckle","price":270,"image":"BUCL0078(1)-1658830360.jpg"},{"id":3726,"name":"Dark Golden Metal G-Shape Buckle","price":130,"image":"BUCL0079(1)-1658830739.jpg"},{"id":3727,"name":"Golden Color Stone Work Fancy Buckle","price":290,"image":"BUCL0080(1)-1658830981.jpg"},{"id":3729,"name":"Golden Round Shape Stone Work Buckle","price":270,"image":"BUCL0099(1)-1679048151.jpg"},{"id":3730,"name":"Golden Stone Shape Fancy Buckle","price":270,"image":"BUCL0083(1)-1658832538.jpg"},{"id":3731,"name":"Golden Color Metal Buckle","price":210,"image":"BUCL0084(1)-1658832693.jpg"},{"id":3732,"name":"Golden Color GUCOI Metal Embellishment","price":230,"image":"BUCL0085(1)-1658833670.jpg"},{"id":3734,"name":"Golden Color Chain Style Two Ring Metal Buckle","price":210,"image":"BUCL0087(1)-1658834061.jpg"},{"id":3735,"name":"Golden Color Rectangular Rings Metal Buckle","price":170,"image":"BUCL00101(1)-1681889559.jpg"},{"id":3737,"name":"Golden Color Flower Shape Stone Work Fancy Buttons","price":460,"image":"WBTN0154A(1)-1658909096.jpg"},{"id":3747,"name":"Golden Color Crystal Round Shape Love Fancy Buttons","price":460,"image":"WBTN0158(1)-1658924088.jpg"},{"id":3748,"name":"Golden Color Oval Shape Stone Buckle","price":330,"image":"BUCL0089(1)-1659008554.jpg"},{"id":3749,"name":"Silver Color Oval Shape Stone Buckle","price":330,"image":"BUCL0089A(1)-1659008743.jpg"},{"id":3750,"name":"Metallic Grey Color Oval Shape Stone Buckle","price":330,"image":"BUCL0089B(1)-1659008871.jpg"},{"id":3751,"name":"Metallic Grey Color Round Shape Stone Buckle","price":330,"image":"BUCL0090(1)-1659009059.jpg"},{"id":3752,"name":"Golden Color Round Shape Stone Buckle","price":330,"image":"BUCL0090A(2)-1659009194.jpg"},{"id":3753,"name":"Silver Color Round Shape Stone Buckle","price":330,"image":"BUCL0090B(2)-1659009300.jpg"},{"id":3754,"name":"Peach Color Flower Shape Stone Work Fancy Patch\/Appliques","price":230,"image":"PATF0068(1)-1659338343.jpg"},{"id":3757,"name":"Grey Color Rhinestone Work Fancy Patch\/Appliques","price":210,"image":"PATF0069(1)-1659348336.jpg"},{"id":3758,"name":"Peach Color Rhinestone Work Fancy Patch\/Appliques","price":210,"image":"PATF0069A(1)-1659348355.jpg"},{"id":3759,"name":"Dark Golden Color Rhinestone Work Fancy Patch\/Appliques","price":210,"image":"PATF0069B(1)-1659348390.jpg"},{"id":3760,"name":"Grey Color Rhinestone Work Fancy Patch\/Appliques - Design 1","price":200,"image":"PATF0070(1)-1659348428.jpg"},{"id":3761,"name":"Dark Golden Color Rhinestone Work Fancy Patch\/Appliques - Design 1","price":200,"image":"PATF0070A(1)-1659348449.jpg"},{"id":3762,"name":"Silver Color Rhinestone Work Fancy Patch\/Appliques - Design 1","price":200,"image":"PATF0070B(1)-1659348475.jpg"},{"id":3763,"name":"Peach Color Rhinestone Work Fancy Patch\/Appliques - Design 1","price":200,"image":"PATF0070C(1)-1659348494.jpg"},{"id":3764,"name":"Grey Color Four Petal Flower Shape Rhinestone Work Fancy Patch\/Appliques","price":320,"image":"PATF0071(1)-1659348566.jpg"},{"id":3766,"name":"Peach Color Four Petal Flower Shape Rhinestone Work Fancy Patch\/Appliques","price":320,"image":"PATF0071B(1)-1659348629.jpg"},{"id":3767,"name":"Dark Golden Color Four Petal Flower Shape Rhinestone Work Fancy Patch\/Appliques","price":320,"image":"PATF0071C(1)-1659348661.jpg"},{"id":3768,"name":"Grey Color Rhinestone Work Fancy Patch\/Appliques - Design 2","price":200,"image":"PATF0072(1)-1659348690.jpg"},{"id":3769,"name":"Dark Golden Color Rhinestone Work Fancy Patch\/Appliques - Design 2","price":200,"image":"PATF0072A(1)-1659348710.jpg"},{"id":3770,"name":"Silver Color Rhinestone Work Fancy Patch\/Appliques - Design 2","price":200,"image":"PATF0072B(1)-1659348728.jpg"},{"id":3771,"name":"Peach Color Rhinestone Work Fancy Patch\/Appliques - Design 2","price":200,"image":"PATF0072C(1)-1659348752.jpg"},{"id":3772,"name":"Grey Color Rhinestone Work Tilted Petals Flower Shape Fancy Patch\/Appliques","price":210,"image":"PATF0073(1)-1659349194.jpg"},{"id":3773,"name":"Peach Color Rhinestone Work Tilted Petals Flower Shape Fancy Patch\/Appliques","price":210,"image":"PATF0073A(1)-1659349214.jpg"},{"id":3774,"name":"Dark Golden Color Rhinestone Work Tilted Petals Flower Shape Fancy Patch\/Appliques","price":210,"image":"PATF0073B(1)-1659349235.jpg"},{"id":3775,"name":"Grey Color Rhinestone Work Fancy Patch\/Appliques - Design 3","price":230,"image":"PATF0074(1)-1659349368.jpg"},{"id":3776,"name":"Dark Golden Color Rhinestone Work Fancy Patch\/Appliques - Design 3","price":230,"image":"PATF0074A(1)-1659349390.jpg"},{"id":3777,"name":"Peach Color Rhinestone Work Fancy Patch\/Appliques - Design 3","price":230,"image":"PATF0074B(1)-1659349411.jpg"},{"id":3778,"name":"Grey Color Rhinestone Work Fancy Patch\/Appliques - Design 4","price":170,"image":"PATF0075(1)-1659349431.jpg"},{"id":3781,"name":"Grey Color Rhinestone Work Fancy Patch\/Appliques - Design 5","price":210,"image":"PATF0076(1)-1659349503.jpg"},{"id":3782,"name":"Silver Color Rhinestone Work Fancy Patch\/Appliques - Design 5","price":210,"image":"PATF0076B(1)-1659349525.jpg"},{"id":3783,"name":"Dark Golden Color Rhinestone Work Fancy Patch\/Appliques - Design 5","price":210,"image":"PATF0076C(1)-1659349557.jpg"},{"id":3785,"name":"Grey Color Rhinestone Work Fancy Patch\/Appliques - Design 6","price":230,"image":"PATF0077(1)-1659349620.jpg"},{"id":3786,"name":"Peach Color Rhinestone Work Fancy Patch\/Appliques - Design 6","price":230,"image":"PATF0077A(1)-1659349643.jpg"},{"id":3788,"name":"Peach Color Rhinestone Work Single Line Belt Patches\/Applique","price":210,"image":"PATF0078A(1)-1659349733.jpg"},{"id":3791,"name":"Dark Golden Color Rhinestone Work Fancy Patch\/Appliques - Design 7","price":220,"image":"PATF0079(1)-1659349798.jpg"},{"id":3792,"name":"Grey Color Rhinestone Work Fancy Patch\/Appliques - Design 7","price":220,"image":"PATF0079A(1)-1659349826.jpg"},{"id":3793,"name":"Peach Color Rhinestone Work Fancy Patch\/Appliques - Design 7","price":220,"image":"PATF0079B(1)-1659349844.jpg"},{"id":3794,"name":"Light Pink Color Stone Belt Metal Fancy Patch","price":330,"image":"PATF0067A(1)-1659521918.jpg"},{"id":3795,"name":"Maroon Color Stone Belt Metal Patch","price":330,"image":"PATF0067C(1)-1659522133.jpg"},{"id":3796,"name":"Red Color Stone Belt Metal Patch","price":330,"image":"PATF0067D(1)-1659522580.jpg"},{"id":3798,"name":"Peach Color Stone Belt Metal Patch","price":330,"image":"PATF0067H(1)-1659522799.jpg"},{"id":3799,"name":"Grey Color Stone Belt Metal Patch","price":330,"image":"PATF0067I(1)-1659523615.jpg"},{"id":3800,"name":"Blue Color Stone Belt Metal Patch","price":330,"image":"PATF0068(1)-1659523714.jpg"},{"id":3801,"name":"Silver Rainbow Color Stone Belt Metal Patch","price":330,"image":"PATF0068A(1)-1659523833.jpg"},{"id":3819,"name":"Golden Color Fancy Hotfix Mirror Stripes","price":270,"image":"MRR0015B(2).jpg"},{"id":3820,"name":"Peach Color Fancy Hotfix Mirror Stripes","price":270,"image":"MRR0015C(2).jpg"},{"id":3821,"name":"Copper Color Fancy Hotfix Mirror Stripes","price":270,"image":"MRR0015D(2).jpg"},{"id":3822,"name":"Black Color Hotfix Mirror Stripes ","price":290,"image":"MRR0016(1).jpg"},{"id":3823,"name":"Pink Color Hotfix Mirror Stripes","price":290,"image":"MRR0016A(1).jpg"},{"id":3824,"name":"Copper Color Hotfix Mirror Stripes ","price":290,"image":"MRR0016B(1).jpg"},{"id":3825,"name":"Golden Color Hotfix Mirror Stripes ","price":290,"image":"MRR0016C(1).jpg"},{"id":3826,"name":"Peach Color Hotfix Mirror Stripes ","price":290,"image":"MRR0016D(1).jpg"},{"id":3827,"name":"Silver Color Hotfix Mirror Stripes","price":290,"image":"MRR0016E(1).jpg"},{"id":3828,"name":"Black Color Stone Work Fancy Buttons for Suits, Dresses etc.","price":290,"image":"WBTN0161(1)-1660041778.jpg"},{"id":3829,"name":"Aqua Green Color Stone Work Fancy Buttons for Suits, Dresses etc.","price":290,"image":"WBTN0161A(1).jpg"},{"id":3830,"name":"Mauve Color Stone Work Fancy Buttons for Suits, Dresses etc.","price":290,"image":"WBTN0161B(1).jpg"},{"id":3831,"name":"Maroon Color Stone Work Fancy Buttons for Suits, Dresses etc.","price":290,"image":"WBTN0161C(1).jpg"},{"id":3832,"name":"Light Green Color Stone Work Fancy Buttons for Suits, Dresses etc.","price":290,"image":"WBTN0161D(1).jpg"},{"id":3833,"name":"Orange Color Stone Work Fancy Buttons for Suits, Dresses etc.","price":290,"image":"WBTN0161E(1).jpg"},{"id":3834,"name":"Grey Color Stone Work Fancy Buttons for Suits, Dresses etc.","price":290,"image":"WBTN0161F(1).jpg"},{"id":3835,"name":"Golden Color Round Stone Work Pearl Buttons","price":330,"image":"WBTN0162(1).jpg"},{"id":3840,"name":"Golden Color Round Shape Metal Coat Buttons For Blazers, Coats etc.","price":680,"image":"MCBTN0092(1)-1660120285.jpg"},{"id":3842,"name":"Antique Color Round Shape Metal Coat Buttons For Blazers, Coats etc.","price":680,"image":"MCBTN0094(1).jpg"},{"id":3843,"name":"White Color Flower Design Round Shape Metal Coat Buttons For Blazers, Coats etc.","price":680,"image":"MCBTN0095(1).jpg"},{"id":3844,"name":"Black Color Flower Design Round Shape Metal Coat Buttons For Blazers, Coats etc.","price":680,"image":"MCBTN0095A(1).jpg"},{"id":3845,"name":"White Color Round Shape Metal Coat Buttons For Blazers, Coats etc.","price":680,"image":"MCBTN0096(1).jpg"},{"id":3846,"name":"Black Color Matte Finish Round Shape Metal Coat Buttons For Blazers, Coats etc.","price":680,"image":"MCBTN0097(1).jpg"},{"id":3847,"name":"Golden Color Round Shape Metal Coat Buttons For Blazers, Coats etc.","price":680,"image":"MCBTN0098(1).jpg"},{"id":3848,"name":"Golden Color Round Shape Metal Coat Buttons For Blazers, Coats etc.","price":680,"image":"MCBTN0099(1).jpg"},{"id":3849,"name":"Golden Color Wings Embossed With Crown Round Shape Metal Coat Buttons For Blazers, Coats etc.","price":680,"image":"MCBTN0100(1).jpg"},{"id":3850,"name":"Golden Color Round Metal Coat Buttons For Blazers, Coats etc.","price":680,"image":"MCBTN0101(1).jpg"},{"id":3851,"name":"White Golden Round Shape Metal Coat Buttons For Blazers, Coats etc.","price":680,"image":"MCBTN0102(1).jpg"},{"id":3852,"name":"Golden Color Round Shape Stone Work Metal Coat Buttons For Blazers, Coats etc.","price":980,"image":"MCBTN00103(1).jpg"},{"id":3855,"name":"Blue Golden Color Round Shape Metal Coat Buttons For Blazers, Coats etc.","price":680,"image":"MCBTN00104(1).jpg"},{"id":3857,"name":"Copper Color Round Shape Metal Coat Buttons For Blazers, Coats etc.","price":680,"image":"MCBTN00106(1).jpg"},{"id":3858,"name":"Grey Color Round Shape Metal Coat Buttons For Blazers, Coats etc.","price":680,"image":"MCBTN00106A(1).jpg"},{"id":3859,"name":"Green Color Round Shape Metal Coat Buttons For Blazers, Coats etc.","price":680,"image":"MCBTN00106B(1).jpg"},{"id":3861,"name":"Blue Color Round Shape Metal Coat Buttons For Blazers, Coats etc.","price":680,"image":"MCBTN00106D(1).jpg"},{"id":3864,"name":"Light Golden Color Stone Work Fancy Patch","price":250,"image":"PATF0066D(1)-1661247314.jpg"},{"id":3867,"name":"Golden Mehandi Polish Octagonal Kundan Buttons","price":250,"image":"WBTN0167(1)-1661771193.jpg"},{"id":3869,"name":"Golden Mehandi Polish Octagonal Kundan Buttons","price":330,"image":"WBTN0165(1)-1661773123.jpg"},{"id":3870,"name":"Golden Oval Kundan Buttons","price":250,"image":"WBTN0164(1)-1661773605.jpg"},{"id":3871,"name":"Golden Oval Kundan Buttons","price":290,"image":"WBTN0163(1)-1661774194.jpg"},{"id":3872,"name":"Golden Black Stone Embellished Oval Button","price":300,"image":"WBTN0168(1).jpg"},{"id":3873,"name":"Silver Stone Embellished Oval Button","price":300,"image":"WBTN0168A(1).jpg"},{"id":3876,"name":"Red Stone Embellished Oval Button","price":300,"image":"WBTN0168D(1).jpg"},{"id":3878,"name":"Dark Golden Stone Embellished Oval Button","price":300,"image":"WBTN0168F(1).jpg"},{"id":3879,"name":"Emerald Green Stone Embellished Oval Button","price":300,"image":"WBTN0168G(1).jpg"},{"id":3881,"name":"Royal Blue Stone Embellished Oval Button","price":300,"image":"WBTN0168I(1).jpg"},{"id":3882,"name":"Off-White Color Textured Dome Pearl Buttons","price":330,"image":"PRLBTN0001(1)-1661853715.jpg"},{"id":3883,"name":"Off-White Color Dome Shape Pearl Buttons - 10mm and 12mm","price":200,"image":"PRLBTN0002(1)-1661854742.jpg"},{"id":3884,"name":"White Color Semi Circle Shape Pearl Button - 10mm and 12 mm","price":500,"image":"PRLBTN0003(1)-1661855349.jpg"},{"id":3886,"name":"Off-White Color Golden Flower Pearl Buttons","price":330,"image":"PRLBTN0004(1)-1661928527.jpg"},{"id":3887,"name":"Off-White Color Golden Flower Pearl Buttons-12 mm","price":280,"image":"PRLBTN0005(1)-1661928844.jpg"},{"id":3888,"name":"Off-White Color With Center Stone Pearl Button","price":330,"image":"PRLBTN0006(1)-1661929090.jpg"},{"id":3889,"name":"White Color Drop Shape Pearl Buttons","price":265,"image":"PRLBTN00067(1)-1661929653.jpg"},{"id":3891,"name":"Off-White Color With Outer Silver Metal Coating Pearl Button","price":200,"image":"PRLBTN00069(1)-1661930042.jpg"},{"id":3894,"name":"Red Flower Shape Kundan Buttons","price":180,"image":"WBTN0169B(1).jpg"},{"id":3896,"name":"Yellowish Orange Flower Shape Kundan Buttons","price":180,"image":"WBTN0169D(1).jpg"},{"id":3898,"name":"Light Green Flower Shape Kundan Buttons","price":180,"image":"WBTN0169F(1).jpg"},{"id":3899,"name":"White Flower Shape Kundan Buttons","price":180,"image":"WBTN0169G(1).jpg"},{"id":3901,"name":"Aqua Green Flower Shape Kundan Buttons","price":180,"image":"WBTN0169I(1).jpg"},{"id":3902,"name":"Dark Pink Flower Shape Kundan Buttons","price":180,"image":"WBTN0169J(1).jpg"},{"id":3904,"name":"Lavender Flower Shape Kundan Buttons","price":180,"image":"WBTN0169L(1).jpg"},{"id":3905,"name":"Ferozi Blue Flower Shape Kundan Buttons","price":180,"image":"WBTN0169M(1).jpg"},{"id":3907,"name":"Pastel Multi Color Flower Shape Kundan Buttons","price":180,"image":"WBTN0169O(1).jpg"},{"id":3908,"name":"Multi Color Flower Shape Kundan Buttons","price":180,"image":"WBTN0169P(1).jpg"},{"id":3909,"name":"Light Peach Flower Shape Kundan Buttons","price":180,"image":"WBTN0169Q(1).jpg"},{"id":3910,"name":"Magenta Flower Shape Kundan Buttons","price":180,"image":"WBTN0169R(1).jpg"},{"id":3911,"name":"Black Color Triangular Shape Kundan Buttons","price":370,"image":"WBTN0170(1).jpg"},{"id":3912,"name":"Yellow Color Triangular Shape Kundan Buttons","price":370,"image":"WBTN0170A(1).jpg"},{"id":3914,"name":"Multi Color Triangular Shape Kundan Buttons","price":370,"image":"WBTN0170C(1).jpg"},{"id":3915,"name":"Red Color Triangular Shape Kundan Buttons","price":999999.98999999999068677425384521484375,"image":"WBTN0170D(1).jpg"},{"id":3917,"name":"Pastel Multi Color Triangular Shape Kundan Buttons","price":370,"image":"WBTN0170F(1)-1-1663659487.jpg"},{"id":3918,"name":"Dark Green Color Triangular Shape Kundan Buttons","price":370,"image":"WBTN0170G(1).jpg"},{"id":3919,"name":"Beige Color Triangular Shape Kundan Buttons","price":370,"image":"WBTN0170H(1).jpg"},{"id":3920,"name":"Blue Color Triangular Shape Kundan Buttons","price":180,"image":"WBTN0170I(1).jpg"},{"id":3921,"name":"White Color Triangular Shape Kundan Buttons","price":180,"image":"WBTN0170J(1).jpg"},{"id":3922,"name":"Grey Color Triangular Shape Kundan Buttons","price":180,"image":"WBTN0170K(1).jpg"},{"id":3925,"name":"Pastel Green Color Triangular Shape Kundan Buttons","price":370,"image":"WBTN0170N(1).jpg"},{"id":3928,"name":"Golden Silver color crush fringes kiran lace for dupattas","price":470,"image":"FRNG0009B(1)-1662550460.jpg"},{"id":3929,"name":"Yellowish Golden color crush fringes kiran lace for dupattas","price":470,"image":"FRNG0009D(1)-1662551375.jpg"},{"id":3930,"name":"Rose Gold color crush fringes kiran lace for dupattas","price":300,"image":"FRNG0009C(1)-1662622946.jpg"},{"id":3931,"name":"Rose Gold Color Zari Jhalar Fringe Lace Border for Bridal Dresses, Sarees, Lehengas, Decoration, Bag and Designing Embellishment Crafts","price":380,"image":"FRNG0015B(1)-1662625984.jpg"},{"id":3932,"name":"Silver Color Zari Jhalar Fringe Lace Border for Bridal Dresses, Sarees, Lehengas, Decoration, Bag and Designing Embellishment Crafts","price":270,"image":"FRNG0015A(1)-1662626828.jpg"},{"id":3934,"name":"Antique Golden Color Zari Jhalar Fringe Lace Border for Bridal Dresses, Sarees, Lehengas, Decoration, Bag and Designing Embellishment Crafts","price":210,"image":"FRNG0016(1)-1662631068.jpg"},{"id":3937,"name":"Metallic Light Golden Badla Fringe Lace Trim, Golden Fringe, Tassel Trims","price":300,"image":"FRNG0017A(1)-1662634466.jpg"},{"id":3944,"name":"Pastel Multi Color Rounded Triangle Design Zari Lace","price":350,"image":"ZRBD0037(1)-1662797907.jpg"},{"id":3945,"name":"Dull Golden Color Rounded Triangle Design Zari Lace","price":350,"image":"ZRBD0037A(1).jpg"},{"id":3946,"name":"Multi Color Rounded Triangle Design Zari Lace","price":350,"image":"ZRBD0037B(1).jpg"},{"id":3947,"name":"Light Golden Color Rounded Triangle Design Zari Lace","price":350,"image":"ZRBD0037C(1).jpg"},{"id":3948,"name":"Antique Golden Color Rounded Triangle Design Zari Lace","price":350,"image":"ZRBD0037D(1).jpg"},{"id":3949,"name":"Silver Color Rounded Triangle Design Zari Lace","price":350,"image":"ZRBD0037E(1).jpg"},{"id":3950,"name":"Multi Color Samosa Pattern Triangle Design Printed Gota Lace GTLC0022","price":420,"image":"GTLC0022(1).jpg"},{"id":3951,"name":"Golden Color Frill Design Gota Lace for Dupatta, Sarre, Suits, Decoration etc GTLC0023","price":230,"image":"GTLC0023(1).jpg"},{"id":3952,"name":"Light Golden Color Frill Design Gota Lace for Dupatta, Sarre, Suits, Decoration etc GTLC0023A","price":230,"image":"GTLC0023A(1).jpg"},{"id":3953,"name":"Silver Color Frill Design Gota Lace for Dupatta, Sarre, Suits, Decoration etc GTLC0023B","price":230,"image":"GTLC0023B(1).jpg"},{"id":3954,"name":"Medium Golden Color Frill Design Gota Lace for Dupatta, Sarre, Suits, Decoration etc GTLC0023C","price":230,"image":"GTLC0023C(1).jpg"},{"id":3955,"name":"Pearl Matte Golden Color Frill Design Gota Lace for Dupatta, Sarre, Suits, Decoration etc GTLC0023D","price":230,"image":"GTLC0023D(1).jpg"},{"id":3957,"name":"Dull Golden Color Pankh Lace with Sequins and Zari Work ZRBD0038A","price":320,"image":"ZRBD0038A(1).jpg"},{"id":3959,"name":"Rose Gold Color Sequence Mirror Hanging Lace Border, Jhalar, Fringe for Dress, Saree, Lehenga, Dupatta, Bag, Craft and Decorations FRNG0024A","price":270,"image":"FRNG0024A(1).jpg"},{"id":3964,"name":"Light Golden Color Pearl Bead Work Narrow Lace for dupatta, suits, decoration, etc BDLC0005","price":370,"image":"BDLC0005A(1).jpg"},{"id":3966,"name":"Light Brown Round Wooden Buttons for Cardigans, Sweaters, DIY, Craft","price":170,"image":"WOBTN0045(1)-1663316829.jpg"},{"id":3968,"name":"Skin Round Wooden Buttons for Cardigans, Sweaters, DIY, Craft","price":170,"image":"WOBTN0046(1)-1663317537.jpg"},{"id":3969,"name":"Dark Brown Round Wooden Buttons for Cardigans, Sweaters, DIY, Craft","price":170,"image":"WOBTN0046A(1)-1663321151.jpg"},{"id":3970,"name":"Brown Round Wooden Buttons or Cardigans, Sweaters, DIY, Craft","price":170,"image":"WOBTN0047(1)-1663322233.jpg"},{"id":3971,"name":"Natural Brown Round Wooden Buttons For Cardigans, Sweaters, DIY, Craft","price":170,"image":"WOBTN0048(1)-1663322546.jpg"},{"id":3976,"name":"Magenta Pink Octagonal Shape Stone Work Button","price":210,"image":"WBTN0171(1)-1664191214.jpg"},{"id":3977,"name":"Peach Octagonal Shape Stone Work Button","price":210,"image":"WBTN0171(1)A.jpg"},{"id":3978,"name":"Black Octagonal Shape Stone Work Button","price":210,"image":"WBTN0171(1)B.jpg"},{"id":3980,"name":"Bottle Green Octagonal Shape Stone Work Button","price":210,"image":"WBTN0171(1)D.jpg"},{"id":3981,"name":"Red Octagonal Shape Stone Work Button","price":210,"image":"WBTN0171(1)E.jpg"},{"id":3982,"name":"Off-White Octagonal Shape Stone Work Button","price":210,"image":"WBTN0171(1)F.jpg"},{"id":3983,"name":"Golden Octagonal Shape Stone Work Button","price":210,"image":"WBTN0171(1)G.jpg"},{"id":3987,"name":"Light Blue Square Shape Stone Work Kundan Button","price":330,"image":"WBTN0172C(1).jpg"},{"id":3988,"name":"Off-White Square Shape Stone Work Kundan Button","price":330,"image":"WBTN0172D(1).jpg"},{"id":3989,"name":"Yellow Square Shape Stone Work Kundan Button","price":330,"image":"WBTN0172E(1).jpg"},{"id":3990,"name":"Maroon Square Shape Stone Work Kundan Button","price":330,"image":"WBTN0172F(1).jpg"},{"id":3996,"name":"Rose Gold color fringes kiran lace for dupattas","price":500,"image":"FRNG0009E(1)-1664194688.jpg"},{"id":3997,"name":"Pastel Light Pink Flower Shape Stone Work Kundan Button","price":150,"image":"WBTN0173(1)-1664262245.jpg"},{"id":3998,"name":"Dark Pink Flower Shape Stone Work Kundan Button","price":250,"image":"WBTN0173A(1).jpg"},{"id":4001,"name":"Magenta Pink Flower Shape Stone Work Kundan Button","price":250,"image":"WBTN0173D(1).jpg"},{"id":4002,"name":"Golden Flower Shape Stone Work Kundan Button","price":100,"image":"WBTN0173E(1).jpg"},{"id":4004,"name":"Light Pink Flower Shape Stone Work Kundan Button","price":250,"image":"WBTN0173G(1).jpg"},{"id":4005,"name":"Red Flower Shape Stone Work Kundan Button","price":250,"image":"WBTN0173H(1).jpg"},{"id":4006,"name":"Grey Flower Shape Stone Work Kundan Button","price":250,"image":"WBTN0173I(1).jpg"},{"id":4007,"name":"Silver Flower Shape Stone Work Kundan Button","price":250,"image":"WBTN0173J(1).jpg"},{"id":4008,"name":"Light Yellow Flower Shape Stone Work Kundan Button","price":150,"image":"WBTN0173K(1).jpg"},{"id":4009,"name":"Black Flower Shape Stone Work Kundan Button","price":150,"image":"WBTN0173L(1).jpg"},{"id":4010,"name":"Rainbow White Glitter Heart Shape Light Weight Patch\/Appliques for Crafting, Kids hair Accessories etc.","price":330,"image":"PATF0082(1)-1664521658.jpg"},{"id":4011,"name":"Light Pink Glitter Heart Shape Light Weight Patch\/Appliques for Crafting, Kids hair Accessories etc.","price":330,"image":"PATF0082A(1)-1664524367.jpg"},{"id":4012,"name":"Dark Pink Glitter Heart Shape Light Weight Patch\/Appliques for Crafting, Kids hair Accessories etc.","price":330,"image":"PATF0082B(1)-1664524517.jpg"},{"id":4013,"name":"Light Golden (Pearl Matte) Color Fringes\/Kiran\/Firll Lace","price":500,"image":"FRNG0025(1)-1664611957.jpg"},{"id":4016,"name":"Wine Color Stone Belt Metal Patch","price":330,"image":"PATF0080J(1)-1665042746.jpg"},{"id":4018,"name":"Navy Blue Color Stone Belt Metal Patch","price":210,"image":"PATF0067J(1)-1665043375.jpg"},{"id":4031,"name":"Black Color Drop Shape Printed Metal Buttons For Suits, Dresses, Tops etc.","price":250,"image":"WBTN0177(1).jpg"},{"id":4032,"name":"Grey Color Drop Shape Printed Metal Buttons For Suits, Dresses, Tops etc.","price":250,"image":"WBTN0177A(1).jpg"},{"id":4033,"name":"Maroon Color Drop Shape Printed Metal Buttons For Suits, Dresses, Tops etc.","price":250,"image":"WBTN0177B(1).jpg"},{"id":4034,"name":"Dark Blue Color Drop Shape Printed Metal Buttons For Suits, Dresses, Tops etc.","price":250,"image":"WBTN0177C(1).jpg"},{"id":4035,"name":"Greenish Grey Color Drop Shape Printed Metal Buttons For Suits, Dresses, Tops etc.","price":250,"image":"WBTN0177D(1).jpg"},{"id":4036,"name":"Off-White Color Drop Shape Printed Metal Buttons For Suits, Dresses, Tops etc.","price":250,"image":"WBTN0177E(1).jpg"},{"id":4037,"name":"Magenta Color Drop Shape Printed Metal Buttons For Suits, Dresses, Tops etc.","price":250,"image":"WBTN0177F(1).jpg"},{"id":4038,"name":"Light Pink Color Drop Shape Printed Metal Buttons For Suits, Dresses, Tops etc.","price":250,"image":"WBTN0177(2).jpg"},{"id":4039,"name":"Red Color Drop Shape Printed Metal Buttons For Suits, Dresses, Tops etc.","price":250,"image":"WBTN0177H(1).jpg"},{"id":4040,"name":"Dark Green Color Drop Shape Printed Metal Buttons For Suits, Dresses, Tops etc.","price":250,"image":"WBTN0177I(1).jpg"},{"id":4041,"name":"Light Begie Color Drop Shape Printed Metal Buttons For Suits, Dresses, Tops etc.","price":250,"image":"WBTN0177J(1).jpg"},{"id":4042,"name":"Pista Green Color Drop Shape Printed Metal Buttons For Suits, Dresses, Tops etc.","price":250,"image":"WBTN0177K(1).jpg"},{"id":4043,"name":"Light Blue Color Drop Shape Printed Metal Buttons For Suits, Dresses, Tops etc.","price":250,"image":"WBTN0177L(1).jpg"},{"id":4044,"name":"Yellow Color Drop Shape Printed Metal Buttons For Suits, Dresses, Tops etc.","price":250,"image":"WBTN0177M(1).jpg"},{"id":4045,"name":"Light Green Color Drop Shape Printed Metal Buttons For Suits, Dresses, Tops etc.","price":250,"image":"WBTN0177N(1).jpg"},{"id":4047,"name":"Silver Color Rose Shape Embroidery Patch\/Applique","price":330,"image":"PATHE0215(1)-1665823258.jpg"},{"id":4059,"name":"Silver Color Round Stone Work Pearl Buttons","price":330,"image":"WBTN0162A(1)-1667544204.jpg"},{"id":4060,"name":"Round Shape Uncut Marble Buttons With Silver Metal Base","price":420,"image":"WBTN0179(1)-1667637401.jpg"},{"id":4063,"name":"Multi Color Round Shape Uncut Marble Buttons With Golden Metal Base","price":420,"image":"WBTN0180(1)-1668078160.jpg"},{"id":4064,"name":"Round Shape Uncut Marble Buttons With Golden Metal Base","price":420,"image":"WBTN0181(1)-1668078288.jpg"},{"id":4065,"name":"Light Red Round Shape Uncut Marble Buttons With Golden Metal Base","price":420,"image":"WBTN0182(1)-1668078611.jpg"},{"id":4066,"name":"Rose Gold Color Stone Work Square Shape Buttons","price":170,"image":"WBTN0183(1)-1668079823.jpg"},{"id":4067,"name":"Golden Color Stone Work Square Shape Buttons","price":170,"image":"WBTN0183A(1)-1668143329.jpg"},{"id":4068,"name":"White Color Stone Work Square Shape Buttons","price":170,"image":"WBTN0183B(1)-1668143548.jpg"},{"id":4069,"name":"White Color Stone Work Round Shape Buttons","price":170,"image":"WBTN0184(1)-1668153940.jpg"},{"id":4070,"name":"Rose Gold Color Stone Work Round Shape Buttons","price":170,"image":"WBTN0184A(1)-1668154265.jpg"},{"id":4071,"name":"Golden Color Stone Work Round Shape Buttons","price":170,"image":"WBTN0184B(1)-1668154418.jpg"},{"id":4077,"name":"Off-white color Pearl And rhinestone Work Fancy Buttons","price":280,"image":"WBTN0190(1)-1668166158.jpg"},{"id":4078,"name":"Golden Mehandi Polish color Pearl And rhinestone Work Fancy Buttons","price":280,"image":"WBTN0190A(1)-1668166643.jpg"},{"id":4079,"name":"Grey color round shape rhinestone work fancy button","price":150,"image":"WBTN0191(1)-1668684189.jpg"},{"id":4080,"name":"Pista Green color round shape rhinestone work fancy button","price":150,"image":"WBTN0191A(1)-1668757423.jpg"},{"id":4081,"name":"Baby Pink color round shape rhinestone work fancy button","price":150,"image":"WBTN0191B(1)-1668757702.jpg"},{"id":4082,"name":"Red color round shape rhinestone work fancy button","price":150,"image":"WBTN0191C(1)-1668759505.jpg"},{"id":4083,"name":"Royal Blue color round shape rhinestone work fancy button","price":150,"image":"WBTN0191D(1)-1668767675.jpg"},{"id":4084,"name":"Magenta Pink color round shape rhinestone work fancy button","price":150,"image":"WBTN0191E(1)-1668767721.jpg"},{"id":4085,"name":"Peach color round shape rhinestone work fancy button","price":150,"image":"WBTN0191F(1)-1668767782.jpg"},{"id":4086,"name":"Dark Green color round shape rhinestone work fancy button","price":150,"image":"WBTN0191G(1)-1668768153.jpg"},{"id":4087,"name":"Black color round shape rhinestone work fancy button","price":150,"image":"WBTN0191h(1)-1668768321.jpg"},{"id":4088,"name":"Sea Green color round shape rhinestone work fancy button","price":150,"image":"WBTN0191I(1)-1668768408.jpg"},{"id":4089,"name":"White color Leaf Shape Bead Work Patch","price":130,"image":"PATHE0213(1)-1668772065.jpg"},{"id":4090,"name":"Maroon color Leaf Shape Bead Work Patch","price":130,"image":"PATHE0213A(1)-1668773355.jpg"},{"id":4091,"name":"Lavender color Leaf Shape Bead Work Patch","price":130,"image":"PATHE0213(2)-1668773472.jpg"},{"id":4094,"name":"Black color Leaf Shape Bead Work Patch","price":130,"image":"PATHE0213E(1)-1668773703.jpg"},{"id":4095,"name":"Peach color Leaf Shape Bead Work Patch","price":130,"image":"PATHE0213(2)-1668773792.jpg"},{"id":4096,"name":"Red color Leaf Shape Bead Work Patch","price":130,"image":"PATHE0213P(1)-1676616210.jpg"},{"id":4098,"name":"Ferozi color Leaf Shape Bead Work Patch","price":130,"image":"PATHE0213(2)-1668774140.jpg"},{"id":4121,"name":"Light Green color round shape rhinestone work fancy button\/charms","price":210,"image":"WBTN0192(1).jpg"},{"id":4122,"name":"Magenta color round shape rhinestone work fancy button\/charms","price":210,"image":"WBTN0192A(1).jpg"},{"id":4123,"name":"Dark Green color round shape rhinestone work fancy button\/charms","price":210,"image":"WBTN0192B(1).jpg"},{"id":4124,"name":"Royal Blue color round shape rhinestone work fancy button\/charms","price":210,"image":"WBTN0192C(1).jpg"},{"id":4125,"name":"Light Pink color round shape rhinestone work fancy button\/charms","price":210,"image":"WBTN0192D(1).jpg"},{"id":4126,"name":"Black color round shape rhinestone work fancy button\/charms","price":210,"image":"WBTN0192E(1).jpg"},{"id":4127,"name":"Red color round shape rhinestone work fancy button\/charms","price":210,"image":"WBTN0192F(1).jpg"},{"id":4128,"name":"Peach color round shape rhinestone work fancy button\/charms","price":210,"image":"WBTN0192G(1).jpg"},{"id":4129,"name":"Grey color round shape rhinestone work fancy button\/charms","price":210,"image":"WBTN0192H(1).jpg"},{"id":4130,"name":"Sea Green color round shape rhinestone work fancy button\/charms","price":210,"image":"WBTN0192I(1).jpg"},{"id":4131,"name":"Grey color Pearl and Rhinestone Work Fancy Belt Metal Patch","price":320,"image":"PATF0082(1)-1669113330.jpg"},{"id":4132,"name":"Peach color Pearl and Rhinestone Work Fancy Belt Metal Patch","price":320,"image":"PATF0084A(1).jpg"},{"id":4133,"name":"Red color Pearl and Rhinestone Work Fancy Belt Metal Patch","price":320,"image":"PATF0084B(1).jpg"},{"id":4134,"name":"Rainbow color Pearl and Rhinestone Work Fancy Belt Metal Patch","price":320,"image":"PATF0084C(1).jpg"},{"id":4135,"name":"Silver color Pearl and Rhinestone Work Fancy Belt Metal Patch","price":320,"image":"PATF0084(2).jpg"},{"id":4136,"name":"Magenta color Pearl and Rhinestone Work Fancy Belt Metal Patch","price":320,"image":"PATF0084E(1).jpg"},{"id":4137,"name":"Emerald Green color Pearl and Rhinestone Work Fancy Belt Metal Patch","price":320,"image":"PATF0084I'(1)-1675061472.jpg"},{"id":4139,"name":"Maroon color Pearl and Rhinestone Work Fancy Belt Metal Patch","price":320,"image":"PATF0084H(1).jpg"},{"id":4140,"name":"Pink Round Shape Mina Buttons For Ladies Suits, Kurtis Etc.","price":210,"image":"WBTN0193(1)-1669182117.jpg"},{"id":4141,"name":"Light Pink Round Shape Mina Buttons For Ladies Suits, Kurtis Etc.","price":210,"image":"WBTN0193A(1).jpg"},{"id":4142,"name":"Peach Round Shape Mina Buttons For Ladies Suits, Kurtis Etc.","price":210,"image":"WBTN0193B(1).jpg"},{"id":4143,"name":"Dark Blue Round Shape Mina Buttons For Ladies Suits, Kurtis Etc.","price":210,"image":"WBTN0193C(1).jpg"},{"id":4144,"name":"Sea Green Round Shape Mina Buttons For Ladies Suits, Kurtis Etc.","price":210,"image":"WBTN0193D(1).jpg"},{"id":4145,"name":"Grey Round Shape Mina Buttons For Ladies Suits, Kurtis Etc.","price":210,"image":"WBTN0193E(1).jpg"},{"id":4146,"name":"Black Round Shape Mina Buttons For Ladies Suits, Kurtis Etc.","price":210,"image":"WBTN0193F(1).jpg"},{"id":4147,"name":"Pista Round Shape Mina Buttons For Ladies Suits, Kurtis Etc.","price":210,"image":"WBTN0193G(1).jpg"},{"id":4148,"name":"Dark Green Round Shape Mina Buttons For Ladies Suits, Kurtis Etc.","price":210,"image":"WBTN0193H(1).jpg"},{"id":4158,"name":"Red Color Maple Leaf Print Round Metal Buttons for ladies suits, kurtis, etc.","price":210,"image":"WBTN0194(1)-1669966126.jpg"},{"id":4159,"name":"Dark Pink Color Maple Leaf Print Round Metal Buttons for ladies suits, kurtis, etc.","price":210,"image":"WBTN0194A(1).jpg"},{"id":4160,"name":"Grey Color Maple Leaf Print Round Metal Buttons for ladies suits, kurtis, etc.","price":210,"image":"WBTN0194B(1).jpg"},{"id":4161,"name":"Pista Green Color Maple Leaf Print Round Metal Buttons for ladies suits, kurtis, etc.","price":210,"image":"WBTN0194C(1).jpg"},{"id":4162,"name":"Dark Green Color Maple Leaf Print Round Metal Buttons for ladies suits, kurtis, etc.","price":210,"image":"WBTN0194D(1).jpg"},{"id":4164,"name":"Sea Green Color Maple Leaf Print Round Metal Buttons for ladies suits, kurtis, etc.","price":210,"image":"WBTN0194F(1).jpg"},{"id":4165,"name":"Dark blue Color Maple Leaf Print Round Metal Buttons for ladies suits, kurtis, etc.","price":210,"image":"WBTN0194G(1).jpg"},{"id":4166,"name":"Light Pink Color Maple Leaf Print Round Metal Buttons for ladies suits, kurtis, etc.","price":210,"image":"WBTN0194H(1).jpg"},{"id":4167,"name":"Peach Color Maple Leaf Print Round Metal Buttons for ladies suits, kurtis, etc.","price":210,"image":"WBTN0194I(1).jpg"},{"id":4170,"name":"Maroon color Swing Tree Shape Machine Embroidery Patch for Suits, Dresses, Gowns etc.,","price":670,"image":"PATME0018B-1670569955.jpg"},{"id":4172,"name":"Red color Swing Tree Shape Machine Embroidery Patch for Suits, Dresses, Gowns etc.,","price":670,"image":"PATME0018D-1670571352.jpg"},{"id":4174,"name":"Grey color Swing Tree Shape Machine Embroidery Patch for Suits, Dresses, Gowns etc.,","price":670,"image":"PATME0018F-1670659275.jpg"},{"id":4175,"name":"Dark Blue Color Acrylic Tape Sewable (CD Tape)","price":330,"image":"CDTAP0031(2)-1670843989.jpg"},{"id":4176,"name":"Dark Sea Green Color Acrylic Tape Sewable (CD Tape)","price":330,"image":"CDTAP0032(2)-1670844065.jpg"},{"id":4177,"name":"Dark Red Color Acrylic Tape Sewable (CD Tape)","price":330,"image":"CDTAP0033(2)-1670844103.jpg"},{"id":4178,"name":"Light Green Color Acrylic Tape Sewable (CD Tape)","price":330,"image":"CDTAP0034(2)-1670844264.jpg"},{"id":4179,"name":"Light Pink Color Acrylic Tape Sewable (CD Tape)","price":330,"image":"CDTAP0035(2)-1670844297.jpg"},{"id":4184,"name":"Silver Color Rhinestone Rectangular Shape Fancy Buttons","price":330,"image":"WBTN00195(1)-1671092747.jpg"},{"id":4185,"name":"Black Color Rhinestone Rectangular Shape Fancy Buttons","price":330,"image":"WBTN00195L(1)-1678704012.jpg"},{"id":4186,"name":"Magenta Pink Color Rhinestone Rectangular Shape Fancy Buttons","price":330,"image":"WBTN00195B(1).jpg"},{"id":4187,"name":"Light Pink Color Rhinestone Rectangular Shape Fancy Buttons","price":330,"image":"WBTN00195C(1).jpg"},{"id":4188,"name":"Emerald Green Color Rhinestone Rectangular Shape Fancy Buttons","price":330,"image":"WBTN00195D(1).jpg"},{"id":4189,"name":"Grey Color Rhinestone Rectangular Shape Fancy Buttons","price":330,"image":"WBTN00195E(1).jpg"},{"id":4190,"name":"Navy Blue Color Rhinestone Rectangular Shape Fancy Buttons","price":170,"image":"WBTN00195F(1).jpg"},{"id":4191,"name":"Maroon Color Rhinestone Rectangular Shape Fancy Buttons","price":330,"image":"WBTN00195G(1).jpg"},{"id":4192,"name":"Red Color Rhinestone Rectangular Shape Fancy Buttons","price":330,"image":"WBTN00195H(1).jpg"},{"id":4193,"name":"Wine Color Rhinestone Rectangular Shape Fancy Buttons","price":330,"image":"WBTN00195I(1).jpg"},{"id":4194,"name":"Peach Color Rhinestone Rectangular Shape Fancy Buttons","price":330,"image":"WBTN00195J(1).jpg"},{"id":4195,"name":"Golden Color Rhinestone Rectangular Shape Fancy Buttons","price":330,"image":"WBTN00195K(1).jpg"},{"id":4199,"name":"Golden Double Infinity Fancy Belt Metal Patches","price":250,"image":"PATF0085B(1)-1671530311.jpg"},{"id":4201,"name":"Golden Color hanging style oxidized metal button","price":200,"image":"WBTN00196A(1)-1671694041.jpg"},{"id":4203,"name":"Golden Color hanging style net design oxidized metal button","price":300,"image":"WBTN00198(1)-1671695766.jpg"},{"id":4207,"name":"Peach Color Square Shape Rhinestone and Pearl Work Fancy Buttons","price":210,"image":"WBTN00200B(1)-1671697477.jpg"},{"id":4208,"name":"Pista Green Hexagon Shape Kundan\/Mina Buttons","price":210,"image":"WBTN00201(1)-1671785634.jpg"},{"id":4238,"name":"Red Hexagon Shape Kundan\/Mina Buttons","price":210,"image":"WBTN00201A(1).jpg"},{"id":4239,"name":"Baby Pink Hexagon Shape Kundan\/Mina Buttons","price":210,"image":"WBTN00201B(1).jpg"},{"id":4240,"name":"Dark Green Hexagon Shape Kundan\/Mina Buttons","price":210,"image":"WBTN00201C(1).jpg"},{"id":4241,"name":"Grey Hexagon Shape Kundan\/Mina Buttons","price":210,"image":"WBTN00201D(1).jpg"},{"id":4242,"name":"Black Hexagon Shape Kundan\/Mina Buttons","price":210,"image":"WBTN00201E(1).jpg"},{"id":4243,"name":"Magenta Hexagon Shape Kundan\/Mina Buttons","price":210,"image":"WBTN00201F(1).jpg"},{"id":4244,"name":"Blue Hexagon Shape Kundan\/Mina Buttons","price":210,"image":"WBTN00201G(1).jpg"},{"id":4245,"name":"Sea Green Hexagon Shape Kundan\/Mina Buttons","price":210,"image":"WBTN00201H(1).jpg"},{"id":4246,"name":"Dark Peach Hexagon Shape Kundan\/Mina Buttons","price":210,"image":"WBTN00201I(1).jpg"},{"id":4247,"name":"Black Triangular Shape Kundan\/Mina Buttons","price":250,"image":"WBTN00202(1).jpg"},{"id":4248,"name":"Blue Triangular Shape Kundan\/Mina Buttons","price":250,"image":"WBTN00202A(1).jpg"},{"id":4249,"name":"Baby Pink Triangular Shape Kundan\/Mina Buttons","price":250,"image":"WBTN00202B(1).jpg"},{"id":4250,"name":"Dark Peach Triangular Shape Kundan\/Mina Buttons","price":250,"image":"WBTN00202C(1).jpg"},{"id":4251,"name":"Sea Green Triangular Shape Kundan\/Mina Buttons","price":250,"image":"WBTN00202D(1).jpg"},{"id":4252,"name":"Pista Green Triangular Shape Kundan\/Mina Buttons","price":250,"image":"WBTN00202E(1).jpg"},{"id":4253,"name":"Dark Green Triangular Shape Kundan\/Mina Buttons","price":250,"image":"WBTN00202F(1).jpg"},{"id":4254,"name":"Grey Triangular Shape Kundan\/Mina Buttons","price":250,"image":"WBTN00202G(1).jpg"},{"id":4255,"name":"Magenta Triangular Shape Kundan\/Mina Buttons","price":250,"image":"WBTN00202H(1).jpg"},{"id":4256,"name":"Red Triangular Shape Kundan\/Mina Buttons","price":250,"image":"WBTN00202I(1).jpg"},{"id":4257,"name":"Pista Green Oval Shape Kundan\/Mina Buttons","price":250,"image":"WBTN00203(1).jpg"},{"id":4258,"name":"Grey Oval Shape Kundan\/Mina Buttons","price":250,"image":"WBTN00203A(1).jpg"},{"id":4259,"name":"Sea Green Oval Shape Kundan\/Mina Buttons","price":250,"image":"WBTN00203B(1).jpg"},{"id":4260,"name":"Black Oval Shape Kundan\/Mina Buttons","price":250,"image":"WBTN00203C(1).jpg"},{"id":4261,"name":"Magenta Oval Shape Kundan\/Mina Buttons","price":250,"image":"WBTN00203D(1).jpg"},{"id":4262,"name":"Red Oval Shape Kundan\/Mina Buttons","price":250,"image":"WBTN00203E(1).jpg"},{"id":4263,"name":"Dark peach Oval Shape Kundan\/Mina Buttons","price":250,"image":"WBTN00203F(1).jpg"},{"id":4264,"name":"Dark Green Oval Shape Kundan\/Mina Buttons","price":250,"image":"WBTN00203G(1).jpg"},{"id":4265,"name":"Baby Pink Oval Shape Kundan\/Mina Buttons","price":250,"image":"WBTN00203H(1).jpg"},{"id":4266,"name":"Blue Oval Shape Kundan\/Mina Buttons","price":250,"image":"WBTN00203I(1).jpg"},{"id":4267,"name":"Pista Green Rectangle Shape Kundan\/Mina Buttons","price":250,"image":"WBTN00204(1).jpg"},{"id":4268,"name":"Red Rectangle Shape Kundan\/Mina Buttons","price":250,"image":"WBTN00204A(1).jpg"},{"id":4269,"name":"Sea Green Rectangle Shape Kundan\/Mina Buttons","price":250,"image":"WBTN00204B(1).jpg"},{"id":4271,"name":"Blue Rectangle Shape Kundan\/Mina Buttons","price":250,"image":"WBTN00204D(1).jpg"},{"id":4272,"name":"Magenta Rectangle Shape Kundan\/Mina Buttons","price":250,"image":"WBTN00204E(1).jpg"},{"id":4273,"name":"Dark Green Rectangle Shape Kundan\/Mina Buttons","price":250,"image":"WBTN00204F(1).jpg"},{"id":4274,"name":"Dark Peach Rectangle Shape Kundan\/Mina Buttons","price":250,"image":"WBTN00204G(1).jpg"},{"id":4275,"name":"Grey Rectangle Shape Kundan\/Mina Buttons","price":250,"image":"WBTN00204H(1).jpg"},{"id":4276,"name":"Black Rectangle Shape Kundan\/Mina Buttons","price":250,"image":"WBTN00204I(1).jpg"},{"id":4277,"name":"Magenta Drop Shape Kundan\/Mina Buttons","price":210,"image":"WBTN00205(1).jpg"},{"id":4278,"name":"Baby Pink Drop Shape Kundan\/Mina Buttons","price":210,"image":"WBTN00205A(1).jpg"},{"id":4279,"name":"Dark Green Drop Shape Kundan\/Mina Buttons","price":210,"image":"WBTN00205B(1).jpg"},{"id":4280,"name":"Sea Green Drop Shape Kundan\/Mina Buttons","price":210,"image":"WBTN00205C(1).jpg"},{"id":4281,"name":"Blue Drop Shape Kundan\/Mina Buttons","price":210,"image":"WBTN00205D(1).jpg"},{"id":4282,"name":"Red Drop Shape Kundan\/Mina Buttons","price":210,"image":"WBTN00205E(1).jpg"},{"id":4283,"name":"Pista Green Drop Shape Kundan\/Mina Buttons","price":210,"image":"WBTN00205F(1).jpg"},{"id":4284,"name":"Black Drop Shape Kundan\/Mina Buttons","price":210,"image":"WBTN00205G(1).jpg"},{"id":4285,"name":"Grey Drop Shape Kundan\/Mina Buttons","price":210,"image":"WBTN00205H(1).jpg"},{"id":4286,"name":"Peach Drop Shape Kundan\/Mina Buttons","price":210,"image":"WBTN00205I(1).jpg"},{"id":4287,"name":"Multi Color Ring Shape Plastic Beads","price":250,"image":"PLSBD0089(2)-1672314667.jpg"},{"id":4288,"name":"Golden CHANEL Design Plastic Beads","price":330,"image":"PLSBD0090(1)-1672314938.jpg"},{"id":4289,"name":"Light Brown Color Teddy Outline Plastic Beads","price":330,"image":"PLSBD0091(1)-1672386556.jpg"},{"id":4291,"name":"Golden Color Round Ring Shape Plastic Beads","price":250,"image":"PLSBD0092(1)-1672396513.jpg"},{"id":4292,"name":"Golden Color Hexagon Shape Plastic Beads","price":330,"image":"PLSBD0093(1)-1672397468.jpg"},{"id":4293,"name":"Silver Color Flower Shape Plastic Beads","price":330,"image":"PLSBD0094(1)-1672398405.jpg"},{"id":4294,"name":"Multi Color Teddy Outline Plastic Beads","price":330,"image":"PLSBD0095(1)-1672398960.jpg"},{"id":4295,"name":"Round Shape Silver Color Buckle for cardigans, dupattas, gowns, belts, bellies etc.","price":330,"image":"BUCL0091(1)-1672401299-1672402789.jpg"},{"id":4296,"name":"Multi Color Drop Shape Plastic Beads for jewllery making, suits, dresses, craft etc.","price":250,"image":"PLSBD0096(1)-1672467843.jpg"},{"id":4297,"name":"Multi Color Heart Shape Plastic Beads for jewllery making, suits, dresses, craft etc.","price":250,"image":"PLSBD0097(1)-1672468129.jpg"},{"id":4298,"name":"Brown Color Round Shape Plastic Beads for jewllery making, suits, dresses, craft etc.","price":330,"image":"PLSBD0098(1)-1672468328.jpg"},{"id":4299,"name":"Multi Color Star Shape Plastic Beads for jewllery making, suits, dresses, craft etc.","price":250,"image":"PLSBD0099(2)-1672468682.jpg"},{"id":4300,"name":"Light Multi Color Star Shape Plastic Beads for jewllery making, suits, dresses, craft etc.","price":250,"image":"PLSBD0100(2)-1672468864.jpg"},{"id":4301,"name":"Dark Brown Color Ring Shape Plastic Beads for jewllery making, suits, dresses, craft etc.","price":250,"image":"PLSBD0101(1)-1672470690.jpg"},{"id":4302,"name":"Multi Color Small Heart Shape Plastic Beads for jewllery making, suits, dresses, craft etc.","price":250,"image":"PLSBD0102(2)-1672480002.jpg"},{"id":4303,"name":"Multi Color Small Butterfly Shape Plastic Beads for jewllery making, suits, dresses, craft etc.","price":250,"image":"PLSBD0103(2)-1672480177.jpg"},{"id":4304,"name":"Off-White Color Rounded Cuboidal Shape Plastic Beads for jewllery making, crafting, dresses, etc.","price":250,"image":"PLSBD0104(2)-1672480601.jpg"},{"id":4305,"name":"Multi Color Cubical Shape Plastic Beads for jewllery making, suits, dresses, craft etc.","price":250,"image":"PLSBD0105(2)-1672480867.jpg"},{"id":4306,"name":"Natural Single Drilled Hole Natural Cowrie Kauri Shell Beads for Adornment Beads\/Jewellery Making","price":250,"image":"SHL0010B(3)-1672482641.jpg"},{"id":4307,"name":"White Color Natural Single Drilled Hole Natural Cowrie Kauri Shell Beads for Adornment Beads\/Jewellery Making","price":250,"image":"SHL0010(1)-1672482935.jpg"},{"id":4308,"name":"White Sea Shell, Seashells for Decoration, Aquarium, Table, Vase, Dresses, Jewllery Making","price":250,"image":"SHL0011(1)-1672483334.jpg"},{"id":4309,"name":"Light Golden Color Fringes\/Kiran\/Frill Lace","price":500,"image":"FRNG0025A(1)-1672656259.jpg"},{"id":4310,"name":"Dark Golden Color Fringes\/Kiran\/Frill Lace","price":500,"image":"FRNG0025B(1)-1672656465.jpg"},{"id":4311,"name":"Silver Color Fringes\/Kiran\/Frill Lace","price":500,"image":"FRNG0009X(4)-1672656669.jpg"},{"id":4312,"name":"Water Golden Color Fringes\/Kiran\/Frill Lace","price":300,"image":"FRNG0009D(2)-1672657045.jpg"},{"id":4313,"name":"Big Sea Shells Beads, Natural Spiral Sea Shelss, Ocean Theme Summer Jewelry Supplies, Conch Shell Beads,","price":250,"image":"SHL0008(3)-1672657997.jpg"},{"id":4314,"name":"Big Sea Shells Beads, Natural Spiral Sea Shelss, Ocean Theme Summer Jewelry Supplies, Conch Shell Beads, Spiral Shell Beads","price":250,"image":"SHL0009(2)-1672658145.jpg"},{"id":4315,"name":"Mustard Color Felt Fabric Flowers For Dresses, Crafting, Decoration etc.","price":170,"image":"FLR0021(1)-1672901960.jpg"},{"id":4316,"name":"Yellow Color Felt Fabric Flowers For Dresses, Crafting, Decoration etc.","price":20,"image":"FLR0021A(1)-1672902090.jpg"},{"id":4317,"name":"Grey Color Felt Fabric Flowers For Dresses, Crafting, Decoration etc.","price":170,"image":"FLR0021B(1)-1672902208.jpg"},{"id":4318,"name":"Skin Color Felt Fabric Flowers For Dresses, Crafting, Decoration etc.","price":170,"image":"FLR0021C(1)-1672902328.jpg"},{"id":4319,"name":"Ferozi Color Felt Fabric Flowers For Dresses, Crafting, Decoration etc.","price":170,"image":"FLR0021D(1)-1672902612.jpg"},{"id":4320,"name":"Light Brown Color Felt Fabric Flowers For Dresses, Crafting, Decoration etc.","price":170,"image":"FLR0021E(1)-1672906488.jpg"},{"id":4321,"name":"Green Color Felt Fabric Flowers For Dresses, Crafting, Decoration etc.","price":170,"image":"FLR0021F(1)-1672916695.jpg"},{"id":4322,"name":"Light Peach Color Felt Fabric Flowers For Dresses, Crafting, Decoration etc.","price":170,"image":"FLR0021G(1)-1672917025.jpg"},{"id":4323,"name":"Metallic Grey Color Rectangle Shape 2 piece Metal Buckle","price":300,"image":"BUCL0092(1)-1672981830.jpg"},{"id":4324,"name":"Metallic Grey Color Rectangle Shape Heart Design 2 piece Metal Buckle","price":300,"image":"BUCL0093(1)-1672982336.jpg"},{"id":4325,"name":"Green Color Non Woven Wedding Lehenga Gown Long Dress Garment Cover Bags 63\" with 12\" Gusset with Back Zip","price":270,"image":"CVR0001(1)-1673514814.jpg"},{"id":4326,"name":"Red Color Non Woven Wedding Lehenga Gown Long Dress Garment Cover Bags 63\" with 12\" Gusset with Back Zip","price":290,"image":"CVR0002(2)-1673515205.jpg"},{"id":4327,"name":"Golden Color Small Size Mirror Work Zardozi Patch","price":230,"image":"PATZRD0001(1)-1673593342.jpg"},{"id":4328,"name":"Silver Color Small Size Mirror Work Zardozi Patch","price":230,"image":"PATZRD0001A(1)-1673596712.jpg"},{"id":4330,"name":"Golden Round Shape Mirror Zardozi Pathes\/Appliques","price":330,"image":"PATZRD0003(1)-1673599710.jpg"},{"id":4331,"name":"Cream Color Dabka Work Round Shape Zardozi Patch\/Applique","price":270,"image":"PATZRD0004(1)-1673600150.jpg"},{"id":4332,"name":"White Color Pearl and Dabka Work Zardozi Patch\/Applique","price":200,"image":"PATZRD0005(1)-1673600526.jpg"},{"id":4333,"name":"Light Golden Color Pearl and Dabka Work Zardozi Patch\/Applique","price":200,"image":"PATZRD0005A(1)-1673601350.jpg"},{"id":4334,"name":"Rose Golden Color Pearl and Dabka Work Zardozi Patch\/Applique","price":200,"image":"PATZRD0005B(1)-1673601797.jpg"},{"id":4335,"name":"Dark Golden Color Pearl and Dabka Work Zardozi Patch\/Applique","price":200,"image":"PATZRD0005C(1)-1673602081.jpg"},{"id":4336,"name":"Silver Color Small Size Fringes\/Kiran\/Frill Lace","price":250,"image":"FRNG0027(1)-1673676972.jpg"},{"id":4337,"name":"Golden Color Small Size Fringes\/Kiran\/Frill Lace","price":250,"image":"FRNG0027A(1)-1673677713.jpg"},{"id":4338,"name":"Silver-Golden Color Small Size Fringes\/Kiran\/Frill Lace","price":250,"image":"FRNG0027B(2)-1673678067.jpg"},{"id":4339,"name":"Pearl Matte(Light Gold) Color Small Size Fringes\/Kiran\/Frill Lace","price":250,"image":"FRNG0027C(1)-1673678290.jpg"},{"id":4340,"name":"Rose Golden Color Small Size Fringes\/Kiran\/Frill Lace","price":250,"image":"FRNG0027D(1)-1673678599.jpg"},{"id":4341,"name":"Golden Zari zardosi Fully Hand Embroidery Work Applique Patches for Clothes Dress Designing Jewellery Making Neck sew Decorative Art Craft","price":230,"image":"PATZRD0006(1)-1673679288.jpg"},{"id":4342,"name":"Off-White Zari zardosi Fully Hand Embroidery Work Applique Patches for Clothes Dress Designing Jewellery Making Neck sew Decorative Art Craft","price":230,"image":"PATZRD0006(2)-1673679545.jpg"},{"id":4343,"name":"Golden Dabka-Nakshi Work Buti Zardozi Patch","price":230,"image":"PATZRD0007(1)-1673689866.jpg"},{"id":4344,"name":"Silver Dabka-Nakshi Work Buti Zardozi Patch","price":230,"image":"PATZRD0007A(1)-1673689898.jpg"},{"id":4345,"name":"Antique Dabka-Nakshi Work Buti Zardozi Patch","price":230,"image":"PATZRD0007B(1)-1673689927.jpg"},{"id":4346,"name":"Dark Golden Dabka-Nakshi Work Buti Zardozi Patch","price":230,"image":"PATZRD0007C(1)-1673689962.jpg"},{"id":4347,"name":"Golden Round Shape Nakshi and Stone Work Zardozi Patch","price":170,"image":"PATZRD0008(1)-1673690171.jpg"},{"id":4348,"name":"Golden Buti\/Flower Shape Kundan Work Zardozi Patch","price":230,"image":"PATZRD0009(1)-1673690452.jpg"},{"id":4349,"name":"Rose Gold Buti\/Flower Shape Gota Work Zardozi Patch","price":210,"image":"PATZRD00010(1)-1673694987.jpg"},{"id":4350,"name":"Golden Buti\/Flower Shape Gota Work Zardozi Patch","price":210,"image":"PATZRD00010A(1)-1673695279.jpg"},{"id":4351,"name":"Silver Golden Buti\/Flower Shape Gota Work Zardozi Patch","price":210,"image":"PATZRD00010B(1)-1673695357.jpg"},{"id":4352,"name":"Golden Color Dabka Work Handmade Zardozi Patch","price":280,"image":"PATZRD00015(1)-1673695968.jpg"},{"id":4353,"name":"Dull Golden Color Pot Shape Dabka Work Handmade Zardozi Patch","price":350,"image":"PATZRD00016(1)-1673696163.jpg"},{"id":4354,"name":"Dull Golden Color Dabka Work Radio Shape Handmade Zardozi Patch","price":300,"image":"PATZRD00017(1)-1673696532.jpg"},{"id":4355,"name":"Dull Golden Color Dabka Work Bird Shape Handmade Zardozi Patch","price":230,"image":"PATZRD00018(1)-1673696819.jpg"},{"id":4356,"name":"Silver color Dabka nakshi Work hand embroidery Zardozi Patch","price":250,"image":"PATZRD00011(1)-1673698636.jpg"},{"id":4357,"name":"Silver color Dabka nakshi Work hand embroidery Zardozi Patch","price":250,"image":"PATZRD00012(1)-1673698614.jpg"},{"id":4358,"name":"Silver color Cutdana Nakshi Work hand embroidery Zardozi Patch","price":290,"image":"PATZRD00013(1)-1673698588.jpg"},{"id":4359,"name":"Silver color Dabka and Beads Work hand embroidery Zardozi Patch","price":290,"image":"PATZRD00014(1)-1673698553.jpg"},{"id":4360,"name":"Metallic Grey color Dabka and Beads Work hand embroidery Zardozi Patch","price":290,"image":"PATZRD00014A(1)-1673698532.jpg"},{"id":4364,"name":"Silver Sequins Work Fringes\/Kiran\/Frill Laces for dupattas, suits etc.","price":500,"image":"FRNG0028C(2)-1674213130.jpg"},{"id":4365,"name":"Water Golden Sequins Work Fringes\/Kiran\/Frill Laces for dupattas, suits etc.","price":500,"image":"FRNG0028D(2)-1674213442.jpg"},{"id":4367,"name":"Golden color Sequins Work Fringes\/Kiran\/Frill Laces for dupattas, suits etc.","price":500,"image":"FRNG0028F(2)-1674290344.jpg"},{"id":4368,"name":"White Color Beaded Pearl Lace, Moti Lace for Dupatta, Suits etc. 6mm Beads Size","price":750,"image":"PRLC0003(1)-1674293433.jpg"},{"id":4369,"name":"Bright Golden Color Bead Lace, Moti Lace for Dupatta, Suits etc. 6mm Beads Size","price":750,"image":"PRLC0003A(2)-1674295423.jpg"},{"id":4370,"name":"Off-White Color With Rainbow Piping Beaded Pearl Lace, Moti Lace for Dupatta, Suits etc. 4mm and 6mm Bead Size","price":750,"image":"PRLC0003B(2)-1674295753.jpg"},{"id":4371,"name":"Off-White Color With Rose Gold Piping Beaded Pearl Lace, Moti Lace for Dupatta, Suits etc. 4mm Bead Size","price":750,"image":"PRLC0004(1)-1674297332.jpg"},{"id":4372,"name":"Off-White Color Beaded Pearl Lace, Moti Lace for Dupatta, Suits etc. 4mm Bead Size","price":750,"image":"PRLC0004A(4)-1674297549.jpg"},{"id":4373,"name":"Off-White and Golden Beads With Rose Gold Piping Beaded Pearl Lace, Moti Lace for Dupatta, Suits etc. 4mm and 6mm Bead Size","price":750,"image":"PRLC0004B(2)-1674300353.jpg"},{"id":4374,"name":"Off-White Color With Golden Piping Beaded Pearl Lace, Moti Lace for Dupatta, Suits etc. 4mm Bead Size","price":750,"image":"PRLC0004C(2)-1674300827.jpg"},{"id":4375,"name":"Off-White Beads With Rose Gold Piping Beaded Pearl Lace, Moti Lace for Dupatta, Suits etc. 3mm Bead Size","price":750,"image":"PRLC0005(1)-1674301617.jpg"},{"id":4376,"name":"Silver Color Boat (kishti)\/Eye Shape Sew-on Crystal Glass Stones With Clip Frame","price":420,"image":"GLST0018(1)-1674469299.jpg"},{"id":4377,"name":"Light Golden Color Boat (kishti)\/Eye Shape Sew-on Crystal Glass Stones With Clip Frame","price":580,"image":"GLST0018A(1)-1674473091.jpg"},{"id":4378,"name":"Grey Color Boat (kishti)\/Eye Shape Sew-on Crystal Glass Stones With Clip Frame","price":540,"image":"GLST0018B(1)-1674473108.jpg"},{"id":4380,"name":"Dark Golden(LCT) Color Drop\/Paan Shape Sew-on Crystal Glass Stones With Clip Frame - 13 x 8 mm","price":420,"image":"GLST0019A(1)-1674473143.jpg"},{"id":4381,"name":"Grey Color Drop\/Paan Shape Sew-on Crystal Glass Stones With Clip Frame - 13 x 8 mm","price":500,"image":"GLST0019B(1)-1674473159.jpg"},{"id":4382,"name":"Silver Color Eye Shape Sew-on Crystal Glass Stones With Clip Frame - 10 x 5 mm","price":330,"image":"GLST0020(1)-1674473197.jpg"},{"id":4383,"name":"Grey Color Eye Shape Sew-on Crystal Glass Stones With Clip Frame - 10 x 5 mm","price":380,"image":"GLST0020B(1)-1674473280.jpg"},{"id":4384,"name":"Dark Golden(LCT) Color Eye Shape Sew-on Crystal Glass Stones With Clip Frame - 10 x 5 mm","price":330,"image":"GLST0020B(2)-1674473371.jpg"},{"id":4385,"name":"Silver Color Eye Shape Sew-on Crystal Glass Stones With Clip Frame - 15 x 7 mm","price":420,"image":"GLST0021(1)-1674473398.jpg"},{"id":4386,"name":"Grey Color Eye Shape Sew-on Crystal Glass Stones With Clip Frame - 15 x 7 mm","price":500,"image":"GLST0021A(1)-1674473414.jpg"},{"id":4387,"name":"Dark Golden(LCT) Color Eye Shape Sew-on Crystal Glass Stones With Clip Frame - 8 x 4 mm","price":330,"image":"GLST0022(1)-1674473439.jpg"},{"id":4389,"name":"Grey Color Drop\/Paan Shape Sew-on Crystal Glass Stones With Clip Frame - 10 x 6 mm","price":500,"image":"GLST0023A(1)-1674473513.jpg"},{"id":4390,"name":"Dark Golden(LCT) Color Drop\/Paan Shape Sew-on Crystal Glass Stones With Clip Frame - 10 x 6 mm","price":330,"image":"GLST0023B(1)-1674473552.jpg"},{"id":4391,"name":"Dark Golden(LCT) Color Rectangle Shape Sew-on Crystal Glass Stones With Clip Frame - 10 x 5 mm","price":500,"image":"GLST0024(1)-1674473570.jpg"},{"id":4392,"name":"Light Golden Color Rectangle Shape Sew-on Crystal Glass Stones With Clip Frame - 10 x 5 mm","price":580,"image":"GLST0024a(1)-1674473587.jpg"},{"id":4393,"name":"Grey Color Rectangle Shape Sew-on Crystal Glass Stones With Clip Frame - 10 x 5 mm","price":580,"image":"GLST0024B(1)-1674473611.jpg"},{"id":4394,"name":"Dull Golden color Mirror , Dabka and Beads Work hand embroidery Zardozi Patch","price":250,"image":"PATZRD00019(1).jpg"},{"id":4395,"name":"Peach color Dabka and Beads Work hand embroidery Zardozi Patch","price":230,"image":"PATZRD00020(1).jpg"},{"id":4396,"name":"White color Dabka and Beads Work hand embroidery Zardozi Patch","price":230,"image":"PATZRD00020A(1).jpg"},{"id":4398,"name":"Silver color Dabka Work hand embroidery Zardozi Patch","price":230,"image":"PATZRD00021A(1).jpg"},{"id":4399,"name":"Rose Gold color Zari and Pearl Beads Work hand embroidery Zardozi Patch","price":250,"image":"PATZRD00022(1).jpg"},{"id":4400,"name":"Golden color Zari and Pearl Beads Work hand embroidery Zardozi Patch","price":250,"image":"PATZRD00022A(1).jpg"},{"id":4402,"name":"White color Dabka and Pearl Beads Work hand embroidery Zardozi Patch","price":170,"image":"PATZRD00023A(1).jpg"},{"id":4403,"name":"Black-Golden color Dabka, Nakshi and Beads Work Scorpio shape hand embroidery Zardozi Patch","price":400,"image":"PATZRD00024(1)-1674645267.jpg"},{"id":4421,"name":"Wine Color Eye Shape Sew-on Crystal Glass Stones With Clip Frame - 15 x 7 mm","price":580,"image":"GLST0021B(1).jpg"},{"id":4422,"name":"Sky Blue Color Eye Shape Sew-on Crystal Glass Stones With Clip Frame - 15 x 7 mm","price":580,"image":"GLST0021C(1).jpg"},{"id":4423,"name":"Royal Blue Color Eye Shape Sew-on Crystal Glass Stones With Clip Frame - 15 x 7 mm","price":580,"image":"GLST0021D(1).jpg"},{"id":4424,"name":"Rust Color Eye Shape Sew-on Crystal Glass Stones With Clip Frame - 15 x 7 mm","price":580,"image":"GLST0021E(1).jpg"},{"id":4425,"name":"Emerald Green Color Eye Shape Sew-on Crystal Glass Stones With Clip Frame - 15 x 7 mm","price":580,"image":"GLST0021f(1)-1674820736.jpg"},{"id":4426,"name":"Red Color Eye Shape Sew-on Crystal Glass Stones With Clip Frame - 15 x 7 mm","price":580,"image":"GLST0021G(1).jpg"},{"id":4427,"name":"Balck Color Eye Shape Sew-on Crystal Glass Stones With Clip Frame - 15 x 7 mm","price":580,"image":"GLST0021H(1).jpg"},{"id":4428,"name":"Light Pink Color Eye Shape Sew-on Crystal Glass Stones With Clip Frame - 15 x 7 mm","price":580,"image":"GLST0021I(1).jpg"},{"id":4429,"name":"Orange Color Eye Shape Sew-on Crystal Glass Stones With Clip Frame - 15 x 7 mm","price":580,"image":"GLST0021J(1)-1675072832.jpg"},{"id":4430,"name":"Navy Blue Color Eye Shape Sew-on Crystal Glass Stones With Clip Frame - 15 x 7 mm","price":580,"image":"GLST0021K(1).jpg"},{"id":4431,"name":"Magenta Color Eye Shape Sew-on Crystal Glass Stones With Clip Frame - 15 x 7 mm","price":580,"image":"GLST0021L(1).jpg"},{"id":4432,"name":"Light Green(Peridot) Color Eye Shape Sew-on Crystal Glass Stones With Clip Frame - 15 x 7 mm","price":580,"image":"GLST0021M(1).jpg"},{"id":4433,"name":"Peach Color Eye Shape Sew-on Crystal Glass Stones With Clip Frame - 15 x 7 mm","price":580,"image":"GLST0021N(1).jpg"},{"id":4434,"name":"Rainbow Color Eye Shape Sew-on Crystal Glass Stones With Clip Frame - 15 x 7 mm","price":580,"image":"GLST0021O(1).jpg"},{"id":4435,"name":"Dark Ferozi Color Eye Shape Sew-on Crystal Glass Stones With Clip Frame - 15 x 7 mm","price":580,"image":"GLST0021P(1).jpg"},{"id":4436,"name":"Grass Green\/Fern Green Color Eye Shape Sew-on Crystal Glass Stones With Clip Frame - 15 x 7 mm","price":580,"image":"GLST0021Q(1).jpg"},{"id":4437,"name":"Light Ferozi Color Eye Shape Sew-on Crystal Glass Stones With Clip Frame - 15 x 7 mm","price":580,"image":"GLST0021R(1).jpg"},{"id":4438,"name":"Golden Round Shape Blazer\/Coat Buttons","price":680,"image":"MCBTN00109(2)-1675238487.jpg"},{"id":4439,"name":"White Round Shape Blazer\/Coat Buttons","price":680,"image":"MCBTN00110(1)-1675239582.jpg"},{"id":4440,"name":"Golden Round Shape Blazer\/Coat Buttons with wings embossed","price":680,"image":"MCBTN00111(1)-1675239615.jpg"},{"id":4441,"name":"Golden Round Shape Blazer\/Coat Buttons with Star Design","price":680,"image":"MCBTN00112(1)-1675239657.jpg"},{"id":4442,"name":"Metallic Grey Round Shape Blazer\/Coat Buttons","price":680,"image":"MCBTN00113(1)-1675239684.jpg"},{"id":4443,"name":"Blue-Golden Round Shape Blazer\/Coat Buttons","price":680,"image":"MCBTN00114(1)-1675239701.jpg"},{"id":4444,"name":"Grey round shape rhinestone work fancy button","price":200,"image":"WBTN00209(1)-1675497510.jpg"},{"id":4445,"name":"Light Pink round shape rhinestone work fancy button","price":200,"image":"WBTN00209A(1)-1675510141.jpg"},{"id":4446,"name":"Red round shape rhinestone work fancy button","price":200,"image":"WBTN00209B(1)-1675510168.jpg"},{"id":4447,"name":"Black round shape rhinestone work fancy button","price":200,"image":"WBTN00209C(1)-1675510213.jpg"},{"id":4448,"name":"Navy Blue round shape rhinestone work fancy button","price":200,"image":"WBTN00209D(1)-1675510258.jpg"},{"id":4449,"name":"Blue round shape rhinestone work fancy button","price":200,"image":"WBTN00209E(1)-1675510281.jpg"},{"id":4450,"name":"Magenta round shape rhinestone work fancy button","price":200,"image":"WBTN00209F(1)-1675510320.jpg"},{"id":4451,"name":"Royal blue round shape rhinestone work fancy button","price":200,"image":"WBTN00209G(1)-1675510333.jpg"},{"id":4452,"name":"Maroon round shape rhinestone work fancy button","price":200,"image":"WBTN00209H(1)-1675510405.jpg"},{"id":4453,"name":"Green color Round Shape Metal Zircon Balls","price":290,"image":"WBTN00206(1)-1675672393.jpg"},{"id":4454,"name":"Light Blue color Round Shape Metal Zircon Balls","price":290,"image":"WBTN00206A(1)-1675748524.jpg"},{"id":4455,"name":"Light Mauve color Round Shape Metal Zircon Balls","price":290,"image":"WBTN00206B(1)-1675748669.jpg"},{"id":4456,"name":"Red-Silver color Round Shape Metal Zircon Balls","price":350,"image":"WBTN00207(1)-1675748880.jpg"},{"id":4457,"name":"Metallic Grey color Round Shape Metal Balls","price":175,"image":"WBTN00208(1)-1675749154.jpg"},{"id":4458,"name":"Ferozi color Round Shape Metal Zircon Balls","price":290,"image":"WBTN00206C(1)-1675751726.jpg"},{"id":4459,"name":"Navy Blue color Round Shape Metal Zircon Balls","price":290,"image":"WBTN00206D(1)-1675751758.jpg"},{"id":4460,"name":"Wine color Round Shape Metal Zircon Balls","price":290,"image":"WBTN00206E(1)-1675751789.jpg"},{"id":4461,"name":"Red color Round Shape Metal Zircon Balls","price":290,"image":"WBTN00206f(1)-1675752159.jpg"},{"id":4462,"name":"Royal Blue color Round Shape Metal Zircon Balls","price":290,"image":"WBTN00206H(1)-1675752299.jpg"},{"id":4463,"name":"Black color Round Shape Metal Zircon Balls","price":290,"image":"WBTN00206I(1)-1675752586.jpg"},{"id":4464,"name":"Brown color Round Shape Metal Zircon Balls","price":290,"image":"WBTN00206J(1)-1675752630.jpg"},{"id":4465,"name":"Golden color dabka nakshi work patch Hand Embroidery Patch\/Applique","price":280,"image":"PATZRD00026(1)-1675768605.jpg"},{"id":4466,"name":"Dark Ferozi Color Sew On Rhinestone \/ Softi \/ Chatons in Flat Back Metal Setting (8mm-40ss)","price":290,"image":"SOFTI0002D(1)-1675835068.jpg"},{"id":4467,"name":"Silver Color Sew On Rhinestone \/ Softi \/ Chatons in Flat Back Metal Setting (8mm-40ss)","price":170,"image":"SOFTI0002E(1)-1675835091.jpg"},{"id":4468,"name":"Grey Color Sew On Rhinestone \/ Softi \/ Chatons in Flat Back Metal Setting (8mm-40ss)","price":290,"image":"SOFTI0002F(1)-1675835108.jpg"},{"id":4469,"name":"Maroon Color Sew On Rhinestone \/ Softi \/ Chatons in Flat Back Metal Setting (6mm-30ss)","price":210,"image":"SOFTI0003F(1)-1675835134.jpg"},{"id":4470,"name":"Royal Blue Color Sew On Rhinestone \/ Softi \/ Chatons in Flat Back Metal Setting (6mm-30ss)","price":170,"image":"SOFTI0003G(1)-1675835160.jpg"},{"id":4471,"name":"Dark Pink Color Sew On Rhinestone \/ Softi \/ Chatons in Flat Back Metal Setting (6mm-30ss)","price":330,"image":"SOFTI0003H(1)-1675835187.jpg"},{"id":4472,"name":"Orange Color Sew On Rhinestone \/ Softi \/ Chatons in Flat Back Metal Setting (6mm-30ss)","price":250,"image":"SOFTI0003I(1)-1675835218.jpg"},{"id":4473,"name":"Silver Color Sew On Rhinestone \/ Softi \/ Chatons in Flat Back Metal Setting (6mm-30ss)","price":120,"image":"SOFTI0003J(1)-1675835240.jpg"},{"id":4474,"name":"Emerald Green Color Sew On Rhinestone \/ Softi \/ Chatons in Flat Back Metal Setting (4mm-16ss)","price":120,"image":"SOFTI0008-1675835274.jpg"},{"id":4475,"name":"Pearl Matte (Light Golden) color with Off white Beads Pearl Lace for dupatta, Suits, Dresses etc.","price":380,"image":"PRLC0006(1)-1675835869.jpg"},{"id":4476,"name":"Light Golden color with Off white Beads Pearl Lace for dupatta, Suits, Dresses etc.","price":400,"image":"PRLC0007(1)-1675836523.jpg"},{"id":4477,"name":"Light Golden color with Off white Beads Pearl Lace for dupatta, Suits, Dresses etc.","price":380,"image":"PRLC0008(1)-1675836693.jpg"},{"id":4478,"name":"Golden color with Multi Beaded Lace for dupatta, Suits, Dresses etc.","price":400,"image":"PRLC0009(1)-1675837021.jpg"},{"id":4479,"name":"Antique golden color dabka nakshi work patch Hand Embroidery Patch\/Applique","price":290,"image":"PATZRD00027(1)-1675837180.jpg"},{"id":4480,"name":"Multi Color Beaded Lace For Dupattas and Suits","price":400,"image":"PRLC0001A(1)-1675837195.jpg"},{"id":4481,"name":"Antique golden color dabka nakshi work patch Hand Embroidery Patch\/Applique","price":290,"image":"PATZRD00027A(1)-1675840356.jpg"},{"id":4482,"name":"Light golden color dabka nakshi work patch Hand Embroidery Patch\/Applique","price":290,"image":"PATZRD00028(1)-1675841064.jpg"},{"id":4483,"name":"Dark golden color dabka nakshi work patch Hand Embroidery Patch\/Applique","price":290,"image":"PATZRD00028A(1)-1675841578.jpg"},{"id":4485,"name":"Yellowish Golden Color Fringes\/Kiran\/Frill Lace","price":500,"image":"FRNG0009G(3)-1675841831.jpg"},{"id":4486,"name":"Golden color dabka nakshi work patch Hand Embroidery Patch\/Applique","price":290,"image":"PATZRD00028B(1)-1675842061.jpg"},{"id":4487,"name":"Golden color dabka nakshi work patch Hand Embroidery Patch\/Applique","price":280,"image":"PATZRD00029(1)-1675842687.jpg"},{"id":4488,"name":"Pearl Matte (Light Golden) Jalebi Design Gota Lace","price":270,"image":"GTLC0024(2)-1675849247.jpg"},{"id":4489,"name":"Rose Gold Jalebi Design Gota Lace for Dresses, Dupatta, Suits","price":270,"image":"GTLC0024A(1)-1675856213.jpg"},{"id":4490,"name":"Water Golden Jalebi Design Gota Lace for Dresses, Dupatta, Suits","price":270,"image":"GTLC0024B(1)-1675856359.jpg"},{"id":4491,"name":"Golden Color Leather Tape Sewable (CD Tape)","price":420,"image":"CDTAP0038(2)-1675935503.jpg"},{"id":4492,"name":"White Color Leather Tape Sewable (CD Tape)","price":420,"image":"CDTAP0039(2)-1675935716.jpg"},{"id":4493,"name":"Silver Color Leather Tape Sewable (CD Tape)","price":420,"image":"CDTAP0040(1)-1675935800.jpg"},{"id":4494,"name":"Yellowish Golden Color Sequins Lace","price":270,"image":"SQBD0017(1)-1675940301.jpg"},{"id":4495,"name":"Golden Color Sequins Lace","price":270,"image":"SQBD0017A(1)-1675942802.jpg"},{"id":4496,"name":"Water Golden Color Sequins Lace","price":270,"image":"SQBD0017B(1)-1675942836.jpg"},{"id":4497,"name":"Black Color Sequins Lace","price":270,"image":"SQBD0017C(1)-1675942869.jpg"},{"id":4498,"name":"Pearl Matte (Light Golden) Color Sequins Lace","price":270,"image":"SQBD0017D(1)-1675942895.jpg"},{"id":4499,"name":"Silver Color Sequins Lace","price":270,"image":"SQBD0017E(1)-1675942977.jpg"},{"id":4500,"name":"Golden Bridal Doli Dabka, Nakshi Work Embroidery Patch","price":650,"image":"PATHE0262(1)-1690539911.jpg"},{"id":4501,"name":"Golden Maroon Color Bridal Barat Dabka, Nakshi Work Embroidery Patch","price":820,"image":"PATHE0219(1)-1675944822.jpg"},{"id":4503,"name":"Light Golden Color Bridal Doli Dabka, Nakshi Work Embroidery Patch","price":1040,"image":"PATHE0221(1)-1676022814.jpg"},{"id":4504,"name":"White Black color Flower Shape Metal Fancy Button","price":250,"image":"WBTN00210(1)-1676101828.jpg"},{"id":4505,"name":"White Golden Rhombus Shape Metal Ladies Buttons","price":250,"image":"WBTN00211(1)-1676102201.jpg"},{"id":4506,"name":"Black Silver Spinner Design Rhinestone Pearl Ladies Fancy Buttons","price":380,"image":"WBTN00212(4)-1676102509.jpg"},{"id":4507,"name":"Silver Flower shape Metal Fancy Buttons with Center Pearl","price":250,"image":"WBTN00213(1)-1676108419.jpg"},{"id":4508,"name":"Golden Flower shape Metal Fancy Buttons with Center Pearl","price":250,"image":"WBTN00213A(1)-1676108573.jpg"},{"id":4509,"name":"Black Flower Shape Fancy Designer Buttons","price":290,"image":"WBTN00214(1)-1676109045.jpg"},{"id":4510,"name":"Transparent Crystal Stone Designer Button","price":300,"image":"WBTN00215(1)-1676109570.jpg"},{"id":4511,"name":"Metallic Grey Color Rectangle Buckle","price":200,"image":"BUCL0095(1)-1676274581.jpg"},{"id":4512,"name":"Blue Color Metal Buckle for dresses, bellies, bags, etc.","price":230,"image":"BUCL0096(1)-1676274796.jpg"},{"id":4513,"name":"Peach Color Metal Buckle for dresses, bellies, bags, etc.","price":230,"image":"BUCL0096A(1)-1676274937.jpg"},{"id":4514,"name":"Green Color Metal Buckle for dresses, bellies, bags, etc.","price":230,"image":"BUCL0096B(1)-1676275057.jpg"},{"id":4515,"name":"Pink Color Round Metal Buckle for dresses, bellies, bags, etc.","price":230,"image":"BUCL0097(1)-1676275220.jpg"},{"id":4516,"name":"Green Color Round Metal Buckle for dresses, bellies, bags, etc.","price":230,"image":"BUCL0097A(1)-1676275347.jpg"},{"id":4518,"name":"Golden Crystal Stone Designer Fancy Button","price":250,"image":"WBTN00216A(1)-1676282949.jpg"},{"id":4519,"name":"Silver Flower Shape Rhinestone Work Designer Buttons","price":330,"image":"WBTN0092A(1)-1676283235.jpg"},{"id":4520,"name":"Peach Flower Shape Rhinestone Work Designer Buttons","price":330,"image":"WBTN0092B(1)-1676283569.jpg"},{"id":4521,"name":"Red Flower Shape Rhinestone Work Designer Buttons","price":330,"image":"WBTN0092C(1)-1676283604.jpg"},{"id":4522,"name":"Black Flower Shape Rhinestone Work Designer Buttons","price":330,"image":"WBTN0092D(1)-1676283641.jpg"},{"id":4523,"name":"Silver Color Designer Fancy Rhinestone Waist Belt for dresses, sarees, gowns etc.(Adjustable)","price":920,"image":"BELT0001(1)-1676356635.jpg"},{"id":4524,"name":"Light Golden Color Designer Fancy Rhinestone Waist Belt for dresses, sarees, gowns etc.(Adjustable)","price":920,"image":"BELT0001A(1)-1676357031.jpg"},{"id":4525,"name":"Rainbow Color Designer Fancy Rhinestone Waist Belt for dresses, sarees, gowns etc.(Adjustable)","price":920,"image":"BELT0001B(1)-1676357042.jpg"},{"id":4526,"name":"Dark Golden (LCT) Color Designer Fancy Rhinestone Waist Belt for dresses, sarees, gowns etc.(Adjustable)","price":920,"image":"BELT0001C(1)-1676357255.jpg"},{"id":4527,"name":"Golden (LCT) color rhinestone belt metal patch","price":290,"image":"PATF0086(1)-1676630059.jpg"},{"id":4528,"name":"Wine color rhinestone belt metal patch","price":290,"image":"PATF0086A(1).jpg"},{"id":4529,"name":"Peach color rhinestone belt metal patch","price":290,"image":"PATF0086B(1).jpg"},{"id":4530,"name":"Light Pink color rhinestone belt metal patch","price":290,"image":"PATF0086C(1).jpg"},{"id":4531,"name":"Navy Blue color rhinestone belt metal patch","price":290,"image":"PATF0086D(1).jpg"},{"id":4532,"name":"Multi color rhinestone belt metal patch","price":290,"image":"PATF0086E(1).jpg"},{"id":4533,"name":"Silver color rhinestone belt metal patch","price":290,"image":"PATF0086F(1).jpg"},{"id":4534,"name":"Grey color rhinestone belt metal patch","price":290,"image":"PATF0086G(1).jpg"},{"id":4535,"name":"Red color rhinestone belt metal patch","price":290,"image":"PATF0086H(1).jpg"},{"id":4536,"name":"Dark Green color rhinestone belt metal patch","price":290,"image":"PATF0086I(1).jpg"},{"id":4537,"name":"Golden color rhinestone belt metal patch","price":290,"image":"PATF0086J(1).jpg"},{"id":4539,"name":"Dark Peach Color Beads Work Western\/Fancy cutwork Lace","price":1250,"image":"WEST0004D(1)-1676979571.jpg"},{"id":4542,"name":"Royal Blue Color Beads Work Western\/Fancy cutwork Lace","price":1250,"image":"WEST0004G(1).jpg"},{"id":4543,"name":"Light Peach Color Beads Work Western\/Fancy cutwork Lace","price":1250,"image":"WEST0004H(1).jpg"},{"id":4544,"name":"Ferozi Blue Color Beads Work Western\/Fancy cutwork Lace","price":1250,"image":"WEST0004I(1).jpg"},{"id":4545,"name":"Cream Color Beads Work Western\/Fancy cutwork Lace","price":1250,"image":"WEST0004J(1).jpg"},{"id":4546,"name":"Red Color Beads Work Western\/Fancy cutwork Lace","price":1250,"image":"WEST0004K(1).jpg"},{"id":4547,"name":"Magenta Color Beads Work Western\/Fancy cutwork Lace","price":1250,"image":"WEST0004L(1).jpg"},{"id":4548,"name":"Beige Color Beads Work Western\/Fancy cutwork Lace","price":1250,"image":"WEST0004M(1).jpg"},{"id":4549,"name":"Light Pink Color Beads Work Western\/Fancy cutwork Lace","price":1250,"image":"WEST0004N(1).jpg"},{"id":4550,"name":"Silver Rhinestone small size slider buckles, ribbon sliders, small size buckles for garment decor, art and craft etc.","price":170,"image":"BUCL0098(1)-1677135085.jpg"},{"id":4551,"name":"Silver Rhinestone small size slider buckles, ribbon sliders, small size buckles for garment decor, art and craft etc.","price":270,"image":"BUCL0098A(1)-1677135533.jpg"},{"id":4552,"name":"Silver Rhinestone small size slider buckles, ribbon sliders, small size buckles for garment decor, art and craft etc.","price":170,"image":"BUCL0098B(1)-1677135913.jpg"},{"id":4553,"name":"Silver Rhinestone small size slider buckles, ribbon sliders, small size buckles for garment decor, art and craft etc.","price":270,"image":"BUCL0098C(1)-1677136212.jpg"},{"id":4554,"name":"Golden Color Parrot Designer Hand Embroidery Bird Patch","price":980,"image":"PATHE0222(1)-1677139498.jpg"},{"id":4555,"name":"Silver Designer Hand Embroidery Bird Patch","price":1080,"image":"PATHE0223-1(1)-1677140295.jpg"},{"id":4557,"name":"Silver Pigeon Shape Designer Hand Embroidery Bird Patch","price":970,"image":"PATHE0224-1(1)-1677141190.jpg"},{"id":4558,"name":"Golden Pigeon Shape Designer Hand Embroidery Bird Patch","price":970,"image":"PATHE0224A(1)-1677141369.jpg"},{"id":4559,"name":"Golden Parrot Shape Designer Hand Embroidery Bird Patch","price":980,"image":"PATHE0225(1)-1677141584.jpg"},{"id":4565,"name":"White Color Center Rings Design Broad GPO\/Cotton\/ Crochet Lace","price":1000,"image":"GPO0046(1).jpg"},{"id":4566,"name":"White Color Center Waves Design Broad GPO\/Cotton\/ Crochet Lace","price":830,"image":"GPO0047(1).jpg"},{"id":4567,"name":"White Color Leaves Design GPO\/Cotton\/ Crochet Lace","price":270,"image":"GPO0048(1).jpg"},{"id":4569,"name":"White Color Criss-Cross Design GPO\/Cotton\/ Crochet Lace","price":470,"image":"GPO0050(1).jpg"},{"id":4577,"name":"Golden Metal Spring Waist Belt for Women Dresses Stretchy Slim Waistband, Belly Chain for Ladies Saree - Free Size","price":380,"image":"BELT0006(1)-1677480949.jpg"},{"id":4578,"name":"Golden Metal Spring Waist Belt for Women Dresses CK Design Buckle Stretchy Slim Waistband, Belly Chain for Ladies Saree - Free Size","price":380,"image":"BELT0007(4).jpg"},{"id":4579,"name":"Golden Metal Spring Waist Belt for Women Dresses 2-SideTriangle Design Buckle Stretchy Slim Waistband, Belly Chain for Ladies Saree - Free Size","price":380,"image":"BELT0008(1).jpg"},{"id":4580,"name":"Golden Metal Spring Waist Belt for Women Dresses Bow Design Buckle Stretchy Slim Waistband, Belly Chain for Ladies Saree - Free Size","price":380,"image":"BELT0009(1).jpg"},{"id":4581,"name":"Golden Metal Spring Waist Belt for Women Dresses Rectangle Design Buckle Stretchy Slim Waistband, Belly Chain for Ladies Saree - Free Size","price":380,"image":"BELT0010(1).jpg"},{"id":4582,"name":"Golden Metal Spring Waist Belt for Women Dresses Infinity Design Buckle Stretchy Slim Waistband, Belly Chain for Ladies Saree - Free Size","price":380,"image":"BELT0011(1).jpg"},{"id":4583,"name":"Golden Metal Spring Waist Belt for Women Dresses 3-Flower Design Buckle Stretchy Slim Waistband, Belly Chain for Ladies Saree - Free Size","price":380,"image":"BELT0012(1).jpg"},{"id":4584,"name":"White GPO Net Lace Crochet Lace for Dupatta, suits, cusions etc. (light Shade dyeable)","price":960,"image":"GPO0058(1)-1677838011.jpg"},{"id":4589,"name":"Off-white Color Cutwork Design Pearl Lace","price":880,"image":"PRLC0010(1)-1677840018.jpg"},{"id":4590,"name":"Off-white Color Waves Design Pearl Lace","price":650,"image":"PRLC0011(1)-1677842426.jpg"},{"id":4595,"name":"Rainbow Rhinestone Belt Metal Fancy Patch","price":420,"image":"PATF0087D(1).jpg"},{"id":4597,"name":"Peach Rhinestone Belt Metal Fancy Patch","price":420,"image":"PATF0087F(1).jpg"},{"id":4598,"name":"Silver Golden Pentagon Shape Rhinestone Kundan\/Mina Buttons","price":250,"image":"WBTN00217(1)-1677910911.jpg"},{"id":4599,"name":"Silver Golden Oval Shape Rhinestone Kundan\/Mina Buttons","price":250,"image":"WBTN00218(2).jpg"},{"id":4600,"name":"Silver Golden Assorted Shape Rhinestone Kundan\/Mina Buttons","price":250,"image":"WBTN00219(1).jpg"},{"id":4601,"name":"Silver Golden Triangle Shape Rhinestone Kundan\/Mina Buttons","price":250,"image":"WBTN00220(1).jpg"},{"id":4602,"name":"Silver Golden D-Shape Rhinestone Kundan\/Mina Buttons","price":250,"image":"WBTN00221(1).jpg"},{"id":4603,"name":"Rose Gold Lobster Clasp Swivel Hooks with D Rings webbing bag strap hardware connector, Carabiner hook for bags, keychains etc.","price":200,"image":"BGHK0001(2)-1677922029.jpg"},{"id":4604,"name":"Golden Lobster Clasp Swivel Hooks with D Rings webbing bag strap hardware connector, Carabiner hook for bags, keychains etc.","price":200,"image":"BGHK0001(3).jpg"},{"id":4605,"name":"Dull Gold Lobster Clasp Swivel Hooks with D Rings webbing bag strap hardware connector, Carabiner hook for bags, keychains etc.","price":200,"image":"BGHK0001B(1).jpg"},{"id":4606,"name":"Dull Gold Lobster Clasp Swivel Hooks webbing bag strap hardware connector, Carabiner hook for bags, keychains etc.","price":200,"image":"BGHK0002(1).jpg"},{"id":4607,"name":"Golden Lobster Clasp Swivel Hooks webbing bag strap hardware connector, Carabiner hook for bags, keychains etc.","price":200,"image":"BGHK0002A(1).jpg"},{"id":4608,"name":"Golden Lobster Clasp Swivel Hooks webbing bag strap hardware connector, Carabiner hook for bags, keychains etc.-SMALL SIZE","price":200,"image":"BGHK0003(1).jpg"},{"id":4609,"name":"Golden Lobster Clasp Swivel Hooks With Round Ring webbing bag strap hardware connector, Carabiner hook for bags, keychains etc.","price":270,"image":"BGHK0004(1).jpg"},{"id":4610,"name":"Golden Beads With Golden Piping Beaded Pearl Lace, Moti Lace for Dupatta, Suits etc. 3mm and 4mm Bead Size","price":750,"image":"PRLC0012(1)-1678357092.jpg"},{"id":4611,"name":"Golden and Off-White Beads With Rose Gold Piping Beaded Pearl Lace, Moti Lace for Dupatta, Suits etc. 6mm Bead Size","price":750,"image":"PRLC0013(1)-1678357415.jpg"},{"id":4612,"name":"Lemon Beaded Pearl Lace, Moti Lace for Dupatta, Suits etc. 6mm Bead Size","price":750,"image":"PRLC0014(1)-1678357729.jpg"},{"id":4613,"name":"Pearl Pendant Beads Charm Earrings Ornaments Jewelry Making, Craft Item, Ladies Suits, Dresses, Package of 20 Pieces","price":130,"image":"PRLBTN00070(1)-1678440571.jpg"},{"id":4614,"name":"White Color Flower Shape Fancy Designer Buttons","price":420,"image":"WBTN0061(2)-1678449059.jpg"},{"id":4615,"name":"White Flower Design with Rose Gold Base Fancy Designer Buttons","price":330,"image":"WBTN0058(2)-1678449407.jpg"},{"id":4616,"name":"Black Color Flower Shape Metal Buttons with Rose Gold Polish","price":330,"image":"wbtn11-1678511938.jpg"},{"id":4617,"name":"Light Golden Rhinestone Work Round Metal Buttons","price":330,"image":"WBTN00222(1)-1678523923.jpg"},{"id":4618,"name":"Dark Golden Rhinestone Work Round Metal Buttons","price":330,"image":"WBTN00222A(1)-1678524119.jpg"},{"id":4619,"name":"Black Designer Beads Work Embroidery Collar for Shirts etc.","price":670,"image":"COLR0001(2)-1678531365.jpg"},{"id":4620,"name":"White Designer Beads Work Embroidery Collar for Shirts etc.","price":670,"image":"COLR0001A(2).jpg"},{"id":4621,"name":"Black Designer Beads Work Zig-Zag Design Embroidery Collar for Shirts etc.","price":670,"image":"COLR0002(2).jpg"},{"id":4622,"name":"Black Funky Look Designer Fancy Collar for Shirts etc.","price":480,"image":"COLR0003(1).jpg"},{"id":4623,"name":"Beige Designer Beads and Stone Work Embroidery Collar for Shirts etc.","price":670,"image":"COLR0004(2).jpg"},{"id":4626,"name":"Black Sequins Work Designer Embroidery Collar for Shirts etc.","price":470,"image":"COLR0007(2).jpg"},{"id":4627,"name":"Multi Color Sequins Work Designer Embroidery Collar for Shirts etc.","price":470,"image":"COLR0007A(2).jpg"},{"id":4628,"name":"White Color Red Blue Flower Designer Embroidery Collar for Shirts etc.","price":710,"image":"COLR00008(2)-1678535111.jpg"},{"id":4629,"name":"White Color Brown Black Flower Designer Embroidery Collar for Shirts etc.","price":710,"image":"COLR0008A(2).jpg"},{"id":4637,"name":"Pearl Brooch Lapel Pin Women Collar Safety Pin for Sarees, Coats, Blazers, Tops etc. Package of 4 Pieces","price":170,"image":"colrpin0001(2)-1678947116.jpg"},{"id":4638,"name":"Peach Color Buttons for Dresses, Tops, Suits etc.","price":250,"image":"WBTN00223(1)-1678961195.jpg"},{"id":4639,"name":"Red color Round Shape Flower Rhinestone Buttons","price":290,"image":"WBTN00224(1)-1678961406.jpg"},{"id":4640,"name":"Black color Round Shape Flower Rhinestone Buttons","price":290,"image":"WBTN00224A(1)-1678961532.jpg"},{"id":4641,"name":"Red Flower Design Fancy Buttons for suits, dresses, crafting etc.","price":250,"image":"WBTN00225(1)-1678961719.jpg"},{"id":4642,"name":"Light Golden Flower Shape Small Size Rhinestone Buttons","price":230,"image":"WBTN00226(1)-1678961933.jpg"},{"id":4643,"name":"Dark Golden( LCT color) Flower Shape Small Size Rhinestone Buttons","price":230,"image":"WBTN00226A(1)-1678962091.jpg"},{"id":4644,"name":"Dull Golden Flower Design Button","price":140,"image":"WBTN00227(1)-1678963316.jpg"},{"id":4645,"name":"Golden Small Size Rhinestone Buttons","price":200,"image":"WBTN00228(1)-1678963493.jpg"},{"id":4646,"name":"Golden Silver Stone Chain, cup chain, rhinestone chain for jewllery making etc. - size- 6,12,16 no. - 5 meters","price":210,"image":"STNCH0001(1)-1678964950.jpg"},{"id":4647,"name":"Silver Stone Chain, cup chain, rhinestone chain for jewllery making etc. - size- 6,12,16 no. - 5 meters","price":210,"image":"STNCH0001A(1)-1678966978.jpg"},{"id":4648,"name":"Golden Stone Chain, cup chain, rhinestone chain for jewllery making etc. - size- 6,12,16 no. - 5 meters","price":210,"image":"STNCH0001B(1)-1678967442.jpg"},{"id":4650,"name":"Silver Color Designer Rhinestone Chain\/Belt for Dresses","price":920,"image":"STNCH0002A(1)-1679039764.jpg"},{"id":4651,"name":"Golden Color Designer Rhinestone Chain\/Belt for Dresses","price":920,"image":"STNCH0002B(1)-1679040151.jpg"},{"id":4653,"name":"Golden Color Gota Patti Neck Patch\/ Neckline for suits, kurtis etc.","price":540,"image":"PATNC0002(1)-1679483236.jpg"},{"id":4654,"name":"Golden Color Gota Patti Neck Patch\/ Neckline for suits, kurtis etc.","price":630,"image":"PATNC0003(1)-1679483625.jpg"},{"id":4669,"name":"Golden Bird Design Embroidery Patch for suits, dresses, tops, blazers etc.","price":800,"image":"PATHE0226(1)-1679552959.jpg"},{"id":4670,"name":"Grey White Bird Design Embroidery Patch for suits, dresses, tops, blazers etc.","price":800,"image":"PATHE0226A(1).jpg"},{"id":4671,"name":"Rose Gold White Bird Design Embroidery Patch for suits, dresses, tops, blazers etc.","price":800,"image":"PATHE0226B(1).jpg"},{"id":4672,"name":"Dull Golden Bird Design Embroidery Patch for suits, dresses, tops, blazers etc.","price":800,"image":"PATHE0226C(1).jpg"},{"id":4673,"name":"Black Bird Design Embroidery Patch for suits, dresses, tops, blazers etc.","price":800,"image":"PATHE0226D(1).jpg"},{"id":4674,"name":"Black Floral Design Embroidery Patch for suits, dresses, tops, blazers etc.","price":1040,"image":"PATHE0227(1).jpg"},{"id":4675,"name":"Multi Color Floral Design Embroidery Patch for suits, dresses, tops, blazers etc.","price":1040,"image":"PATHE0227A(1).jpg"},{"id":4676,"name":"Pastel Multi Color Floral Design Embroidery Patch for suits, dresses, tops, blazers etc.","price":1040,"image":"PATHE0227B(1).jpg"},{"id":4677,"name":"Black Humsa (Hand Design) Evil Eye Embroidery Patch for suits, dresses, tops, blazers etc.","price":580,"image":"PATHE0228(1).jpg"},{"id":4678,"name":"Golden Sparrow Design Bird Patch For Suits, Dresses, Blazers, Jackets etc.","price":460,"image":"PATHE0229(1).jpg"},{"id":4679,"name":"Golden Eagle Design Bird Patch For Suits, Dresses, Blazers, Jackets etc.","price":820,"image":"PATHE0230(1).jpg"},{"id":4684,"name":"Dull Golden Flower Design Embroidery Patch For Blouse, Suits, Kurtis, Blazers etc. ","price":850,"image":"PATHE0233B(1).jpg"},{"id":4685,"name":"Black Flower Design Embroidery Patch For Blouse, Suits, Kurtis, Blazers etc. ","price":850,"image":"PATHE0233C(1).jpg"},{"id":4687,"name":"Golden Flower Design Embroidery Patch For Blouse, Suits, Kurtis, Blazers etc.","price":850,"image":"PATHE0233E(1).jpg"},{"id":4690,"name":"Golden Embroidery Butterfly Patch For Blouse, Suits, Kurtis, Blazers etc.","price":980,"image":"PATHE0234(1).jpg"},{"id":4692,"name":"Metallic Grey Embroidery Floral Design Patch For Blouse, Suits, Kurtis, Blazers etc.","price":1210,"image":"PATHE0236(1).jpg"},{"id":4693,"name":"Dull Golden Embroidery Floral Design Patch For Blouse, Suits, Kurtis, Blazers etc.","price":1210,"image":"PATHE0236A(1).jpg"},{"id":4694,"name":"Black Designer Flower Floral Design Fancy Patch For Dresses, Blazers, Kurtis etc.","price":1540,"image":"PATHE0237(1).jpg"},{"id":4695,"name":"Golden Silver Designer Flower Floral Design Fancy Patch For Dresses, Blazers, Kurtis etc.","price":1540,"image":"PATHE0237A(1).jpg"},{"id":4697,"name":"Golden Designer Flower Floral Design Fancy Patch For Dresses, Blazers, Kurtis etc.","price":1540,"image":"PATHE0237C(1).jpg"},{"id":4701,"name":"Golden Cutdana and Sequins Work Designer Leaf Embroidery Patch ","price":980,"image":"PATHE0239(1).jpg"},{"id":4702,"name":"Dark Golden Cutdana and Sequins Work Designer Leaf Embroidery Patch ","price":710,"image":"PATHE0240(1).jpg"},{"id":4703,"name":"Silver Cutdana and Sequins Work Designer Floral Flower Embroidery Patch","price":980,"image":"PATHE0241(1).jpg"},{"id":4704,"name":"Rose Golden Color HI Design Sequins Work Embroidery Patch for shirts, tops, etc.","price":470,"image":"PATHE0242(1).jpg"},{"id":4705,"name":"Off White Color OK Design Sequins Work Embroidery Patch for shirts, tops, etc.","price":570,"image":"PATHE0243(1).jpg"},{"id":4706,"name":"Black Color Flower Design Embroidery Patch For Dresses, Kurtis, Suits, blouse, Blazers etc.","price":1540,"image":"PATHE0244(1).jpg"},{"id":4707,"name":"Golden Color Flower Design Embroidery Patch For Dresses, Kurtis, Suits, blouse, Blazers etc.","price":1540,"image":"PATHE0244A(1).jpg"},{"id":4710,"name":"Black Pearl Buttons Round Shape Light Weight Buttons","price":170,"image":"PRLBTN0010B(1)-1679903572.jpg"},{"id":4713,"name":"White Pearl Buttons Round Shape Light Weight Buttons-2.2 cm, Pack of 5 pieces","price":290,"image":"PRLBTN0011A(1)-1679904814.jpg"},{"id":4714,"name":"Milky White Pearl Buttons Round Shape Light Weight Buttons-2.2 cm, Pack of 5 pieces","price":290,"image":"PRLBTN0011B(1)-1679904971.jpg"},{"id":4715,"name":"Off-White Pearl Buttons Round Shape Light Weight Buttons-2.2 cm, Pack of 10 pieces","price":330,"image":"PRLBTN0012(1)-1679906133.jpg"},{"id":4716,"name":"Milky White Pearl Buttons Round Shape Light Weight Buttons-2.2 cm, Pack of 10 pieces","price":330,"image":"PRLBTN0012A(1)-1679906297.jpg"},{"id":4717,"name":"Silver Drop shape Rhinestone Buttons For Dresses, Suits, Tops, etc.","price":210,"image":"WBTN00229(1)-1680077265.jpg"},{"id":4718,"name":"Light Golden Drop shape Rhinestone Buttons For Dresses, Suits, Tops, etc.","price":210,"image":"WBTN00229A(1)-1680078660.jpg"},{"id":4720,"name":"Golden Round Rhinestone Button Small Size Button for tops, suits, etc.","price":250,"image":"WBTN00230(1)-1680088402.jpg"},{"id":4721,"name":"Light Pink Round Rhinestone Button Small Size Button for tops, suits, etc.","price":250,"image":"WBTN00230A(1).jpg"},{"id":4722,"name":"Peach Round Rhinestone Button Small Size Button for tops, suits, etc.","price":250,"image":"WBTN00230B(1).jpg"},{"id":4724,"name":"Red Round Rhinestone Button Small Size Button for tops, suits, etc.","price":250,"image":"WBTN00230D(1).jpg"},{"id":4725,"name":"Light Pink Square Rhinestone Button Small Size Button for tops, suits, etc.","price":250,"image":"WBTN00231(1).jpg"},{"id":4727,"name":"Golden Square Rhinestone Button Small Size Button for tops, suits, etc.","price":250,"image":"WBTN00231B(1).jpg"},{"id":4729,"name":"Red Square Rhinestone Button Small Size Button for tops, suits, etc.","price":250,"image":"WBTN00231D(1).jpg"},{"id":4730,"name":"Dark Rainbow Rhinestone Belt Metal Patch For Dresses, Tops, Craft Items etc.","price":330,"image":"PATF0089(1)-1680157589.jpg"},{"id":4732,"name":"Grey Rhinestone Belt Metal Patch For Dresses, Tops, Craft Items etc.","price":330,"image":"PATF0089(2)-1680158611.jpg"},{"id":4733,"name":"Peach Rhinestone Belt Metal Patch For Dresses, Tops, Craft Items etc.","price":330,"image":"PATF0089C(1)-1680158674.jpg"},{"id":4734,"name":"Rainbow Rhinestone Belt Metal Patch For Dresses, Tops, Craft Items etc.","price":330,"image":"PATF0089D(1)-1680158704.jpg"},{"id":4737,"name":"Golden Flower Design Rhinestone Buttons for dresses, suits, kurtis, tops etc.","price":330,"image":"WBTN00232(1)-1680169132.jpg"},{"id":4756,"name":"Red Pink Multi Flower Lace Fancy Lace Floral Lace","price":1630,"image":"FNLC0021-1680778197.jpg"},{"id":4757,"name":"Pink Cream Pastel Multi Flower Lace Fancy Lace Floral Lace","price":1630,"image":"FNLC0021A-1680941003.jpg"},{"id":4758,"name":"Yellow Pink Multi Flower Lace Fancy Lace Floral Lace","price":1630,"image":"FNLC0021B-1680941183.jpg"},{"id":4760,"name":"Golden Color Peacock Patch Sequins Work Patch","price":1630,"image":"PATHE0245B(1)-1696498549.jpg"},{"id":4764,"name":"Beige color Leaf Shape Bead Work Patch","price":130,"image":"PATHE0213M(1)-1681277426.jpg"},{"id":4766,"name":"Off White Velvet Embroided Boder With White Net Frill Neckline\/Neck Patches Applique for Suit, Kurtis and Tops","price":420,"image":"PATNC0014(1)-1681300417.jpg"},{"id":4767,"name":"Off White Neck Patches\/Necklines Applique for Suits, Kurtis and Tops","price":170,"image":"PATNC0015(1)-1681366479.jpg"},{"id":4768,"name":"Beige color beads work Neck Patches\/Necklines Applique for Suits, Kurtis and Tops","price":180,"image":"PATNC0016(1)-1681370620.jpg"},{"id":4769,"name":"Off White color Neck Patches\/Necklines Applique for Suits, Kurtis and Tops","price":180,"image":"PATNC0017(1)-1681371499.jpg"},{"id":4770,"name":"Off White Boat Shape Neck Patch\/Neckline Applique for Suit, Kurtis and Tops","price":100,"image":"PATNC0018(1)-1681372768.jpg"},{"id":4771,"name":"White Color Organza Flower Design Neck Patch\/Neckline Applique for Suits, Kurtis and Tops","price":130,"image":"PATNC0019(1)-1681373516.jpg"},{"id":4772,"name":"Cream Color Designer Cotton Neck Patch\/Neckline Applique for Suits, Kurtis and Tops","price":130,"image":"PATNC0020(1)-1681374229.jpg"},{"id":4773,"name":"Cream Color Designer transparent sequence work Neck Patch\/Neckline Applique for Suits, Kurtis and Tops","price":170,"image":"PATNC0021(1)-1681382157.jpg"},{"id":4774,"name":"Off White Cotton Designer Neck Patch\/Neckline Applique for Suits,Kurtis and Tops.","price":130,"image":"PATNC0022(1)-1681383184.jpg"},{"id":4775,"name":"Beige Color Plastic Stone and Beads Work Neck Patch\/Neckline Applique For Suits, Kurtis and Tops","price":420,"image":"PATNC0023(1)-1681383979.jpg"},{"id":4776,"name":"White Cotton Thread Neck Patch\/Neckline Applique for Suits, Kurtis and Tops","price":320,"image":"PATNC0024(1)-1681384421.jpg"},{"id":4777,"name":"Black Lace with White Beaded Pearl for Lehenga, Saree Border lace for Dupatta","price":500,"image":"WEST0005(1)-1681472839.jpg"},{"id":4778,"name":"Black pearl lace with golden chain for dupatta ladies' suits","price":750,"image":"WEST0006(2)-1681473104.jpg"},{"id":4780,"name":"White Beaded Pearl Lace for Suits, Lehenga and Dupatta","price":500,"image":"WEST0005A(1)-1681474009.jpg"},{"id":4781,"name":"Black Beaded Pearl Lace for Suits, Lehenga and Dupatta","price":500,"image":"WEST0005B(1)-1681474351.jpg"},{"id":4782,"name":"Black Golden Pearl Lace for Suits, Lehenga and Dupatta etc.","price":500,"image":"WEST0005C()-1681537919.jpg"},{"id":4783,"name":"White Golden Pearl Lace for Suits, Lehenga and Dupatta etc.","price":500,"image":"WEST0005D(1)-1681538422.jpg"},{"id":4784,"name":"Black Lace with Center Chain and White Pearl","price":750,"image":"WEST0008(1)-1681539405.jpg"},{"id":4785,"name":"Black center white pearl Lace for dupatta ladies' suits","price":670,"image":"WEST0007(1)-1681539995.jpg"},{"id":4789,"name":"Silver Rhinestone Ribbon Tassel Chain, Rhinestone Fringe Trim Diamond Crystal Tassel Fringe Trim for Sewing Crafts Wedding Party Clothing Accessories Female Jewelry","price":1130,"image":"STNCH0003A(1)-1682059010.jpg"},{"id":4794,"name":"Golden Color 2 Part Metal Frog Button \/ Frog Buckle Rhinestone buttons","price":130,"image":"WBTN00233(1)-1682147006.jpg"},{"id":4795,"name":"Golden Color 2 Part Metal Frog Button \/ Frog - 5 PIECES","price":250,"image":"WBTN00234(1)-1682147183.jpg"},{"id":4796,"name":"Golden Color 2 Part Metal Frog Button \/ Frog Buckle - 5 PIECES","price":290,"image":"WBTN00235(1)-1682147308.jpg"},{"id":4797,"name":"Golden Rhinestone Chain\/Dori Rhinestone Strips for Dresses, Tops, DIY etc.","price":250,"image":"DORI0014(1)-1682323729.jpg"},{"id":4798,"name":"Metallic Grey Rhinestone Cord Chain\/Dori Rhinestone Strips for Dresses, Tops, DIY etc.","price":250,"image":"DORI0014A(2)-1682324142.jpg"},{"id":4799,"name":"Peach Color Rhinestone Cord Chain\/Dori Rhinestone Strips for Dresses, Tops, DIY etc.","price":250,"image":"DORI0014B(1)-1682324553.jpg"},{"id":4800,"name":"Silver Color Rhinestone Cord\/Chain\/Dori Rhinestone Strips for Dresses, Tops, DIY etc.","price":250,"image":"DORI0014C(1)-1682325394.jpg"},{"id":4802,"name":"Black Running Leopard Cheetah Patch Beads Work Embroidery Patch - 2 pieces","price":650,"image":"PATHE0246A(1)-1682403390.jpg"},{"id":4804,"name":"Golden Leopard Cheetah Patch Beads Work Embroidery Patch - 2 pieces","price":580,"image":"PATHE0247(1)-1682407050.jpg"},{"id":4810,"name":"Light Pink Color Assorted Marble Metal Base Fancy Buttons","price":420,"image":"WBTN00236(1)-1682502811.jpg"},{"id":4811,"name":"Light Blue Color Assorted Marble Metal Base Fancy Buttons","price":420,"image":"WBTN00236A(1)-1682506114.jpg"},{"id":4812,"name":"White Color Assorted Marble Metal Base Fancy Buttons","price":420,"image":"WBTN00236B(1).jpg"},{"id":4813,"name":"Hot Pink Color Assorted Marble Metal Base Fancy Buttons","price":420,"image":"WBTN00236C(1).jpg"},{"id":4814,"name":"Baby Pink Color Assorted Marble Metal Base Fancy Buttons","price":420,"image":"WBTN00236D(1).jpg"},{"id":4815,"name":"Dark Green Color Assorted Marble Metal Base Fancy Buttons","price":420,"image":"WBTN00236E(1).jpg"},{"id":4816,"name":"Peach Color Assorted Marble Metal Base Fancy Buttons","price":420,"image":"WBTN00236F(1).jpg"},{"id":4817,"name":"Off White Color Assorted Marble Metal Base Fancy Buttons","price":420,"image":"WBTN00236G(1).jpg"},{"id":4818,"name":"Black Color Assorted Marble Metal Base Fancy Buttons","price":420,"image":"WBTN00236H(1).jpg"},{"id":4819,"name":"Red Color Assorted Marble Metal Base Fancy Buttons","price":420,"image":"WBTN00236I(1).jpg"},{"id":4820,"name":"Green Color Assorted Marble Metal Base Fancy Buttons","price":420,"image":"WBTN00236J(1).jpg"},{"id":4821,"name":"Grey Color Assorted Marble Metal Base Fancy Buttons","price":420,"image":"WBTN00236K(1).jpg"},{"id":4822,"name":"Yellow Color Assorted Marble Metal Base Fancy Buttons","price":420,"image":"WBTN00236L(1).jpg"},{"id":4826,"name":"Off-White Color Flower Design Light Shade Dyeable Cotton Neck Patch\/Neckline Applique","price":150,"image":"PATNC0031(1).jpg"},{"id":4831,"name":"Silver Rainbow (Silver AB) Color Rhinestone Cord\/Chain\/Dori Rhinestone Strips for Dresses, Tops, DIY etc.","price":250,"image":"DORI0014D(2)-1683280698.jpg"},{"id":4833,"name":"Black Color Multi Floral Thread Work Lace With Velvet Base","price":1460,"image":"THBD0030(1)-1683614632.jpg"},{"id":4834,"name":"Greyish Blue Color Cutwork Zari Lace Zari Border","price":540,"image":"ZRBD0043(1)-1683784975.jpg"},{"id":4835,"name":"Blue Color Cutwork Zari Lace Zari Border","price":540,"image":"ZRBD0043A(1).jpg"},{"id":4836,"name":"Cream Color Cutwork Zari Lace Zari Border","price":540,"image":"ZRBD0043B(1).jpg"},{"id":4837,"name":"Coffee Color Cutwork Zari Lace Zari Border","price":540,"image":"ZRBD0043C(1).jpg"},{"id":4838,"name":"Pastel Green Color Cutwork Zari Lace Zari Border","price":540,"image":"ZRBD0043D(1).jpg"},{"id":4839,"name":"Navy Blue Color Designer Zari Lace Zari Border for sarees, suits, dupatta etc.","price":750,"image":"ZRBD0044(1).jpg"},{"id":4840,"name":"Grey Color Designer Zari Lace Zari Border for sarees, suits, dupatta etc.","price":750,"image":"ZRBD0044A(1).jpg"},{"id":4841,"name":"Light Blue Color Designer Zari Lace Zari Border for sarees, suits, dupatta etc.","price":750,"image":"ZRBD0044B(1).jpg"},{"id":4842,"name":"Greyish Blue Color Designer Zari Lace Zari Border for sarees, suits, dupatta etc.","price":750,"image":"ZRBD0044C(1).jpg"},{"id":4843,"name":"Dark Green Color Designer Zari Lace Zari Border for sarees, suits, dupatta etc.","price":750,"image":"ZRBD0044D(1).jpg"},{"id":4844,"name":"Golden Color Sequins and Dabka Work Designer Embroidery Lace\/ Border","price":600,"image":"SQBD0018(1)-1683792513.jpg"},{"id":4845,"name":"Ferozi Blue Color Sequins and Dabka Work Designer Embroidery Lace\/ Border","price":600,"image":"SQBD0018A(1)-1683792645.jpg"},{"id":4847,"name":"Golden Oxidized Buttons Kurta Patti Buttons","price":380,"image":"KURBT0039A(1).jpg"},{"id":4848,"name":"Metallic Grey Oxidized Buttons Designer Kurta Patti Buttons","price":280,"image":"KURBT0040(1).jpg"},{"id":4851,"name":"Golden Oxidized Buttons Designer Kurta Patti Buttons Mirror Buttons","price":350,"image":"KURBT0041A(1).jpg"},{"id":4852,"name":"Golden Oxidized Buttons Designer Kurta Patti Buttons Mirror Pearl Buttons","price":380,"image":"KURBT0042(1).jpg"},{"id":4856,"name":"White Printed Oval Shape Plastic Buckles","price":170,"image":"BUCL00103(1)-1684216272.jpg"},{"id":4857,"name":"White Printed Flower Shape Plastic Buckles","price":170,"image":"BUCL00104(1)-1684216465.jpg"},{"id":4858,"name":"Rectangular Plastic Buckle for belt, handbag and fashion accessories, Suitable for most styles silk scarves, tee shirt, fashion ladies Women Belt buckle","price":210,"image":"BUCL00105(1)-1684216696.jpg"},{"id":4859,"name":"Rectangular Plastic Buckle for belt, handbag and fashion accessories, Suitable for most styles silk scarves, tee shirt, fashion ladies Women Belt buckle","price":210,"image":"BUCL00105A(1)-1684218548.jpg"},{"id":4860,"name":"Off-White Rectangular Plastic Buckle for belt, handbag and fashion accessories, Suitable for most styles silk scarves, tee shirt, fashion ladies Women Belt buckle","price":170,"image":"BUCL00106(1)-1684222095.jpg"},{"id":4861,"name":"Black Round Plastic Buckle for belt, handbag and fashion accessories, Suitable for most styles silk scarves, tee shirt, fashion ladies Women Belt buckle","price":230,"image":"BUCL00107(1)-1684222448.jpg"},{"id":4864,"name":"Green Color Glass Beads Work Fancy Patch","price":400,"image":"PATF0090(1)-1684492232.jpg"},{"id":4865,"name":"Pink Color Glass Beads Work Fancy Patch","price":400,"image":"PATF0090A(1).jpg"},{"id":4866,"name":"Orange Color Glass Beads Work Fancy Patch","price":400,"image":"PATF0090B(1).jpg"},{"id":4867,"name":"Antique Color Glass Beads Work Fancy Patch","price":400,"image":"PATF0090C(1).jpg"},{"id":4868,"name":"Rust Color Glass and Pearl Beads Work Fancy Patch","price":330,"image":"PATF0091(1).jpg"},{"id":4870,"name":"Metallic Grey Color Glass and Pearl Beads Work Fancy Patch","price":330,"image":"PATF0091B(1).jpg"},{"id":4871,"name":"Pink Color Glass and Pearl Beads Work Fancy Patch","price":330,"image":"PATF0091C(1).jpg"},{"id":4872,"name":"Orange Color Glass and Pearl Beads Work Fancy Patch","price":330,"image":"PATF0091D(1).jpg"},{"id":4873,"name":"Light Pink Color Glass and Pearl Beads Work Fancy Patch","price":330,"image":"PATF0091E(1).jpg"},{"id":4874,"name":"Off White Color Glass and Pearl Beads Work Fancy Patch","price":330,"image":"PATF0091F(1).jpg"},{"id":4875,"name":"Metallic Blue Color Glass and Pearl Beads Work Fancy Patch","price":330,"image":"PATF0091G(1).jpg"},{"id":4876,"name":"Off White Color Glass Beads Work Fancy Patch","price":300,"image":"PATF0092(1).jpg"},{"id":4877,"name":"Rust Orange Color Glass Beads Work Fancy Patch","price":300,"image":"PATF0092A(1).jpg"},{"id":4878,"name":"Bright Orange Color Glass Beads Work Fancy Patch","price":300,"image":"PATF0092B(1).jpg"},{"id":4879,"name":"Green Color Glass Beads Work Fancy Patch","price":300,"image":"PATF0092C(1).jpg"},{"id":4880,"name":"Peach Color Glass Beads Work Fancy Patch","price":300,"image":"PATF0092D(1).jpg"},{"id":4881,"name":"Silver Color Glass Beads Work Fancy Patch","price":300,"image":"PATF0092E(1).jpg"},{"id":4882,"name":"Golden Flower Design Round Shape Coat Buttons \/ Blazer Buttons","price":780,"image":"MCBTN00115(1)-1685089508.jpg"},{"id":4883,"name":"Antique Color Crown Design Round Metal Coat Buttons Blazer Buttons - Sold With Box","price":880,"image":"MCBTN00116(1)-1685424939.jpg"},{"id":4884,"name":"Silver Color Crown Design Round Metal Coat Buttons Blazer Buttons - Sold With Box","price":880,"image":"MCBTN00116A(1)-1685425318.jpg"},{"id":4885,"name":"White Color Anchor Design Round Metal Coat Buttons Blazer Buttons - Sold With Box","price":880,"image":"MCBTN00117(1)-1685426521.jpg"},{"id":4886,"name":"Black Color Anchor Design Round Metal Coat Buttons Blazer Buttons - Sold With Box","price":880,"image":"MCBTN00117A(1)-1685430923.jpg"},{"id":4888,"name":"Black-Golden Color Plain Round Metal Coat Buttons Blazer Buttons - Sold With Box","price":880,"image":"MCBTN00118A(1)-1685433319.jpg"},{"id":4889,"name":"Black-Golden Color Designer Round Metal Coat Buttons Blazer Buttons - Sold With Box","price":880,"image":"MCBTN00119(1)-1685433735.jpg"},{"id":4890,"name":"Black-Silver Color Designer Round Metal Coat Buttons Blazer Buttons - Sold With Box","price":880,"image":"MCBTN00119A(1)-1685433913.jpg"},{"id":4891,"name":"Golden-Black Color Leopard Face Sequins Work Designer Patch","price":650,"image":"PATHE0248(1)-1685619045.jpg"},{"id":4892,"name":"Metallic Grey Color Leopard Face Sequins Work Designer Patch","price":820,"image":"PATHE0249(1)-1685686573.jpg"},{"id":4893,"name":"Black Color Scorpion Design Bead And Sequins Work Designer Fancy Embroidery Patch - SMALL , 2 PIECES","price":1080,"image":"PATHE0250(1).jpg"},{"id":4894,"name":"Black Color Scorpion Design Bead And Sequins Work Designer Fancy Embroidery Patch - BIG","price":1370,"image":"PATHE0250A(1).jpg"},{"id":4895,"name":"Metallic Grey Color Lion Face Design Bead And Sequins Work Designer Fancy Embroidery Patch","price":1420,"image":"PATHE0251(1).jpg"},{"id":4896,"name":"Rose Gold Color Lion Face Design Bead And Sequins Work Designer Fancy Embroidery Patch","price":1420,"image":"PATHE0251A(1).jpg"},{"id":4897,"name":"Metallic Grey Color Lion Face Design Dabka Nakshi Work Designer Fancy Embroidery Patch","price":580,"image":"PATHE0252(1).jpg"},{"id":4898,"name":"Silver Color Lion Face Design Dabka Nakshi Work Designer Fancy Embroidery Patch","price":580,"image":"PATHE0252A(1).jpg"},{"id":4901,"name":"Yellow Color Mirror Work Designer Neck Patch\/Neckline Applique Neck Patch Applique for Suits Blouse Choli Dresses etc.","price":500,"image":"PATNC0038(1)-1686208380.jpg"},{"id":4902,"name":"Off White Color Mirror Work Designer Neck Patch Applique with Sleeves for Suits Blouse Dresses etc.","price":1225,"image":"PATNC0039(1)-1686291535.jpg"},{"id":4903,"name":"Multicolored Thread Work Designer Neck Patch\/Neckline Applique Neck Patch Applique for Suits Blouse Dresses etc.","price":210,"image":"PATNC0040(1)-1686295296.jpg"},{"id":4905,"name":"Golden Color Long Kurti\/Dress Front Patch Designer Patch Applique for Suits Sherwani Kurti Dresses etc.","price":375,"image":"PATNC0082(1)-1693566443.jpg"},{"id":4909,"name":"Black-Red Color Embraided Designer Neck Patch Applique for Suits Dress Kurti Dresses etc.","price":210,"image":"PATNC0044(1)-1686642345.jpg"},{"id":4910,"name":"Silver Red Color Embroided Kurti\/Dress Designer Neck Patch Applique","price":502.5,"image":"PATNC0045(1)-1686644236.jpg"},{"id":4911,"name":"Antique Golden Color Embroided Kurti\/Dress Designer Neck Patch with Sleeves","price":660,"image":"PATNC0047(1)-1686645458.jpg"},{"id":4912,"name":"Off white Threadwork Embroided Kurti\/Dress Designer Patch Applique","price":750,"image":"PATNC0046(1)-1686648029.jpg"},{"id":4913,"name":"Red Threadwork Embroided Kurti\/Dress Designer Patch Applique","price":375,"image":"PATNC0046A(1)-1686648395.jpg"},{"id":4916,"name":"Brown color Threadwork Embroided Kurti\/Dress Designer Patch Applique","price":375,"image":"PATNC0046D(1)-1686649373.jpg"},{"id":4918,"name":"Black Color Thread and Ribbon Work Embroided Kurti\/Dress Designer Neck Patch","price":235,"image":"PATNC0048(2)-1686651292.jpg"},{"id":4919,"name":"Red Rose Embroidered Sew\/Iron on Patches, Cloth Sticker Patches for Clothing, Applique Patches for Clothes, Flower Embroidery Patch Jeans Backpack Iron Dress Badge DIY","price":300,"image":"PATME0020(1)-1686814759.jpg"},{"id":4920,"name":"Mickey Mouse Patch Embroidery Patch\/Applique","price":220,"image":"PATME0021(1)-1686817666.jpg"},{"id":4924,"name":"Cream Color Bird Shape Designer Thread Work Press-On Patch\/Applique","price":170,"image":"PATME0024(1)-1686908039.jpg"},{"id":4925,"name":"Blue Rose Embroidered Sew\/Iron on Patches, Cloth Sticker Patches for Clothing, Applique Patches for Clothes, Flower Embroidery Patch Jeans Backpack Iron Dress Badge DIY","price":250,"image":"PATME0025(1)-1686908282.jpg"},{"id":4926,"name":"Purple Rose Embroidered Sew\/Iron on Patches, Cloth Sticker Patches for Clothing, Applique Patches for Clothes, Flower Embroidery Patch Jeans Backpack Iron Dress Badge DIY","price":250,"image":"PATME0025A(1)-1686908426.jpg"},{"id":4927,"name":"Purple Round shape Thread Work Sew\/Iron on Patches, Cloth Sticker Patches for Clothing, Applique Patches for Clothes, Embroidery Patch Jeans Backpack Iron Dress Badge DIY","price":170,"image":"PATME0026(1)-1686909298.jpg"},{"id":4928,"name":"Emoji Faces Assorted Sew\/Iron on Patches, Cloth Sticker Patches for Clothing, Applique Patches for Clothes, Embroidery Patch Jeans Backpack Iron Dress Badge DIY","price":210,"image":"PATME0027(1)-1686909982.jpg"},{"id":4929,"name":"Black Moustache Sewon \/ Press On Patch for tops, jeans etc.","price":230,"image":"PATME0028(1)-1686910576.jpg"},{"id":4930,"name":"Snake patch Sewon \/ Press On Patch for tops, jeans etc.","price":210,"image":"PATME0029(1)-1686916861.jpg"},{"id":4931,"name":"Multi Color Heart Shape Sewon \/ Press On Patch for tops, jeans etc.","price":130,"image":"PATME0030(1)-1686917041.jpg"},{"id":4932,"name":"Multi Color Sequins Work Sewon \/ Press On Patch for tops, jeans etc.","price":130,"image":"PATME0031(1)-1686917173.jpg"},{"id":4933,"name":"Black Flower Fancy Buttons For Kurtis, Tops etc. Fancy Buttons For Suits","price":300,"image":"WBTN00237(1)-1686994875.jpg"},{"id":4934,"name":"White Rose Flower Design Fancy Buttons For Kurtis, Tops etc. Fancy Buttons For Suits","price":280,"image":"WBTN00238(1)-1686995099.jpg"},{"id":4935,"name":"Off-White Flower Design Fancy Pearl Buttons For Kurtis, Tops etc. Fancy Buttons For Suits","price":250,"image":"WBTN00239(1)-1687156134.jpg"},{"id":4936,"name":"White Golden Designer Fancy Pearl Buttons For Kurtis, Tops etc. Fancy Buttons For Suits","price":270,"image":"WBTN00240(1)-1687157824.jpg"},{"id":4937,"name":"Golden Color Rhinestone and Pearl Work Designer Fancy Button For Suits, Dresses, DIY Craft","price":300,"image":"WBTN00241(1)-1687160122.jpg"},{"id":4938,"name":"Dark Golden Color Rhinestone and Pearl Work Designer Fancy Button For Suits, Dresses, DIY Craft","price":250,"image":"WBTN00242(1)-1687160579.jpg"},{"id":4939,"name":"Grey Color Bow Shape Rhinestone and Pearl Work Button For Suits, Dresses, DIY Craft","price":400,"image":"WBTN00243(1)-1687168806.jpg"},{"id":4940,"name":"White Golden Flower Tree Designer Fancy Pearl Buttons For Kurtis, Tops etc. Fancy Buttons For Suits","price":300,"image":"WBTN00244(1)-1687175748.jpg"},{"id":4941,"name":"Designer Fancy Pearl and Rhinestone Buttons For Kurtis, Tops etc. Fancy Buttons For Suits","price":300,"image":"WBTN00245(1)-1687327998.jpg"},{"id":4942,"name":"Peach Designer Fancy Rhinestone Buttons For Kurtis, Tops etc. Fancy Buttons For Suits","price":300,"image":"WBTN00246(1)-1687328174.jpg"},{"id":4943,"name":"Beautiful Dyeable Embroidered Net White Lace Neckline, Dyeable Sewing Neck Applique, Sew On Patch Neck Applique Dress Motif Applique DIY","price":220,"image":"PATNC0050(1)-1687849926.jpg"},{"id":4945,"name":"Dyeable Embroidered Off White Neckline With Center Flower Line , Dyeable Sewing Neck Applique, Sew On Patch Neck Applique Dress Motif Applique DIY","price":150,"image":"PATNC0052(1)-1687850875.jpg"},{"id":4951,"name":"Off-White Rectangle Shape Sequins Work Dyeable Embroidered Neckline with Golden Sequins Work, Dyeable Sewing Neck Applique, Sew On Patch Neck Applique Dress Motif Applique DIY","price":180,"image":"PATNC0058(1)-1687867211.jpg"},{"id":4953,"name":"Off-White Rectangle Shape Sequins and Thread Work Dyeable Embroidered Neckline with Golden Sequins Work, Dyeable Sewing Neck Applique, Sew On Patch Neck Applique Dress Motif Applique DIY","price":180,"image":"PATNC0060(1)-1687867531.jpg"},{"id":4954,"name":"Off-White Rectangle Shape Sequins and Thread Work Dyeable Embroidered Neckline with Golden Sequins Work, Dyeable Sewing Neck Applique, Sew On Patch Neck Applique Dress Motif Applique DIY","price":180,"image":"PATNC0061(1)-1687932128.jpg"},{"id":4958,"name":"Pastel Yellow Color Designer Fancy Rhinestone Buttons For Kurtis, Tops etc. Fancy Buttons For Suits","price":270,"image":"WBTN00247(1)-1688036024.jpg"},{"id":4959,"name":"Greyish Blue Color Designer Fancy Rhinestone Buttons For Kurtis, Tops etc. Fancy Buttons For Suits","price":270,"image":"WBTN00247A(1)-1688036532.jpg"},{"id":4960,"name":"Cream Color Designer Fancy Rhinestone Buttons For Kurtis, Tops etc. Fancy Buttons For Suits","price":270,"image":"WBTN00247B(1)-1688037339.jpg"},{"id":4961,"name":"Peacock Green Color Designer Fancy Rhinestone Buttons For Kurtis, Tops etc. Fancy Buttons For Suits","price":280,"image":"WBTN00248(1)-1688037945.jpg"},{"id":4962,"name":"Light Pink Color Designer Fancy Rhinestone Buttons For Kurtis, Tops etc. Fancy Buttons For Suits","price":280,"image":"WBTN00248A(1)-1688038714.jpg"},{"id":4963,"name":"White Designer Fancy Pearl and Rhinestone Buttons For Kurtis, Tops etc. Fancy Buttons For Suits","price":250,"image":"WBTN00249(1)-1688039402.jpg"},{"id":4964,"name":"Pista Green Designer Fancy Pearl and Rhinestone Buttons For Kurtis, Tops etc. Fancy Buttons For Suits","price":250,"image":"WBTN00249A(1)-1688039687.jpg"},{"id":4965,"name":"Peach-Pink Designer Fancy Pearl and Rhinestone Buttons For Kurtis, Tops etc. Fancy Buttons For Suits","price":250,"image":"WBTN00249B(1)-1688039777.jpg"},{"id":4966,"name":"Purple Designer Fancy Pearl and Rhinestone Buttons For Kurtis, Tops etc. Fancy Buttons For Suits","price":250,"image":"WBTN00249C(1)-1688102554.jpg"},{"id":4967,"name":"White Color Swan\/Flamingo Shape Beads Work Fancy Applique Patch For Dresses, Bags, DIY Craft","price":230,"image":"PATF0093(1)-1688103858.jpg"},{"id":4968,"name":"Peach Color Swan\/Flamingo Shape Beads Work Fancy Applique Patch For Dresses, Bags, DIY Craft","price":230,"image":"PATF0093A(1)-1688104406.jpg"},{"id":4969,"name":"Dark Red Designer Fancy Rhinestone Buttons For Kurtis, Tops etc. Fancy Buttons For Suits","price":290,"image":"WBTN00250(1)-1688123951.jpg"},{"id":4970,"name":"Aqua Green Designer Fancy Rhinestone Buttons For Kurtis, Tops etc. Fancy Buttons For Suits","price":290,"image":"WBTN00250A(1)-1688124024.jpg"},{"id":4971,"name":"Mauvish Grey Designer Fancy Rhinestone Buttons For Kurtis, Tops etc. Fancy Buttons For Suits","price":290,"image":"WBTN00250B(1)-1688124127.jpg"},{"id":4972,"name":"Ferozi Blue Designer Fancy Rhinestone Buttons For Kurtis, Tops etc. Fancy Buttons For Suits","price":290,"image":"WBTN00250C(1)-1688124205.jpg"},{"id":4973,"name":"Black Designer Fancy Rhinestone Buttons For Kurtis, Tops etc. Fancy Buttons For Suits","price":290,"image":"WBTN00250D(1)-1688124390.jpg"},{"id":4974,"name":"Yellow Designer Fancy Rhinestone Buttons For Kurtis, Tops etc. Fancy Buttons For Suits","price":290,"image":"WBTN00250E(1)-1688124443.jpg"},{"id":4975,"name":"25 WATTS-230 VOLTS Soldering Iron For Home Use & Small Repairing Work For Electronics\/ Fabrics","price":210,"image":"71bOcuqRRBL._SX522_-1688451667.jpg"},{"id":4988,"name":"Golden Rectangle Rhinestone Buckle, Metal Buckle for Scarfs, Cardigans, Footwears etc.","price":330,"image":"BUCL00108(1)-1689150798.jpg"},{"id":4989,"name":"Silver Rectangle Rhinestone Buckle, Metal Buckle for Scarfs, Cardigans, Footwears etc.","price":330,"image":"BUCL00108A(1)-1689150877.jpg"},{"id":4990,"name":"Golden Rectangle Rhinestone and Pearl Buckle, Metal Buckle for Scarfs, Cardigans, Footwears etc.","price":330,"image":"BUCL00109(1)-1689150966.jpg"},{"id":4991,"name":"Silver Rectangle Rhinestone and Pearl Buckle, Metal Buckle for Scarfs, Cardigans, Footwears etc.","price":330,"image":"BUCL00109A(1)-1689151030.jpg"},{"id":4992,"name":"Muti Color Round Wooden Buttons for Kurtis, Cardigans, Sweaters etc.","price":130,"image":"WOBTN0051(1)-1689154002.jpg"},{"id":4993,"name":"Red White Color Round Wooden Buttons for Kurtis, Cardigans, Sweaters etc.","price":130,"image":"WOBTN0053(1)-1689154461.jpg"},{"id":4994,"name":"Dark Brown Round Wooden Buttons for Kurtis, Cardigans, Sweaters etc.","price":170,"image":"WOBTN0054(1)-1689154574.jpg"},{"id":4995,"name":"Brown-Grey Round Wooden Buttons for Kurtis, Cardigans, Sweaters etc.","price":170,"image":"WOBTN0055(1)-1689154713.jpg"},{"id":4996,"name":"Brown-Black Round Wooden Buttons for Kurtis, Cardigans, Sweaters etc.","price":200,"image":"WOBTN0054A(1)-1689154957.jpg"},{"id":4997,"name":"Skin Color Round Wooden Buttons for Kurtis, Cardigans, Sweaters etc.","price":170,"image":"WOBTN0055(1)-1689155058.jpg"},{"id":4998,"name":"Black Multi Color Round Wooden Buttons for Kurtis, Cardigans, Sweaters etc.","price":130,"image":"WOBTN0056(1)-1689155885.jpg"},{"id":4999,"name":"Skin Color Round Wooden Buttons for Kurtis, Cardigans, Sweaters etc.","price":130,"image":"WOBTN0057(1)-1689156652.jpg"},{"id":5000,"name":"Skin Multi Color Round Wooden Buttons for Kurtis, Cardigans, Sweaters etc.","price":130,"image":"WOBTN0058(1)-1689156849.jpg"},{"id":5001,"name":"Black Golden Rhinestone Lace for Suits, Dupattas, Dresses etc.","price":330,"image":"DORI0015(1)-1689244165.jpg"},{"id":5002,"name":"Black Silver Rhinestone Lace for Suits, Dupattas, Dresses etc.","price":330,"image":"DORI0015a(1)-1689244269.jpg"},{"id":5003,"name":"Black Peach Rhinestone Lace for Suits, Dupattas, Dresses etc.","price":330,"image":"DORI0015B(1)-1689244335.jpg"},{"id":5004,"name":"Silver Rainbow Rhinestone Lace for Suits, Dupattas, Dresses etc.","price":330,"image":"DORI0015C(1)-1689244408.jpg"},{"id":5005,"name":"Silver Rhinestone Lace for Suits, Dupattas, Dresses etc.","price":420,"image":"DORI0015D(1)-1689244480.jpg"},{"id":5009,"name":"Golden-Black Peacock Design Blouse Patch Designer Neck Patch Applique for Suits Blouse Choli Dresses etc.","price":575,"image":"PATNC0065(1)-1689841077.jpg"},{"id":5011,"name":"Red-Green Rose Design Blouse Patch Designer Neck Patch Applique for Suits Blouse Choli Dresses etc.","price":1200,"image":"PATNC0066(1)-1689845063.jpg"},{"id":5012,"name":"Orange Color Mirror Work Designer Neck Patch\/Neckline Applique Neck Patch Applique for Suits Blouse Choli Dresses etc.","price":500,"image":"PATNC0038A(1)-1689845607.jpg"},{"id":5013,"name":"Purple Color Mirror Work Designer Neck Patch\/Neckline Applique Neck Patch Applique for Suits Blouse Choli Dresses etc.","price":500,"image":"PATNC0038B(1)-1689845785.jpg"},{"id":5014,"name":"Magenta Color Mirror Work Designer Neck Patch\/Neckline Applique Neck Patch Applique for Suits Blouse Choli Dresses etc.","price":500,"image":"PATNC0038C(1)-1689845930.jpg"},{"id":5016,"name":"Designer Long Pearl cape\/pearl necklace poncho for Girls for blouse gowns saree dresses etc. pack of 1 piece","price":4170,"image":"cape0002-1689846992.jpg"},{"id":5019,"name":"'With You' Assorted Charms\/Pendants for bags, keychains, craft items etc.","price":230,"image":"charm-assorted-1690185730.jpg"},{"id":5020,"name":"'Cheer Up' Assorted Charms\/Pendants for bags, keychains, craft items etc.","price":230,"image":"charm-assorted1-1690185863.jpg"},{"id":5021,"name":"'Love You' Assorted Charms\/Pendants for bags, keychains, craft items etc.","price":230,"image":"charm-assorted2-1690186377.jpg"},{"id":5022,"name":"Assorted Charms\/Pendants for bags, keychains, craft items etc.- pack of 12 pcs","price":670,"image":"charm-assorted3-1690199610.jpg"},{"id":5023,"name":"White Color Butterfly Patch","price":380,"image":"PATHE0254(1)-1690271487.jpg"},{"id":5024,"name":"Black Color Butterfly Patch","price":380,"image":"PATHE0255(1)-1690271622.jpg"},{"id":5025,"name":"Red-Golden Fish Design Embroidery Patch | Fish Patch","price":180,"image":"PATHE0256(1)-1690273874.jpg"},{"id":5026,"name":"Green-Golden Fish Design Embroidery Patch | Fish Patch","price":180,"image":"PATHE0256A(1)-1690276145.jpg"},{"id":5027,"name":"Cream-Golden Fish Design Embroidery Patch | Fish Patch","price":180,"image":"PATHE0256B(1)-1690276171.jpg"},{"id":5029,"name":"Purple-Golden Fish Design Embroidery Patch | Fish Patch","price":180,"image":"PATHE0256E(1)-1690276440.jpg"},{"id":5031,"name":"Sea Green Fish Design Embroidery Patch | Fish Patch","price":180,"image":"PATHE0256F(1)-1690277057.jpg"},{"id":5032,"name":"Peach Fish Design Embroidery Patch | Fish Patch","price":180,"image":"PATHE0256G(1)-1690277241.jpg"},{"id":5033,"name":"Neon Green Fish Design Embroidery Patch | Fish Patch","price":180,"image":"PATHE0256H(1)-1690277564.jpg"},{"id":5034,"name":"Maroon Fish Design Embroidery Patch | Fish Patch","price":180,"image":"PATHE0256I(1)-1690277824.jpg"},{"id":5035,"name":"Orange Fish Design Embroidery Patch | Fish Patch","price":180,"image":"PATHE0256J(1)-1690277999.jpg"},{"id":5046,"name":"Yellow Fish Design Embroidery Patch | Fish Patch","price":180,"image":"PATHE0256D(1)-1690282092.jpg"},{"id":5047,"name":"Green Golden Flower Design Metal Kurta Patti Buttons","price":170,"image":"KURBT0044(1)-1690282810.jpg"},{"id":5048,"name":"Mauve Golden Flower Design Metal Kurta Patti Buttons","price":170,"image":"KURBT0044A(1)-1690283588.jpg"},{"id":5049,"name":"Ferozi Golden Flower Design Metal Kurta Patti Buttons","price":170,"image":"KURBT0044B(1)-1690284056.jpg"},{"id":5050,"name":"Yellow Golden Flower Design Metal Kurta Patti Buttons","price":170,"image":"KURBT0044C(1)-1690284236.jpg"},{"id":5051,"name":"Golden Orange Color Metal Kurta Patti Buttons","price":130,"image":"KURBT0045(1)-1690284755.jpg"},{"id":5052,"name":"Golden Stone Work Metal Kurta Patti Buttons","price":90,"image":"KURBT0046(1)-1690285428.jpg"},{"id":5055,"name":"Golden Rhinestone Stone Work Metal Kurta Patti Buttons","price":210,"image":"KURBT0049(1)-1690351868.jpg"},{"id":5056,"name":"Golden Eye Design Rhinestone Stone Pearl Work Metal Kurta Patti Buttons","price":80,"image":"KURBT0050(1)-1690353095.jpg"},{"id":5057,"name":"Golden Design Rhinestone Stone Pearl Work Metal Kurta Patti Buttons","price":220,"image":"KURBT0051(1)-1690356327.jpg"},{"id":5058,"name":"Golden Design Rhinestone and Pearl Work Metal Kurta Patti Buttons","price":230,"image":"KURBT0052(1)-1690356632.jpg"},{"id":5059,"name":"Golden Design Rhinestone Work Metal Kurta Patti Buttons","price":130,"image":"KURBT0053(1)-1690356767.jpg"},{"id":5060,"name":"Golden Design Rhinestone Work Metal Kurta Patti Buttons","price":200,"image":"KURBT0054(1)-1690363031.jpg"},{"id":5061,"name":"Golden Metal Kurta Patti Buttons","price":210,"image":"KURBT0055(1)-1690363161.jpg"},{"id":5063,"name":"White Thread Work Dyeable Patch Embroidery Patch For Dresses, Suits, DIY etc.","price":300,"image":"PATHE0259(1)-1690538380.jpg"},{"id":5064,"name":"White Flower Design Thread Work Dyeable Patch Embroidery Patch For Dresses, Suits, DIY etc.","price":300,"image":"PATHE0260(1)-1690538561.jpg"},{"id":5065,"name":"White Thread Work Dyeable Patch Embroidery Patch For Dresses, Suits, DIY etc.","price":120,"image":"PATHE0261(1)-1690538819.jpg"},{"id":5066,"name":"Black Leaf Shape Beads Work Designer Patch for dresses, suits etc.","price":380,"image":"PATHE0263(1)-1690542742.jpg"},{"id":5067,"name":"Pink Butterfly Patch Beads Work Designer Patch for dresses, suits etc.","price":230,"image":"PATHE0264(1)-1690543172.jpg"},{"id":5068,"name":"Rhinestone Work Designer Assorted Buttons- Pack of 10 pieces","price":170,"image":"A-BTN0001-1690545716.jpg"},{"id":5069,"name":"Golden Rhinestone Work Designer Assorted Buttons- Pack of 10 pieces","price":170,"image":"A-BTN0002-1690545917.jpg"},{"id":5070,"name":"Orange - Golden Rhinestone Work Designer Assorted Buttons in Pairs- Pack of 14 pieces","price":200,"image":"A-BTN0003-1690546068.jpg"},{"id":5071,"name":"Multi Color Rhinestone Work Designer Assorted Buttons in Pairs- Pack of 15 pieces","price":250,"image":"A-BTN0004-1690546195.jpg"},{"id":5072,"name":"Golden Rhinestone Work Designer Assorted Buttons- Pack of 20 pieces","price":250,"image":"A-BTN0005-1690546345.jpg"},{"id":5073,"name":"Enamel Rhinestone Work Designer Assorted Buttons- Pack of 10 pieces","price":200,"image":"A-BTN0006-1690611554.jpg"},{"id":5074,"name":"Round Assorted Plastic Buttons- Pack of 35 pieces","price":250,"image":"A-BTN0007-1690612609.jpg"},{"id":5075,"name":"Multi Colored Small-Size Rhinestone Assorted Buttons- Pack of 20 pieces","price":250,"image":"A-BTN0008-1690613755.jpg"},{"id":5076,"name":"Multi Colored Rhinestone Crystal Assorted Buttons- Pack of 18 pieces","price":250,"image":"A-BTN0009-1690614078.jpg"},{"id":5077,"name":"Off-White Color Pearl and Thread Work Designer Embroidery Collar for Shirts etc.","price":130,"image":"COLR00009(1)-1690793163.jpg"},{"id":5078,"name":"Off-White Color Stone and Sequins Work Designer Embroidery Collar for Shirts etc.","price":150,"image":"COLR00010(1)-1690793264.jpg"},{"id":5080,"name":"Sidhu Moose Wala Patch Stone Patch Hotfix Patch Iron on Patch\/Sticker","price":830,"image":"sidhu1-1690803022.jpg"},{"id":5094,"name":"Golden Gota Work Neck Patch Sew-on Neck Applique, Sew On Patch Dress Motif Applique DIY","price":420,"image":"PATNC0074(1)-1690890002.jpg"},{"id":5096,"name":"Golden Gota Work Small Neck Patch Sew-on Neck Applique, Sew On Patch Dress Motif Applique DIY","price":330,"image":"PATNC0076(1)-1690890254.jpg"},{"id":5098,"name":"Golden Long Gota Work Small Neck Patch Sew-on Neck Applique, Sew On Patch Dress Motif Applique DIY","price":380,"image":"PATNC0078(1)-1690890645.jpg"},{"id":5100,"name":"Metallic Grey Color Lion Face Design Beads Work Designer Fancy Embroidery Patch","price":380,"image":"PATHE0265(1)-1691148723.jpg"},{"id":5102,"name":"Black Color Lion Face Design Beads Work Designer Fancy Embroidery Patch","price":380,"image":"PATHE0265B(1).-1691150956.jpg"},{"id":5104,"name":"Multi color Neck Patch Sew-on Neck Applique, Sew On Patch Dress Motif Applique DIY- DESIGN 1","price":110,"image":"patnc0080d-1695124935.jpg"},{"id":5105,"name":"Multi color Neck Patch Sew-on Neck Applique, Sew On Patch Dress Motif Applique DIY- DESIGN 2","price":110,"image":"patnc0080c-1695124918.jpg"},{"id":5106,"name":"Multi color Neck Patch Sew-on Neck Applique, Sew On Patch Dress Motif Applique DIY- DESIGN 3","price":110,"image":"PATNC0080B(1)-1695124898.jpg"},{"id":5107,"name":"Golden Sequins and Zari Work Lace Bridal Lace for Dupatta, lehnga etc.","price":1040,"image":"ZRBD0045(2)-1691836935.jpg"},{"id":5108,"name":"Golden Cutwork Sequins and Zari Work Lace Bridal Lace for Dupatta, lehnga etc.","price":540,"image":"ZRBD0046(1)-1691837127.jpg"},{"id":5109,"name":"Golden Sequins and Zari Work Lace Bridal Lace for Dupatta, lehnga etc. - Design 1","price":1020,"image":"ZRBD0047(1)-1691837365.jpg"},{"id":5110,"name":"Light Golden Sequins and Zari Work Lace Bridal Lace for Dupatta, lehnga etc. - Design 2","price":1370,"image":"ZRBD0048(1)-1691838299.jpg"},{"id":5111,"name":"Light Golden Sequins and Zari Work Lace Bridal Lace for Dupatta, lehnga etc. - Design 3","price":710,"image":"ZRBD0049(1)-1691838416.jpg"},{"id":5112,"name":"Red color Feather Style Light Weight Button For Kurtis, Tops etc.","price":170,"image":"WBTN00251(1)-1692183627.jpg"},{"id":5113,"name":"Royal Blue color Feather Style Light Weight Button For Kurtis, Tops etc.","price":170,"image":"WBTN00251A(1)-1692183929.jpg"},{"id":5114,"name":"Brown color Feather Style Light Weight Button For Kurtis, Tops etc.","price":170,"image":"WBTN00251B(1)-1692184159.jpg"},{"id":5115,"name":"Light Peach color Feather Style Light Weight Button For Kurtis, Tops etc.","price":170,"image":"WBTN00251C(1)-1692184343.jpg"},{"id":5116,"name":"Grey color Feather Style Light Weight Button For Kurtis, Tops etc.","price":170,"image":"WBTN00251D(1)-1692184506.jpg"},{"id":5117,"name":"Maroon color Feather Style Light Weight Button For Kurtis, Tops etc.","price":170,"image":"WBTN00251E(1)-1692184907.jpg"},{"id":5118,"name":"Neon Pink color Feather Style Light Weight Button For Kurtis, Tops etc.","price":170,"image":"WBTN00251F(1)-1692185150.jpg"},{"id":5119,"name":"Yellow color Feather Style Light Weight Button For Kurtis, Tops etc.","price":170,"image":"WBTN00251G(1)-1692185310.jpg"},{"id":5120,"name":"Desaturated Pink color Feather Style Light Weight Button For Kurtis, Tops etc.","price":170,"image":"WBTN00251H(1)-1692185860.jpg"},{"id":5121,"name":"Mehandi Green color Feather Style Light Weight Button For Kurtis, Tops etc.","price":170,"image":"WBTN00251I(1)-1692186099.jpg"},{"id":5122,"name":"Mauve color Feather Style Light Weight Button For Kurtis, Tops etc.","price":170,"image":"WBTN00251J(1)-1692186273.jpg"},{"id":5123,"name":"Mouse Grey color Feather Style Light Weight Button For Kurtis, Tops etc.","price":170,"image":"WBTN00251K(1)-1692186566.jpg"},{"id":5124,"name":"Dark Brown color Feather Style Light Weight Button For Kurtis, Tops etc.","price":170,"image":"WBTN00251L(1)-1692186817.jpg"},{"id":5125,"name":"Neon Green color Feather Style Light Weight Button For Kurtis, Tops etc.","price":170,"image":"WBTN00251M(1)-1692186964.jpg"},{"id":5126,"name":"Light Golden Sequins and Zari Work Lace Bridal Lace for Dupatta, lehnga etc. - Design 4","price":750,"image":"ZRBD0050(1)-1692358687.jpg"},{"id":5127,"name":"Antique Golden Sequins and Zari Work Lace Bridal Lace for Dupatta, lehnga etc.","price":1040,"image":"ZRBD0051(1)-1692358885.jpg"},{"id":5128,"name":"Light Golden Sequins and Zari Work Lace Bridal Lace for Dupatta, lehnga etc.","price":1040,"image":"ZRBD0051A(1)-1692359072.jpg"},{"id":5129,"name":"Light Golden Sequins and Zari Work Lace Bridal Lace for Dupatta, lehnga etc.","price":1250,"image":"ZRBD0052(1)-1692359269.jpg"},{"id":5130,"name":"Golden Zari Work Lace Bridal Lace for Dupatta, lehnga etc.","price":580,"image":"ZRBD0053(2)-1692359964.jpg"},{"id":5131,"name":"Golden Zari Work Lace Bridal Lace for Dupatta, lehnga etc.","price":880,"image":"ZRBD0054(1)-1692360039.jpg"},{"id":5132,"name":"Antique Golden Zari Work Lace Bridal Lace for Dupatta, lehnga etc.","price":1130,"image":"ZRBD0055(1)-1692360204.jpg"},{"id":5133,"name":"Golden Sequins and Zari Work Lace Bridal Lace for Dupatta, lehnga etc. Zari Lace","price":480,"image":"ZRBD0056(1)-1692612157.jpg"},{"id":5134,"name":"Light Golden Sequins and Zari Work Lace Bridal Lace for Dupatta, lehnga etc. Zari Lace","price":680,"image":"ZRBD0057(1)-1692613053.jpg"},{"id":5135,"name":"Rose Golden Sequins and Zari Work Lace Bridal Lace for Dupatta, lehnga etc. Zari Lace","price":430,"image":"ZRBD0058(1)-1692613206.jpg"},{"id":5136,"name":"Light Golden Cutwork Design Sequins and Zari Work Lace Bridal Lace for Dupatta, lehnga etc. Zari Lace","price":1040,"image":"ZRBD0059(1)-1692613582.jpg"},{"id":5137,"name":"Antique Golden Cutwork Design Sequins and Zari Work Lace Bridal Lace for Dupatta, lehnga etc. Zari Lace","price":1040,"image":"ZRBD0059A(1)-1692613741.jpg"},{"id":5138,"name":"Golden Cutwork Design Sequins and Zari Work Lace Bridal Lace for Dupatta, lehnga etc. Zari Lace","price":540,"image":"ZRBD0060A(1)-1692615519.jpg"},{"id":5139,"name":"Rose Golden Cutwork Design Sequins and Zari Work Lace Bridal Lace for Dupatta, lehnga etc. Zari Lace","price":1080,"image":"ZRBD0061(1)-1692615859.jpg"},{"id":5140,"name":"Light Golden Cutwork Design Sequins and Zari Work Lace Bridal Lace for Dupatta, lehnga etc. Zari Lace","price":1080,"image":"ZRBD0061A(1)-1692617272.jpg"},{"id":5142,"name":"Light Golden Sequins and Zari Work Lace Bridal Lace for Dupatta, lehnga etc. Zari Lace Flower Design","price":480,"image":"ZRBD0062(1)-1692617732.jpg"},{"id":5143,"name":"Light Golden Sequins and Zari Work Lace Bridal Lace for Dupatta, lehnga etc. Zari Lace Flower Design","price":650,"image":"ZRBD0063(1)-1692617613.jpg"},{"id":5144,"name":"Golden Cutwork Design Sequins and Zari Work Lace Bridal Lace for Dupatta, lehnga etc. Zari Lace","price":750,"image":"ZRBD0064(1)-1692617836.jpg"},{"id":5145,"name":"Water Golden Criss-Cross Design Sequins and Zari Work Lace Bridal Lace for Dupatta, lehnga etc. Zari Lace","price":520,"image":"ZRBD0065(1)-1692618135.jpg"},{"id":5146,"name":"Rose Golden Criss-Cross Design Sequins and Zari Work Lace Bridal Lace for Dupatta, lehnga etc. Zari Lace","price":520,"image":"ZRBD0065A(1)-1692618236.jpg"},{"id":5147,"name":"Light Golden Sequins and Zari Work Lace Bridal Lace for Dupatta, lehnga etc. Zari Lace","price":650,"image":"ZRBD0066(1)-1692619392.jpg"},{"id":5148,"name":"Golden Sequins and Zari Work Lace Bridal Lace for Dupatta, lehnga etc. Zari Lace","price":650,"image":"ZRBD0066A(1)-1692619662.jpg"},{"id":5149,"name":"Golden Leaf Design Sequins and Zari Work Lace Bridal Lace for Dupatta, lehnga etc. Zari Lace","price":400,"image":"ZRBD0067(1)-1692619600.jpg"},{"id":5150,"name":"Stiff Black Polyester Horsehair Trim Braid Hem\/Plastic Net for Sewing Wedding Dress Gowns-12 mm, pack of 50 yrads","price":250,"image":"PLNET0007(3)-1692776733.jpg"},{"id":5151,"name":"Stiff Black Polyester Horsehair Trim Braid Hem\/Plastic Net for Sewing Wedding Dress Gowns-1 inch , pack of 50 yrads","price":330,"image":"PLNET0006-1692777755.jpg"},{"id":5152,"name":"Stiff Black Polyester Horsehair Trim Braid Hem\/Plastic Net for Sewing Wedding Dress Gowns-2 inch , pack of 50 yrads","price":670,"image":"PLNET0006(1)-1692778032.jpg"},{"id":5153,"name":"Stiff Black Polyester Horsehair Trim Braid Hem\/Plastic Net for Sewing Wedding Dress Gowns-3 inch , pack of 50 yrads","price":1000,"image":"PLNET0006-1692778262.jpg"},{"id":5154,"name":"Stiff Black Polyester Horsehair Trim Braid Hem\/Plastic Net for Sewing Wedding Dress Gowns-4 inch , pack of 50 yrads","price":2250,"image":"PLNET0007(2)-1692779063.jpg"},{"id":5156,"name":"Silver Leaf Shape Beads Work Designer Patch for dresses, suits etc.","price":380,"image":"PATHE0268A(1)-1692878104.jpg"},{"id":5157,"name":"Rose Gold Leaf Shape Beads Work Designer Patch for dresses, suits etc.","price":380,"image":"PATHE0268B(1)-1692878203.jpg"},{"id":5158,"name":"Blue Leaf Shape Beads Work Designer Patch for dresses, suits etc.","price":380,"image":"PATHE0268C(1)-1692878451.jpg"},{"id":5159,"name":"Off-White Color Rectangle Shape Plastic Stones","price":200,"image":"PLASTIC-STONE-1693048824.jpg"},{"id":5160,"name":"Antique Golden\/Brown Color Embroided Kurti\/Dress Designer Neck Patch with Sleeves","price":798,"image":"PATNC0084(1)-1693566967.jpg"},{"id":5161,"name":"Golden Designer Blouse Back Doli Patch Designer Neck Patch Applique for Suits Blouse Choli Dresses etc. Bridal Blouse Patch","price":4080,"image":"PATNC0081(1)-1693567415.jpg"},{"id":5162,"name":"Antique Golden\/Brown Color Embroided Kurti\/Dress Designer Neck Patch Blouse Patch","price":900,"image":"PATNC0083(1)-1693567851.jpg"},{"id":5163,"name":"Black-Golden Color Embroided Kurti\/Dress Designer Neck Patch\/Applique","price":500,"image":"PATNC0080(1)-1693568983.jpg"},{"id":5164,"name":"Black-Silver Color Embroided Kurti\/Dress Designer Neck Patch\/Applique","price":500,"image":"PATNC0080B(1)-1693568998.jpg"},{"id":5165,"name":"Black Color Embroided Kurti\/Dress Designer Neck Patch\/Applique","price":500,"image":"PATNC0080A(1)-1693569071.jpg"},{"id":5166,"name":"Orange Color Mirror Work Designer Neck Patch Applique with Sleeves for Suits Blouse Dresses etc.","price":1225,"image":"PATNC0039A(1)-1693650865.jpg"},{"id":5167,"name":"Golden Cutwork Mirror Lace for Dupatta, Lehenga etc. Mirror Work Lace Border","price":1380,"image":"MRLC0022(1)-1693655088.jpg"},{"id":5168,"name":"Blue Color Swan\/Flamingo Shape Beads Work Fancy Applique Patch For Dresses, Bags, DIY Craft","price":230,"image":"PATF0093B-1(1)-1693897146.jpg"},{"id":5169,"name":"Golden Mirror Lace for Dupatta, Lehenga etc. Mirror Work Lace Border","price":1250,"image":"MRLC0023(1)-1693899072.jpg"},{"id":5170,"name":"Golden Round Mirror Lace for Dupatta, Lehenga etc. Mirror Work Lace Border","price":650,"image":"MRLC0024(1)-1693899186.jpg"},{"id":5171,"name":"Golden Mirror Lace for Dupatta, Lehenga etc. Mirror Work Lace Border","price":960,"image":"MRLC0025(1)-1693899428.jpg"},{"id":5172,"name":"Golden Mirror Lace for Dupatta, Lehenga etc. Mirror Work Lace Border","price":1040,"image":"MRLC0026(1)-1693899444.jpg"},{"id":5173,"name":"Golden Cutwork Mirror Lace for Dupatta, Lehenga etc. Mirror Work Lace Border","price":960,"image":"MRLC0027(1)-1693900231.jpg"},{"id":5174,"name":"Black Single Line Mirror Lace for Dupatta, Lehenga etc. Mirror Work Lace Border","price":400,"image":"MRLC0028(1)-1693900446.jpg"},{"id":5176,"name":"Light Golden Single Line Mirror Lace for Dupatta, Lehenga etc. Mirror Work Lace Border","price":400,"image":"MRLC0028B(1)-1693900666.jpg"},{"id":5177,"name":"Off-White Single Line Mirror Lace for Dupatta, Lehenga etc. Mirror Work Lace Border","price":400,"image":"MRLC0028C(1)-1693900837.jpg"},{"id":5178,"name":"White Teddy Design Fancy Fur Patch","price":170,"image":"PATF0096(1)-1693914581.jpg"},{"id":5179,"name":"Light Brown Teddy Design Fancy Fur Patch","price":170,"image":"PATF0096A(1)-1693999803.jpg"},{"id":5180,"name":"Vanilla Color Teddy Design Fancy Fur Patch","price":170,"image":"PATF0096B(1)-1693999912.jpg"},{"id":5181,"name":"Black Teddy Design Fancy Fur Patch","price":170,"image":"PATF0096c(1)-1693999977.jpg"},{"id":5182,"name":"Peach Teddy Design Fancy Fur Patch","price":170,"image":"PATF0096D(1)-1694000154.jpg"},{"id":5183,"name":"Black Butterfly Design Fancy Fur Patch","price":250,"image":"PATF0097(1)-1694159136.jpg"},{"id":5184,"name":"Vanilla Butterfly Design Fancy Fur Patch","price":250,"image":"PATF0097A(1)-1694159250.jpg"},{"id":5185,"name":"Brown Butterfly Design Fancy Fur Patch","price":250,"image":"PATF0097B(1)-1694159304.jpg"},{"id":5186,"name":"Grey Butterfly Design Fancy Fur Patch","price":250,"image":"PATF0097C(1)-1694159362.jpg"},{"id":5187,"name":"Navy Blue Butterfly Design Fancy Fur Patch","price":250,"image":"PATF0097D(1)-1694159709.jpg"},{"id":5188,"name":"Baby Pink Butterfly Design Fancy Fur Patch","price":250,"image":"PATF0097E(1)-1694159780.jpg"},{"id":5189,"name":"Light Peach Butterfly Design Fancy Fur Patch","price":250,"image":"PATF0097F(1)-1694159929.jpg"},{"id":5190,"name":"Red Butterfly Design Fancy Fur Patch","price":250,"image":"PATF0097G(1)-1694160040.jpg"},{"id":5191,"name":"Vanilla Color Rabbit Ears Design Fancy Fur Patch","price":170,"image":"PATF0095(1)-1694252090.jpg"},{"id":5192,"name":"Grey Color Rabbit Ears Design Fancy Fur Patch","price":170,"image":"PATF0095A(1)-1694252189.jpg"},{"id":5193,"name":"Black Color Rabbit Ears Design Fancy Fur Patch","price":170,"image":"PATF0095B(1)-1694252348.jpg"},{"id":5194,"name":"Peach Color Rabbit Ears Design Fancy Fur Patch","price":170,"image":"PATF0095C(1)-1694252513.jpg"},{"id":5195,"name":"Baby Pink Color Rabbit Ears Design Fancy Fur Patch","price":170,"image":"PATF0095D(1)-1694252649.jpg"},{"id":5196,"name":"Golden Color Rabbit Ears Design Fancy Fur Patch","price":170,"image":"PATF0095E(1)-1694252851.jpg"},{"id":5197,"name":"Brown Color Rabbit Ears Design Fancy Fur Patch","price":170,"image":"PATF0095F(1)-1694252926.jpg"},{"id":5198,"name":"Dark Green Color Rabbit Ears Design Fancy Fur Patch","price":170,"image":"PATF0095G(1)-1694253004.jpg"},{"id":5200,"name":"Rose-Golden Bride-Bridegroom Hand Embroidery Patch","price":550,"image":"PATHE0157A(1)-Right--1694416333.jpg"},{"id":5201,"name":"Dull-Golden Bridal Doli Patch Hand Embroidery Patch\/Applique","price":960,"image":"PATHE0269(1)-1694417417.jpg"},{"id":5202,"name":"Rose-Golden Bridal Doli Patch Hand Embroidery Patch\/Applique","price":960,"image":"PATHE0269A(1)-1694418306.jpg"},{"id":5203,"name":"Blue Color Multi Angel Wings Patch\/Applique Sequins Work Patch","price":920,"image":"PATHE0270(1)-1694588243.jpg"},{"id":5204,"name":"Pink Color Multi Angel Wings Patch\/Applique Sequins Work Patch","price":920,"image":"PATHE0270A(1)-1694588347.jpg"},{"id":5205,"name":"Metallic Grey Color Angel Wings Patch\/Applique Sequins Work Patch","price":750,"image":"PATHE0271(1)-1694588556.jpg"},{"id":5206,"name":"Golden Color Angel Wings Patch\/Applique Sequins Work Patch","price":750,"image":"PATHE0271A(1)-1694588771.jpg"},{"id":5215,"name":"Assorted Wooden Buttons - PACK OF 62 PIECES","price":330,"image":"assorted-1694778084.jpg"},{"id":5216,"name":"Water Golden Rectangle Shape Zardozi Neck Patch Neckline","price":200,"image":"PATNC0094(3)-1695109737.jpg"},{"id":5218,"name":"Pearl Matte \/ Light Golden Rectangle Shape Zardozi Neck Patch Neckline","price":200,"image":"PATNC0094B(3)-1695109505.jpg"},{"id":5219,"name":"Water Golden Zardozi Neck Patch Neckline","price":250,"image":"PATNC0095(3)-1695020456.jpg"},{"id":5221,"name":"Pearl Matte \/ Light Golden Zardozi Neck Patch Neckline","price":250,"image":"PATNC0095B(3)-1695019543.jpg"},{"id":5222,"name":"Rainbow Color Pearl Button for Tops, Sweaters, Dresses etc.","price":330,"image":"PRLBTN0071(1)-1695116626.jpg"},{"id":5223,"name":"White Color with Metal Base Pearl Button for Tops, Sweaters, Dresses etc.","price":200,"image":"PRLBTN0072(1)-1695118017.jpg"},{"id":5224,"name":"Textured Off-White Color Pearl Button for Tops, Sweaters, Dresses etc.","price":230,"image":"PRLBTN0073(1)-1695119746.jpg"},{"id":5225,"name":"Off-White Color Pearl Button With Center Stone for Tops, Sweaters, Dresses etc.","price":270,"image":"PRLBTN0074(1)-1695119934.jpg"},{"id":5226,"name":"Off-White Color Rectangle Shape Pearl Button for Tops, Sweaters, Dresses etc.","price":330,"image":"PRLBTN0075(1)-1695120066.jpg"},{"id":5227,"name":"Golden color light weight fringes lace Kiran Lace for dupattas","price":330,"image":"FRNG0008A(1)-1695196128.jpg"},{"id":5229,"name":"Rose Gold Fringes Lace Trim Kiran Crush Lace Frill Lace for dupattas","price":330,"image":"FRNG00233(1)-1695204343.jpg"},{"id":5230,"name":"Pearl Matte Light Golden Fringes Lace Trim Kiran Crush Lace Frill Lace for dupattas","price":300,"image":"FRNG00232(1)-1695204596.jpg"},{"id":5231,"name":"White Golden Fringes Lace Trim Kiran Crush Lace Frill Lace - Dyeable","price":415,"image":"FRNG00229(3)-1695205985.jpg"},{"id":5232,"name":"Yellowish Golden Fringes Lace Trim Kiran Crush Lace Frill Lace for dupattas","price":250,"image":"FRNG00230(1)-1695210657.jpg"},{"id":5233,"name":"Silver Fringes Lace Trim Kiran Crush Lace Frill Lace for dupattas","price":250,"image":"FRNG00230A(1)-1695210823.jpg"},{"id":5234,"name":"Light Golden Fringes Lace Trim Kiran Crush Lace Frill Lace for dupattas","price":250,"image":"FRNG00230B(1)-1695210897.jpg"},{"id":5235,"name":"Pearl Matte Fringes Lace Trim Kiran Crush Lace Frill Lace for dupattas","price":250,"image":"FRNG00230C(1)-1695211107.jpg"},{"id":5236,"name":"Black Grey Peacock Design Fancy Embroidery Patch\/Applique For Dresses, Suits, Blazers, etc.","price":1790,"image":"PATHE0232A(1)-1695369572.jpg"},{"id":5237,"name":"Sky Blue Color Tassels - Pack of 4","price":135,"image":"TASSL0001-1695371642.jpg"},{"id":5238,"name":"Lavender Color Tassels - Pack of 4","price":135,"image":"TASSL0001A-1695374255.jpg"},{"id":5239,"name":"Reddish Color Tassels - Pack of 4","price":135,"image":"TASSL0001B-1695374319.jpg"},{"id":5240,"name":"Magenta Color Tassels - Pack of 4","price":135,"image":"TASSL0004B-1695374393.jpg"},{"id":5241,"name":"Black Color Tassels - Pack of 4","price":135,"image":"TASSL0004D-1695375616.jpg"},{"id":5242,"name":"Peach Color Tassels - Pack of 4","price":135,"image":"TASSL0004E-1695375654.jpg"},{"id":5243,"name":"Royal Blue Color Tassels - Pack of 4","price":135,"image":"TASSL0004F-1695375723.jpg"},{"id":5244,"name":"Rose Gold Color Tassels - Pack of 4","price":135,"image":"TASSL0004G-1695375858.jpg"},{"id":5245,"name":"Light Green Color Tassels - Pack of 4","price":135,"image":"TASSL0004H-1695375994.jpg"},{"id":5246,"name":"Light Golden Color Tassels - Pack of 4","price":135,"image":"TASSL0004I-1695376060.jpg"},{"id":5247,"name":"Purple Color Tassels - Pack of 4","price":135,"image":"TASSL0004J-1695376412.jpg"},{"id":5248,"name":"Maroon Color Tassels - Pack of 4","price":135,"image":"TASSL0004K-1695376579.jpg"},{"id":5249,"name":"Red Color Tassels - Pack of 4","price":135,"image":"TASSL0004L-1695376641.jpg"},{"id":5250,"name":"Bronze Color Tassels - Pack of 4","price":135,"image":"TASSL0004M-1695376699.jpg"},{"id":5251,"name":"Golden Color Tassels - Pack of 4","price":135,"image":"TASSL0004N-1695376776.jpg"},{"id":5252,"name":"Silver Color Tassels - Pack of 4","price":135,"image":"TASSL0004O-1695380327.jpg"},{"id":5253,"name":"Neon Yellow Color Tassels - Pack of 4","price":135,"image":"TASSL0004P-1695380409.jpg"},{"id":5254,"name":"White Color Tassels - Pack of 4","price":135,"image":"TASSL0004Q-1695380509.jpg"},{"id":5255,"name":"Off-White Color Tassels - Pack of 4","price":135,"image":"TASSL0004R-1695381214.jpg"},{"id":5256,"name":"Grey Color Tassels - Pack of 4","price":135,"image":"TASSL0004S-1695381272.jpg"},{"id":5257,"name":"Light Golden Tassel and Sequins Laddoo Hangings\/Latkans - 2 pieces","price":200,"image":"HANG0031(1)-1695982108.jpg"},{"id":5258,"name":"White Tassel and Sequins Laddoo Hangings\/Latkans - 2 pieces","price":200,"image":"HANG0031A(1)-1695982211.jpg"},{"id":5259,"name":"Magenta Tassel and Sequins Laddoo Hangings\/Latkans - 2 pieces","price":200,"image":"HANG0031B(1)-1695982283.jpg"},{"id":5260,"name":"Navy Blue Tassel and Sequins Laddoo Hangings\/Latkans - 2 pieces","price":200,"image":"HANG0031c(1)-1695982389.jpg"},{"id":5261,"name":"Grey Tassel and Sequins Laddoo Hangings\/Latkans - 2 pieces","price":200,"image":"HANG0031D(1)-1695982481.jpg"},{"id":5262,"name":"Golden and Sequins Laddoo Hangings\/Latkans - 2 pieces","price":200,"image":"HANG0031E(1)-1695982656.jpg"},{"id":5263,"name":"Lavender Tassel and Sequins Laddoo Hangings\/Latkans - 2 pieces","price":200,"image":"HANG0031F(1)-1695982766.jpg"},{"id":5264,"name":"Reddish Golden Tassel and Sequins Laddoo Hangings\/Latkans - 2 pieces","price":200,"image":"HANG0031G(1)-1695983001.jpg"},{"id":5265,"name":"Multi Tassel and Sequins Laddoo Hangings\/Latkans - 2 pieces","price":200,"image":"HANG0031H(1)-1695983345.jpg"},{"id":5266,"name":"Orange Tassel and Sequins Laddoo Hangings\/Latkans - 2 pieces","price":200,"image":"HANG0031i(1)-1695984057.jpg"},{"id":5267,"name":"Wine Tassel and Sequins Laddoo Hangings\/Latkans - 2 pieces","price":200,"image":"HANG0031J(1)-1695984132.jpg"},{"id":5268,"name":"Light Green Tassel and Sequins Laddoo Hangings\/Latkans - 2 pieces","price":200,"image":"HANG0031K(1)-1695984353.jpg"},{"id":5269,"name":"Multi Golden Tassel and Sequins Laddoo Hangings\/Latkans - 2 pieces","price":200,"image":"HANG0031L(1)-1695984519.jpg"},{"id":5270,"name":"Silver Mirror and Crystal Hangings\/Latkans - 2 pieces","price":250,"image":"HANG0032(1)-1695986705.jpg"},{"id":5271,"name":"Baby Pink Mirror and Crystal Hangings\/Latkans - 2 pieces","price":250,"image":"HANG0032A(1)-1695986788.jpg"},{"id":5272,"name":"Black Mirror and Crystal Hangings\/Latkans - 2 pieces","price":250,"image":"HANG0032B(1)-1695986875.jpg"},{"id":5273,"name":"Peacock Blue Mirror and Crystal Hangings\/Latkans - 2 pieces","price":250,"image":"HANG0032C(1)-1695987022.jpg"},{"id":5274,"name":"Multi Mirror and Crystal Hangings\/Latkans - 2 pieces","price":250,"image":"HANG0032D(1)-1695987191.jpg"},{"id":5275,"name":"Peach Mirror and Crystal Hangings\/Latkans - 2 pieces","price":250,"image":"HANG0032E(1)-1695987323.jpg"},{"id":5276,"name":"Lavender Mirror and Crystal Hangings\/Latkans - 2 pieces","price":250,"image":"HANG0032G(1)-1695987471.jpg"},{"id":5277,"name":"Metallic Blue Mirror and Crystal Hangings\/Latkans - 2 pieces","price":250,"image":"HANG0032H(1)-1695987761.jpg"},{"id":5278,"name":"Golden Mirror and Crystal Hangings\/Latkans - 2 pieces","price":250,"image":"HANG0032J-1695988422.jpg"},{"id":5279,"name":"Maroon Mirror and Crystal Hangings\/Latkans - 2 pieces","price":250,"image":"HANG0032K-1695988478.jpg"},{"id":5280,"name":"Yellow Mirror and Crystal Hangings\/Latkans - 2 pieces","price":250,"image":"HANG0032L-1695988532.jpg"},{"id":5281,"name":"Red Mirror and Crystal Hangings\/Latkans - 2 pieces","price":250,"image":"HANG0032M-1695988573.jpg"},{"id":5282,"name":"Golden Color Gota Patti Neck Patch\/ Neckline for suits, kurtis etc.","price":430,"image":"PATNC0096(1)-1696328737.jpg"},{"id":5283,"name":"Golden Color Gota Patti Neck Patch\/ Neckline for suits, kurtis etc.","price":500,"image":"PATNC0097(1)-1696328916.jpg"},{"id":5284,"name":"Golden Color Gota Patti Neck Patch\/ Neckline for suits, kurtis etc.","price":500,"image":"PATNC0098(1)-1696329390.jpg"},{"id":5286,"name":"Maroon Color Designer Round Metal Coat Buttons Blazer Buttons - Sold With Box","price":550,"image":"MCBTN00120(1)-1696333163.jpg"},{"id":5289,"name":"Silver Designer Round Metal Coat Buttons Blazer Buttons - Sold With Box","price":850,"image":"MCBTN00123(1)-1696415199.jpg"},{"id":5290,"name":"Golden Antique Designer Round Metal Coat Buttons Blazer Buttons - Sold With Box","price":850,"image":"MCBTN00124(1)-1696417600.jpg"},{"id":5293,"name":"Golden Color Aluminum Metal Chain","price":375,"image":"MTLCH0032A(2)-1696499041.jpg"},{"id":5294,"name":"Silver Color Aluminum Metal Chain","price":375,"image":"MTLCH0032A(1)-1696499135.jpg"},{"id":5295,"name":"White Color Dandia Theme Neck Patch\/ Neckline for suits, kurtis etc.","price":330,"image":"PATNC00100(1)-1696576730.jpg"},{"id":5296,"name":"Black Color Dandia Theme Neck Patch\/ Neckline for suits, kurtis etc.","price":330,"image":"PATNC00100A(1)-1696577082.jpg"},{"id":5297,"name":"Black Color Navratri Theme Neck Patch\/ Neckline for suits, kurtis etc.","price":330,"image":"PATNC00102A(1)-1696577549.jpg"},{"id":5298,"name":"White Color Navratri Theme Neck Patch\/ Neckline for suits, kurtis etc.","price":330,"image":"PATNC00101A(1)-1696578371.jpg"},{"id":5299,"name":"White Color Navratri Theme Peacock Design Neck Patch\/ Neckline for suits, kurtis etc.","price":330,"image":"PATNC00102(1)-1696581165.jpg"},{"id":5300,"name":"Black Color Navratri Theme Peacock Design Neck Patch\/ Neckline for suits, kurtis etc.","price":330,"image":"PATNC00102A(1)-1696581301.jpg"},{"id":5301,"name":"White Color Navratri Theme Bridal Neck Patch\/ Neckline for suits, kurtis etc.","price":330,"image":"PATNC00103(1)-1696581766.jpg"},{"id":5302,"name":"Black Color Navratri Theme Bridal Neck Patch\/ Neckline for suits, kurtis etc.","price":330,"image":"PATNC00103A(1)-1696581830.jpg"},{"id":5303,"name":"White Pearl Work Neck Patch Sew-on Neck Applique, Sew On Patch Dress Motif Applique DIY","price":480,"image":"PATNC00104(1)-1696582020.jpg"},{"id":5304,"name":"4 x 6 MM Cone Faceted Crystal Beads in White Color","price":125,"image":"CGBDS0010(1)-1696679859.jpg"},{"id":5305,"name":"4 x 6 MM Cone Faceted Crystal Beads in Yellow Color","price":125,"image":"CGBDS0010A(1)-1696680006.jpg"},{"id":5306,"name":"4 x 6 MM Cone Faceted Crystal Beads in Dark Green Color","price":125,"image":"CGBDS0010B(1)-1696680070.jpg"},{"id":5307,"name":"4 x 6 MM Cone Faceted Crystal Beads in Sky Blue Color","price":125,"image":"CGBDS0010C(1)-1696680422.jpg"},{"id":5308,"name":"4 x 6 MM Cone Faceted Crystal Beads in Mauve Color","price":125,"image":"CGBDS0010D(1)-1696680590.jpg"},{"id":5309,"name":"4 x 6 MM Cone Faceted Crystal Beads in Sea Green Color","price":125,"image":"CGBDS0010E(1)-1696680790.jpg"},{"id":5310,"name":"4 x 6 MM Cone Faceted Crystal Beads in Light Pink Color","price":125,"image":"CGBDS0010F(1)-1696680900.jpg"},{"id":5311,"name":"Crystal Beads for Craft and Jewellery Making, Crystal Tear Drop Shape Glass Beads 8X5MM - Light Peach Color","price":165,"image":"CGBDS0011(1)-1696836842.jpg"},{"id":5312,"name":"Crystal Beads for Craft and Jewellery Making, Crystal Tear Drop Shape Glass Beads 8X5MM - Dark Green Color","price":165,"image":"CGBDS0011A(1)-1696836922.jpg"},{"id":5313,"name":"Crystal Beads for Craft and Jewellery Making, Crystal Tear Drop Shape Glass Beads 8X5MM - Red Color","price":165,"image":"CGBDS0011B(1)-1696836983.jpg"},{"id":5314,"name":"Crystal Beads for Craft and Jewellery Making, Crystal Tear Drop Shape Glass Beads 8X5MM - Light Mint Green Color","price":165,"image":"CGBDS0011C(1)-1696837044.jpg"},{"id":5315,"name":"Crystal Beads for Craft and Jewellery Making, Crystal Tear Drop Shape Glass Beads 8X5MM - Sky Blue Color","price":165,"image":"CGBDS0011D(1)-1696837100.jpg"},{"id":5316,"name":"Crystal Beads for Craft and Jewellery Making, Crystal Tear Drop Shape Glass Beads 8X5MM - Gray Color","price":165,"image":"CGBDS0011E(1)-1696837207.jpg"},{"id":5317,"name":"Metallic Grey Textured Round Metal Coat Buttons Blazer Buttons - Sold With Box","price":550,"image":"MCBTN00128(1)-1697530448.jpg"},{"id":5318,"name":"Golden Textured Round Metal Coat Buttons Blazer Buttons - Sold With Box","price":550,"image":"MCBTN00128A(1)-1697531179.jpg"},{"id":5319,"name":"Metallic Grey Round Metal Coat Buttons Blazer Buttons - Sold With Box","price":650,"image":"MCBTN00129(1)-1697531351.jpg"},{"id":5320,"name":"Silver Round Metal Coat Buttons Blazer Buttons - Sold With Box","price":650,"image":"MCBTN00129A(1)-1697531599.jpg"},{"id":5321,"name":"Matte Grey Round Metal Coat Buttons Blazer Buttons - Sold With Box","price":650,"image":"MCBTN00129B(1)-1697531789.jpg"},{"id":5322,"name":"Metallic Grey Round Metal Coat Buttons Blazer Buttons - Sold With Box","price":650,"image":"MCBTN00130(1)-1697535534.jpg"},{"id":5323,"name":"Golden Round Metal Coat Buttons Blazer Buttons - Sold With Box","price":650,"image":"MCBTN00130A(1)-1697535616.jpg"},{"id":5324,"name":"Matte Grey Dotted Round Metal Coat Buttons Blazer Buttons - Sold With Box","price":650,"image":"MCBTN00131(1)-1697536329.jpg"},{"id":5325,"name":"Metallic Grey Dotted Round Metal Coat Buttons Blazer Buttons - Sold With Box","price":650,"image":"MCBTN00131A(1)-1697536768.jpg"},{"id":5326,"name":"Matte Grey Plain Round Metal Coat Buttons Blazer Buttons - Sold With Box","price":650,"image":"MCBTN00132(1)-1697536392.jpg"},{"id":5328,"name":"Peach Color Floral Fancy Patch \/ Applique","price":330,"image":"PATF0095(1)-1698062581.jpg"},{"id":5329,"name":"Pink Color Floral Fancy Patch \/ Applique","price":330,"image":"PATF0095A(1)-1698062651.jpg"},{"id":5330,"name":"Pista Green Color Floral Fancy Patch \/ Applique","price":330,"image":"PATF0095B(1)-1698301994.jpg"},{"id":5331,"name":"Light Pink Color Floral Fancy Patch \/ Applique","price":330,"image":"PATF0095C(1)-1698062756.jpg"},{"id":5332,"name":"Vanilla Color Floral Fancy Patch \/ Applique","price":330,"image":"PATF0095D(1)-1698062822.jpg"},{"id":5333,"name":"Grey Color Floral Fancy Patch \/ Applique","price":330,"image":"PATF0095E(1)-1698062871.jpg"},{"id":5334,"name":"Navy Blue Color Floral Fancy Patch \/ Applique","price":330,"image":"PATF0095F(1)-1698062926.jpg"},{"id":5335,"name":"White Color Floral Fancy Patch \/ Applique","price":330,"image":"PATF0095G(1)-1698062974.jpg"},{"id":5336,"name":"Off-White Pearl Work Neck Patch Sew-on Neck Applique, Sew On Patch Dress Motif Applique DIY","price":580,"image":"PATNC00105(1)-1698229529.jpg"},{"id":5337,"name":"Off-White Butterfly Patch Beads Work Designer Patch for dresses, suits etc.","price":230,"image":"PATHE0264A(1)-1698477659.jpg"},{"id":5338,"name":"Grey Butterfly Patch Beads Work Designer Patch for dresses, suits etc.","price":230,"image":"PATHE0264B(1)-1698477917.jpg"},{"id":5339,"name":"Dark Peach Butterfly Patch Beads Work Designer Patch for dresses, suits etc.","price":230,"image":"PATHE0264C(1)-1698477974.jpg"},{"id":5341,"name":"Yellow Butterfly Patch Beads Work Designer Patch for dresses, suits etc.","price":230,"image":"PATHE0264E(1)-1698478179.jpg"},{"id":5342,"name":"Blue Color Floral Thread Work Lace Velvet Lace","price":2690,"image":"THBD0031(1)-1698489344.jpg"},{"id":5343,"name":"Dark Green Color Floral Thread Work Lace Velvet Lace","price":2690,"image":"THBD0031A(1)-1698489492.jpg"},{"id":5344,"name":"Maroon Color Floral Thread Work Lace Velvet Lace","price":2690,"image":"THBD0031B(1)-1698489542.jpg"},{"id":5345,"name":"Silver Pearl and Mirror Work Neck Patch Sew-on Neck Applique, Sew On Patch Dress Motif Applique DIY","price":540,"image":"PATNC00106(1)-1698665204.jpg"},{"id":5346,"name":"Light Golden Pearl and Mirror Work Neck Patch Sew-on Neck Applique, Sew On Patch Dress Motif Applique DIY","price":540,"image":"PATNC00106A(1)-1698665321.jpg"},{"id":5347,"name":"Silver Pearl and Mirror Work Neck Patch Sew-on Neck Applique, Sew On Patch Dress Motif Applique DIY","price":540,"image":"PATNC00107(1)-1698665589.jpg"},{"id":5348,"name":"Dark Green - Golden Round Shape Rhinestone Buttons","price":165,"image":"WBTN00252(1)-1698826612.jpg"},{"id":5349,"name":"Pastel Green - Golden Round Shape Rhinestone Buttons","price":165,"image":"WBTN00252A(1)-1698831471.jpg"},{"id":5350,"name":"Grey-Golden Round Shape Rhinestone Buttons","price":165,"image":"WBTN00252B(1)-1698831613.jpg"},{"id":5351,"name":"Dark Peach- Golden Round Shape Rhinestone Buttons","price":165,"image":"WBTN00252D(1)-1698832224.jpg"},{"id":5352,"name":"Light Pink - Golden Round Shape Rhinestone Buttons","price":165,"image":"WBTN00252E(1)-1698837548.jpg"},{"id":5353,"name":"Yellow - Golden Round Shape Rhinestone Buttons","price":165,"image":"WBTN00252F(1)-1698837640.jpg"},{"id":5354,"name":"Light Green - Golden Round Shape Rhinestone Buttons","price":165,"image":"WBTN00252G(1)-1698838881.jpg"},{"id":5355,"name":"Sky Blue - Golden Round Shape Rhinestone Buttons","price":165,"image":"WBTN0025HG(1)-1698838981.jpg"},{"id":5356,"name":"Magenta - Golden Round Shape Rhinestone Buttons","price":165,"image":"WBTN00252I(1)-1698839141.jpg"},{"id":5357,"name":"Beige - Golden Round Shape Rhinestone Buttons","price":165,"image":"WBTN00252J(1)-1698839957.jpg"},{"id":5358,"name":"Blue - Golden Round Shape Rhinestone Buttons","price":165,"image":"WBTN00252K(1)-1698840011.jpg"},{"id":5359,"name":"Black Round Shape Metal Ladies Buttons Small Size - 10 pieces","price":165,"image":"WBTN00253(1)-1698909103.jpg"},{"id":5360,"name":"Yellow Round Shape Metal Ladies Buttons Small Size - 10 pieces","price":165,"image":"WBTN00253B(1)-1698909373.jpg"},{"id":5361,"name":"Light Pink Round Shape Metal Ladies Buttons Small Size - 10 pieces","price":165,"image":"WBTN00253A(1)-1698909323.jpg"},{"id":5362,"name":"Light Green Round Shape Metal Ladies Buttons Small Size - 10 pieces","price":165,"image":"WBTN00253C(1)-1698909496.jpg"},{"id":5363,"name":"Navy Blue Round Shape Metal Ladies Buttons Small Size - 10 pieces","price":165,"image":"WBTN00253D(1)-1698909564.jpg"},{"id":5364,"name":"Maroon Round Shape Metal Ladies Buttons Small Size - 10 pieces","price":165,"image":"WBTN00253F(1)-1698909709.jpg"},{"id":5365,"name":"Dark Green Round Shape Metal Ladies Buttons Small Size - 10 pieces","price":165,"image":"WBTN00253G(1)-1698909770.jpg"},{"id":5366,"name":"Red Round Shape Metal Ladies Buttons Small Size - 10 pieces","price":165,"image":"WBTN00253H(1)-1698909921.jpg"},{"id":5367,"name":"Sky Blue Round Shape Metal Ladies Buttons Small Size - 10 pieces","price":165,"image":"WBTN00253I(1)-1698910749.jpg"},{"id":5368,"name":"Cream Round Shape Metal Ladies Buttons Small Size - 10 pieces","price":165,"image":"WBTN00253J(1)-1698911376.jpg"},{"id":5369,"name":"Cream Square Shape Metal Ladies Buttons Small Size - 10 pieces","price":165,"image":"WBTN00254(1)-1698920791.jpg"},{"id":5370,"name":"Sky Blue Square Shape Metal Ladies Buttons Small Size - 10 pieces","price":165,"image":"WBTN00254A(1)-1698920895.jpg"},{"id":5371,"name":"Maroon Square Shape Metal Ladies Buttons Small Size - 10 pieces","price":165,"image":"WBTN00254B(1)-1698920969.jpg"},{"id":5372,"name":"Yellow Square Shape Metal Ladies Buttons Small Size - 10 pieces","price":165,"image":"WBTN00254C(1)-1698921037.jpg"},{"id":5373,"name":"Black Square Shape Metal Ladies Buttons Small Size - 10 pieces","price":165,"image":"WBTN00254D(1)-1698921190.jpg"},{"id":5374,"name":"Baby Pink Square Shape Metal Ladies Buttons Small Size - 10 pieces","price":165,"image":"WBTN00254E(1)-1698924129.jpg"},{"id":5375,"name":"Dark Green Square Shape Metal Ladies Buttons Small Size - 10 pieces","price":165,"image":"WBTN00254f(1)-1698926366.jpg"},{"id":5376,"name":"Navy Blue Square Shape Metal Ladies Buttons Small Size - 10 pieces","price":165,"image":"WBTN00254G(1)-1698990662.jpg"},{"id":5377,"name":"Sea Green Square Shape Metal Ladies Buttons Small Size - 10 pieces","price":165,"image":"WBTN00254H(1)-1698990755.jpg"},{"id":5378,"name":"Red Square Shape Metal Ladies Buttons Small Size - 10 pieces","price":165,"image":"WBTN00254I(1)-1698990841.jpg"},{"id":5379,"name":"Grey Square Shape Metal Ladies Buttons Small Size - 10 pieces","price":165,"image":"WBTN00254J(1)-1698990903.jpg"},{"id":5380,"name":"Blue Color Round Shape Metal Ladies Buttons Small Size - 5 pieces","price":165,"image":"WBTN00255(1)-1699257550.jpg"},{"id":5381,"name":"Maroon Color Round Shape Metal Ladies Buttons Small Size - 5 pieces","price":165,"image":"WBTN00255A(1)-1699266728.jpg"},{"id":5382,"name":"Sky Blue Color Round Shape Metal Ladies Buttons Small Size - 5 pieces","price":165,"image":"WBTN00255B(1)-1699267958.jpg"},{"id":5383,"name":"Light Pink Color Round Shape Metal Ladies Buttons Small Size - 5 pieces","price":165,"image":"WBTN00255C(1)-1699268086.jpg"},{"id":5384,"name":"Dark Green Color Round Shape Metal Ladies Buttons Small Size - 5 pieces","price":165,"image":"WBTN00255D(1)-1699268161.jpg"},{"id":5385,"name":"Black Color Round Shape Metal Ladies Buttons Small Size - 5 pieces","price":165,"image":"WBTN00255E(1)-1699268216.jpg"},{"id":5386,"name":"Mint Green Color Round Shape Metal Ladies Buttons Small Size - 5 pieces","price":165,"image":"WBTN00255F(1)-1699268286.jpg"},{"id":5387,"name":"Cream Color Round Shape Metal Ladies Buttons Small Size - 5 pieces","price":165,"image":"WBTN00255G(1)-1699268347.jpg"},{"id":5388,"name":"Red Color Round Shape Metal Ladies Buttons Small Size - 5 pieces","price":165,"image":"WBTN00255H(1)-1699268450.jpg"},{"id":5389,"name":"Blue Color Round Shape Metal Ladies Buttons Small Size - 5 pieces","price":165,"image":"WBTN00255I(1)-1699268535.jpg"},{"id":5390,"name":"Yellow Color Round Shape Metal Ladies Buttons Small Size - 5 pieces","price":165,"image":"WBTN00255J(1)-1699268594.jpg"},{"id":5391,"name":"Red Color Round Flower Design Metal Ladies Buttons Small Size - 10 pieces","price":165,"image":"WBTN00256(1)-1699271480.jpg"},{"id":5392,"name":"Grey Color Round Flower Design Metal Ladies Buttons Small Size - 10 pieces","price":165,"image":"WBTN00256A(1)-1699271558.jpg"},{"id":5393,"name":"Black Color Round Flower Design Metal Ladies Buttons Small Size - 10 pieces","price":165,"image":"WBTN00256B(1)-1699271745.jpg"},{"id":5394,"name":"Yellow Color Round Flower Design Metal Ladies Buttons Small Size - 10 pieces","price":165,"image":"WBTN00256C(1)-1699271763.jpg"},{"id":5395,"name":"Dark Green Color Round Flower Design Metal Ladies Buttons Small Size - 10 pieces","price":165,"image":"WBTN00256D(1)-1699271783.jpg"},{"id":5396,"name":"Sky Blue Color Round Flower Design Metal Ladies Buttons Small Size - 10 pieces","price":165,"image":"WBTN00256E(1)-1699271911.jpg"},{"id":5397,"name":"Maroon Color Round Flower Design Metal Ladies Buttons Small Size - 10 pieces","price":165,"image":"WBTN00256F(1)-1699271936.jpg"},{"id":5398,"name":"Cream Color Round Flower Design Metal Ladies Buttons Small Size - 10 pieces","price":165,"image":"WBTN00256G(1)-1699271953.jpg"},{"id":5399,"name":"Mint Green Color Round Flower Design Metal Ladies Buttons Small Size - 10 pieces","price":165,"image":"WBTN00256H(1)-1699272038.jpg"},{"id":5400,"name":"Baby Pink Color Round Flower Design Metal Ladies Buttons Small Size - 10 pieces","price":165,"image":"WBTN00256I(1)-1699272135.jpg"},{"id":5401,"name":"Golden\/Beige Color Fancy Tassel Shells Dori\/Cord","price":215,"image":"DORI0019(1)-1699431781.jpg"},{"id":5402,"name":"Dark Multi (Red-Green-Yellow) Color Fancy Tassel Shells Dori\/Cord","price":215,"image":"DORI0019Aa(1)-1699432238.jpg"},{"id":5403,"name":"Wine Color Fancy Tassel Shells Dori\/Cord","price":215,"image":"DORI0019B(1)-1699432364.jpg"},{"id":5404,"name":"Baby Pink Color Fancy Tassel Shells Dori\/Cord","price":215,"image":"DORI0019C(1)-1699432541.jpg"},{"id":5405,"name":"Red Color Fancy Tassel Shells Dori\/Cord","price":215,"image":"DORI0019D(1)-1699432637.jpg"},{"id":5406,"name":"Pastel Multi Color Fancy Tassel Shells Dori\/Cord","price":215,"image":"DORI0019E(1)-1699432995.jpg"},{"id":5407,"name":"Maroon Multi Color Fancy Tassel Shells Dori\/Cord","price":215,"image":"DORI0019F(1)-1699433238.jpg"},{"id":5408,"name":"Purple Color Fancy Tassel Shells Dori\/Cord","price":215,"image":"DORI0019G(1)-1699433296.jpg"},{"id":5409,"name":"Multi Color Fancy Tassel Shells Dori\/Cord","price":215,"image":"DORI0019H(1)-1699433357.jpg"},{"id":5410,"name":"Peach Pink Color Fancy Tassel Shells Dori\/Cord","price":215,"image":"DORI0019I(1)-1699433418.jpg"},{"id":5411,"name":"Dark Green Round Shape Sparkle Buttons 2 hole - Pack of 5 pieces","price":200,"image":"WBTN00257(1)-1699868439.jpg"},{"id":5412,"name":"Orange Round Shape Sparkle Buttons 2 hole - Pack of 5 pieces","price":200,"image":"WBTN00257A(1)-1699869007.jpg"},{"id":5413,"name":"Light Green Round Shape Sparkle Buttons 2 hole - Pack of 5 pieces","price":200,"image":"WBTN00257B(1)-1699869773.jpg"},{"id":5414,"name":"Light Pink Round Shape Sparkle Buttons 2 hole - Pack of 5 pieces","price":200,"image":"WBTN00257C(1)-1699869906.jpg"},{"id":5415,"name":"Silver Round Shape Sparkle Buttons 2 hole - Pack of 5 pieces","price":200,"image":"WBTN00257D(1)-1699870172.jpg"},{"id":5416,"name":"Red Round Shape Sparkle Buttons 2 hole - Pack of 5 pieces","price":200,"image":"WBTN00257E(1)-1699870434.jpg"},{"id":5417,"name":"Purple Round Shape Sparkle Buttons 2 hole - Pack of 5 pieces","price":200,"image":"WBTN00257F(1)-1699870509.jpg"},{"id":5418,"name":"Ferozi Blue Round Shape Sparkle Buttons 2 hole - Pack of 5 pieces","price":200,"image":"WBTN00257G(1)-1699873189.jpg"},{"id":5419,"name":"Yellow Round Shape Sparkle Buttons 2 hole - Pack of 5 pieces","price":200,"image":"WBTN00257H(1)-1699873290.jpg"},{"id":5420,"name":"Dark Blue Round Shape Sparkle Buttons 2 hole - Pack of 5 pieces","price":200,"image":"WBTN00257I(1)-1699873345.jpg"},{"id":5421,"name":"Magenta Round Shape Sparkle Buttons 2 hole - Pack of 5 pieces","price":200,"image":"WBTN00257J(1)-1699873430.jpg"},{"id":5422,"name":"Dark Green Zari Lace Bridal Lace for Dupatta, lehnga etc. Cutwork Zari Lace","price":650,"image":"ZRBD0068(1)-1700218444.jpg"},{"id":5423,"name":"Grey Zari Lace Bridal Lace for Dupatta, lehnga etc. Cutwork Zari Lace","price":650,"image":"ZRBD0068A(1)-1700300333.jpg"},{"id":5424,"name":"Sea Green Zari Lace Bridal Lace for Dupatta, lehnga etc. Cutwork Zari Lace","price":650,"image":"ZRBD0068B(1)-1700300528.jpg"},{"id":5425,"name":"Golden Zari Lace Bridal Lace for Dupatta, lehnga etc. Cutwork Zari Lace","price":650,"image":"ZRBD0068C(1)-1700300601.jpg"},{"id":5426,"name":"Peach Zari Lace Bridal Lace for Dupatta, lehnga etc. Cutwork Zari Lace","price":400,"image":"ZRBD0068D(1)-1700302121.jpg"},{"id":5427,"name":"Pastel Green - Golden Zari Lace Bridal Lace for Dupatta, lehnga etc. Cutwork Zari Lace","price":580,"image":"ZRBD0069(1)-1700468929.jpg"},{"id":5428,"name":"Peach Golden Zari Lace Bridal Lace for Dupatta, lehnga etc. Cutwork Zari Lace","price":580,"image":"ZRBD0069A(1)-1700472121.jpg"},{"id":5429,"name":"Pink - Golden Zari Lace Bridal Lace for Dupatta, lehnga etc. Cutwork Zari Lace","price":580,"image":"ZRBD0069B(1)-1700472399.jpg"},{"id":5430,"name":"Ferozi - Golden Zari Lace Bridal Lace for Dupatta, lehnga etc. Cutwork Zari Lace","price":580,"image":"ZRBD0069C(1)-1700472681.jpg"},{"id":5431,"name":"Golden Zari Lace Bridal Lace for Dupatta, lehnga etc. Cutwork Zari Lace","price":580,"image":"ZRBD0069D(1)-1700473190.jpg"},{"id":5432,"name":"Grey Zari Lace Bridal Lace for Dupatta, lehnga etc. Cutwork Zari Lace","price":580,"image":"ZRBD0069E(1)-1700473287.jpg"},{"id":5433,"name":"Red - Golden Zari Lace Bridal Lace for Dupatta, lehnga etc. Cutwork Zari Lace","price":580,"image":"ZRBD0069F(1)-1700473724.jpg"},{"id":5434,"name":"Red-Black Multi Color Patra Lace for Dupatta, Lehenga etc. Mirror Work Lace Border","price":680,"image":"MRLC0030(1)-1700476963.jpg"},{"id":5435,"name":"Multi Color Patra Lace for Dupatta, Lehenga etc. Mirror Work Lace Border","price":680,"image":"MRLC0030A(1)-1700477038.jpg"},{"id":5436,"name":"Multi Color Patra Lace for Dupatta, Lehenga etc. Mirror Work Lace Border","price":680,"image":"MRLC0030B(1)-1700477156.jpg"},{"id":5437,"name":"Black Color Leaf Thread Work Lace","price":915,"image":"THBD0032(1)-1700477475.jpg"},{"id":5438,"name":"Pastel Multi Color Sequins Work Designer Embroidery Lace\/ Border","price":1125,"image":"SQBD0019(1)-1700478983.jpg"},{"id":5439,"name":"Multi Color Sequins Work Designer Embroidery Lace\/ Border","price":1125,"image":"SQBD0020(1)-1700479326.jpg"},{"id":5440,"name":"Pastel Multi Color Sequins Work Designer Embroidery Lace\/ Border","price":800,"image":"SQBD0021(1)-1700479397.jpg"},{"id":5441,"name":"Golden Color Organza Flower With Beads Work For Dress, Gowns, Tops etc.","price":330,"image":"PATF0100 (1)-1700648076.jpg"},{"id":5444,"name":"Ferozi Color Organza Flower With Beads Work For Dress, Gowns, Tops etc.","price":330,"image":"PATF0100 (4)-1700649025.jpg"},{"id":5446,"name":"Black Color Organza Flower With Beads Work For Dress, Gowns, Tops etc.","price":330,"image":"PATF0100 (7)-1700649645.jpg"},{"id":5447,"name":"Blue Color Organza Flower With Beads Work For Dress, Gowns, Tops etc.","price":330,"image":"PATF0100 (8)-1700649705.jpg"},{"id":5449,"name":"Pista Green Color Organza Flower With Beads Work For Dress, Gowns, Tops etc. - design 2","price":330,"image":"PATF0101 (1)-1700651406.jpg"},{"id":5450,"name":"Golden Color Organza Flower With Beads Work For Dress, Gowns, Tops etc. - design 2","price":330,"image":"PATF0101 (2)-1700653418.jpg"},{"id":5451,"name":"Light Grey Color Organza Flower With Beads Work For Dress, Gowns, Tops etc. - design 2","price":330,"image":"PATF0101 (3)-1700653332.jpg"},{"id":5452,"name":"Pink Color Organza Flower With Beads Work For Dress, Gowns, Tops etc. - design 2","price":330,"image":"PATF0101 (4)-1700653344.jpg"},{"id":5453,"name":"Pink-Peach Color Organza Flower With Beads Work For Dress, Gowns, Tops etc. - design 2","price":330,"image":"PATF0101 (5)-1700653358.jpg"},{"id":5454,"name":"Peach Color Organza Flower With Beads Work For Dress, Gowns, Tops etc. - design 2","price":330,"image":"PATF0101 (6)-1700654014.jpg"},{"id":5455,"name":"Pastel Lemon Color Organza Flower With Beads Work For Dress, Gowns, Tops etc. - design 2","price":330,"image":"PATF0101 (7)-1700654029.jpg"},{"id":5456,"name":"Beige Color Organza Flower With Beads Work For Dress, Gowns, Tops etc. - design 2","price":330,"image":"PATF0101 (8)-1700654036.jpg"},{"id":5457,"name":"Blue Color Organza Flower With Beads Work For Dress, Gowns, Tops etc. - design 2","price":330,"image":"PATF0101 (9)-1700654050.jpg"},{"id":5459,"name":"Lavender Color Organza Flower With Beads Work For Dress, Gowns, Tops etc. - design 2","price":330,"image":"PATF0101 (11)-1700654094.jpg"},{"id":5466,"name":"Golden Color Organza Flower For Dress, Gowns, Tops etc. - design 3","price":330,"image":"PATF0102D(1)-1700720494.jpg"},{"id":5467,"name":"Ferozi Color Organza Flower For Dress, Gowns, Tops etc. - design 3","price":330,"image":"PATF0102E(1)-1700720546.jpg"}]